Peaches you usually associate peaches with dessert or breakfast, right? Peach pie, peach melba or ice cream springs to mind. However, there is another side to the peach flavour that is not being used enough. Namely, the use of peaches in savoury dishes. That's why you'll love this peach sauce.
My peach sauce with mustard is inspired by classic French cuisine, and can be prepared in a very short time. It is a perfect side for white meat, which is practically any kind of poultry. This is an ideal sauce for a weekday meal to the next level or spoiling your guests on a special occasion. The sauce instantly became a classic in my kitchen and I would not be surprised if it happened to you as well.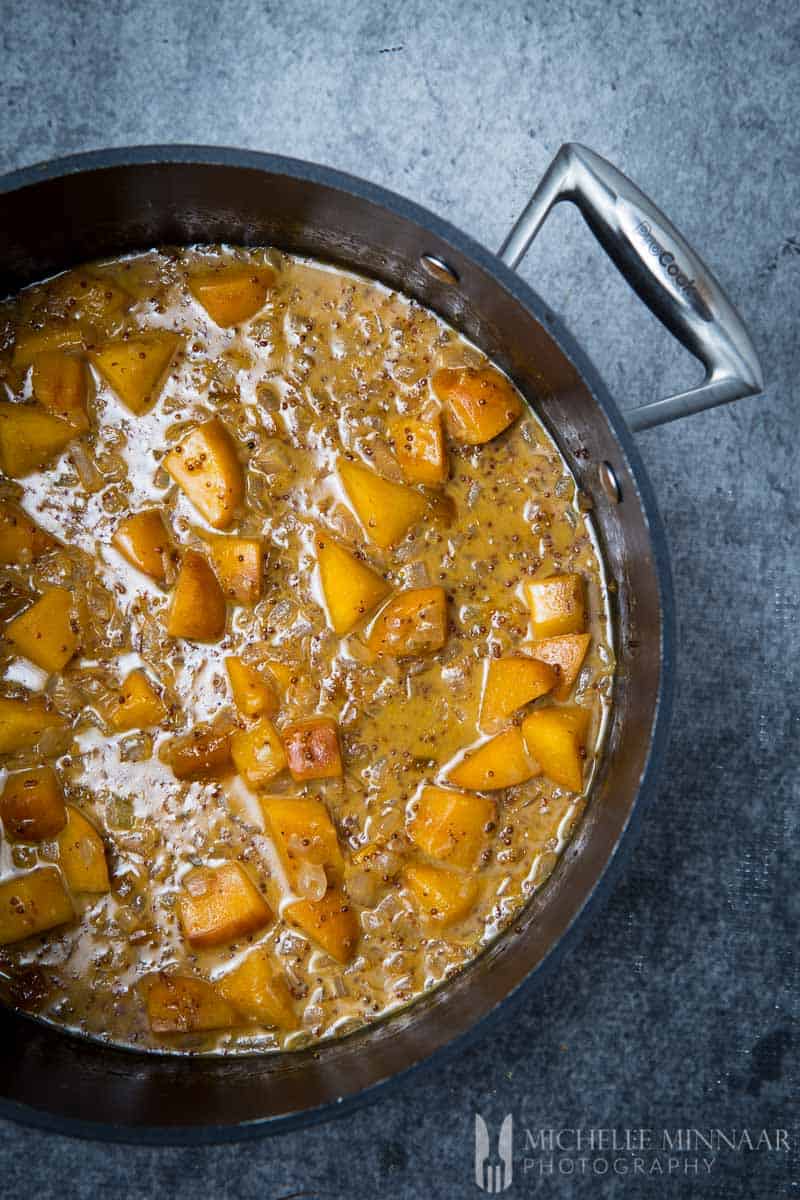 what makes the peach sauce great?
Even though you only need a little bit of peach jam for the peach sauce, it is a very important ingredient. Therefore, be sure to use a jam that you like and know is of good quality. It is important to get the balance of the flavours right. Remember, you should serve this peach sauce with savoury food – hence, it should not be overly sweet. Obviously, the peach jam itself will be quite sweet, which is why we only use a little bit of it.
The brandy and mustard help to balance the sauce giving it a distinctive savoury flavour. If you do not like brandy, you can leave it out or substitute it with dry sherry. When it comes to making a good sauce, it is important that you let your taste buds guide you, so do not be afraid to adjust the measurements according to your preference. If you like a little bit more texture in the peach sauce, you can cut up a fresh peach into little cubes and roast it in the pan alongside with the onion and garlic.
the use of mustard
Mustard is one of the corner stones of the classic French cuisine, and comes in countless variations of strength, grains and flavours. You probably know Dijon mustard. When using mustard in a sauce you need to be careful with the dosage. Some mustards are sharper than others. For this recipe, I have chosen a whole grain mustard because this is a little milder than a fine mustard. This way the flavour will balance better with the sweetness of the peach jam.
There are many flavoured mustards on the market and if you like you can use one of these to season the sauce. For instance, some mustards are infused with thyme, rosemary or even cognac, respectively. These flavours would work very well in the peach sauce too.
Whenever I visit a farmers ' market, I love to look for interesting kinds of mustard. Therefore, if you have something funny in the cabinet do not be afraid to try it out. Just be careful with the amounts used, as too much mustard in the sauce can be tricky to rectify.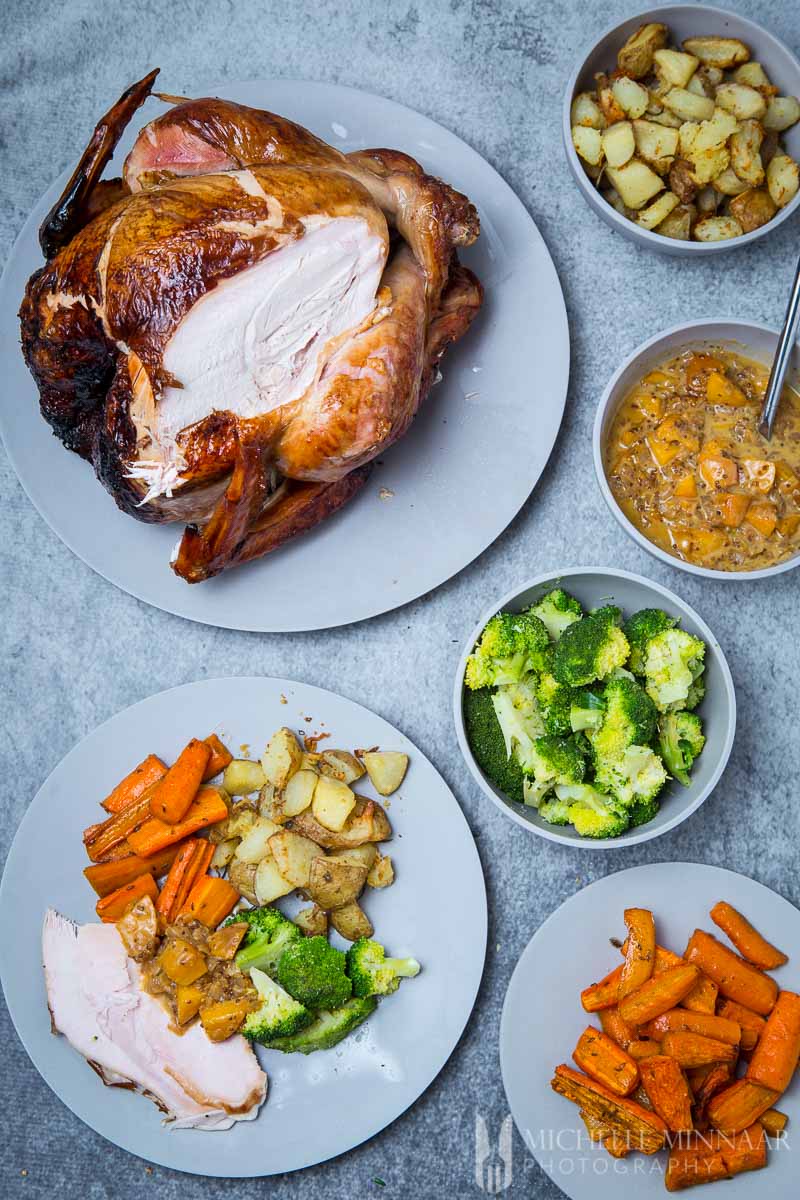 variations and seasoning
You may have noticed that I have not added any herbs or spices to this sauce. This is in order to emphasise the peach flavour and not detract from it. As always, the sauce needs some salt and pepper but the rest of the seasoning is up to you. Depending on what you want to serve the sauce with, you can enhance the sauce by adding herbs. Thyme and rosemary pair particularly well with peach. You can use dried herbs in small dosages or finely chopped fresh herbs if you are lucky enough to have a herb garden.
You can also try a slightly different version of the peach sauce by making it with apricot instead. Simply replace the peach jam with apricot jam and voilà. Equally delicious, if even a hint more exotic.
what to serve it with
What I really like about the peach sauce is that it does not have a specific season. It can be warming and comforting during the winter months and yet fresh and exotic during the summer months. If you want to use fresh peach though, you'll need to wait for the warmer months of the year but year round you can use canned peaches. You can influence the dish by what you serve it with. Now, when it is still somewhat cold it would be fantastic with smoked turkey like the one I made some time ago. You can find the recipe here.
If a whole turkey is a bit much for the number of people in your family, a chicken will do as well. For example a slow roast chicken stuffed with rice or smoked chicken.
In fact, the peach sauce is a great match for any sort of white meat whether it be turkey, chicken or pork. Why not put a new spin on the traditional Sunday roast? Serve a whole chicken, or a turkey if there are many of you, with peach sauce and some delicious sides. For this purpose I would particularly recommend some rosemary roasted potatoes and some cumin roast carrots.
Other fruit based sauces
As a South African, it's standard practice to pair meat and fruit. If you didn't grow up with it, give this combination a try because I'd love to hear what you think! The use of fruit and berries in savoury dishes can bring absolutely amazing results. As a matter of fact I have experimented with this in the past, with great success if I may say so. As an example you should have a look at my venison steak with blackberry sauce.
Another good example is my recipe for pork medallions with apricot and leek sauce. For that dish I based the sauce on fresh apricots. You could this with peaches as well.
Lastly I want to mention my pork fillet with sweet and tangy orange sauce. It's another good example of how to use fruit for savoury cooking. If you are familiar with French cooking you have probably heard about canard a l'orange, better known as duck in orange sauce. A lovely dish but the orange sauce brings much joy to a pork fillet as well.
Print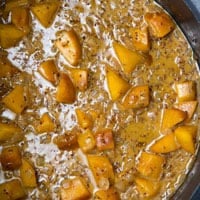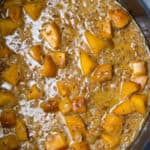 Peach Sauce with Mustard
---
15

ml (1 tbsp) butter

15

ml (1 tbsp) oil

1

onion, finely chopped

1

garlic clove, peeled and crushed

4

ripe peaches, washed and chopped

30

ml (2 tbsp) brandy

500

ml (2 cups) vegetable stock

30

ml (2 tbsp) wholegrain mustard

15

ml (1 tbsp) peach or apricot jam

60

ml (4 tbsp) double cream

30

ml (2 tbsp) cornflour [optional]
---
Instructions
Heat a large frying pan and gently fry the onion in the butter and oil until translucent, which takes about 5 minutes.
Tip in the garlic and peaches and give it a stir.
Crank up the heat and add the brandy and let it sizzle for a minute.
Add the stock and simmer the sauce for 10 minutes until the liquid has halved.
Stir in the mustard, jam and cream, which will help the sauce to thicken. (Should you prefer your sauce even thicker, combine the cornflour with a splash of water to create a slurry and slowly drizzle it while stirring vigorously.)
Serve immediately with your favourite white meat such as chicken, turkey or pork.
Notes
You can use apricots instead of peaches.
Prep Time:

10 minutes

Cook Time:

20 minutes

Category:

Side Dish

Cuisine:

French
Nutrition
Serving Size:

1 serving

Calories:

381

Sugar:

45.6 g

Sodium:

97 mg

Fat:

10 g

Saturated Fat:

4 g

Carbohydrates:

49.3 g

Fiber:

8.2 g

Protein:

5.6 g

Cholesterol:

19 mg
save the recipe to your pinterest board