This creamy and luscious salmon soup has all the elements of a classy high-end restaurant meal. Rich in flavor, yet light as you eat it, it is a fabulous entrée that you can serve at any occasion.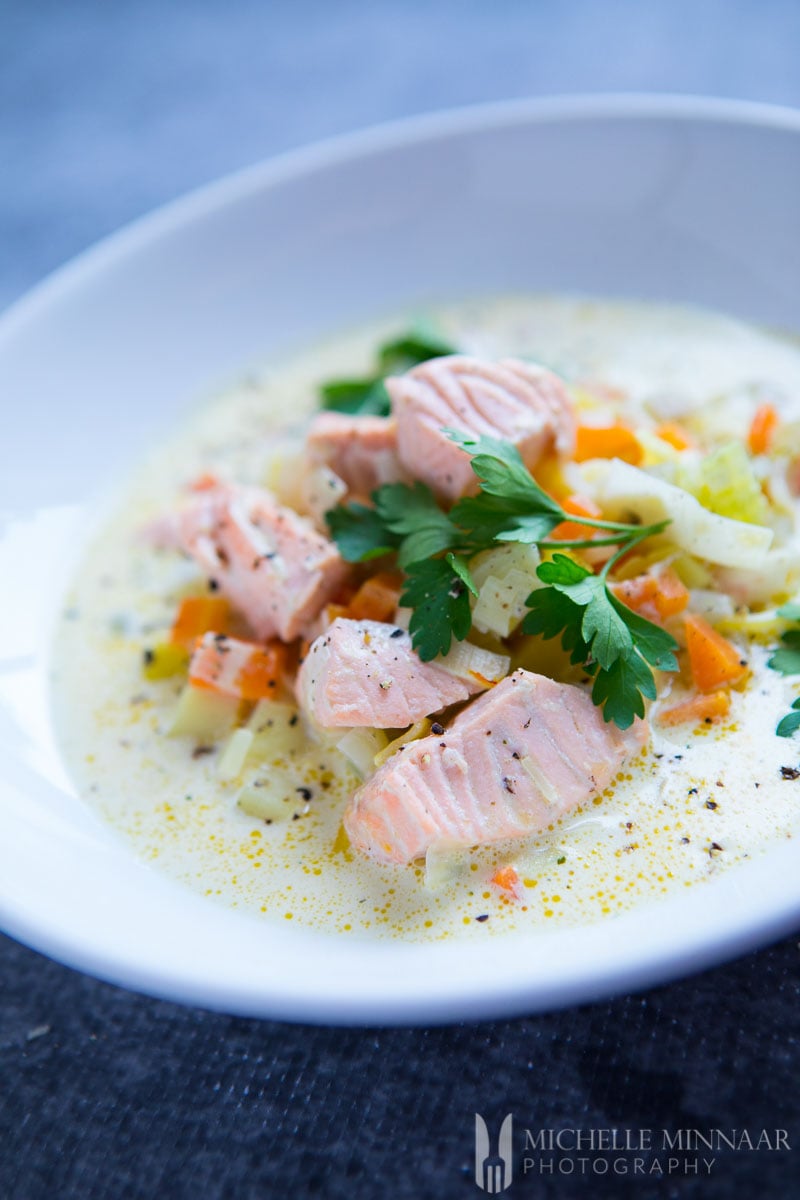 The best part is, if you buy a large piece of salmon, you can use sections to make other delectable salmon dishes such as miso salmon or smoked salmon salad with beetroot.
In combination with root vegetables, cream, saffron, you'll need just a splash of brandy to perfect the dish. Naturally, this brings me to my next topic – cooking with alcohol!
Salmon soup with brandy
So, have you ever encountered the problem of a recipe requiring just a teensy bit of alcohol but you haven't got any at home? This has happened to me on many occasions.
Since I cook a wide variety of meals, some of which do include hints of alcohol, I couldn't possibly buy all the bottles that I need. If I did, I could open my own bar! My poor wallet would take a big hit on those expensive bottles!
That's why I am so grateful that I 've come across Just A Splash. It's perfect for cooking recipes that require just a hint of the good stuff, without having the need to buy the whole bottle and let it sit in the cupboard forever.
Plus, alcohol is such an essential element – it fuses all the ingredients together and adds more complexity to a meal.
In our case, the brandy from Just A Splash that I used for the salmon soup adds notes of bitter-sweet nuttiness, which go hand in hand with the cream and the umami flavours of the salmon.
Just A Splash is a family-owned company based in the Cotswolds. Founder, Pia Varma, grew up in a family of foodies and was inspired to create Just A Splash in response to her annoyance at having a drinks cabinet full of expensive, big bottles of alcohol just gathering dust and taking up valuable space!
Her solution is one of those brilliant ideas that causes everyone to wish they had thought of it first – a completely original concept that creates a new retail channel. So clever indeed!
Cooking with Just A Splash
Just A Splash offers a ground-breaking solution to this age-old kitchen conundrum that hasn't been addressed before. Instead of buying the whole bottle, Just a Splash provide 100ml (3fl oz) pouches of top quality alcohol for cooking.
For now, Just A Splash offers five varieties: Rum, Port, Sherry, Marsala and Brandy. You can find all their amazing products here. Each of these contains an optimal blend of alcohol and seasoning to enhance the flavours.
The best part is that Just A Splash has been formulated to contain a slightly lower ABV (alcohol by volume), which greatly benefits the cooking process. This means that your dish won't taste of alcohol and will never get to that level of bitterness, that alcohol is capable of causing.
It allows the natural flavours of the dish to come through without spoiling the overall balance of flavours.
Let's talk about the science
This part is really important to understand when cooking with alcohol and spirits. It is a popular belief that when you cook with alcohol, all of it burns off.
Wrong!
In fact, when you flambé, 75% of alcohol is retained! So, cooking with alcohol really is like cooking with salt. You need to be careful in how you cook with it.
First of all, alcohol molecules are incredibly volatile, so they evaporate very quickly. If you add too much, you can already tell when you smell the dish.
Still, when cooking with alcohol in a clever way, it adds incredible flavor and depth to a dish. Also, it serves to blend all the ingredients together in two ways: evaporation and molecular bonding.
More specifically, the alcohol bonds the fat and water molecules a dish, fusing everything into one delicious meal. Alcohol, therefore, makes it easier for our aroma receptors to absorb the flavours of the food.
So, Just A Splash is no ordinary "cooking alcohol". It is specifically tailored for an optimal outcome. It is no surprise that Just A Splash had win the prestigious 2017 World Food Innovation Award.
Cooking with Salmon
Salmon is one of the most popular fish varieties used in the UK. Almost all restaurants here have some kind of salmon dish on the menu and with good reason.
Somehow people just never get tired of eating salmon. I love salmon too but I try to also use it in different ways other than preparing the classic seared filet. So I made a salmon soup!
Whenever you cook with salmon, or any other fish for that matter, it is important that the fish is fresh. I strongly recommend you to buy it from your local fish monger.
Maybe you are lucky enough to get hold of king salmon. You can learn more about the different species of salmon in my article on hot smoked salmon.
Also, you should not be skeptical about using fresh fish for a soup. In fact, as the salmon is such a key element of the soup that even the vegetables will not be able to camouflage a poor quality fish.
You can use this recipe with other types of fish as well. For example trout, halibut, or even smoked haddock. The smoked fish will add a deep and intense richness to the soup.
Also, the fat released from the salmon will work exceptionally well with the addition of brandy!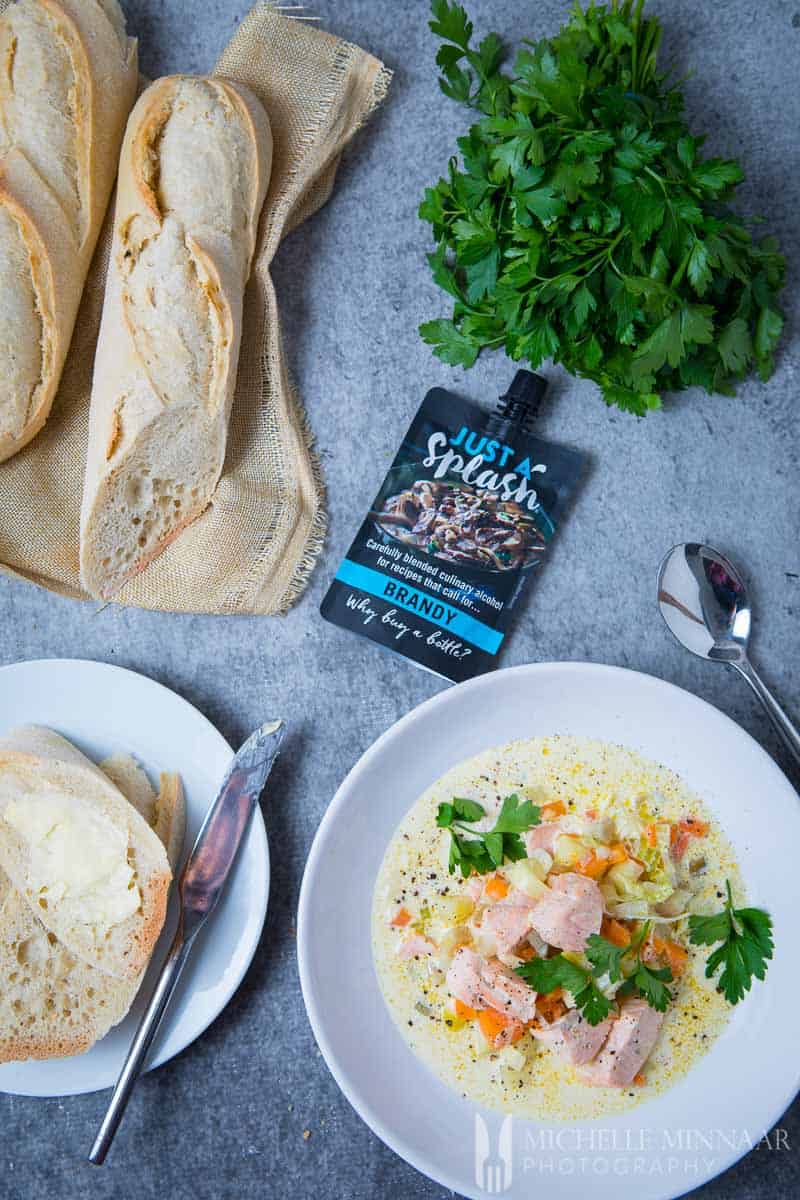 Vegetable stock
To speed up the cooking of the salmon soup, I used a premade vegetable stock for this dish. If you have the time, you can make your own though. Fry up your vegetables in a sauce pan and make sure to caramelise them well.
Pour water on and let it simmer and reduce. When you find the flavour intense enough, strain the stock. You can freeze the stock for later use.
As for the vegetables that go into the soup, you should treat them gentler, so that they present themselves nicely in the bowl. Fry on low heat for about 10 minutes until they soften.
I used potato, leek, carrot, celery stick and fennel for my soup. You can also add celeriac or parsnips for more flavour. If you can't get your hands of fennel, try these fennel substitutes.
You might consider the fennel an unusual choice but this often overlooked vegetable is a match made in heaven for fish. The subtle anise flavour is simply a wonderful pairing for any fish or seafood, especially with salmon.
Even if you think it smells of licorice and you don't fancy it, please do not leave it out. The salmon soup won't be the same without it.
You can also add all spice of these all spice substitutes to jazz up this soup. Some people even a spoonful of Dijon mustard for a certain pepperiness. If you can't find Dijon mustard or you don't like its strength, consider these alternatives.
Add the good stuff
As mentioned before, a splash of alcohol can do wonders to a dish. For fish and seafood, white wine is the obvious choice, but you can go further than that.
By using stronger alcohols like brandy or fortified wine like Masala you can take the dish to another level. The alcohol itself will vaporise during the cooking, leaving behind only the concentrated flavours. It will give the salmon soup a deeper and more complex flavour.
Also, I added saffron to my salmon soup and finished it off with cream. Saffron and cream are another dream combination that works so incredibly well with fish.
The saffron adds this specific exotic flavour that is so unique. The cream makes the soup soft and rich, making you enjoy every spoonful.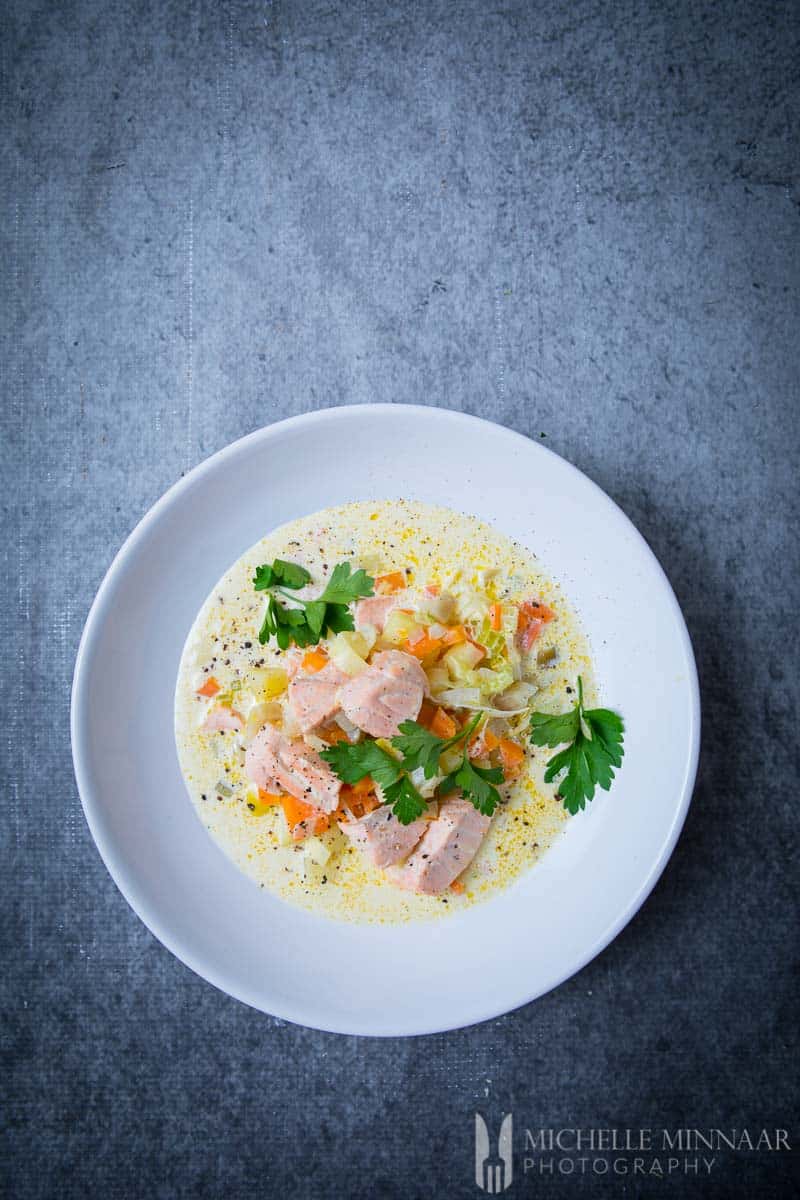 Serving
Serve the salmon soup generously in a bowl and top off with some freshly chopped parsley. I hope you didn't throw away the fennel top from earlier.
Finely chopped, the fennel top makes for the perfect green topping to your salmon soup. Serve the salmon soup with nothing else but a good quality baguette or bread and you have a dish worthy of a bistro in Bretagne.
Love the idea of fish soup? Check out my Smoked Haddock Chowder! For the perfect smoked salmon starter, have a look at this salmon terrine recipe.
Lastly, if you are unhappy with the consistency of this soup, just add 2 spoons of potato starch. In addition, any of these 6 potato starch substitutes will do the trick.
What is your favourite way of using brandy in recipes?
Print
Salmon Soup with Potato, Fennel and Carrot
---
600g

(

1 1/2

lb) salmon fillets

1

l (4 cups) fish or vegetable stock

15

ml (1 tbsp) vegetable oil

1

leek (white part only), washed and finely chopped

1

large carrot, peeled and diced

1

celery stalk, washed and diced

2

large potatoes, peeled and diced

1

fennel, peeled and diced

30

ml (2 tbsp) Just a Splash brandy

300

ml (1 cup) double cream

2

pinches saffron
---
Instructions
Remove the skin from the salmon fillets and debone the fish. Chop the flesh into bite-sized chunks. In a large saucepan bring the stock to the boil and add the salmon skin and let it slowly simmer for 10 minutes.
Strain the fish stock, reserving the liquid and chucking the fish skin and other debris.
In another large saucepan, heat the oil and add the leek, carrot, celery, potatoes and fennel. Continue to fry on a low heat until the vegetables have softened, which would take about 10 minutes.
Turn up the heat and add the Just a Splash brandy and let it sizzle for a minute.
Add the stock to the vegetables and let it simmer for another 5 minutes.
Pour in the cream, salmon and saffron to the soup and cook for 5 minutes or until the vegetables and fish are cooked.
Serve immediately with crusty bread, garnished with freshly ground pepper and parsley.
Notes
Most fish will work in this recipe, especially smoked haddock. Even mussels!
Try one of these leek substitutes if you're having trouble getting hold of them.
Prep Time:

30 minutes

Cook Time:

20 minutes

Category:

Main Course

Cuisine:

French
Nutrition
Serving Size:

1 serving

Calories:

593

Sugar:

4.2 g

Sodium:

144 mg

Fat:

35.2 g

Saturated Fat:

15.9 g

Carbohydrates:

37.6 g

Fiber:

6.1 g

Protein:

34.3 g

Cholesterol:

148 mg
save the recipe to your pinterest board

P.S. This is a sponsored post.