Take advantage of these delicious and simply made halloumi wraps. They are the ultimate vegetarian snack that helps you to stay full all day without craving additional food. The best part is that they only take a couple of minutes to prepare. I love making these halloumi wraps because they leave loads of room for tweaking and experimenting with your favourite ingredients.
That being said, being a total fan of halloumi, these wraps are very suitable for those on a vegetarian diet. In addition, halloumi cheese is also an excellent alternative for those who suffer from lactose intolerance. Although halloumi cheese is not lactose-free, it is very low in lactose because it consists of sheep's milk or goat's milk. All in all, halloumi wraps are very healthy!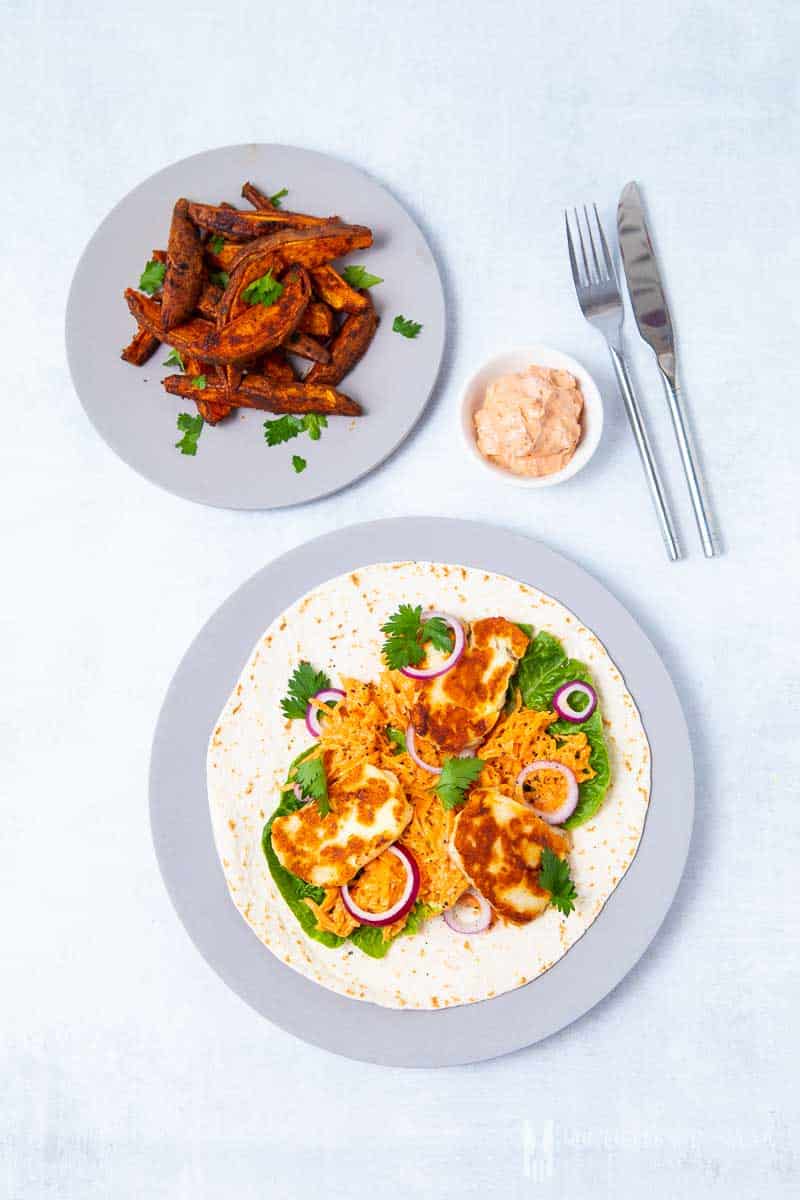 halloumi wraps with HelloFresh
So, don't miss out on this excellent halloumi wrap recipe. Now, imagine if you could speed up the preparation process even more! Making these halloumi wraps is literally a piece of cake with HelloFresh! When I heard about HelloFresh and their incredible recipe box service, I knew I had to try their halloumi wraps. Overall, the experience was a blast!
For those of you who don't know, HelloFresh is the leading UK recipe box company, which delivers all ingredients (super-fresh and high quality) for your recipe straight to your door! In addition, the recipe boxes come with step-by-step recipe cards. The instructions are really simple so you, too, can replicate a gourmet meal in just a few simple steps.
so, how does HelloFresh work?
First, select a recipe from their weekly menu. They have a ton of exciting recipes for you to choose from. Even better, HelloFresh cater for vegetarians and have tons of vegetarian-friendly recipe boxes! Also, they have low-calorie recipes, too! Isn't that amazing?
Once you select your recipe, HelloFresh will deliver all of the fresh ingredients straight to your door. Indeed, when I received my halloumi wraps recipe box, the ingredients were exceptionally fresh and delicious. All of the portions were perfectly planned. The delivery also came on time! The best part is, HelloFresh saved me a trip to the supermarket! In fact, I didn't have to go to 3 different supermarkets to source the produce as I usually would.
So, with all my ingredients ready for making my halloumi wraps, I decided to put my own spin on them. Nothing forbids you from adding or deviating from the original recipe! So, if you feel creative on a certain day, don't shy away – feel free to experiment with the recipe!
To learn more about HelloFresh, click right here.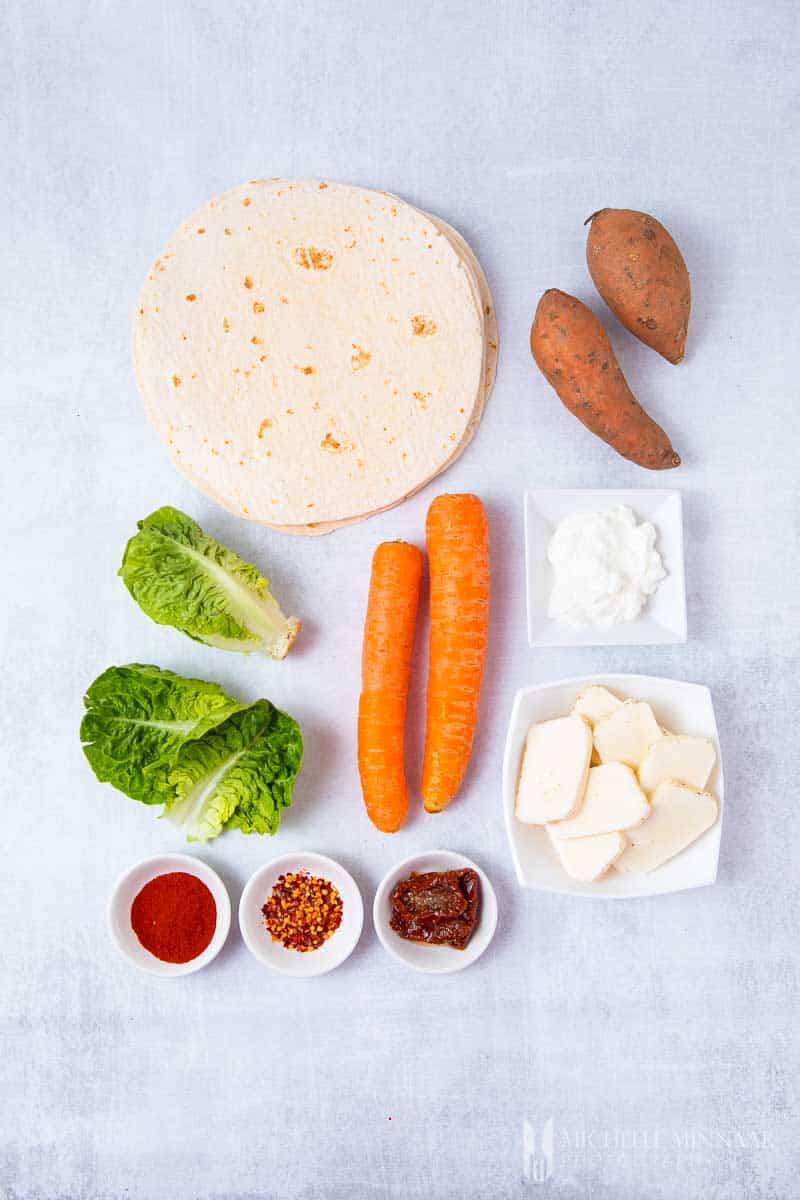 halloumi wraps with creamy carrot salad
On top of following the HelloFresh halloumi wraps recipe box instructions, naturally I added my own spin on them. What I love most about biting into any wrap is when there is a bit of juice, jam, jelly, sauce, or something creamy tying the ingredients together. Biting into a dry wrap can be discouraging. So, I just love this idea of adding a creamy carrot salad. The creamy carrot salad will bring a certain sweetness and crunch! The best part is you can also enjoy it alone and pair it with other dishes!
If you want to omit the creamy element, you can also make a very simple carrot salad. Recently, I've paired it with a lovely piece of fish, but it works well with anything really. This salad is perfect for those who are lactose intolerant. You can also pair it with a lovely Mediterranean salad with Mediterranean dressing.
Otherwise, for something quite different, you can also take this creamy apple salad for extra crunch and acidity. Just omit the sugar and let the fruit work its magic. Think of it like adding sweet apple jam (although raw and more savoury) into a Yorkshire pudding wrap for example. I don't see any reason why this can't work!
halloumi and avocado wrap
I adore avocado in any sense. I love adding avocado in wraps as well as sandwiches like this one. I've also added avocados to my salmon wrap recipe which made it so delicious!
It just makes the bite slightly softer. Plus, it's a great way to get those very healthy fats into your system. So, if you want a low-calorie option or you are intolerant to cream, then add avocado instead!
You can consider adding some of this cucumber salad with avocado. You can also leave some for a side dish. In addition, if you don't feel like chopping up the avocados and just want a smooth consistency, then go for this avocado dip! It's perfect with everything. For something in between, add guacamole (a Mexican avocado paste).
Lastly, you can also consider adding something more green like this avocado pesto, which also works with practically anything. All in all, I highly recommend adding avocado – in any form you choose!
You can also consider making these salads: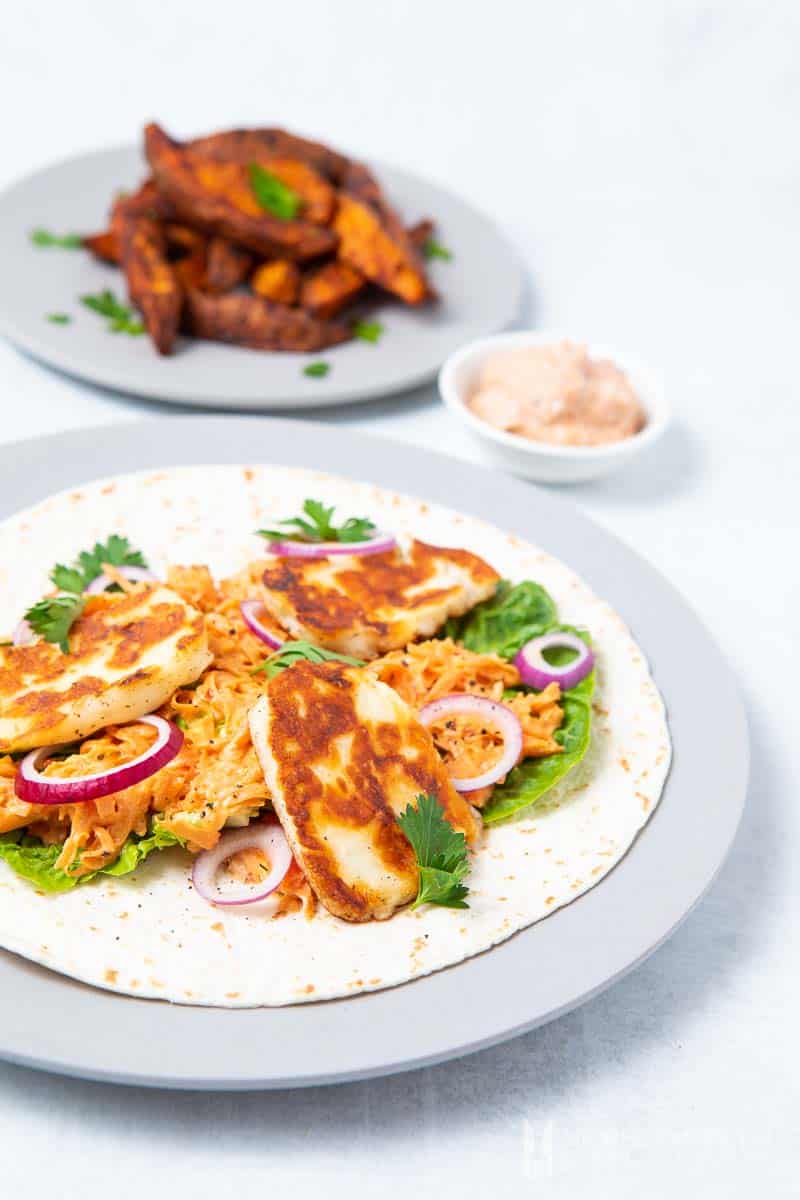 halloumi tzatziki wrap
Since halloumi is widely popular in Greece and I've selected these halloumi wraps to have a Greek spin, then you can also pair them with a traditional Greek sauce. Try combining these Greek-style halloumi wraps with tzatziki! Tzatziki is quite pungent and cooling in terms of flavour. It's often enjoyed with raw vegetables or pitta bread.
You can also opt for purchasing extra halloumi. There is nothing wrong with adding extra grilled halloumi, especially if you love this type of cheese. If you have any leftovers, then you can easily toss them in a delicious and vibrant halloumi salad for next day!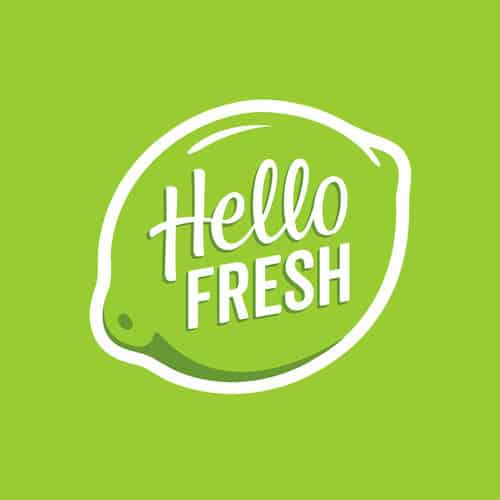 halloumi lettuce wraps
Now, this is the low-calorie alternative, for those seeking a better waistline or just eating healthier in general. I took this approach recently in my tuna lettuce wraps recipe instead of munching on bread and it worked. I felt equally satisfied and I loved the extra crunch and freshness. So, just take some lettuce and place the rest of the ingredients on top and enjoy. You can also use endives, just use smaller portions otherwise it won't all fit on!
Why don't you try pairing this recipe with a sugar free salad dressing?
halloumi wraps and sweet potato wedges
Lastly, for a filling alternative, enjoy these halloumi wraps with a side of sweet potato wedges or sweet potato fries. These are completely irresistible and much healthier than normal fries!
What is your favourite way to enjoy halloumi cheese?
Print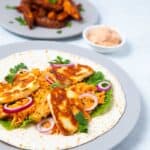 Halloumi Wraps with Creamy Carrot Salad
---
Description
These Greek halloumi wraps are made with fresh halloumi, creamy carrot salad and paired with amazing sweet potato wedges. Read about possible variations.
---
4

medium sweet potatoes, washed and cut into wedges

30

ml (2 tbsp) olive oil

15

ml (1 tbsp) smoked paprika

300g

(

10oz

) Greek yogurt

8

sundried tomatoes, drained

5

ml (1 tsp) crushed chillies

15

ml (1 tbsp) caster sugar

4

medium carrots, peeled and grated

15

ml (1 tbsp) vegetable oil

500g

(1lb) halloumi, cut into 1cm (½in) slices

2

gem lettuce, washed

4

tortilla wraps
---
Instructions
Preheat your oven to 220°C. Chop the sweet potato into wedges about the size of your index finger (no need to peel!). Put them on a baking tray and drizzle over some oil, the smoked paprika and a pinch of salt and pepper. Mix together to make sure the sweet potatoes are nicely coated, then roast on the top shelf of your oven until crispy, 25 mins. Turn halfway through cooking.
Place the yogurt, sugar, tomatoes and chillies in a food processor and blend until smooth.
Mix the yogurt dressing with the grated carrots.
Heat the oil in a frying pan on medium-high heat and lay in the halloumi. Cook until golden, 3 mins on each side, then transfer to a plate and cover with foil. Tip: If your pan isn't quite big enough, fry the halloumi in batches.
Place 2 or 3 lettuce leaves on each tortilla wrap, then top with carrot salad and 4 slices of halloumi. Roll up and serve with the sweet potato chips. Use the remaining yoghurt for dipping. Enjoy!
Prep Time:

10 minutes

Cook Time:

20 minutes

Category:

Main Course

Cuisine:

Greek
Nutrition
Serving Size:

1

Calories:

458

Sugar:

11.9g

Sodium:

1263mg

Fat:

23.5g

Saturated Fat:

10g

Carbohydrates:

44.3g

Fiber:

6.7g

Protein:

20g

Cholesterol:

4mg
save the recipe to your pinterest board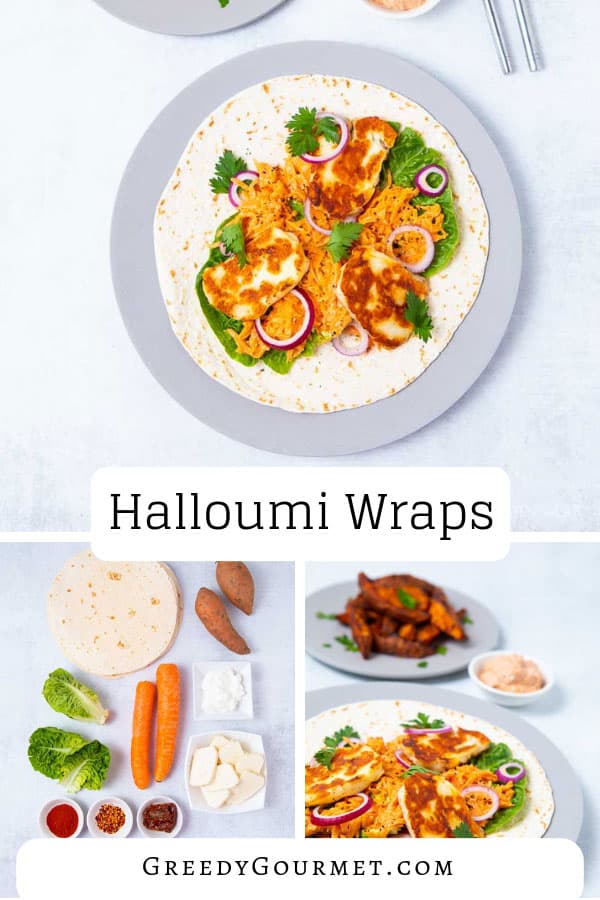 P.S. This is a sponsored post.