When was the last time you had chicken korma for dinner? As one of the most popular Indian takeaway dishes here in the UK, it is no surprise that this creamy goodness is ordered a lot.
Perhaps this rich Indian curry isn't a great idea if you are watching your figure, but every spoonful is worth the extra hour in the gym.
Another favourite feature of this authentic Indian chicken korma recipe is that it is mild and sweet. So naturally, my kids go crazy for it. It is best served immediately with a side of rice, rotis or naan.
chicken korma
For this chicken korma recipe, you'll need 750g (1 1/2 lbs) of chicken breast. Take a sharp knife and chop them into smaller pieces. You can also cut them 'tikka' style into large cubes.
If you want to know what I am referring to, take a look at my chicken tikka recipe here.  Once you've done this step, sear the chicken in the oil on a high heat in batches.
Next, set them aside. You don't have to sear them completely until they completely cooked because you'll toss them into the curry to simmer.
So, don't make your chicken too dry and chewy even before you've started cooking the korma curry itself.
korma curry substitutes
The beauty of Indian cooking is the versatility it brings to the table. You can use any type of meat, fish or vegetables for this chicken korma recipe.
For example, my favourite alternative dishes include turkey korma, tofu korma, vegetable korma, beef korma and more. I also love making prawn korma when I can get my hands on proper tiger prawns!
Other protein substitutes that also work are pork and lamb, respectively. The intense flavor of the lamb works well with the richness of the curry.
A side dish idea is to have a lighter, green element to the meal such as bhindi bhaji to complement this heavy dish. The latter is an Indian side dish comprising spicy fried okra.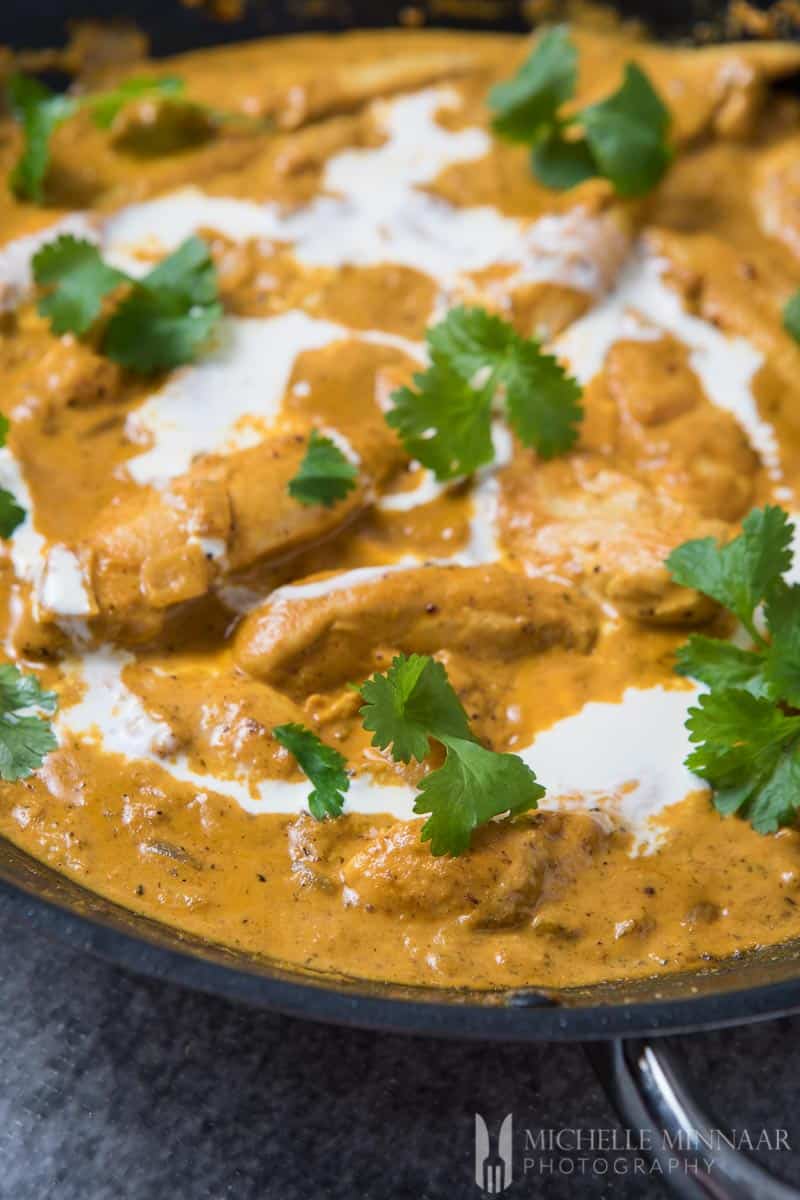 chicken korma paste
Now, the korma paste is the key ingredient to getting those lovely Indian flavours into the korma curry. For this recipe, you'll need roughly 125ml (1/2 cup) of korma curry paste.
However, you can adjust to your taste preference. Don't be afraid to tweak the amount of paste used to achieve the spice level you like.  
For best results you can make your own curry paste from scratch. It is surprisingly easy to prepare and the hardest part is sourcing all the ingredients but they are all readily available in supermarkets.
authentic chicken korma recipe
To replicate an authentic chicken korma recipe, you will need to add cream and yoghurt. For this recipe, I've added 125ml (1/2 cup) of double cream and yogurt, respectively.
Double cream cooks well over heat and fuses at the ingredients with the korma curry paste. Yogurt is a good substitute, and healthier too, and is often used in India.
You will need a fairly neutral yogurt to the chicken korma curry so it doesn't impact the overall balance of the dish with its sour tones.
chicken korma with coconut milk
You can substitute the double cream with coconut milk to make the chicken korma curry lighter. Even though the double cream adds that richness we love so much because it is a thickening agent, the coconut milk will do the same.
Comparatively, the coconut milk with not thicken the chicken korma like the double cream or yoghurt, so the curry will need to simmer for longer. Leave it on the heat until you get the desired consistency.
If you face consistency issues, there is a little trick that might help you. First, if your chicken korma curry is too runny, just add a bit of desiccated coconut.
The latter goes very well with coconut milk, although generally they will also work with yoghurt or cream. Next time you cook a korma curry recipe, notice that some of them do actually have the coconut shavings inside that add that crunch and enhance the sweet flavours.
Did I mention that coconut milk is a fantastic vegan substitute to double cream or yoghurt? Keep things vegan and make a vegan korma curry using vegetables.
slow cooker chicken korma
Have you ever cooked an Indian recipe in a slow cooker before? Personally, I 've used the slow cooker mainly for soup and getting those vegetables soft.
For example, I like to make slow cooker sweet potato soup. You can find it here. Here is an idea, why don't you add a the korma spice mix into the soup or some masala spices and turn it into a starter?
Nonetheless, the slow cooker will make the chicken and other ingredients really tender. Please do share if you've tried this before and let me know in the comment box below!
serving
As the chicken korma is a very rich dish, you'll need to serve with plain pilau rice, roti or naan. For a bit of variety, I like to add a cucumber raita, see the recipe here. The cucumber raita is a cooling agent and will refresh your palate.
storage
I don't recommend freezing the chicken korma curry because it is cream-based. Therefore, during the thawing process, it is very likely that your chicken korma curry will split.
The best thing is to store it in a fridge with a lower temperature setting. Only then, will it keep up to four days.
Remember, curries always taste better on the second on third day because the flavours fuse together. Don't believe me?
Just take a look at my leftover turkey curry recipe here, and try it out for yourself. The flavours are much better the next day, I promise!
What is your favourite way to prepare korma?
Print
Chicken Korma
---
Author:

Michelle Minnaar

Prep Time:

10 minutes

Cook Time:

30 minutes

Total Time:

40 minutes

Yield:

4

1

x
Description
Chicken korma is possibly a top five favourite at Indian takeaways. Want to learn how to master this amazing recipe at home? Here is your chance. You'll need chicken breasts, onions, vegetable oil, yoghurt, double cream, vegetable oil, korma curry paste (which you can also make from scratch) and brown sugar. Enjoy!
---
750g

(

1 1/2

lbs) chicken breast, chopped

30

ml (2 tbsp) vegetable oil

1

onion, peeled and finely chopped

125

ml (1/2 cup) korma curry paste

125

ml (1/2 cup) Greek yogurt

125

ml (1/2 cup) double cream

15

ml (1 tbsp) brown sugar
salt, season to taste
---
Instructions
Sear the chicken in the oil on a high heat in batches. Set aside.
Lower the heat and gently fry the onion until softened. Add a bit more oil if needed.
Spoon in the paste and fry for 3 minutes to release the aromas and flavours of the spice mixture.
Place the chicken and its juices back in the sauce then add the yogurt.
Simmer on a low heat for 10 minutes then add the cream and sugar.
Let it bubble for another 5 minutes then serve immediately.
Notes
The chicken can be substituted with meat of your preference, such as lamb, beef and pork.
Check out the recipe for using prawns.
Serve with plain or pilau rice, naan and raita.
Category:

Main Course

Cuisine:

Indian
Nutrition
Serving Size:

1 serving

Calories:

404

Sugar:

3.4 g

Sodium:

148 mg

Fat:

23.4 g

Saturated Fat:

8.7 g

Carbohydrates:

5.7 g

Protein:

40.7 g

Cholesterol:

163 mg
save the recipe to your pinterest board