If you love Indian food you are probably already familiar with cucumber raita, which is a classic yoghurt-based dip with vegetables and herbs in it.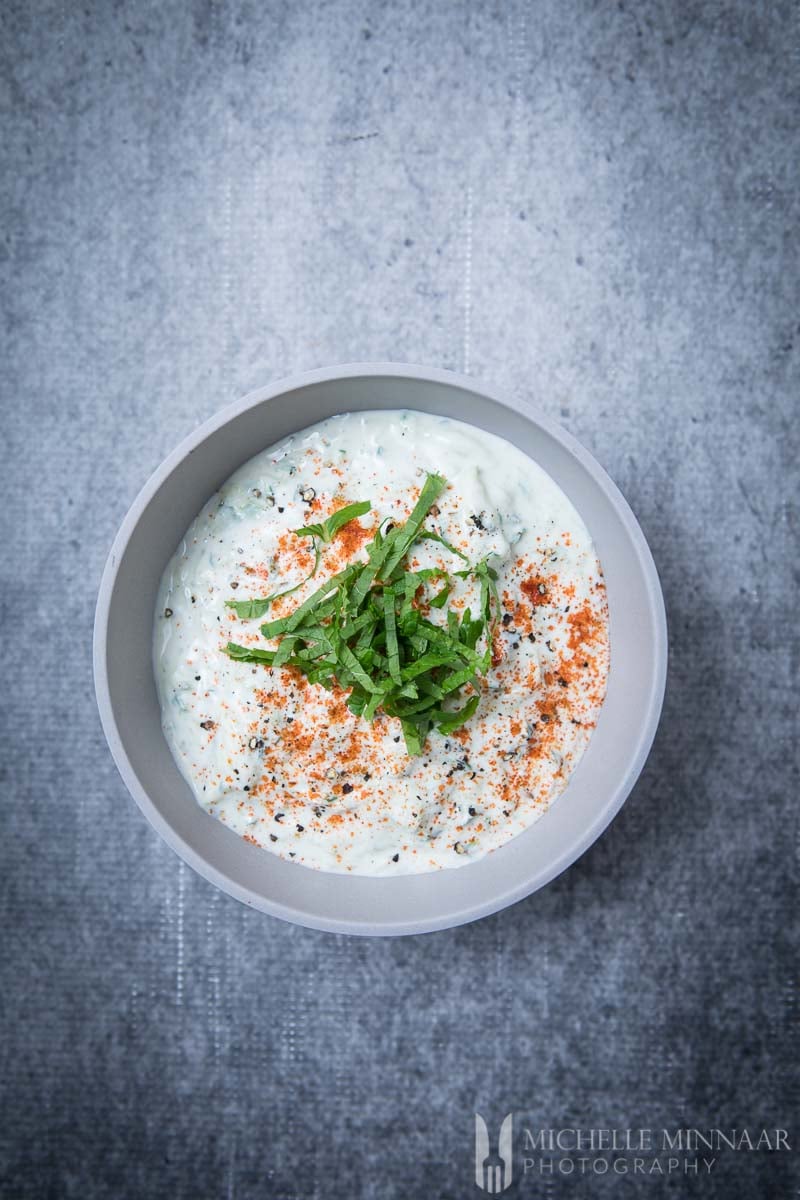 It is perfect for cooling down and balancing out some of that spiciness of some Indian dishes. In my version, I have focused on just a single vegetable and thus made a refreshing cucumber raita with mint.
Raita is actually quite a versatile dressing that you can serve in a multitude of ways and makes a great addition to Indian starters, main courses or even snacks.
various vegetables
Some raitas only have cucumber in them, others contain other vegetables and even fruit. I have tasted many raitas in my time, some of which had even corn and carrot slices in them.
If you use carrot you should grate them rather than serving them sliced in order to produce a less clunky raita. The most common additions apart from cucumber however, are tomatoes and chick peas, respectively.
If you have some brilliant version of raita you want to share, please leave a comment. For example I have heard of raita with spinach but never had it or tried to make it. Perhaps you can tell me whether or not it's any good.
use fresh herbs
Fresh herbs are just as important as the dried spices when cooking Indian food. The fresh mint combined with the cucumber makes the cucumber raita ideal for putting out that possible fire on your tongue. As you know, Indian food can be notoriously spicy and a refreshing cucumber raita with fresh mint can bring instant relief. Sometimes coriander is used instead of mint, but even parsley, watercress or dill will be a good fit. Of course, this depends on what food you want to serve it with. Why not experiment a little and find out what you like the best?
serve as a starter
In just about all Indian restaurants you will find cucumber raita in the starters section of the menu. Some think of cucumber raita as the Indian version of Greek tzatziki.
It is not supposed to be overly watery and runny. Therefore it is also very important to drain the excess water from the grated cucumber when preparing this raita.
Cucumbers contain an astonishing amount of water, which you don't want to end up in your raita.
Another good starter is a vegetables samosa. Samosas are little pockets of dough stuffed with a spicy filling.
The filling can either consist of meat or vegetables. Served with cucumber raita, it makes for a perfect Indian starter or even a light lunch.
you'll need some carbs
No dip is complete without something starchy. To complete the starter, I recommend pappadums or kerala paratha.
Pappadums are thin, round and crispy crackers that you will find in every Indian restaurant. Kerala paratha are softer, thin wraps.
You can buy these in many oriental stores and sometimes even in large supermarkets, so keep an eye out. These items are worth having in the cupboard at all times.
If you're in the mood to combine ethnic cuisines, you can also try Moroccan m'smen.
serve as a side
Cucumber raita is not only good as an Indian starter; it is a great accompaniment for a main course. For example, if you make my Indian roast leg of lamb, you can use cucumber raita as a dressing.
The flavours go very well together, and if you think the combination of lamb and mint is something out of your grandmother's kitchen, this will definitely change your mind.
The cucumber raita is also particularly good for curries and other Indian dishes, such as my malai kofta gosht. Malai kofta gosht is probably one of the less well known Indian dishes but it certainly is moreish.
Basically, it is Indian meatballs made from minced lamb in a gentle curry spice. Serve these up with warm naan bread and a big spoonful of cucumber raita for a superb supper.
If you prefer some of the more traditional dishes I can recommend chicken tikka. It is probably one of the most popular Indian dishes in the world.
The unique masala spice mix gives the chicken its characteristic exotic flavour. Some versions are spicier than others but in any case, cucumber raita is the perfect side.
how about a snack?
Another, perhaps slightly alternative, way of using cucumber raita is to serve it with snacks. Cucumber raita is an excellent party food, which your guests will enjoy as soon as they taste it.
Not only does it go well with naan bread, pappadums and curries, it also works with bread sticks, crackers or even chips! So next time you have a party, you should try out the cucumber raita on your guests.
For a gluten-free accompaniments you can julienne bell peppers and carrot. These are perfect if you prefer something lighter or want to get in shape in time for the summer!
Overall, cucumber raita is easy to prepare, so it won't take much of your time from your other party preparations.
Also, the upside is that your guests will try something new other than the downtrodden crème fraiche dressings, guacamole and white bean dip.
Print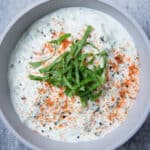 Cucumber Raita
---
1

whole cucumber, washed, topped and tailed

500

ml

(2 cups) plain yogurt

1

garlic clove, peeled and crushed

5

ml

(1 tsp) ground cumin

30

ml

(2 tbsp) fresh mint leaves, finely chopped
Salt and cayenne pepper, to taste
---
Instructions
Grate the cucumber then drain the excess water created in the process.
Place the grated cucumber in a large bowl then stir in the yogurt, garlic and cumin.
Season with salt and pepper and top with mint leaves.
Serve as a starter with pappadums or as a side dish to an Indian meal.  
Prep Time:

10 minutes

Category:

Side Dish

Cuisine:

Indian
Nutrition
Serving Size:

1 serving

Calories:

67

Sugar:

6.4 g

Sodium:

62 mg

Fat:

1.2 g

Carbohydrates:

7.1 g

Protein:

5.2 g

Cholesterol:

5 mg
save the recipe to your pinterest board