A delicious turmeric smoothie with fresh banana and mango is just the push of a button away. Indisputably, this smoothie has outstanding anti-oxidant and anti-inflammatory properties. Enjoy making this lactose-free version of a smoothie with turmeric and read more about appropriate substitutes. The turmeric smoothie makes the perfect health booster during days of miserable weather. Even if you are not the biggest fan of turmeric, don't let its inclusion put you off from indulging in this amazing beverage. Serve it at room temperature or serve it ice cold during a sunny day. The smoothie stores well in the fridge and can last up to three days. In addition, the drink freezes well, so you can enjoy it whenever you need a bit of a vitamin boost.
Overall, once you try a turmeric smoothie, you'll soon start feeling the immense health benefits that it brings with it. The ingredients that make up this smoothie contain anti-oxidant as well as anti-inflammatory properties. Indeed it is widely recognised that these types of beverages that contain turmeric will help you deal with chronic inflammation – even if you don't know that you have it. Either way, wholesome drinks like this could almost be described as a tonic. Soon, everybody will want to know the secret to your amazing immunity as well as your healthy lifestyle.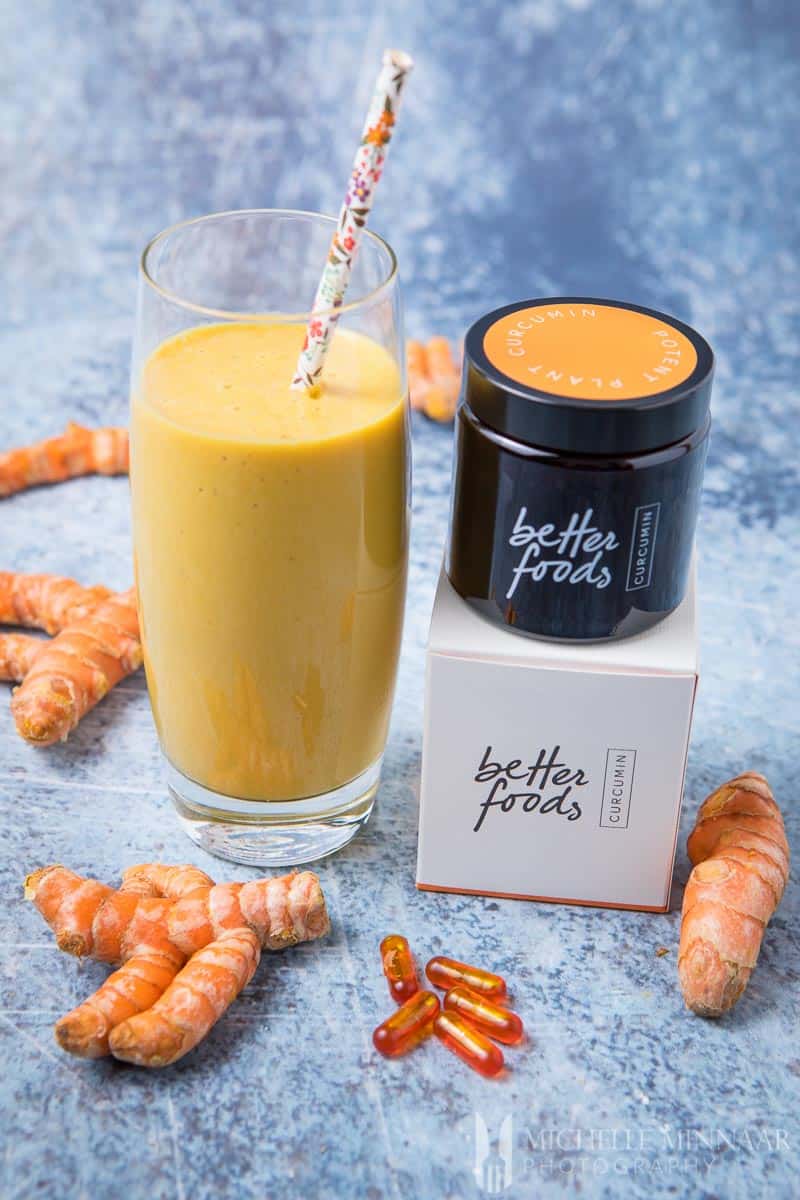 immune-boosting anti-inflammatory turmeric smoothie
The way I managed to create this delicious turmeric smoothie recipe is with CURCUMIN from Better Foods. Better Foods is a new company founded by economics students from the quiet town of Göttingen. They realised that normal lactase tablets contain lots of additives that are harmful to the body. They decided to tackle this issue immediately. Hence, they developed Better Foods Lactase which evolved from LactoJoy. Furthermore, the students dedicated their time to developing even more healthy products like CURCUMIN which are all additive-free and totally healthy!
What I found particularly helpful about the curcumin product is the accessibility of it. Fresh curcumin isn't readily available in the shops unless you go to speciality stores or especially large supermarkets in cities…. if you're lucky. It definitely takes the stress out of having to shop for the fresh ingredients with the hope of benefiting from this potent component. During the time I took CURCUMIN, before it ran out (!), I didn't get ill once and even eczema on my fingers eased. This experience made me reassess my daily health regime by considering to add curcumin to the daily mix.
So, if you feel like you're constantly denying yourself delicious smoothies, then you don't have to torture yourself any more. Same goes for whipped cream and other milk or cream-based recipes. With LactoJoy as well as Better Food Lactase, you too can live your life to the fullest. LactoJoy offers a chewable lactase tablet that's also affordable! It's free of chemical additives and only contains plant-based release agents that work! The LactoJoy tablets don't have any animal-based components, colouring agents or any dangerous sweeteners. Being lactose intolerant, I already tried the LactoJoy with my bobotie recipe. Anyone who suffers from lactose intolerance should try these tablets. They work!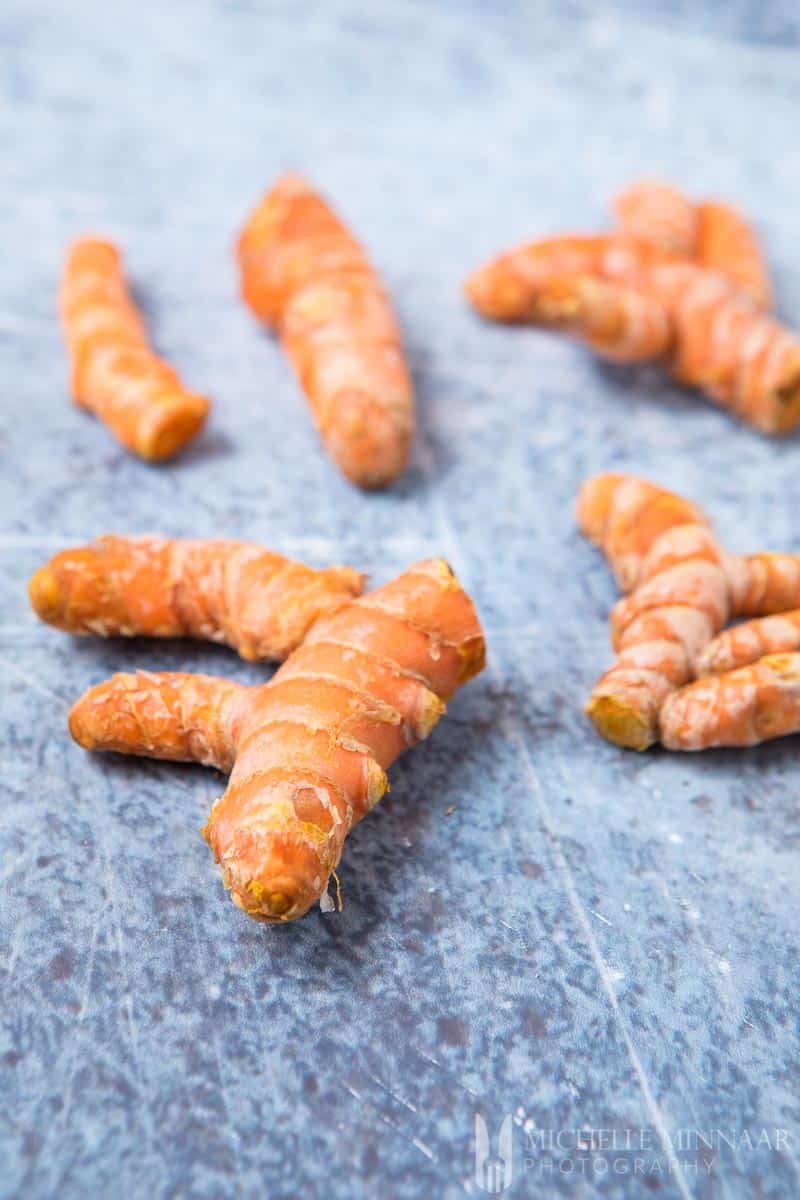 healthy turmeric smoothie with CURCUMIN
Turmeric is also known as kurkuma or golden root and belongs to the ginger family. It is native to India and South East Asia, hence it's an integral part of Asian cuisines. In case you think its health-giving properties are some new-fangled notion, think again – 4000 years ago, Indians had discovered the anti-inflammatory and anti-oxidant effects of turmeric. As you might expect, the inclusion of turmeric gives the smoothie a distinct yellow colour.
Turmeric is a common ingredient in traditional Chinese medicine teas and other recipes as well as being an integral part of Indian Ayurveda Cuisine. Hence, as CURCUMIN contains the healing powers of the kurkuma, it has very positive effects on intestinal problems, skin disease and lipid metabolism. Most of all, CURCUMIN eliminates dangerous oxidative stress. You can order CURCUMIN and find more information about it here.
If you can't wait to try this smoothie, you can, of course, use raw turmeric. If you have a professional juicer at home, I highly encourage you to juice the turmeric. This way, you can enjoy a shot of turmeric every morning and get your body back into a healthy state. Also, you can control the amount of raw turmeric juice inside the smoothie. This way, you are in control of the overall balance of flavours.
lactose-free turmeric smoothie recipes
I love using almond milk in smoothies. In fact, almond milk is an excellent addition not only for cooking, but for enjoying coffee as well. If you can't get your hands on almond milk, there are a lot of substitutes out there.
Other lactose-free substitutes you can try are the following:
Hazelnut milk – nuttier in terms of taste which might overpower exotic flavours. Pairs well with banana.
Oat milk – slightly acidic in taste but pairs well with all ingredients.
Rice milk – also pairs extremely well but will not yield a very creamy smoothie.
Coconut milk – goes hand in hand with turmeric spice and is one of the best substitutes.
Soy milk – use as last resort due to powerful essence of soy.
Lactose-free vegan milk – you can always select this simple option. However, this option doesn't boost the flavour of the smoothie.
The best substitute is coconut milk because it works very well with turmeric as well as ginger. If you use coconut milk, you'll almost have a Thai-inspired turmeric smoothie.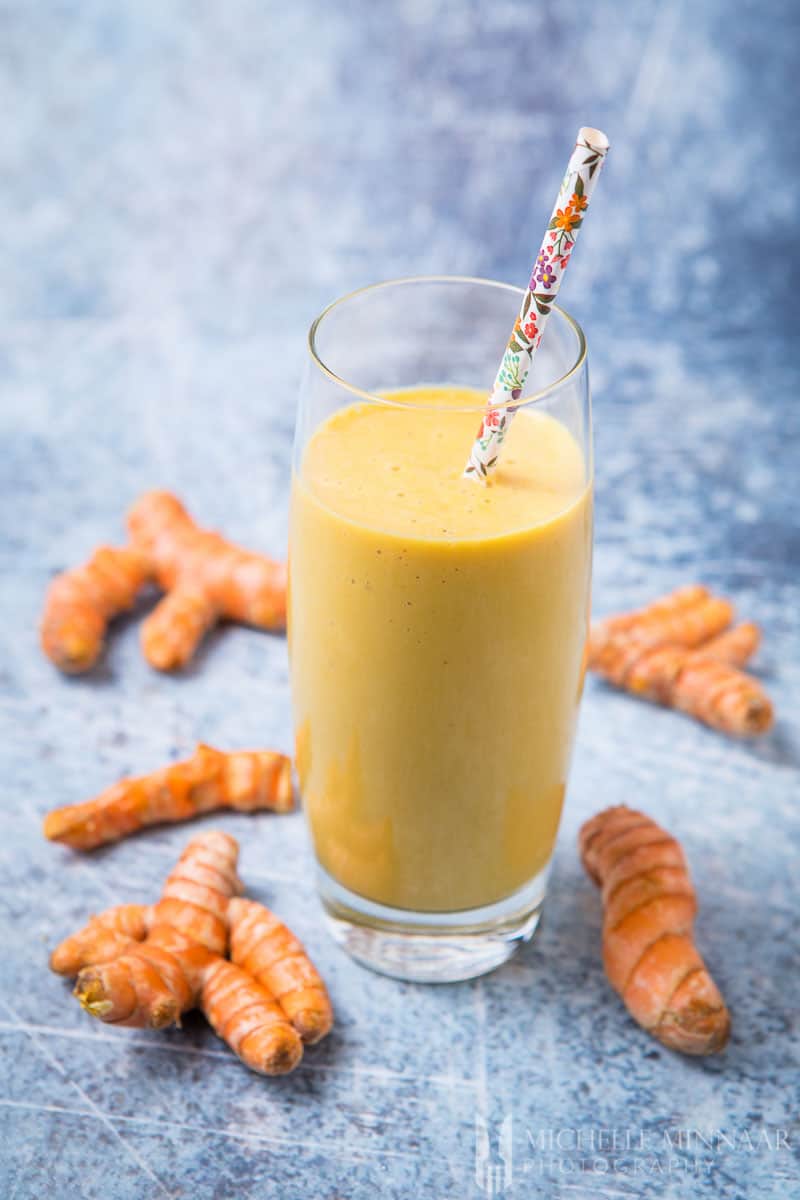 top 11 anti-inflammatory turmeric smoothie recipes and ideas
Banana and mango pair excellently with turmeric spice, making these yellow fruits an excellent addition to this refreshing beverage. Nonetheless, turmeric works extremely well with other fruits and vegetables – especially those with an exotic flavour. Here are just a few combinations you can try instead of the mango and banana:
Carrot ginger turmeric smoothie
Goji berry turmeric smoothie
Turmeric Strawberry smoothie
Green turmeric smoothie – avocado, pineapple
Turmeric Orange smoothie
Turmeric Pineapple smoothie
Blueberry turmeric smoothie
Turmeric Papaya Smoothie
Orange banana turmeric smoothie
Kiwi banana green turmeric smoothie
Berry turmeric smoothie – you can use this smoothie as a base
These are just a few flavour combinations which you can put together. Otherwise, you can also try my super green smoothie, almond milk protein shake, pineapple and avocado smoothie and my cranberry smoothie recipe.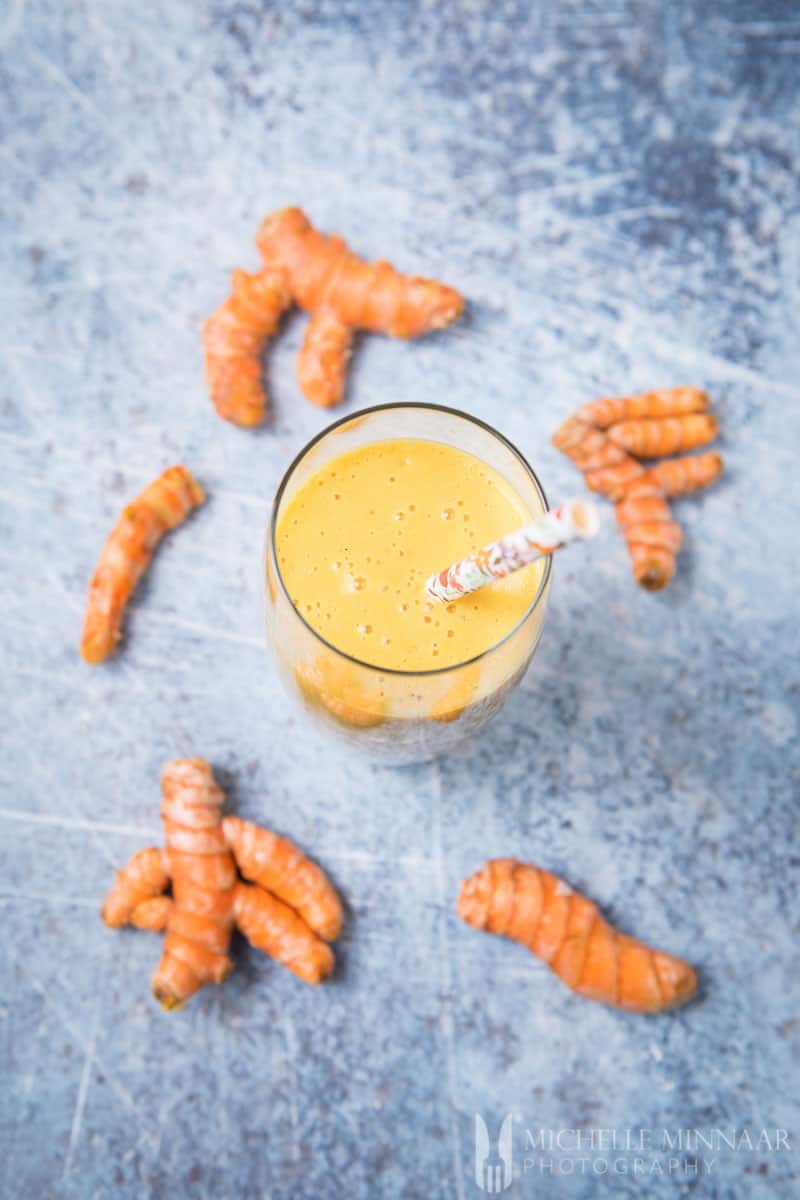 ice-cold, refreshing turmeric smoothie
If you fancy a cooler turmeric smoothie during the summer months, then you can easily make it super-cold without diluting it with ice. Simply freeze the chosen fruits and hit the blend button. So, in this case, freeze the banana and the mango beforehand. Just a tip – peel the mango and the banana, otherwise, you'll have a really hard time getting the skin off!
Print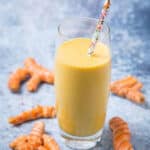 Turmeric Smoothie
---
Description
Try this simple turmeric smoothie using the secret healing powers of turmeric, otherwise known as kurkuma. It is an anti-inflammatory turmeric smoothie.
---
250

ml (1 cup) almond milk

1

mango, peeled and chopped

1

banana, peeled and chopped

2.5

cm (1in) fresh ginger, peeled

7.5

cm (3in) fresh turmeric, peeled
---
Instructions
Place all the ingredients in a high-powered blender and process until smooth. Serve immediately.
Notes
If you would like a cold smoothie, freeze the banana and/or mango beforehand.

You can use orange juice instead of almond milk.
Prep Time:

5 minutes

Category:

Breakfast

Cuisine:

Indian
Nutrition
Serving Size:

1 serving

Calories:

347

Sugar:

38.7 g

Sodium:

15 mg

Fat:

10.1 g

Saturated Fat:

7.2 g

Carbohydrates:

67.2 g

Fiber:

10.4 g

Protein:

5 g
save the recipe to your pinterest board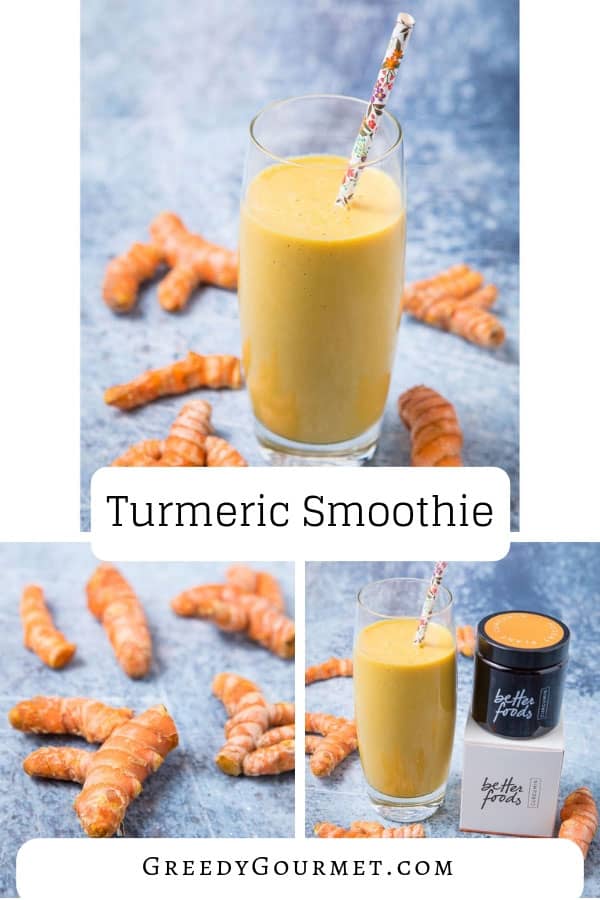 P.S. This is a sponsored post.