Preparing the Italian classic, tomato bruschetta, is an easy little dish that is an excellent starter or canapé for any occasion. Especially since Halloween and Christmas are just around the corner.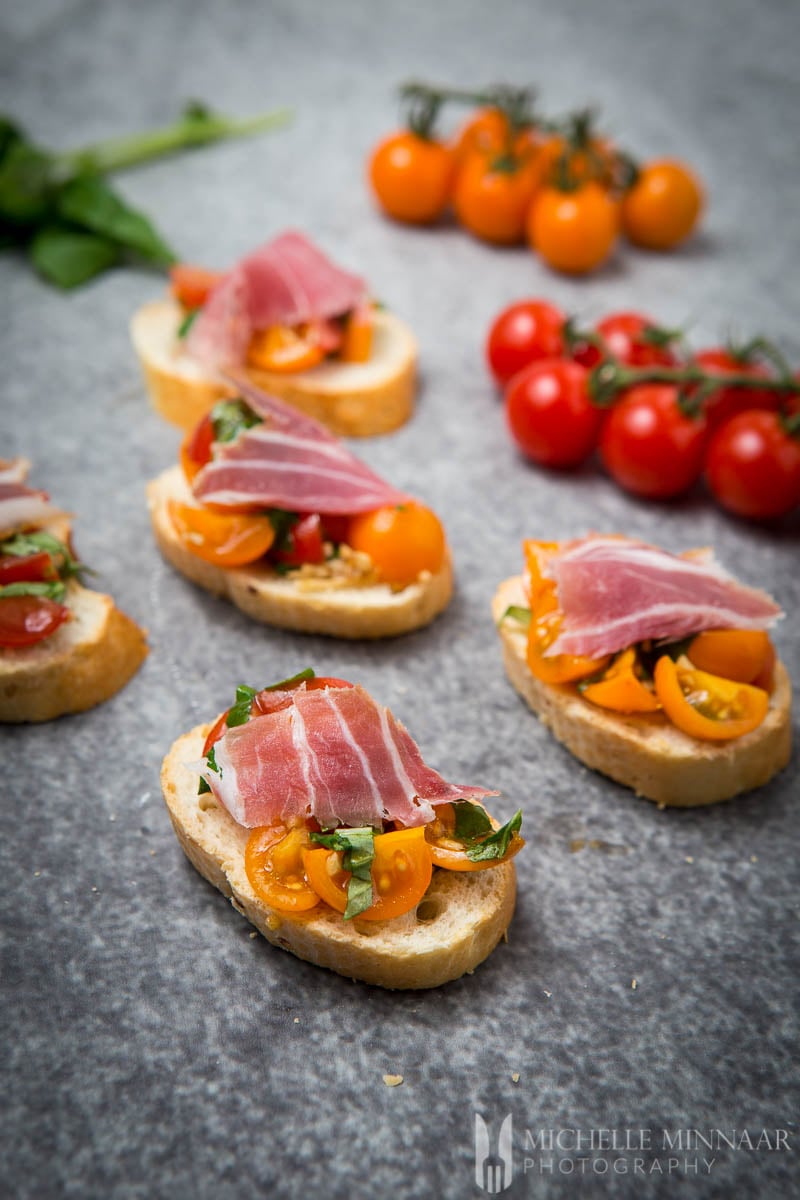 Generally, you might think of the tomato bruschetta as a light summer snack, but there is no reason for you not to enjoy these flavours in colder months. So, if you already feel that summer is long gone, it's time to make yourself some tomato bruschetta.
What makes tomato bruschetta so delicious is that initial crunch of perfectly toasted bread. The acidity from the cherry tomatoes then kicks in with the flavours of the added herbs.
Top it off with some Parma ham or some bacon and you'll turn it into a sophisticated tomato bruschetta. The best thing is that this simple Italian starter is very versatile, so it doesn't matter what you use as a topping. Make sure you make plentiful for parties; these things fly off the plate fast!
I love city kitchen
When did you first time taste a tomato bruschetta? Perhaps whilst on holiday in Italy? One of the best things about travelling is that get the chance to taste new foods and let yourself be inspired. And that is exactly what the people behind The City Kitchen did.
After travelling the world, they decided to bring the flavours of the world back with them. Thanks to them, you can now buy excellent ready meals from the The City Kitchen at your local Tesco with different flavours.
Therefore, the next time you don't have the time or the energy to cook for yourself, you can still have a tasty meal. They have excellent travel inspired dishes that you can pick up at Tesco and zap in the microwave in no time at all, which is a real life saver during a busy work week.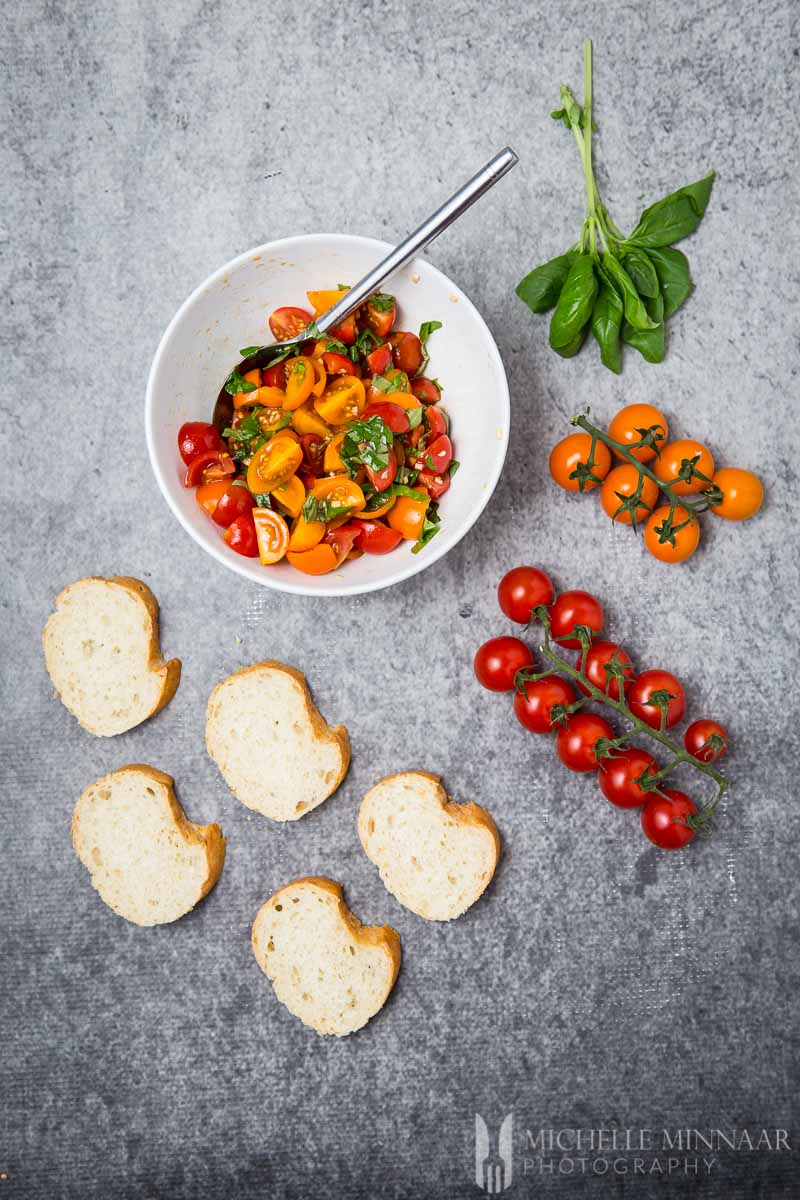 delicious meals
Speaking of excellent ready meals, The City Kitchen has eleven meals ready to go. They all bring a certain sense of travel. They definitely inspire me to travel to places. Just check out these meals:
King prawn chicken chorizo paella
Shredded hoisin duck noodles
Malaysian coconut beef curry
Katsu chicken curry
Skinny teriyaki chicken noodles
King prawn sundried tomato & chilli linguine
King prawn red Thai curry
Skinny Thai coconut chicken
Meat free vegetable, coconut & lentil pilaf
Low 'n' slow BBQ
Pulled pork steamed bun
Being a huge fan of Asian cuisine, I couldn't resist trying some of these! You can find my review of their products here. Let me know which meal appeals to you the most!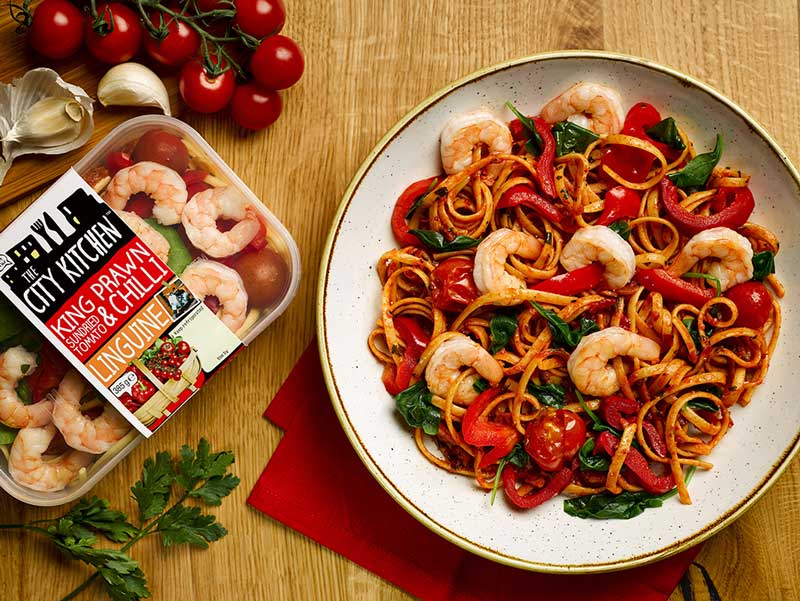 Italian starter
Bruschetta with tomato is one of the all-time classics among Italian starters. These little breads with tomato topping are so delicious that you risk eating too many before the actual meal!
In Italy, it's common to start a big dinner with a platter of small dishes called antipasti. This platter usually contains some Parma ham, some salami or similar and some olives. With, of course, the bruschetta as the center piece.
However, you can easily do with just the bruschetta as a starter. You can even have it as a light lunch, perhaps with some salad on the side.
Furthermore, bruschetta is excellent party food if you have any celebrations coming up and are not quite in the mood for Christmas cookies yet.
On the other hand, if you need something a bit more filling but still exotic, you should try one of the ready meals from The City Kitchen.
Choice of tomato
The type of tomato that you chose to use will determine the flavour of the bruschetta. If you use cherry tomatoes you will get that lovely acidity combined with sweetness that gives an edge to the flavour.
If you don't like cherry tomatoes, or can't get hold of any, don't worry about it. You can use just about any type of tomato.
This time of the year it can be a little tricky to get tasty tomatoes in the shops, so be careful. You do not want to end up with the pale looking ones from a Dutch greenhouse that taste of nothing but water.
The tomatoes are such an essential part of the bruschetta. You should be prepared to spend a few pennies more and get the good ones.
A little tip. If you have some left-over cherry tomato salad, you can easily turn this into bruschetta. Stuffed cherry tomatoes is another way to use up a glut. Add a few herbs and season, and put the tomato salad onto the toasted bread and voilà. Tomato bruschetta!
You can take a look at my cherry tomato salad here, which makes an excellent side dish to almost anything.
the bread
Another key component of the tomato bruschetta is, obviously, the bread. It is important that you use a good quality bread. Trust me, some simple white breakfast toast simply will not work!
However, as you will be toasting the bread it doesn't necessarily need to come fresh out of the oven. This is also what makes bruschetta a great leftovers dish.
If the bread is of good quality, it is no problem at all to use one that is a few days old. Brush it with olive oil and toast it, then it will come back to life.
Once I wanted to make bruschetta for a party snack but I was so stressed from the preparations that I forgot to toast it! People still liked it, but the end result is a lot nice if you toast the bread.
This way you avoid getting it soggy from the water content of the tomatoes.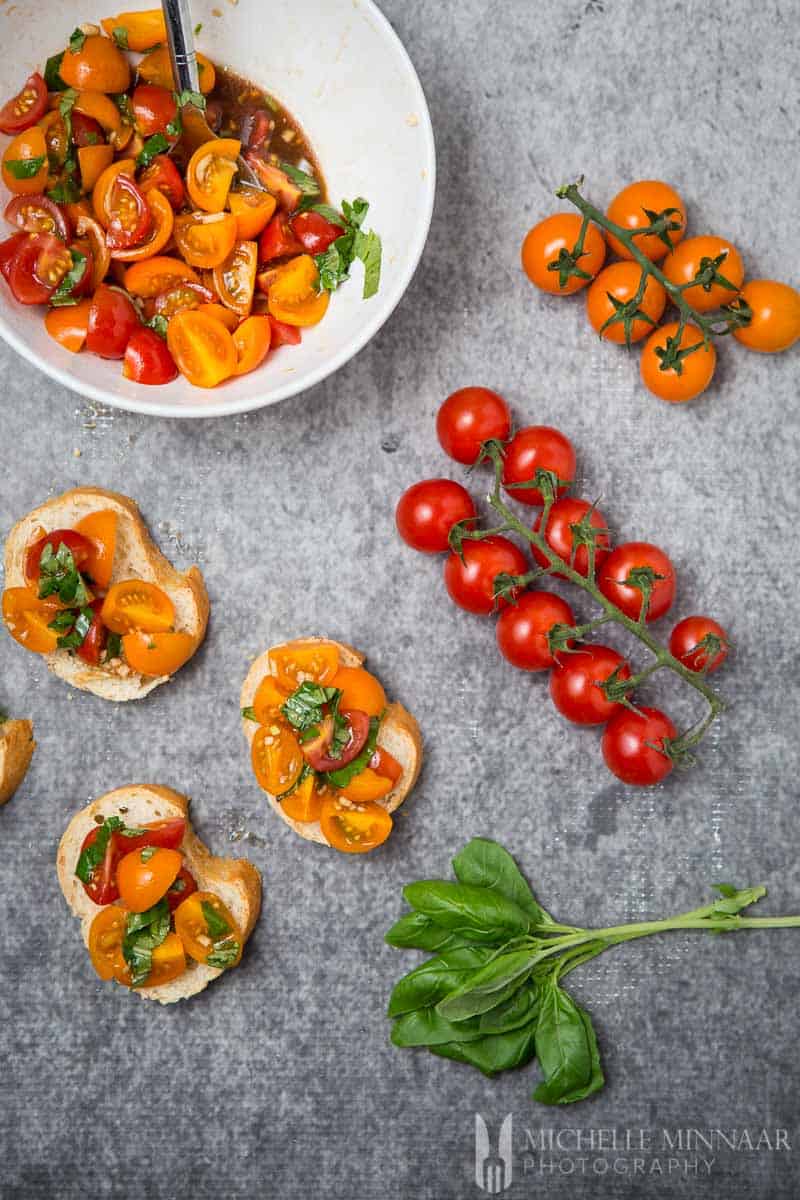 variations
There are many ways to make bruschetta. The basic concept is very simple. It's kind of like an open sandwich - a base of toasted bread with a topping that can either be hot or cold.
Although the tomato bruschetta is the most famous, there is a lot of room here or creativity. Another favourite of mine is a warm topping of pan roasted mushrooms finished off with a little cream in the pan.
Season generously with salt and pepper, and a little fresh thyme if you have it, and you have a delicious bruschetta topping! You can also make a topping with broad beans. This is also a classic Italian variation, and I will give you my version of it very soon.
more Parma ham
Looking for more Parma ham recipes for parties or starters? Inspire yourself with these below:
Print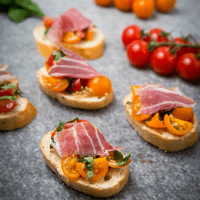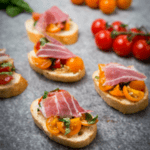 Bruschetta with Tomato and Parma Ham
---
Description
Tomato Bruschetta can be served on its own or with Parma ham & cheese. A classic starter that can easily be served as a canapé at parties - a crowd pleaser!
---
1

small ciabatta, cut in 1.5cm (

1/2

in) slices

400

g

(1lb) cherry tomatoes, washed and quartered

1

garlic clove, crushed

30

ml

(2 tbsp) olive oil

15

ml

(1 tbsp) balsamic vinegar

8

basil leaves, washed and finely sliced
Salt and pepper, to taste

8

slices of Parma ham
---
Instructions
Toast the baguette slices. This can be done in a toaster. Alternatively, you can brush each slice on both sides with olive oil and pan-fry it until crisp or place a trayful in a preheated oven of 180°C/355°F/gas mark 4 until crisp. Place on a baking tray to cool down.
Place the tomatoes, garlic, basil, oil and vinegar in a bowl and mix everything together.
Season to taste then spoon generously on the slices of bread and top with ham.
Serve immediately and enjoy!
Prep Time:

20 minutes

Cook Time:

5 minutes

Category:

Starter

Cuisine:

Italian
Nutrition
Serving Size:

1 serving

Calories:

230

Sugar:

3.2 g

Sodium:

890 mg

Fat:

12.8 g

Saturated Fat:

7.7 g

Carbohydrates:

17.1 g

Fiber:

2.5 g

Protein:

12.3 g

Cholesterol:

32 mg
save the recipe to your pinterest board

P.S. This is a sponsored post.