Caponata alla Siciliana is a Sicilian dish comprising eggplant, tomatoes, peppers, celery and olives cooked in a sweet and sour sauce.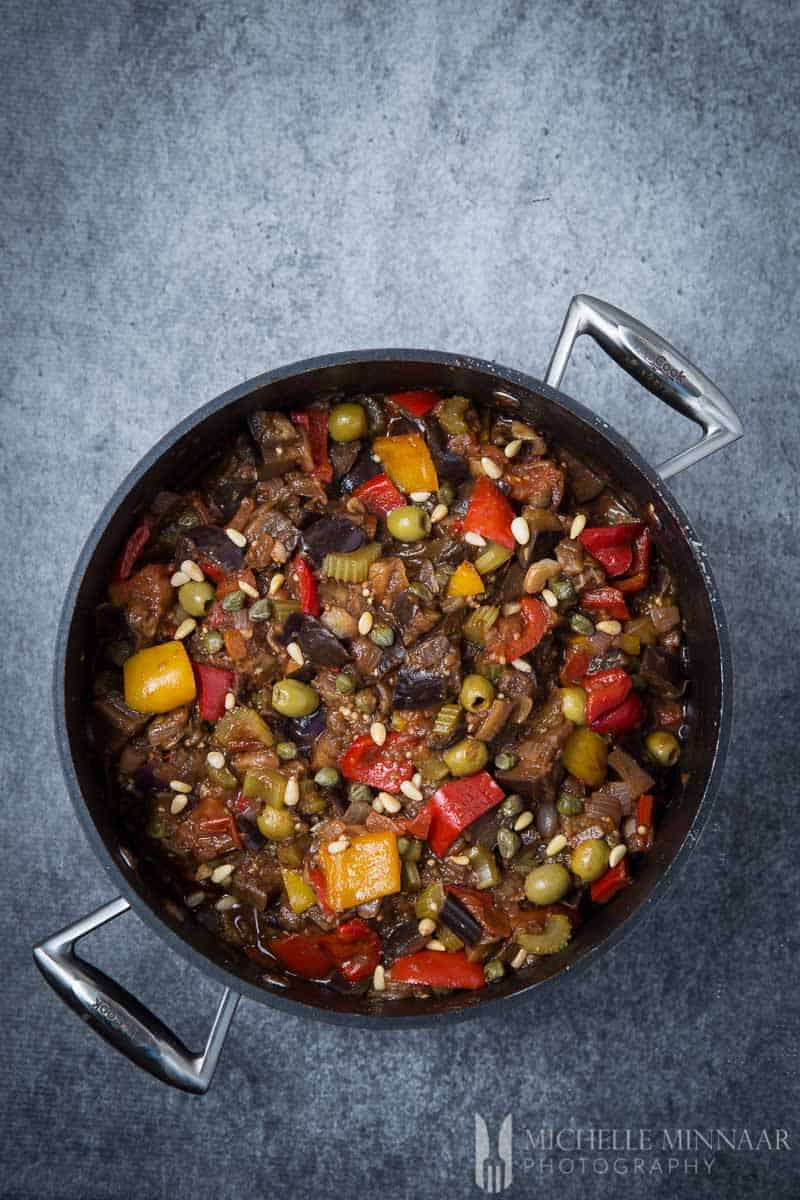 For those of you who don't know, January, for the past few years has been referred to as 'Veganuary'! Tis' the month of delicious vegan recipes to help bring your waistline back on track after the holidays and being friendly to animals and the environment.
I definitely got side-tracked, so eating healthy recipes is the way to go for myself at the moment. Generally, I love holidays that celebrate different types of foods and cuisines.
There are so many coming up this year, so keep a look out. What a perfect way to honour this month of 'Veganuary' than with a delicious vegan caponata. This vegan stew is a perfect example of how vegan cuisine can be nutritious and hearty.
Caponata is fantastic even when you leave it in the fridge for a few days, like with any stew, it gets better with time. The best bit is that you can throw in vegetables that need to be used up before they go bad.
Once the stew is ready, you really have to fight the urge to stop eating it straight out of the pot. You can eat caponata on its own, part of antipasti or serve with bread or pasta. Enjoy!
caponata origins
We've already established that Caponata Alla Siciliana is a Sicilian dish. Sicily is the largest Mediterranean island said to be the source of the best Italian cuisine.
Have you ever visited Sicily? It's one of the most historical and beautiful islands in Europe, where your adventures don't only involve visiting old monuments.
Exploring Sicilian cuisine is a must once you set foot on this island. Therefore, it is no surprise that the caponata has gorgeous fresh Mediterranean ingredients, brought together by a delicious homemade passata.
Caponata is the typical granny dish that you will find Sicilians cooking over the weekend. The distinct smell of vegetables cooking is bound to hypnotise any tourists that pass by.
This traditional dish has been around for a couple of centuries. The original version is always based on aubergines, however with time there came multiple versions that involve artichokes, carrots and green apples.
The locals refer to caponata as a sweet and sour stew, due to the variety of tastes and textures. Today, caponata is used commonly as a side dish, salad or as an appetiser on some delicious bruschettas.
caponata vs ratatouille
The Caponata Alla Siciliana is reminiscent of the French 'ratatouille', mainly due to the aubergine. Ratatouille is a very popular dish from the southern region of France, known as Provence.
It includes many vegetables similar to the caponata. However, you use fresh 'herbes de Provence' for seasoning. Apart from this, what sets these two vegan stews apart is the addition of sweetness in the caponata.
Caponatas traditionally include a sweet element like raisins to balance the flavour of sour vinegar and the savoury vegetables. Compared to the caponata, ratatouille is a much simpler dish.
Similarly to caponata, you can also try making peperonata. This is great if you buy those large packs of peppers and have no clue what to make with them. Peperonata is sweeter and more commonly used a a pasta topping.
the aubergine
Aubergine or eggplant is the main ingredient of the traditional caponata. I love cooking with aubergine, it gives the caponata a firm but smooth texture.
Here's a fun fact about aubergines! Did you know that if you eat 10kgs of aubergines, it's equivalent to smoking one cigarette? This is thanks to its high natural nicotine content.
For this caponata, you'll need only 2 large aubergines, washed and cut into 2.5cm (1in) cubes. Remember, you should aim to cut the aubergine evenly, so it cooks at the same time.
Biting into a raw aubergine is very unappetising, so cook thoroughly. This same principle goes for all the other ingredients.
I like my ingredients to be a little on the crisper side, so I tend to add the peppers a bit later in the cook. You can't do this for the aubergines, but you can certainly do so for the peppers, celery and onions.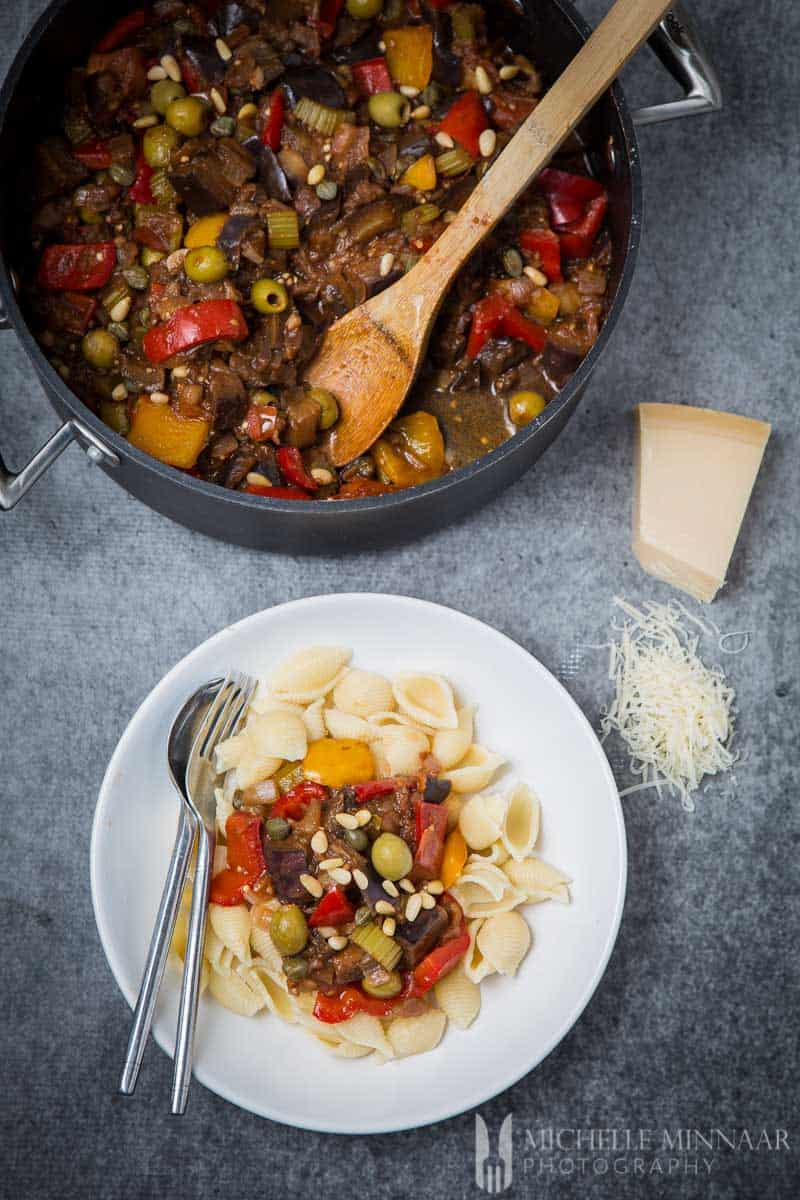 olives and capers
I used green olives for this recipe, but you can certainly use black olives too. Did you know that there are more than 14 varieties?
My favourite is the Kalamata olive, which is a purple olive said to be the king of Greek table olives. You preserve them in red wine vinegar, so they are a perfect addition to the sweet and sour flavours of the caponata.
If you want to keep true to the Sicilian origin of the caponata, then why not make it with Sicily's own olive variety – castelverano. This green Italian olive is bright green and is on the sweet side.
They are quite mild and have a buttery texture. Perfect for snacking or to throw in a vegetable stew.
When it comes to capers, they are not everyone's favourite. A lot of people like to omit using capers while cooking because they are too sour or too salty. On the contrary, the capers give the caponata the finishing touch it needs.
make your own passata
The passata is what brings a subtle sweetness to the overall flavour of the caponata. It ties all the vegetables together, as they simmer slowly in the tomato sauce.
I like to add a lot of garlic in the beginning so when the caponata simmers, it picks up that tanginess as well. The slower you cook the caponata, the better.
If you want maximum flavour, you'll need to cook slowly over a medium-low heat. Caponata is not a dish that you rush.
If you can get hold of high quality, fresh tomatoes, you can substitute the passata with three big ones, finely chopped.
serving
There are so many ways you can serve this caponata. In the past, people used to eat the caponata as a main course. Today, you'll find the caponata as a side dish or on top of a bruschetta.
You can also easily serve this caponata on top of homemade or store-bought pasta such as penne, fusilli or tagliatelle. You can also keep the caponata gluten-free and serve it on top of parboiled green beans or even rice.
A nice idea is to combine the caponata with other Italian side dishes for variety such as the Parmesan Arancini.
If you love eggplant, you simply must check out melitzanosalata.
What is your favourite aubergine recipe?
Print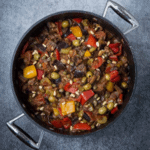 Caponata alla Siciliana
---
90

ml

(6 tbsp) olive oil

1

onion, peeled and chopped

2

large eggplants, washed and cut into 2.5cm (1in) cubes

2

garlic cloves, peeled and crushed

1

red pepper, washed and chopped

1

yellow pepper, washed and chopped

2

celery sticks, washed and chopped

20

pitted green olives

15

ml

(1 tbsp) salted capers, drained

15

ml

(1 tbsp) raisins

500

ml

(2 cups) passata

15

ml

(1 tbsp) white wine vinegar

15

ml

(1 tbsp) caster sugar

15

ml

(1 tbsp) pine nuts
---
Instructions
Fry the onion in a large saucepan until softened.
Add the aubergine, peppers, celery  and garlic and gently cook for about 10 minutes until softened.
Add the olives, capers, raisins, passata, vinegar and sugar. Mix well and cover, leaving to cook on a gentle heat for 30 minutes.
Stir in the pine nuts. Serve hot with pasta or cold with crusty bread.
Notes
If you can get hold of high quality, fresh tomatoes, you can substitute the passata with three big ones, finely chopped.
And for celery, you can check out these celery substitutes!
Prep Time:

15 minutes

Cook Time:

45 minutes

Category:

Main Course

Cuisine:

Italian
Nutrition
Serving Size:

1 serving

Calories:

354

Sugar:

8.5 g

Sodium:

388 mg

Fat:

26 g

Saturated Fat:

3.5 g

Carbohydrates:

29.6 g

Fiber:

5.4 g

Protein:

3.6 g
save the recipe to your pinterest board