As with any good risotto, the key to mastering this chicken and leek risotto is patience. However, with just a few ingredients and about half an hour of your full attention, you can easily make a tasty chicken and leek risotto yourself.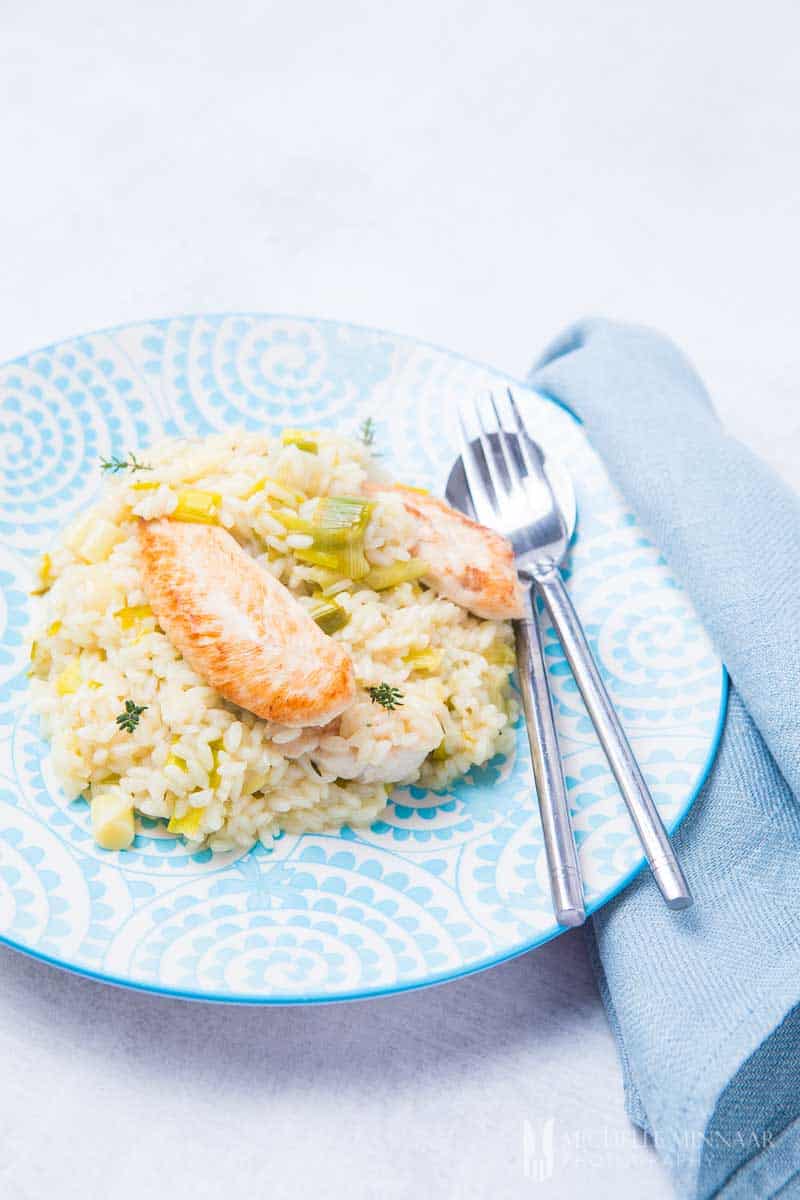 For some reason, many people are hesitant to make their own risotto at home. There is no reason to be scared though. If you follow a few basic rules, it is actually quite simple to make your own Italian-style risotto at home.
Furthermore, once you know how to make a basic risotto, you can style it any way you like. For this recipe, I have gone for the classic pairing of chicken and leek.
Season with thyme, a bit of lemon juice and of course parmesan cheese and you have a restaurant-worthy chicken and leek risotto.
Jamie Oliver's chicken and leek risotto
One of my inspirations for this chicken and leek risotto was the classic Italian risotto bianco as done by Jamie Oliver. Click right here.
The risotto bianco is great as a sort of base recipe that you can build your risotto on. Basically, all you need is some onion and garlic finely chopped.
Add risotto rice to the pan along with dry white vermouth, and start cooking in the chicken stock. Finish off with grated parmesan for a creamy texture and voilà.
To make the risotto a bit more filling you can then start to add various ingredients. Vegetables are especially ideal for a nice risotto, which is why I have gone for leek in mine.
If you feel like experimenting, the possibilities are almost endless though. Check out my own version of basic risotto right here.
chicken and leek risotto with white wine
Although not strictly necessary, I find that the chicken and leek risotto needs a bit of white wine to get the best possible flavour. The time to add the white wine is in the beginning of the cooking process.
After adding the rice into the saucepan, and frying it off for about one minute, you add the white wine. Wait a moment for the alcohol to evaporate, and let the wine soak into the rice.
Afterwards you can start to add the stock. Use a dry white wine for the purpose. Although the finished risotto will not taste notably of white wine, it does add to the overall flavour.

As an alternative to normal white wine, you can use a dry white vermouth instead. For example Noilly Prat or dry white Martini.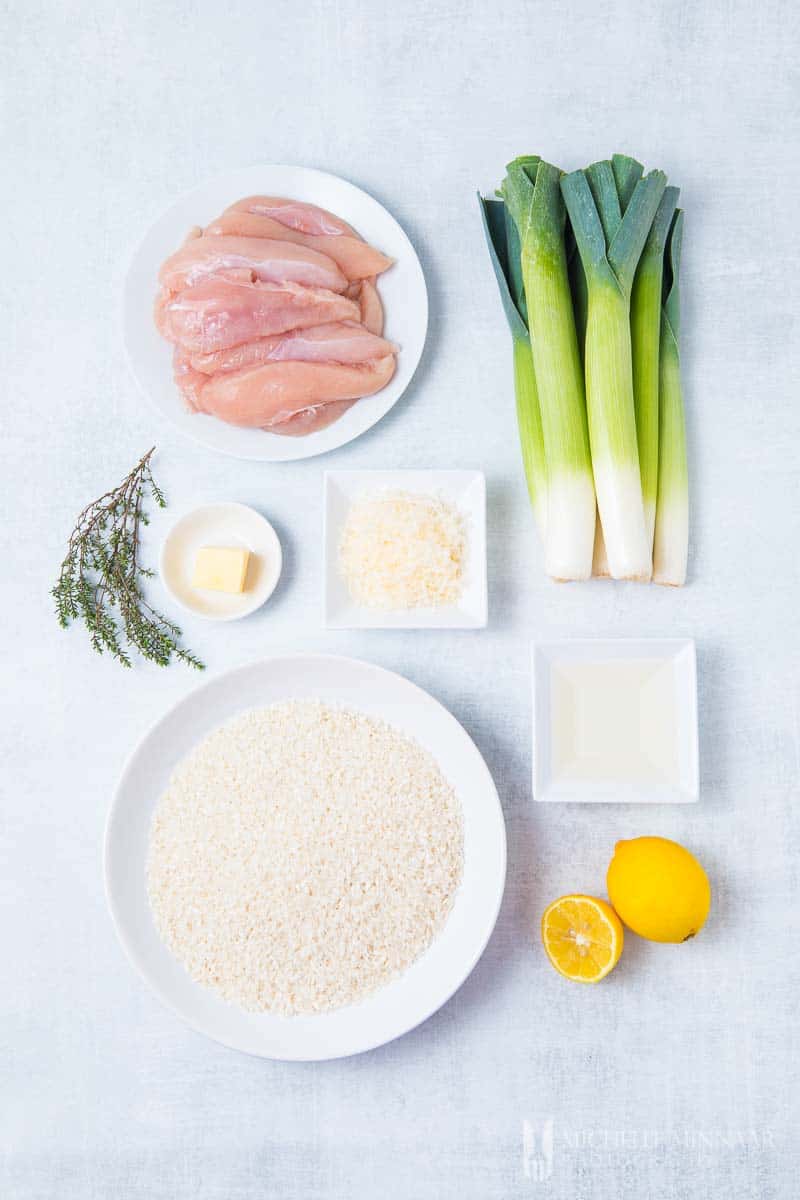 chicken and leek recipes
Chicken and leek risotto is not the only tasty dish you can do with these two humble yet amazing ingredients. For example, I have previously made this chicken and leeks with a creamy cider sauce.
Excellent with pasta or a good mash. Also, if you've got too many leeks, make this creamed leeks recipe. For a more advanced dish, you can attempt my leek-stuffed chicken breasts with a creamy white wine sauce.
Again, I worked with the classic French and Italian flavours in order to get a perfectly balanced dish. That being said this one is more difficult and somewhat time consuming.
Perhaps rather something to attempt when having guests over for dinner on a Saturday night. The chicken and leek risotto on the other hand can be prepared in about half an hour to 45 minutes. Perfect for when you come home late from work but don't want to miss out on a tasty homemade meal.
Another delicious chicken recipe you can consider is peppercorn chicken. The
chicken is served in a tempting creamy sauce made with green peppercorns. Also, go for my chicken caldereta recipe.
Italian chicken risotto
The way to make a proper Italian chicken and leek risotto is to pan-sear the chicken separately and serve it on top of the finished risotto. This way you get that nice and juicy pan-seared chicken exactly as it should be enjoyed. The risotto provides the base as well as the creamy texture for the dish.
Chicken and leek risotto is just one of many great Italian risottos though. Butternut squash risotto for example is another classic. The soft butternut squash or pumpkin makes the risotto extra soft and creamy. A perfect comfort food for a rainy day.
That being said, one of the most interesting risottos I have eaten or cooked so far is the squid ink risotto. An Italian specialty I learned during a trip to Sicily, it is really quite a unique dish.
Not least because of the colour. Because of the added squid ink, this risotto is completely black. The flavour is somewhat specific and not for everyone. The safe bet for the whole family remains the chicken and leek risotto.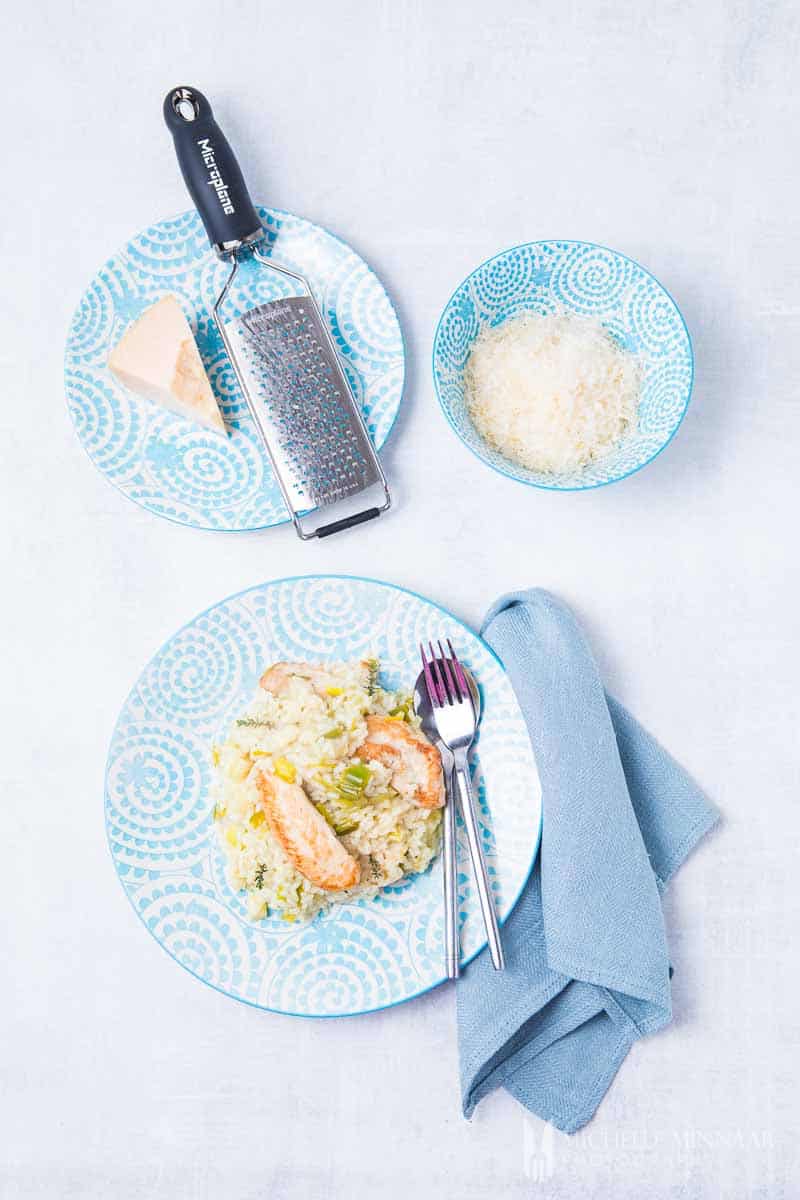 vegetarian alternative
A risotto is actually one of the easiest dishes to make vegetarian without compromising on flavour. In this recipe, simply omit the chicken and use vegetable stock instead of chicken stock.
If you want to go completely vegan, you can also leave out the parmesan cheese. However, by doing that you will lose the creamy texture. The best thing is that if you go for a vegetable risotto, there are tons of variations you can do.
One of the most common additions to a vegetable risotto in Italy is green peas. Although this might sound a bit plain, green peas actually add an amazing freshness to the risotto.

Add them at the very last moment along with the parmesan cheese and stir for a minute. Just long enough for them to be warmed up by the risotto and then serve immediately.

Another favourite of mine when in season is green asparagus. Follow the same principle as with the green peas, although if you prefer them a bit softer you can parboil them for a couple of minutes first. In the autumn, mushrooms are the best seasonal ingredient for risotto.
wine pairing
If you already used white wine when cooking the chicken and leek risotto there is no shame in having a glass to go with it too. Go for a full bodied but yet dry white wine.
There should be a bit of acidity to cut through the creamy risotto, however since the chicken and leek risotto is quite rich in flavour, the wine needs a bit of buff too.
Print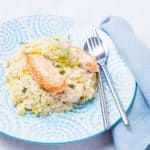 Chicken and Leek Risotto
---
Description
This chicken and leek risotto is a beautiful reminder of how delightful Italian cuisine is. Master the basic risotto and you too can replicate this recipe!
---
15

ml

(1 tbsp) vegetable oil

500g

(1lb) mini chicken breast fillets

15

ml

(1 tbsp) butter

500

g

(1lb) leeks, washed and chopped

500

g

(1lb) arborio rice

250

ml

(1 cup) white wine

5

ml

(1 tbsp) fresh or dried thyme

1.25

ℓ (5 cups) chicken stock

1

lemon, zest and juice

60

g

(2oz) hard cheese, grated
---
Instructions
Heat the oil in a large casserole.
Brown the chicken on all sides, then remove from the heat.
Melt the butter in the same casserole and gently fry the leeks for 5 minutes or until softened.
Stir in the rice and increase the heat.
Pour in the wine and let the mixture bubble while stirring.
Add the thyme, 250ml (1 cup) of stock, the browned chicken and its juices and lower the heat to a slow simmer.
Stir continuously for 15 minutes, while adding splashes of stock until you run out.
Stir in the lemon zest and juice and continue cooking for 5 more minutes or until the rice and chicken are cooked.
Serve immediately with the grated cheese on the side.
Notes
There are different hard cheeses you can use, such as parmesan and Dziugas.
If you're finding it hard to get a hold of any leeks, try one of these leek substitutes.
Prep Time:

15 minutes

Cook Time:

30 minutes

Category:

Main Course

Method:

Pan Fry

Cuisine:

Italian
Keywords: chicken and leek risotto, chicken risotto recipe, Italian chicken recipe, chicken and rice recipe, dinner with rice recipe, Italian dinner recipe, chicken and leek recipe
save the recipe to your pinterest board