Nothing screams Italy like a delicious homemade sundried tomato pesto. It's one of my favourite toppings for pasta, possibly even my favourite when it's made properly. It's a fantastic vegetarian option, that just works well with anything you combine it with, whether it be pasta, vegetables, salads or bread. Get ready to experience the sweet intense flavours of the sundried tomatoes with the subtle flavours of the pine nuts, Parmesan and basil. I love this combination, but the beauty of this recipe lies in the fact that you can tweak it to your liking. In addition, if you omit the cheese element, you can create a delicious vegan pesto as well. What a way to celebrate Veganuary! How will you enjoy this delicious pesto?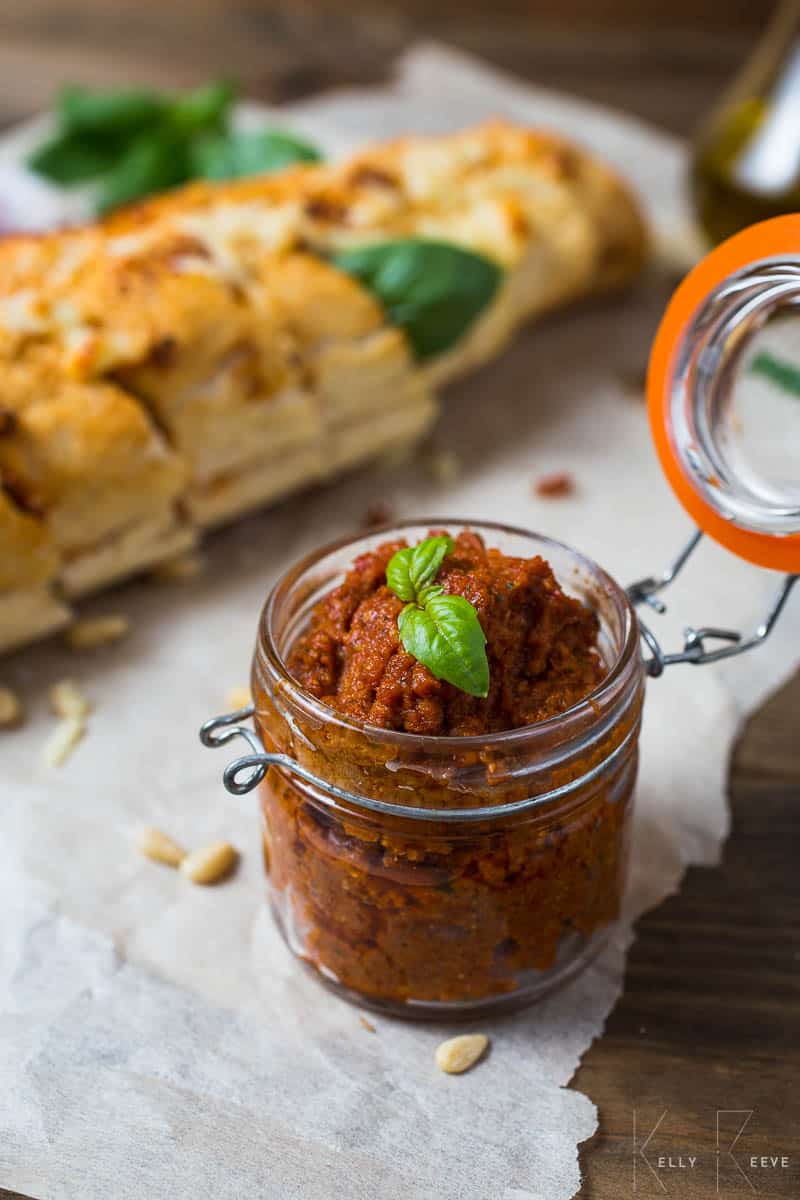 Sundried tomato pesto
For those who are unfamiliar what pesto is, traditionally it is a sauce made up of crushed garlic, basil, pine nuts Parmigiano Reggiano cheese. The olive oil brings everything together. This is the traditional modern version of pesto called 'Pesto alla Genovese'. Its origins are in Northern Italy in Genoa, the Liguaria region. Apart the from colour and the sweetness given by the tomatoes, the sundried tomato pesto is not so dissimilar from the traditional pesto.
History of pesto
Historians theorise that pesto goes as far back to the Ancient Roman times. The Ancient Romans used a very similar paste in their cuisune – 'moretum'. The original recipe calls for crushed garlic, cheese, herbs, olive oil and vinegar. As you can see, it's extremely similar to our modern version of pesto.
Also, did you know that during the Middle Ages a similar paste was given to seafarers and Ligurians? The version of pesto was called 'agliata', which comprised mashed garlic and walnuts. Of course, over time there have been many variations of pesto. Luckily, the combination of using sundried tomatoes was introduced and sundried tomato pesto came into existence. Today, it's one of the most common Italian pesto recipes that you can easily buy in supermarkets.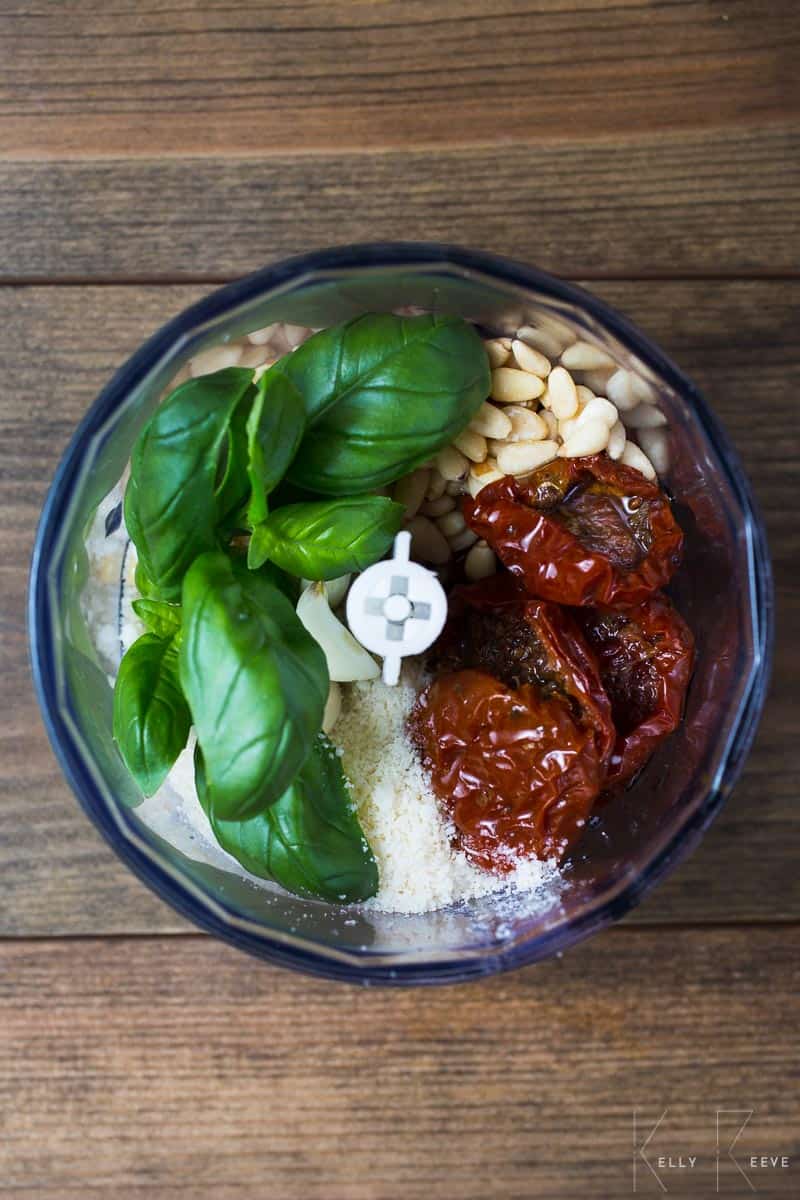 Do it yourself –  how to make sundried tomatoes
By now you know that I am an advocate for doing everything from scratch! You can make your very own sundried tomatoes using your oven. However, you will need to do this on a free day when you are home and you can monitor what's happening in the oven. Usually, the process of making sundried tomatoes in the oven can take hours! You can also use a dehydrator.
First, you will need to preheat the oven to roughly 95°C (200°F). The lower heat will allow the tomato to transform beautifully without losing any of the essential flavour. Once you have selected your tomatoes, cut them in half and squeeze out the seeds. Here is a handy trick. Fire roast the tomatoes first before you place them in the oven. The char will intensify the flavours even more.
Next place them on a baking tray lined with a baking sheet. Don't forget to season generously with salt. Place the tray in the oven and wait until the tomatoes start to resemble the traditional look of sundried tomatoes. The tomato halves should shrink in size and take on the typical leathery texture. Just be patient, this is a lengthy process and can take hours and hours. Good and delicious things come to those who wait.
The best type of tomatoes for making sundried pesto from scratch are the Roma tomatoes. Roma tomatoes are medium-sized and oval in terms of shape. They have a low water content and contain only a small amount of seeds – perfect for sauce making. These are also the type of tomatoes you should use in quiches or sandwiches, as the latter won't make everything runny or soggy.
Sundried tomatoes
If you aren't too keen on making your own sundried tomatoes, you can simply buy a jar in your local supermarket. For the sundried tomato pesto having the best texture possible, soak the sundried tomatoes in warm water for five minutes. They will become more tender and should blend more easily.
Variations and versatility
You can vary the amount of garlic, pine nuts, basil and Parmesan cheese to your liking. To make this sundried tomato pesto vegan, simply omit the cheese and add more pine nuts for texture. Moreover, you can have your own take on this pesto and add vinegar for some acidity, red wine or even fresh tomatoes.  If you add more fresh tomatoes, you will lose the desired pesto consistency. The pesto will become a salsa or a dip.
You can inspire yourself with these pesto recipes I've made in the past: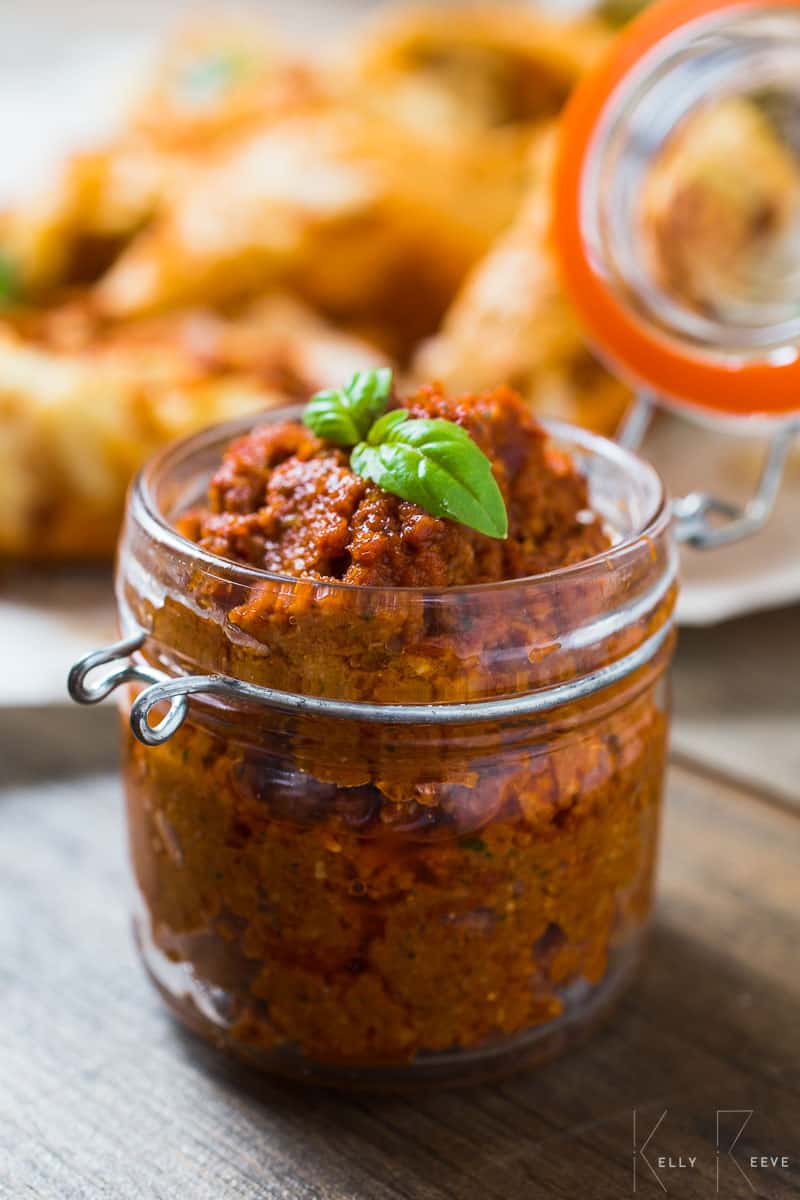 Traditional serving
What I love about sundried tomato pesto, or any type of pesto for that matter, is that it's so versatile. You can serve it with almost anything – it doesn't necessarily have to be a pasta dish. Although, if you want to have a lazy day in the kitchen, combining pesto with pasta is the fastest and easiest thing on the planet. It works with any type of pasta. My children enjoy it with spaghetti, tagliatelle, fusilli or penne. Whenever I serve this sundried tomato pesto with pasta, I like to sprinkle some extra pine nuts on top and garnish with fresh basil. Voila – it's a lazy, fancy dish! No serious hassle required and it tastes amazing.
More creative serving ideas
However, coming back to my original comment about versatility, it works well in salads too. For example, I can imagine it working very well with this butter bean salad recipe. Plus, it's a fantastic opportunity to keep your meal gluten-free. If you are looking for something more filling, why not make pesto stuffed bread – similar to garlic bread? Slice the bread open and fill the gaps with the sundried tomato pesto.
You might think I am crazy, but if you've got leftovers, why don't you try mixing a bit of the pesto with Greek feta cheese? It would be similar to the Greek recipe – htipiti, where the recipe calls for a pepper paste.
How would you use sundried tomato pesto?
Print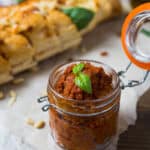 Sundried Tomato Pesto
---
Author:

Michelle Minnaar

Prep Time:

10 minutes

Cook Time:

0 minutes

Total Time:

10 minutes

Yield:

16

servings

1

x
250

ml (1 cup) sundried tomatoes in oil, drained

80

ml (⅓ cup) pine nuts

80

ml (⅓ cup) Parmesan cheese, grated

80

ml (⅓ cup) basil, washed

4

garlic cloves, crushed

80

ml (⅓ cup) olive oil
---
Instructions
Place all the ingredients in a blender and process until smooth.
Notes
Store in an airtight container for a week in the fridge. Keeps in the freezer for 2 months.
Category:

Side Dish

Method:

No Cook

Cuisine:

Italian
Nutrition
Serving Size:

1 serving

Calories:

189

Sugar:

1.4 g

Sodium:

120 mg

Fat:

12.6 g

Saturated Fat:

2.5 g

Carbohydrates:

15.3 g

Fiber:

1.4 g

Protein:

5.2 g

Cholesterol:

6 mg
save the recipe to your pinterest board
A special thanks to Kelly Reeve for assisting with the recipe shoot.