Have you ever tried a vegan version of gnocchi using sweet potatoes? Well, these vegan sweet potato gnocchi will knock your socks off once you taste them. Sweet potato gnocchi are vibrant, colourful and soft.
This filling alternative to pasta is generally associated with being quite a heavy dish. However, these vegan sweet potato gnocchi are not your traditional potato gnocchi. Sweet potatoes will leave nutty and sweet notes. You can make these vegan sweet potato gnocchi into a simple savoury dish or even turn them into a dessert! Keep reading to find out how. Altogether, it is a very festive Italian dish.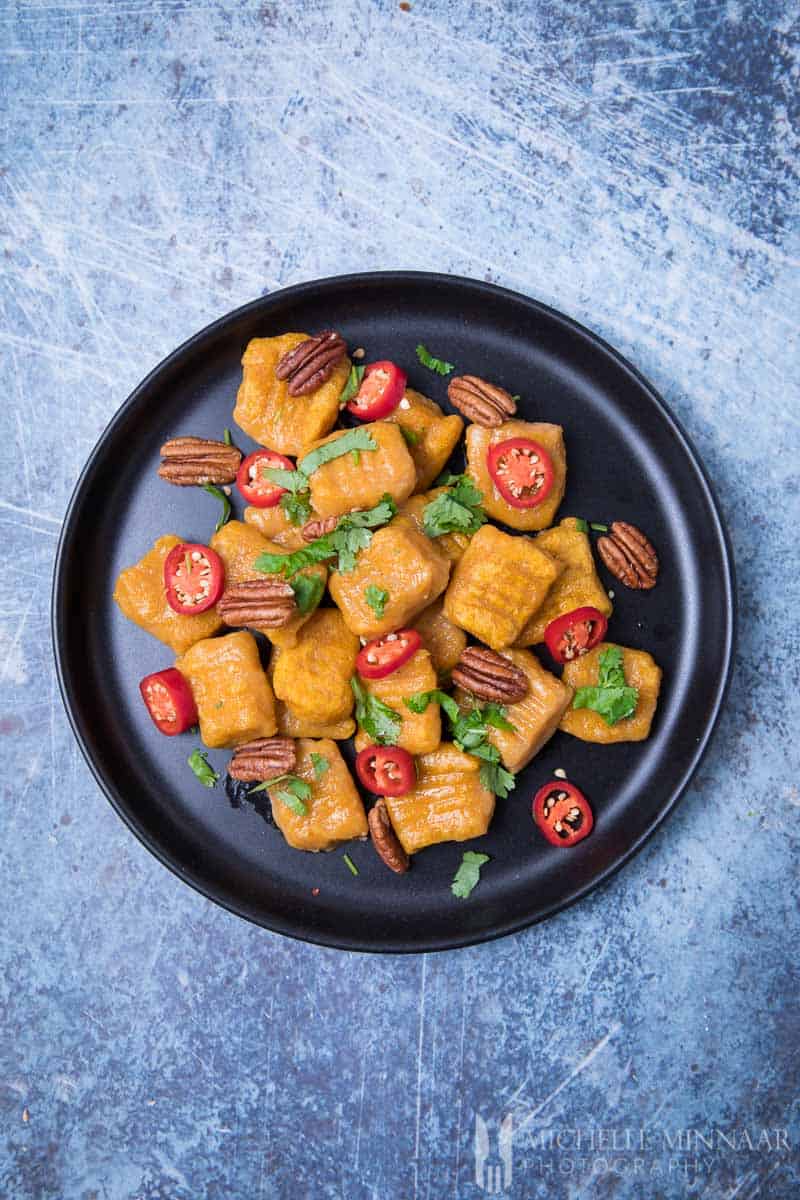 quick and easy vegan sweet potato gnocchi
Vegan sweet potato gnocchi are small dumplings made out of flour and sweet potatoes. Traditionally, gnocchi are made out of potato, flour, eggs, and sometimes call for the addition of ricotta for consistency purposes. Since these sweet potato gnocchi are vegan, to control consistency you will need to dilute the dough with water or vegan milk, but the egg and cheese elements will need to be omitted.
Vegan sweet potato gnocchi is an excellent low-calorie choice and a lower fat option to the original gnocchi. If you're looking for something sinful, check out this cheesy potato gnocchi. The latter is a calorie-bomb, but so worth it! You will need to hit the gym afterward though.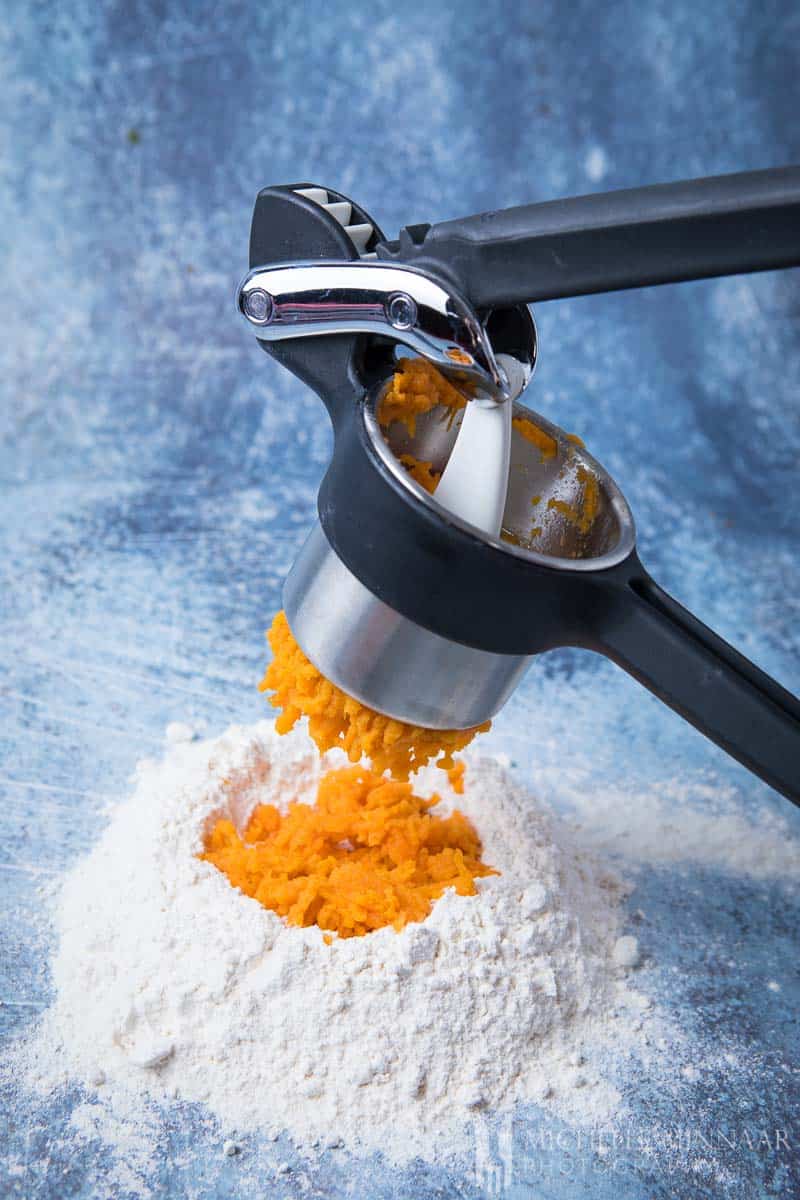 origin and history of gnocchi
Gnocchi originated from Italy. The term gnocchi comes from the word nocchio, which in Italian means "knot". Others argue that gnocchi comes from the Italian word nocca, which means "knuckle".
Historically speaking, gnocchi is an ancient Roman dish. Back then, it was prepared with semolina and mixed into a porridge-like consistency with eggs. As you know, ancient Roman dishes were very heavy at the time, like the traditional cacio e pepe recipe. The purpose of these heavy dishes was to feed and energise the legions of Roman soldiers who were marching to battle in their European conquests.
It's only today that we see various interpretations of the traditional gnocchi recipe. For example, people started to experiment with different variations, like these vegan sweet potato gnocchi. However, there are also spinach gnocchi, truffle gnocchi, beetroot gnocchi, squid ink gnocchi and many more! Also, let's not forget the favourite, gnocchi alla sorrentina.
In modern Italy, gnocchi is traditionally served as aprimi or first course. I still can't grasp the fact that Italians can eat starters anti pasti, first course (primi), second course (secondi>), and desserts(dolci), and yet be so slender! That's why, if you are going to serve these vegan sweet potato gnocchi as a first course, don't overdo it in terms of portion size. However, if it's the only thing you're eating for your meal, then double up and enjoy.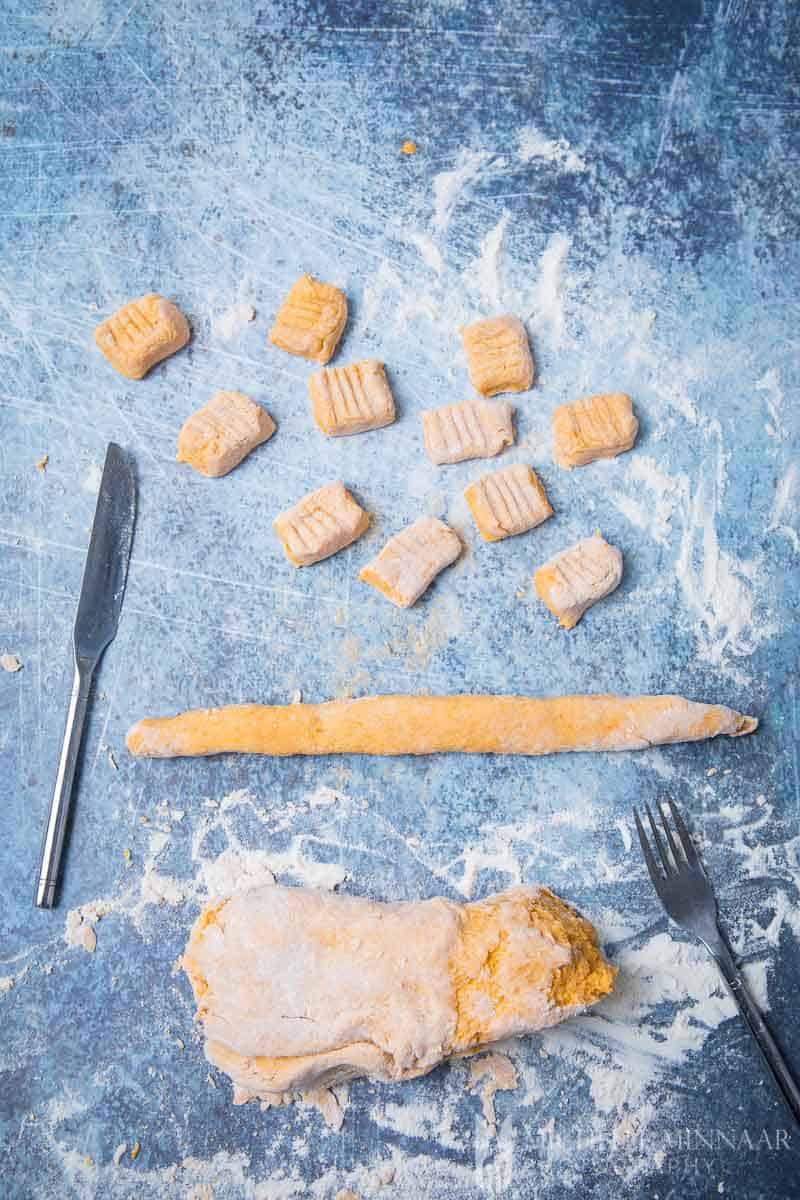 how to make vegan sweet potato gnocchi
Although this process might sound like a complicated one, it is fairly easy. You only need two ingredients – sweet potatoes and flour! However, first you'll need to peel the sweet potatoes then parboil them. Once they cool down, mash them until smooth and combine with the flour!
Here comes the vegan aspect! There are two vegan alternatives you can use to bind the dough together instead of using egg. Firstly, you can use unsweetened almond milk or soy milk. Hazelnut milk will also work. However, for a more egg-like substitute, the best vegan alternative is to use aquafaba. The latter is the name of the liquid that comes from chickpeas. It is known as an excellent binding agent for other vegan recipes too. It is one of the best substitutes for eggs and egg whites.
Next, work your dough and let it rest for a while. For extra flavour, you can incorporate seasoning into your gnocchi dough. For example, I love to add just a hint of nutmeg or sage. These two work hand-in-hand with any sweet potato recipe. Even though traditional potato gnocchi is available in stores, you can't purchase these vegan sweet potato gnocchi anywhere! You'll have to make these yourself and see how delicious they really are.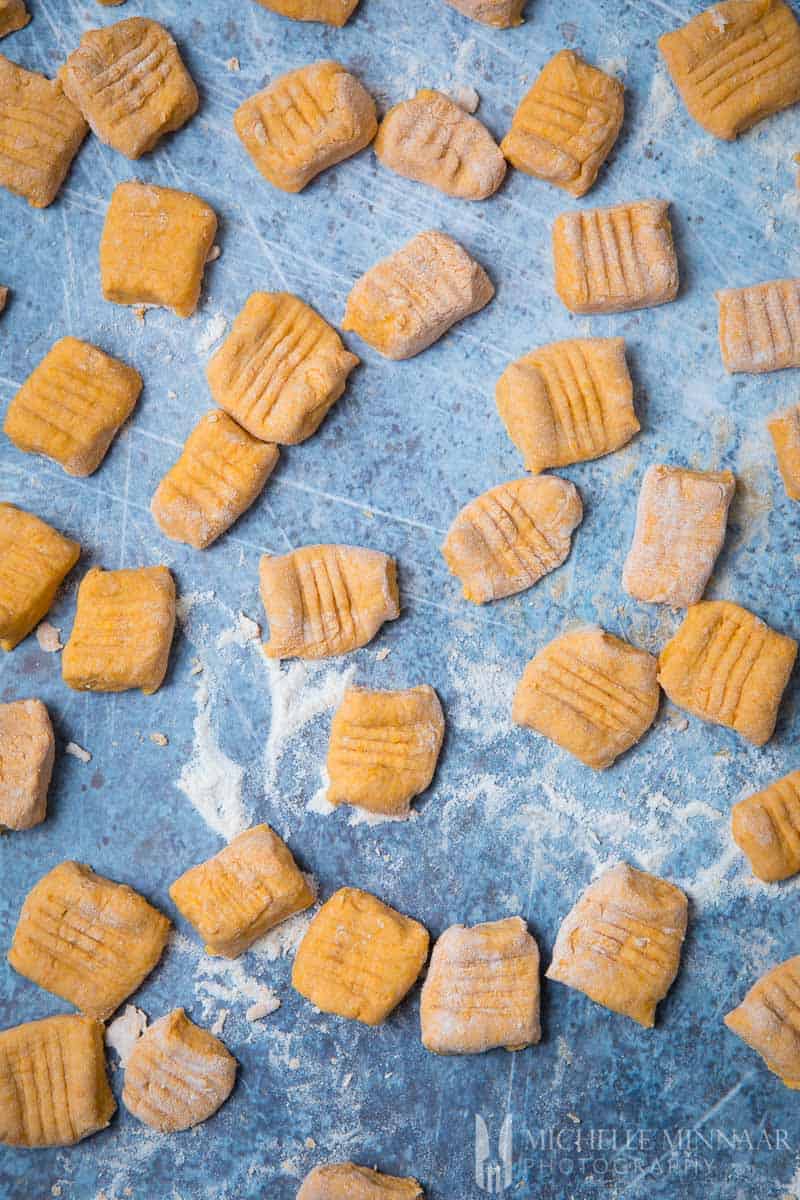 how to make homemade gnocchi pasta
Making gnocchi pasta dough is a piece of cake. In fact, Italians often refer to making gnocchi as difficolta bassa preparazione, which translates to very low preparation difficulty. Once you have your gnocchi flour ready, roll the dough into long and thin tubes of dough. Next, take your knife and cut the tube into small pieces. Roll the pieces into small sweet potato pasta balls. Next, take one into your hand and gently push your thumb into it. As a finishing touch, take a fork and press it on the dented area.
See? Making homemade vegan sweet potato gnocchi is not complicated at all! The shape of gnocchi doesn't vary too much, only the size. However, gnocchi is generally the same size almost everywhere you try them. However, when it comes to texture and consistency it is a whole other story. The best homemade gnocchi should always be airy, light and fluffy!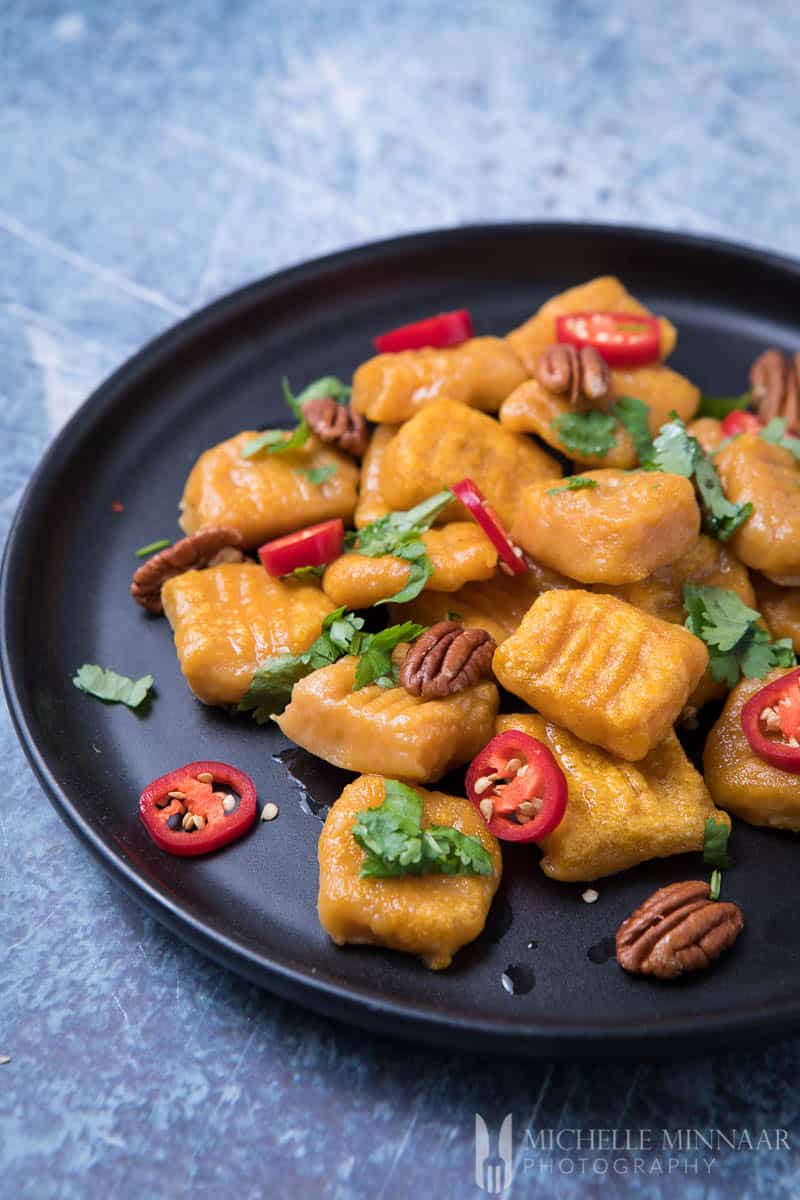 sweet potato gnocchi recipe vegan
Again, you can turn these vegan sweet potato gnocchi into a savoury dish. My version calls for coconut oil, pecans, and fresh chilli to lift the dish. You can also combine them with a simple simmered fresh tomato sauce or a vegan spaghetti Bolognese sauce. For a more elegant version, purchase black truffle and shave it on top of the vegan sweet potato gnocchi with some olive oil.
However, the best part about these vegan sweet potato gnocchi is that you can turn them sweet. Sprinkle with walnuts and drown the gnocchi in maple syrup.
What is your favourite vegan recipe?
Print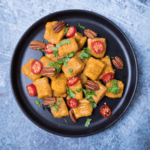 Vegan Sweet Potato Gnocchi
---
Author:

Michelle Minnaar

Prep Time:

30 minutes

Cook Time:

60 minutes

Total Time:

1 hours 30 minutes

Yield:

4

1

x
Description
Vegan sweet potato gnocchi are a simple and easy to make Italian gnocchi recipe. Make sweet potato gnocchi from scratch and combine with aromatic herbs.
---
Scale
Ingredients
500

ml (2 cups) mashed sweet potatoes

250

ml (1 cup) all-purpose flour

5

ml (1 tsp) salt
---
Instructions
Preheat oven to 200

°

C/180

°

C fan/gas mark 6.

Prick the sweet potatoes in several places and bake for 45 mins until soft.

Remove from the oven and wait for the vegetables to be cool enough to handle.

Slice open the sweet potatoes, scoop out the flesh and mash until smooth.

Dust a clean working surface with flour.

Mix the flour and salt together then create a small mountain and make a hole in the center.

Place the sweet potato mash in the center and, using your hands, incorporate the two ingredients thoroughly together.

If the dough is sticky, as a light dusting of flour. Don't be tempted by adding more and more flour because the end result will be very heavy and doughy gnocchi. Keep it light!

Form a dough ball then split it evenly into four pieces.

Roll each piece out into a log of 2.5cm (1in) thick.

Each piece should be 2.5cm (1in) long. Once cut, push down with a fork to create gnocchi's trademark grooved look.

Cook the gnocchi in a large pot full of salted water. Cooked gnocchi with rise to the surface. It usually takes a few minutes.

Drain and serve with your favourite sauce. See suggestion below.
---
Notes
To make the sweet potato mash, bake 1kg (2lbs) sweet potatoes in a preheated oven (

200

°

C/180

°

C fan/gas mark 6

) for 45 minutes. When cool enough to handle, scoop out the flesh and mash until smooth. Measure out 500ml (2 cups) of sweet potato mash and use the remainder for something else. Proceed with the recipe.

Fresh gnocchi stores in the fridge for 3 days and also freezes well.

In this recipe, I gave the gnocchi dish a autumnal, Far Eastern twist. Gently fry the cooked gnocchi in coconut oil and sprinkle with pecan nuts, fresh chillies and cilantro. Enjoy.
Category:

Main Course

Cuisine:

Italian
Nutrition
Serving Size:

1 serving

Calories:

256

Sugar:

7.4 g

Sodium:

416 mg

Carbohydrates:

56.4 g

Fiber:

3.2 g

Protein:

6.1 g
save the recipe to your pinterest board