This slimming world beef stew is a fabulous stew recipe, which is exceptional in its own ways. First of all, it's the perfect stew recipe if you are bored of the traditional beef stews. This is not your ordinary, rich wine-based beef stew. On the contrary, this stew has a little twist. The orange and beef flavour combination is what's memorable about this stew recipe. It's tangy, rich and intense at the same time. Secondly, what's exceptional about this beef stew is the fact that it's perfect for those who follow a slimming world diet.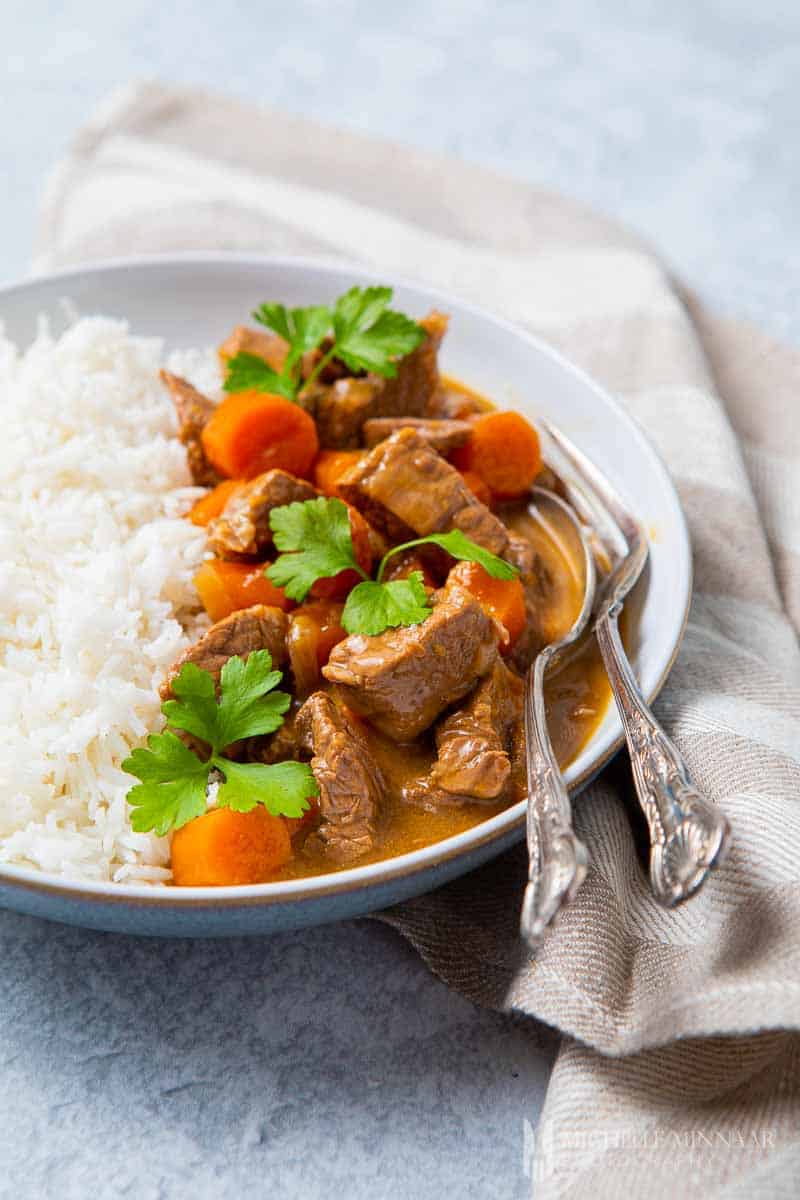 A slimming world beef stew recipe is very manageable and easy to make. In fact, it's practically no different than making a classic beef stew. So, don't worry, there is nothing complex about making a slimming stew. The only difference is that a slimming world recipe like this one is much healthier than ordinary stews. It takes into account your daily intake of food and limits unnecessary fats and sugars. Hence, it's perfect for those who wish to slim down and watch their waistlines because you can literally eat guilt free.
If you combine this slimming world beef stew with a couple of syn-free toppings, you'll see just how easy it is to have a healthy diet. Who said healthy food is bland? There's no reason why you shouldn't enjoy a rich stew. In addition, you are going to use these toppings for every stew recipe because not only do they add extra flavour, they'll also fill you up. Enjoy!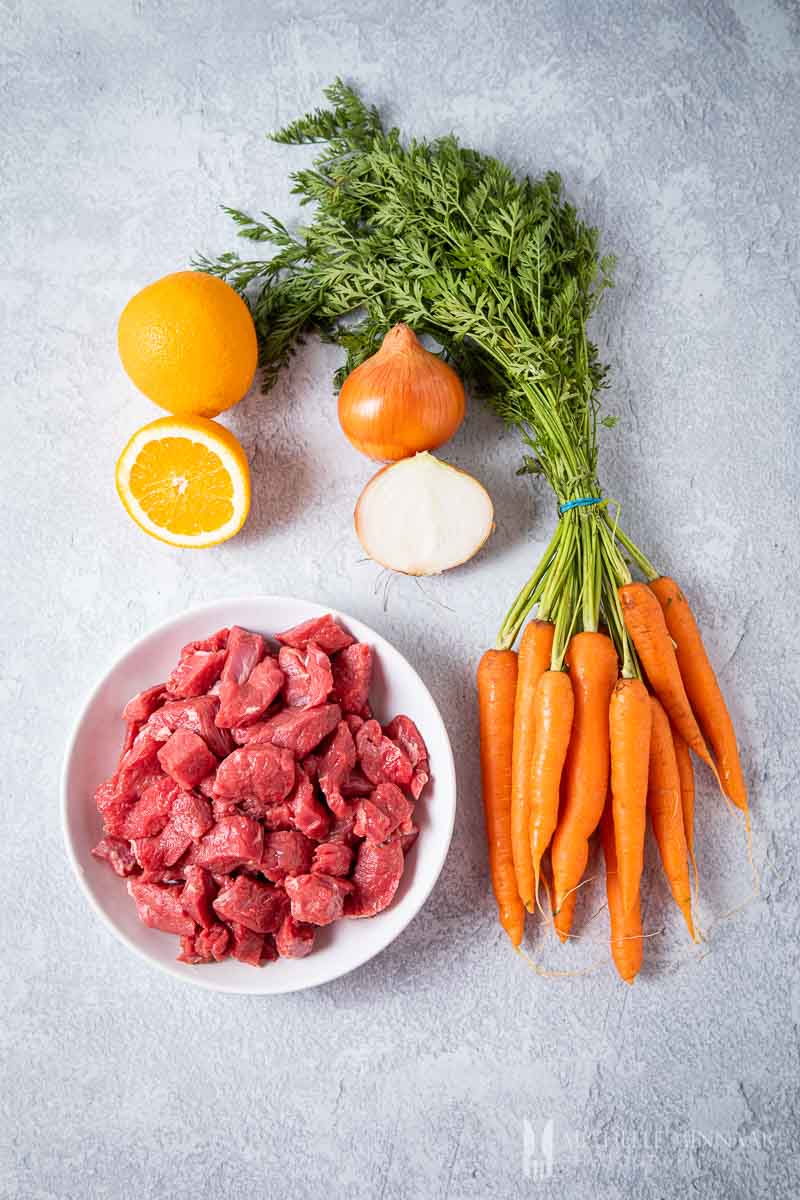 slimming world beef stew recipe
This slimming world beef stew recipe is perfect for when the weather get's cold. It's definitely a winter warmer dish. However, you won't have to worry about enjoying this as it is a slimming world recipe. Hence, you can eat it completely guilt-free as it is a filling, yet healthy dish.
What sets this slimming world beef recipe apart from most other stews is that it uses ingredients which won't take up your syns. For instance, instead of normal cooking oil or olive oil, it is highly recommended to use a low calorie cooking spray as it is syn free!
top things you need for making a stew
Here's a list of things you'll need for making this slimming world beef stew:
slimming world beef stew slow cooker
I highly encourage you to go for either a pressure cooker or a slow cooker, especially when it comes to making this slimming world beef stew recipe. It really does make the difference with regard to the tenderness of the meat and the flavour of the stew. Trust me on that.
Here are a few other stew recipes you might like to make:

what is tamari?
I don't know if you've noticed but my slimming world beef stew recipe calls for tamari. Tamari, also known as tamari shoyu, is a Japanese sauce made from fermented soybeans. Just think of it as a thicker and more balanced soy sauce. Ordinarily, tamari is vegan as well as gluten-free.
In essence, you can use soy sauce as an alternative to tamari if you fail to find it in the supermarket – both contain approximately 2 syns per teaspoon.
slimming world beef recipes
As mentioned previously, I've made tons of slimming world recipes before. If you love this slimming world beef stew, then you're also going to love my slimming world beef stroganoff recipe. It's creamy, rich and would you believe it – syn free!
Next, if you have beef mince at home or in the freezer, you can definitely try to make my slimming world spaghetti bolognese. Pasta is considered a filling food, so it is allowed within the slimming world diet. Paired with the right ingredients, the spaghetti Bolognese can actually help you slim down believe it or not. Try it out for yourself.
For other slimming world recipes, check out my delicious:
slimming world butternut squash soup - a hearty and warming soup with a punch of flavour
egg fried rice from slimming world - an excellent dish as well as a side dish (in fact you can use it as a side dish to this slimming world beef stew instead of the rice)

slimming world beef stew and dumplings
It's very central European to serve dumplings with your beef stew. These dumplings come in various forms and flavours. However, it's important to mention that dumplings are quite synful because they contain quite a significant amount of carbs and sugar. In Germany, the dumplings are called knoedels.
If you still have some syn allowance left, then feel free to pair the slimming world beef stew with a dumpling or two. However, if you have no syns left, then omit this pairing.
If you find vegan dumplings (generally made with chickpeas or lentils), then you can add more to the beef stew. Chickpeas and lentils are filling foods. Hence, dumplings made from these ingredients will have a low syn value.
best syn-free toppings for stews
Herbs are one of the best syn-free toppings for this slimming world beef recipe. So, omit the cheese and go for these syn-free toppings instead:
parsley
coriander
watercress
How would you serve this slimming beef recipe? Let me know!
Print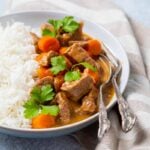 Slimming World Beef Stew
---
Description
Come and make this rich and delicious slimming world beef stew. It's very nutritious and healthy. Learn how to cook food with low amounts of syns. Enjoy!
---
15

ml

(1 tbsp) corn flour/corn starch

500

g

(1 lb) braising beef, trimmed and cut into small cubes

1

medium onion, peeled and sliced

1

orange, grated rind and juice

15

ml

(1 tbsp) tamari
few sprigs of fresh thyme leaves
---
Instructions
Put the corn flour into a paper bag. Season with salt and pepper, then add the meat cubes and toss to coat.
Spray a flameproof casserole with low calorie cooking oil and gently fry the onion in the oil until softened.
Add the meat and fry while turning to seal, until evenly browned.
Stir in the orange rind, thyme, orange juice and tamari.
Top up with water or stock, bring to the boil and top with the lid.
Bake in a preheated oven at 170°C/fan150°C/325°F/gas mark 3 for about 1½ hours.
Notes
If you're not gluten intolerant, use soy sauce instead of tamari.
Serve with baked jacket potatoes and green vegetables.
Prep Time:

105 minutes

Cook Time:

10 minutes

Category:

Stew

Method:

Braise

Cuisine:

British
Keywords: slimming world beef stew, beef and orange stew, beef and orange casserole, beef stew recipe