This elderberry gin recipe is pure heaven in a glass!
A Great British classic, this refreshing recipe is the perfect way to showcase the taste of one of the most underrated berries in the bush. So… let the fun be-gin!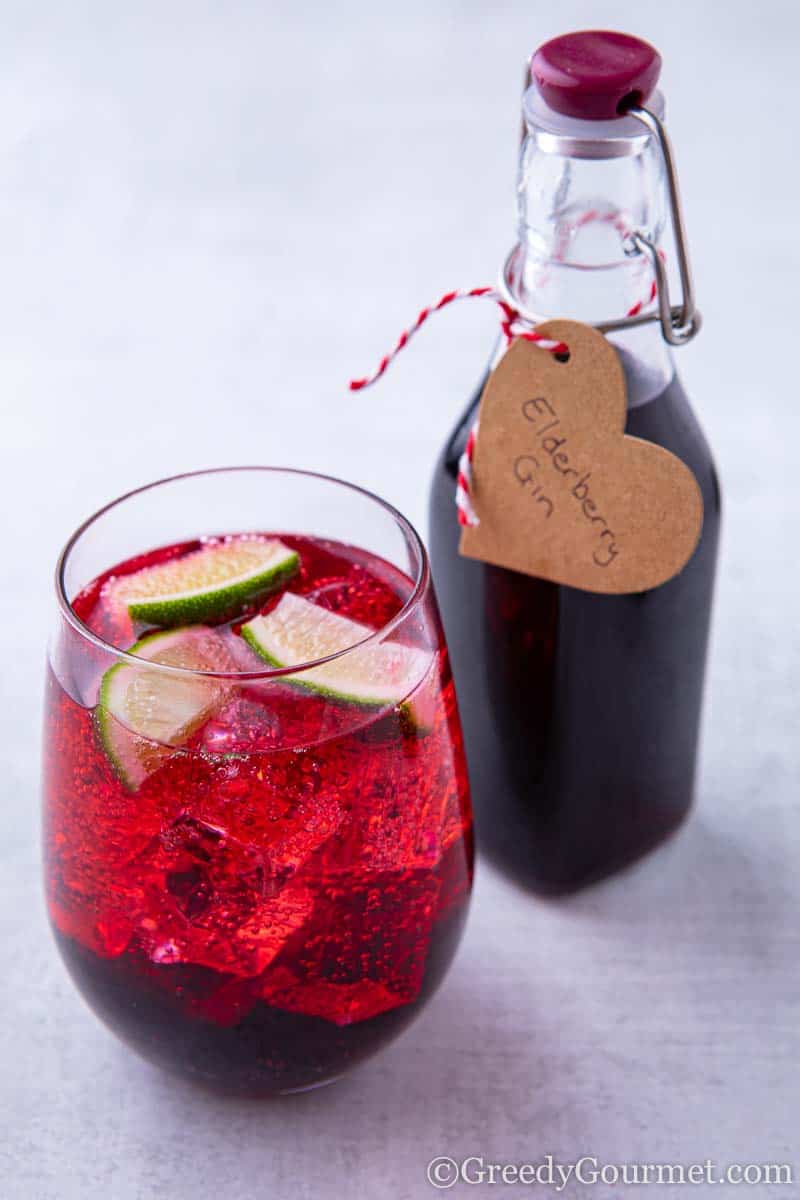 Products you need for this recipe
There are a few key items that you'll need to make this delicious elderberry drink:
Small saucepan – you'll need a small saucepan to make the sugar syrup, which you'll add to the gin to bring some sweetness
Lemon peeler – git one of these little gizmos so you can easily peel the lemon
Sieve – a good quality sieve is important for straining the elderberries after they've infused the gin
Sugar – top up on quality caster sugar to make the sugar syrup
Gin – the essential element to this recipe. Get tome top quality gin
Gin glasses – don't drink your delicious gin out of any old rubbish! Invest in some good quality glasses and celebrate in style!
Cocktail jug and stirrer – serve up your gin in style with a proper cocktail jug
Ice bucket – if you want your gin to be ice cool, one of these is essential
1.5 litre jar – a quality sealable 1.5 litre jar is an important part of this recipe. You'll need it to store the elderberries, so that they can infuse into the gin over a month
Mini glass bottles - store your elderberry gin in these cute bottles which make great foodie gifts!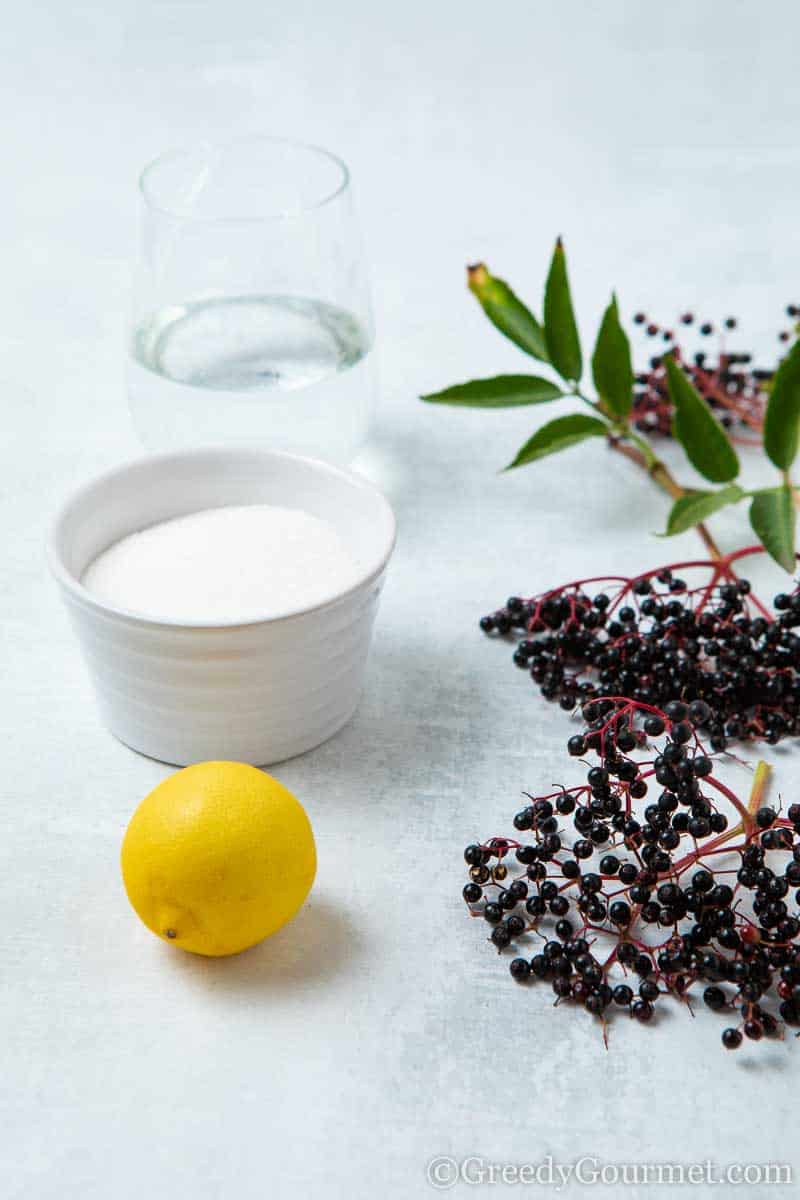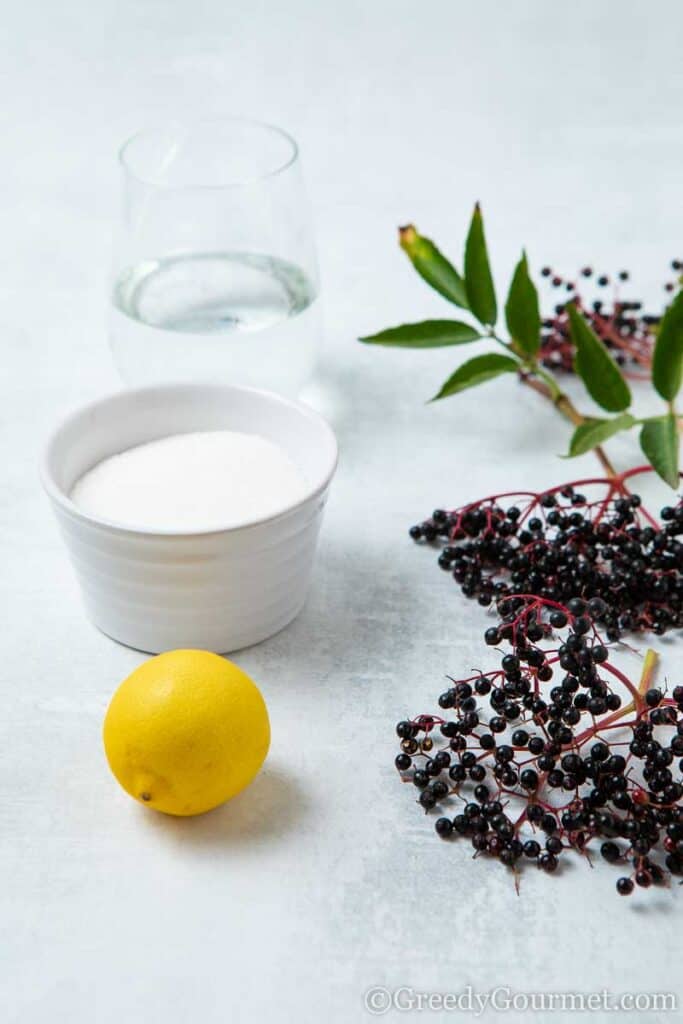 How to make elderberry gin
This is a recipe for those with a taste for the divine and a fair amount of patience. It's definitely not for those looking for a quick fix – steeping elderberries in the gin is a method that infuses the gin with the berries, producing the most incredible flavour.
This steeping process takes time – about a month. It's well worth the wait though and once you've successfully made this recipe, you'll want to make it again and again!
The first part of this recipe involves removing the berries from their stalks.
Use a fork to carefully comb through and remove the stalks, but be careful not to squash the soft ripe berries. If you find any green, unripe or damaged berries, discard them.
After you've rinsed the elderberries, you add them to the jar, along with the lemon peel and gin. When you store these ingredients together for a month, each will add its own flavour and you'll end up with a delicious concoction.
You'll need to give the berries a turn every few days to get an even flavour.
After a month, the elderberries will have done their job. The next stage is to strain the gin using a sieve.
You need to make the sugar syrup to sweeten the deal! Add the sugar syrup to the gin gradually, until you've hit the sweet spot.
You can serve the gin with ice and a slice of lemon, for a great tasting refreshing drink that is perfect at any time of the year.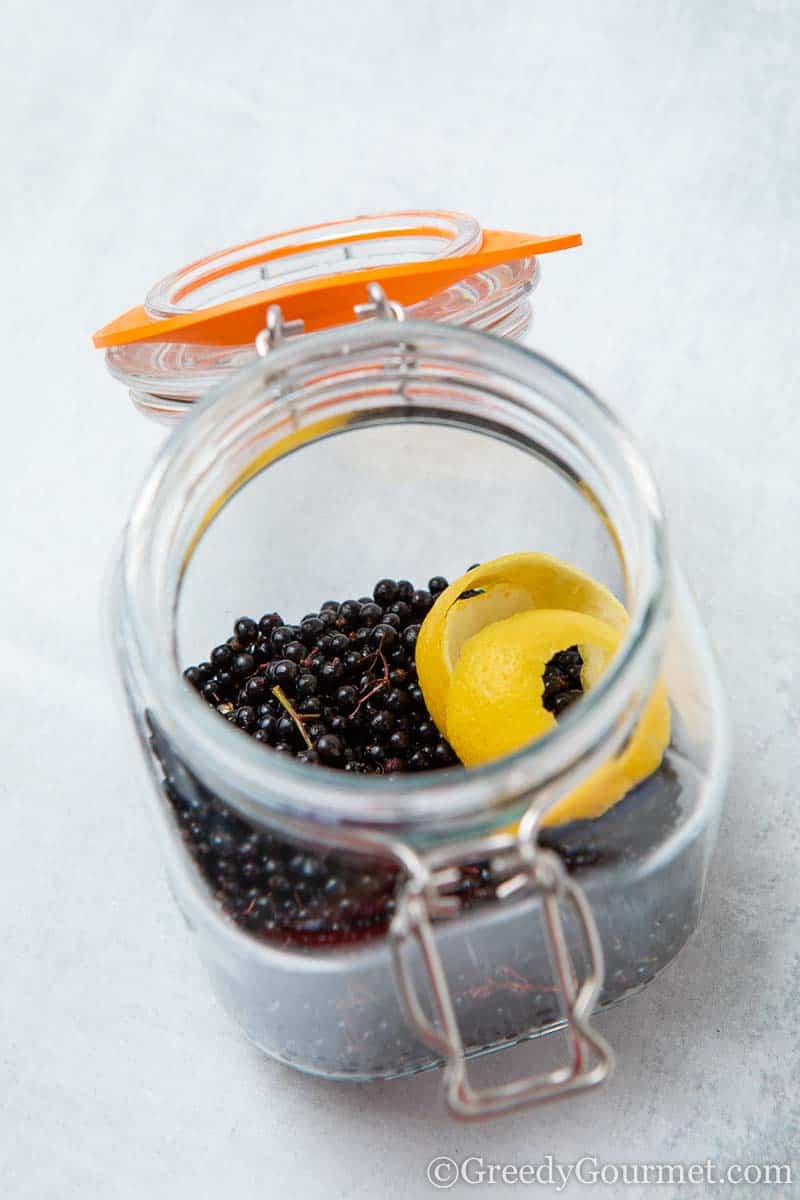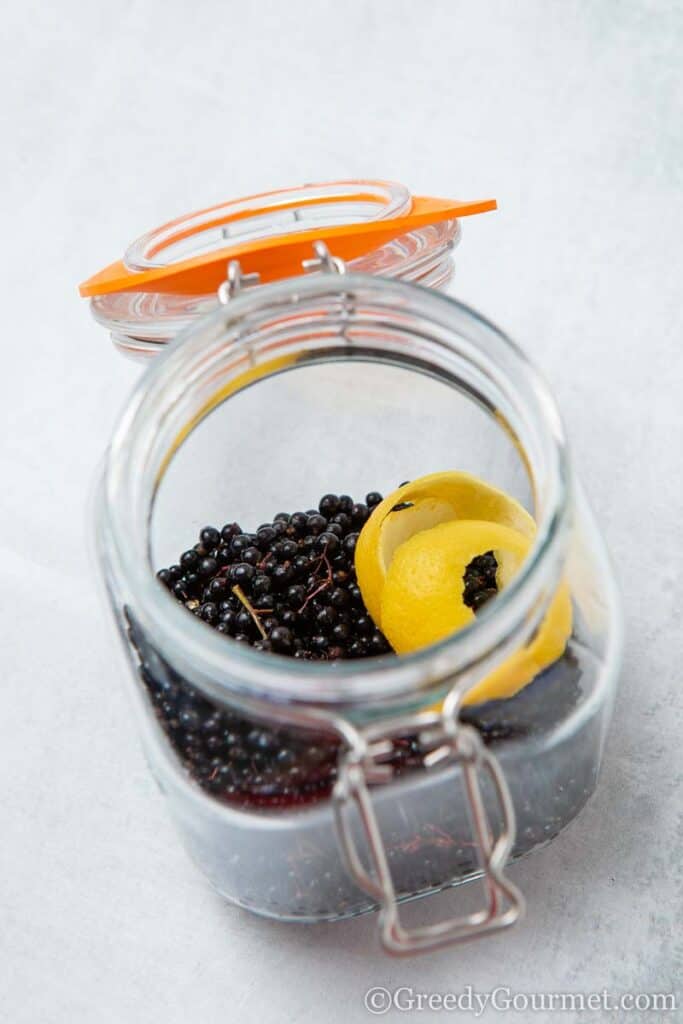 Where to forage for elderberries
Elder trees often grow in woodlands and hedgerows. Look for small purple-black berries hanging in clusters.
If you're new to foraging, check out the BBC's guide to foraging.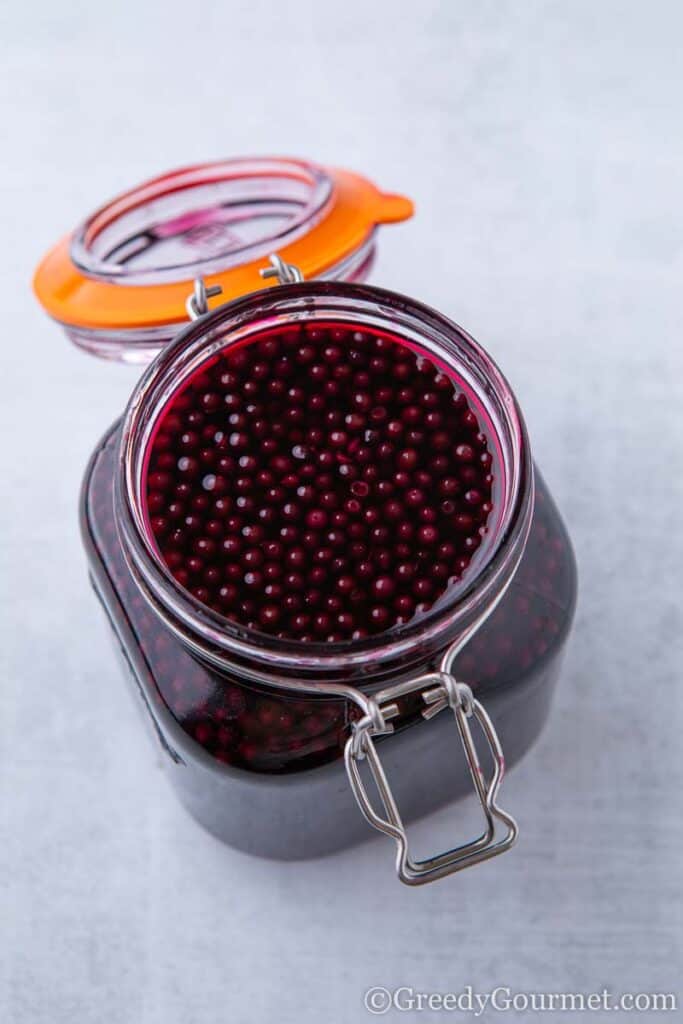 Where can I buy elderberries?
As these berries are very small, grow in clusters and don't travel well, it's very hard to make them commercially. The fact that you can't just pop down to the supermarket and find them at any time of year is quite refreshing in this day and age. 
I like to think it makes them quite a magical ingredient. So what's the method to get hold of elderberries? Forage for your own!
What's the best time of year to forage for elderberries?
The best time to pick elderberries is from mid-August to October. They won't taste great off the bush – they need to ripen over a period of 5-15 days once picked. It's best to keep them in the fridge as they ripen.
What can I use elderberries for?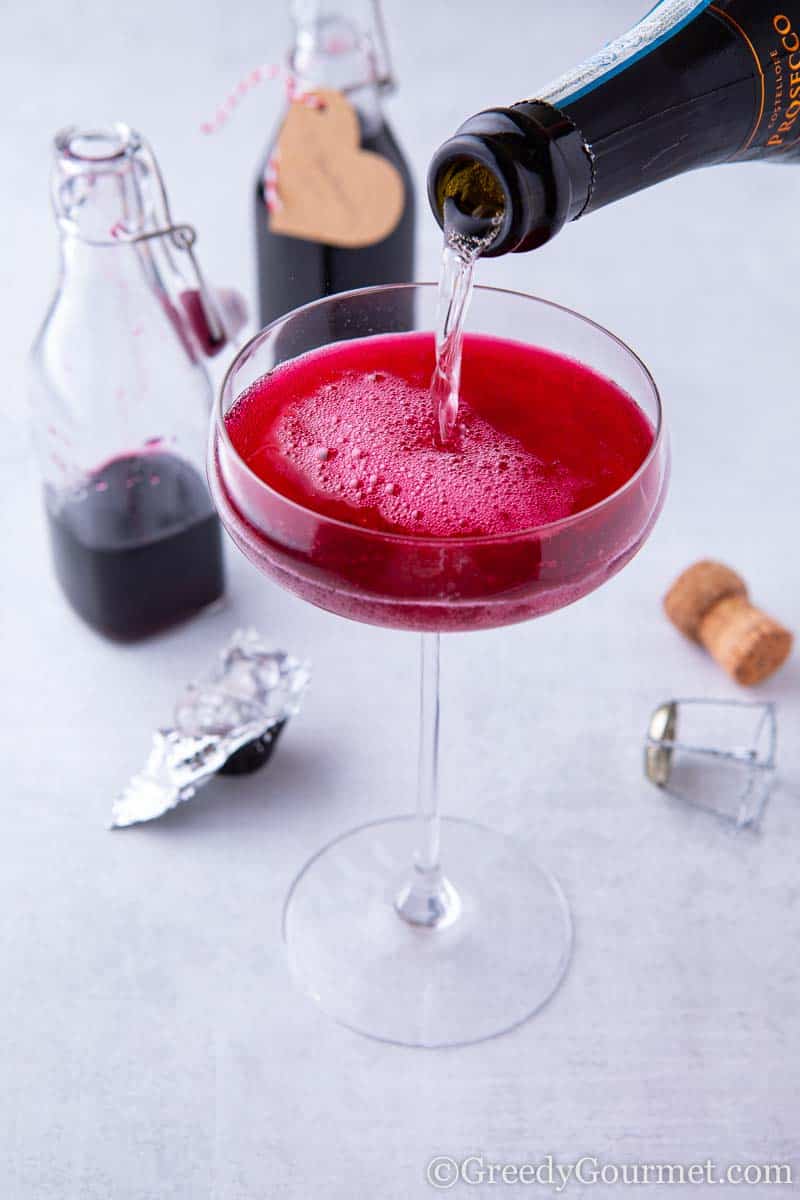 Aside from elderberry gin, this delicious underused berry can be used to make elderberry wine, jam, juice or chutney. 
These berries also work great when you add them to a sauce or gravy and serve them with a meat dish.
Are elderberries good for you?
Not only are elderberries absolutely delicious, these berries are also packed with essential vitamins and antioxidants.
They are particularly high in vitamin C (52.2mg per cup) and are said to be great for relieving cold and flu symptoms, as well as excellent for boosting the immune system.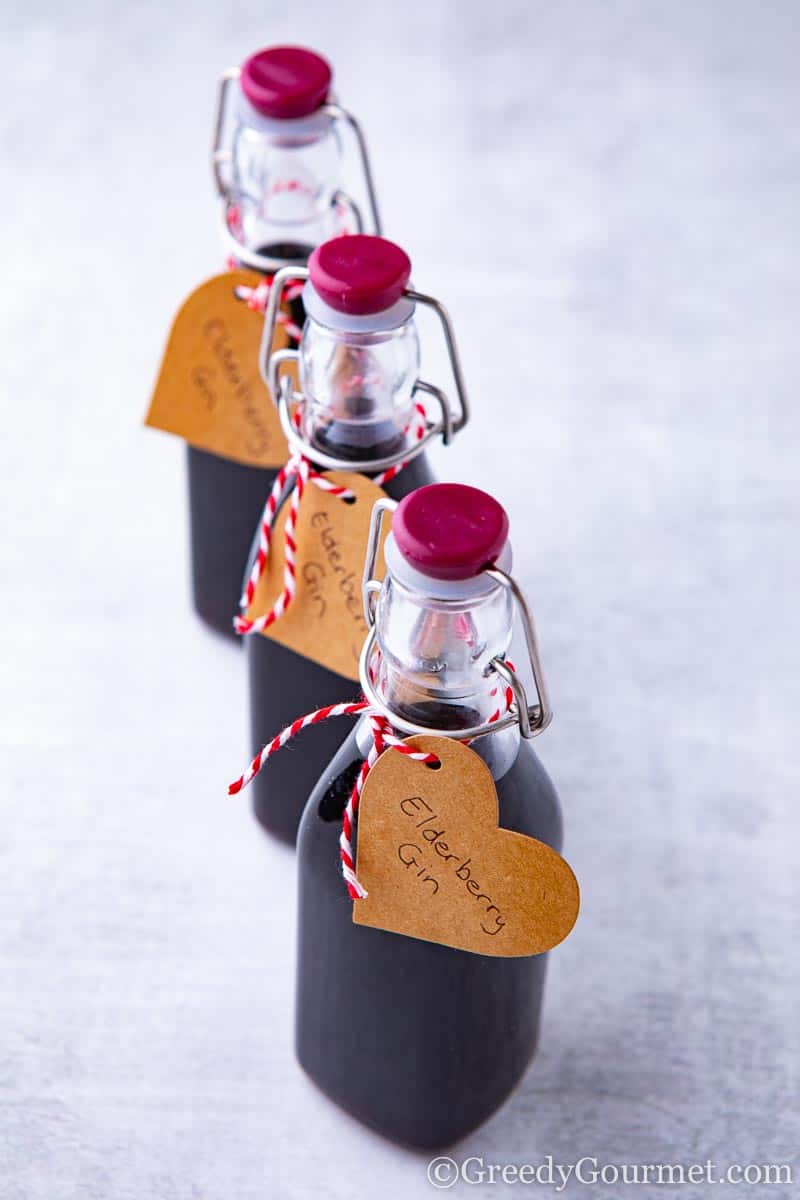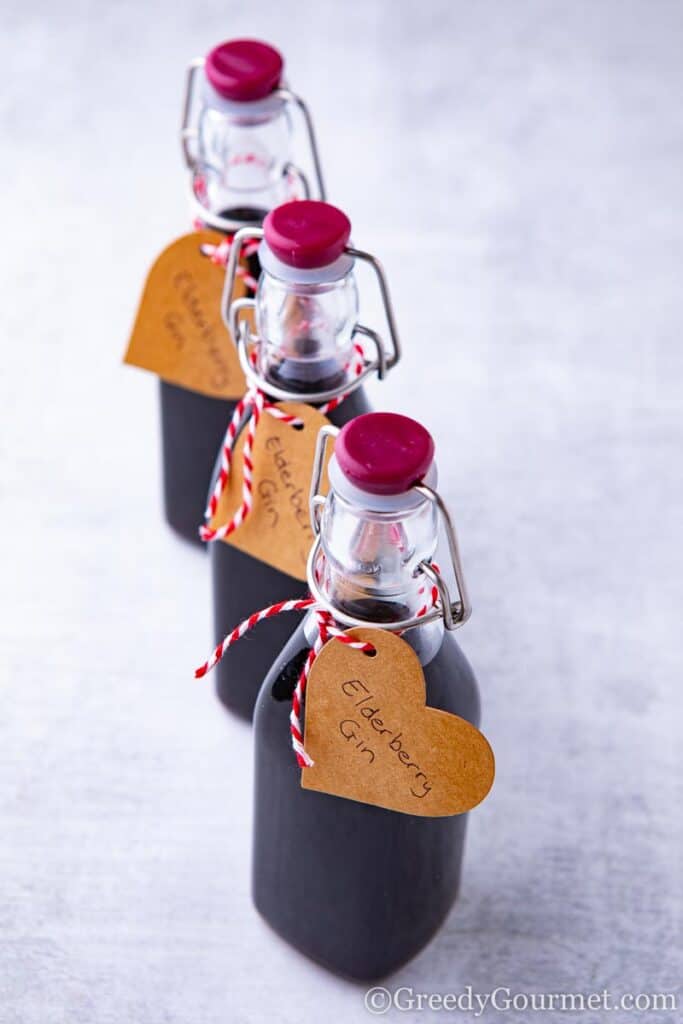 More great drinks recipes
Has this recipe whet your appetite? Try these related recipes on for size:
Print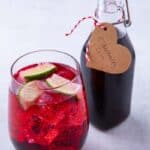 Elderberry Gin
---
Author:

Michelle Minnaar

Total Time:

25 minutes

Yield:

16

servings

1

x

Diet:

Vegan
Description
Elderberry Gin is one of the joys you can make at home after foraging. the berries need plucking from the stems before steeping in gin for a month. It's well worth the effort and patience!
---
500

g

(3 cups) elderberries

1

lemon, peel only

750

ml

(3 cups) gin

150

g

(3/4 cup) sugar
---
Instructions
Thoroughly clean the berries under running water. Drain.
Using a fork, pick the berries of the tiny branches. Be careful not to have stems still attached to the berries. Only keep the ripe berries, i.e. discard the green and damaged ones.
Give the berries a good rinse to remove any debris, then tip them into a 1.5ℓ (6 cups) jar, along with the lemon peel.
Pour in the gin, close the lid and seal.
The jar will now have to be stored for at least a month in a cool, dark place. Every few days, you'll need to turn.
Using a fine sieve, strain the gin. After you strain it, you can keep the berries and use them in dessert or in a savoury sauce to be served with venison.
Place the sugar and pour 125ml (½ cup) of water in a small saucepan over a low heat.
Stir frequently until all the sugar has dissolved and a sugar syrup has formed. Remove from the heat and allow to cool.
How sweet you want the elderberry gin to be is up to you. Pour a little of the sugar syrup in at a time and taste until desired sweetness is achieved. Enjoy!
Notes
Elderberry gin makes an excellent gift. You can buy cute sealable glass bottles and give them away as presents!
Serving Suggestion #1: Treat the elderberry gin as you would a traditional gin, with tonic water.
Serving Suggestion #2: Think along the lines of a Kir Royale. Use 30ml (2tbsp) elderberry gin and top up the champagne glass with a little pour of prosecco.
Prep Time:

20 minutes

Cook Time:

5 minutes

Category:

Drink

Method:

Soak

Cuisine:

British
Keywords: elderberry gin, how to use elderberries, elderberry gin recipe, foraging recipe, elderberry gin fizz