Christmas is only a few days away! Can you believe how fast the time went? With all the food and present shopping, I've somehow already managed to secure my turkey for this Christmas feast. This year, instead of traditionally roasting the turkey in the oven, I will make my famous whole smoked turkey. Again, once you get used to these rich smoky flavours, it's hard to transition back to the traditional way of preparing this fowl. As the turkey is rather huge, I bet that even you will have some leftovers. To use up all that delicious meat, make a one-pot leftover turkey casserole on Boxing Day. It's fast, efficient, sustainable and tasty!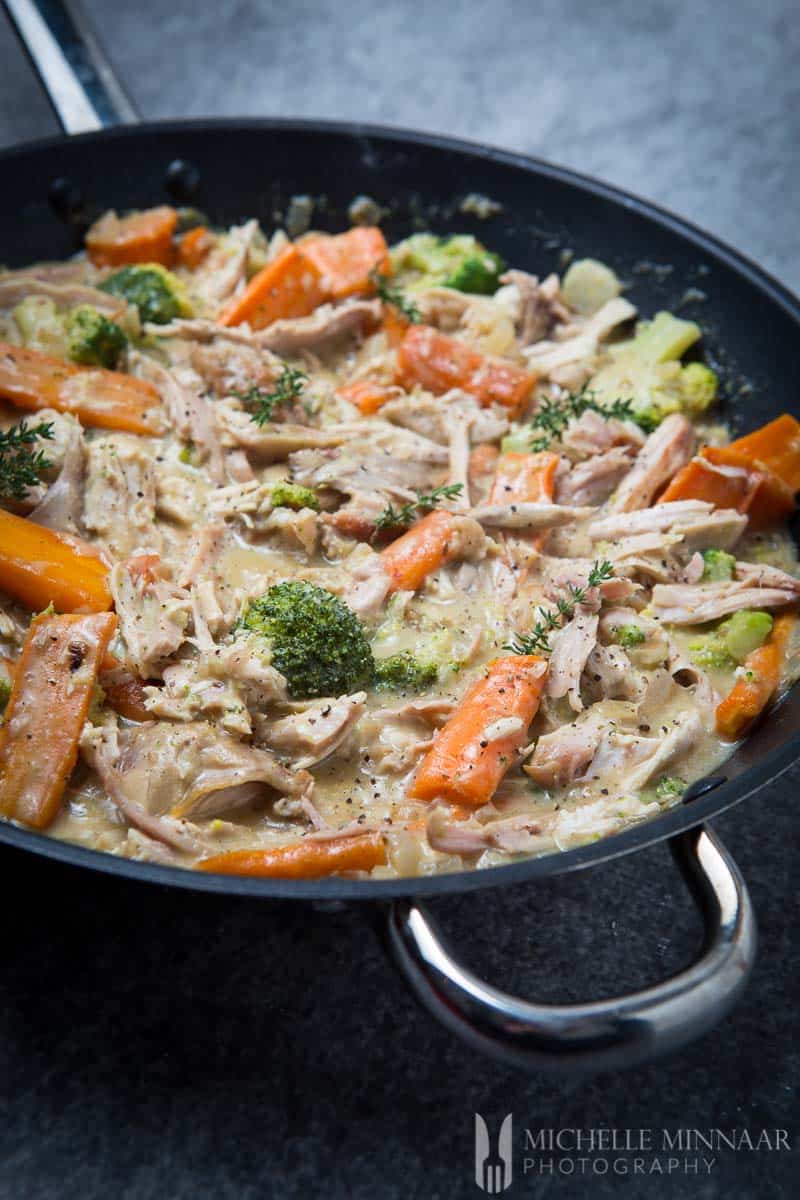 leftover turkey casserole
This leftover turkey casserole is just what you need after a heavy Christmas meal. After the Christmas meal I opt for simple, straight forward dishes such as this one. So, cooking this recipe was very easy as it is literally hassle free in the kitchen. Preparation times are low, and you use up leftover vegetables from the big event or those lurking around in your fridge. It's very versatile and you can use any of your favourite vegetables. I like to use broccoli as it tends to dry up and it would be a waste not to use it.
The leftover turkey casserole is a creamy, savoury delight which will fill you up without overpowering you with those Christmassy flavours. Also, it can store up to four or five days in the fridge depending on your set temperature and also freezable.
substitutes
You can substitute the turkey with chicken. They taste roughly the same, however the chicken is easier to prepare as it's much smaller. You can also substitute with pheasant for those intense umami flavours, or pork or even quail. Quail however is rather complicated. It can become unbearably dry if you overcook it. The spicing of this leftover turkey casserole in fact works with any type of meat- whether it be red or white. You can use up leftover fish. I can imagine haddock or cod working very well in this type of casserole. Don't forget to pair the stock with the type of meat you are using. If all else fails, use fresh vegetable stock.
Now, let's be more sustainable. As you know, I am soon making the transition to eliminate pork from my diet and I am trying to eat more vegetarian meals. Already, I have to start thinking of clever vegetarian substitutes. These include smoked tofu, chickpeas, eggplant, or lentils. A friend of mine suggested using large Portobello mushrooms as their textures slightly resembles meat.
onions and garlic
I recommend using the traditional white onion. Red onions are more suitable for salads in my opinion, however if you only have those leftover, feel free to add them. I like to use as much garlic as possible in my meals. It's extremely healthy and it gives a nice sweet aftertaste once cooked. Remember to fry them in oil until golden. You can also use butter or unscented coconut oil. Refrain from using olive oil. Being so fragrant, it can overthrow the overall taste.
You don't need to add any flour, this step is completely optional. If you leave this out, your leftover turkey casserole can be a gluten-free meal. Don't worry about the consistency. If you use the right type of cream, the leftover turkey casserole should thicken right up. If you are doubtful however, you can also use a teaspoon or two of unsweetened apple sauce. The apple sauce is a common substitute used especially for baking, as it helps bind ingredients together and is a perfect sauce thickener.
Next comes the good stuff. I love cooking with alcohol, especially when it comes to cooking wine-based sauces. This time however, I've used brandy for the leftover turkey casserole. The brandy will give a delicious rounded flavour and a little kick. You can also use cognac or something sweeter like crème de cassis. The latter is a blackcurrant based liquor, which adds a bit of sweetness but also acidity. It's very popular in French cuisine and you will find that it is included in many popular cream based French recipes. You can later use a splash or crème de cassis with your white wine, creating the popular 'Kir' or 'Kir Royale' if you use champagne. A delicious aperitif!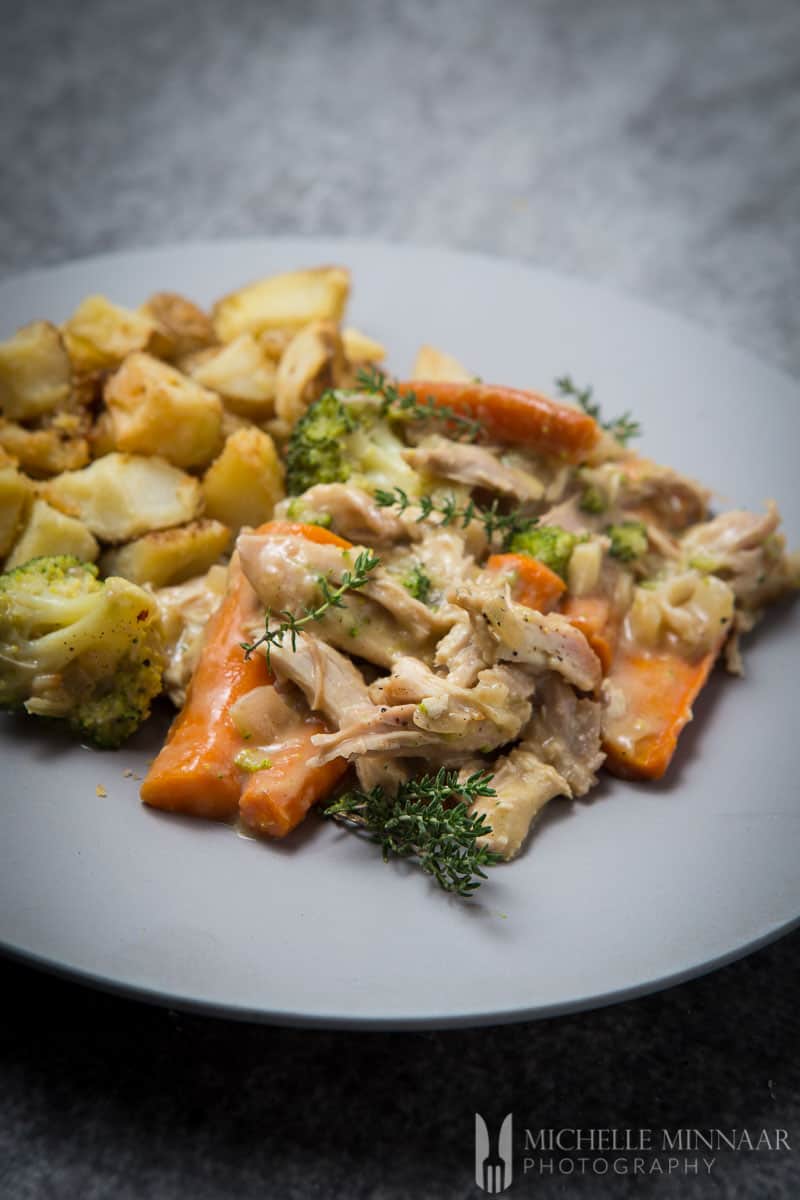 cream and season
This leftover turkey casserole requires only a dash of cream right at the finish. I can also recommend using a spoonful of full fat Greek yogurt. To make this recipe vegan-friendly, you can also add soy cream. For an alternative to cream, why don't you take a Mediterranean direction and add tomato paste? The paste will thicken up the consistency of the leftover turkey casserole almost immediately. Plus, it works very well with this recipe.
I always recommend seasoning meals to your liking. If you use cream, I recommend adding a little bit of nutmeg. Season with salt and pepper generously. As for the herbs, I like to use thyme for traditional flavours – whether it be dried or fresh. If you are using fresh thyme, just add it almost at the end of the cook. Otherwise, you leftover turkey casserole can become quite bitter. Rosemary is another option.
other leftover turkey ideas
Have you still got more leftover turkey and you don't know what to do with it? Not to worry. For starters, you can make turkey chowder. It's very similar, however the overall taste is sweeter due to the sweetcorn, and it's a favourite amongst kids. You can also spin leftover turkey in an Indian direction with a leftover turkey curry. Turkey is a very versatile meat and works well in almost any recipe. You can also just nibble on the plain leftover turkey pieces, nothing wrong with that!
Well, that's all for this year. As you can see, I've done some cooking before the holidays. To all my readers, I wish you a very happy and merry Christmas! I hope you all have a nice time relaxing at home with your families along with a wonderful start to the New Year! Happy 2018!
What is your favourite way to use leftover turkey?
Print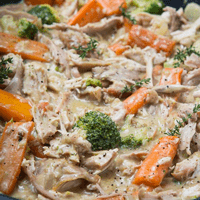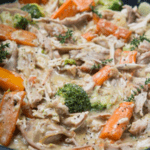 Leftover Turkey Casserole
---
2

onions, finely chopped

15

ml (1 tbsp) butter

15

ml (1 tbsp) oil

2

cloves garlic, finely chopped

90

ml (6 tbsp) brandy

30

ml (1 tbsp) flour

500

ml (2 cups) vegetable stock

300g

(

10oz

) cooked carrots

300g

(

10oz

) cooked broccoli

450g

(1lb) cooked turkey, chopped into bite-sized pieces

30

ml (1 tbsp) double cream
Salt and pepper, to taste
---
Instructions
Fry the onions in butter and oil in a large saucepan until softened.
Add the garlic and brandy and simmer until the liquid has halved.
Stir in the flour then slowly add the stock until thoroughly blended.
Add the carrots, broccoli and turkey to the mix and cook until the mixture has been heated through.
Notes
Add a dash of cream and season to taste.
Prep Time:

10 minutes

Cook Time:

20 minutes

Category:

Main Course

Cuisine:

French
Nutrition
Serving Size:

1 serving

Calories:

425

Sugar:

9.1 g

Sodium:

306 mg

Fat:

15.4 g

Saturated Fat:

5.9 g

Carbohydrates:

23.5 g

Fiber:

6.4 g

Protein:

38 g

Cholesterol:

103 mg
save the recipe to your pinterest board