This super simple recipe is certain to impress your friends and family.
This orange sauce for duck is sweet, tangy and absolutely divine. If you want to make duck à l'orange, check out my pan-fried duck breast to make this classic French dish!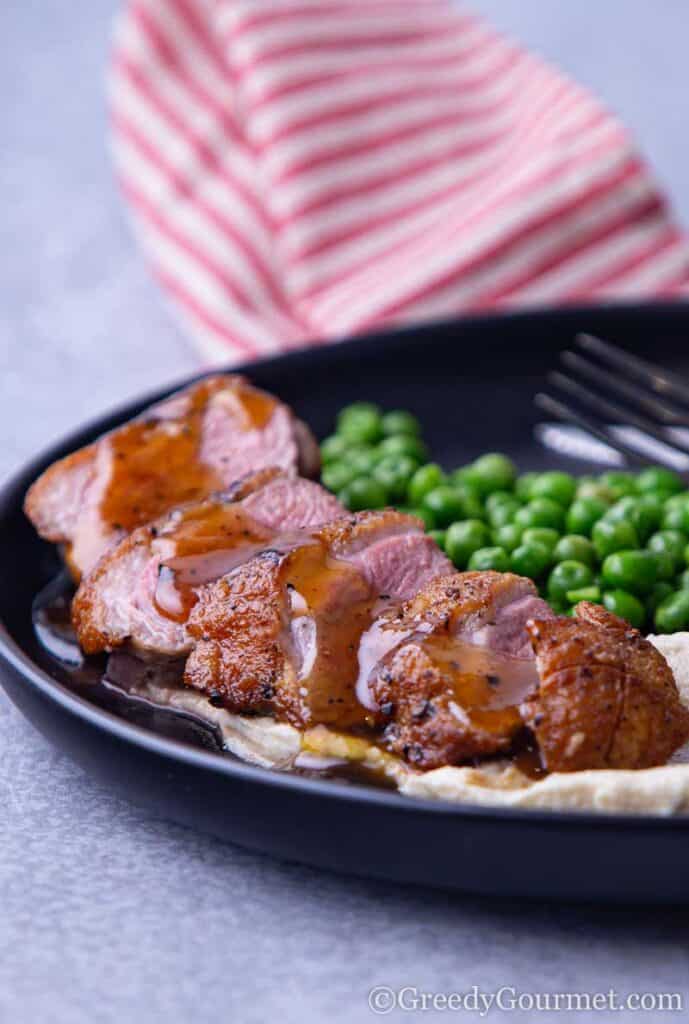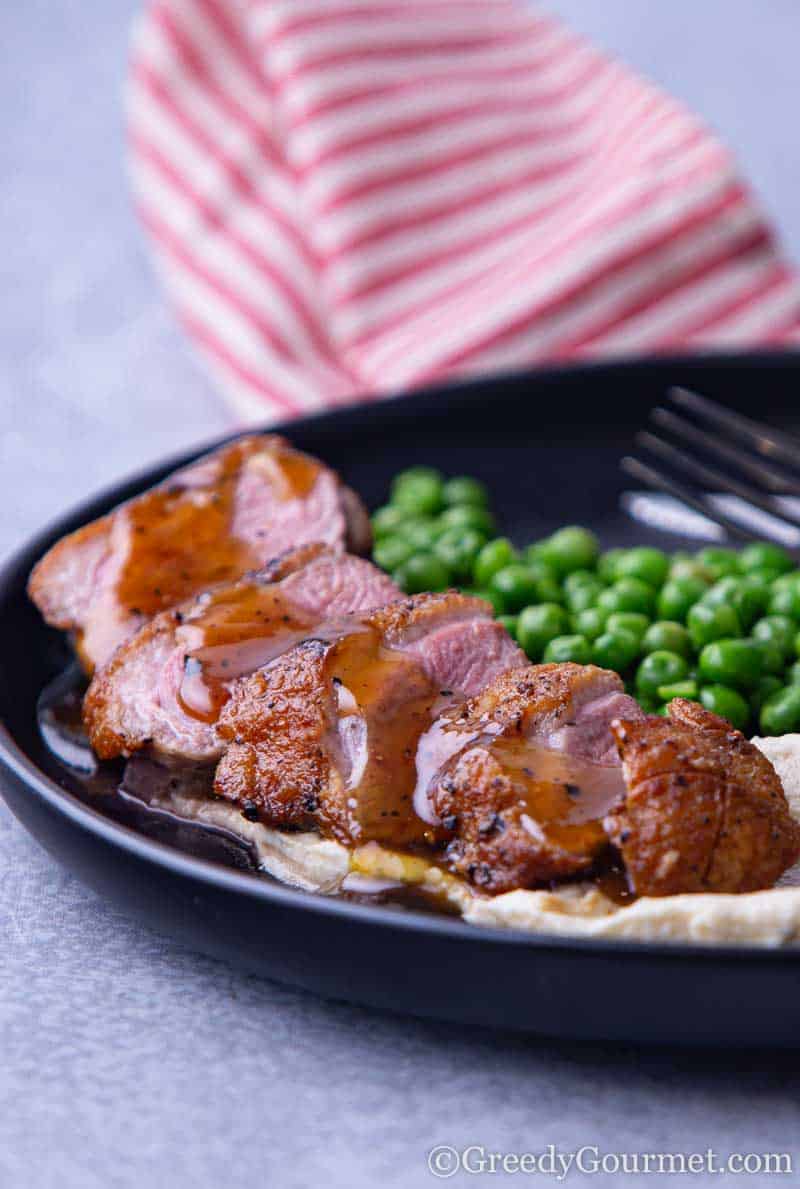 K-Mojo Digimaster
Modern cooking is all about versatility and precision. That's where this glorious little gadget comes in.
Compact, stylish, powerful and easy to use, the K-Mojo Digimaster is a multi-functional kitchen appliance that's going to open you up to a whole world of creativity in the kitchen.
With ten separate functions, you'll get so much out of the Digimaster. It makes all those laborious tasks so incredibly easy, while enabling you to try things you've never tried before. It chops, slices, kneads, blitzes, juices, emulsifies, grinds and more.
For this recipe, I used the juicer function. Some people recommend juicing oranges with a fork and a bowl, but I'd much rather get the job done in the blink of an eye.
Juicing oranges for the recipe was an absolute breeze. Once they're juiced, you're ready to use your juice to create an unbelievable sauce.
Products you need for this recipe
When cooking your delicious sauce, you'll need some basic kitchen utensils.
K-Mojo Digimaster – as I mentioned above, this gizmo is an indispensable kitchen item and an essential part of this recipe
Wooden spoon – a trusty wooden spoon is an important part of any cook's kitchen
Stockpot – a good quality pot will be the base in which to cook your sauce
Sieve – get the perfect consistency and sieve out the onion from your sauce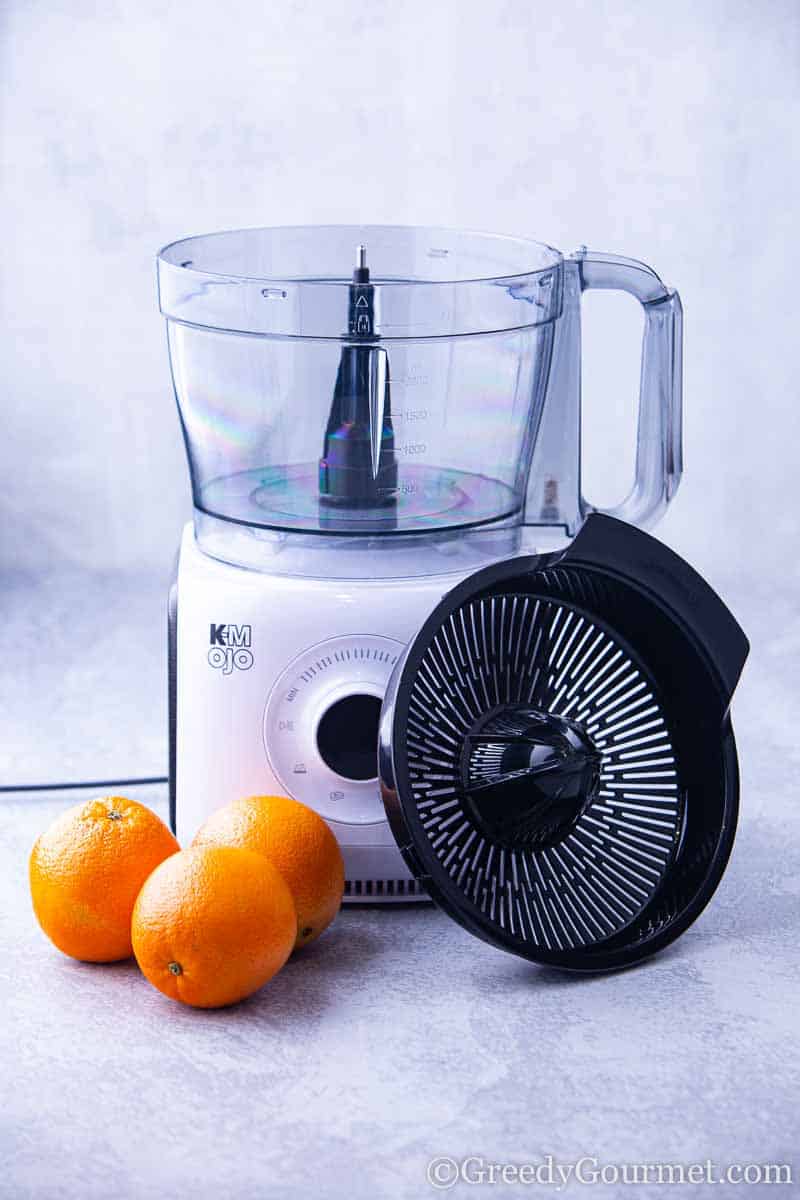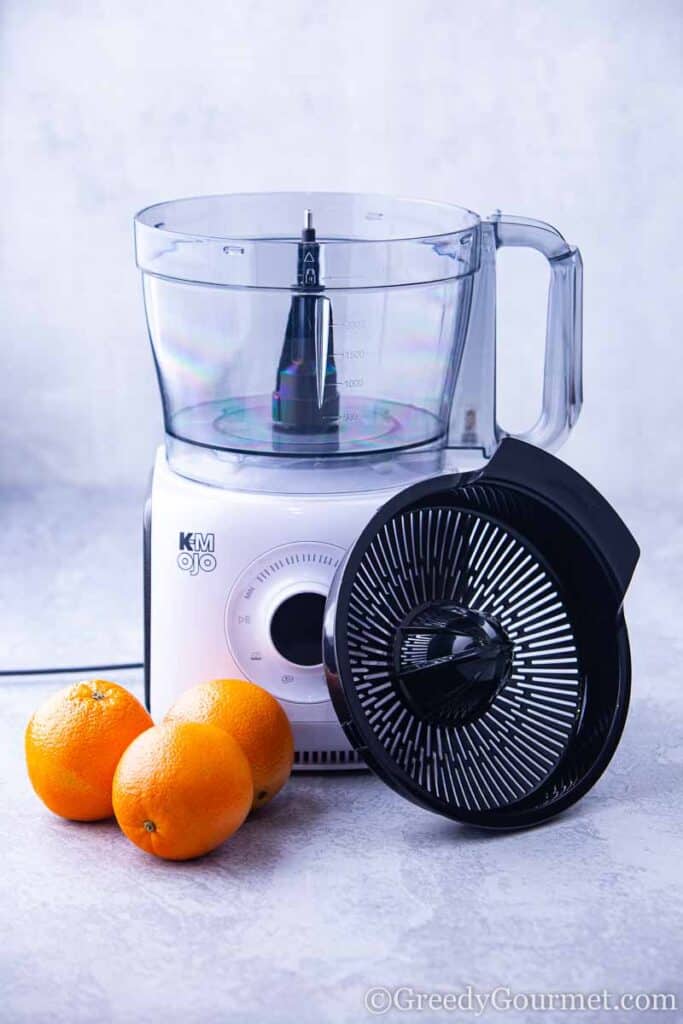 Orange sauce for duck recipe
If you've ever eaten duck before, you'll know that it's absolutely delicious. Have you ever tried duck with orange sauce before? If not, you're in for a treat.
This sauce really does elevate duck to another level. Whether pan fried or roast duck breast, the combination of flavours is really sensational!
For such a wonderful tasting sauce, it's surprisingly easy to cook. All in all, there are only a few simple ingredients, all of which are readily available in your local supermarket.
This sauce is cooked in a few simple stages. First, you fry the onions in melted butter on a medium heat. Cooking the onions is a pretty quick process, taking no more than 5 minutes.
Once the onions are translucent, you're ready to start adding some real flavour. The liqueur and white wine are added to the pan. Some recipes call for red wine, but for me the flavour of white wine works better with orange and duck.
This deglazing process will collect all those lovely sticky onion bits off the bottom of the frying pan.
Next, in goes the juice – freshly squeezed by your trusty K-Mojo Digimaster – as well as the vegetable stock. Again, you can use chicken stock – especially when using this sauce with chicken – but I prefer to use vegetable stock.
This will simmer away nicely for around 5 minutes. Now comes the part where you work towards the desired consistency.
First, you'll sieve out the onions to create a smooth liquid. Then, returning the sauce to the pan, you'll add the all-important marmalade.
The marmalade is going to give you that intense tanginess and also thicken your sauce. Finally, simmer the sauce for up to 10 minutes to allow your sauce to thicken even more.
Nutritional benefits of orange
Oranges are a fantastic source of many essential vitamins and minerals. High in vitamin C, fibre and antioxidants, as well as many other healthy boosting properties, this sweet fruit is one of the most popular fruits for good reason.
Let's start with vitamin C. Oranges are one of the best foods for vitamin C content. Just one large orange contains over 100% of your RDI of vitamin C. Vitamin C is essential to build a healthy immune system, to absorb iron, for growth and cell regrowth and general good health.
In terms of fibre, one large fruit contains 18% of your recommended RDI. Fibre is essential for good digestive health, as well as good heart health and can help with weight loss and lower cholesterol.
Oranges are also a good source of potassium, thiamine and folate, all of which are vitamins that are important to a healthy immune system.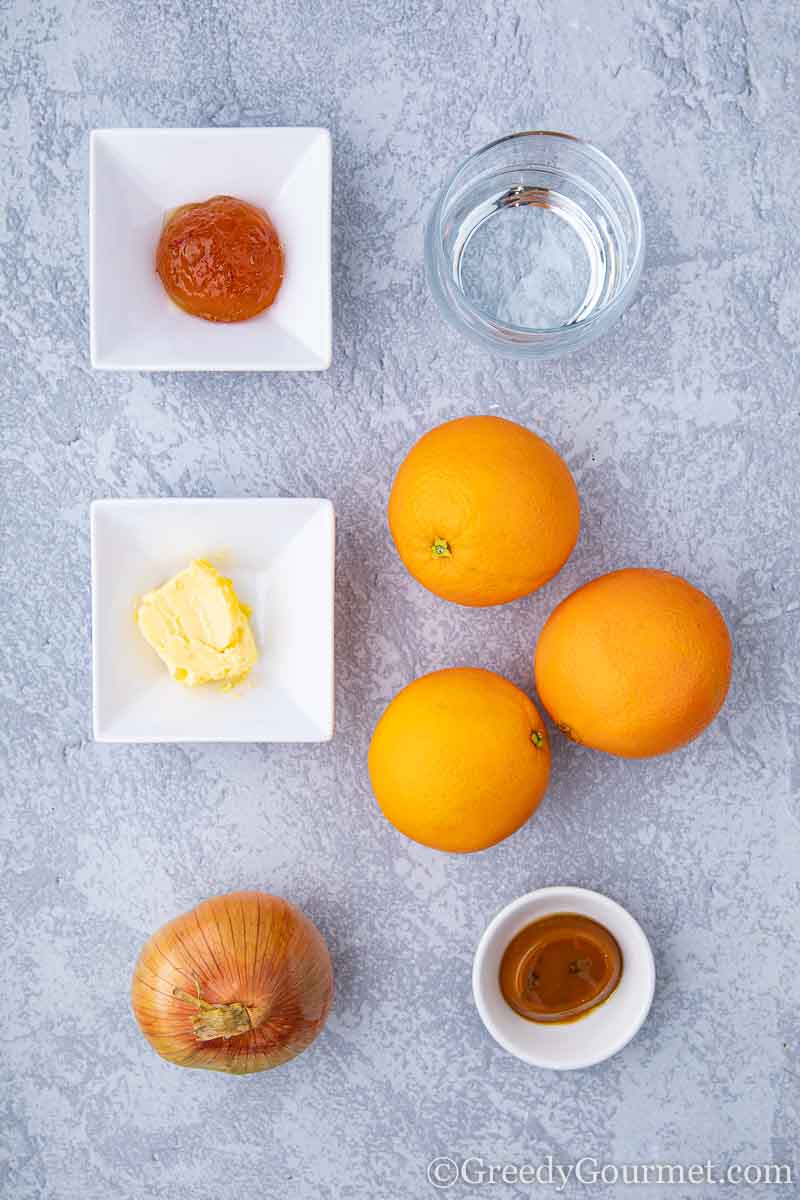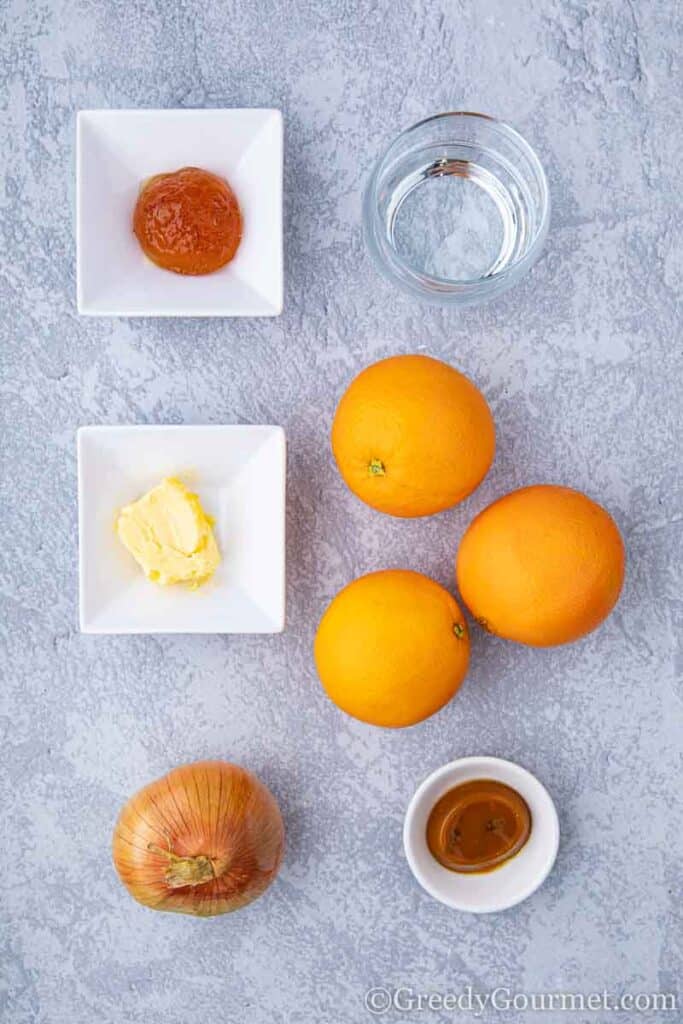 What is orange sauce made of?
This orange sauce is a simple mix of butter flavoured with onion, orange liqueur, white wine, orange juice, vegetable stock and marmalade.
Other recipes call for adding extra sugar, but I think the liqueur, as well as the natural sweetness of the oranges, brings enough sugar content to the recipe.
What are the origins of orange sauce with duck?
Orange sauce dates back to 17th century France. By the 19th century, orange sauce served with duck was becoming increasingly popular in French cookery books, most notably Louis Eustache Ude's The French Cook, which sees his recipe ducklings à la bigarade, or bitter orange, as the star attraction.
By the 20th century, duck a l'orange had become a hugely popular recipe throughout the world. 
Another variation of a meat dish flavoured with orange sauce is orange chicken. Often thought to be of Chinese origin, it is in fact a recipe coined in the US and inspired by Asian dishes.
Fried pieces of battered chicken are coated in an orange chilli sauce, which is cooked until caramelised. It's delicious, but it's no duck a l'orange! 
How do you thicken orange sauce?
Adding marmalade at the end of the cooking process produces a thicker sauce. As it gently simmers, your sauce should gradually thicken to the desired consistency.
If you still find that it isn't thick enough, simply use a little bit of cornflour. First, make a paste by mixing 2g (1 tsp) of cornflour with a tsp of hot water. Then, slowly drizzle it into the sauce and keep stirring the sauce fast. This will stop lumps from forming.
If you're looking for a healthier way to thicken sauces, try using arrowroot. If you can't find it, check out my blog on the best arrowroot alternatives. 
How do you add extra flavour to orange sauce?
For this recipe, the liqueur and the marmalade, in addition to the orange juice, bring an intense flavour to the sauce. 
If you want to bring an extra intense flavour, there are a few other ingredients that you can add.
Firstly and most simply, you can add orange zest. You will already have the discarded peel from the juicing stage – make the most of this ingredient and zest up the peel. Orange peel really is an underrated flavour and adds an extra dimension to the sauce.
You could also add orange extract at the same stage as the juice. 
What sauce goes well with duck?
Many roast duck and pan-fried duck breast recipes call for a red wine jus – basically a thick red wine sauce reduction – or even a plum sauce. Both of these sauces taste great and really complement the flavour of duck.
However, when it comes to a sauce that brings the best out of the meaty, rich flavour of duck, orange sauce is the best. The citric tanginess and the deep mellow sweetness are a perfect match for the richness of the duck. 
If you've never tried this flavour marriage made in heaven, now is the time!
Is orange sauce and duck sauce the same?
It depends who you ask. The term 'duck sauce' is largely an American invention. It describes sauces served up in Chinese restaurants in the States and its contents differ depending on what part of the country you're in.
Everywhere from the Midwest to the East Coast, duck sauce is a sauce made from orange, whereas the further north you go – New England for example – duck sauce is often a plum-based sauce.
How long does orange sauce last in the fridge?
Once you've cooked your orange sauce, you may want to keep it to use for your Sunday roast duck, midweek pan fried duck breast, or another meal later down the line.
Simply transfer it to an airtight container and place it in the fridge. It'll keep for up to 2 weeks.
Can you freeze orange sauce?
Yes, you can freeze it. Simply place inside a ziploc bag or airtight freezable container and place in the freezer. It will keep for 2-3 months.
When you want to reheat it, just defrost overnight and cook into your chosen recipe.
Is orange sauce gluten free?
Yes. As long as you use a gluten free vegetable stock and don't thicken the sauce with cornflour, this sauce is 100% gluten free.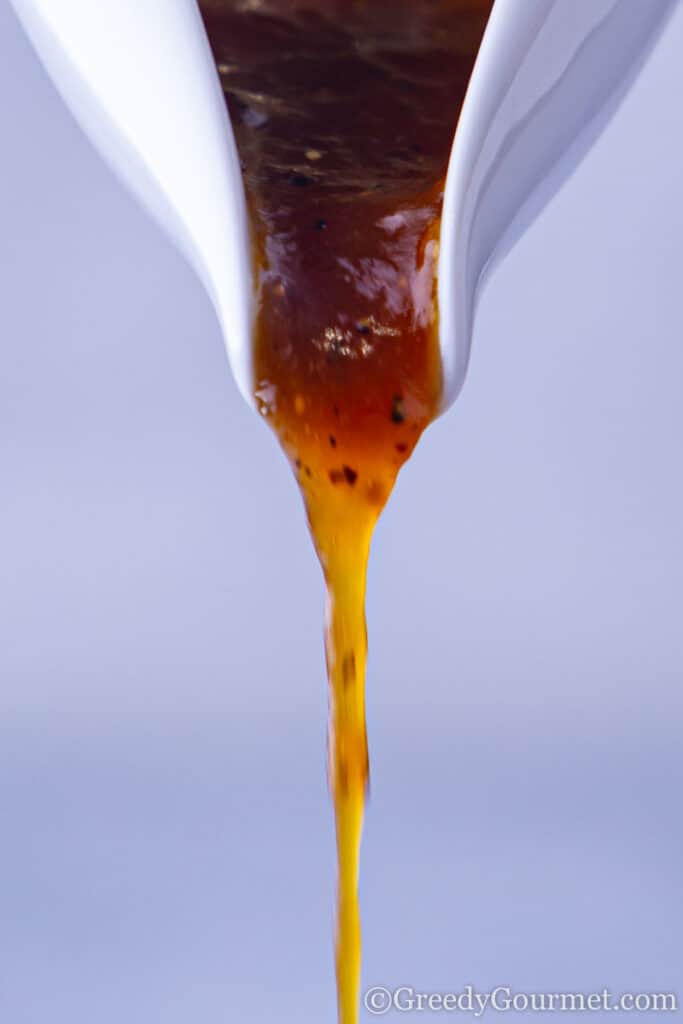 Other great orange recipes
If you're looking for more great recipes that make the most of this popular juicy fruit, look not further!
More sumptuous savoury sauces
Get your sauce on with these unbelievable recipes:
GIVEAWAY
This week one winner will recieve a 7-piece opal glass bowl set including 6 soup bowls and 1 serving bowl, with an elegant blue floral design.
The elegant Aria opal glass soup bowl set will suit all dining occasions and offer a touch of luxury to your meal times with it's intricate design, bringing a timeless hint of class to your dining table.
Made from opal glass, the 7-piece set, including a serving bowl as well as soup bowls, is impervious to stains and extremely hygienic, ready to go straight into the dishwasher after use.
Entering is easy, just follow the instructions below.
a Rafflecopter giveaway
HELP
Check the K-Mojo DigiMaster page
Here you can find a tutorial on how to enter with Rafflecopter.
If your form is not showing, try refreshing the page.
Complete the form, otherwise your entries will not count.
Make sure the mandatory entries (e.g. leave a blog comment) are completed first.
Don't forget to come back daily for extra entries via Twitter.
If you're viewing this post by email, please come to the actual webpage to enter.
Competition Question: What would you serve with duck and orange sauce?
Print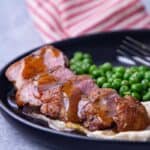 Orange Sauce for Duck
---
Author:

Michelle Minnaar

Total Time:

25 minutes

Yield:

4

servings

1

x

Diet:

Gluten Free
Description
This orange sauce for duck recipe is quick and easy to prepare. Serve it with pan fried duck breast to turn it into duck à l'orange.
---
2

oranges

15g

(

1 tbsp

) butter

½

onion, peeled and sliced thinly

60

ml (4 tbsp) orange liqueur

75

ml (5 tbsp) white wine

100

ml (⅖ cup) vegetable stock

45

ml (3 tbsp) orange marmalade
---
Instructions
Juice the oranges with the K-Mojo Digimaster. Set the juice aside.
Melt the butter in a frying pan and cook the onions until softened and translucent, which will take about 3-5 minutes.
Add the orange liqueur and white wine to deglaze the pan. Let it bubble for 30 seconds.
Add orange juice and stock, and simmer together for 5 minutes.
Sieve the mixture into a bowl, essentially removing the onions, and return the smooth sauce to the frying pan.
Bring the sauce back to a simmer, then stir in the marmalade.
Simmer until desired thickness is achieved. This can take up to 10 minutes.
Serve immediately with pan fried duck breast or oven roasted duck, and green vegetables plus potato mash.
Notes
If you are fond of a stronger orange flavour, add the zest from the used oranges to the sieved sauce.
If you want a quick method to thicken the sauce, use 2g (1 tsp) of cornflour mixed into a bit of hot water to form a slurry. Slowly drizzle it into the sauce while stirring vigorously to avoid lumps forming.
This sauce is suitable for refrigerating and reheating to be enjoyed at a later opportunity.
Prep Time:

5 minutes

Cook Time:

20 minutes

Category:

Sauce

Method:

Boil

Cuisine:

French
Keywords: orange sauce for duck, orange sauce recipe, duck with orange sauce, how to make orange sauce, French orange sauce, French sauce recipe, duck a l'orange
P.S. This is a sponsored post.