We all know those people who say they hate chicken because it's "too dry" – well, get them to taste this sublime sous vide chicken breast... they'll soon change their mind!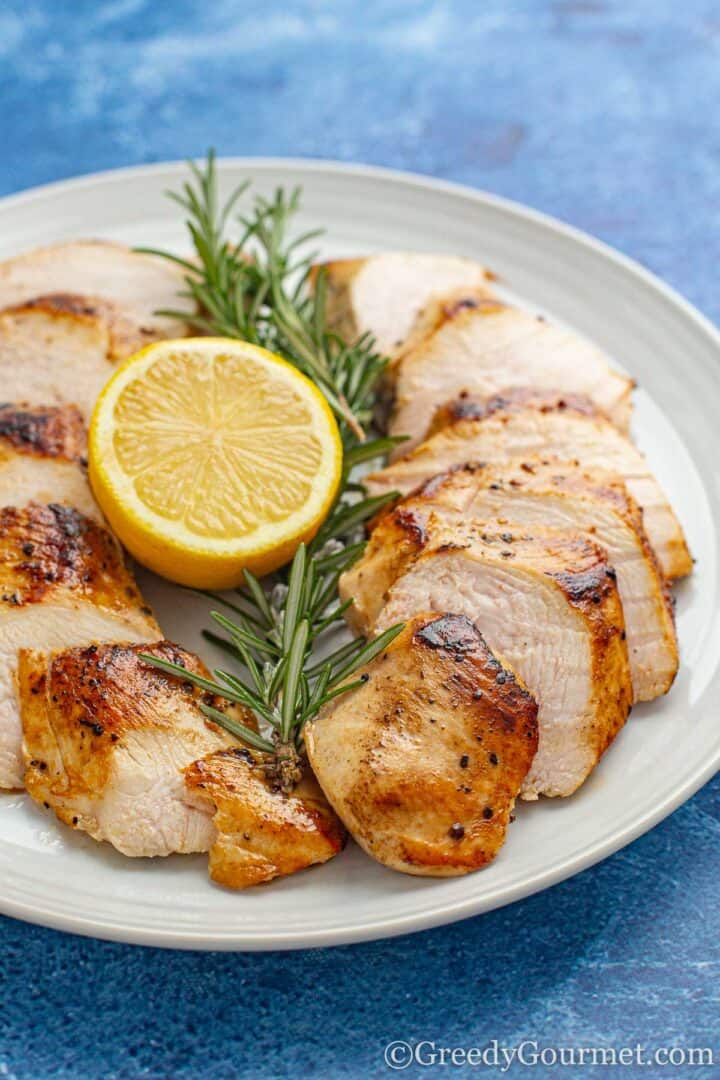 That's because this way of cooking chicken breasts produces a chicken that's so tender, so succulent, so downright tasty that you won't believe your tastebuds! Honestly, this is chicken on a whole new level.
Sous vide cooking locks in flavor using a special technique, a technique that's simple when you know how to pull it off.
So, are you ready to learn the tricks of sous vide cooking?
Why you'll love this recipe
Sous vide cooking produces chicken breast that is more tender and flavorful than any chicken you've ever tasted.
Sour vide chicken is easy once you know the specific steps to take.
It produces consistently brilliant results.
Once you've cooked this recipe, you can use your sous vide machine to cook all kinds of wonderful recipes.
Equipment needed to make this recipe
There are a few essential items you'll need before you make this sous vide chicken breast recipe:
SousVide machine – the little magical gizmo that does all the work in this recipe. It's simple to use and will ensure your meat is flavor infused and perfectly cooked every time.
Vacuum seal bag – these special sous vide vacuum seal bags are the bags you'll need when cooking chicken sous vide style. They're specially designed to withstand the high temperatures during sous vide cooking.
Vacuum food sealer machine – use a special vacuum sealing machine to properly seal your sous vide bag.
How to make this sous vide chicken breast recipe
Vacuum seal skinless seasoned chicken breasts in a single layer with lemon slices.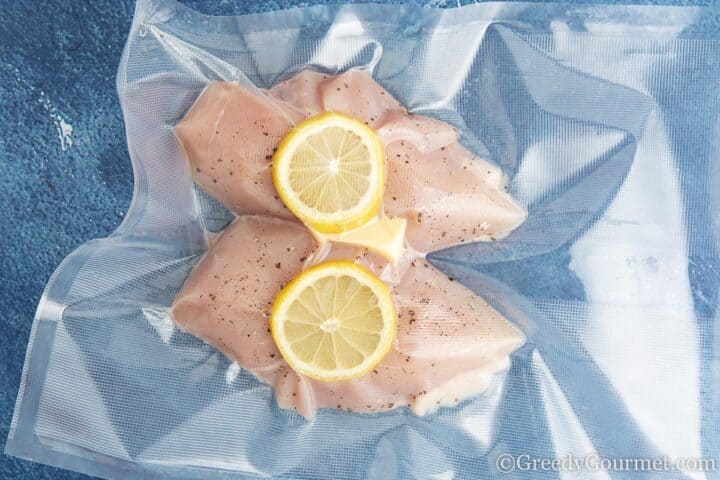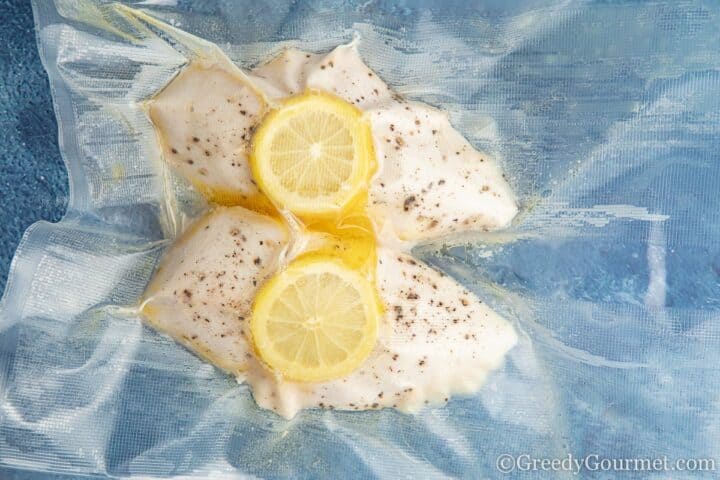 Sous vide for 2 hours at 60°C/140°F. You can serve these breasts as is with your favourite side dishes.
Alternatively, you can keep the skin on and vacuum seal the seasoned breasts.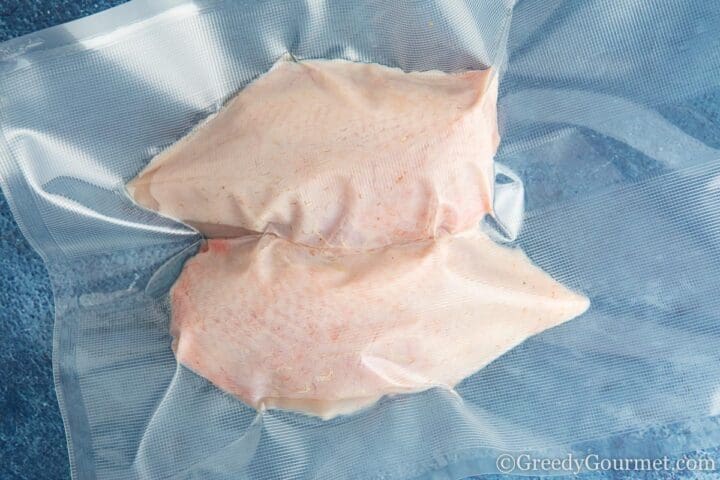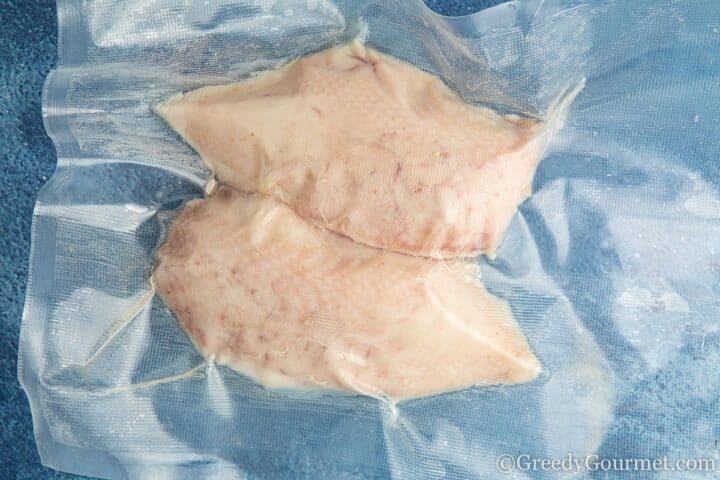 Sous vide for 2 hours at 60°C/140°F.
Heat oil on high heat and fry skin side down for 1 minute, or until skin is browned and crisped up a bit. Serve immediately. Enjoy!
How to get super crispy chicken skin
Place the chicken breast skins in a single layer on baking parchment. Season and sprinkle lemon zest and thyme leaves on top.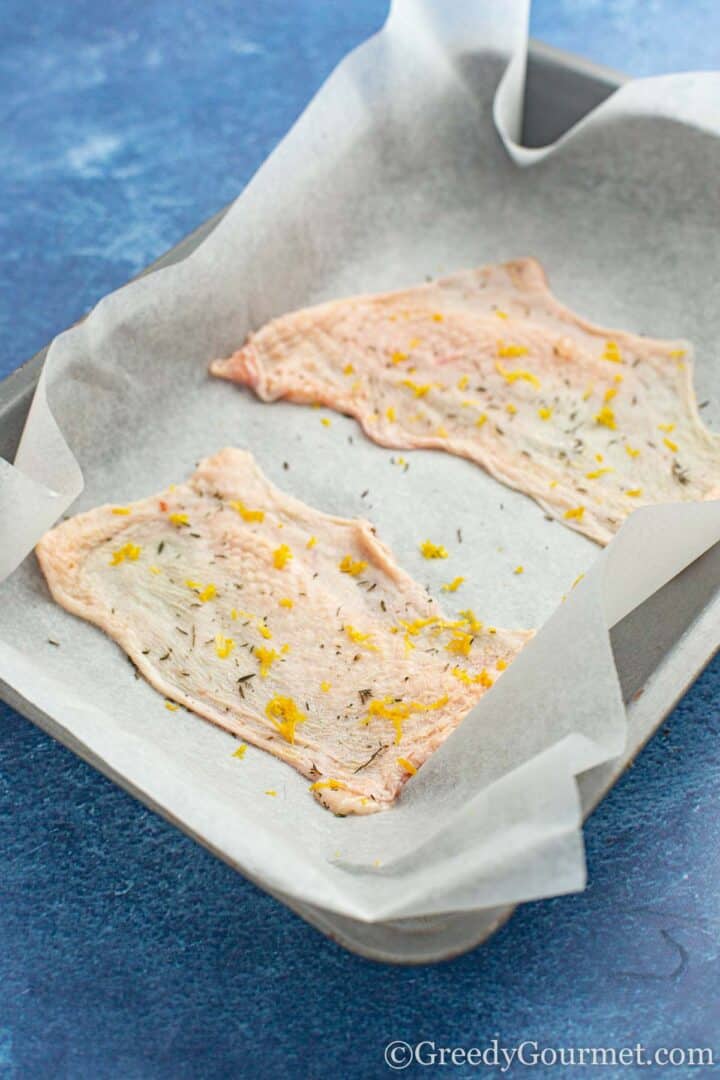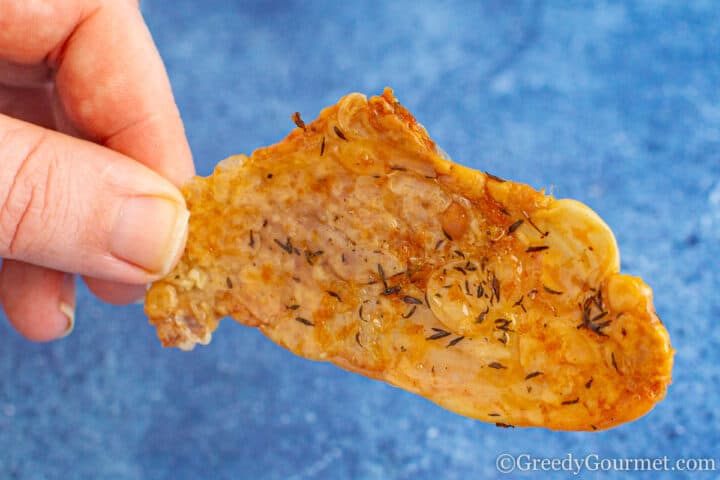 Place a piece of baking sheet on top and bake it until crisp in the oven at 175°C/350°F for 20-30 minutes between two sheets of parchment paper. Serve immediately. Enjoy!
Variations to this recipe
Don't fry the chicken breast
You have the option to fry the chicken 15-25 seconds on each side in a red-hot pan with some vegetable oil. This brings a wonderful crispness to your chicken after it has been slow cooked in the sous vide machine.
However, you don't need to pan cook chicken breasts again after they've been cooked in the sous vide machine. If you prefer, serve them straight away.
Add fresh herbs
You can definitely add a herbal dimension to the flavor profile of this dish. I like to add fragrances that suit the finished dish when sous vide cooking.
When it comes to sous vide chicken breast, there are plenty of fresh herb options. You could go for a few sprigs of thyme, rosemary or even tarragon sprigs.
Add spice
If you want to bring some fragrance to your chicken, there are plenty of options. Chicken goes really well with coriander, cumin, paprika, ginger, chili, tumeric and fenugreek, among others.
Be careful though. Spices intensify when cooked in a sous vide bag, so you'll need to be subtle when it comes to cooking sous vide chicken breasts with spices.
Add lemon slices
Lemon and chicken go really well together, so it makes sense to pop in a few lemon slices for a classic Italian flavor or to go with something like a classic cold chicken salad. You could even add slices of ginger, garlic or spring onions scallions, all of which would work wonders as a base for your favorite chicken salad recipe.
When sous vide cooking, one thing to bear in mind is to avoid bringing too much liquid into the sous vide bag. You could end up bringing a chicken flavor to the liquid, rather than infusing the chicken.
What to serve with sous vide chicken breast
Sides
There are so many options when it comes to side dishes for chicken sous vide. Here are some of my favorites:
If you want some super special mashed potatoes, look to the French for inspiration. My dreamy creamy Mousseline potatoes are out of this world and will make for a spectacular addition to your sous vide chicken breasts.
You could also serve up some crispy roast potatoes with sous vide chicken. When it comes to crispy on the outside fluffy on the inside, it doesn't get much better than my parmentier potatoes. Then again, my rosemary potatoes dish is also pretty fantastic!
Sauces
Sous vide chicken breasts are so tender and delicious that you don't even need to serve them with sauce. However, you can supplement the succulence and bring some extra richness by adding your favorite sauce if you wish.
In the past when I've made this sous vide recipe, I've served the chicken breasts with my Creamy Mushroom & Sherry Sauce. It's a very easy and extremely delicious recipe that brings a wonderful depth of flavor. It also pairs wonderfully well with chicken.
For some smoky Spanish flavor, try Romesco sauce. Smoky peppers, garlicky notes with nutty undertones, you'll absolutely love it! The Catalans pair it will barbecued meats, although sous vide chicken breast would go really well with a few spoonfuls on top.
If you fancy a bit of fiery flavor from Mexico, you could do a lot worse than Adobo sauce. Zesty, sweet and full of flavor, it works with chicken breast as well as any other type of meat.
Wine pairings
This sous vide chicken breasts recipe is absolutely delicious, but it can be taken to a whole new level with the addition of the right wine.
If you're a fan of red wine, there are some great options out there. You'll need something light bodied, to balance nicely with the tender juicy chicken. I recommend a Pinot Noir, particularly a dry oaked Californian Pinot Noir. You'll be amazed at how well the two go together.
If you're looking for a white wine to pair with this sous vide chicken breast recipe, a Sauvignon Blanc or Chardonnay would be ideal.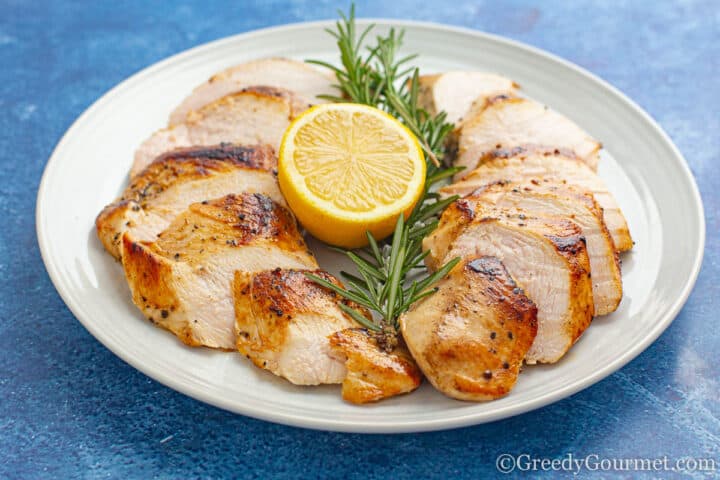 Top Tips
Take care when placing the chicken breasts inside the vacuum pouches. Make sure you don't touch the edges of the seals, as any residue around the outside of the seal might prevent the vacuum bag from sealing properly.
Reference materials state you should use one bag per chicken breast which in my books is a gross waste of money if there is still plenty of space left in the bag. The only thing you need to aim for is that the meat is in one even layer.
The sous vide rack is better if it's placed on its side because pouches won't be able to float to the top. It still works when facing upright, but isn't as effective.
What is sous vide?
It's a cooking method that involves sealing food in an airtight vacuum sealed bag, which is then submerged in water and heated at a low temperature.
The food inside the bag cooks gently over a long period of time.
While sous vide cooking takes a long time, the results are consistent and out of this world! When cooked using the sous vide method, meat becomes incredibly tender and succulent.
It's also a very simple cooking method with barely any clean up afterwards. You just need to empty the water from the machine, dry it and... hey presto! Perfectly cooked chicken breast with minimal fuss.
The words "sous vide" mean "under vacuum" in French. Lots of people get confused about how to pronounce sous vide. In fact, many foodies just call it a "water bath" as a way of avoiding looking silly!
It's easy though. The correct way is "sue-veed".
Why is the sous vide method so good?
Sous vide takes precision cooking to a whole new level. It takes a scientific approach to cooking food to perfection. The idea is to ensure that a piece of meat is cooked evenly throughout, without any overcooking.
Take boneless skinless chicken breasts as an example. It's said that the optimal safe temperature for cooking chicken breasts is 165ºF (74°C). When you cook a chicken breast in a normal way, the heat reaches the outside first, moving towards the center.
While the chicken is reaching optimal temperature in the middle, the outside will continue to cook, going past the optimal temperature. This means that, in order for the chicken to reach a safe temperature in the middle, it needs to be overcooked around the outside.
When you cook chicken sous vide, you remove the influence of air or water over the chicken. The chicken breast is cooked at a very low, specific temperature, meaning that the chicken is immersed in the heat and cooked completely evenly throughout.
Sous vide chicken breast ensures that the meat is cooked as much on the outside as it is on the inside.
However, sous vide chicken breasts miss out on that delicious browning that you get from frying or roasting chicken. Known as the Maillard reaction, it's when amino acids within the meat react with reducing sugars to form a caramelized flavor. That's why, typically when sous vide cooking chicken breast, you'll finish it off with a quick sear in a pan.
What are the origins of sous vide?
The very first type of sous vide was created in 1799 by a British physicist named Benjamin Thompson. The brainy Brit, who was born in Massachusetts, was developing a machine for drying potatoes when he decided to try slow cooking a joint of lamb in his new invention.
Apparently Thompson was blown away by the taste and succulence of the lamb. He remarked in a diary that the meat was cooked to perfection.
Still, it wasn't until two hundred years later that vacuum sealing became a commonly used cooking method.
What about modern sous vide?
It's no surprise to discover that modern sous vide came about in France.
After all, the French have been pushing the boundaries for generations when it comes to the pursuit of perfect cooking. However, you might be surprised to know that sous vide wasn't created by one person, but by two people independently, each with different aims.
In 1971, Bruno Goussault began looking for a way to cook perfectly tender beef. Meanwhile, another scientist Georges Pralus was busy attempting to prevent foie gras from shrinking during the cooking process. He found that enveloping it in plastic minimized shrinking while keeping it succulent.
Both Goussalt and Pralus are known as the 'godfather of sous vide' – they eventually collaborated their ideas, working with a plastics company to found the modern form of sous vide.
How long does it take to sous vide chicken breast?
It usually takes around two hours to properly sous vide chicken breast, although it can take up to four hours. It all depends on how many chicken breasts you are cooking at once.
Can you overcook sous vide chicken breast?
Sous vide chicken breast can't be overcooked if you set the correct temperature.
Sous vide chicken breast can only be overcooked if you set the temperature too high. Set your precision cooker at 60°C / 140°F. Then finish it in a hot skillet or frying pan with a little oil and your chicken will be perfect.
Does sous vide chicken breast need to rest?
No, you don't need to leave sous vide chicken breast to rest.
Normally, cooked chicken breasts need a few moments to rest. This rest period allows the internal temperature of the chicken to even out and for the meat to reabsorb the juices.
As chicken breasts rest, heat is transferred from the outside towards the middle, while heat from the outside also escapes into the air. This means the temperature gradient is evened out, giving you a juicier chicken breast.
However, with sous vide chicken, the inside and outside of the meat is pretty much cooked to perfection. So, there's no need to leave it, although you can if you need some time to plate up the side dishes, for example.
What do I do if I don't have a vacuum sealer?
Don't worry... you can still make this recipe if you don't have a vacuum sealer.
A simple water displacement method can be used in place of a vacuum sealer. Just place your ingredients in a normal sealable food storage bag and close the zip halfway across the seal.
Then heat a pot of water with your precision cooker and lower the bag into the water. As the pressure of the water forces the air out, you'll notice the bag begin to seal around the outside of the chicken breast.
Once the bag is submerged, pull the zip fully closed. Now you're ready to sous vide your chicken!
What can you do with sous vide?
There are so many things you can cook using the sous vide method! Salmon, steak, egg, vegetables and even ice cream! The following books will give you plenty of ideas:
Sous Vide for the Home Cook
Sous Vide: Help for the Busy Cook
Under Pressure: Cooking Sous Vide
The Sous Vide Recipe Book
Different sous vide dishes vary in terms of cooking times. Some, such as sous vide eggs, take as little as 45 minutes, while the likes of sous vide beef short ribs, take up to 72 hours.
There are plenty of advantages to cooking with a sous-vide and you can even freeze cooked food in the pouches for later use, reheat cooked food and cook food from frozen. It really is that amazing.
Is sous vide safe?
Yes, as long as you keep the following two things in mind.
Food temperature and timing
Keep to the correct cooking temperature and times! Pathogens, bacteria and salmonella thrive between 4°C (40°F) and 54°C (130°F), which is also known as the "danger zone" in which bacteria is supposed to thrive.
Sous vide's cooking temperatures are slightly above that and since you're cooking the food for longer enough germs will be killed to render the food safe.
Use quality sous vide vacuum bags
In recent years, a deeper understanding has developed over the potential risks of mixing food and plastic, especially when it comes to heating plastics that contain food.
Many scientists and chefs believe that cooking in food grade plastic at these low temperatures is equivalent to leaving a bottle of water in your car during summer.
However, special plastic pouches are available on the market today. These fulfil several specifications such as having food-grade quality to limit the migration of plastic constituents into the food, heat resistance with a softening point of between 90°C (195°F) upwards, low gas permeability to prevent freezer burn and they have enough mechanical strength to withstand robust cooking.
Can you sous vide chicken breast from frozen?
Yes, you can, although, if you're cooking the chicken from frozen this will take at least 3 hours.
More sublime sous vide recipes
Once you've opened yourself up to the world of sous vide, you'll be eager to try more recipe that use this wonderful cooking technique. Luckily, I've got a few up my sleeve!
Here are some of my favourite sous vide recipes. Which ones will you make next?
How to sous vide steaks – the most tender, juiciest steak you'll ever eat, sous vide steaks is well worth the effort
How to sous vide asparagus – you've never tasted asparagus like this! Slow cooking these delicious veggies sour vide style makes them absolutely incredible. Serve them up as a glorious side dish to your Sunday roast
More incredible chicken recipes
Who said chicken is dry and flavorless? They obviously never tried any of these recipes:
Print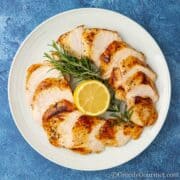 How To Sous-Vide Chicken Breasts
---
Author:

Michelle Minnaar

Total Time:

2 hours 10 minutes

Yield:

4

portions

1

x

Diet:

Gluten Free
Description
This Sous Vide Chicken Breast recipe yields juicy and tender chicken with minimal effort. It's a healthy and versatile meal that's easy to customize. 
---
4

boneless chicken breasts, thawed

4

slices of lemon [optional]
salt and pepper

15

ml

(1 tbsp) vegetable oil
---
Instructions
Preheat the water bath to 60°C / 140°F.
Season the chicken, then vacuum seal 2 chicken breasts in a single layer with one lemon slice on each one. You will need 2 pouches. 
Place the sealed pouches in the water bath for 2 hours.
Remove the breasts from the pouches and dab them dry with paper towels. Discard the lemon.
Heat the oil over a high heat until it begins to smoke. 
Sear the chicken skin-side until it's crisp and golden brown, which should take about 30 seconds. 
Serve immediately with your favorite side dishes. Enjoy!
Notes
You can actually sous vide frozen chicken breasts! Just add an extra hour to the cooking time and follow the same recipe steps as when cooking from fresh.
If you want to play it safe, season your chicken only after it's been fried, not before cooking it.
For the frying of the chicken, you need to select an oil with a high smoke point. Grapeseed or peanut oil will work too.
There are a few options if you bought chicken breasts with skin on:
Remove the skin and discard it altogether. Sear one side after cooking.
Keep the skin on, and sear it at the end, as stated in the recipe.
Cook the chicken with the skin and discard the skin afterwards. Sear one side after cooking.
Reserve the skin before cooking and bake it until crisp in the oven at 175°C / 350°F  for 20-30 minutes between two sheets of parchment paper. Season it first though!
Prep Time:

10 minutes

Cook Time:

2 hours

Category:

Main Course

Method:

Sous Vide

Cuisine:

French
Keywords: sous vide chicken breast boneless, chicken breast sous vide temperature, how long to sous vide chicken breast, sous vide chicken recipe, sous vide chicken, sous vide frozen chicken breast