You've got to try these protein pumpkin muffins! Delicious, simple and surprisingly light, they should be on any keto dieters must-bake list.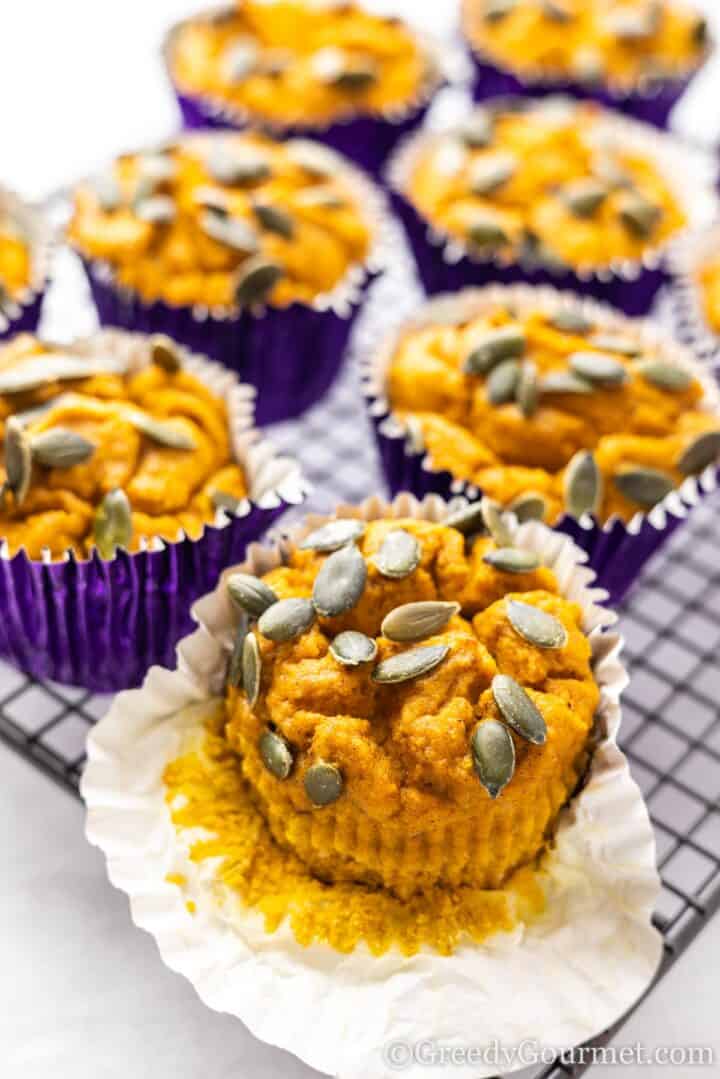 While we love the occasional indulgence of a big sugary chocolate muffin, these muffins are delicious and good for you. Perfect in the fall, but ideal all year round, these muffins are a great way to kick start your day!
Why You'll Love This Protein Muffin Recipe
These pumpkin muffins are sugar free!
They are the perfect breakfast, snack or dessert for those with a keto or low carb lifestyle
This recipe is extremely adaptable – if you're not on a keto diet, there are a few easy tweaks you can make
They are an excellent source of protein for pre- or post-workout
These pumpkin muffins are so easy to make
They're a welcome change from sugary indulgent muffins – you can eat them guilt free!
Special Equipment Needed To Make This Pumpkin Muffin Recipe
There are a few key items you'll need to make these pumpkin protein muffins:
12-hole muffin tin – make sure you've got a quality tin to bake your muffins in
Cupcake cases – silicone cupcake cases are perfect, as they make it really easy to remove your muffins once they're baked
Mixing bowl – a good quality mixing bowl is a must for any baking enthusiast
Silicone spatula – the flexibility of a silicone spoon means you can easy scrape down the sides of the mixing bowl
Kitchen scale – good baking is all about precision. Make sure you use a good digital kitchen scale to properly weigh out your ingredients
Stand mixer – honestly, I couldn't be without a quality stand mixer in the kitchen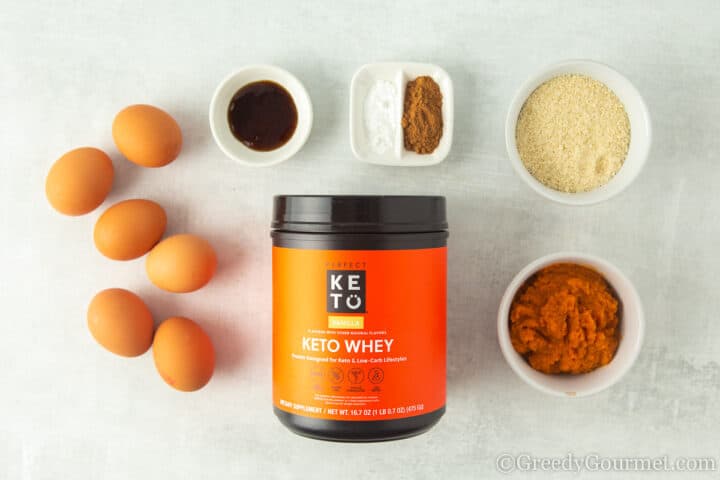 Special Ingredients Needed To Make This Recipe
Perfect Keto whey protein powder
One of the key ingredients in this protein muffins recipe is whey protein powder. My personal preference is Perfect Keto whey protein powder. It comes in two flavors – vanilla and chocolate – which makes it perfect for keto–friendly baking. I've gone for the vanilla protein powder for this recipe.
It's made with 100% clean, keto-friendly ingredients, with no filler or preservatives. The whey comes from grass-fed dairy, which just adds to the clean, healthy taste.
It's totally sugar free too. Stevia sweetens the deal – it's low calorie and far better for you than sugar.
The high protein content of this protein powder means that your pumpkin protein muffins will help your muscles to recover after intense workouts or sports sessions. It also makes them ideal for morning or afternoon energy bursts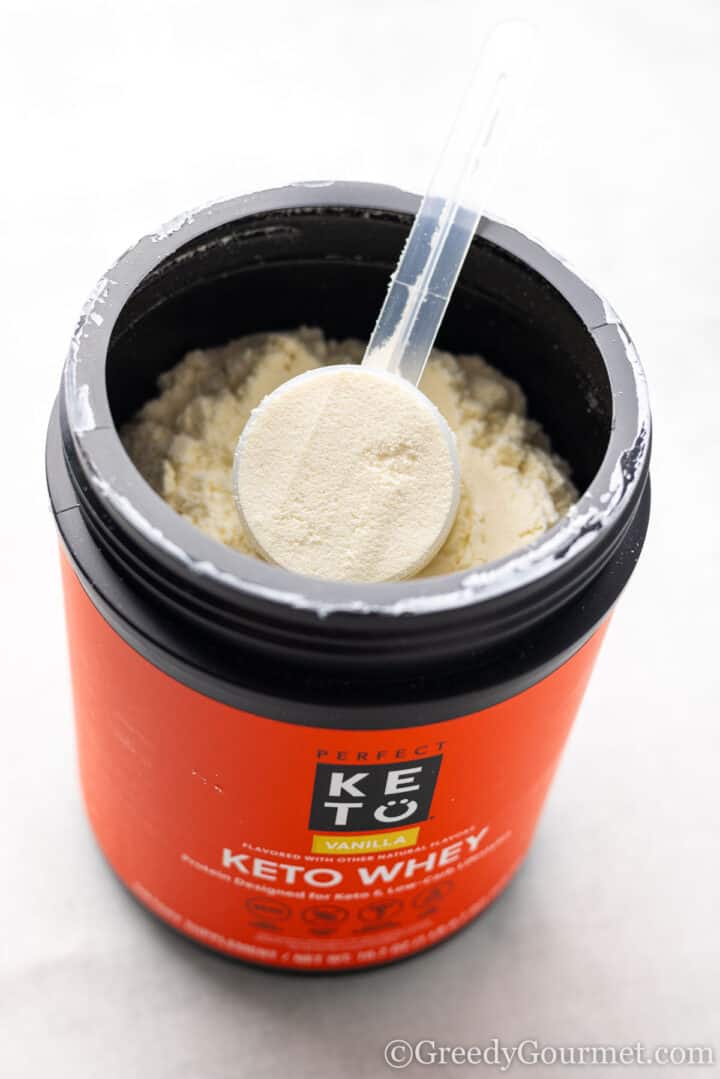 Pumpkin pie spice
This is going to deliver that wonderful warming spice flavor that elevates these protein muffins to a whole different level of deliciousness.
How to make protein pumpkin protein muffins
Place the pumpkin puree and eggs in a mixing bowl.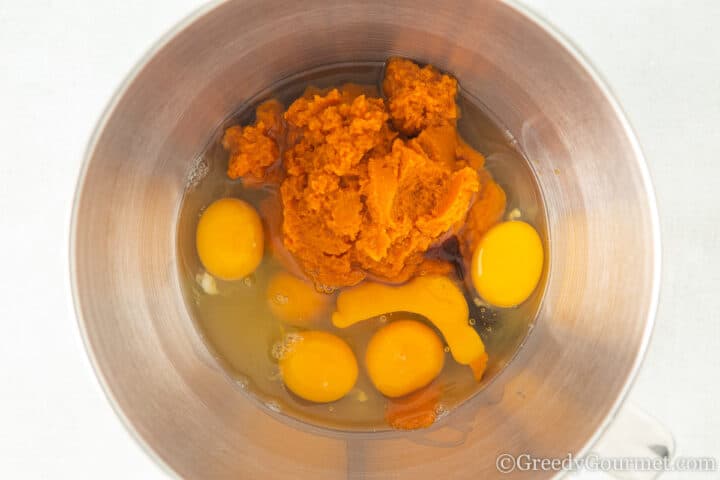 Whisk the wet ingredients in the stand mixer until smooth.
Mix all the dry ingredients in a mixing bowl.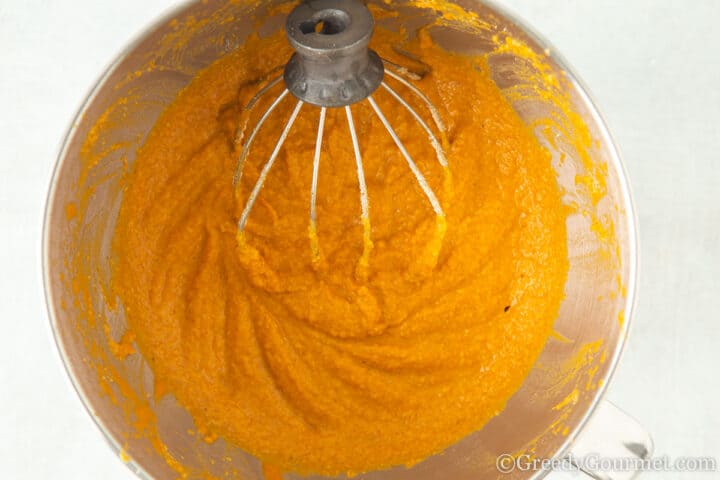 With the mixer running on low, incorporate the dry ingredients one spoonful at a time.
Line your muffin tin with the cupcake cases. Divide the mixture evenly between the cases, filling each case ¾ of the way.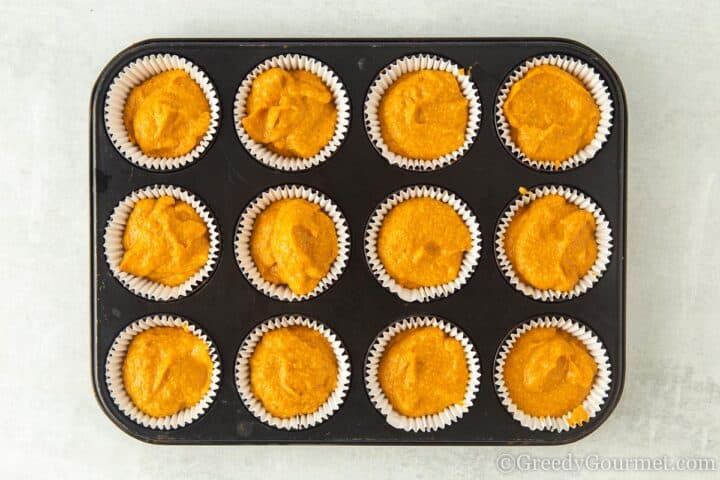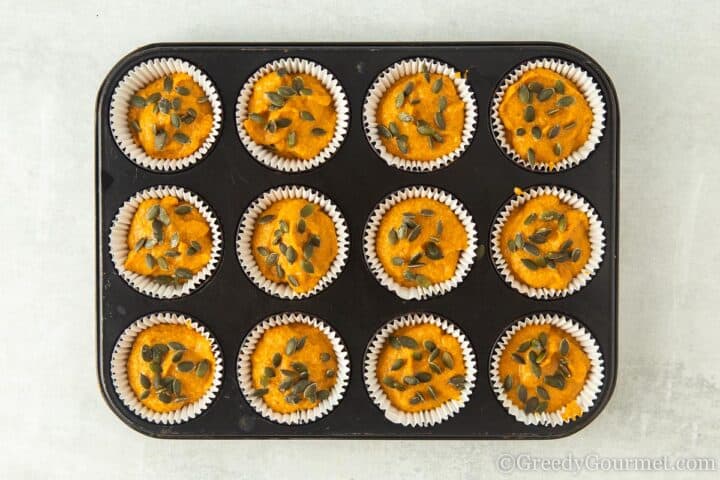 Popular Substitutions For This Recipe
Variations To These Pumpkin Protein Muffins
If you're not on a keto diet and fancy adding some chocolate into the mix, just sprinkle some chocolate chips into the batter. This will bring some chocolatey sweetness to the muffins and make them more of a dessert option.
Alternatively, you could opt for the chocolate protein powder.
You could also add a teaspoon of maple syrup into the batter to make these muffins a little sweeter.
There are also a lot of variations when it comes to toppings. I've gone with pumpkin seeds, but you could also try any of the following:
Top Tips
Don't over-mix the batter. If you do, it'll become very dense and chewy. Still, you want to stir the batter enough so that the wet and dry ingredients are properly mixed.
Let the muffins cool for a few minutes in the cupcake cases. This will help the steam to release. After 5 minutes, take them out of their cases and place them on a cooling rack. This will allow the steam to evaporate, preventing soggy bottomed muffins.
Only fill each cupcake case ¾ full. That way, there's a little room for each pumpkin muffin to expand. If you've got some left over, use another lined muffin tin.
How do I store my pumpkin protein muffins?
First, allow your pumpkin muffins to cool completely. Then, store them in an airtight container at room temperature. They should last 5-7 days.
Can I swap pumpkin pie filling for pumpkin puree?
No. In my opinion, pumpkin puree works a lot better in this recipe. Pumpkin puree is just that – pureed pumpkin, while pumpkin pie filling is pumpkin mixed with sugar and spices.
How do you make protein muffins moist?
There are three key steps when it comes to making sure your protein muffins are moist:
1) Keep the wet and dry ingredients separate during the beginning of the mixing process. This prevents them from becoming dense and dry.
2) Don't overcook them. The oven temperature is very important, as is the overall bake time. Make sure your oven is set to 180°C/fan 160°C/350°F/gas mark 4. To check for doneness, insert a toothpick into the middle of the protein muffin. When the toothpick comes out clean, with a few moist crumbs, it's done.
3) To make sure your muffins are moist, fill the cupcake cases ¾ full. You'll end up with good-sized muffins, as opposed to a big dry mess.
Are these pumpkin protein muffins gluten free?
Yes, they are. Using almond flour instead of wheat flour or whole wheat flour ensures that these muffins are gluten free.
Do I need to use baking soda?
No. It isn't necessary in this recipe. You do need baking powder, however.
Can I Freeze This Recipe?
Yes! Or, your pumpkin protein muffins can be frozen for up to three months. Simply wait for them to cool fully, then place them in a freezer-safe container and store in the freezer.
How do you defrost pumpkin muffins?
The best way to defrost these muffins is to take them out of the freezer and let them thaw overnight on the kitchen counter.
If you want to speed things up, you could thaw them in the microwave. Just place them on a microwave-safe plate, then defrost in 30 second bursts.
Can this Recipe Be Scaled?
Absolutely. In fact, as pumpkin protein muffins freeze so well, making a big batch to keep on hand is a great idea.
Simply double, treble or quadruple the ingredient amounts below. You might have to mix and blend in stages, as there'll be a lot of batter to deal with!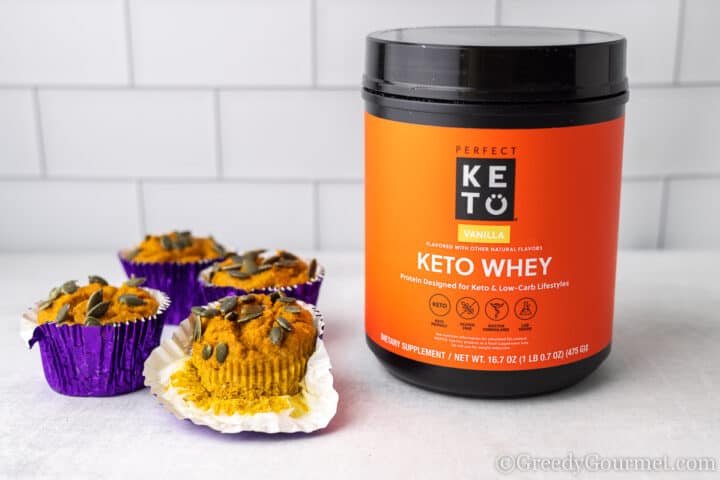 More Amazing Keto Recipes
This pumpkin muffin recipe is a great recipe for those on a keto diet. It's not our only keto recipe though! Have a look at these:
Print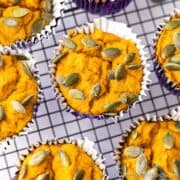 Pumpkin Protein Muffins
---
Author:

Michelle Minnaar

Total Time:

40 minutes

Yield:

12

servings

1

x

Diet:

Gluten Free
Description
Learn how to make Pumpkin Protein Muffins. Great for before gym or post workouts. Packed with protein, a tasty breakfast or snack.
---
Dry Ingredients
Wet Ingredients
425

g

(1 can) canned pumpkin puree

6

large eggs

15

ml

(1 tbsp) vanilla paste
Decoration
---
Instructions
Preheat the oven 180°C/fan 160°C/350°F/gas mark 4.
Place all the Dry Ingredients in a bowl and mix. Set aside.
Tip the Wet Ingredients into another bowl and whisk in a mixer until smooth.
While the machine is running on a slow setting, add a spoonful of the Dry Ingredients' bowl at a time until the bowl is empty.
Scrape the sides of the mixing bowl to ensure everything is well incorporated.
Line a 12-hole muffin tin with cupcake cases then divide the mixture evenly between the cases, ensuring they are not more than ¾ full. If you've got some left over, use another lined muffin tin.
[Optional] Sprinkle with pumpkin seeds.
Bake in the oven for 30 minutes until the muffins are cooked and golden.
Transfer the pumpkin muffins to a cooling rack. Enjoy!
Notes
This recipe is aimed for those on a strict keto diet. If you're not on one, feel free to add dark chocolate chips to the batter, which will lend some sweetness to the muffins.
Prep Time:

10 minutes

Cook Time:

30 minutes

Category:

Breakfast

Method:

Bake

Cuisine:

American
Keywords: pumpkin protein muffins, pumpkin protein muffins coconut flour, pumpkin oatmeal protein muffins, chocolate pumpkin protein muffins, flourless pumpkin protein muffins, pumpkin protein muffins with almond flour, healthy pumpkin protein muffins, high protein pumpkin protein muffins, gluten free pumpkin protein muffins
P.S. This is a sponsored post.