If you've never had oxtail soup or broth, then you're in for a special treat. This Hawaiian oxtail soup recipe is one of a kind.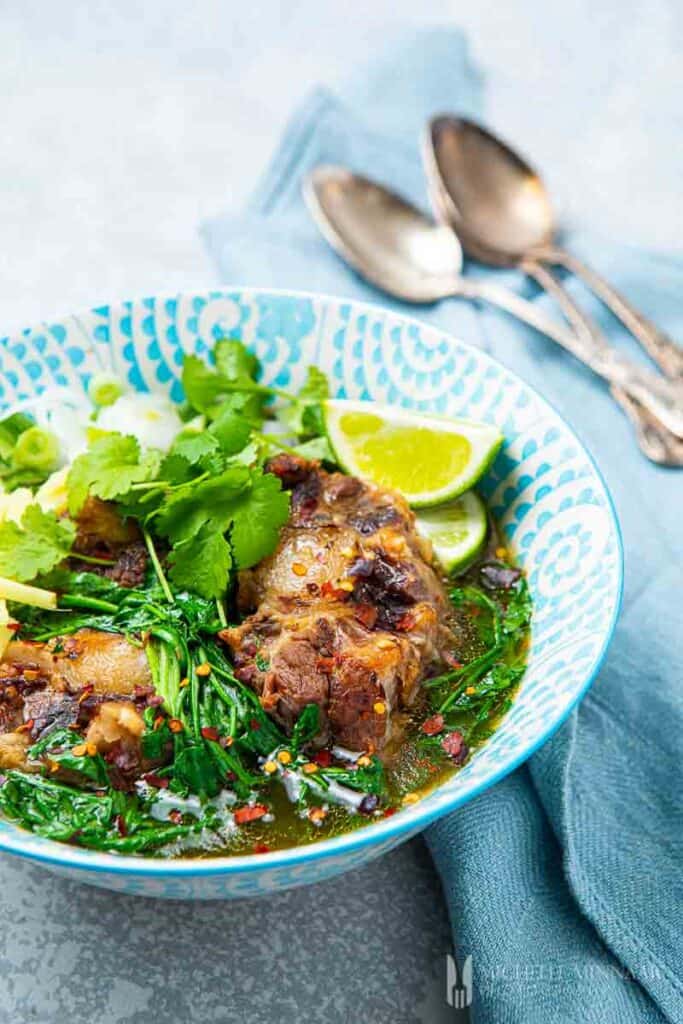 Once you try this type of soup made with a beautiful ingredient, you'll never go back to plain chicken soup again!
You don't need to be in a specific place, such as Hawaii, to try this soup. So, enjoy making this deliciously rich and exotic recipe at home, wherever you are.
After a couple of hours, bring the soup to a stop and garnish with your favorite toppings such as peanuts, herbs, or ginger. Don't forget to season with salt and pepper!
top products for Hawaiian oxtail soup
Here are a couple of things you'll need for making this Hawaiian oxtail soup recipe. So before you start this recipe, let's make sure you've got all the equipment and spices in your kitchen!
Do you use any other essential equipment in your kitchen to make these types of soups? Let me know in the comments section below!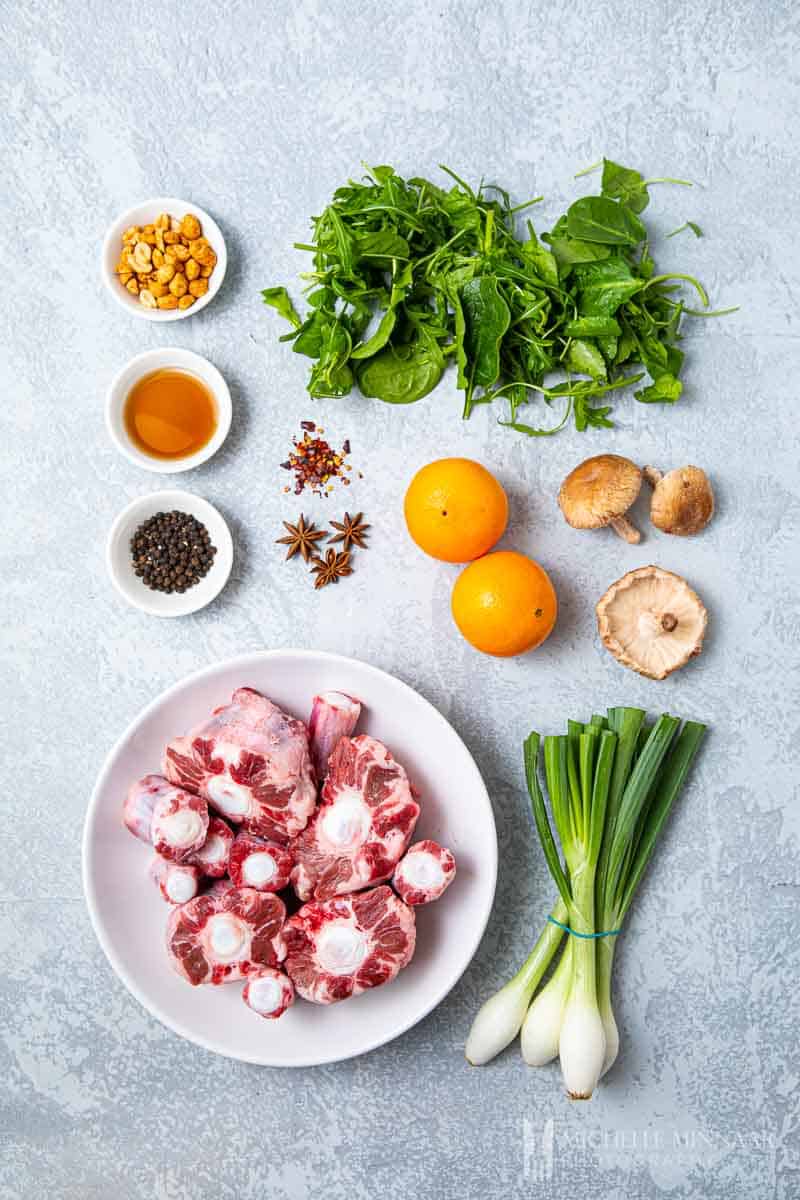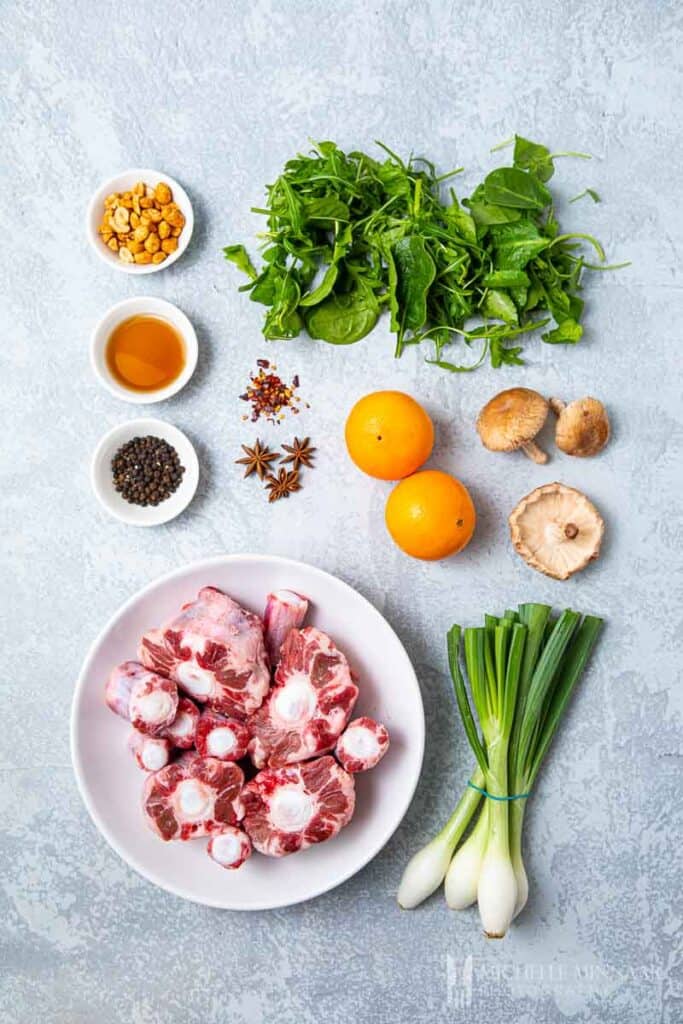 Is oxtail soup made from oxtails?
In the old days, oxtails really did come from the tail of an ox. Today, it may also come from a cow. So, to sum up, this ingredient tastes like beef.
The tail is a very underrated cut in my opinion. It produces a lot of flavor when you cook it, and the meat completely falls apart in your mouth.
In general, the tail is skinned and then cut into multiple sections. The tail also includes a bony part with the marrow still in the center.
Do not remove this part! This is the type of cut that releases the most amount of flavor. You'll see it all in due time, once you've got everything in place and the soup is ready to eat.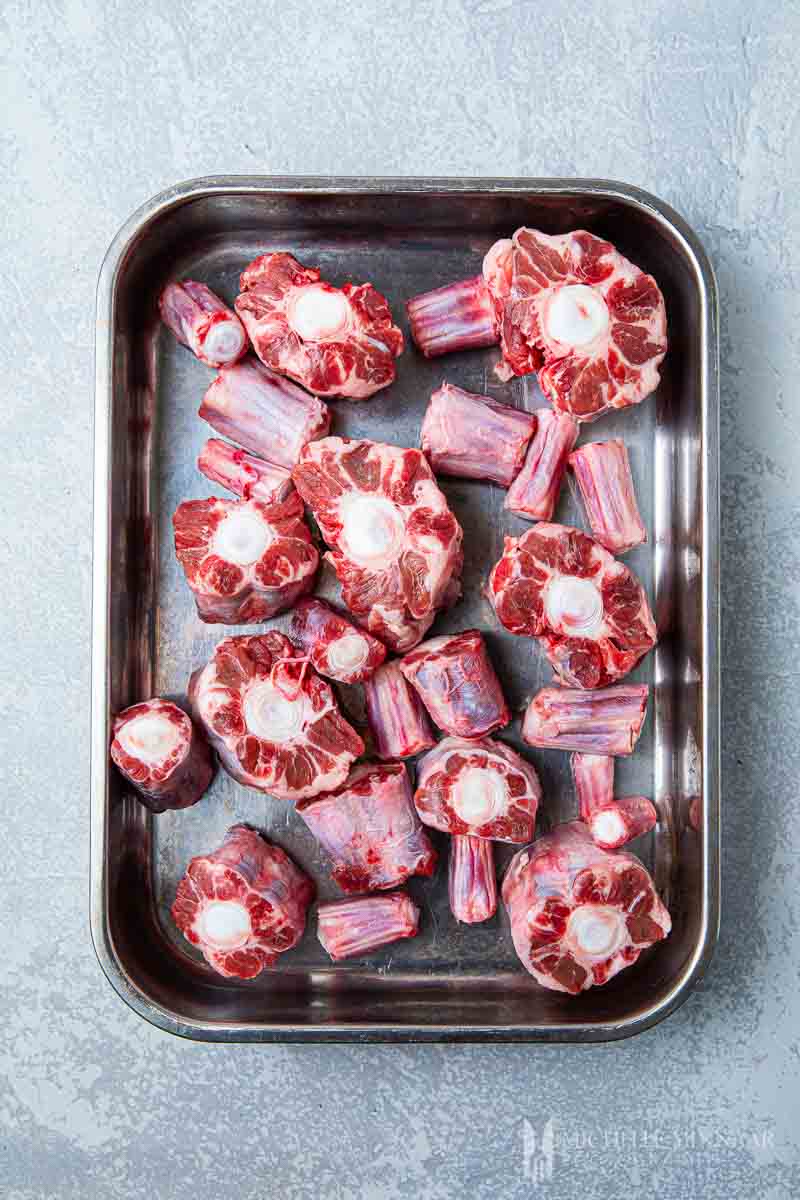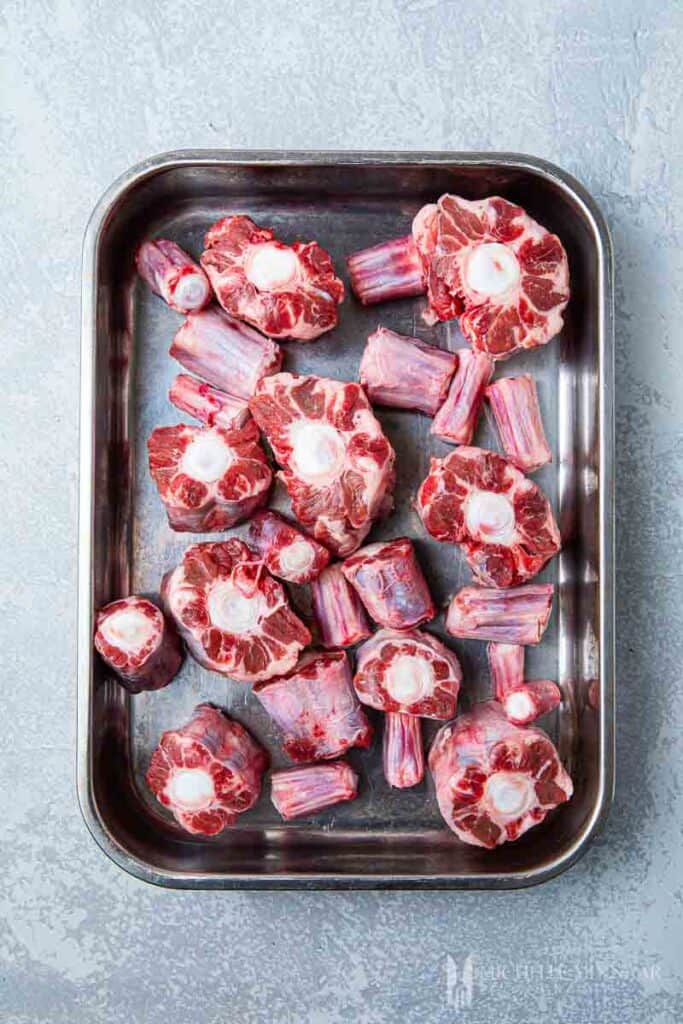 Why are oxtails expensive?
In the past, oxtails weren't so expensive. It's only recently that people have discovered the immense flavor profile and, since then, it has become a desired ingredient.
Nevertheless, oxtails are not as pricey as people may think. In fact, I believe it's good value for money because you would never extract as much flavor even from more expensive cuts of meat.
So, oxtails produce an extraordinary rich stock, broth, soup, or stew. All due to the extra fat.
If you haven't tried cooking with this ingredient, you don't know what you've been missing out on. Just check out my fantastic, hearty oxtail stew with beans and red wine.
Is oxtail healthy to eat?
Yes, oxtails are very healthy to eat. Although they're quite fatty, they are a good source of nutrition. You'll be able to cover your daily intake of vitamins.
For instance, you'll find tons of vitamins such as Vitamin B12, iron, calcium, and Vitamin B6. Just imagine, all of these inside your bowl of delicious soup!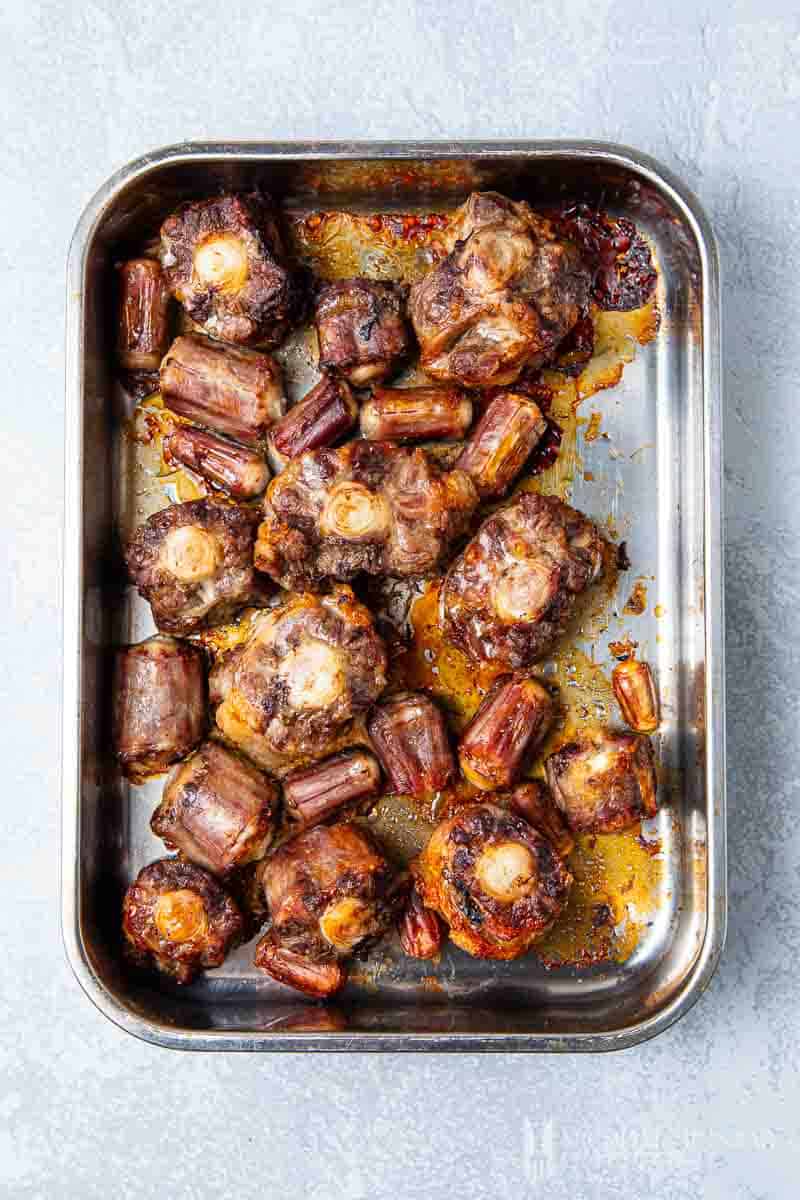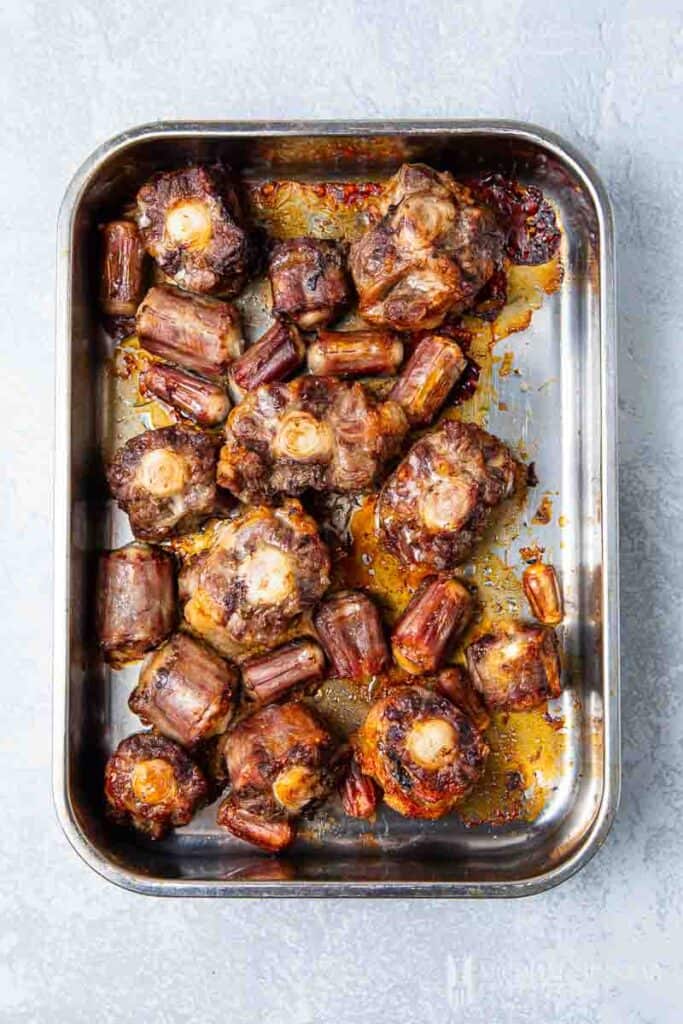 Do you need to parboil oxtail?
No, you don't. However you do need to roast it for 25 minutes, or even up to 30 minutes (on each side), depending on the size of the tail.
If you have a larger piece, then definitely leave it for the 30 minutes on each side. The roasting process will enable you to brown the meat beautifully.
Above all, the exposure to the heat during the roasting process will release the fats, which in turn will guarantee a less oily soup.
There is nothing less appetizing than an oily soup or an oily broth! The roasting process will take care of this for you.
It is only after the roasting process that you'll need to place the tail in a large stock pot. Bring to a boil and cook it in the water for 3 hours until the meat is completely melt-in-your-mouth. Remember to add heaps of salt into the water.
During the 3 hours, make some taste tests of the soup to see how the flavor is developing. You can add water if you think you've reduced the soup too much. The water however will also dilute the flavor.
In this case, you'll also need to add more spices, salt, pepper, or other ingredients into the pot. As with any broth or soup recipe, it's completely up to you how you let the flavor develop.
So, which direction will it be?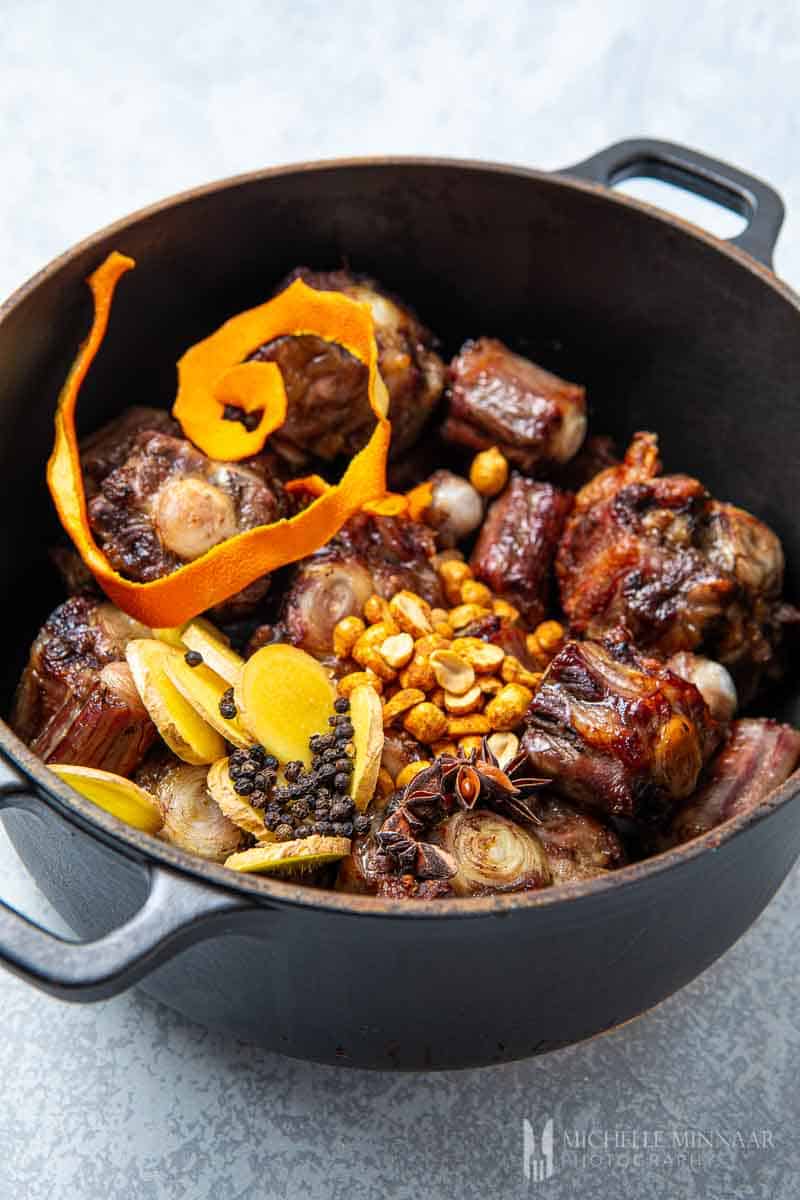 Chinese oxtail soup recipe
For a little bit of texture, you can always add additional vegetables or greens into the soup. For instance, for an extra crunch as well as Asian flavor you can add mustard cabbage.
In case you've got more water in your soup than you'd like, add the cabbage generously and let it simmer. Remember to add salt as well, as the ingredients can take a lot of salt.
If you can't find that type of cabbage, you can add bok choy, watercress, rocket salad, or spinach in its place.
Bring the soup to a simmer and let it cook. If you find that the flavor is too powerful, dilute with water. If you love Chinese soups, try this ABC soup.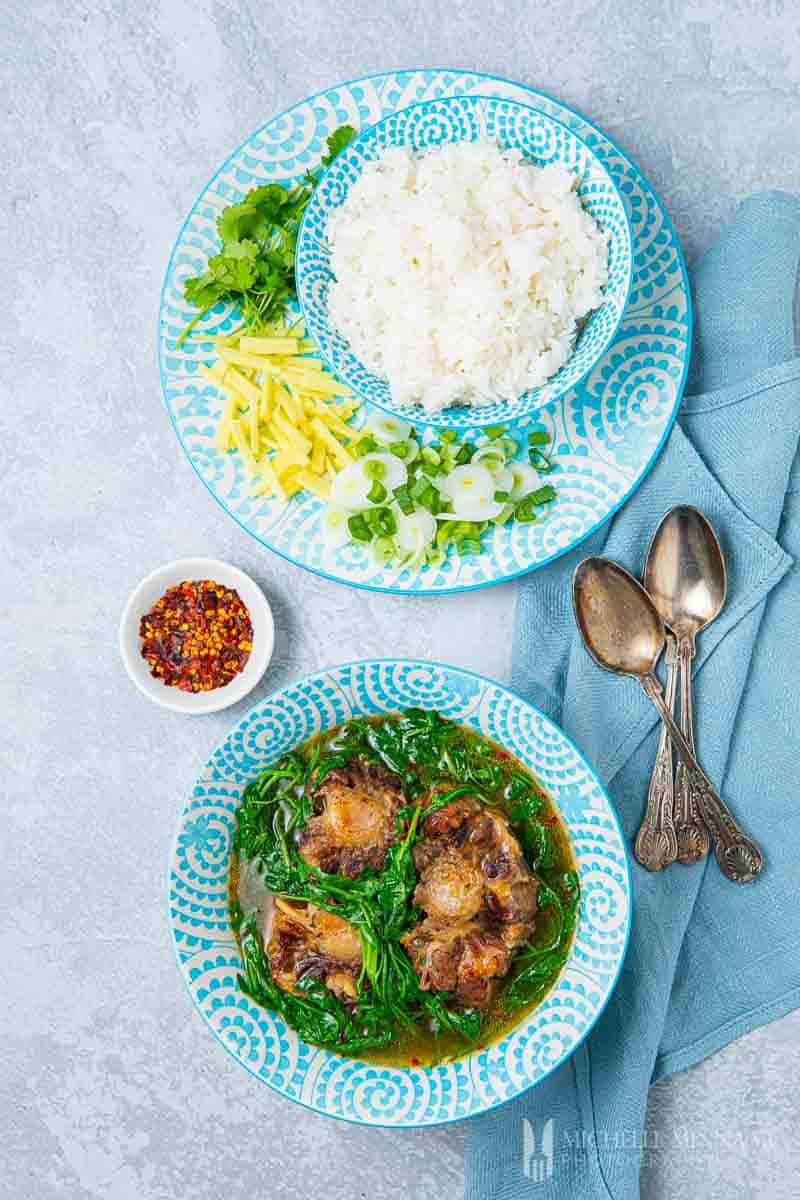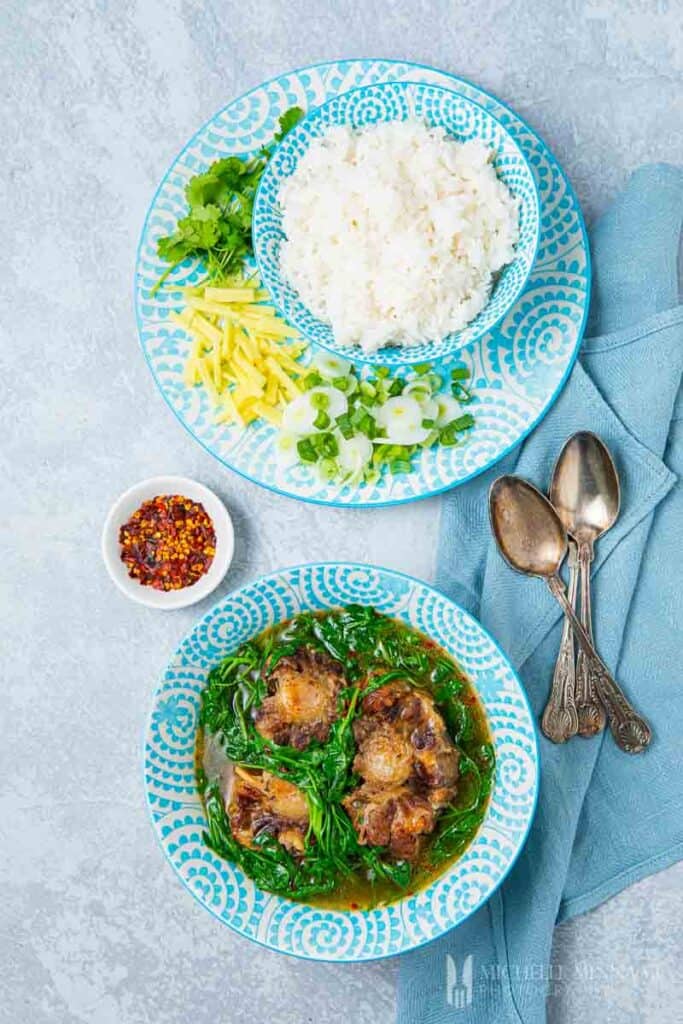 best toppings for oxtail soup
One of the best toppings for this type of hearty oxtail soup is something green or refreshing. For instance, you can consider:
orange peel - additional orange peel will give the soup a citrusy flavor. You can also add the peel when you simmer the other ingredients.
grated ginger - this will add a sharp and peppery flavor, which will contrast the intensity of the meat. The ginger will also help with your digestion. Often, it's also added during the cooking process.
raw peanuts - this will give the soup a more Asian vibe. Besides, if you run out of crunchy ingredients like cabbage, just add peanuts in its place. The peanuts will add that good crunch you're looking for.
fresh greens such as coriander/cilantro, parsley, watercress, spring onions, chives, scallions.
More amazing oxtails recipes
Here are more oxtail recipes for you to try!
Rabo de toro – a Spanish classic, this dish is a scorcher. Pair with a Spanish red and you'll be gone!
Oxtail stew – thick and tasty, stew doesn't get much better than this.
Jamaican oxtail stew – a hearty stew with a spicy twist, if you like your stews rich, spicy, colorful and hot hot hot, this is the one for you.
Kare-kare - A Filipino oxtail stew where the secret ingredient is peanuts!
Oxtail pho - a Vietnamese oxtail stew that cooks for hours and the result is a clear soup with deep flavours. Best served with noodles and numerous toppings such as springs onions, cilantro, chopped chillies and lime wedges.
How would you make this Hawaiian soup recipe your own? Have you ever cooked with such a precious ingredient before? Let me know in the comments section below.
Print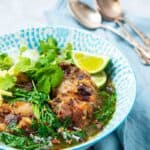 Hawaiian Oxtail Soup
---
Description
Hawaiian oxtail soup comprises oxtail, which is slowly cooked with ginger, star anise, orange peel, peanuts, chili, greens and cilantro.
---
Soup
2

kg

(4lbs) oxtail

4

shiitake mushrooms, cleaned

5

cm (2in) fresh ginger root, thinly sliced

1

orange, peel only but pith removed

5

ml

(1tsp) whole black peppercorns

1.5

ℓ (6 cups) chicken stock

5

ml

(1 tsp) fish sauce

75

g

(1/2 cup) raw peanuts

5

ml

(1 tsp) crushed chili flakes

150

g

(5oz) greens
Garnish
6

spring onions, washed and finely chopped

5

cm (2in) ginger root, julienned

60

g

(2oz) cilantro, washed and chopped
---
Instructions
Preheat the oven to 200°C / fan 180°C / 390°F / gas mark 6.
Place the oxtail in one layer on a baking sheet. 
Roast for 25 minutes, turn each one over and continue to cook for another 25 minutes.
Tip the it in a large stock pot, along with the mushrooms, ginger, star anise, orange peel, peppercorns, fish sauce, chicken stock, peanuts and chili flakes. Ensure that all the ingredients are covered. If not, top up with more water until everything is submerged.
Bring to a boil, then reduce it to a simmer. Cook for 3 hours or until the meat is super tender.
If there is any foam or fat that floated to the top, skim it off. 
Stir in the greens and cook for 5 minutes or until the vegetables are cooked. 
Serve in soup bowls, with scoops of white rice, spring onions, ginger, and cilantro.
Notes
Traditionally, the oxtail is simply boiled from the get go. However, the roasting process browns the meat beautifully, plus releases the fats, so that the end result will be a less oily soup.
If you can get hold of dried shiitake mushrooms, use them instead.
Mustard greens are used in authentic recipes, but let's face it, you can't always get hold of it. So improvise and buy what's available. Greens that will work: rocket/arugula, spinach, bok choy, watercress, etc.
Prep Time:

15 minutes

Cook Time:

4 hours

Category:

Soup

Method:

Simmer

Cuisine:

American
Keywords: Hawaiian oxtail soup, Hawaiian recipe, oxtail soup recipe, oxtail recipe