Yasai itame is a Japanese stir-fry with lots of Asian flavours running through it. It is commonly served with a side dish of steamed white rice and some tsukemono.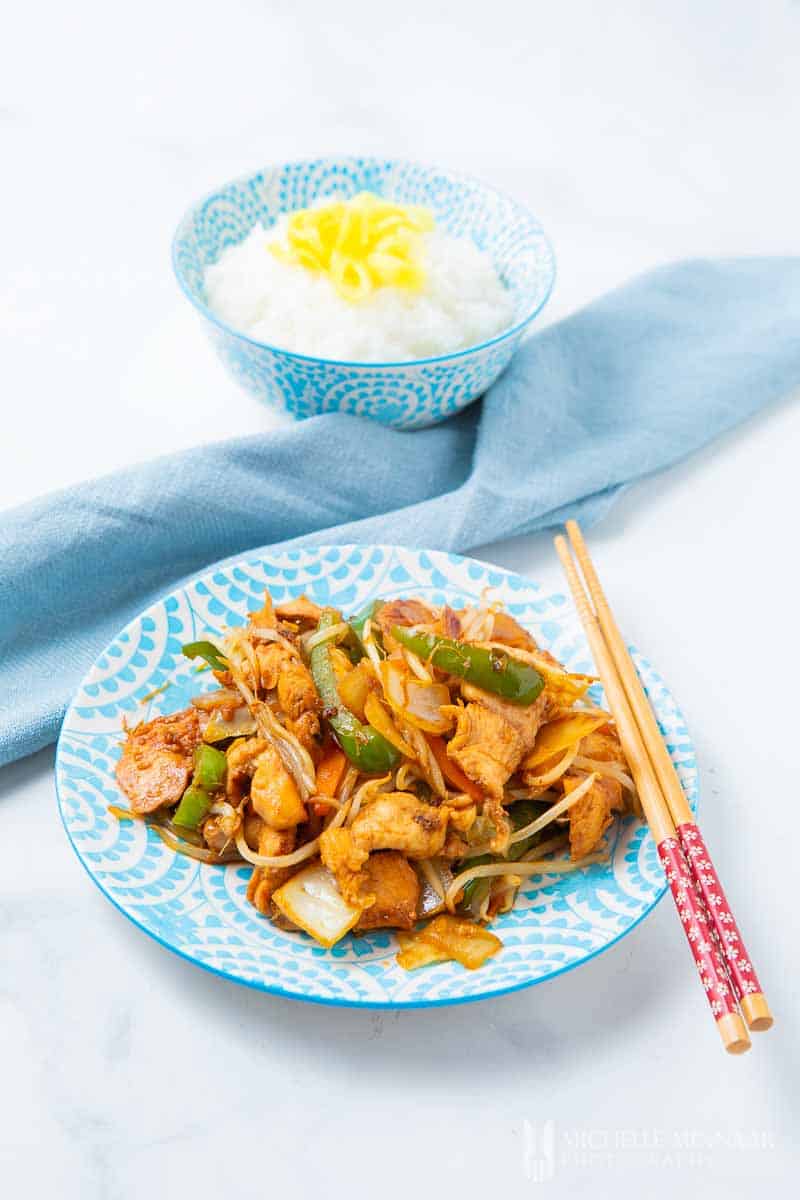 These include takuan or pickled daikon that balances out the yasai itame flavours perfectly. Of course, let's not forget the sake which is a given in Japanese cuisine. Although yasai itame is made with vegetables mostly, it always contains a meat element as well.
You can easily turn this Japanese vegetable stir fry into a vegetarian or vegan dish though. Just omit the meat element and the oyster sauce, or find a vegetarian or vegan alternative. Consider this an easy Japanese dish that everyone can prepare and enjoy!
What I love best about this yasai itame recipe is that it calls for humble vegetables, such as carrots, peppers, cabbage, and sometimes even kale. Whichever leftover vegetables you want to dispose of, feel free to toss them in.
The Japanese dish is best served sizzling hot. Enjoy and serve it with chopsticks and some sake for an authentic Japanese dining experience.
yasai itame Japanese stir fry
Yasai itame is one of the most common Japanese vegetable stir fry recipes. In fact, yasai in Japanese translates to 'vegetables'. Itame, in Japanese stems from the word itameru, which translates to 'stir fry'. It's quite a literal translation.
The whole yasai itame recipe comes together quite quickly. In fact, all you need to do is to chop up the vegetables in advance and marinate the meat while doing it.
Although, today you have kitchen gadgets which can assist you to speed up this process. Next, all you need to do is to simply toss the ingredients into a stir-fry dish and let them cook. Or rather, let them fry and stir continuously.
stir-fry essentials
vegan yasai itame
Since the bulk of the recipe is made with mostly vegetables, there are two elements you need to keep an eye out for. Otherwise, your dish will not be vegetarian or vegan-friendly.
First, omit the meat element. As a substitute, you can consider doubling up on the vegetables. For instance, you can serve it with garlic and chilli courgetti instead of rice. It's also a fantastic way to keep this recipe low-carb. Otherwise, for extra protein, you can use all types of tofu. For instance, normal tofu, smoked tofu or fermented tofu.
Next, don't forget to omit the oyster sauce. Instead, you can opt for black bean sauce. Black bean sauce is not a Japanese ingredient though. In fact, it is a Chinese ingredient.
However, it is a suitable alternative to the oyster sauce as it also contains tonnes of flavour. Just check out my tofu in black bean sauce recipe for inspiration. Salt and Pepper Tofu is another great Chinese takeaway recipe.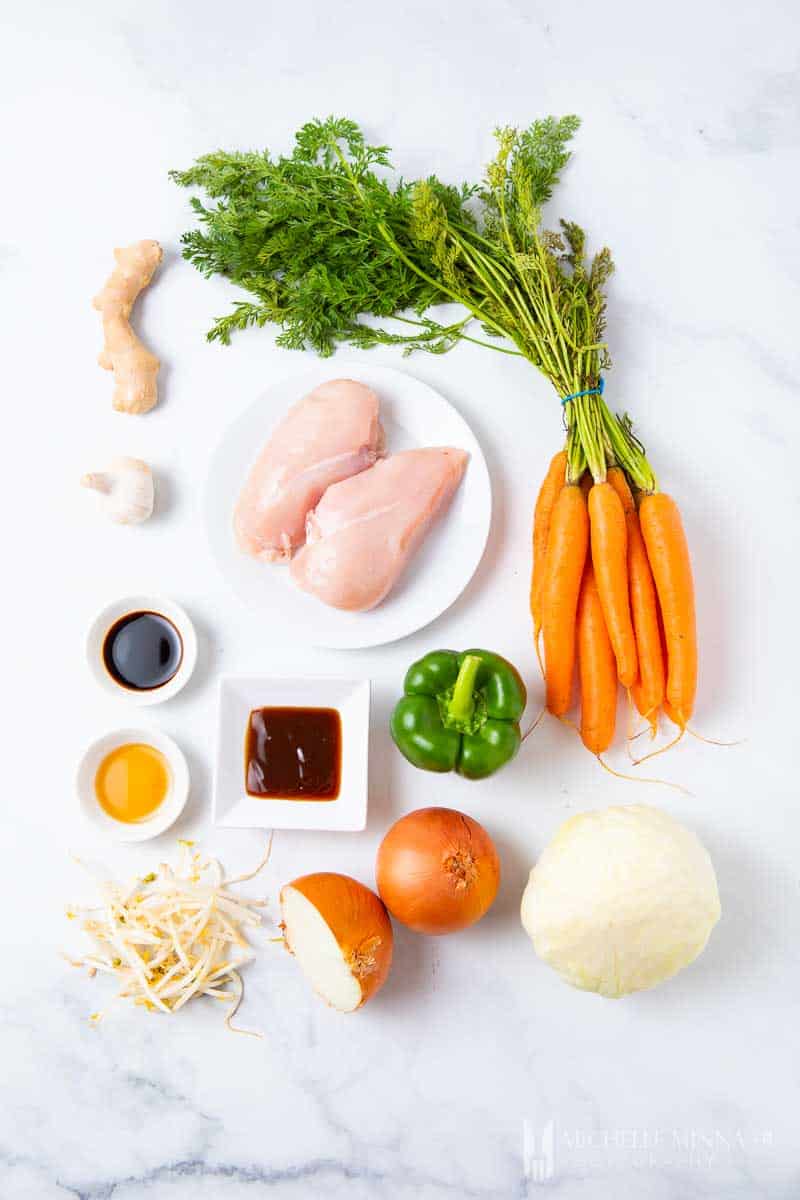 yasai itame calories
If you are cooking yasai itame, you really shouldn't be worried about the calorie count. It's mostly made up of vegetables and lean meat. However, if you would like to cut down on the calories, then omit the meat and oil, and use oil-free spray instead. Go heavy on the garlic and the ginger as they also support your metabolism. Above all, avoid pairing the dish with rice and don't drink sake.
Do you have any other recommendations on how to make this yasai itame recipes lower in calories?
Japanese vegetable recipes
There are plenty of Japanese recipes out there which you can explore. You don't always have to go for sushi when you go out dining at a Japanese restaurant.
For instance, you can try making these simple Japanese recipes:
what to serve with yasai itame
First, you can serve the yasai itame just as it is. It has enough ingredients and flavour to be served as a standalone dish. You can serve it as a starter along with bami goreng. In addition, you can double up on the portion size and serve it as a main course dish.
Secondly, if you've got a large family to feed, you can always serve it with some steamed white rice or egg noodles. Naturally, if you serve it with these side dishes, you simply must serve it also with some tsukemono (pickled vegetables). It is the custom in Japan.
different types of sake
As with any traditional Japanese meal, it is usually accompanied by sake. Equally, this yasai itame would be served with a shot of sake in a rice box. The square wooden rice box, which is also called masu, is a symbol of wealth and generosity. Ordinarily, sake is poured all the way to the top of the cup until it overflows into the masu box. This is a sign of utmost respect and generosity. Then, the sake is also drunk from the masu box. Oftentimes, people even pour the sake into the masu box and enjoy it like that.
Of course, there are many different types of sake. The more premium they are, the smoother they taste. I recommend taking a look at the following sakes to serve with any Japanese recipe:
Also, you are going to need other essentials. For example:
If you are looking for a really authentic way to enjoy your yasai itame, or any other Japanese recipe for that matter, I strongly suggest you get yourself some sake.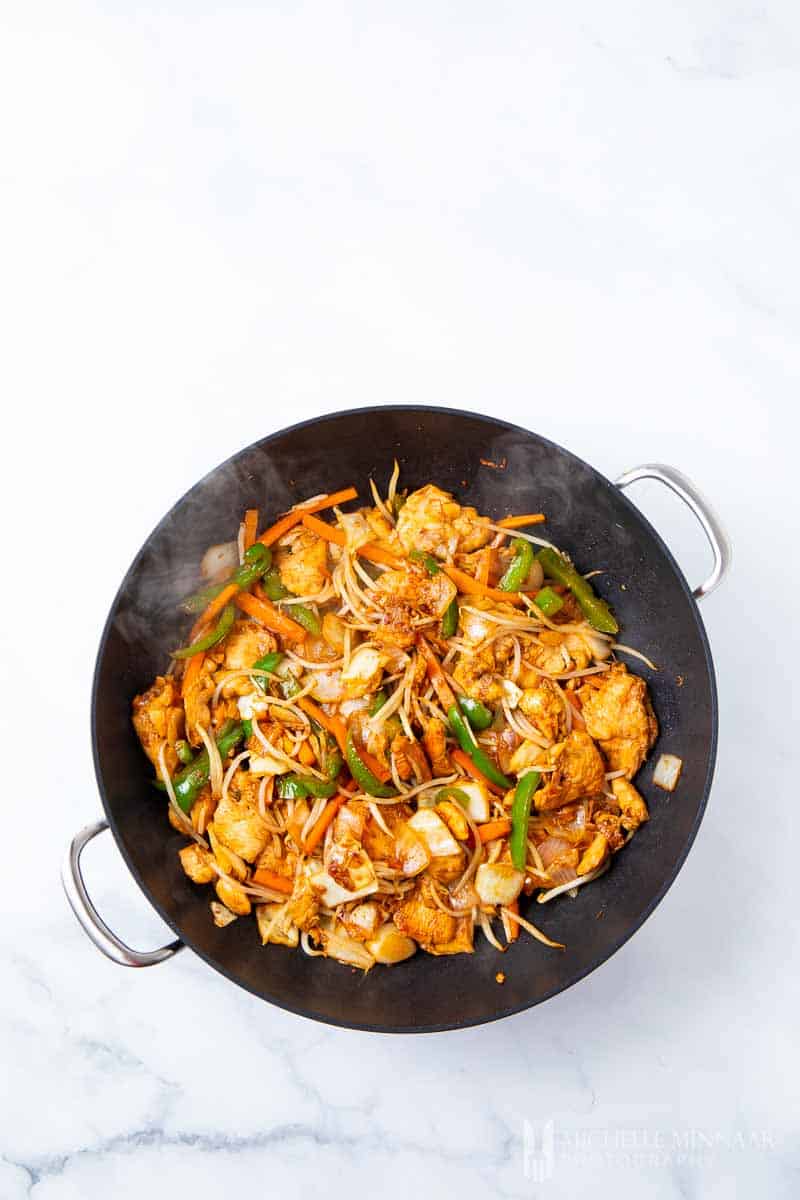 toppings
As mentioned before, you can pair this recipe with tsukemono (pickled vegetables). Sometimes, they are used as a topping or served on the side separately. Hence, you can consider these toppings for your yasai itame recipe:
Otherwise, you can also consider the following toppings to jazz up your yasai itame. For example: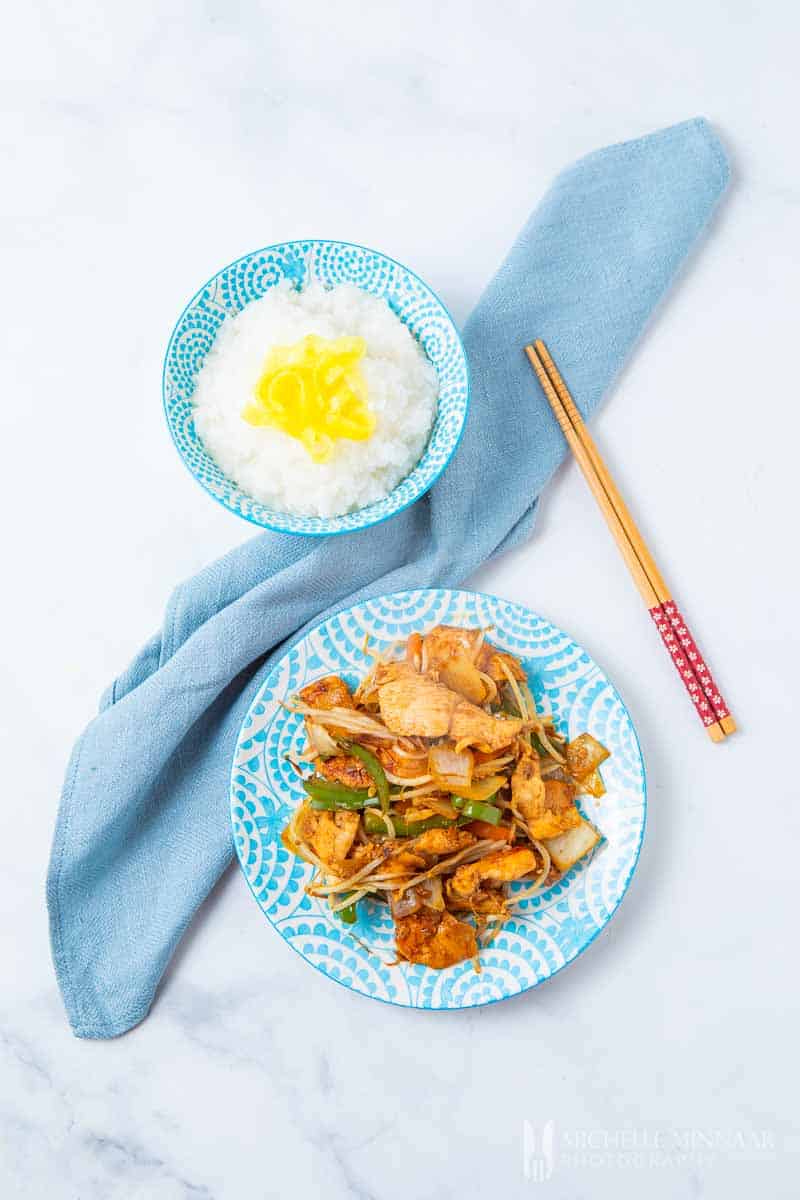 Have you ever tried a yasai itame recipe? Do you have a favourite Japanese dish that you can't live without? Let me know in the comments section below.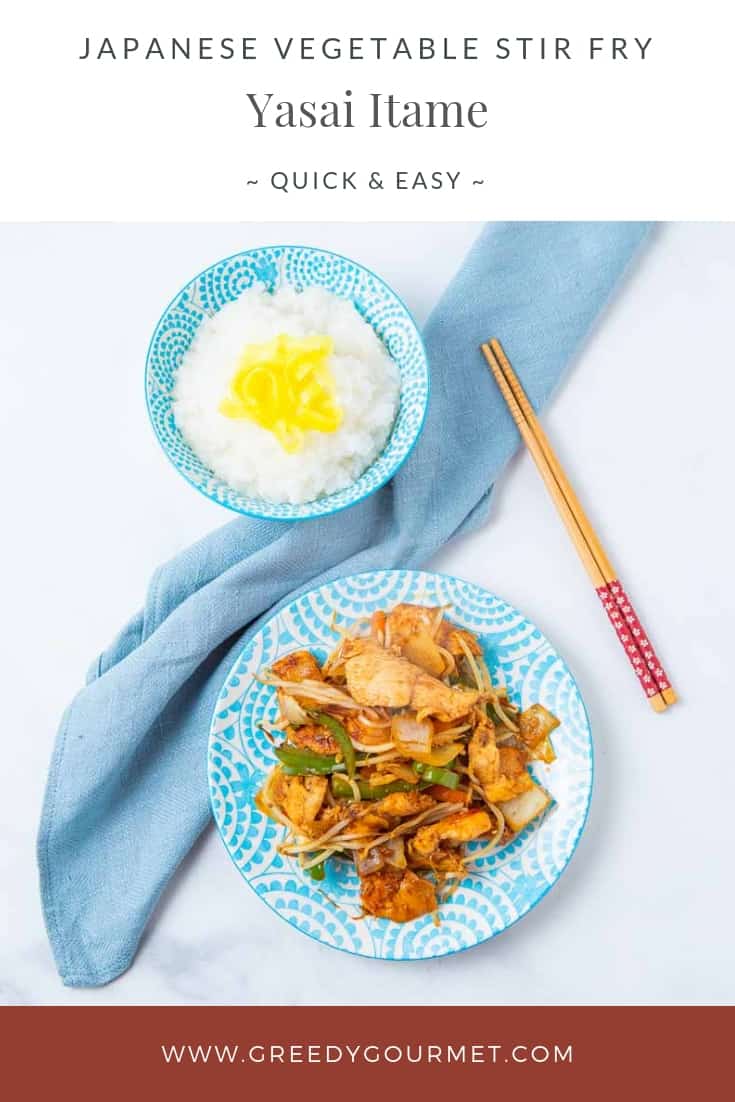 Print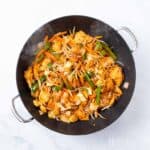 Yasai Itame
---
Author:

Michelle Minnaar

Total Time:

35 minutes

Yield:

4

main course servings

1

x
Description
Yasai itame is a traditional Japanese vegetable stir fry dish. I can be prepared with meat, such as pork, beef or chicken. Ideally, it should be served with plain rice and pickled vegetables.
---
300g

(

10oz

) chicken breast, cut thinly

15

ml (1 tbsp) dark soy sauce

15

ml (1 tbsp) sake

15

ml (1 tbsp) vegetable oil

1

garlic clove, peeled and crushed

2.5

cm (1in) ginger root, peeled and minced

½

onion, peeled and sliced thinly

¼

white cabbage, chopped

2

carrots, peeled and julienned

1

green pepper, washed and sliced

110g

(

2 cups

) bean sprouts

30

ml (2 tbsp) oyster sauce

30

ml (2 tbsp) soy sauce

15

ml (1 tbsp) sesame oil
---
Instructions
Place the chicken in the bowl with the dark soy sauce and sake and let the meat marinate while you prepare the vegetables.
Heat the oil in a wok and fry the garlic and ginger for 30 seconds.
Add the chicken and stir fry until the chicken is almost cooked.
Add the onion, carrot and cabbage to the wok and stir fry for 5 minutes
When the carrots are starting to get tender, add the green pepper and bean sprouts.
Add the soy sauce and oyster sauce.
Stir fry for another 2 minutes.
Drizzle with sesame oil and serve with rice. Enjoy!
Notes
To make this dish vegetarian, simply leave out the meat. You can use tofu instead.
The length of time you have to fry the chicken depends on the thickness you cut the meat. Please ensure that it's no longer pink. The meat will reach doneness as you finish cooking the vegetables.
Prep Time:

20 minutes

Cook Time:

15 minutes

Category:

Dinner

Method:

Stir Fry

Cuisine:

Japanese
Keywords: yasai item recipe, Japanese stir fry sauce, Japanese vegetable recipe