Prawn puri is a starter of Bangladeshi origin and is something you simply must try if you love Indian cuisine and spicy foods. This item regularly features on Indian menus but here you will learn how to make this fakeaway at home. Not only does it work out cheaper but it's much healthier too! It pairs wonderfully with curries or other Indian inspired dishes like the keema matar and makai ka soweta.
Most importantly, don't let making this appetising bread intimidate you. As I always say, there is nothing better than eating freshly made bread, just like I've witnessed with the making of kerala paratha. For best results, serve immediately with a filling or side dish of your choice.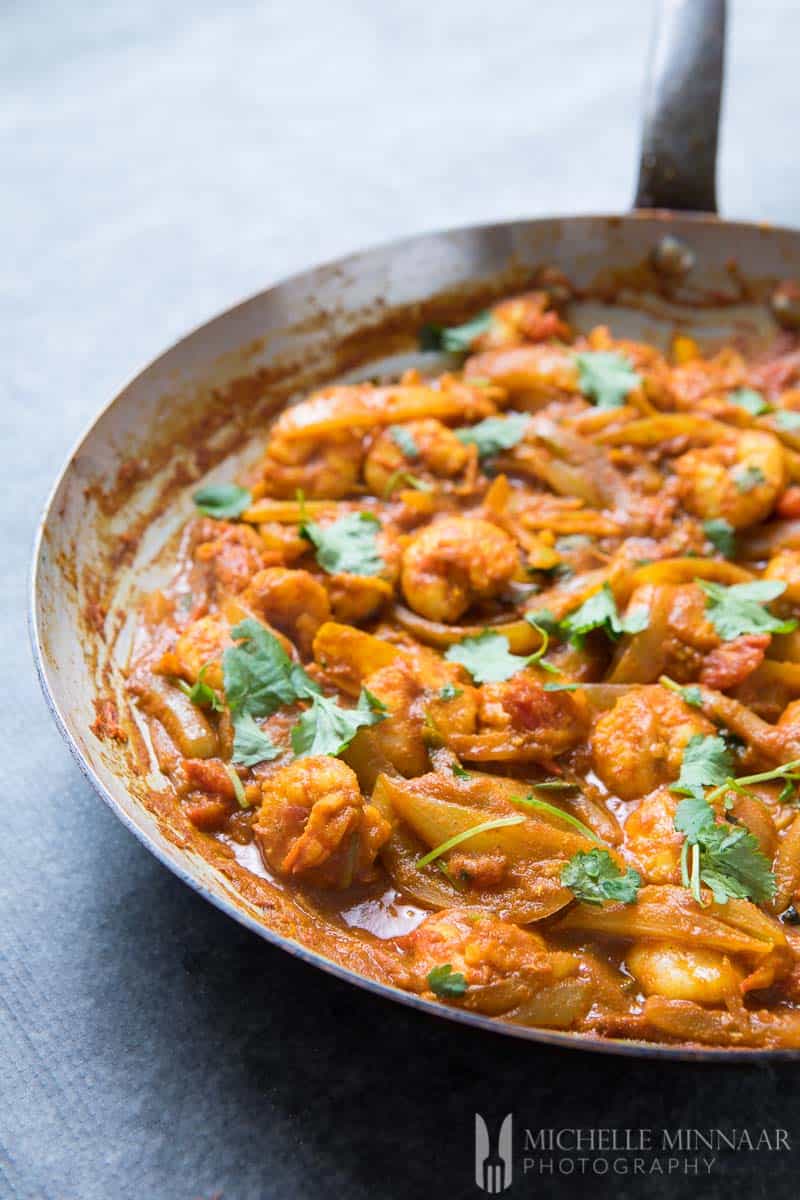 Prawn puri with Rotimatic
Now, as much as I love Indian food I was also initially intimidated by preparing breads from scratch. So, until now I've avoided making them altogether. However, I must say that after I tried the Rotimatic, Indian food feels much more accessible and it was an enjoyable experience. Additionally, I send my kids to school with wraps almost on a daily basis and regularly purchase flatbreads. So, it's wonderful to make fresh puris and rotis for my kids to enjoy on a daily basis. Thanks to this clever machine it has never been easier and it is also a much healthier alternative!
You can order your very own Rotimatic! Greedy Gourmet readers will receive a discount of US $75 on first purchase! (Simply click on any of the Rotimatic links in this post to order.)
The Rotimatic is the world's first IoT and AI enabled flatbread-making solution. The way the Rotimatic works is that it mixes the water, oil and flour first, then kneads the dough. A ball is formed then flattened into a disc shape. At this point it depends on which option you picked, i.e. puris need frying so the raw discs will pop out. Otherwise, the Rotimatic will cook the dough and out comes your perfect roti or pizza! All you need to do is to load the Rotimatic machine with oil, water and flour before, and then play around with your preferences in terms of selecting thickness and softness. A very interactive yet easy solution that makes cooking this prawn puri really easy and hassle-free! Forget having to order expensive takeaways, plus there are no more hidden additives, chemicals, or preservatives in your fresh, homemade dinner.
Features of the Rotimatic
Some of the features of the Rotimatic includes a flat press, intuitive user interface and ingredient storage containers, which can be used as air tight storage containers. More features include custom heat flow, a space efficient side door and a fine particle dispenser. All of these features are a direct result of 10 years of research and development that started back in 2008. Keep an eye out for important updates. Soon we'll all be able to make wraps or tortillas, as well as use different types of flours such as millet, chickpea or gluten-free flour!
Personal impressions
Personally, I was mesmerised by the machine. When my kids got home, this machine kept them amused for over 2 hours and they took turns removing the roti from the machine and topping with desired ingredients. All I wanted to do is to just sit there and watch the windows as the machine was multitasking and popping out excellent results. After the first roti is produced, each subsequent one pops out in 90 seconds. Wow!
I soon came to the realisation that not only did my kids love this machine, it was an excellent way to excite my kids about cooking. Also, it was a great way to empower them and teach them how to make their own food decisions. Together, we made 55 rotis in one sitting. Can you believe it? Only 2 out of 55 were flops, which to me is really no big deal.
While we made those 55 rotis, I played about with different thickness and roasting level settings, but yielded very little difference to the end-result which was nonetheless delicious. Naturally, we couldn't possibly eat all 55 in one sitting, so I froze some for the upcoming weeks. All in all, cooking with Rotimatic machine was a very enjoyable family experience, including the cleaning process where we worked as a team!
You can read what others think of the Rotimatic.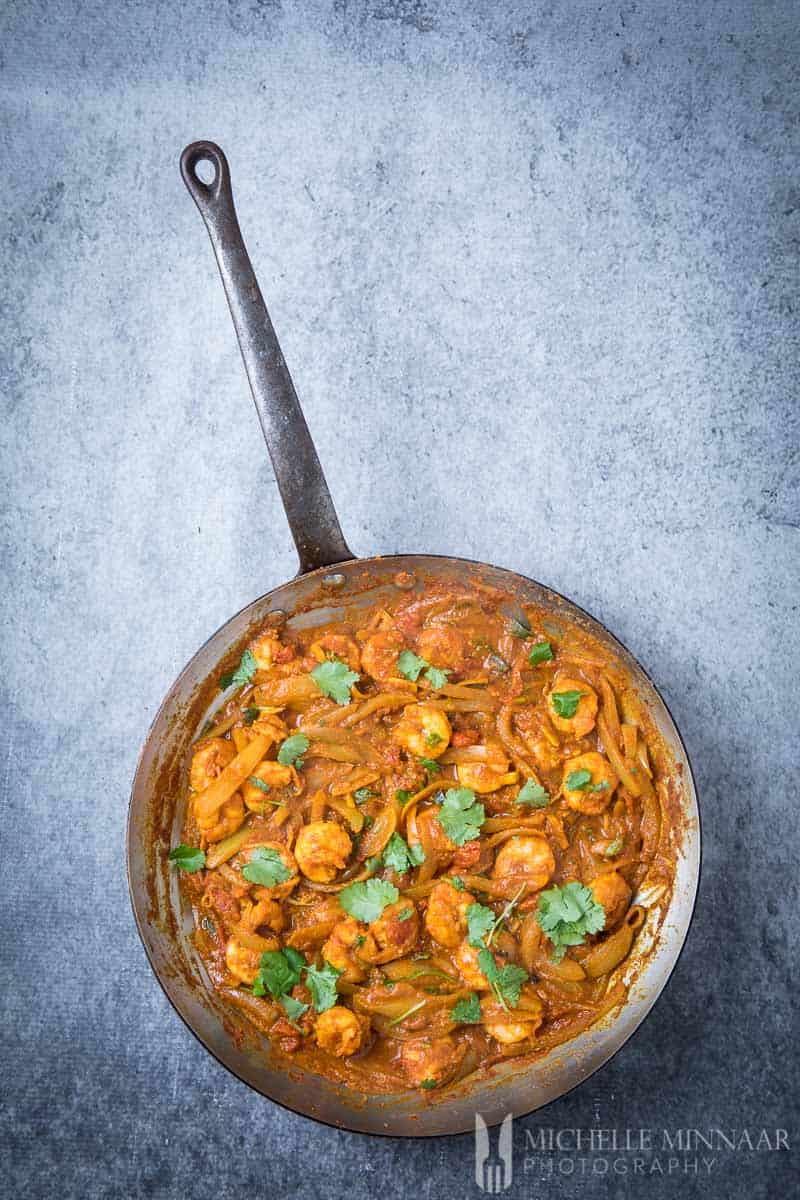 What is puri?
Puri, or sometimes referred to as 'poorie', is a deep-fried bread without the use of leaven. This bread is of of Baghladeshi origin and you'll find it all over the Indian sub-continent. Even though you can find it in many Indian restaurants, don't let that mislead you to believing it is of Indian origin! The terms 'puri' derives from the Sanskrit word 'pura' which means filled. Of course, in this recipe, I make my puri with a delicious prawn filling, hence the name prawn puri.
What is the difference between rotis and puris? Rotis are unleavened bread cooked on a hot tava or pan, while puris are deep-fried rotis. I hope this explanation gives you a clearer picture on different types of Asian breads. Ultimately, you can use other types of breads as substitutes for puris, such as chapatis, parathas and naans. Which ones is your favourite?
Type of flour
To save you some trouble, I am going to tell you about the different types of flours you can use for making this recipe. First of all, you can use the atta flour, which is the common wheat type for making rotis. It is a whole wheat flour from durum wheat, which is harder than most. It has high protein content as well as a high gluten content, perfect for making breads and rotis.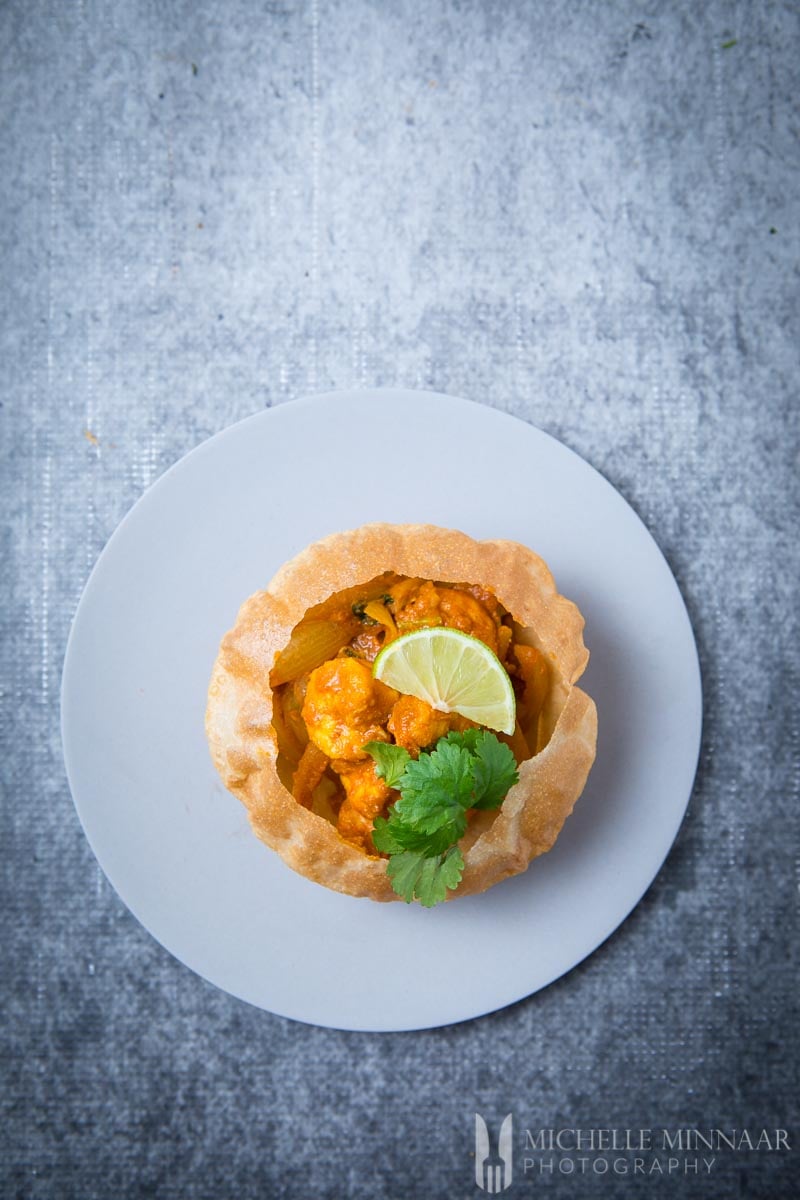 Next, the maidi flour is a softer flour which serves all types of purposes. You can easily substitute it with the traditional western white flour. Also, you can use it for making rotis, however it is better for samosas and naans.
You can also use semolina or maize. As for non-glutenous alternatives, you can use jau, jowar, bajra, ragi, and makki flour.
Don't forget
One thing you've got to remember when making this recipe is to bring the oil to high enough temperature. Otherwise the roti won't puff up and you'll end up with a hard, oil-soaked lump of bread. So be sure to test the temperature first!
Final Thoughts
Whether you're a lover of Indian foods, adore wraps for lunch or is simply an all-round foodie, the Rotimatic will be a welcome addition to your home.
What would you make with the Rotimatic?
Print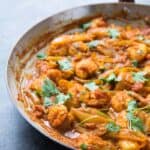 Prawn Puri
---
Author:

Michelle Minnaar

Prep Time:

30 minutes

Cook Time:

30 minutes

Total Time:

1 hour

Yield:

4

servings

1

x
750

ml (3 cups) whole wheat flour

15

ml (1 tbsp) ghee

1

large onion, sliced

2

garlic cloves, peeled and crushed

2.5

cm (1 inch) ginger

3

large tomatoes, peeled and finely chopped

1

green chili, washed and finely chopped

15

ml (1 tbsp) tomato puree

15

ml (1 tbsp) garam masala

5

ml (1 tsp) ground cumin

2.5

ml (½ tsp) turmeric

120

ml (4fl oz) water

500g

(1lb) raw peeled prawns

1

lime
Coriander leaves

80

ml (⅓ cup) coarse semolina

50

ml (2fl oz) oil

270

ml (1 cup) water

5

ml (1 tsp) salt
Oil for deep frying
---
Instructions
Heat the ghee in a large frying pan and slowly cook the onions, garlic and ginger until softened.
Turn up the heat and add the tomatoes.
Let the tomatoes sizzle for two minutes then add the chili, puree, masala, cumin, turmeric and water.
Continue to simmer for about 10 minutes until the tomatoes have "melted" and the sauce has thickened.
Add the prawns and cook for 2 minutes until they are well done.
Sprinkle with lime juice and fresh coriander leaves.
Fill up the respective Rotimatic containers with the ingredients, according to the manual's instructions. About 12 puri discs will be produced by that quantity.
Heat the oil in a large stainless steel pot. It shouldn't smoke. Test to see if the oil is hot enough by dropping a small piece of dough into the oil. The dough should fry up immediately and come to the surface. You know the oil is not hot enough when the puri does not puff up, is flat  and instead is also soaking up oil.
Now drop the puri into the oil. While the puri is slowly coming to the surface, make sure to keep ladling in the hot oil on the surface. This helps the puri to puff up. Turn it so that it gets evenly reddish brown or golden yellow. Place it on paper towel to drain off any oil. If fried correctly, it won't retain oil.
Fry the puri in batches.
Serve with the prawn curry spooned on top of the puri. Garnish with lime and coriander.
Notes
Use ripe tomatoes. In order to peel them, place them in a bowl and pour boiling water over them. Their skins will split, making peeling very easy.
Category:

Starter

Method:

Pan Fry

Cuisine:

Indian
Nutrition
Serving Size:

1 serving

Calories:

683

Sugar:

7.9 g

Sodium:

802 mg

Fat:

17.8 g

Saturated Fat:

5.1 g

Carbohydrates:

94.3 g

Fiber:

6.4 g

Protein:

39 g

Cholesterol:

8 mg
save the recipe to your pinterest board
P.S. This is a sponsored post.