One of those starters that never fails to hit the spot, prawn puri is simply sensational!
Tender prawns in a delicious, spicy tomato masala, served on a crisp and light deep fried puri. There's no wonder prawn puri is one of the most popular starters in Indian restaurants. Now it's time to make your own! If you've got any prawns leftover, why not try them with this mouth-watering Marie Rose Sauce.
Products you need for this recipe
Here are a few key items you'll need to make this prawn puri recipe: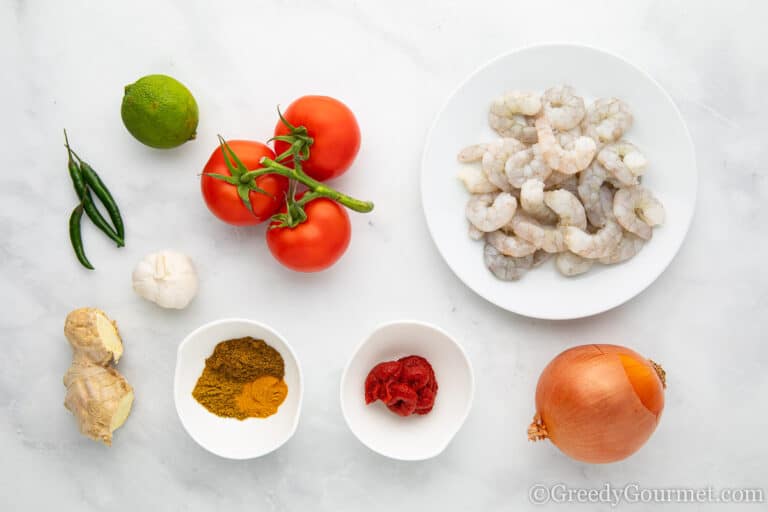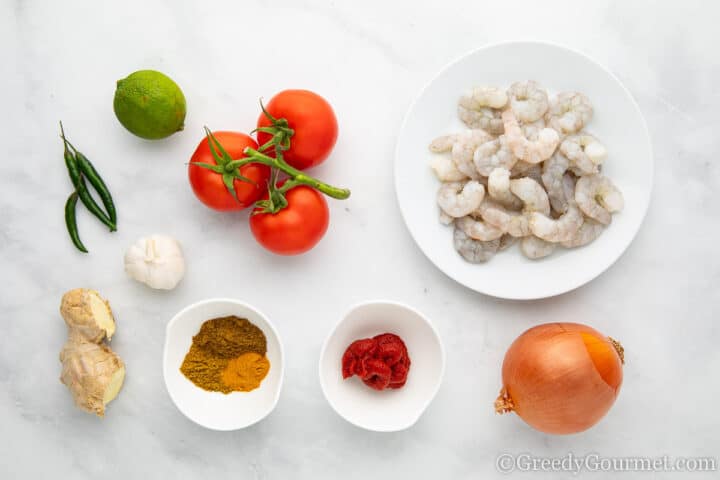 Prawn puri recipe
There's something about the combination of the spicy tomato masala sauce and the subtly sweet, tender prawns that really makes the mouth water.
Prawn puri is such a simple recipe and is really quick to make. In fact, it's barely 15 minutes! It's just a matter of sizzling up the onions, garlic and ginger, along with the spices and tomatoes, then adding the prawns.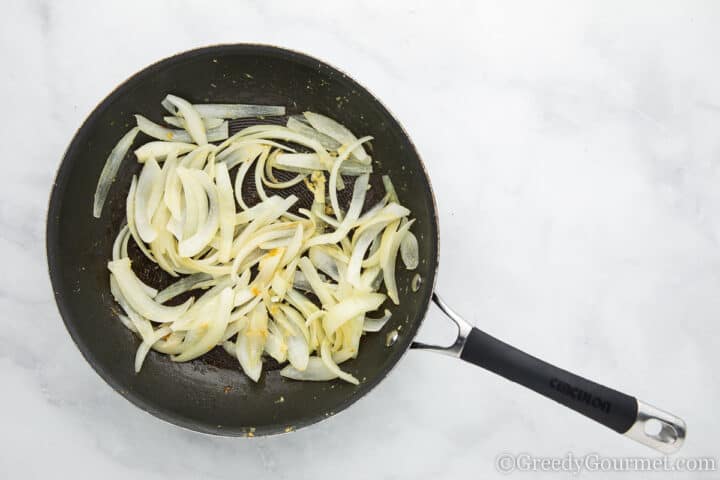 What is puri?
The actual "puri" part of this recipe is made separately… check out my light, fluffy gluten free puri recipe and make it alongside this one that makes prawn puri. It's the perfect way to mop up all the delicious juices and is the traditional way to serve up this dish.
Puri (sometimes called 'poori') is normally served up as a starter – you've probably seen it in your local Indian restaurant – although you could also make it as a main meal.
It's a type of bread that is deep-fried without the use of yeast or any other raising agent. Puri is often made with whole wheat flour, although my gluten free version uses chapati flour.
This bread is of Bangladeshi origin, although you'll find it all over the Indian sub-continent. Even though you can find it in many Indian restaurants, don't let that mislead you to believing it is of Indian origin! 
The term 'puri' derives from the Sanskrit word 'pura' which means filled.  
Of course, in this recipe, I make my puri with a delicious prawn filling, hence the name prawn puri.
What is prawn puri made of?
This prawn puri is a recipe of two halves: the prawns and the tangy, spicy and rich masala sauce – a combination of garlic and ginger, onions, garam, fresh tomatoes and tomato puree.
It's a starter that's very popular in India but is actually of Bangladeshi origin. It's something you have to try if you love Indian cuisine and spicy foods. 
Prawn puri pairs wonderfully with other curries or other Indian inspired dishes like the keema matar and makai ka soweta.
What are the best prawns for this recipe?
King prawns are always a good bet in a prawn curry. Big, juicy and tender, they also soak up a lot of the juices.
Another big, tasty type of prawn is tiger prawns. You can get both king and tiger prawns with heads and shells removed. I highly recommend them for this prawn puri recipe.
  
You can also buy fresh prawns from a fish market. It's great to buy fresh ingredients, but be aware that you are adding prep time by having to remove the shells and heads of the prawns. If you've got the time, go for it!
Prawns should never smell fishy. If they do, don't get them. Instead, they should smell fresh and clean and should look moist.
Remember that you might need to adjust the cooking time, depending on the size of the prawn.
How long do you cook prawns for?
Small prawns take around 2 minutes and medium sized prawns take around 3–4 minutes. Large prawns need a little longer – around 5–8 minutes.
How can you tell when prawns are cooked?
The key to knowing when prawns are cooked is their colour. Raw, uncooked prawns are a translucent grey colour. Cooked prawns turn an opaque white with a bit of pinky, reddish colour.
If the prawns are still grey, keep on cooking!
If the prawns start curling up into a tight little "O" shape, they're overcooked.
Can you cook prawns from frozen?
It's safe to cook prawns from frozen, but I wouldn't recommend it. You'll most likely end up with rubbery overcooked prawns, which would be a waste of a delicious ingredient.
Can you leave out the prawns from this recipe?
Leave them out?! It's called a PRAWN puri for a reason you know.
Only kidding. If prawns aren't your thing you can easily make this recipe with skinless, boneless chicken pieces. It'll be just as delicious.
Chop the chicken pieces into bite size chunks and cook for 8–10 minutes.
You could also use mussels in place of prawns in this recipe.
Oil or ghee?
You can use either oil or ghee in this prawn puri. If you do use oil, go for vegetable oil or something with a neutral flavour.
If you've never cooked with ghee before, this is a great recipe to use it for the first time.
What is ghee?
Ghee is a form of clarified butter that is very popular in Asian cooking. It's made by melting regular butter. This separates the liquid fats and milk solids. The milk solids are then removed.
Ghee has a high smoking point, making it great for curries, which often need to be cooked over a high heat. It also has a very distinctive nutty taste, which makes it perfect for curries, and it also has some health benefits.  
What can you serve with this recipe?
As I mentioned before, my gluten free puri is perfect for this recipe. It's a deep-fried bread that's traditionally made in India to accompany prawn curry.
There is nothing better than eating freshly made bread, so don't miss out on this one!
Do you need to use tomato puree?
Yes! It brings a rich tomato taste to the masala sauce. You can substitute it with tomato concentrate or sun dried tomato paste.
What spices are best for this recipe?
Garam is the key spice in this prawn puri recipe. Cumin and turmeric are also important to bring an earthy spiciness.
You can also use ground mustard seeds, ground fenugreek, ground coriander and chilli powder.
How about kashmiri chilli powder?
Yes, kashmiri chilli powder is a great ingredient to use in prawn puri. It's popular in Indian food and brings moderate heat and a real vivid red colour.
How do you know when the sauce is done?
You'll only need to simmer the sauce for around 10 minutes after all the ingredients have been added to the pan. 
You'll know the sauce is done when the tomatoes have completely collapsed into the sauce. It will have turned thick and glossy. 
Make sure you're happy with the consistency and taste of your sauce before you add your prawns.
Why finish with lime juice and coriander?
Lime juice and coriander are really important parts of this prawn puri recipe. They add a final flourish. Lime brings an important tang to the prawn puri, while coriander adds a refreshing, earthy citrus taste.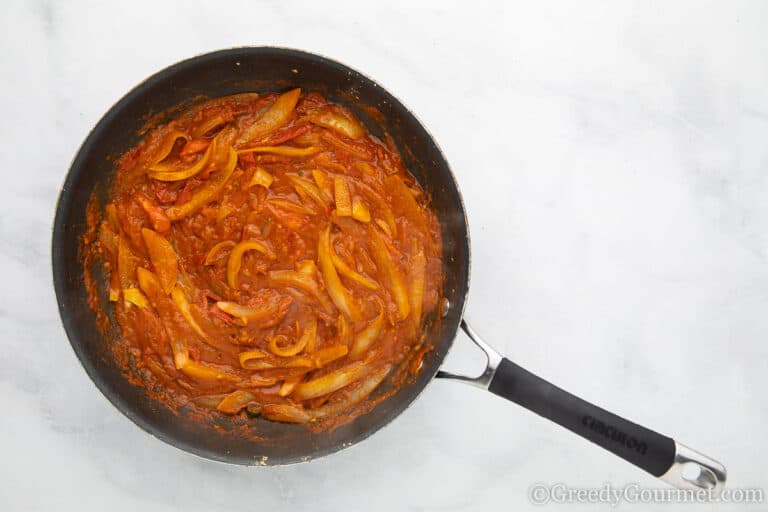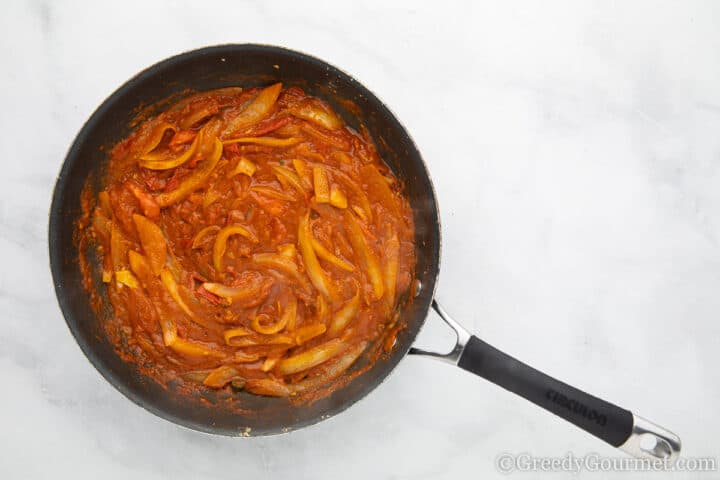 More prawn curry recipes
Prawn korma – along with prawn puri, this is the standout classic Indian prawn curry
Creamy prawn and mango curry – deliciously fruity and rich
Isso baduma – Sri Lankan street food that brings explosive flavour
King prawn butterfly – simple to make yet so effective. Subtle spices and a crispy batter, with deliciously juicy king prawns at the centre of it all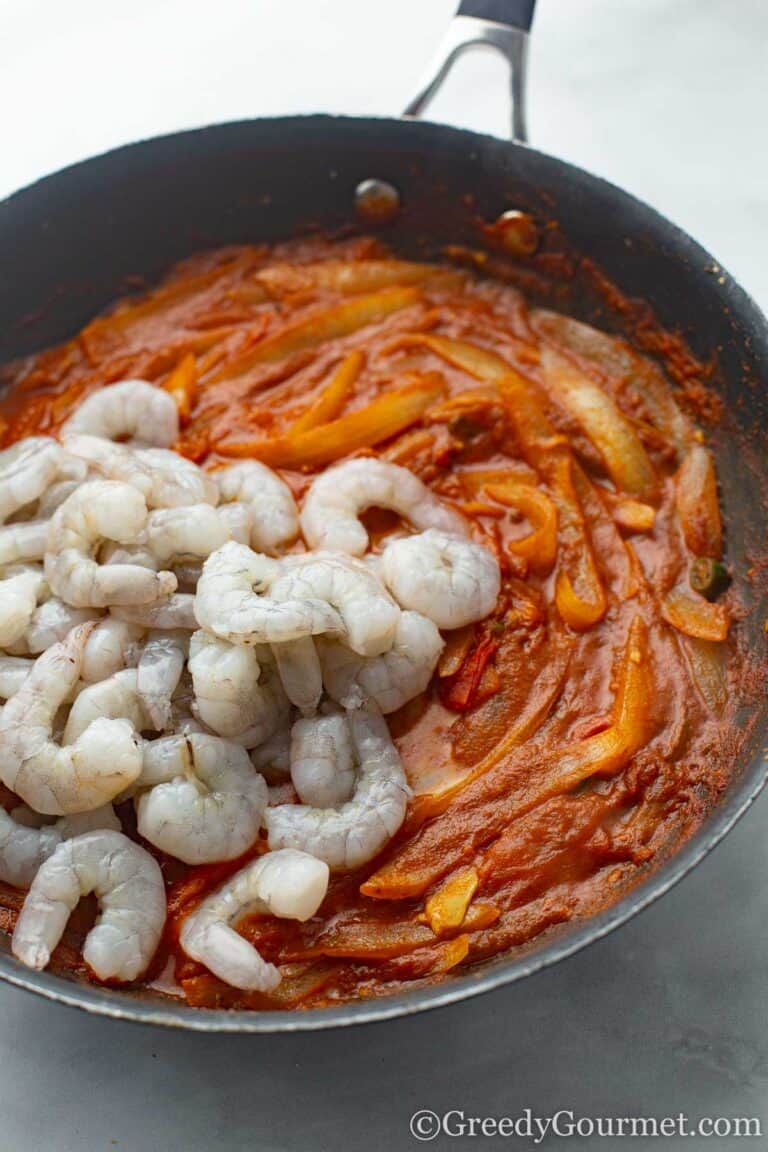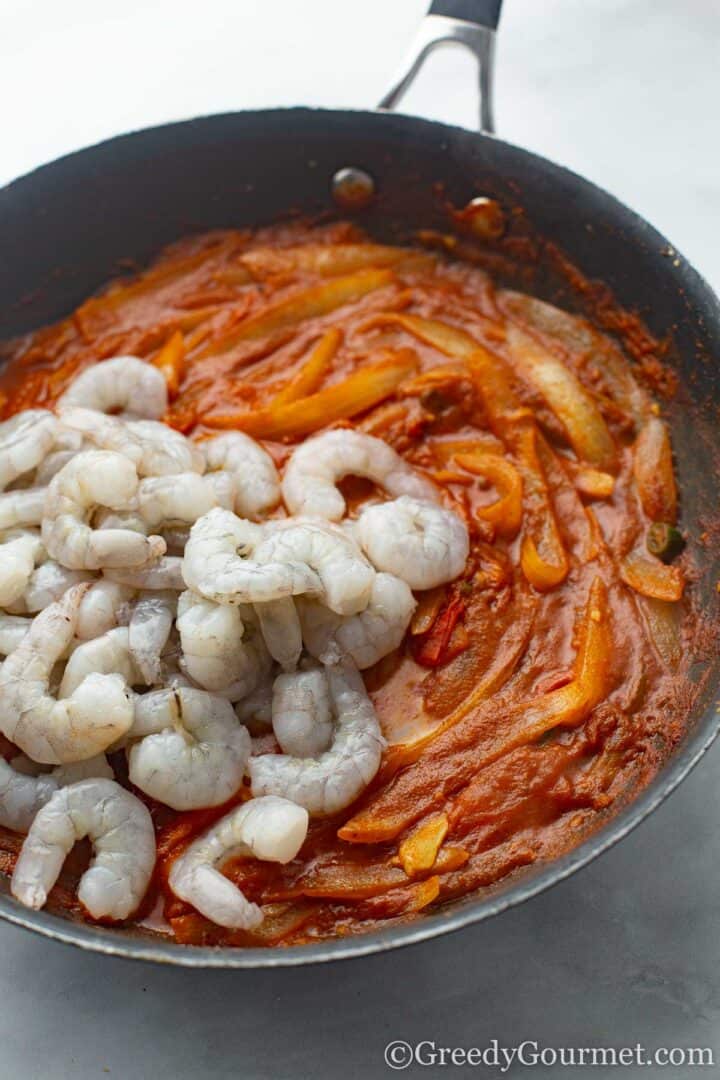 More amazing Indian starters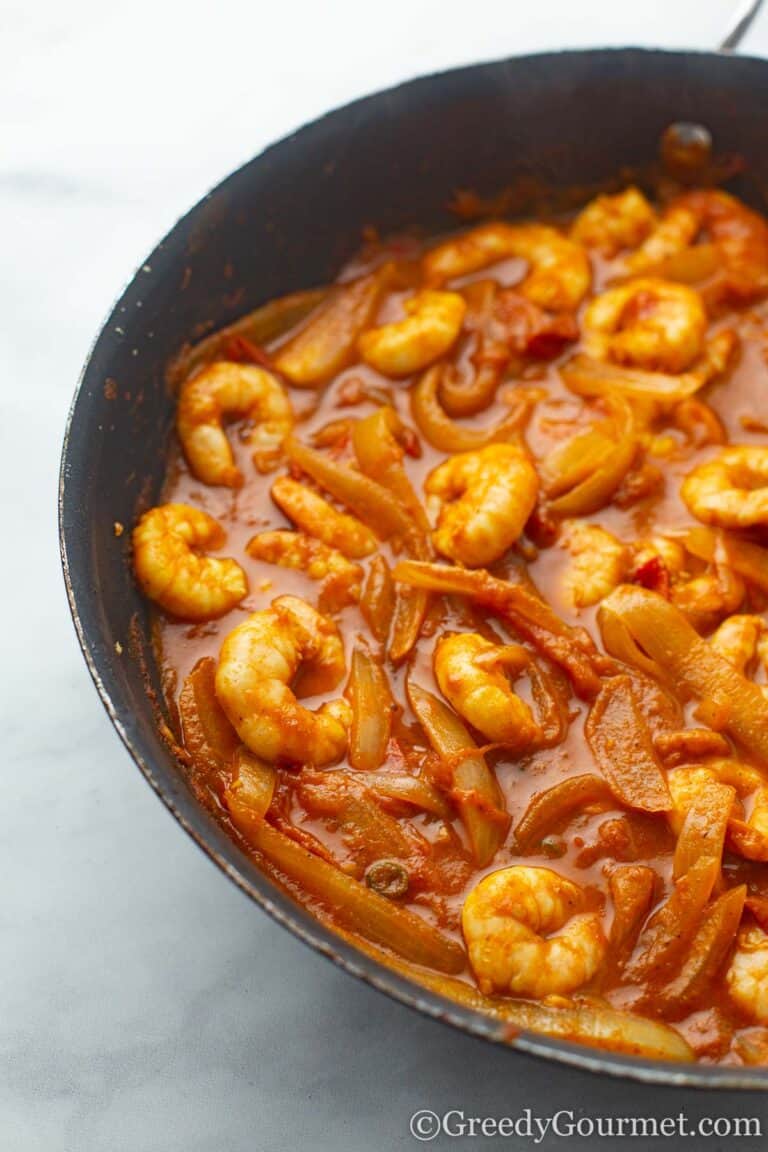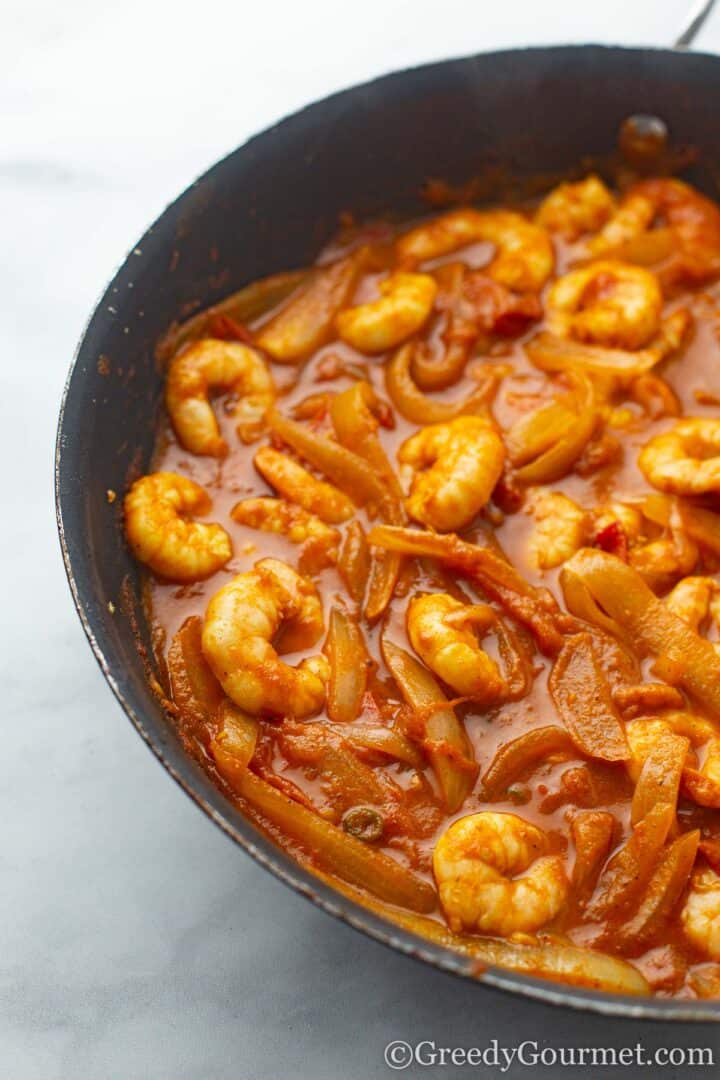 Print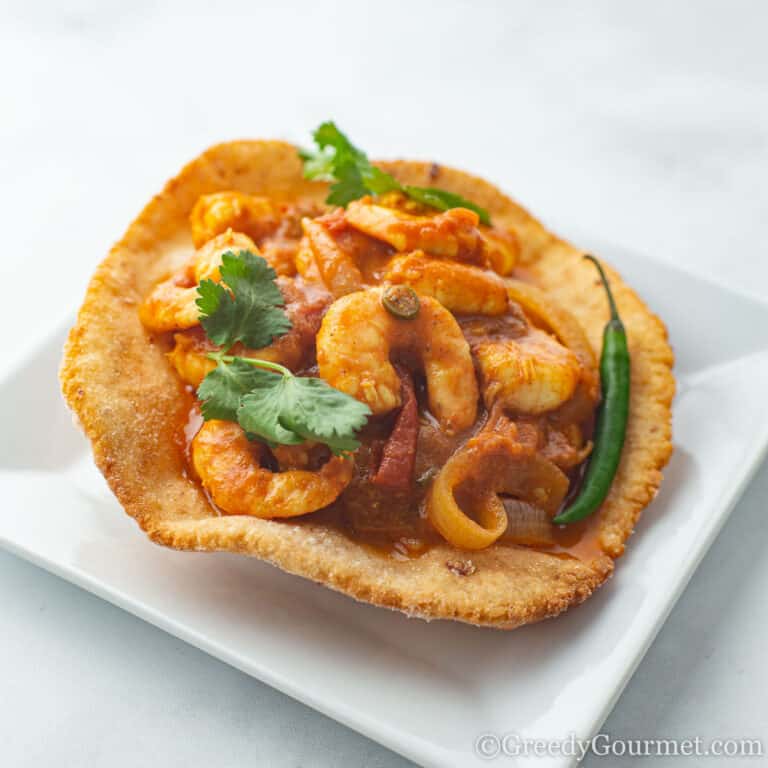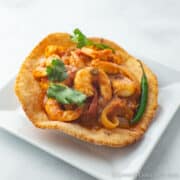 Prawn Puri
---
Author:

Michelle Minnaar

Total Time:

35 minutes

Yield:

4

servings

1

x

Diet:

Gluten Free
Description
Prawn puri is actually a Bangladeshi prawn starter commonly found on Indian restaurant menus. It comprises a tomato-based prawn curry served on top of an Indian fried bread, called puri. Delicious!
---
15

ml

(1 tbsp) vegetable oil

1

large onion, sliced

2

garlic cloves, peeled and crushed

2.5

cm (1 inch) ginger

3

large tomatoes, peeled and finely chopped

1

green chilli, washed and finely chopped

15

ml

(1 tbsp) tomato puree

6

g

(1 tbsp) garam masala

2

g

(1 tsp) ground cumin

1

g

(1/2 tsp) turmeric

125

ml

(1/2 cup) water

450

g

(1lb) raw peeled prawns

1

lime, juiced
coriander leaves
---
Instructions
Heat the ghee in a large frying pan and slowly cook the onions, garlic and ginger until softened.
Turn up the heat and add the tomatoes.
Let the tomatoes sizzle for two minutes then add the chili, puree, masala, cumin, turmeric and water.
Continue to simmer for about 10 minutes until the tomatoes have "melted" and the sauce has thickened.
Add the prawns and cook for 2 minutes until they are cooked through.
Sprinkle with lime juice and fresh coriander leaves.
Make your own Indian starter at home, by spooning the prawns on top of fresh, homemade gluten free puri.
Prep Time:

15 minutes

Cook Time:

20 minutes

Category:

Starter

Method:

Pan Fry

Cuisine:

Indian
Keywords: prawn recipes, prawn puri, how to cook prawns, poori, prawn starters, prawn dish, shrimp puri, puri recipe