In short, these salmon fish cakes are delicate, tasty and really easy to make. You'd wish you found this salmon fish cake recipe years ago.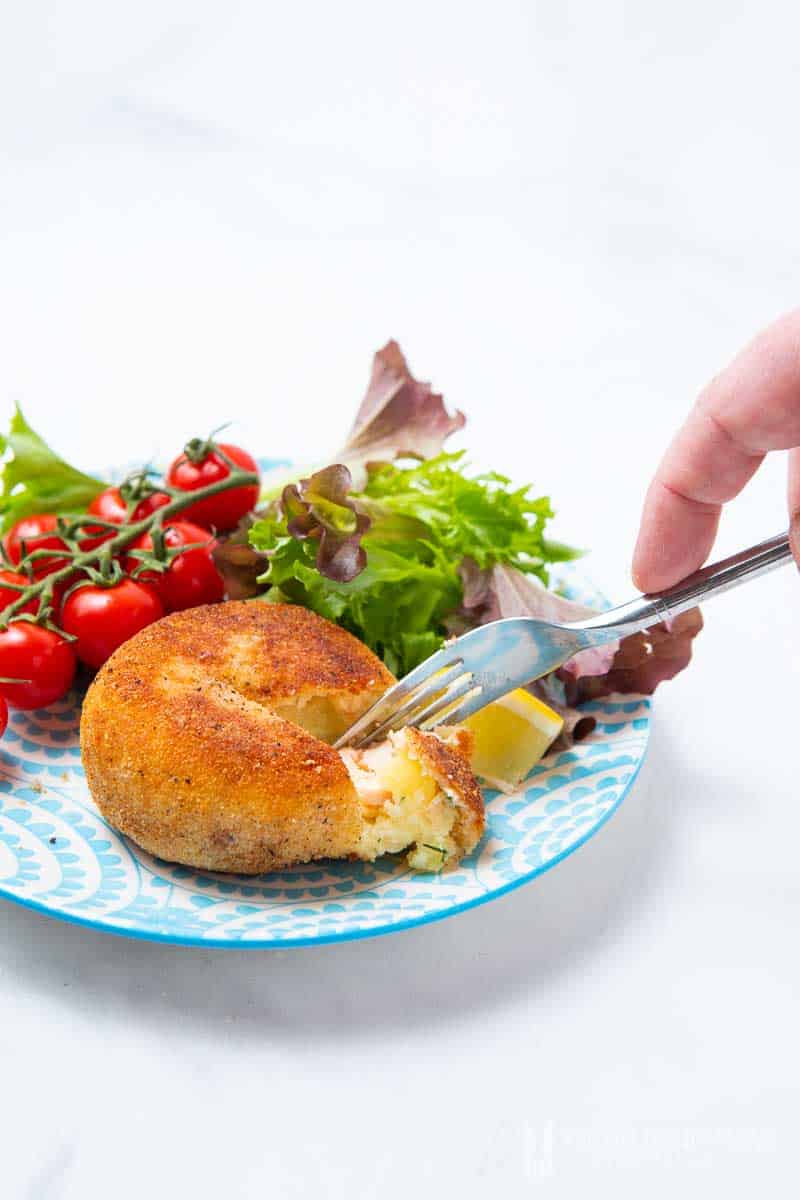 All you need is cooked salmon, mashed potatoes, eggs, flour, breadcrumbs, milk, oil, seasoning and you're in business. Now, this salmon fish cakes recipe is very versatile.
You can easily jazz these salmon fish cakes with your favourite spices. Or better yet, you an easily put an Asian or Thai twist on it. Moreover, once you mastered the making these fish cakes, you'll be able to make any type of fish cakes with other species of fish.
In this article, I will mention the best choices of fish to fit this recipe. Enjoy munching on these babies!
salmon fish cakes the best recipe
All in all, these salmon fish cakes are super easy. The funnest part about this fish cake recipe is shaping the fish patties. For instance, if you've got kids at home or you are looking for a couple's activity, this is the perfect recipe to do so.
There is nothing more exciting than cooking together and creating your own healthy fish cakes. You'll even get a chance to compete whose salmon fish patties look better. Do you know what I mean?
potato and fish cakes
There are two key ingredients in this fish cake recipe. First, the recipe calls for making a traditional potato mash. Naturally, for a healthier alternative, you can substitute it with sweet potato mash.
For instance, just take a look at my roasted sweet potato mash recipe. Sweet potato are lower in glycemic index. Therefore, they are perfect for making recipes which are suitable for diabetics.
In addition to that, the sweet potato is known as a good binding agent. For example, it works perfectly well in this sweet potato and mung bean falafel recipe.
The sweet potatoes hold all the ingredients together, and they will do the same for any other type of fish cake recipe.
best fish for fish cakes
My fish cake recipe calls for fresh salmon fillets. In my opinion, salmon fish cakes make the ultimate fish cake recipe because salmon has a nice flesh. It's firm, fatty and widely accessible.
However, you can use tinned salmon fillets in order to make tinned salmon fish cake. Tuna is also an excellent alternative, although in its fresh form it is pricier than salmon.
I recommend making fresh tuna fish cakes for a special occasion, otherwise you can simply opt for tinned tuna.
What's best about fish cakes are that you can also use white flesh fish. The best types of white fleshed fish for fish cakes include :
cod
halibut
flounder
pollock
haddock
Whichever type of fish you choose for this recipe, the outcome will be the same and just as good. So, there is no need to change the proportions of the other ingredients.
If you want to experiment with even more flavours, then I suggest you use smoked salmon instead of the plain version. Hot smoked salmon would be my choice for making this a sophisticated fish cake recipe. So you dare to try something different?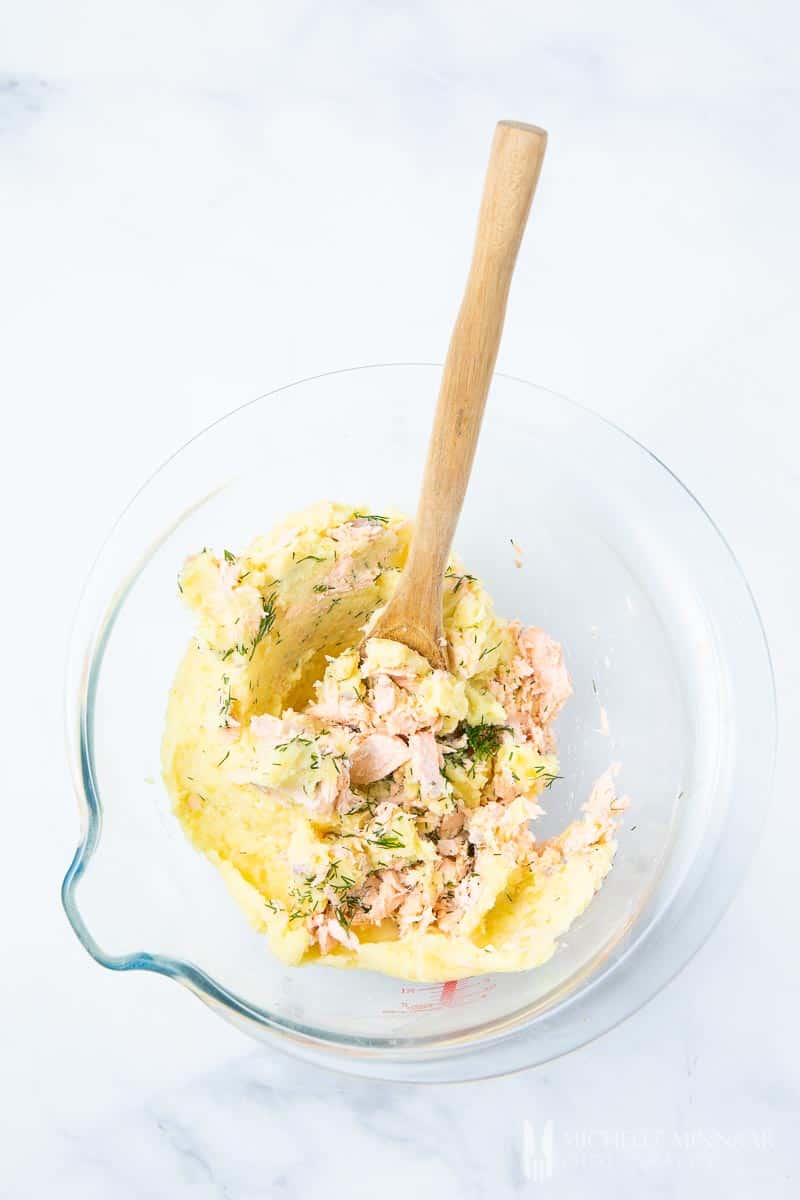 salmon fish cakes by Jamie Oliver
The difference between my salmon fish cakes recipe and that of Jamie Oliver's is minor. Having inspired myself with his recipe which you can access here, you'll see that I've tweaked it.
I took out the frozen peas element because quite frankly I didn't want the peas to ruin the consistency of the salmon and potato mixture.
I imagine that the peas would make the fish mixture lumpy. However, if you love your green peas, feel free to add them.
fish cakes without potatoes
You might think that it's difficult to make a fish cake recipe without potatoes, but it's actually very straightforward. The key element to bind everything together is still the egg.
In order to complete this step successfully, you'll have to fold the egg gently with the other ingredients. Once you start making the patties, put them in the refrigerator. This way, they will keep their shape.
salmon fish cakes with panko bread crumbs
Panko breadcrumbs are one of the most common types of breadcrumbs used in Japanese cuisines. In essence, they make up most of the fried dishes. To learn about panko and what makes these breadcrumbs special click here.
Regardless, you can use panko breadcrumbs or any other type of breadcrumbs.
Thai salmon fish cakes
This is my favourite recipe twist on a fish cake recipe. Making Thai salmon fish cakes results in an explosion of flavour with every bite. Ordinarily in Thailand, Thai fish cakes are usually served as a starter.
Generally speaking, you would also be able to find Thai spring rolls and Thai turkey meatballs on the menu as well.
Nonetheless, to give these salmon fish cakes a Thai edge, you'll need the following ingredients:
To learn how to make Thai salmon fish cakes with the above-mentioned ingredients minus potato, click right here.
Don't forget to pair your Thai salmon fish cakes with a sweet chilli dip!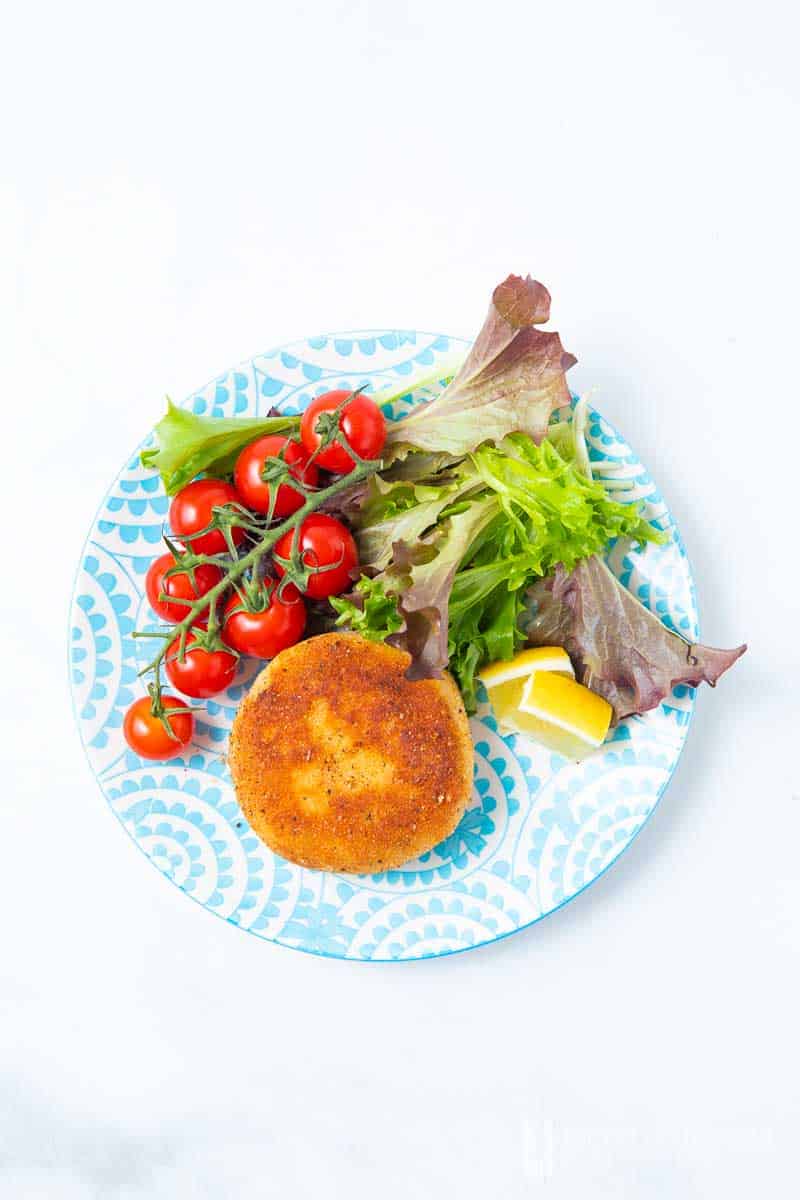 serving
I served these salmon fish cakes with a garden salad and some cherry tomatoes. Don't forget the lemon for that hint of acidity. You can also serve the fish cakes with these side dishes:
dips and sauces
Don't forget, you wouldn't want to serve these salmon fish cakes without a dip or a sauce. Dipping these mouthfuls of joy in a flavourful sauce is my favourite way to enjoy any fish cake.
You should consider the following:
Fancy a smoked salmon starter? Check out this salmon terrine!
More potato-based recipes…
Print
Salmon Fish Cakes
---
Description
Make these easy salmon fish cakes with potatoes. You can substitute salmon with different types of white fish. Feel free to use sweet potatoes instead of traditional ones.
---
500

ml (2 cups) milk

500g

(1lb) fresh salmon fillets, skinless

1

kg (2lbs) potatoes, peeled and chopped

15

ml (1 tbsp) dill, washed and finely chopped

90

ml (6 tbsp) flour

2

eggs, beaten

200g

(

7oz

) dried breadcrumbs

45

ml (3 tbsp) vegetable oil
---
Instructions
Heat the milk over high heat in a saucepan. When it begins to boil, add the salmon and season to taste.
Reduce the heat to medium and simmer your salmon for 15 minutes or until the fish is cooked.
Spoon out the fish and set aside to cool. Reserve the milk.
Meanwhile, place the potatoes in a large pan and cover with boiling water. Bring back to the boil and cook for 10-15 minutes until soft. Drain, then mash, using splashes of the reserved milk to attain the desired consistency.
Place the fish, potatoes and dill in a large bowl and stir until the ingredients are evenly distributed.
Shape into 8 large fish cakes.
Preheat your oven to 160°C/140°C fan/320°F/ gas mark 3.
Place the flour, egg and breadcrumbs in 3 respective shallow dishes.
Dip each fish cake into the flour, dust off any excess, then dip in the egg, and finally coat in breadcrumbs.
Place a large frying pan on a medium heat and add the vegetable oil.
Carefully place the fishcakes into the pan and cook for 3 to 4 minutes on each side, or until crisp and golden, turning carefully with a spatula.
Transfer the fried fish cakes to the oven and bake for 10 minutes to heat through.
Serve with a salad and fresh lemon wedges.
Notes
More milk might be needed to poach the salmon in. It depends on the size of the saucepan you use.
Prep Time:

30 minutes

Cook Time:

30 minutes

Category:

Main Course

Method:

Pan Fry

Cuisine:

English
Keywords: salmon fish cakes, fish cake recipe, fish cake with potato, traditional English fish cakes
save the recipe to your pinterest board