Have you ever tried tom yum goong? This Thai soup is excellent on a cold day or when you feel a bit under the weather. Prepare to experience tangy, spicy and sour flavours in combination with those typical Asian ingredients.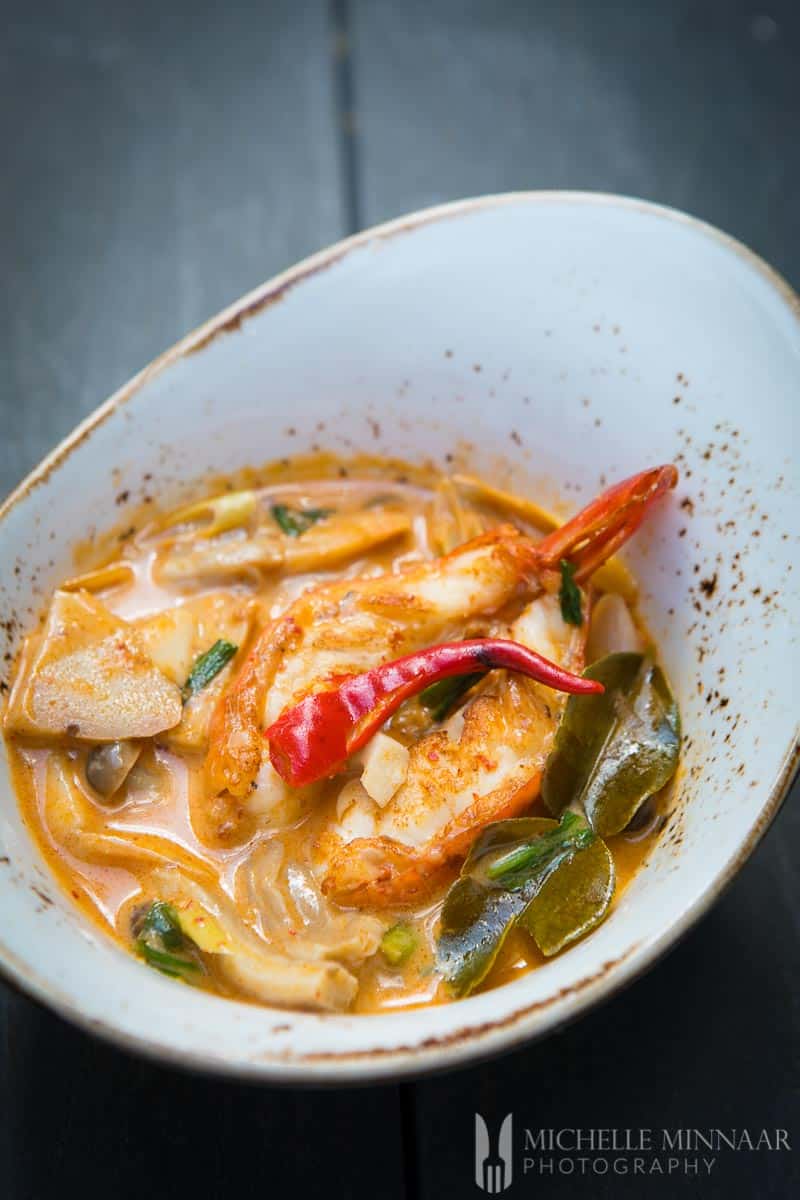 These include lemon grass, kaffir lime leaves, coriander and much more. Needless to say, preparing this Thai soup is easy and relatively quick. 
All you need to do is to buy the right ingredients and, trust me, soon it will become of your regular repertoire.
There is more than one version to tom yum. So, if you are already familiar with a version of tom yum soup, please share which one you've tried!
I hope you enjoy making this vibrant Thai soup and serve it with some delicious thai spring rolls.
tom yum with Patara
What I love most about tom yum soup, is when it's fresh and made properly. What I mean by this statement is that you feel like you are in Thailand when you eat it.
Do you know what's the secret to recreating that ultimate Thai experience? Using fresh ingredients and respecting them as they are! 
You'll definitely be able to find this approach to cooking at Patara restaurant.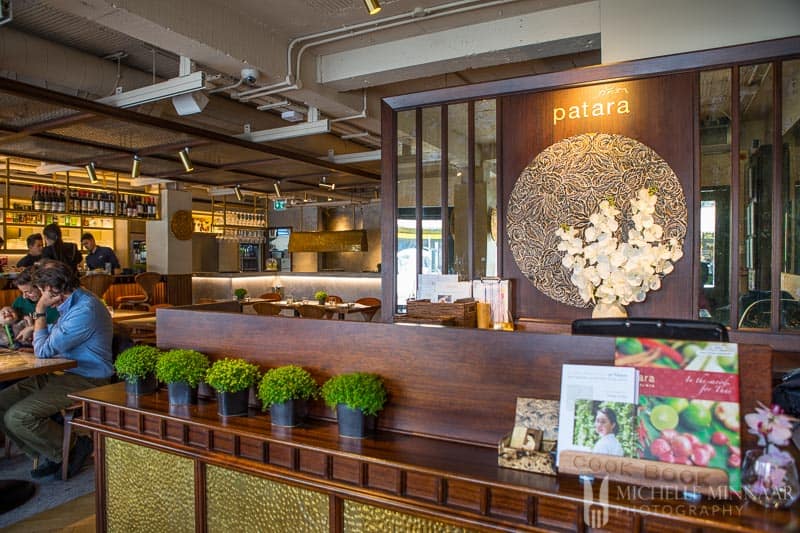 Patara is all about contemporary Thai cuisine, serving elegant dishes in a relaxed environment. The Thai word 'patara' translates to 'gracious lady' in English.
A title well-fitting for the fine Thai dining experience you'll encounter there. With all of the chefs trained in Thailand, they all have a respect for cooking with fresh quality ingredients and truly deliver dishes of high standard.
I was fortunate to experience this first hand, also witnessing everything behind the scenes in one of their cooking classes. It was a pleasant experience.
Now I know what to expect from when fine dining at a Thai restaurant. We've learned how to make all sorts of dishes, including making the tom yum soup from scratch!
branches
The owner, Khun Patara Sila-On, has been a restaurateur for more than 30 years and she has enjoyed her share of success. She has opened restaurants in London, Switzerland, Austria, Singapore, Chine and Thailand! 
The first Patara restaurant opened 25 years ago. The focus back then and today remains the same: serving great quality food that are beautifully presented.
To date,  Patara is known as one of the best Thai restaurants in London.
Lucky you if you live in the capital, because there are plenty of Patara branches in London. These include: Hampstead, Knightsbridge, Oxford Circus, Soho, South Kensington and Wimbledon.
So, if you happen to live or work around one of these neighbourhoods, make sure to pop in and check it out!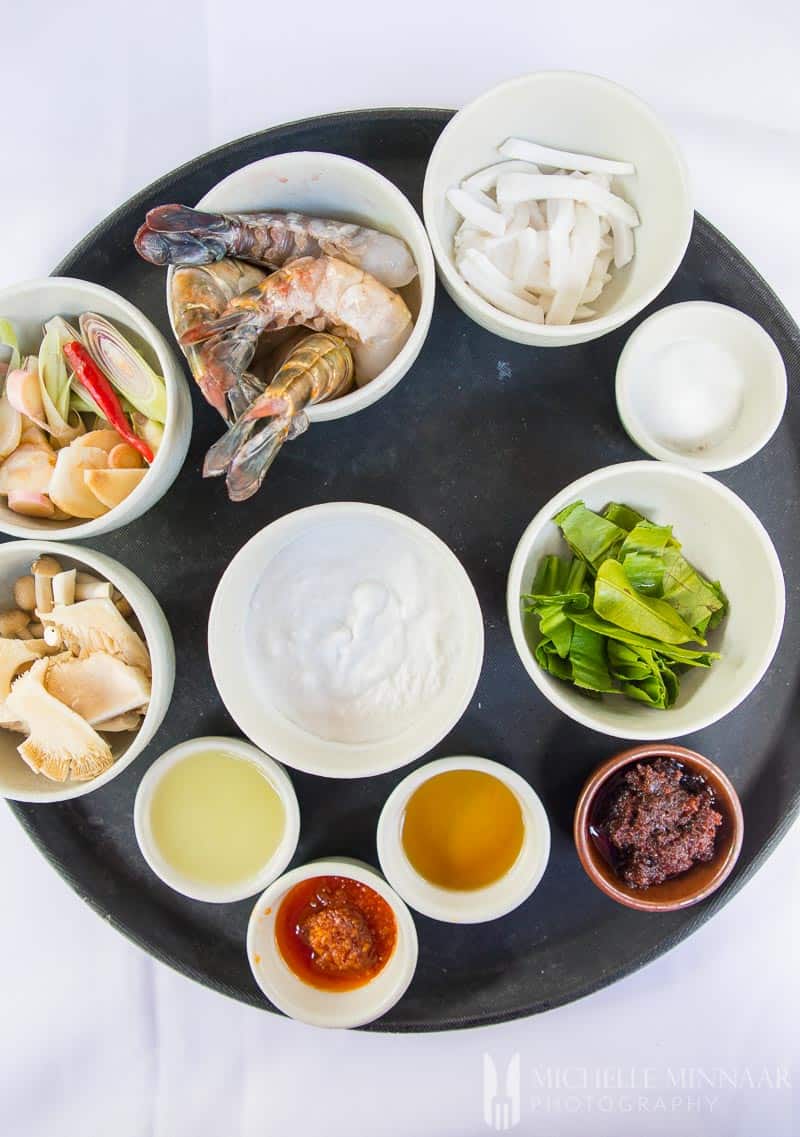 tom yum
Tom yum is a traditional Thai soup with distinct spicy and sour flavours. The Thai term 'tom' refers to the boiling process of the soup. The word 'yum' or 'yam' relates to a Thai sour and spicy salad.
In essence, tom yum is a fragrant broth that includes a variety of herbs and spices. Generally, people make it with shrimp or pork, but each variety has its own name.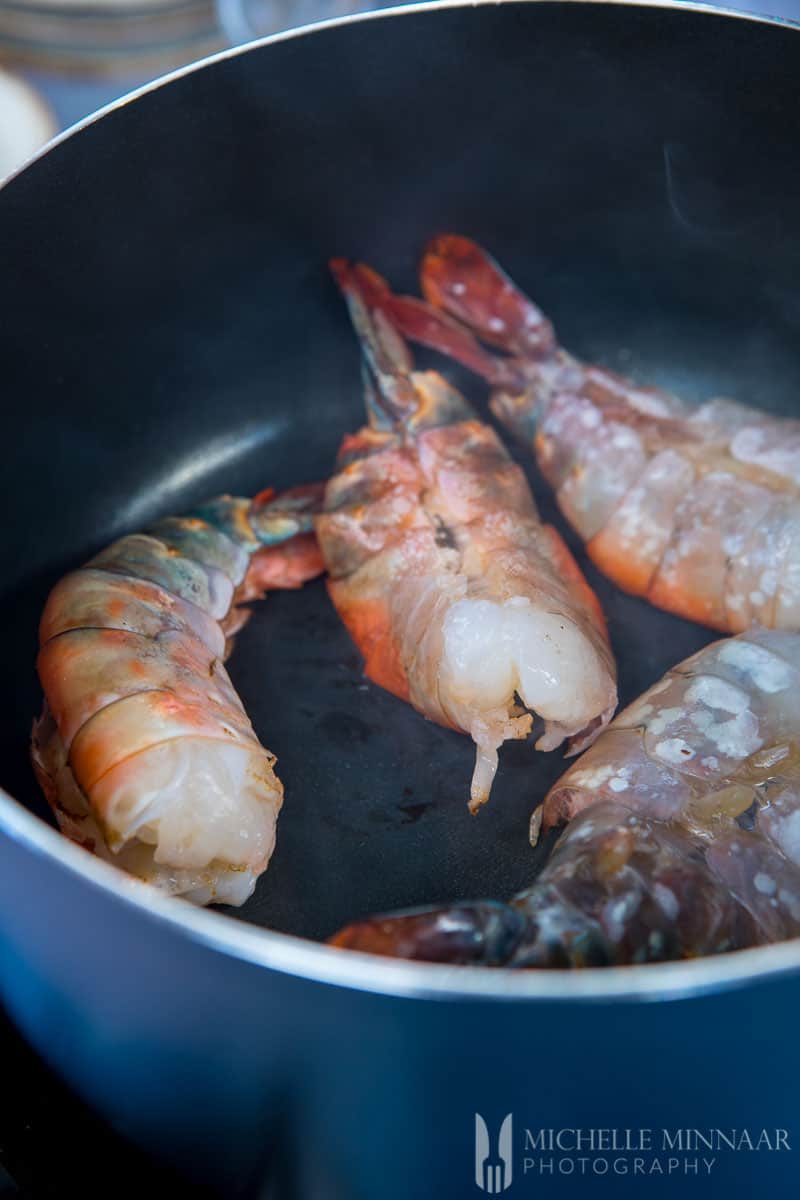 versions
This tom yum goong is a broth made of shrimp and is the creamy version. It is very similar to tom yam kung which is also made with prawns. The difference is that tom yum goong generally involves river prawns. For this version, king prawns were used.
You might also know tom yum nam khon, which combines prawns with coconut milk or evaporated milk. You add the milk as a finishing touch to the broth.
Whereas, tom yam kung cooks the broth with the coconut milk. These two are the most popular versions that you will come across in Thailand.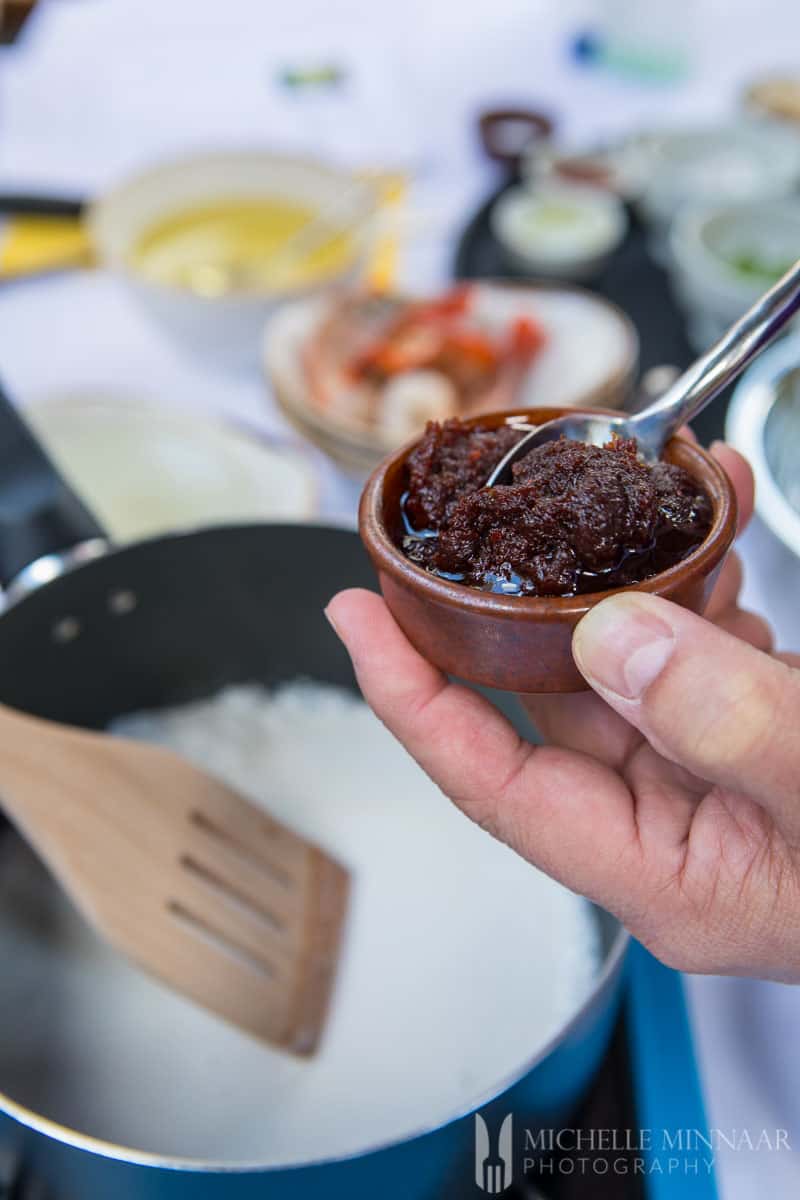 Tom yam kai is based on chicken and tom yam thale combines all types of seafood such as squid, pieces of fish, etc. If you fancy pork, then tom yam kha mu is the soup for you.
It is made with a pork leg and requires a long cooking time on low heat. For a more filling soup, try the tom yam kung maphrao on nam kho, which is basically a prawn tom yum soup with meat of young coconut.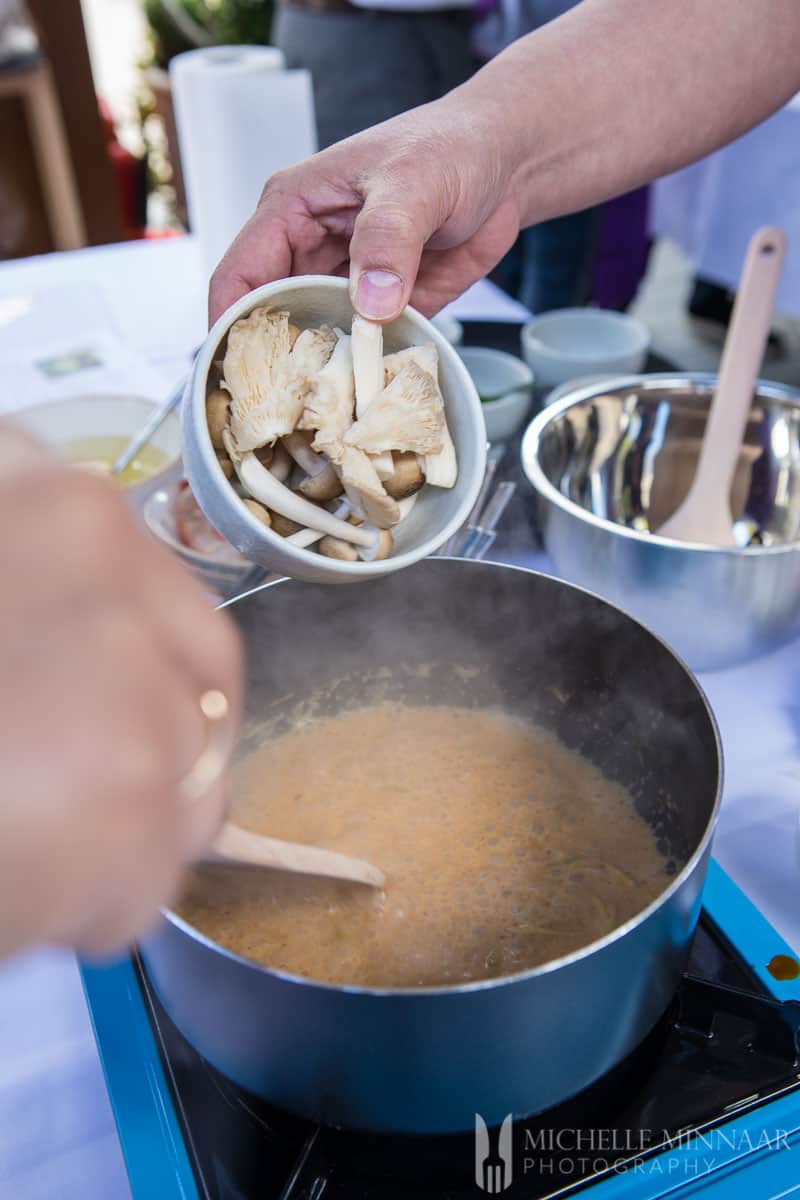 If you are looking for something simpler, go for the tom tam nam sai, which is a clear broth. Otherwise, you can also try tom yam pla which is a clear fish broth traditionally served with rice. Both are a lighter version of the soup.
As you can see, there really are multiple versions to choose from. So, which one will you go for?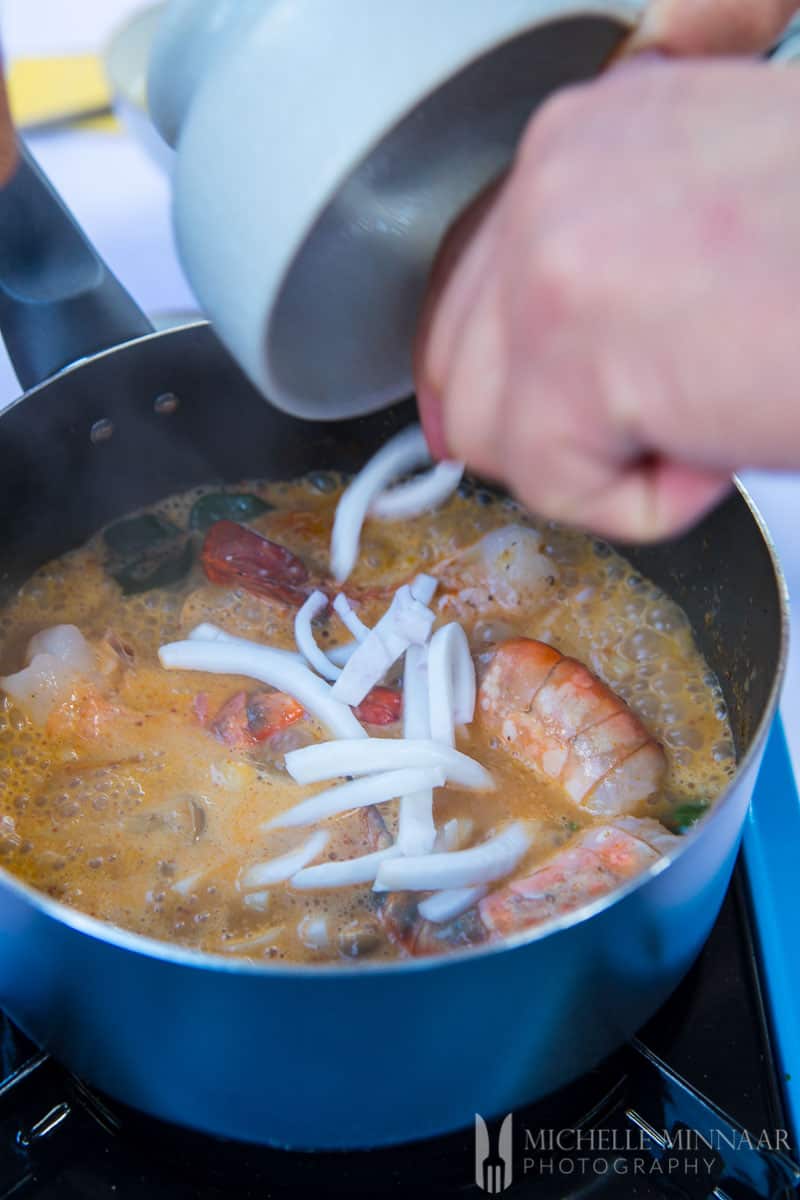 essential ingredients
I highly recommend you visiting an Asian store to source the essential ingredients. These include lemongrass, kaffir lime leaves, fish sauce, galangal, lime juice, coriander and chilli peppers. Naturally, you'll also need to buy the tom yum paste unless you'd like to make it yourself.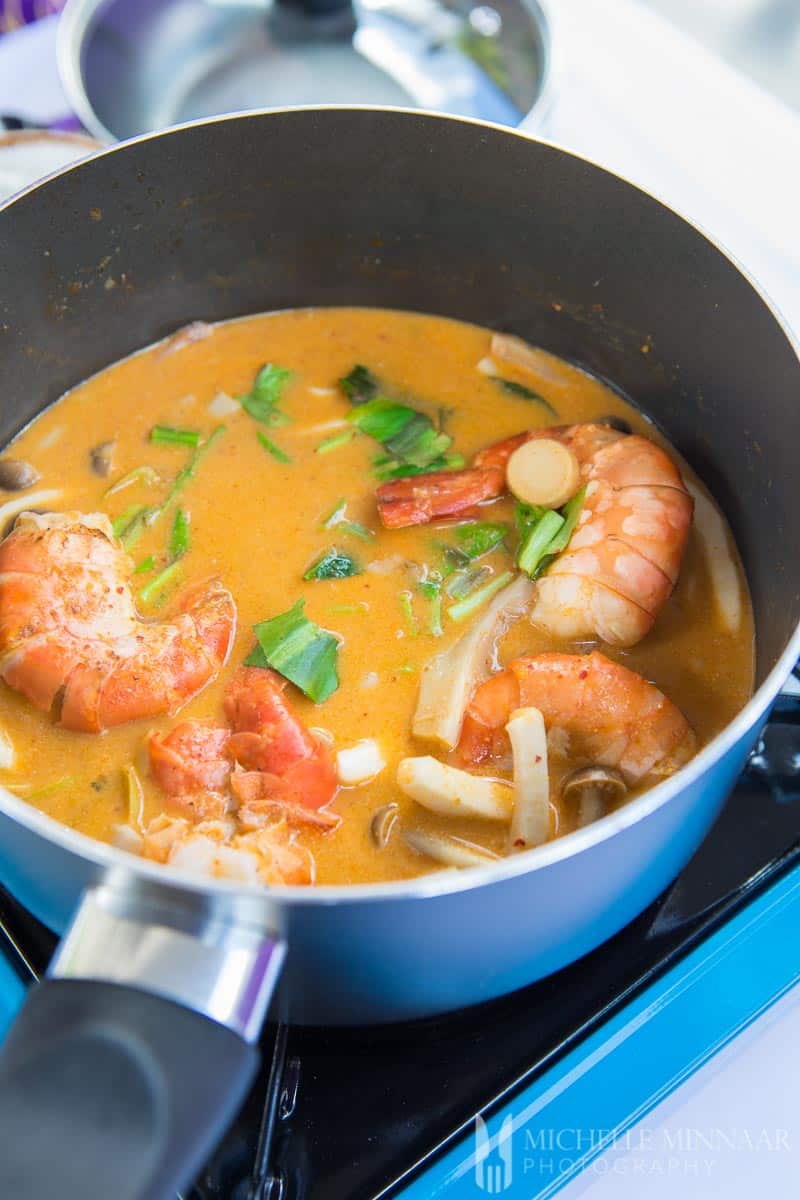 The tom yum paste is also know as 'nam prik pao'. This is the basis of the soup. To make it from scratch, you'll need to roast some chillies and then add the fresh garlic and shallots.
What I love about the tom yum paste is that you can control the intensity of the Thai flavours as well as the level of spiciness. The more paste you add, the sharper and spicier your tom yum soup will be.
If you feel like you've added too much, simply dilute with water or coconut milk.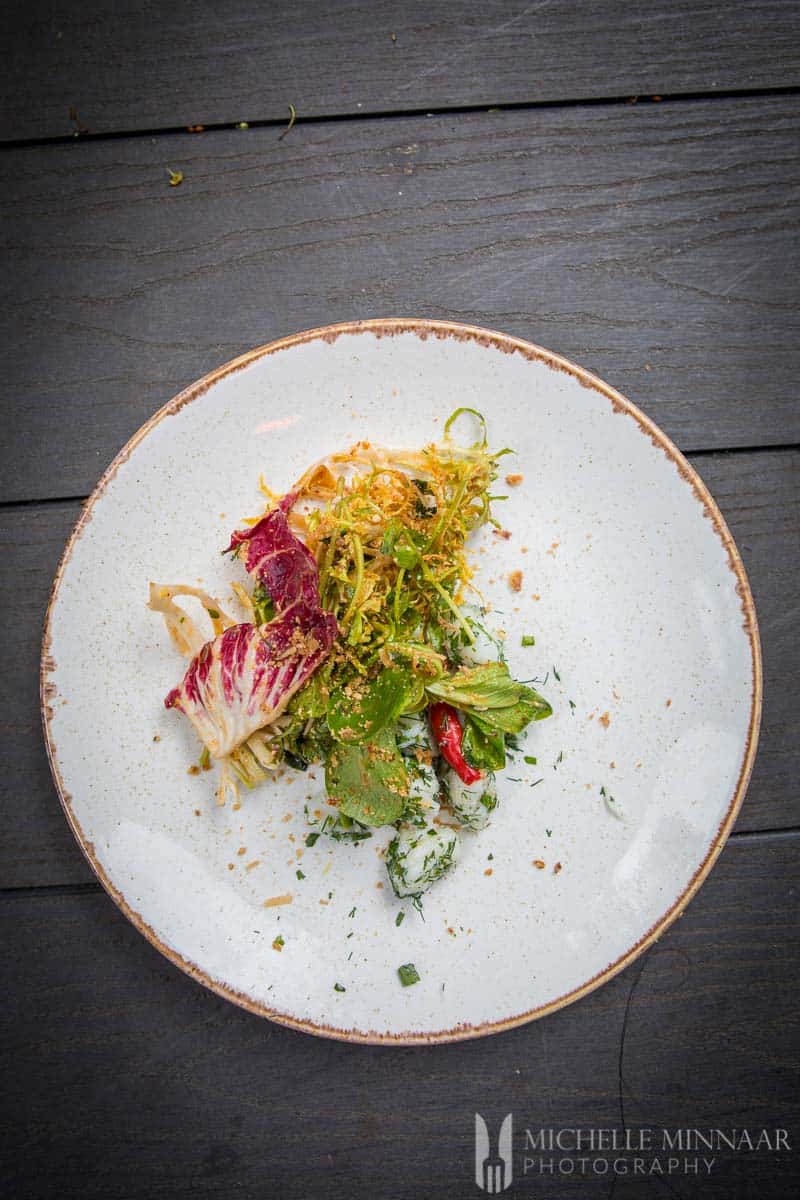 other ingredients
There are other ingredients you can add to your tom yum soup. For example, you can include mushrooms, fresh coriander leaves, small slices of ginger, tomatoes or fresh thai basil. 
You can also add more fresh vegetables like peppers or peas. Of course, you can also add different types of liquids such as coconut milk or evaporated milk.
Just inspire yourself with all the types of varieties mentioned above and make your favourite combination! Don't forget to top the tom yum soup with fresh coriander leaves and hints of lime juice for that extra freshness!
serving
You can serve this tom yum soup as a starter. I also like to double up and serve it as a main course.  If you are looking to serve the soup as a starter, serve some Thai turkey meatballs or Thai fish cakes.
It could be the perfect entrée for your dinner guests. Next, you can go for a typical main courses such as the green Thai chicken curry or even a whole baked Thai sea bass.
Print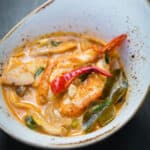 Tom Yum Goong
---
Description
Tom yum goong is one version of traditional Thai tom yum soup. Learn how to make the coconut milk version of this Thai soup at home. It's quick and easy!
---
8

raw king prawns, shell on and cleaned

5

ml

(1 tsp) peanut oil

400

ml

(1 can) coconut milk

60

ml

(4 tbsp) roasted chili paste

600

ml

(1 pt) chicken stock

50

g

(2oz) lemongrass, washed and crushed

15

g

(1/2oz) galangal

1

Bird's-eye chilli, washed and finely chopped

150

g

(5 oz) oyster mushrooms, cleaned and chopped

30

g

(1oz) fresh coconut meat

75

ml

(5 tbsp) fish sauce

4

kaffir lime leaves, washed

75

ml

(5 tbsp) lime juice
Cilantro, for garnishing
Red chilli, for garnishing
---
Instructions
Sear the prawns in the oil on medium high heat until golden brown. Remove from heat.
In the same pan add the coconut milk and bring to the boil.
Add the chili paste and let the mixture simmer for a minute.
Pour in the stock, lemongrass, galangal and chillies and continue to simmer until the flavours are infused.
Next, add the mushrooms, coconut meat, fish sauce and kaffir lime leaves.
When the mushrooms are cooked, add the prawns back in.
Ensure the prawns are cooked through and season with lime juice.
Taste and add more fish sauce if necessary.
Garnish with cilantro and chilli. Serve immediately.
Notes
Add more chilli if you like your soup spicier.
You can experiment with different mushrooms, e.g. Shimeji.
Prep Time:

20 minutes

Cook Time:

20 minutes

Category:

Starter

Cuisine:

Thai
Nutrition
Serving Size:

1 serving

Calories:

632

Sugar:

9.2 g

Sodium:

2471 mg

Fat:

29.8 g

Saturated Fat:

21.8 g

Carbohydrates:

45.2 g

Fiber:

7.1 g

Protein:

47.9 g

Cholesterol:

5 mg
save the recipe to your pinterest board
P.S. This is a sponsored post.