Amaretto cherries are one of those things that costs a fortune at the delicacy store. Generally, they are also sold out during the holiday season because they're an excellent addition to many festive dishes. Little do people know, that they can make them from scratch in their own kitchens.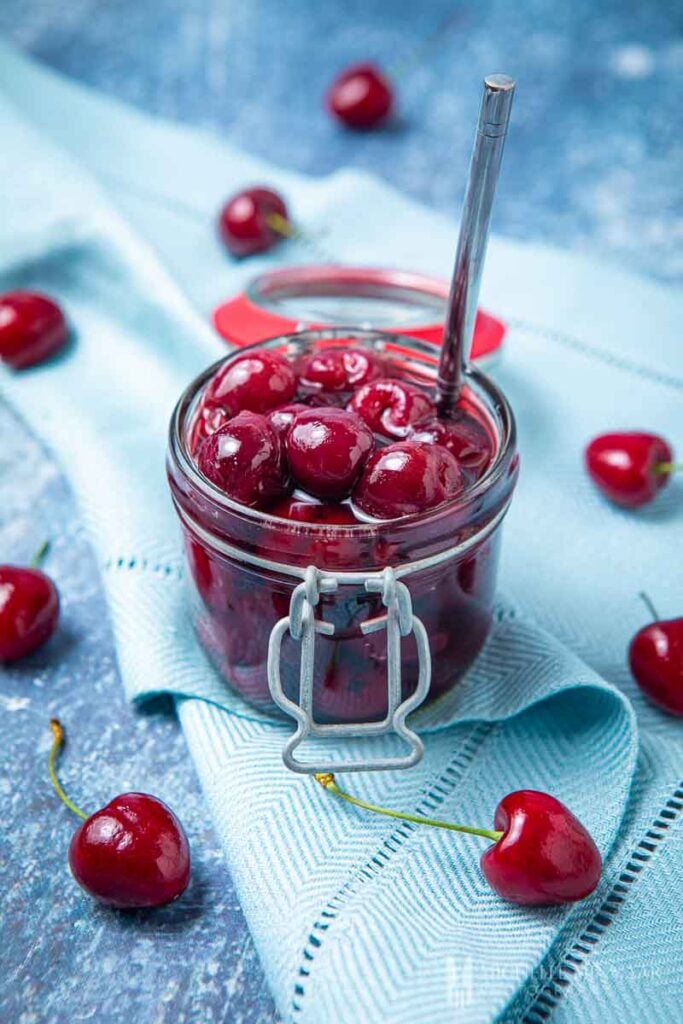 Here's the added value of making Amaretto cherries from scratch. First of all, they won't contain any additives or preservatives as you know exactly what's going into the recipe. Second of all, you can make a large batch at no extra cost as compared to purchasing a jar at full retail value.
Thirdly, Amaretto cherries have an excellent storage life. So you can just open up a jar whenever you feel like you need a topping to a homemade ice cream recipe or homemade pâté. Lastly and most importantly, you get to keep the bottle of booze (which can also keep forever if stored properly in a cool place).
So, as you can see, there is definitely something to making homemade Amaretto cherries. If you get questions on where you've managed to source such an excellent jar of boozy cherries, you can proudly refer them to your new favourite Amaretto cherry recipe! Enjoy and let me know how it works out for you.
products you need for this recipe
Here's a list of the top products you need to know about when it comes to these flavourful and boozy Amaretto cherries: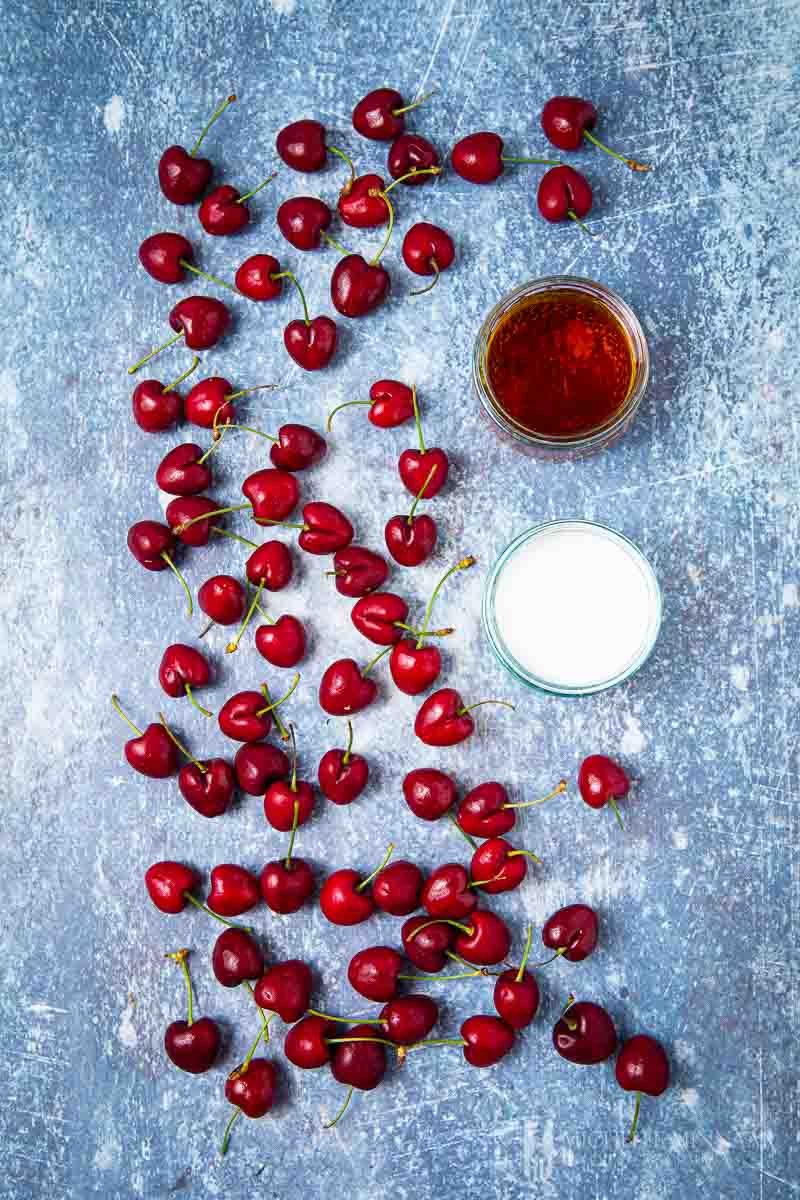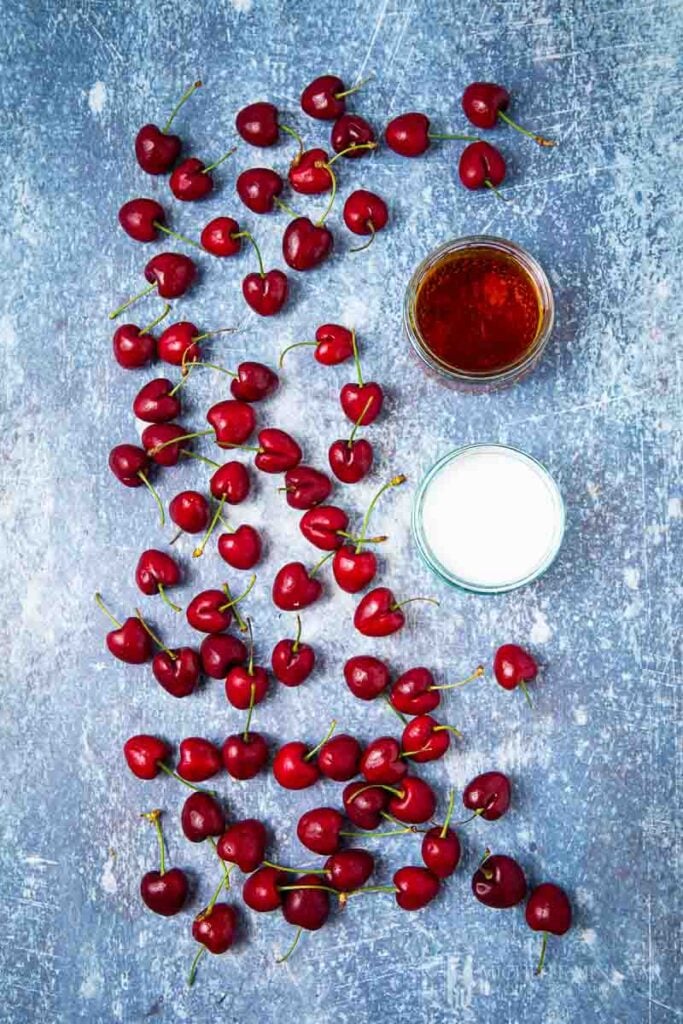 Amaretto cherries recipe
An Amaretto cherries recipe is to die for. The cherries take on a lovely booze-infused flavour that's not overpowering. Moreover, the addition of the alcohol helps preserve the cherries, hence extending their shelf live. If you decide to go for some delicious Amaretto cherries, then you will not regret making your own this year. In fact, I have a feeling that you might also be tempted by my exceptional brandied pears recipe.
Let me know if you stuck to the alcohol in this recipe or if you decided to go for another type of alcohol. I'd love to know.
Which cherries are best for preserving?
In essence, sweet and sour cherries work well for jams, sauces and preserves. The same goes for this Amaretto cherries recipe. Nevertheless, first of all, it's all about the selection of the cherries. If you go to the supermarket, make sure you select cherries which are not discoloured in any way. Keep an eye out for browning. This means that the cherries are old and are in fact decomposing.
In case you are wondering about specific cherries for this cherry recipe, there are a couple I can recommend:
Lambert cherries – large and firm cherries (best in baking because they hold well)
Picotta cherries – firm, large and full-flavoured (perfect for Amaretto cherries)
Tulare cherries – more tart (not as sweet)
Bing cherries – these are the most popular variety of sweet cherries (also excellent for making Amaretto cherries)
Lapins cherries – these are quite dark and sweet (hard to find in the store)
By all means, avoid the Rainier cherries for this recipe. They won't provide you with that dark red colour you are looking for.
Drunken cherries
Amaretto cherries can also be called drunken cherries as they do have a substantial amount of alcohol in them. Hence, this is an adult-only recipe. Don't serve this to minors who are under the legal drinking age.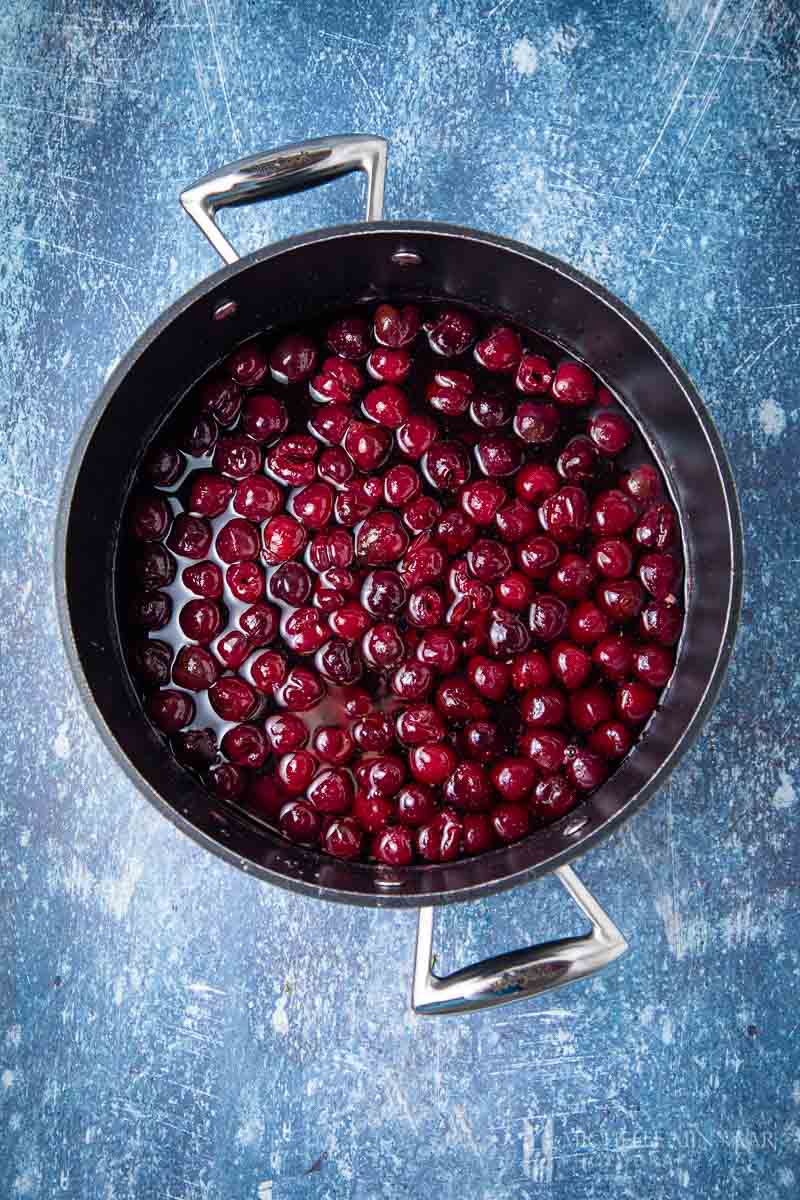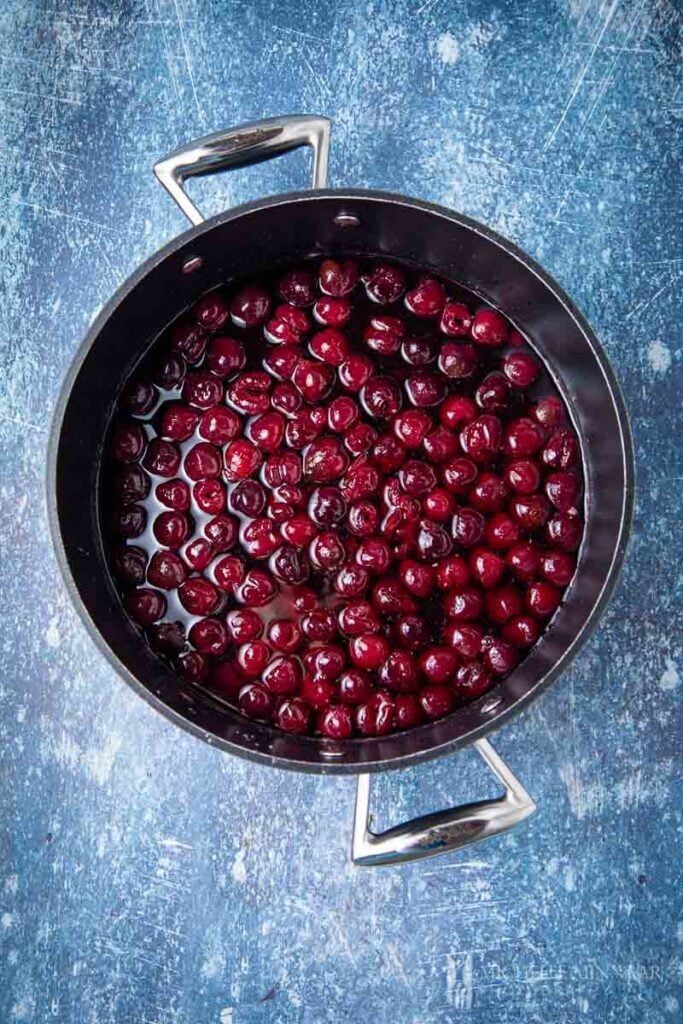 Nevertheless, alcohol has been used for making desserts for centuries. Here are just a few examples of delicious desserts which are made with alcohol:
How to use Amaretto cherries
There are plenty of methods when it comes to using and enjoying Amaretto cherries. You can pair them with both savoury and sweet recipes.
Savoury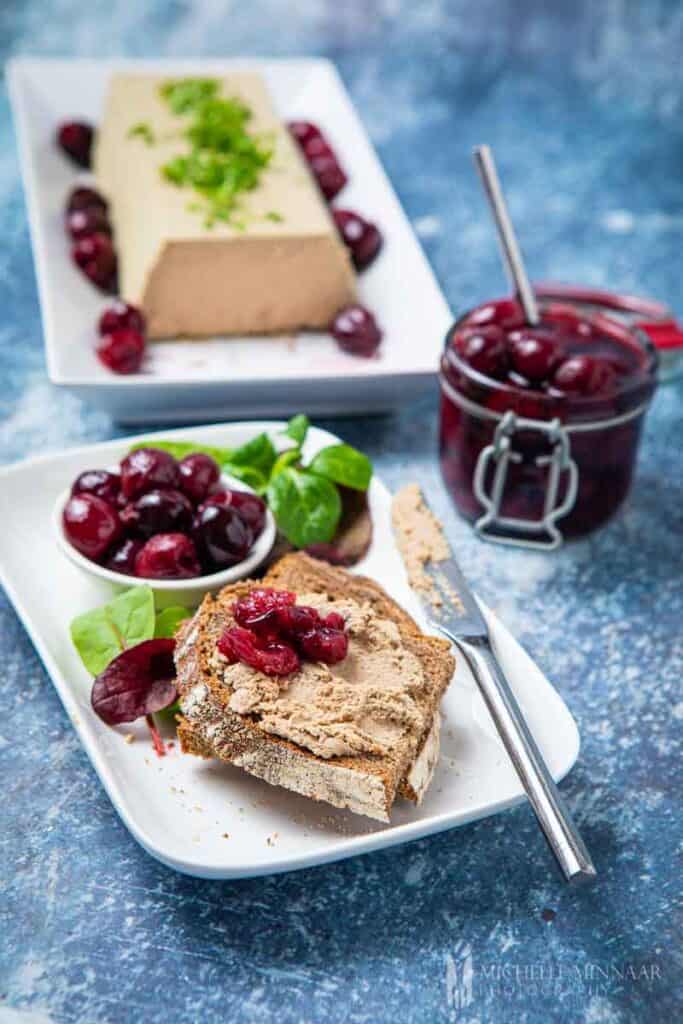 However, my favourite way of enjoying this recipe is with cheese. Especially goat's cheese! It's not uncommon to serve the cherries with a savoury cheese platter.
Sweet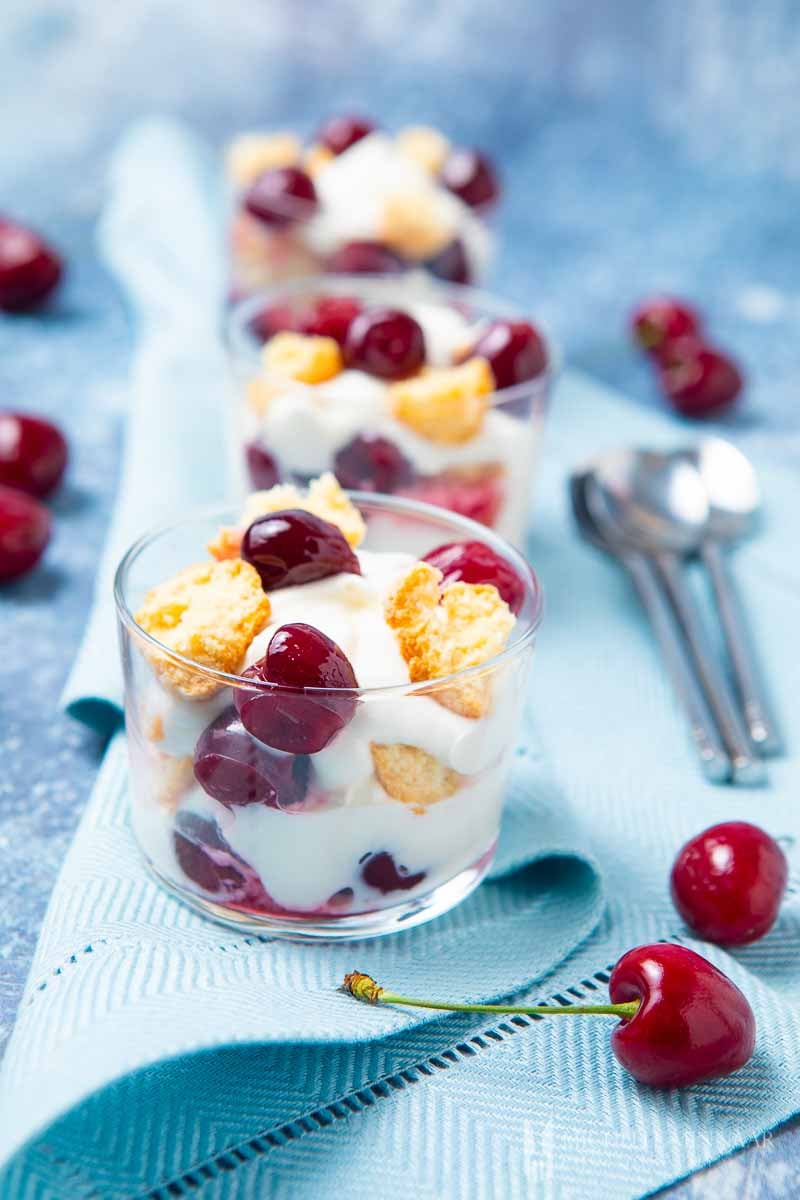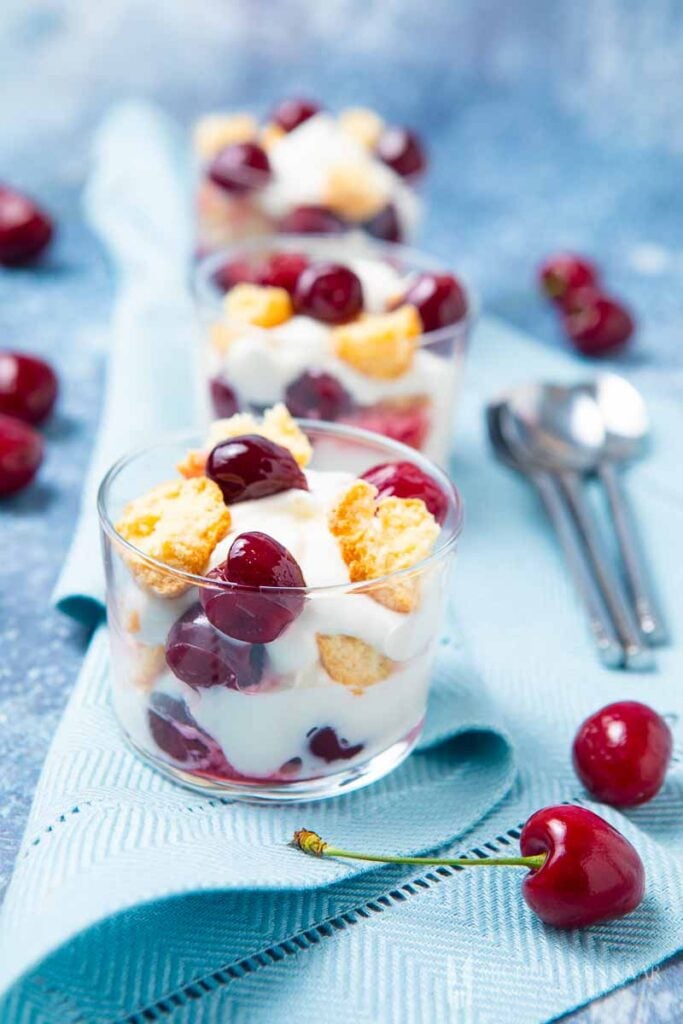 Amaretto cherry liqueur
If you have leftovers, then add more of the Amaretto and dilute the cherries with a bit of water. Next, blend them together and pass them through the sieve.
You'll be left with a delicious Amaretto cherry liqueur which you can use to spice up these festive cocktails below:
How would you enjoy these Amaretto cherries? Let me know in the comments section below.
Print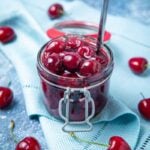 Amaretto Cherries
---
Description
Learn how to make Amaretto cherries. The recipe also works with rum, cointreau and other types of alcohol. Best served with vanilla ice cream.
---
375

ml(1 1/2 cup) water

155g

(3/4 cup) caster sugar

1

kg (2lbs) cherries, washed and pitted

125

ml (1/2 cup) Amaretto
---
Instructions
Place the water and sugar in a large saucepan of a low heat and stir until the sugar has dissolved.

Tip the cherries in and simmer for 5 minutes or until cherries are tender. 

Remove from the heat, pour in the liqueur and stir.

If you're impatient, you can serve it warm immediately with vanilla ice cream. 

Alternatively, pour into sterilised jars and seal. Let the cherries steep for at least 4 weeks for maximum flavour. Enjoy!
Notes
The recipe provided is basic. Feel free to add your own spin to it to spice it up to your liking. E.g. orange peel, star anise and or cinnamon sticks make lovely additions to give it a Christmassy feel.
Prep Time:

15 minutes

Cook Time:

10 minutes

Category:

Dessert

Method:

Boil

Cuisine:

American
Keywords: amaretto cherries, homemade edible christmas gifts, American cherry dessert, amaretto dessert recipe, cherry dessert