This recipe tops all the pesto recipes out there! It is a MUST for the upcoming spring. Your friends, vegans and omnivores alike, will absolutely fall in love with this avocado pesto, I promise you. The best thing is, you can serve it in so many ways that you can make a full batch of the pesto, and keep reusing it with different dishes. Whether it's adding the avocado pesto as a sauce for pasta or using it as a spread, the avocado pesto always impresses at any occasion!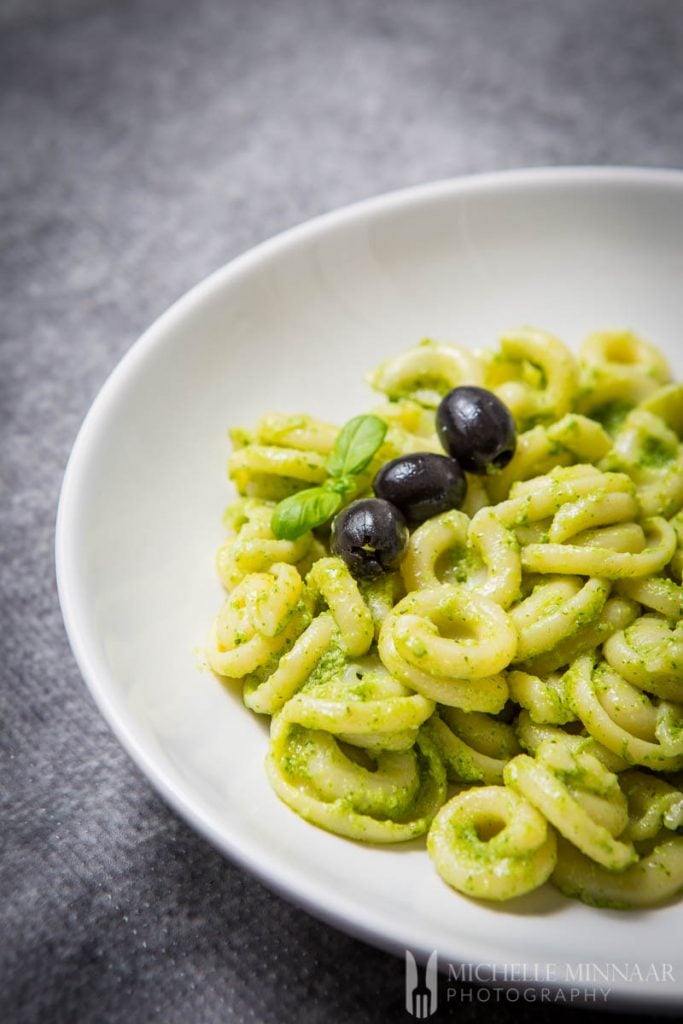 What is Pesto?
Pesto is defined as crushed basil leaves with garlic and pine nuts. You can do it manually, use a hand blender or a classic food processor to mix the ingredients together along with Parmigiano-Reggiano. Don't worry, blend as much as you want! The more you blend, the smoother the consistency of the pesto.
Origin of Pesto
Pesto originated in Italy. Basil pesto is usually known by the name of Pesto alla Genovese. Why you might ask? The herb came from the Italian town called Genoa. The latter is the sixth largest city in Italy located in the Gulf Coast of France. If you visit Genoa nowadays for holidays, make sure you have pasta with basil pesto. It will blow your mind and you might actually start to consider making your own pesto. In fact, it's not difficult at all!
History of Pesto
There is no doubt that the Romans used to eat pesto. Perhaps it wasn't avocado pesto, but they definitely had their own ancient version. In the ancient roman times, they used to eat a paste called "moretum". This recipe called for crushed garlic, cheese, herbs and vinegar. Did you know that the pesto recipe is so old, that in fact it was used in the medieval times? At that time, they defined pesto as crushed walnuts with garlic. Would you dare to try it? The first ever introduction towards the addition of basil was in the late 1800's. In terms of popularity, canned pesto only made it to North America in the late 1900's. What a shame, right?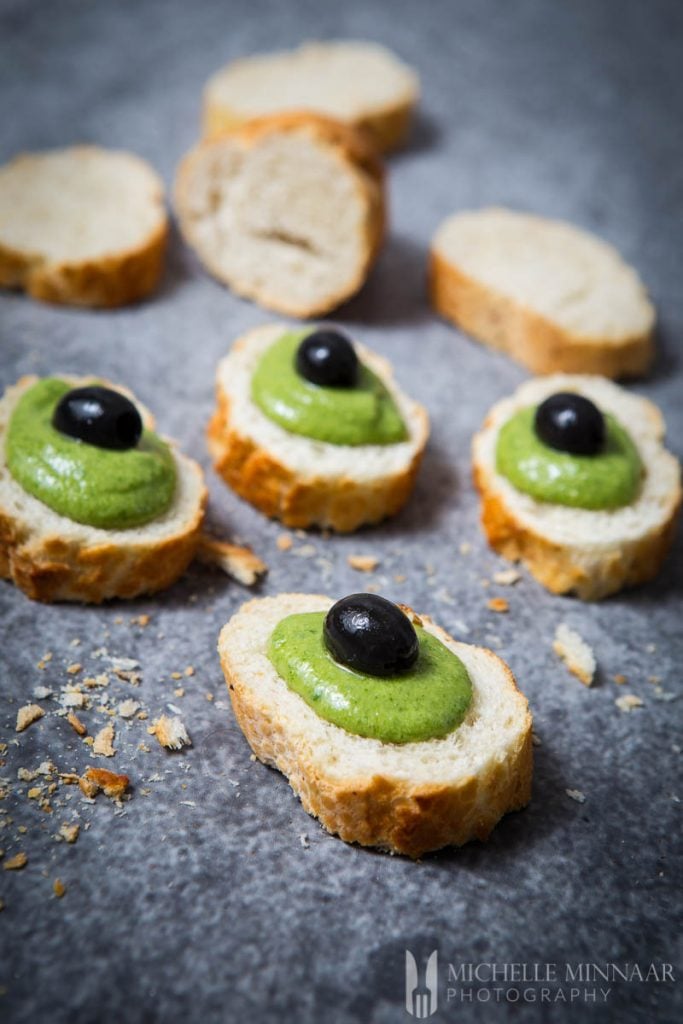 Why make your own Pesto?
The number one reason I can give you is that its super easy! You just throw in the desired ingredients and press the button. That's doesn't sound too hard, does it? Why should make avocado pesto? The number one reason I can give you is that it's delicious! It's green, it's healthy and it's great! It takes less than ten minutes to prepare. It's also very new. People don't usually consider including avocado into pesto, so if you have a dinner party, you will surprise your guests.
Can I buy avocado pesto anywhere?
Avocado is something that should be enjoyed fresh. Of course, you can buy the Pesto Alla Genovese in the supermarket. Some cans' contents are greener that others. In terms of avocado pesto, I have never seen a can in Waitrose or any other supermarkets. I wouldn't recommend buying a pre-made sauce, especially since it takes less than ten minutes to prepare. Commercial sauces contain preservatives most of the time, which aren't good for you.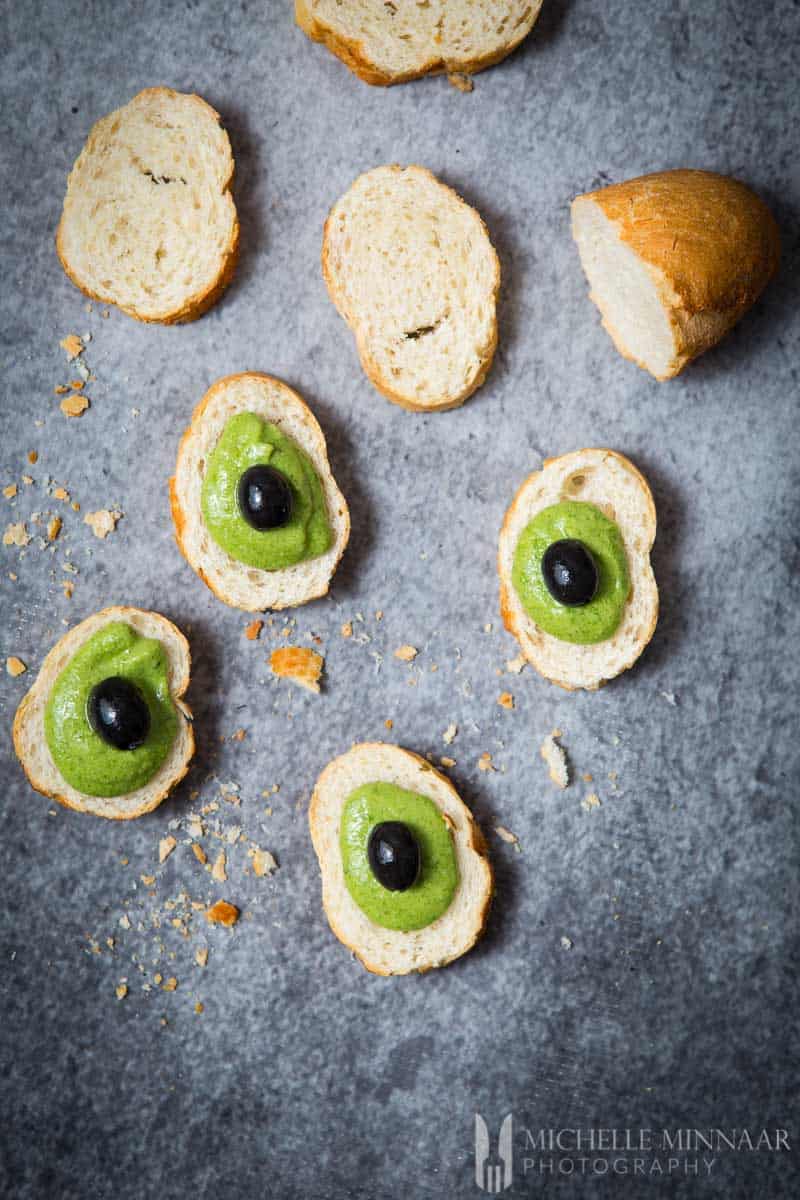 Why avocado pesto instead of normal pesto?
It's vegan! Instead of using cheese, I used avocado, which makes this version healthier in terms of fat and calories. I tried sticking to the authentic recipe as much as possible though! If you are lactose intolerant, this is for you too!
Practical information for avocado pesto
Add lemon juice to the avocado pesto, which prevents it from browning. I have one more excellent tip for preventing the browning of the avocado pesto. Don't throw away the avocado stone! I know this sounds crazy, but it works. This trick also works with guacamole. Simply, keep the stone with the mixture and refrigerate. It won't brown as fast!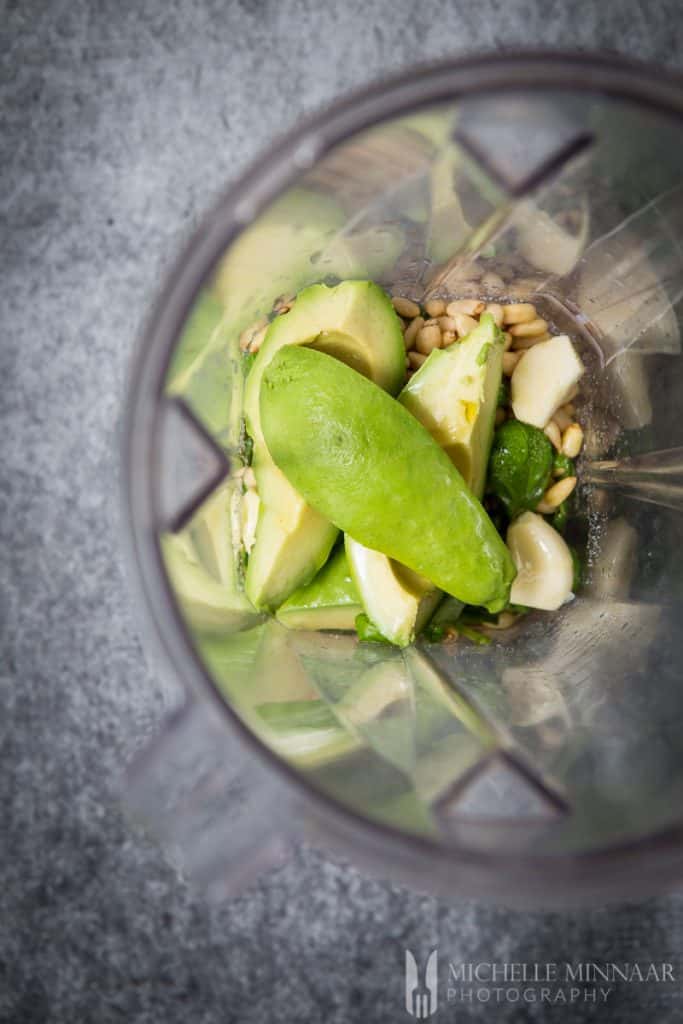 Why does my basil always die?
Fresh basil is a must. Luckily, we can get fresh basil at almost any local supermarket. The big question is: can you keep it alive? I have always had a dilemma in terms of keeping my basil for as long as possible. Here are a few tips I can give you to increase your basil plant's longevity:
Give the plants at least six hours of sunlight every day.
Keep the soil moist. Don't overwater! Just make sure you water enough to keep the soil a little wet.
You should buy a liquid fertiliser, this will keep the plant alive longer.
Don't feel guilty if you use the plant. It's good for the plant!
You need to make sure that you have a container with bottom drainage.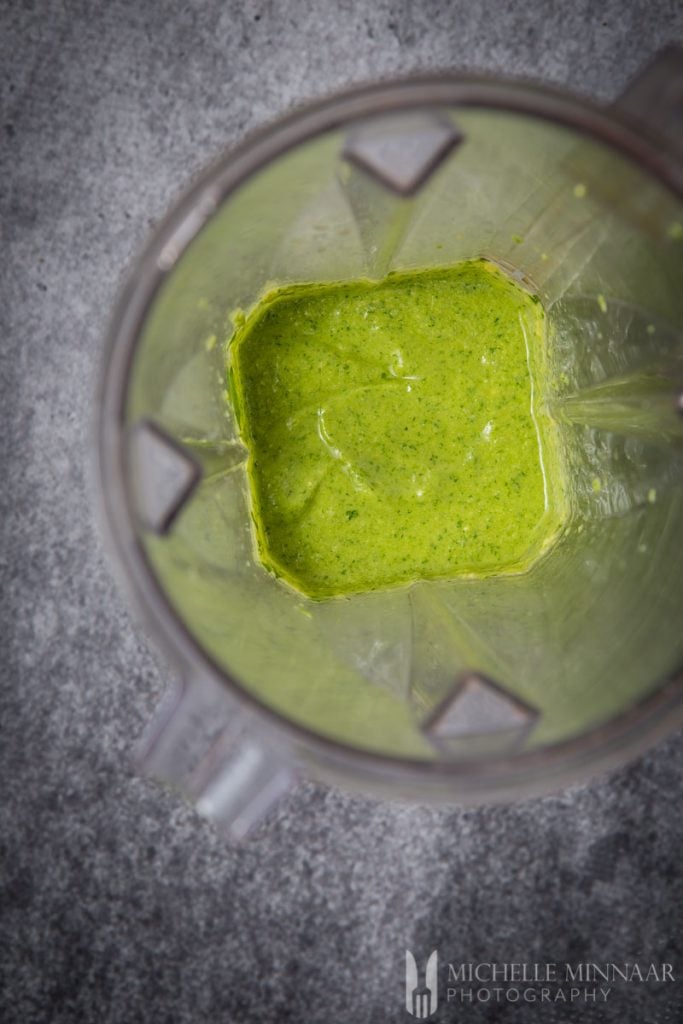 Health benefits
A lot of people these days include avocado in their diet due to its "good" fats. Did you know that avocado contains more than 20 vitamins? It is rich in vitamin B, C and E. The fruit is also a source of potassium, lutein and folate. Avocadoes don't have a high sugar content, therefore it will keep you fuller for longer.
Herbs and Spices
I guess there is no need to tell you that coriander is one of the best herbs to top avocado sauces with, even guacamole. Other herbs and spices you can include:
Chives – fantastic if you are using avocado pesto as a spread.
Cumin – a little bit of cumin always adds a nice flavour. Don't use too much! Easily overdone!
Chili – this is great for you metabolism! Chili speeds up your metabolism and adds that certain kick we all love.
Black pepper – the obvious seasoning!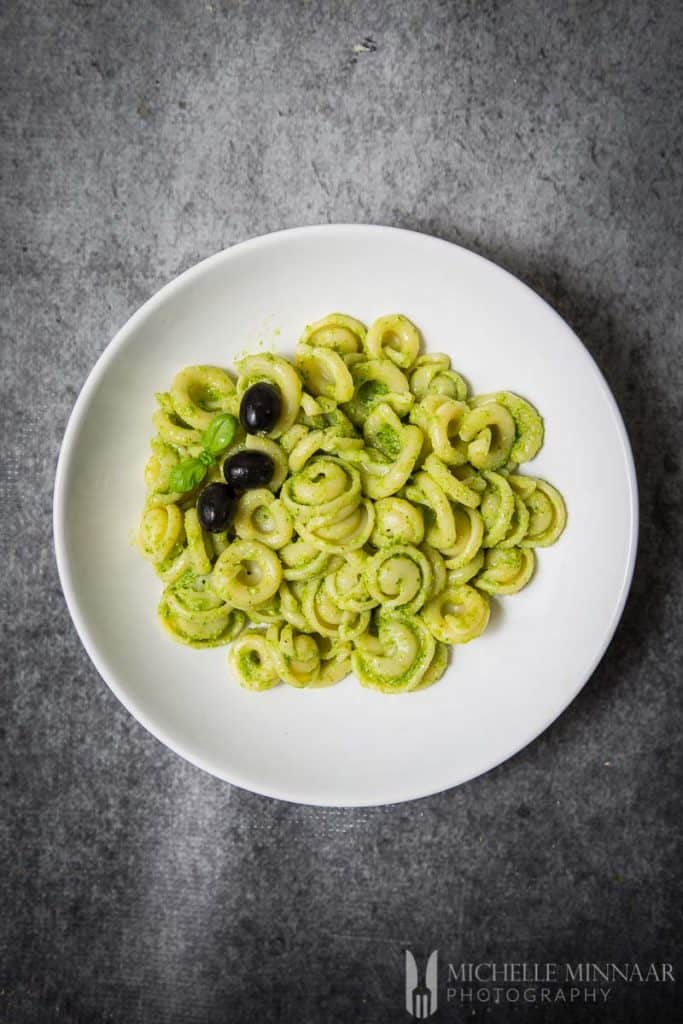 Avocado pesto
Avocado pesto can be used for so many things! I recommend to use avocado pesto with freshly made pasta. Nothing sounds better than fresh pasta with fresh avocado pesto. Yum! Top it off with some cherry tomatoes. In fact, you can make a cherry tomato salad.
You can make a really quick party snack with this recipe! Simply slice bread, use the avocado pesto as a spread and place an olive on top. Your guests won't be able to resist. You can use avocado pesto as a dip for fresh veggies as a party snack, which vegans would love.
For more inspirational recipes, be sure to check out:
Print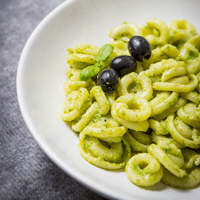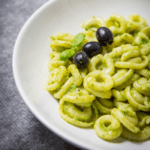 Avocado Pesto
---
Author:

Michelle Minnaar

Prep Time:

10 minutes

Total Time:

10 minutes

Yield:

4

1

x
250

ml (1 cup) basil leaves, washed

1

medium avocado, peeled

2

cloves garlic, peeled

60g

(

2oz

) pine nuts

30

ml (2 tbsp) lemon juice

125

ml (½ cup) extra virgin olive oil

2.5

ml (½ tsp) salt
---
Instructions
Place all the ingredients in a food processor and blend until smooth.
Notes
Serve this avo pesto as you would any pesto. In the photos I served it with pasta and crostini, topped with black olives. Easy!
Nutrition
Serving Size:

1 serving

Calories:

198

Sugar:

1 g

Sodium:

192 mg

Fat:

17.2 g

Saturated Fat:

1.9 g

Carbohydrates:

9.8 g

Fiber:

4.1 g

Protein:

2.8 g
save the recipe to your pinterest board