Any true Indian recipe will call for a pairing with a fully flavored chutney. This Bombay chutney recipe is just the chutney to do the trick.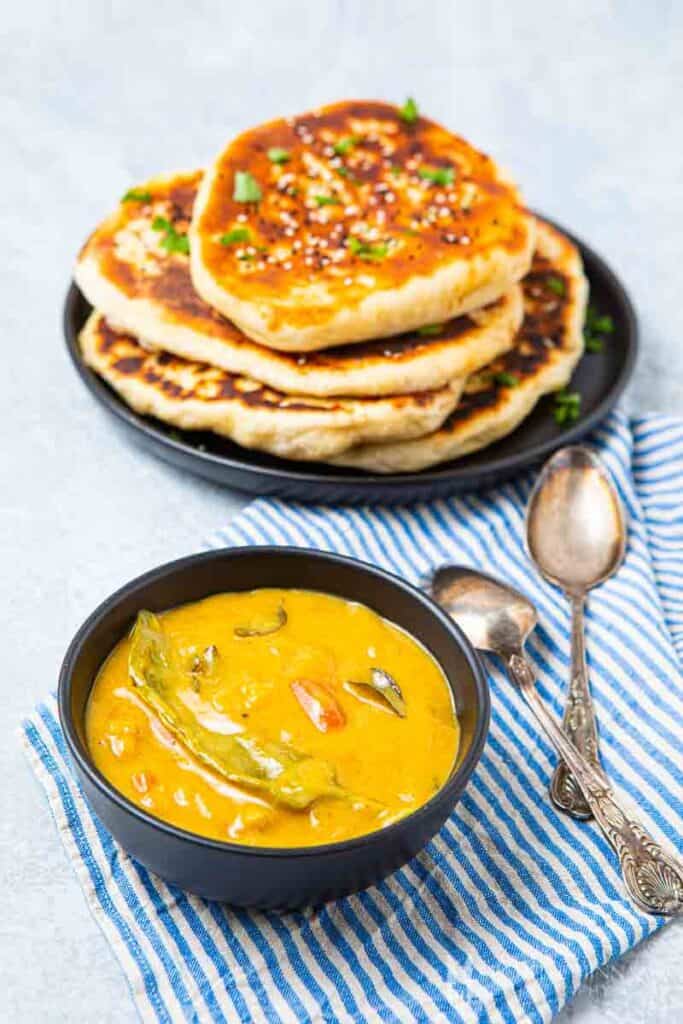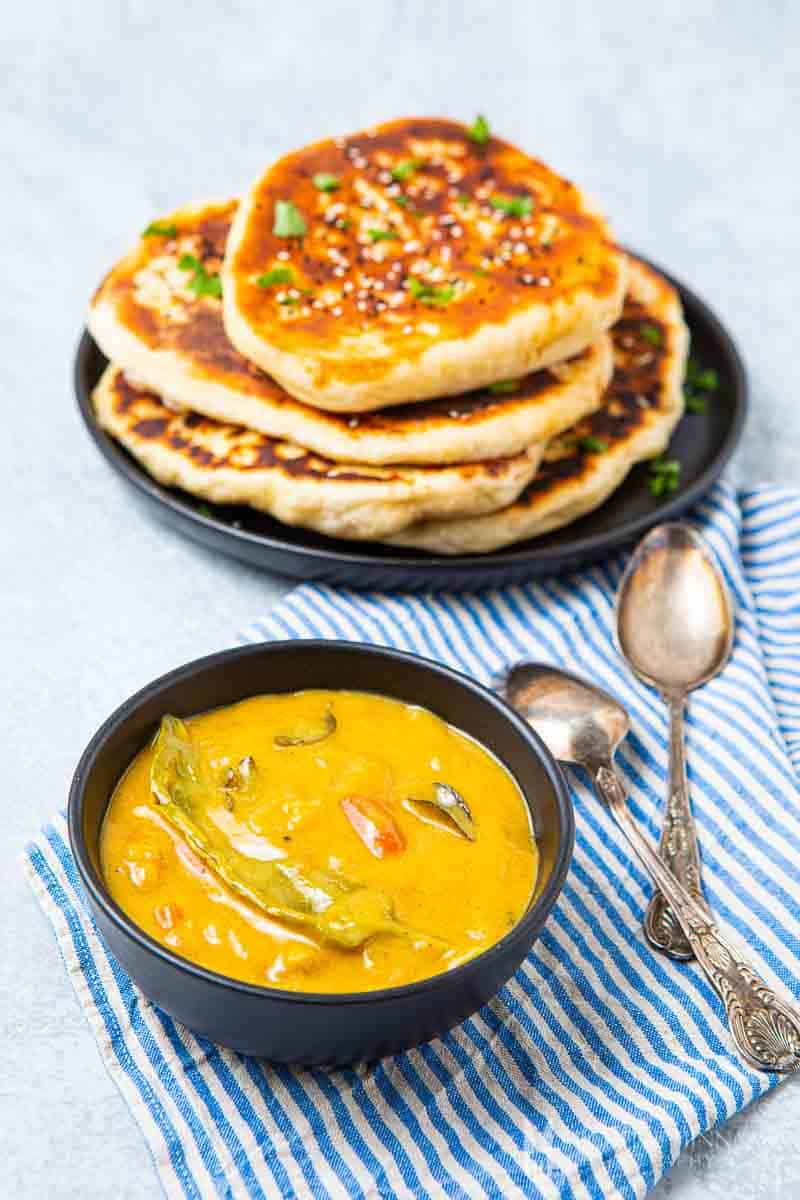 Spices have never been more accessible than they are now. Hence, making this Bombay chutney from scratch shouldn't present any challenges regarding getting the right ingredients.
That being said, mastering your own chutney is like mastering your own curry base sauce. You'll never go for the purchased jars again, that's a promise.
The total time to make this chutney is approximately 40 minutes. Therefore, if you had any misconceptions that chutney making is time-consuming, this Bombay chutney will prove you wrong.
I'm excited to read about how you'll pair your chutney recipe!
products you need for this recipe
Before you try your hand at this Bombay chutney and if you are new to chutney-making, then you should take a look at which products you'll need.
The best part about sourcing Indian ingredients and spices is that the products have a long shelf life. They practically last forever.
In either case, take a look below and see what you need to make this flavorful Indian chutney recipe:
chickpea flour – an excellent gluten-free substitute. You can also make fabulous falafel recipes like this one with chickpea flour.
asafoetida spice – many people have never even heard of this ingredient, hence it's good to buy it online. Otherwise, you can consider these 9 asafoetida substitutes.
storage jars – make sure to go for jars which have an airtight seal. This prevents any leakage and ensures that your Bombay chutney stores well.
naan / roti maker – if you are into Indian cuisine, this item is a must have in the kitchen.
iron griddle – similarly, you can make chapatis or naans using this griddle.
what is Bombay chutney?
In short, a Bombay chutney recipe is a homemade South-India-style chutney recipe.
It is spiced with traditional Indian spices such as ground turmeric, garam masala, curry leaves, and more.
Bombay chutney is also known as kadalai maavu chutney or besan chutney, In short, it is a South Indian recipe made with either gram flour or chickpea flour.
Some chefs argue that this Bombay chutney is in fact a version of a South Indian pitla recipe, which is a thick spiced gravy often served with rotis.
Generally speaking, a Bombay chutney recipe is usually paired with main dishes.
However, it is not uncommon to use it as a spread, as a topping for rice, or as a sauce for a sandwich.
If you love homemade chutneys, then you should definitely give these a go:
Which chutney tempts you the most? Might as well make two types of chutney and have a wider choice regarding your flavor combinations.
flavor variations
You can alter the flavors of this Bombay chutney in many ways.
First of all, you can control the level of heat by adding more chili powder or subtracting from the original amount the recipe calls for.
Next, to thicken up this chutney, you can add potatoes. Generally this version of Bombay chutney is served with freshly made puris.
However, you can also serve it with a peshwari naan or kerala paratha.
To intensify the flavors of the Bombay chutney recipe, you can also add a shot of raw turmeric, also known as kurkuma.
Not only will this add more depth of flavor, but it will add more color.
Since turmeric is known for its vibrant yellow color, expect the hue of the chutney to become brighter.
If you are not a fan of turmeric or can't source it anywhere, then go for any of these 14 turmeric substitutes.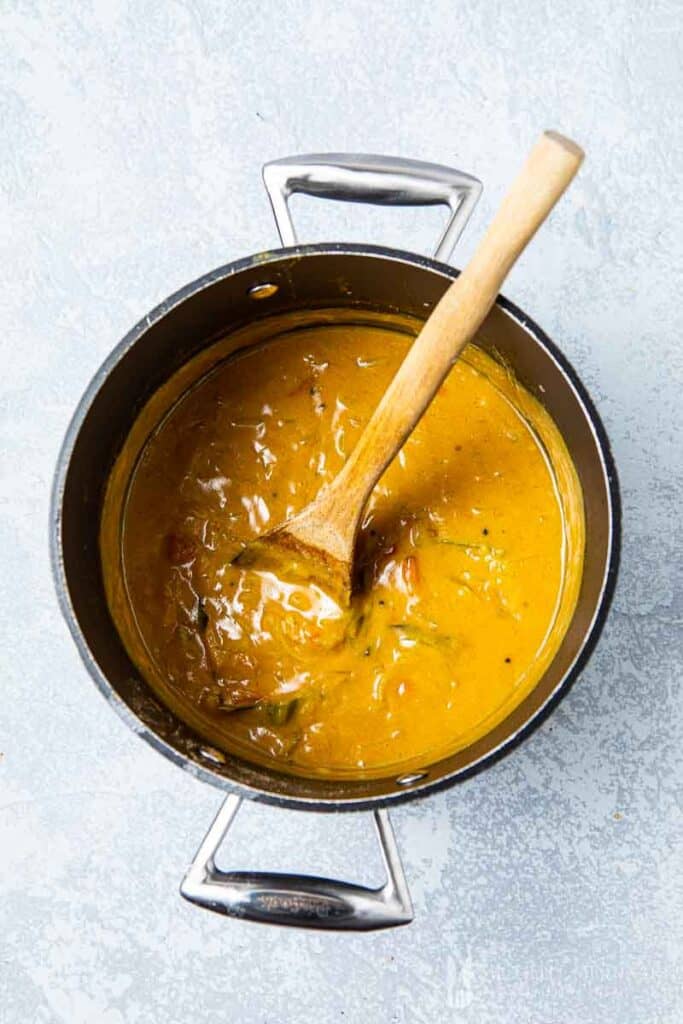 Bombay chutney calories
A Bombay chutney is a vegan chutney recipe. In addition to that, it's quite light, hence it doesn't contain too many calories for you to be concerned about.
In general, if you pair it with heavy side dishes or those which contain a lot of carbs, then your calorie intake will increase.
Hence, to keep the calorie count low, pair the chutney with roasted beetroot or these roasted carrots. Otherwise, you can also pair the chutney with these fabulous baked sweet potato fries.
You can never go wrong with a plant-based diet.
Bombay chutney sandwich
As mentioned above, you can use the Bombay chutney as a spread to add extra flavor in a sandwich.
I recommend also pairing it with some leftover Indian curry, so that nothing goes to waste!
For instance, try this peanuty vegetarian curry. Add some fresh spinach into the sandwich and you're good to go.
Otherwise, here are my recommendations for top pairings. You can pair the chutney with:
rotis
naans
dosas
idlis
chapatis
white rice (basmati or jasmine)
raw, steamed, or roasted vegetables
bread or baguette
toss it in a salad or a sandwich
The best toppings for this Bombay chutney are:
fresh red chilies or green Indian chilies
fresh coriander leaves
chives, spring onions, or scallions
fresh parsley or watercress
coconut cream
grated coconut
yogurt
I also find that a fantastic lassi goes exceptionally well with the flavors of the Bombay chutney. Enjoy!
How you would serve your Bombay chutney? Ever made a homemade chutney recipe before? Let me know in the comments below.
Print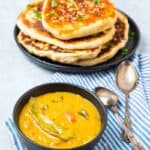 Bombay Chutney
---
Description
Make this exceptional Bombay chutney from scratch in just under an hour.
---
---
Instructions
Place the gram flour in a large bowl. 
Slowly pour in the water while whisking vigorously. Continue to do so until all the water is used up. Once the mixture is perfectly smooth, set aside.
Heat the oil in a large saucepan. 
Add the cumin and mustard seeds and wait for them to start spluttering. 
Turn down the heat slightly and add the asafoetida, curry leaves and chillies. Fry for 2 minutes.
Add the onions, and stir fry gently for 10 minutes, or until soft. 
Add the tomatoes and fry until they've gone soft and "melted" into the sauce.
Pour in the gram flour mixture and stir. 
Add the turmeric, chilli powder and garam masala to the sauce and stir. 
Place a lid on the saucepan and let the mixture simmer gently for 10 minutes. It should have thickened.
Divide the chutney between serving bowls and garnish with coriander leaves. Serve with puri, chapati, idli or dosa. Enjoy!
Prep Time:

10 minutes

Cook Time:

30 minutes

Category:

Side Dish

Method:

Boil

Cuisine:

Indian
Keywords: bombay chutney, besan chutney recipe, chickpea flour recipe, kadalai maavu chutney, gram flour recipe