I'm a purist when it comes to carrot juice. My pet peeve is when restaurants and juice bars cheat by watering it down with water or ice, or even with other ingredients. Just give me 100% carrot juice!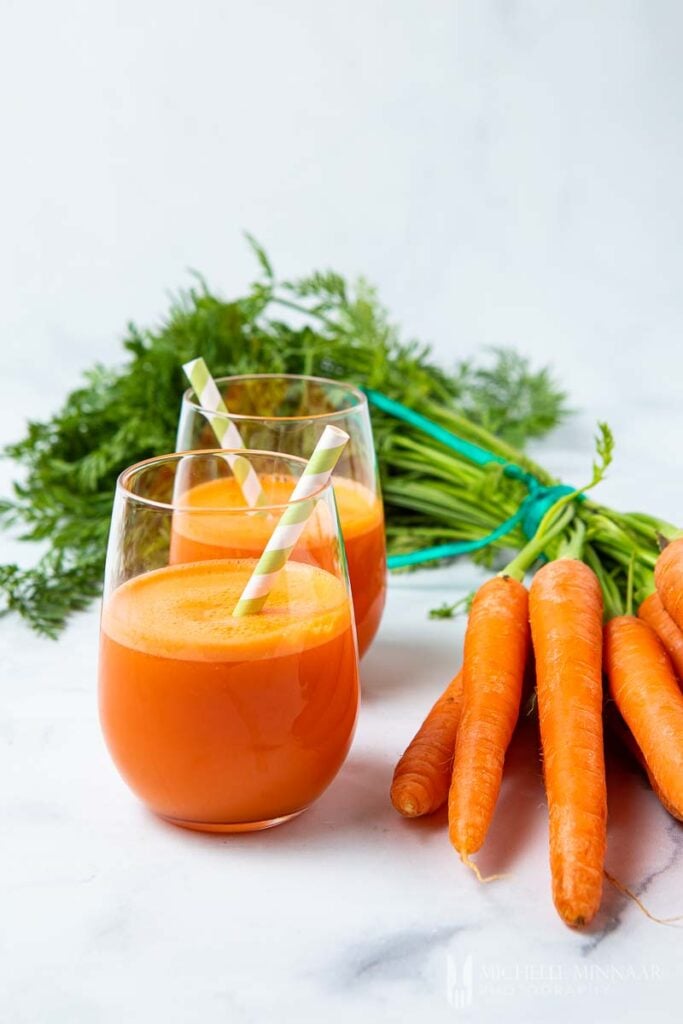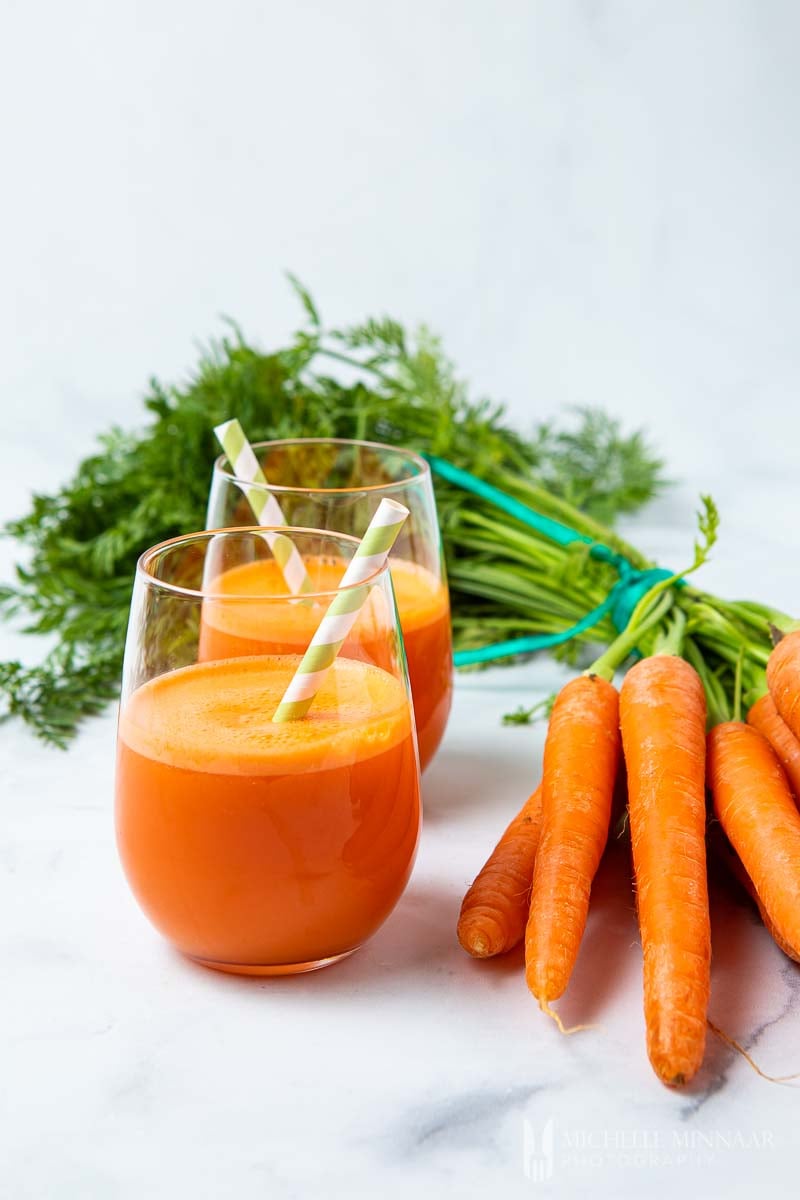 How can I make carrot juice?
When learning how to make carrot juice, you'll see it's all about selecting the right type of carrots. That said, carrot combines well with other ingredients such as ginger, apple and orange, so you can experiment to find out your favourite combination.
It's really not complicated. If you want to know how to make carrot juice properly, you'll need a high quality juicer! At this stage, I haven't found a better juicer than the Sage The Nutri Juicer Cold XI. It takes juicing to a whole other level!
Sage's Nutri Juicer Cold XI
In essence, this machine has a larger feed chute of 88mm, a 2 litre XL juicing jug and is up to five times faster at extracting two litres of juice than a cold press juicer. In other words, it's a state-of-the-art juicer!
The 2 litre seal and store jug enabled me to make large amounts of the juice and store it in the fridge for the following day.
The 88mm chute is more than big enough to put whole carrots inside the juicer, without the need to cut them up as I have done in the past with other juicers. This saved me precious time in the kitchen!
Oh, and don't forget the amount of noise the average juicer makes. The Sage The Nutri Juicer Cold XI is has a quiet setting where it can make up to 40% less noise!
The juicer is made with premium materials, such as a stainless-steel juicing basket, titanium reinforced cutting disk and an Italian micro mesh filter.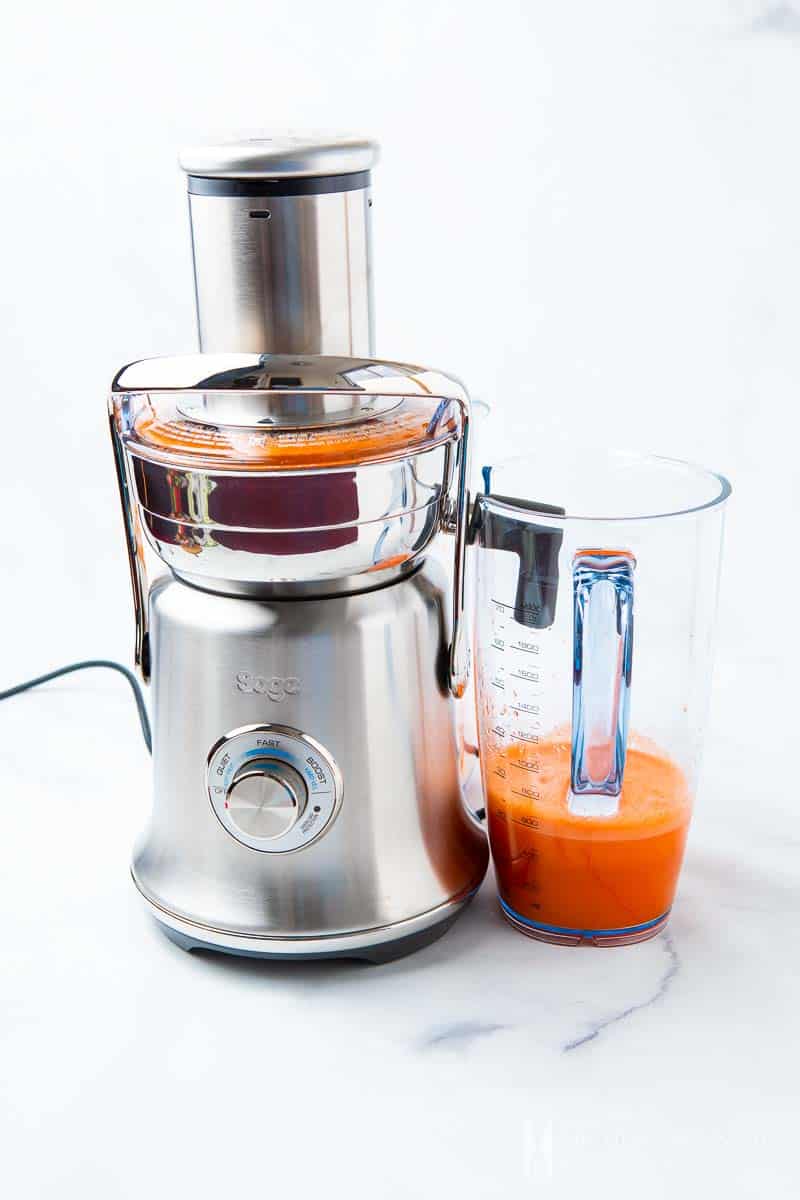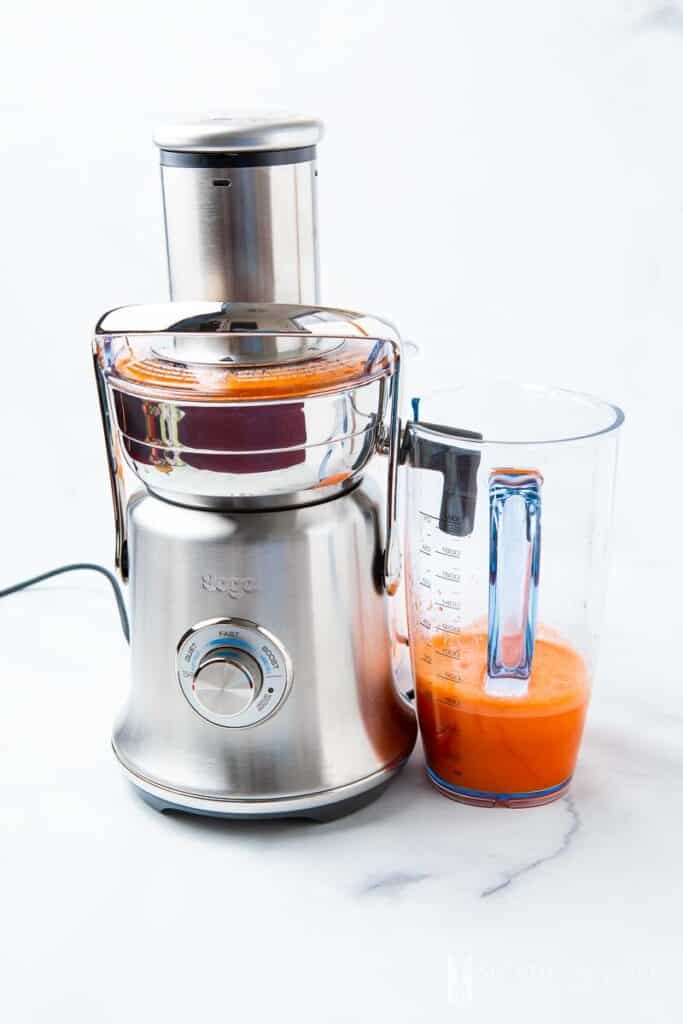 Other features that you will find useful:
it comes with a juice nozzle for single servings
dishwasher safe, however, it also comes with a cleaning brush
has a 2 year Sage guarantee and a 5 year motor guarantee
1500W Power
has clever Cold Spin Technology
Lastly, the juicer has three juicing setting depending on how soft and hard the ingredients are.
I receive a lot of kitchen gadgets to test, but this one is a firm favourite and has a permanent space on my kitchen surface!
The best carrots for carrot juice
First and foremost, the best type of carrots to make carrot juice are organic ones. When making juices, you should always make sure that your carrots don't contain any traces of pesticides and other harmful chemicals. Otherwise, you would be doing damage to your body in the long run.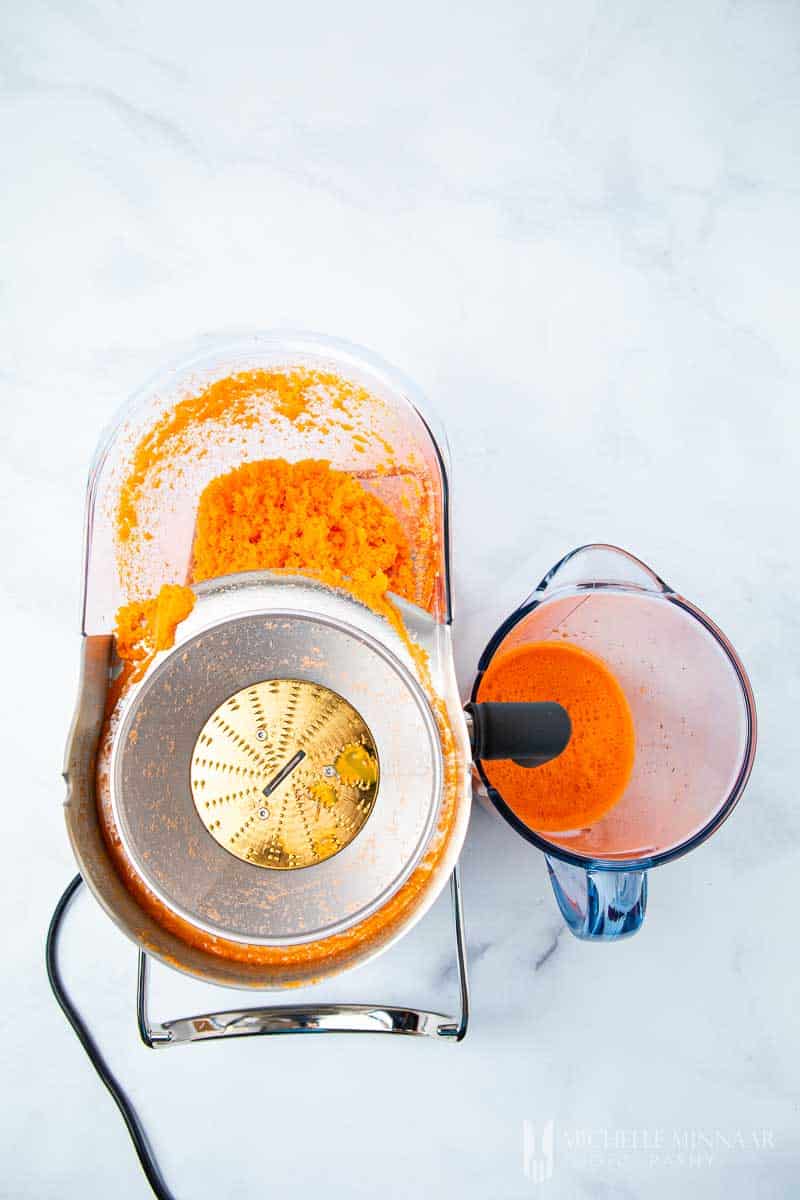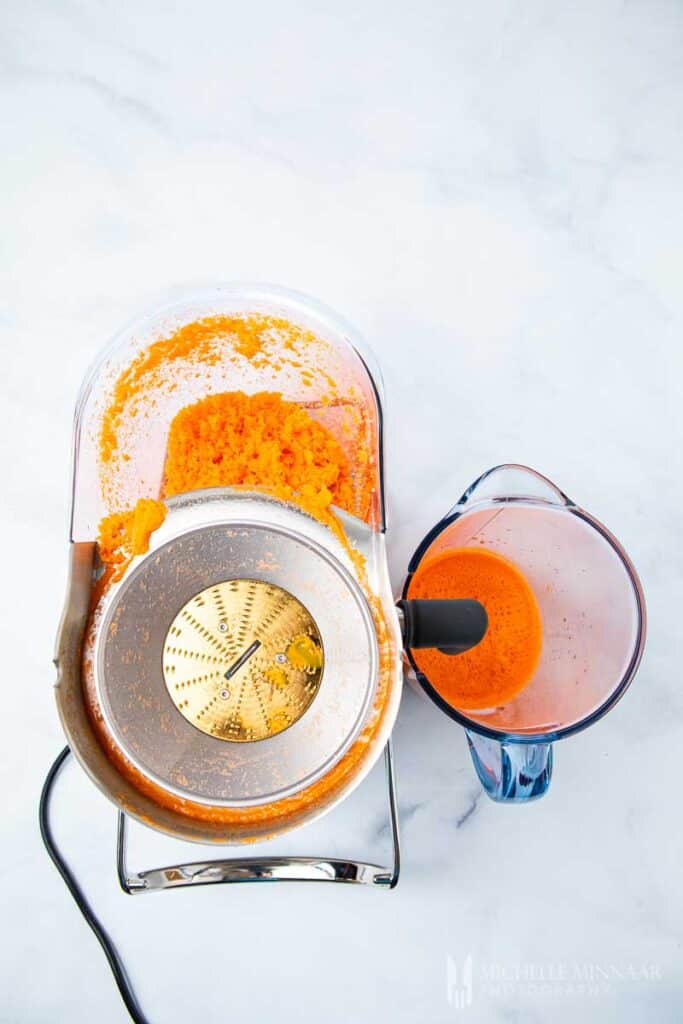 In short, the carrot is a humble and delicious root vegetable. There are many types of carrots: white carrots, purple carrots, red carrots, yellow carrots and orange carrots. They also vary greatly in size.
However, the carrots you should be looking for to make your juice are those which are sweet and full of flavour.
Hence, look for these specific varieties:
Bolero - have a lot of juice and are sweet
Little Finger - super sweet
Scarlet Nantes - sweet and coreless
Short 'n Sweet - very juicy, sweet and bright orange
St. Valery - sweet and nearly coreless
My recommendation is that the best carrots for juicing are the Bolero variety and the Scarlet Nantes variety.
If you've got any leftover carrots, you can use them in other healthy carrot recipes. For instance, try these roasted carrots or these cumin roast carrots. Otherwise, you can also try the following:
Do you have to peel carrots for juicing?
In short, if the carrots are not sourced organically the answer is absolutely. I peel my carrots because there might be a presence of pesticides and other harmful chemicals that I may not even know about.
I know carrot peel contains plenty of nutrition but I also peel my carrots even if they are organic. Just in case!
how to clean carrots
It's fairly easy. Wash the carrots first under water and wash away any obvious dirt. Next, top and tail the carrots.
Lastly, use a vegetable peeler to remove their skins. Rinse the carrots with water one more time and set them aside. They are ready to be juiced!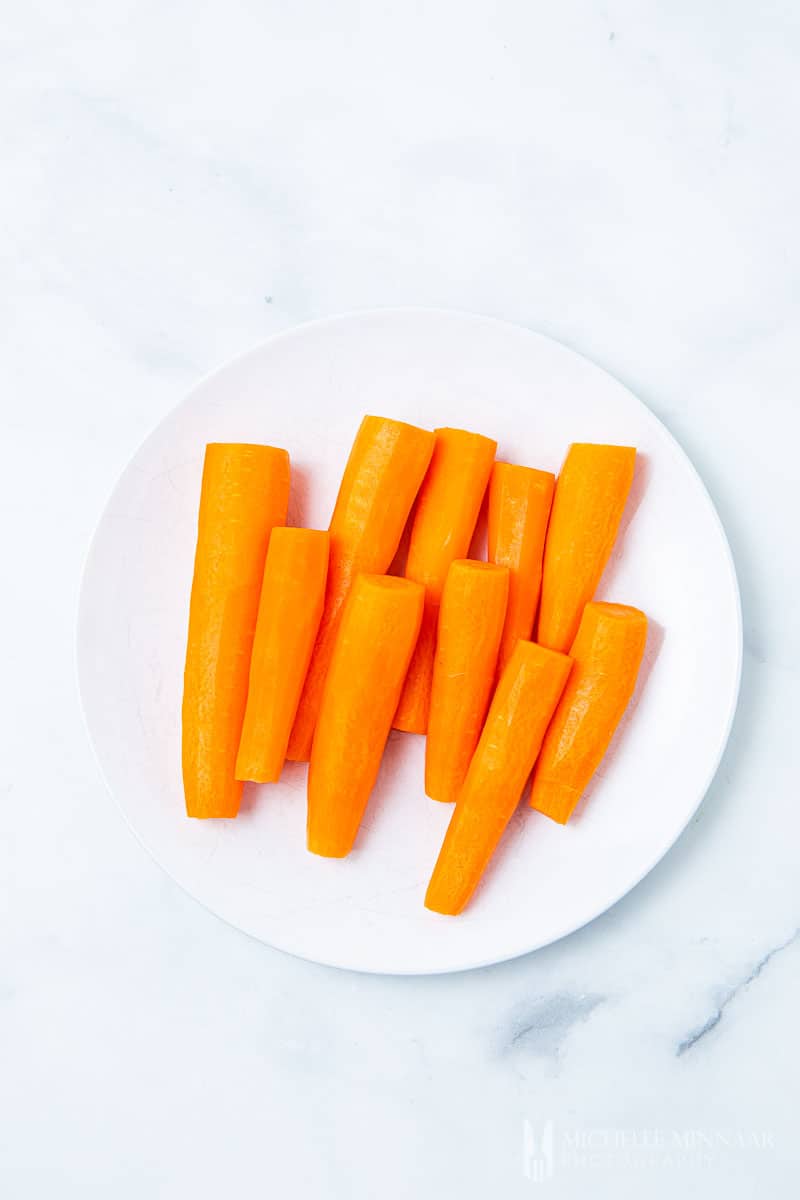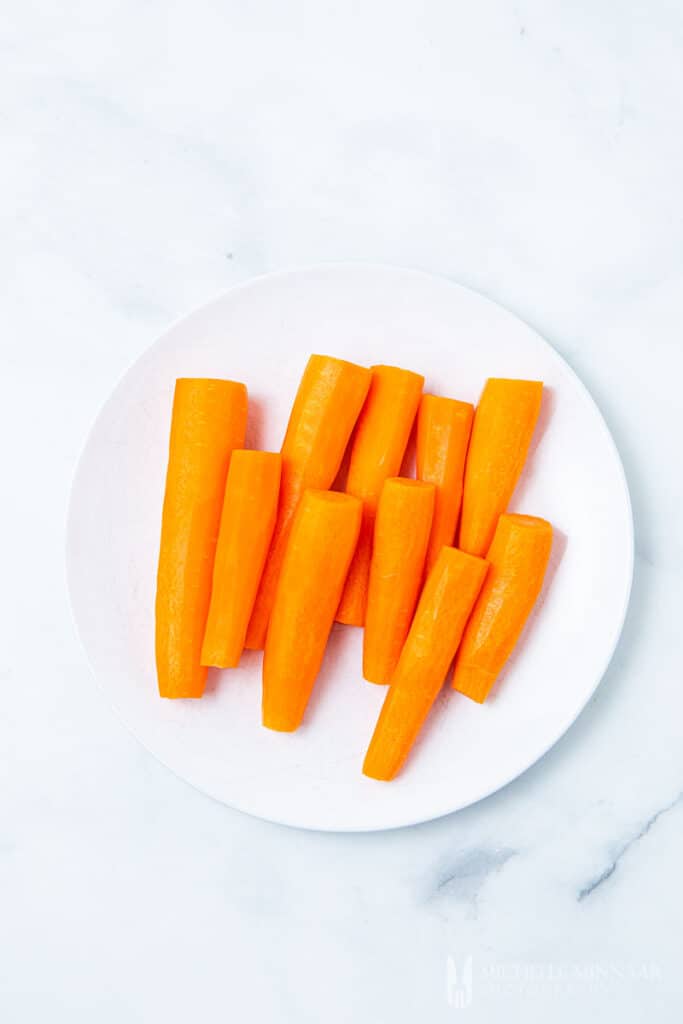 How do you make carrot juice taste better?
There are plenty of ways for you to jazz up this juice recipe. Carrots pair with almost any type of fruit or vegetable.
The most common combination one sees as the juice stall are the following:
carrot, orange and apple juice (3 carrots, 1.5 oranges, 2 apples)
carrot and orange juice (4 carrots, 1.5 oranges)
apple and carrot juice (2.5 apples and 4 carrots)
ginger carrot apple juice (4 carrots, 2 apples, 2.5cm/1 inch ginger)
Check out some more fruity and sweeter combinations you may fall in love with:
carrot and watermelon juice (4 carrots, 250ml/1 cup of watermelon)
carrot beet apple juice (4 carrots, 2 beets, 2 apples, 30ml/2 tbsp of lemon juice)
banana carrot orange juice (half of a banana, 3 carrots, 1.5 oranges)
If you wish to drink the juice for its health benefits and enjoy bold flavours in particular, then check out these combinations:
carrot beetroot spinach juice (4 carrots, 2 beets, handful of spinach)
greens detox carrot juice (4 carrots, 2 stalks of kale, half a cucumber, 30ml/2 tbsp of lemon juice, handful of spinach)
carrot turmeric juice (5 carrots, 1 tiny turmeric root or 10ml/2 tsp of ground turmeric, half a lime)
If you love fruit juices, you can also try kiwi juice or my strawberry orange juice recipe.
Otherwise, you can also try my fantastic healthy smoothies, check these out:
11 carrot juice benefits
Now that you know how to make carrot juice, you should also discover all of the benefits.
supports a healthy metabolism by increasing bile secretion
helps you lose weight by substituting the juice with sugary drinks
makes your skin look better via beta-carotene - helps you tan quicker!
supports your immune system via antioxidants
reduces likelihood of skin diseases such as rashes or psoriasis due to beta-carotene and Vitamin C
aids in better vision with Vitamin A
lowers cholesterol due to presence of potassium
lowers risk of heart-related diseases
reduces the risk of cancer due to presence of antioxidants
supports a healthier pregnancy because of folate, Vitamin A and potassium
supports a healthy brain function and reduce memory loss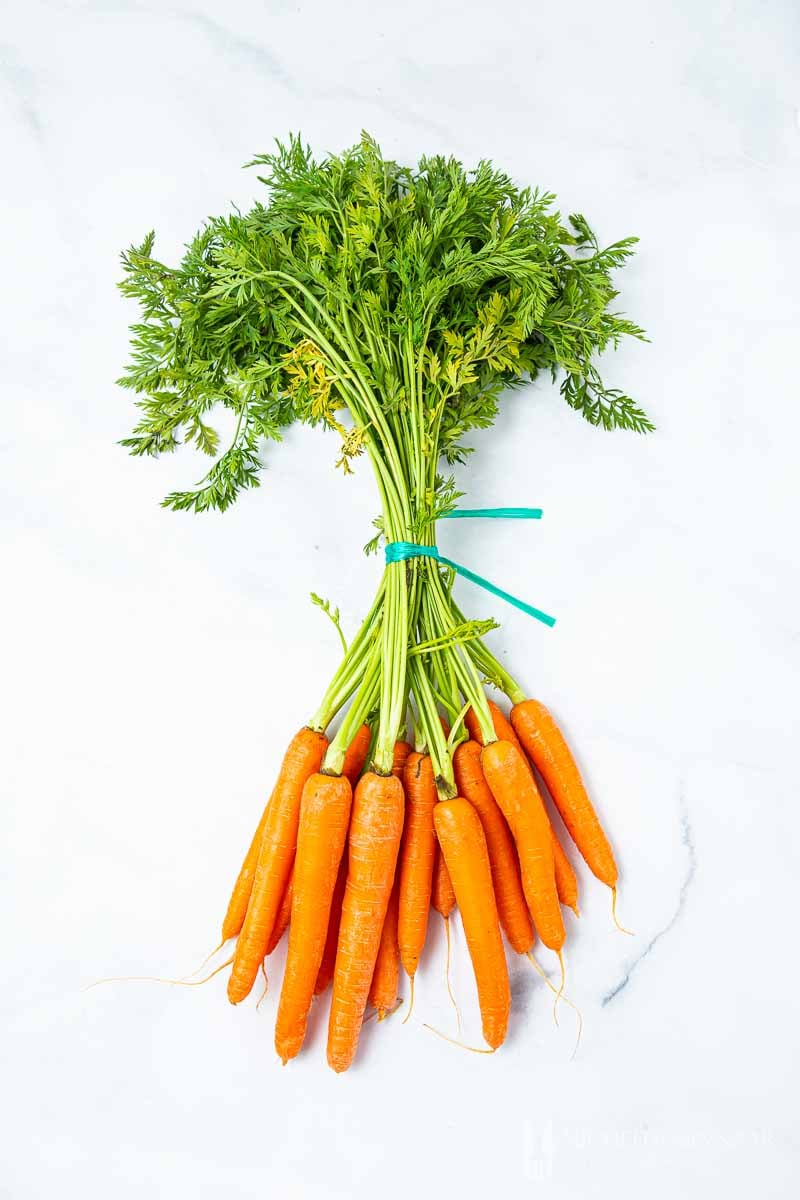 It is okay to drink carrot juice every day?
Oh, yes! As long as you know how to make carrot juice properly, then it is absolutely safe. That being said, there are two things that you should make sure of.
First, only prepare your juice from organic carrots. At best, use those from your own garden. Nothing tastes better than fresh carrots.
As a rule of thumb, all organic root vegetables taste better than their non-organic counterparts. So buy the former whenever you can!
Secondly, it is okay to drink carrot juice every day as long as you drink it in moderation. Since carrots are an excellent source of beta-carotene, it could cause skin colouration after after drinking excessive amounts.
There you have it - happy juicing!
Print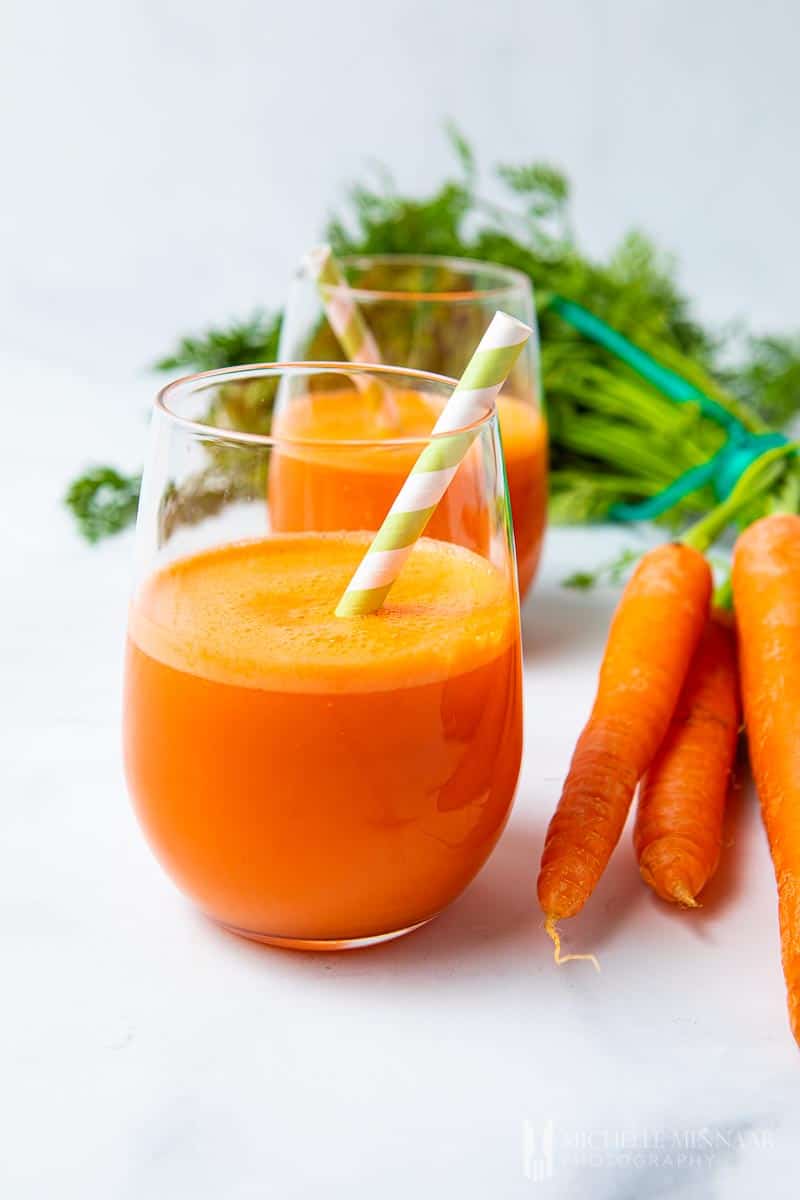 How To Make Carrot Juice
---
Author:

Michelle Minnaar

Total Time:

10 minutes

Yield:

1

serving of 300ml/1 cup

1

x
750

g

(5 cups/1 2/3lbs) carrots
---
Instructions
Top and tail the carrots, then peel the carrots. 
Pass the carrots through Sage's Nutri Juicer.
Average yield is 300ml, which is a bit more than a cup. 
Serve as is or with ice. 
Prep Time:

10 minutes

Cook Time:

0 minutes

Category:

Drinks

Method:

Juice

Cuisine:

Indian
Keywords: carrot juice recipe, how to make carrot juice, detox juice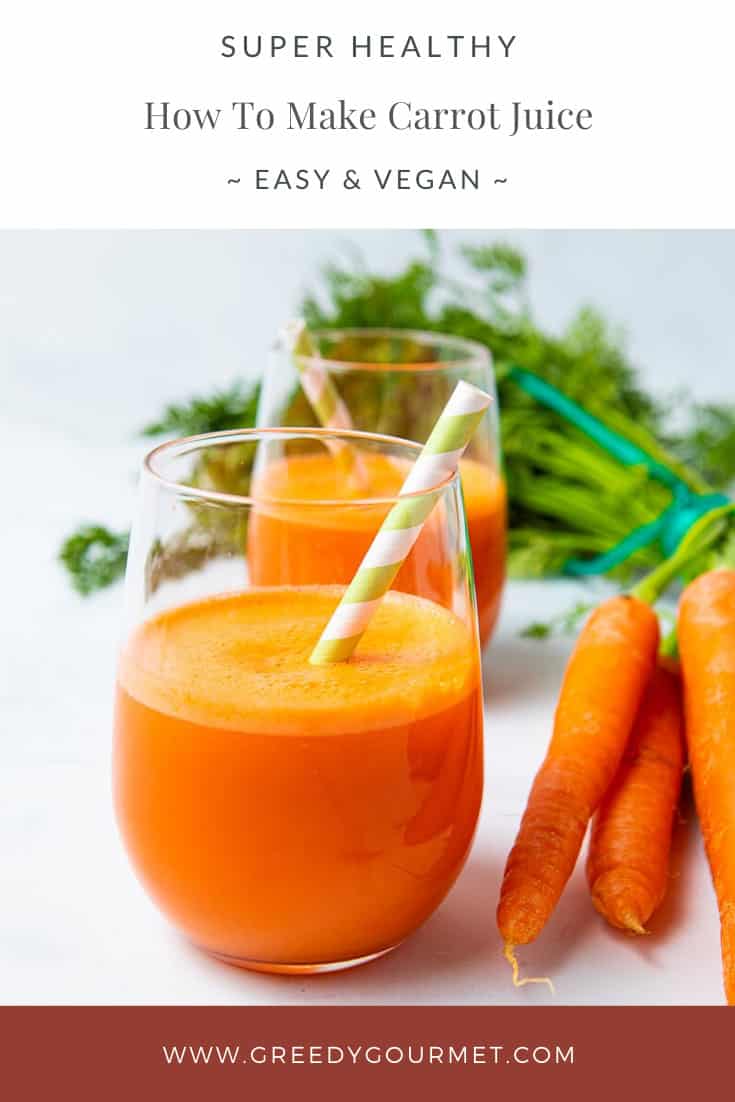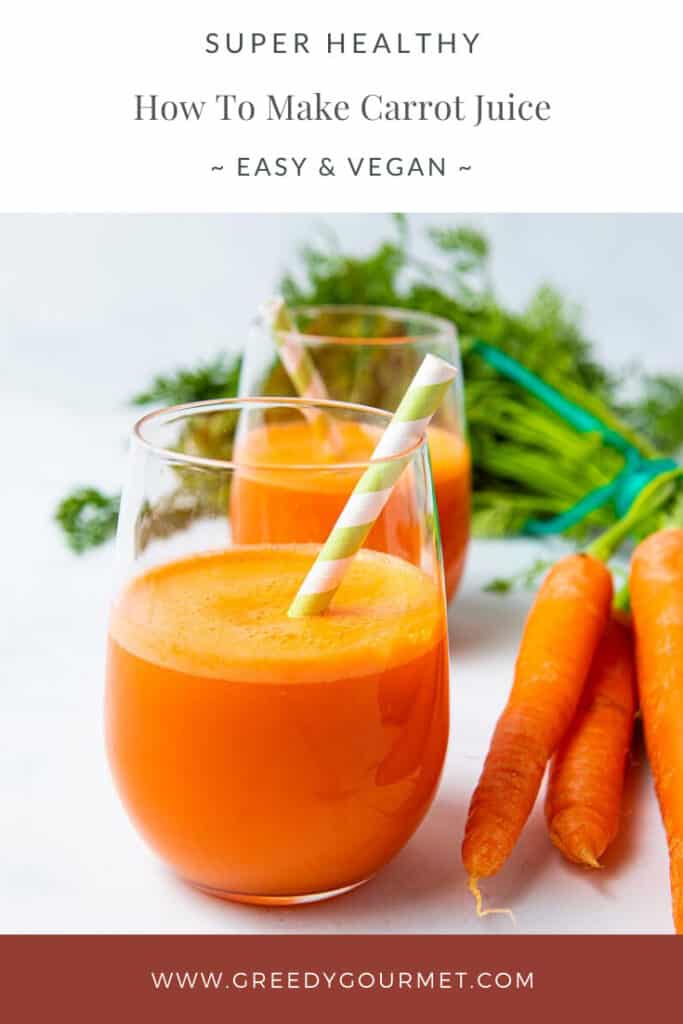 P.S. This is a sponsored post.