This cauliflower kurma curry is a creamy, rich yet mild Indian curry. The best part about this vegetarian korma curry recipe is that you can actually make this kurma recipe your own by adding vegetables of your preference as well as other ingredients.
You'll learn how to make a korma curry sauce from scratch and which spices to roast with your white cauliflower. In short, this cauliflower curry recipe is easy to make and is very healthy too. One bite, and you'll be won over by this gorgeous dish. So much so that you you'll be adding it to your weekly menu.
The cauliflower kurma stores quite well, so feel free to make a larger batch which you can reheat on any other day. Pair the curry with traditional side dishes like white basmati rice, naans or rotis. Enjoy!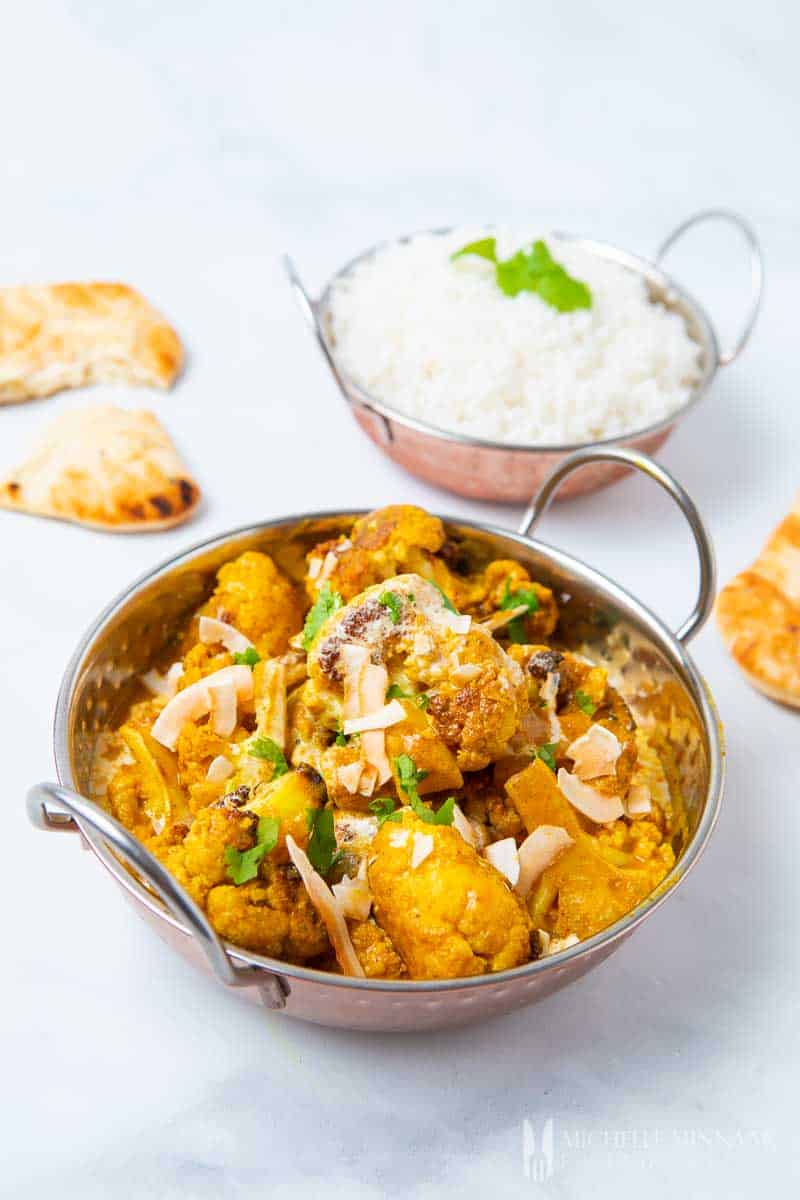 restaurant-style cauliflower kurma
Generally speaking, a korma curry recipe is a creamy mild curry, which is usually made with coconut milk. It's a typical Indian and Pakistani curry recipe. If you want this recipe to turn out what you'll expect in a restaurant you'll need to source all the spices. Hence, before you attempt this recipe, make sure you have all the ingredients you need to complete this delicious recipe.
If in doubt, check out these helpful substitutes which can save you time and effort:
how to make korma curry paste from scratch
With the korma curry, you don't need to make a curry base sauce first. If you do have the time and inclination, you can prepare your own korma curry paste from scratch, which will ensure an utterly moreish cauliflower kurma. Making korma curry paste from scratch is actually a fun exercise. Once you've tasted the real deal, it will definitely put you off from buying the pre-made jar stuff forever.
Naturally, if you feel like you don't have time to make the korma curry paste, you can always purchase it. You can find it in any Indian shop or a major supermarket. Opt for the paste instead of the sauce, because this leaves more room for you to add more flavours. Purchasing the pre-made korma sauce would take out the fun (and taste!) element of making a homemade korma curry.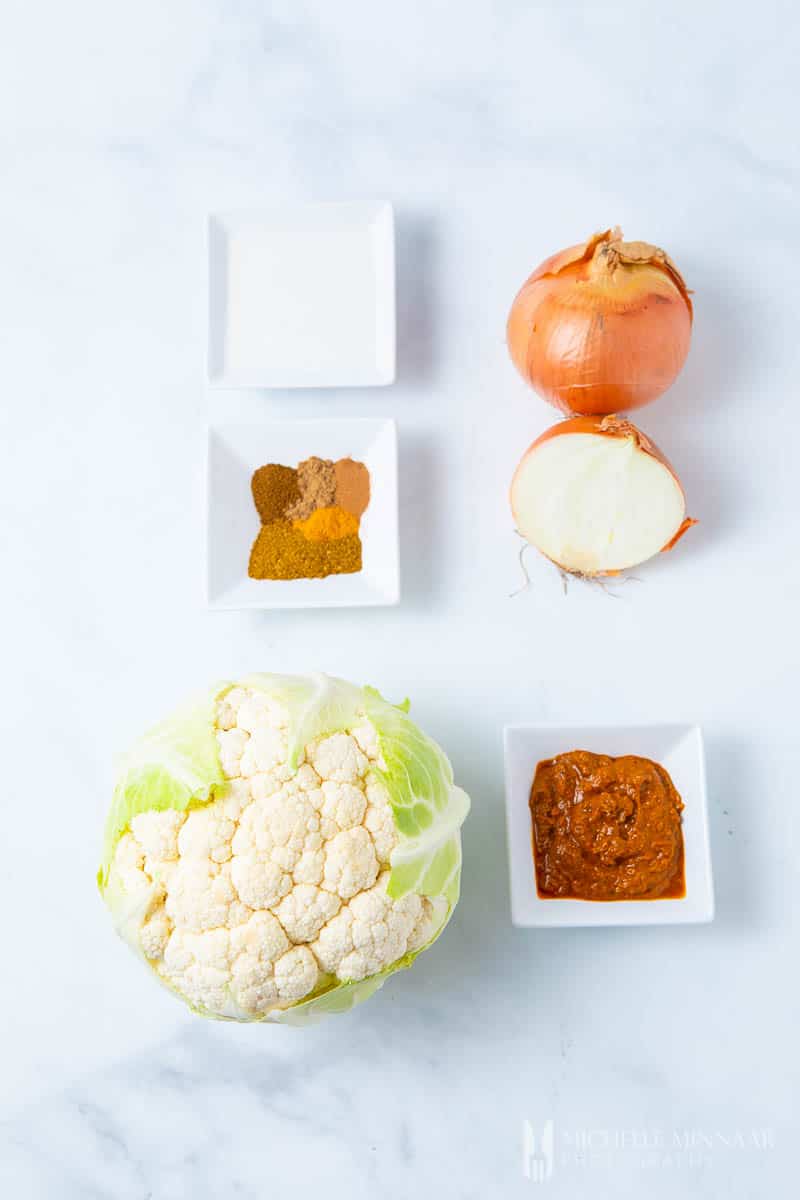 vegan cauliflower kurma recipe
Yes, this cauliflower kurma is suitable for vegetarians and vegans. Just check the labelling of the paste to ensure that it is vegan. Other than that, there isn't a dairy element in this dish. The creaminess comes from the addition of coconut milk. If you would like to make your kurma curry dish even creamier, then add coconut cream. It might alter the consistency of the korma curry, so add spoonful by spoonful.
white cauliflower kurma
In total, there are four main types of cauliflowers. It's actually really easy to remember the different types cauliflower because they vary by colour. These include:
white cauliflower - this is the most common one as well as the type I've used in this cauliflower kurma dish
green cauliflower - generally smaller but also called broccoflower or green Romanesco
orange cauliflower - also called cheddar cauliflower
purple cauliflower - tender and mild flavours
My advice is to roast the white cauliflower before you add it into the curry sauce. This way, the spice mix has an opportunity to infuse with cauliflower. Also, you'll get a lovely char and texture on the cauliflower.
Boiling the vegetable simply doesn't yield the same results. First of all, it would affect the consistency of the cauliflower kurma and could potentially make the curry sauce runnier. Also, the cauliflower would just fall completely apart in every bite. If you roast it first, it has a much firmer texture as well as a better taste.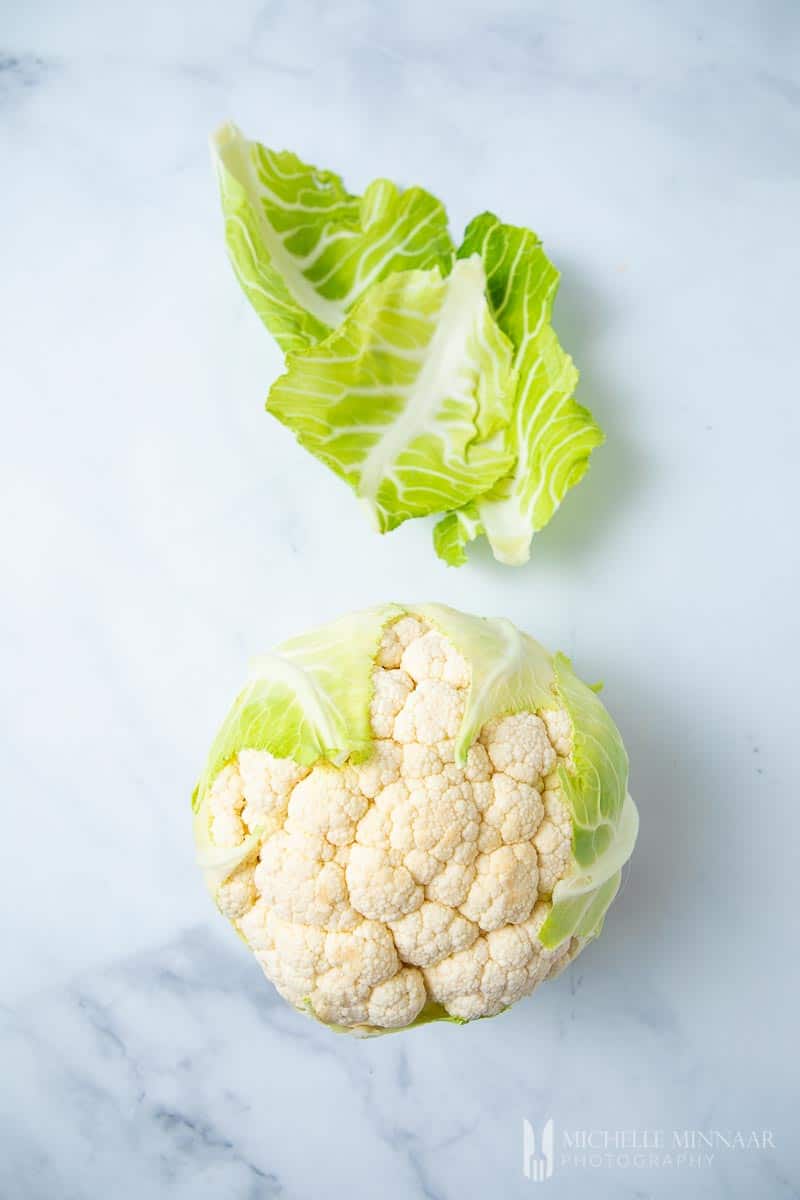 vegetarian korma curry
As I've mentioned above, if you make your own korma curry paste or purchase it, you can make other amazing korma curry recipes. Let's start with the vegetarian ones first.
One of my absolutely favourite korma curry recipes is the vegetable korma curry. It also includes cauliflower so feel free to have a look at this recipe. It's great for vegans too.
If you want a little bit of a different texture, you can inspire yourself with this paneer korma curry recipe. Careful though, it's not vegan. Paneer is one of the most common cheeses in the Indian subcontinent. You can learn more about paneer here.
korma meat recipe
Of course, you can always consider adding meat to your cauliflower kurma or substitute it altogether. Here are just a few examples: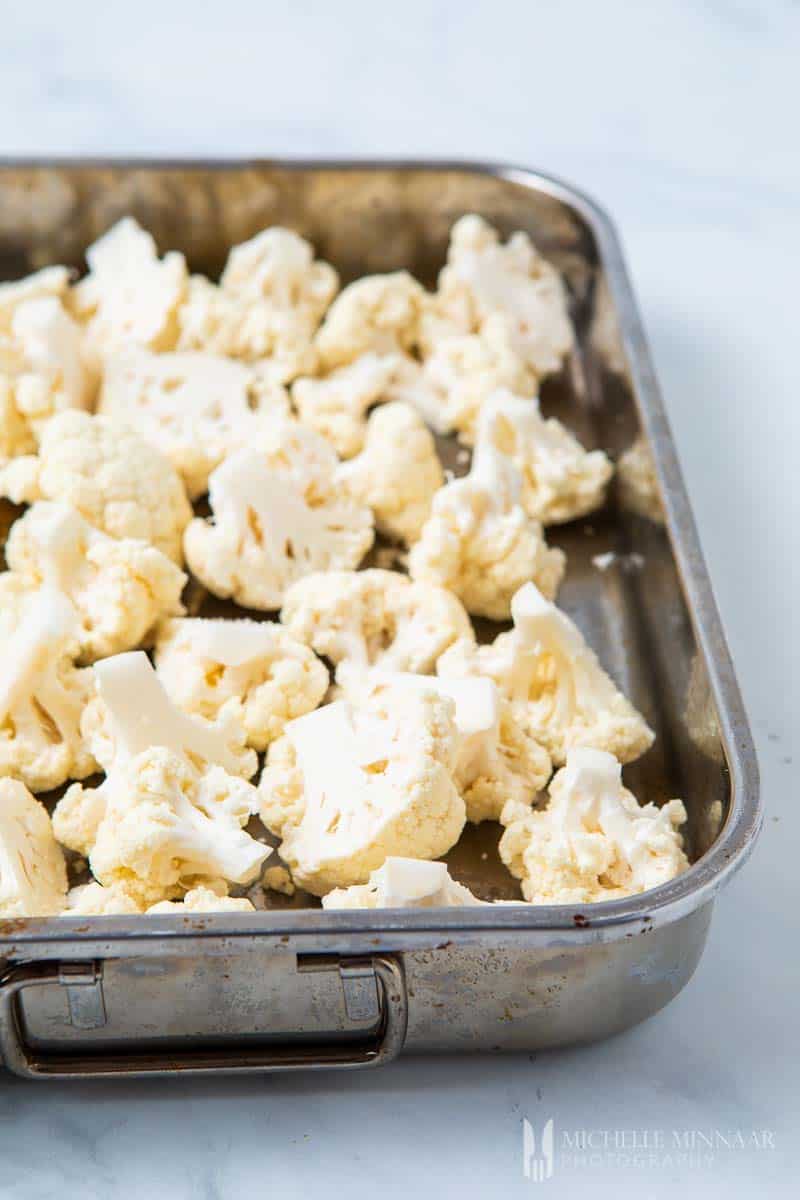 cauliflower kurma with spinach
Did you know that one of the most common ingredients to put into a korma curry dish is actually spinach? Spinach is an excellent way to keep this dish low on calories and it's very nutritious. So, to keep things on a vegetarian and healthy, take a handful of fresh, preferably baby, spinach and stir it with the cauliflower kurma.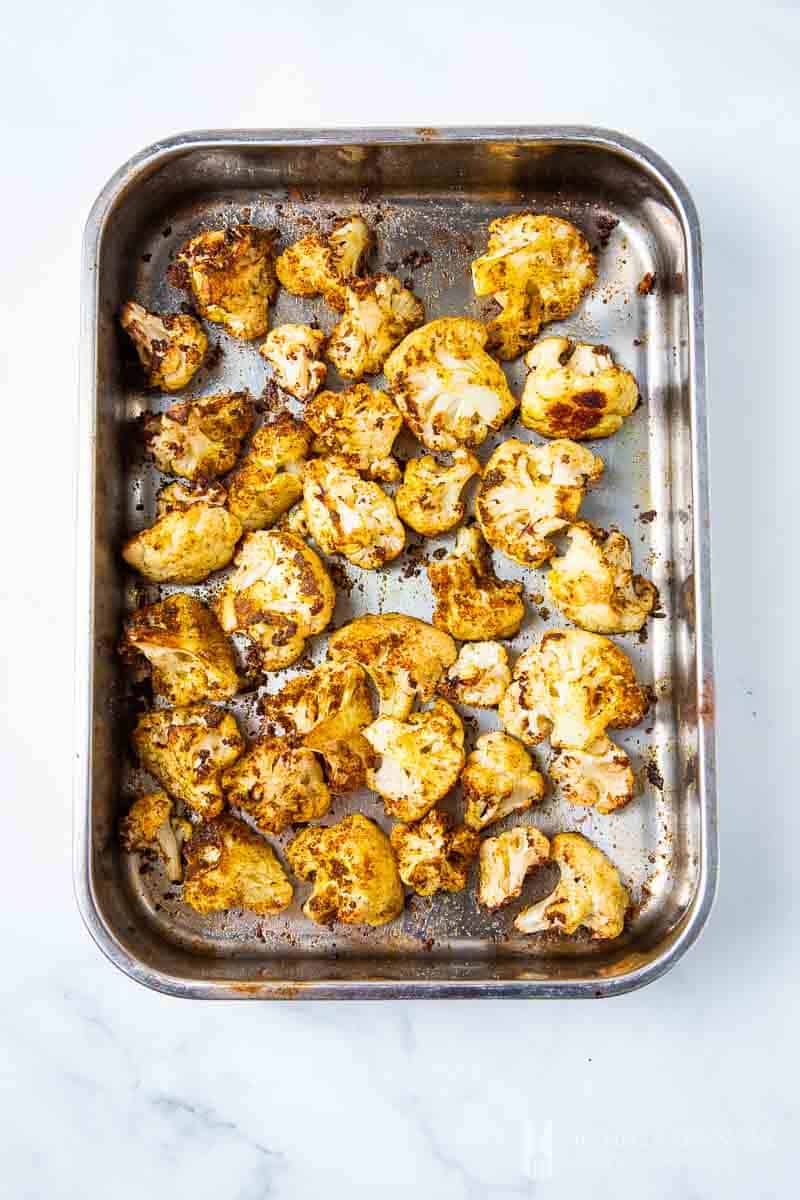 toppings
One of my favourite toppings for a cauliflower kurma curry is freshly grated coconut or toasted coconut shavings. Since a cauliflower kurma curry is already quite creamy, the crunch of the coconut adds a refreshing new texture to it.
Here are some other toppings you can consider that go very well with any Indian curry:
fresh red chilli
fresh green chilli
coriander leaves
cashew nuts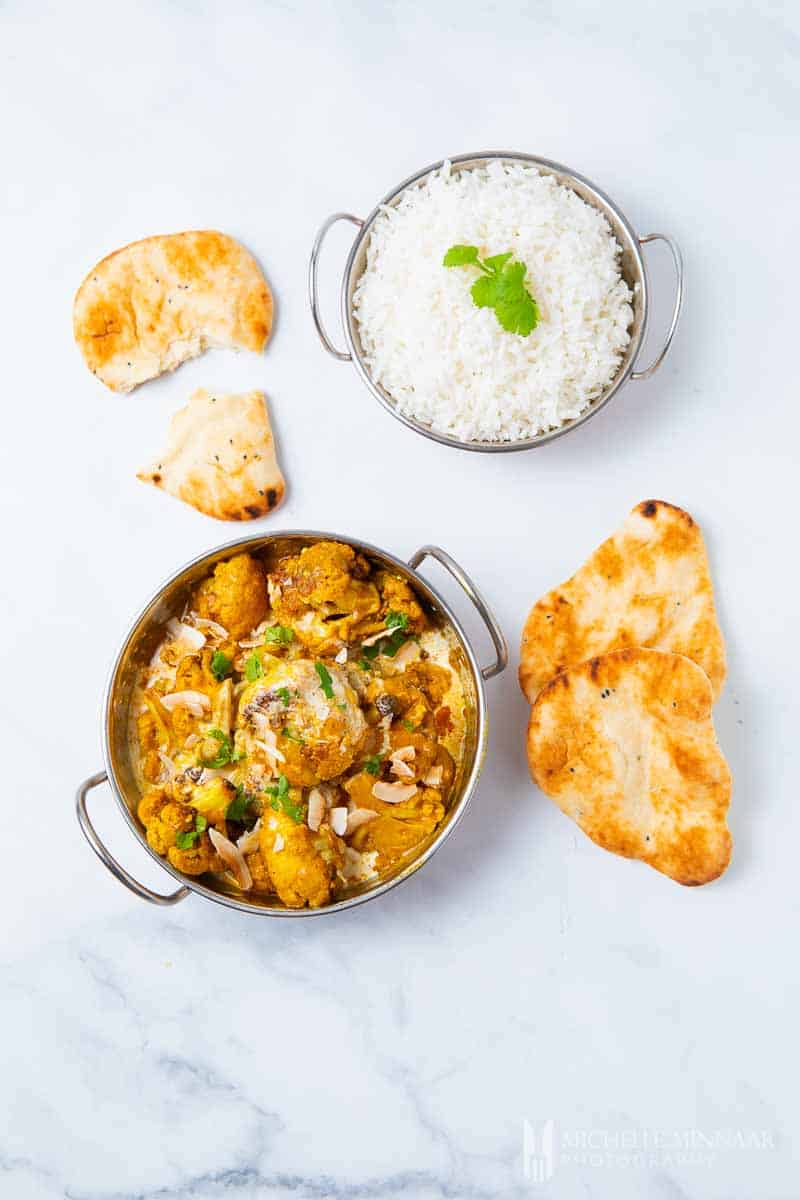 serving
Don't forget to serve your cauliflower kurma curry with the typical curry side dishes. First and foremost, serve the korma curry with plain basmati rice. Jasmine rice is another option.
Otherwise, feel free serve the cauliflower kurma with a garlic naan or a peshwari naan. If you'd have to choose between the two, I recommend going for the garlic naan. The peshwari naan might be too sweet to complement the curry properly. Lastly, you can always serve any curry with a plain naan or rotis.
Print
Cauliflower Kurma
---
Description
Make this easy Indian cauliflower kurma curry recipe at home. You can also learn how to make your own korma curry paste from scratch. Use white cauliflower.
---
45

ml

(3 tbsp) vegetable oil

15

ml

(2 tbsp) garam masala

2.5

ml

(1/2 tsp) ground cinnamon

2.5

ml

(1/2 tsp) ground turmeric

2.5

ml

(1/2 tsp) ground coriander

2.5

ml

(1/2 tsp) ground cumin

10

ml

(2 tsp) salt

2

cauliflowers, washed and cut into florets

250

ml

(1 cup) Korma curry paste

800

ml

(2 cans) coconut milk

30

ml

(2 tbsp) brown sugar [optional]
---
Instructions
Preheat oven to 200°C/fan 180°C/400°F/gas mark 6.
Mix the spices and salt in a small bowl with the oil.
Place the cauliflower florets in one layer on a baking sheet and drizzle with the spice mixture, ensuring that most areas of the vegetables are covered.
Roast the cauliflower in the oven for about 30 minutes or until the cauliflower is tender and golden brown with crispy edges.
Remove the cauliflower from the oven and set aside.
Heat the curry paste in a large saucepan.
After two minutes, pour in the coconut milk and sugar, and let the korma curry sauce simmer for 5 minutes.
Place the cauliflower in the sauce and let the vegetables heat through, which should take about 2 minutes.
Serve immediately with naan and/or rice.
Notes
Add more sugar if you like your Korma Curry sweeter.
Don't let any leftover coconut milk go to waste! Check out my guide on freezing coconut milk to make sure it's ready for future recipes.
Prep Time:

10 minutes

Cook Time:

40 minutes

Category:

Side Dish

Method:

Pan Fry

Cuisine:

Indian
Keywords: cauliflower kurma, cauliflower korma recipe, cauliflower curry, vegan korma
save the recipe to your pinterest board