The Incredible Hulk Drink is a mesmerising coloured drink - this green cocktail is popular in America's bar scene.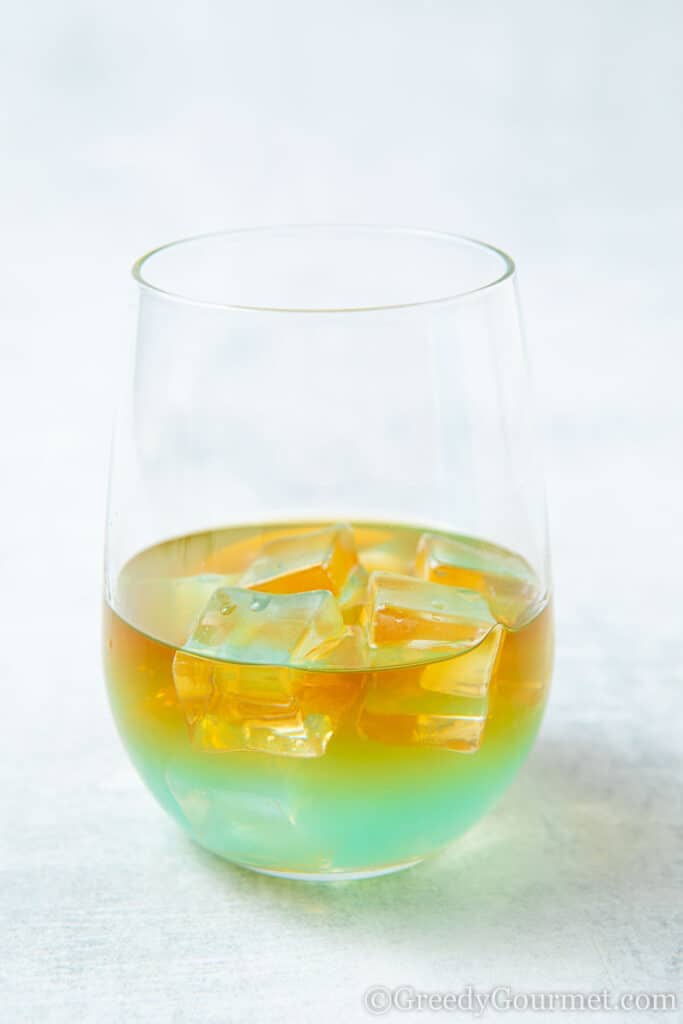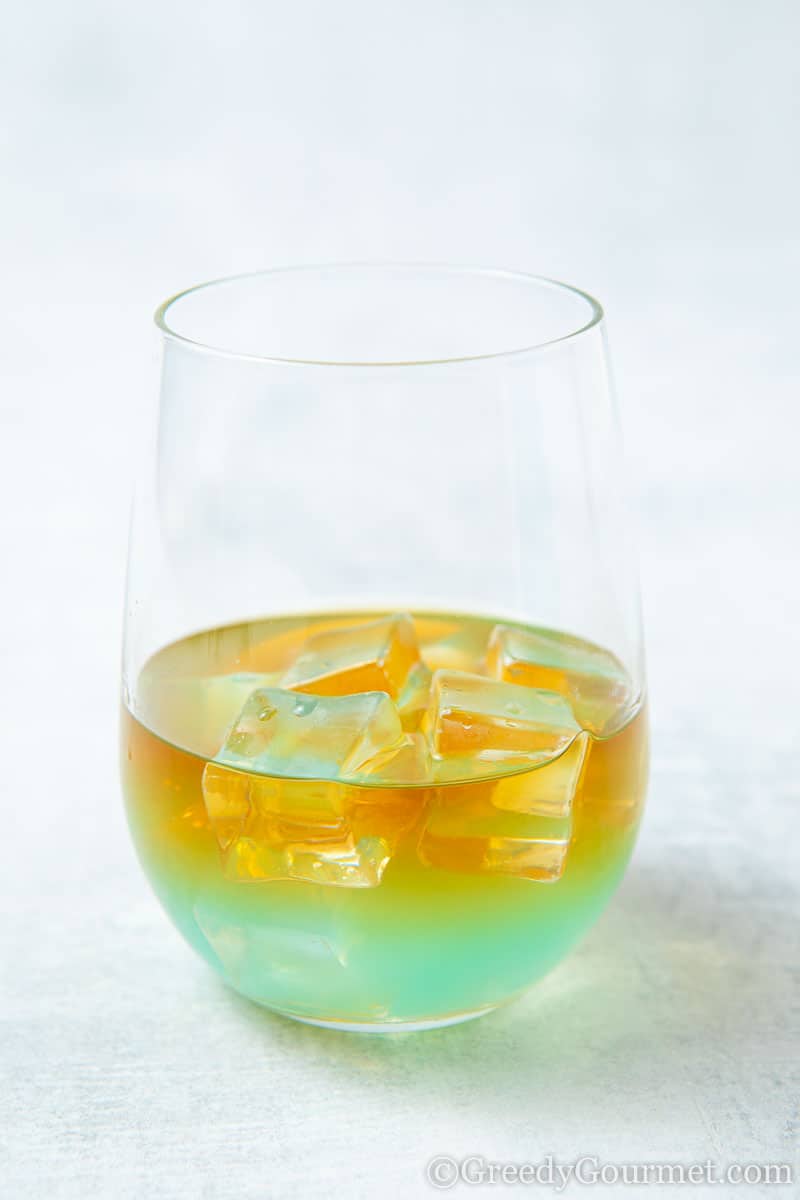 Don't make the Hulk angry! You wouldn't like him when he's angry! Instead, slip this tropical cocktail in his hand watch the mellow mood take hold.
Blending the sweet tropical fruit taste of the fruity liqueur Hpnotiq with the classy, spiced warmth of cognac, the Incredible Hulk recipe is one you have to try. The eye-catching neon green color of this mixed drink gives makes it the perfect drink to liven up a party or to sip on a warm summer night.
Products you'll need for this recipe
Incredible hulk drink recipe
If you're after a vibrant, fun drink, this Incredible Hulk drink recipe is the one for you! It's easy to make – shake and pour, not much else to it – tastes amazing and will make the perfect drink for a superhero themed party.
The bright green color really makes the hulk drink stand out. Once you get past the looks of this Incredible Hulk drink, you'll be bowled over by the flavor.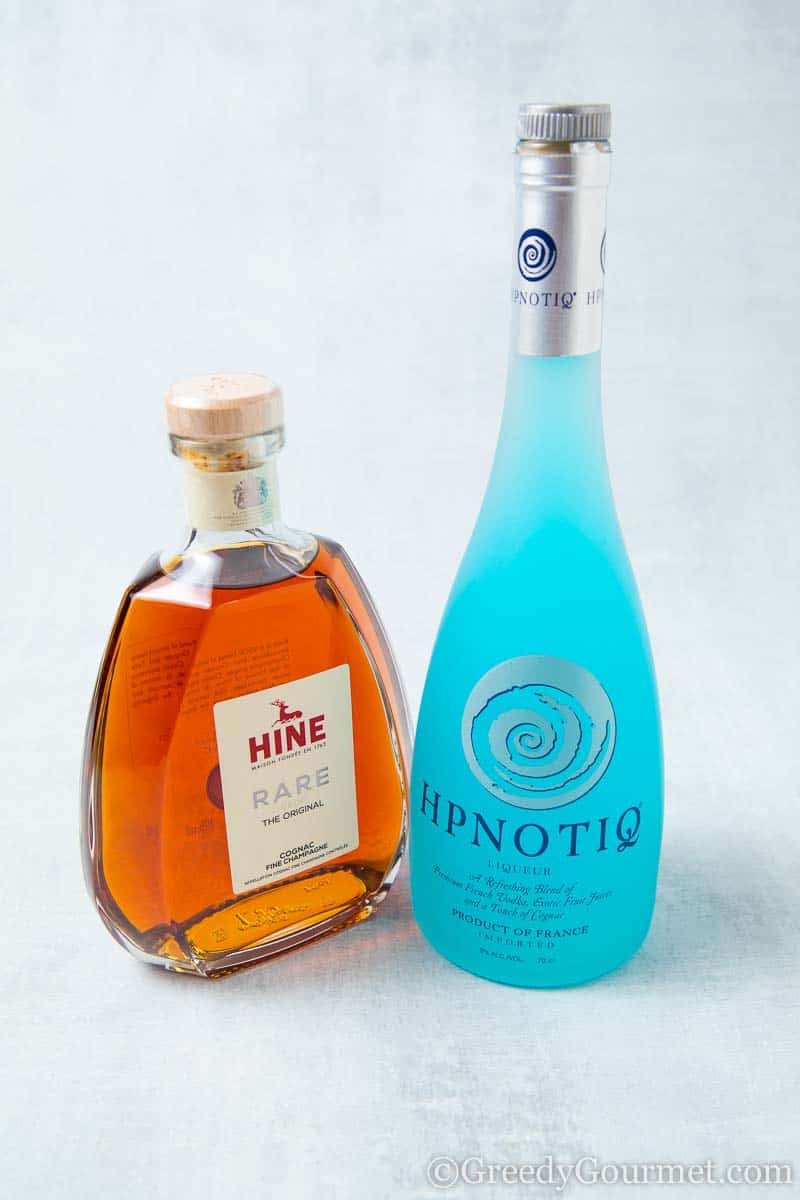 How do you make the Hulk?
Making this Incredible Hulk drink is simple. You'll just need two ingredients: Hpnotiq and cognac. For this recipe you'll need equal parts of each – so, I've gone with 50ml (1 double spirit measure) of each drink.
To make this Incredible Hulk drink recipe, first crush some ice - use an ice crusher for an easier life - and pour the ice into a high ball glass. Add the spirits separately and stir.
If you want to achieve the layered effect, slowly pour the drinks separately over the ice. Hey, presto! You've got a layered green Incredible Hulk drink.
How do you get the neon green Hulk effect in this drink?
For a meaner, greener version of this Incredible Hulk, shake the drinks together with neon green food coloring in a shaker, before pouring over ice. You'll get the full neon green Incredible Hulk cocktail effect.
Who invented the Incredible Hulk drink?
Nobody knows the exact origin story of this Incredible Hulk drink. One story is that The Incredible drink was first created by U.S. Army soldiers at Fort Hood Texas in 2003.
Another theory is that this Incredible Hulk drink was created by Hpnotiq spokesperson Antonio Harer, who noticed that only women were drinking Hpnotiq, because men found the bright blue fruity drink too effeminate. He asked Victor Alvarez, a bartender at New York restaurant Justin's, to put a twist on it. Alvarez mixed in some Hennessy, giving the drink a green Hulkish hue, and the Incredible Hulk cocktail was born.
What is Hpnotiq?
Hpnotiq (pronounced hypnotic) is a sweet, fruity, vodka-based liqueur. alcoholic drink. It's made from triple distilled vodka, as well as a blend of tropical fruits, including mango.
It's 34 proof (17% ABV) and, although it was invented in New York, it's now bottled in France. Its inventor, Raphael Yakoby – a college dropout who, at the time, lived with his parents – wanted to create a blue liqueur after seeing a bright blue perfume at Bloomingdale's.
The distinctive drink soon caught the attention of hip-hop legend Sean Combs (aka P Diddy, aka Diddy, aka Puff Daddy). He liked the drink so much that he agreed to sell it in his restaurant chain Justin's.
Today, Hpnotiq is sold in 70 countries around the world.
What does Hpnotiq taste like?
The makers of Hpnotiq keep the fruit ingredients a closely guarded secret. There are definitely hints of passion fruit, with a smooth mango taste too. There's also a slight bitter undertone that tastes a little similar to grapefruit.
Light on the mouth and tingly on the tongue, Hpnotiq is syrupy sweet, which makes it a perfect pairing with a strong sprit with fruity undertones.
What can you mix Hpnotiq with?
You can mix Hpnotiq with pineapple, triple sec, sour mix, tequila and a slice of lime for a wicked twist on a martini drink recipe. Also, try mixing it champagne for an elegant fruity drink; vodka for a refreshing boozy summer drink; or coconut rum for a delicious tropical mixed drink recipe.
Is the Incredible hulk drink strong?
While it's true that this Incredible Hulk drink packs a punch (much like its namesake), it's not super strong.
Cognac is strong, with an alcohol volume of 40%. Hpnotiq, on the other hand, is a low-alcohol liqueur, with a volume of 17%.
Of course, if you want to make the hulk cocktail to pack an even bigger punch, add rum in to the mix!
What other drinks can you use in the Incredible hulk drink?
While the traditional Incredible Hulk drink recipe calls for equal measures of cognac and Hpnotiq, you can use alternatives. If you can't get hold of either one of these drinks, there are a few substitutes that will work.
Any kind of blue curaçao (Bols Blue, for example) will work as a substitute for Hpnotiq. You'll keep the green color that's central to the Incredible Hulk drink, as well as the fruity exotic flavors that go so well with the cognac.
You could also try Hpnotiq Harmonie, which is a pinkish twist on Hpnotiq Original. With flavors of lavender, violets, and berries that make it different from the original, it brings a similar summery sweetness that works well with cognac. This will give you a different color, so be sure to use the neon green food colouring – maybe with an extra drop for good measure.
If you can't find cognac, a regular brandy will work just as well.
What other names does this drink have?
As well as being called the Incredible Hulk, the drink is also known as the Green Eyed Monster, the Shrek and the Hip and Hen.
But the Incredible Hulk drink is definitely the most fitting name.
What is cognac?
Cognac is a type of brandy. It's produced from twice distilled white wines using copper pot stills, and aged in French oak barrels for at least two years.
It tastes similar to brandy, with the same mellow warmth. It's a lot finer though – it has complex mix of flavors, ranging from fruity and spicy to sweet and bitter.
Hennessy cognac is the most popular type – almost half of all cognacs produced worldwide are Hennessy. Other popular types include Remy Martin, Courvoisier, Hine and Martell.
What can you mix cognac with?
Apart from being absolutely delicious served neat or on the rocks, it tastes great when added with a mixer. Aside from the Incredible Hulk drink, there are a number of great mixers that work well with this versatile drink.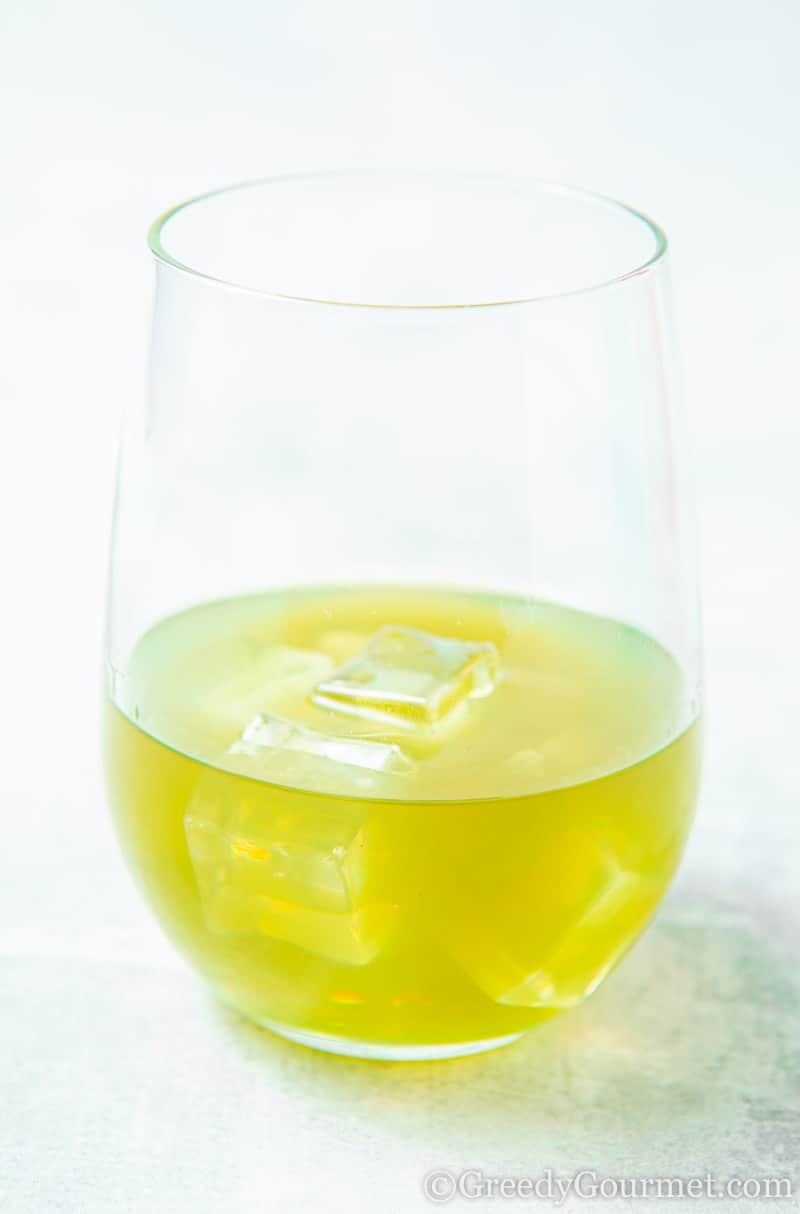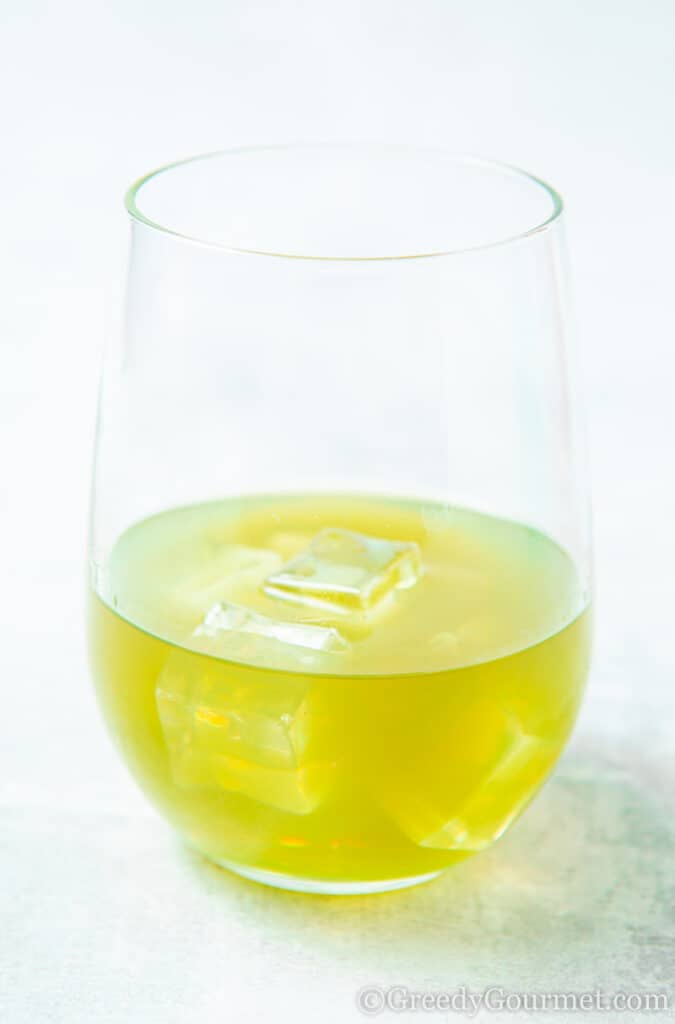 Other great drinks recipes
Aside from this Hulk drink recipe, there are some other great drink recipes on Greedy Gourmet for you to try.
Did you enjoy the Hulk drink? What's your favorite drink recipe to make? Let me know in the story below!
Print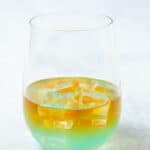 Incredible Hulk Drink
---
Description
The Incredible Hulk Drink is a neon green cocktail recipe comprising two ingredients - Hpnotiq and cognac. Serve with crushed ice.
---
---
Instructions
Place ice in the glass.
Add spirits separately and give a stir. Enjoy!
Notes
If you would like to achieve the neon green effect, pour all the ingredients in a cocktail shaker, give it a shake and pour into the glass of your choice.
For the double layer effect, place the ice in the glass first, then pour each spirit in separately but slowly.
Prep Time:

5 minutes

Cook Time:

0 minutes

Category:

Drinks

Method:

Mix

Cuisine:

American
Keywords: Incredible Hulk drink, Incredible Hulk cocktail, Incredible Hulk recipe, hypnotic drink, hypnotic liquor, credible hulk, green cocktail recipe