Learn how to make authentic Canarian Mojo Rojo at home, which literally means "red sauce" in Spanish.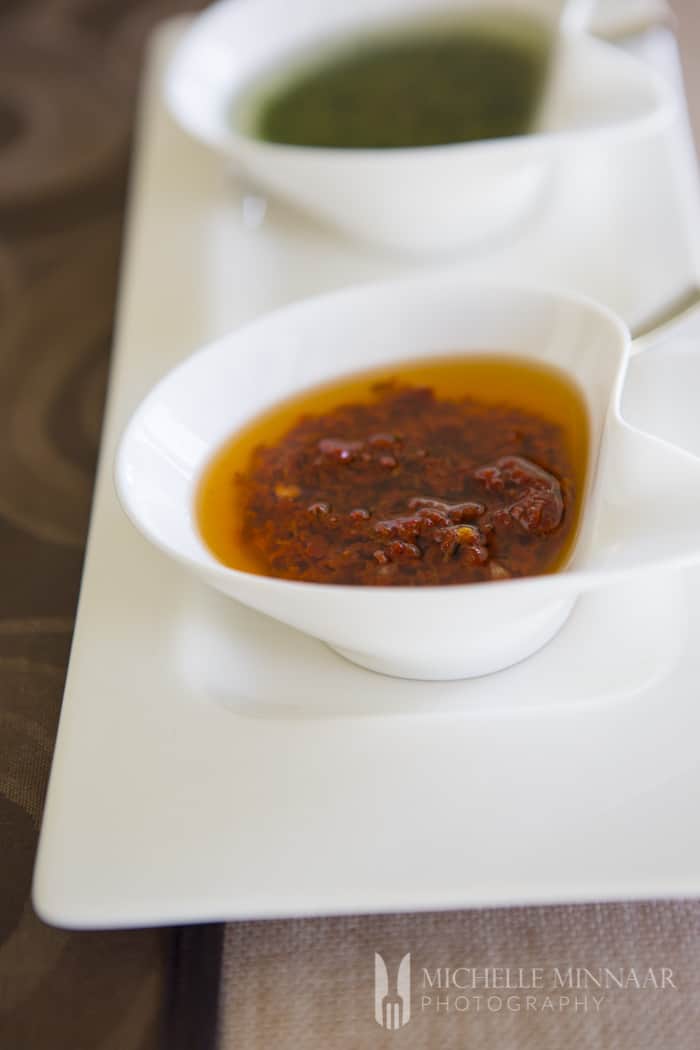 Cook More Spanish Food At Home
Canary Islands. It sounds exotic and far away. The good news is that the former is true but it's only four hours' flying time from a London airport. The area consists of islands and islets, big and small, but the noteworthy ones are Tenerife, Fuerteventura, Gran Canaria, Lanzarote, La Palma, La Gomera and El Hierro.
I had the privilege to visit Tenerife for holiday recently and basked in the glorious sunshine. The island enjoys average daily maximums of over 20°C throughout the year, which is why many Europeans escape the miserable winters like swallows. At some rocky beaches there are ladders fastened to some big flat rocks, which officially turns the pool into a humongous swimming pool where people dive, swim and snorkel.
Brits, myself included, can easily be spotted miles away with their pasty skin tones resembling Nosferatu. Depending on how long the former have been staying on the island, some end up looking like shedding lobsters - a stark contrast to the locals who sport gorgeous golden tans.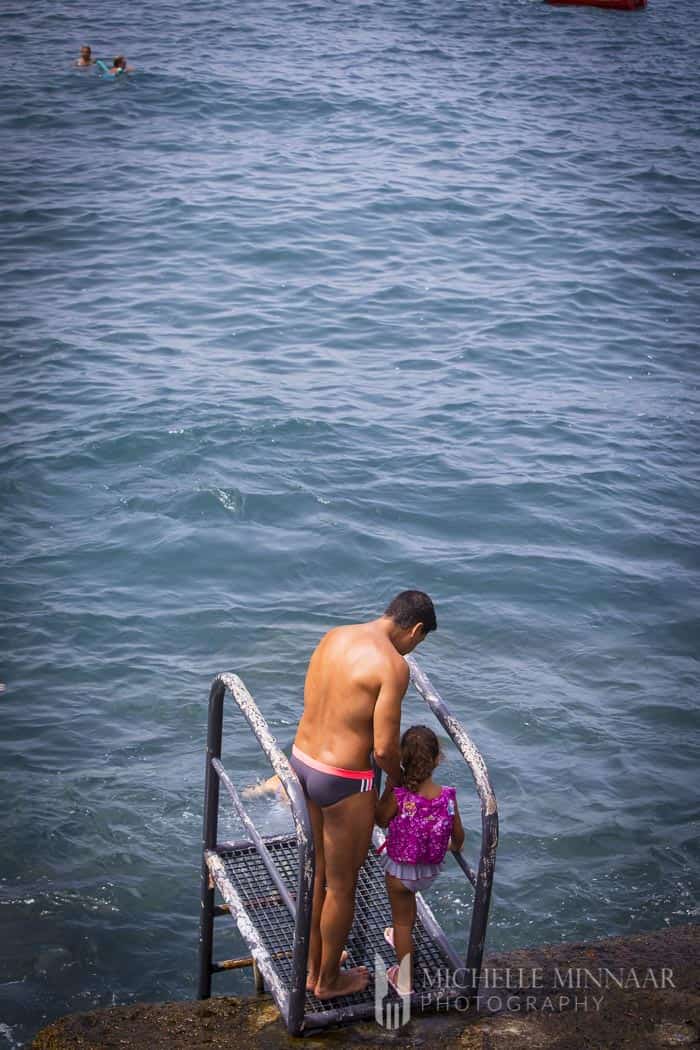 When dining out, you'll quickly notice a pattern forming. At every single meal bread is brought to the table accompanied by a red and green sauces, respectively. When the food arrives, the bread is removed but the sauces remain and odd looking baby potatoes are served as a side dish. Papas Arrugadas is a traditional Canarian dish that comprises potatoes cooked in a very particular way, which I'll explain in subsequent posts, and the sauces. Mojo Rojo and Mojo Verde are eaten with bread and potatoes, but the red variety is mainly for meat whereas the green one is for fish.
I had the honour of working with one of Tenerife's foremost chefs, Juan Carlos Clemente, not to be confused with an old Argentinian actor strangely fascinated by vampirism. The recipes were demonstrated at adult-only Kn Arenas del Mar Hotel in the kitchen of its fine dining restaurant, El Ancla, thanks to Tenerife Tourism.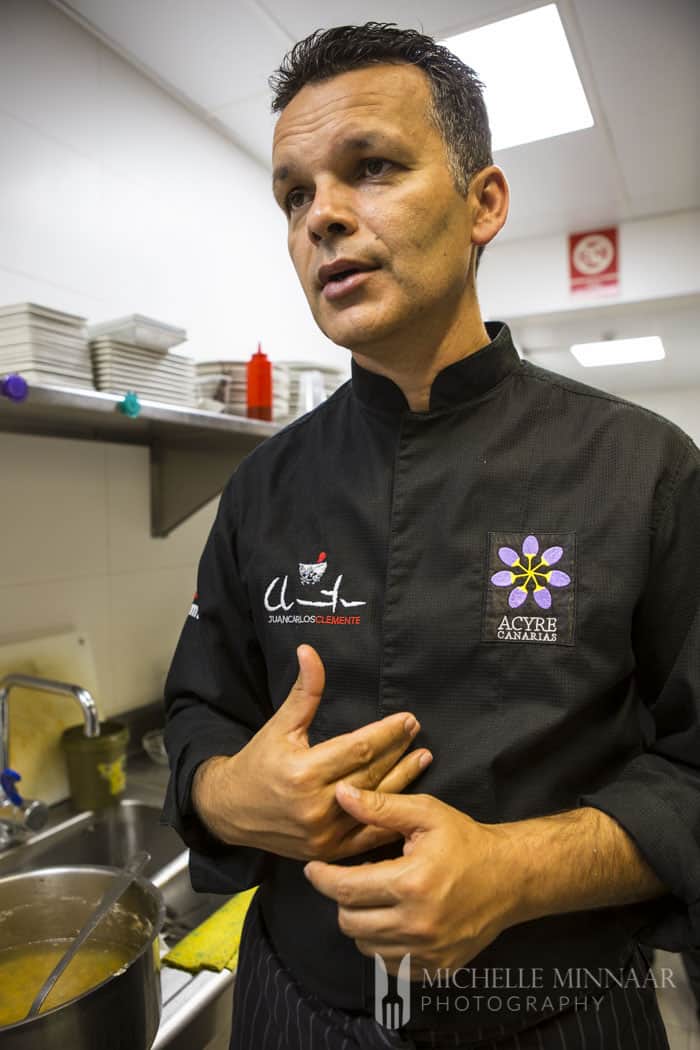 Mojo Rojo is sometimes referred to as Mojo Picón, which means "spicy sauce" - the reason being the amount of chilli used. It consists of olive oil, salt, water, local pepper varieties, garlic, paprika and cumin. If you have been to the island, you might notice that the sauce in the photos don't look as creamy as those served in restaurants. The reason is that this recipe was handmade with mortar and pestle, whereas restaurants cut corners by swishing all the contents in a food processor.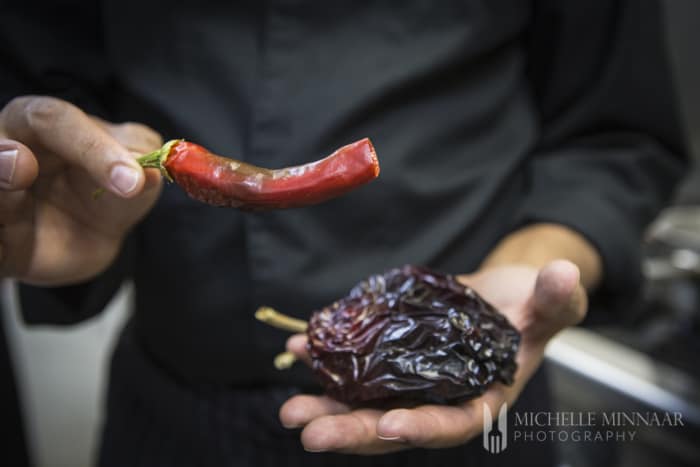 The actual peppers used in the recipe is of utmost importance. Thanks to the ideal climate, a plethora of pepper varieties grow on the island, known generically as "pimienta". You will need one hot pepper for the bite and another for the flavour of this sauce. The spicy one used in this case was the Cuerno De Cabra, which is a Goat's Horn Chilli Pepper. It's a tough task to find this on British soil but if you're hellbent on replicating this recipe with precision, you can grow your own. Alternatively, you can use a red jalapeño, but use a bit less because it is hotter than its goat horn counterpart.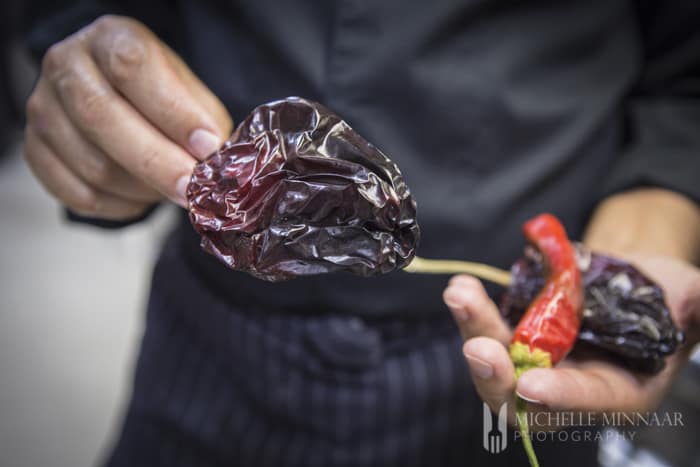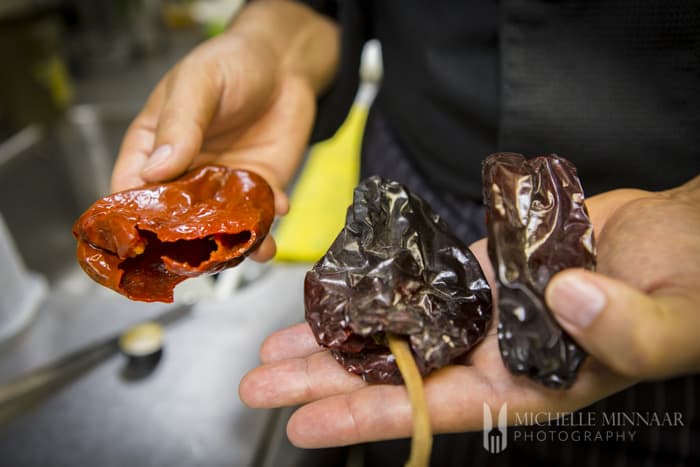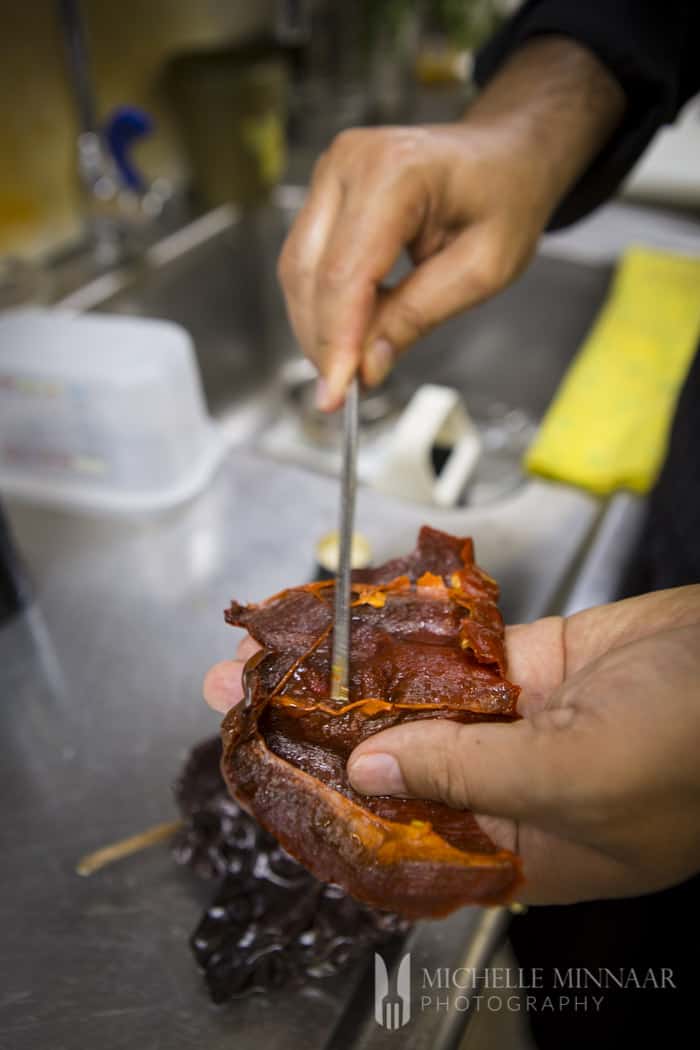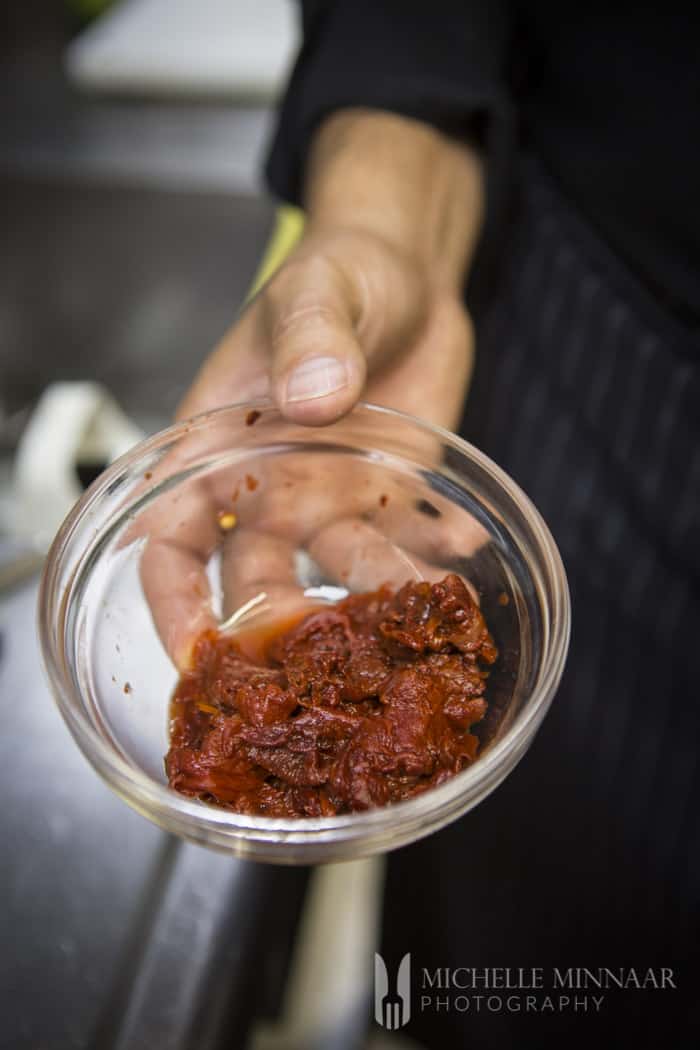 In fact, so many peppers grow on the islands that locals end up drying out some so that they can use them throughout the year. The flavourful pepper is called Pimiento Palmera. In UK this is also hard to find and Mexican alternatives can be used instead such as Poblano and perhaps even Ancho.
If you're in a rush, steep the dried peppers in hot water, otherwise leave them for a while in cold water to rehydrate. After that, remove the peel and remove the innards.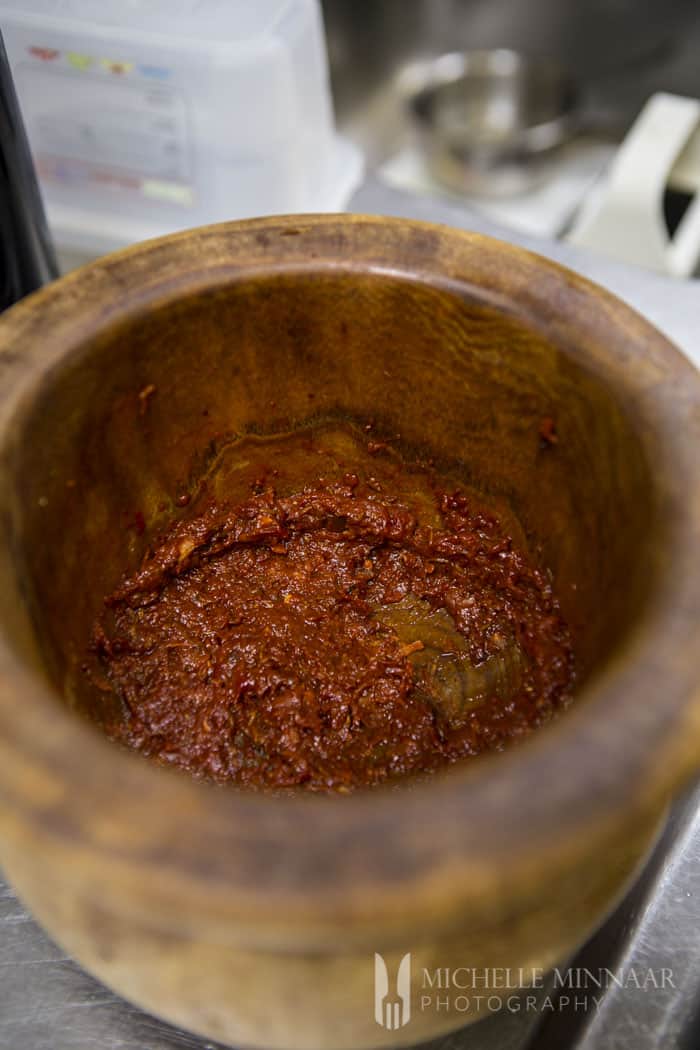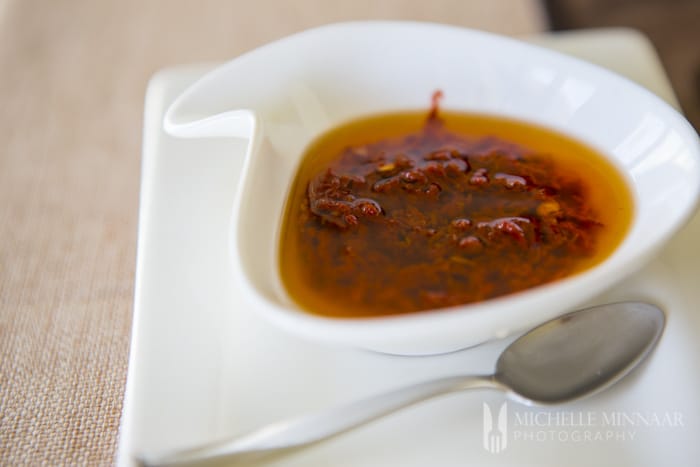 Finding the peppers is the hardest part. After that it's simply a case of putting it all together in a jiffy and, hey presto, you can daydream you're in the Canaries while eating it with your food of choice, whether it's meat, potatoes or bread.
Print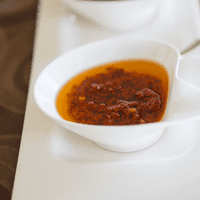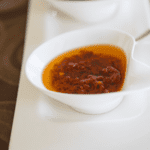 Mojo Rojo
---
2

cloves garlic

5

ml

(1tsp) of roasted cumin

4

Pimienta Palmera peppers

1

hot pepper

2.5

ml

(1/2 tsp) sea salt

30

ml

(2 tbsp) red wine vinegar

125

ml

(1/2 cup) of sunflower oil
---
Instructions
Crush everything in the mortar, first the solid ingredients and then add the liquid.
Prep Time:

15 minutes

Cook Time:

0 minutes

Category:

Sauce

Method:

Blending

Cuisine:

Spanish
Nutrition
Calories:

311

Sodium:

233 mg

Fat:

30.3 g

Carbohydrates:

9.5 g

Fiber:

Dietary Fiber

Protein:

2.2 g
save the recipe to your pinterest board