As strange as the name might seem, sambal oelek is one of my new favourite condiments. You might already know a store bought version of sambal however, it will not be able to keep up with the taste and satisfaction of a homemade sambal oelek. In fact, think of sambal as an Indonesian relish. If you love exotic and spicy food, you will adore it too. Be warned that the main ingredient of sambal oelek is fresh chili, so you will need a strong stomach. What you get in return from my version is not only spiciness but also deep, exotic flavours. The perfect condiment for almost any meat, fish or seafood, especially ones with an Asian touch to them. That being said, you can also use homemade sambal with vegan dishes, making it a perfect all-round spicy condiment.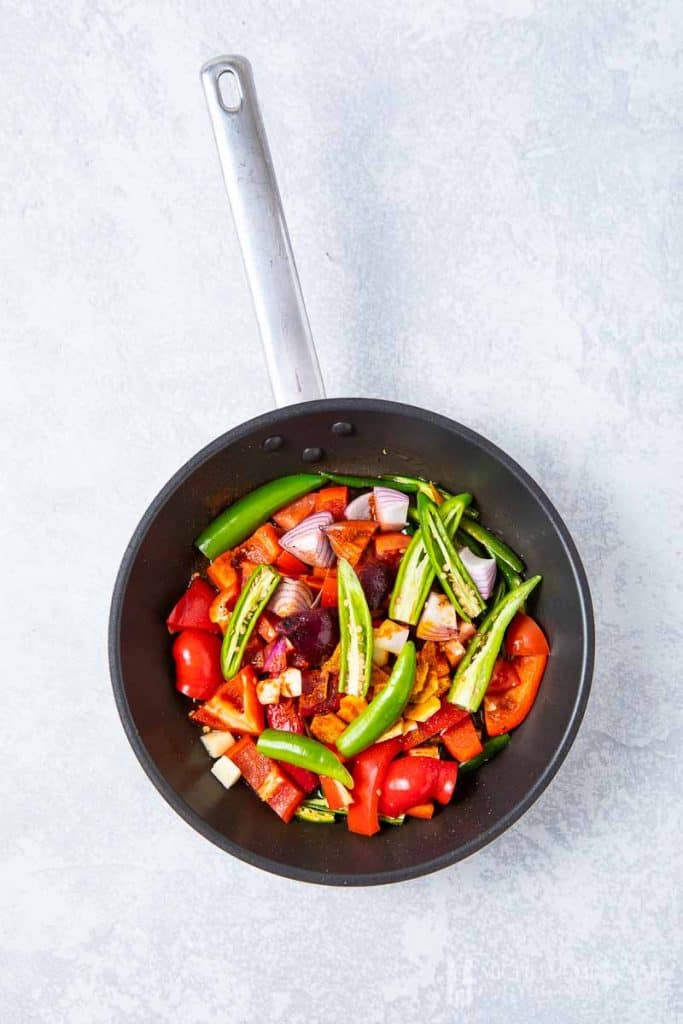 sambal oelek
Sambal oelek's roots are in Malaysian and Indonesian cuisine. It is not just one recipe though. In fact, there are over 300 kinds of sambal in the region. It distinguishes itself in the way it is traditionally prepared. The word oelek refers to the original dialect for pestle. Traditionally, sambal oelek would be prepared fresh by squashing the ingredients in a mortar. This is a great way to release and mix flavours when you are preparing the fresh version. In my cooked version, I have decided to make life slightly easier for myself by using modern equipment.
By blending the cooked ingredients in to a smooth paste, you do not only get the most out of the flavours but the sambal oelek will also keep longer than the shop bought kind, if you don't need it right away. Keep it in the fridge and take it out when you need to spice up a dish. For example, this lovely Filipino dish chicken caldereta. Otherwise, you can also try kare-kare, another delicious stew from the Philippines.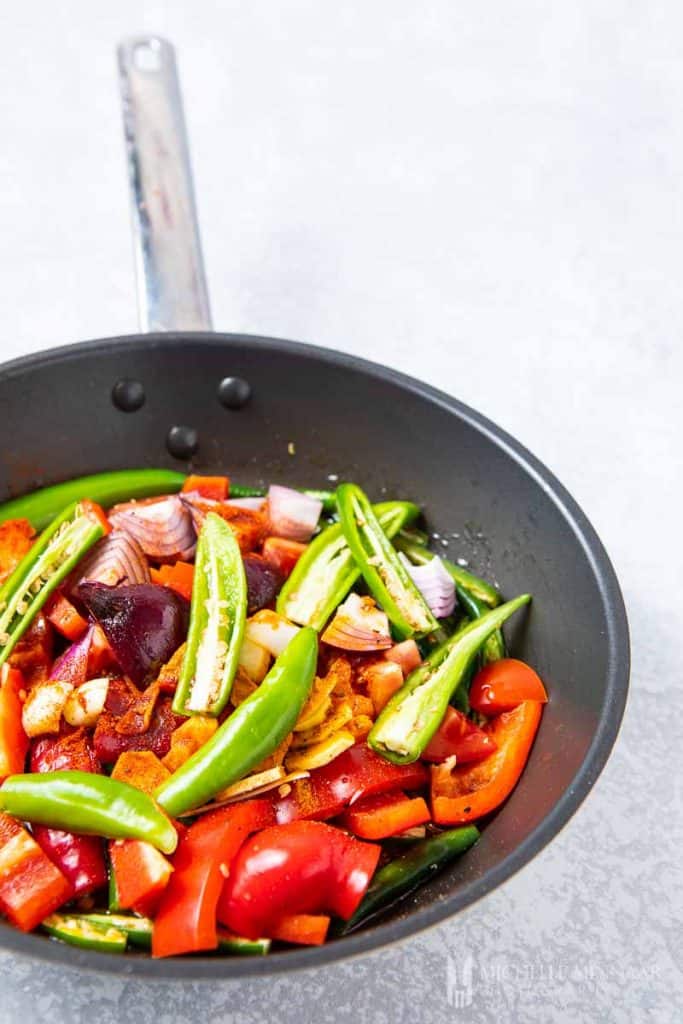 best sambal oelek
A traditional recipe is made simply from fresh chilies and salt. In my version, I have incorporated quite a few more ingredients giving a much wider flavour range, while maintaining the spice level. Garlic and ginger are simply a must for this ultimate sambal recipe. Ginger especially helps to adding some depth in the flavour and obtaining that southeast Asian flavour profile. You can even add it to smoked chicken thighs! Trust me, after you have made your own, you will not be wanting barbeque sauce for your chicken again.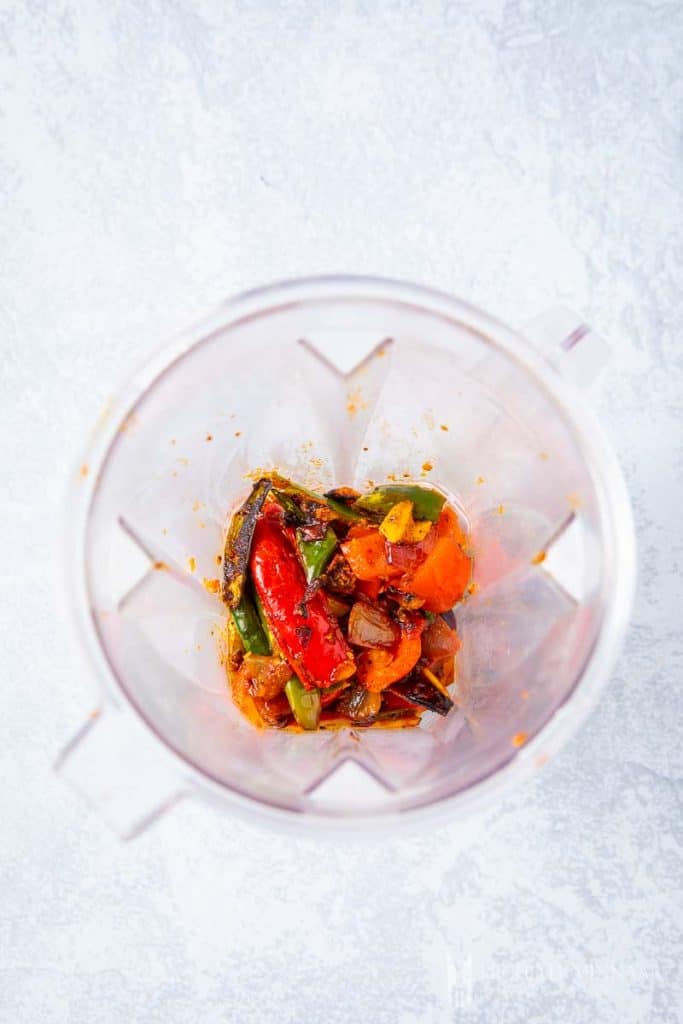 sambal oelek vegan
Believe it or not, but this homemade sambal oelek is actually vegan. If you thought it is only a condiment for meat dishes, think again. Above all, it is also a perfect companion for vegan dishes such as saag aloo for instance.
A typical Indian finger food dish like aloo ki kachori also benefits greatly from a dollop of sambal oelek. Actually, it doesn't even have to be that complicated to get a tasty meal. Simply oven roast an aubergine and serve it with sambal oelek, and perhaps a spoonful of crème fraiche on the side, and that is all you need. Check out these vegan aubergine recipes for more information.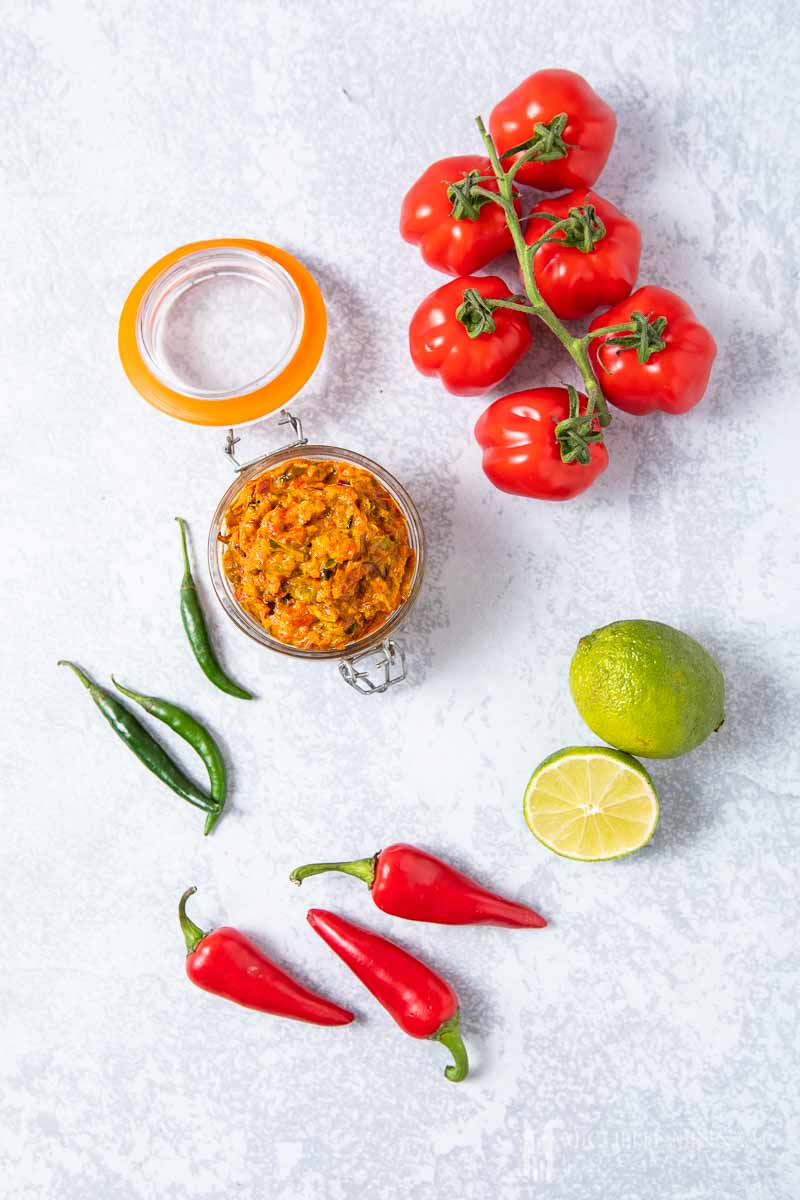 bird's eye chillies
One of the key ingredients of sambal oelek is bird's eye chilli pepper. Originally native to Central and South America, this highly pungent pepper was distributed around the world by the Spanish and Portuguese explorers during the 16th and 17th century. Since then various chilli peppers have been an unmistakable part of the local cuisines throughout Asia. Bird's eye chilli as also known as piri piri or Thai chilli. In essence, it is a corner stone ingredients in most Southeast Asian cuisines, most commonly in Thailand, Malaysia and Indonesia.
sambal oelek scoville
Firstly, depending on maturity, a bird's eye chilli can range from 50.000 to 100.000 on the scoville scale, which is the rating of a chilli pepper's hotness. If you are not familiar with the scale, I can tell you that it is quite a high score, making bird's eye chilli one of the hottest peppers around. This makes it the perfect ingredient for a spicy sambal oelek. For instance, try it out with a plate of vegan pad Thai.
Admittedly, if you change the recipe there is a chance that you might technically drift into a different one of the hundreds of sambals out there. However, tweak the recipe to your heart's desire! For instance, one variation is to add some fresh herbs to the homemade sambal. To keep on the Asian track you can add some fresh coriander to the mix just before blending it.
In addition, some lemongrass will also give a nice underlining of those typical Thai cuisine flavours. In order to avoid the risk of biting into stringy bits of lemongrass, you can let the sticks fry up with the other ingredients on the pan, and remove them out before blending the sambal oelek into a thick paste. On the other hand, a variation can also mean omitting ingredients. Therefore, if you are not keen on ginger or garlic for example, you can leave these out. You can also consider these lemongrass substitutes.
fresh sambal oelek
As an alternative, you make a raw but fresh sambal oelek. The method is very simple. Take all ingredients and mash together in a mortar. Alternatively, you can use a food processor or blender. The advantage is that you retain all the flavours fresh and vibrant. On the other hand, some flavours develop less when not cooked, and there is a risk that the fresh chilli will overpower the other flavours. Furthermore, the advantage of the cooked version is that you can store it for several days in the fridge, and thereby have some sambal oelek at hand, if a dish needs a punch of spice and flavour.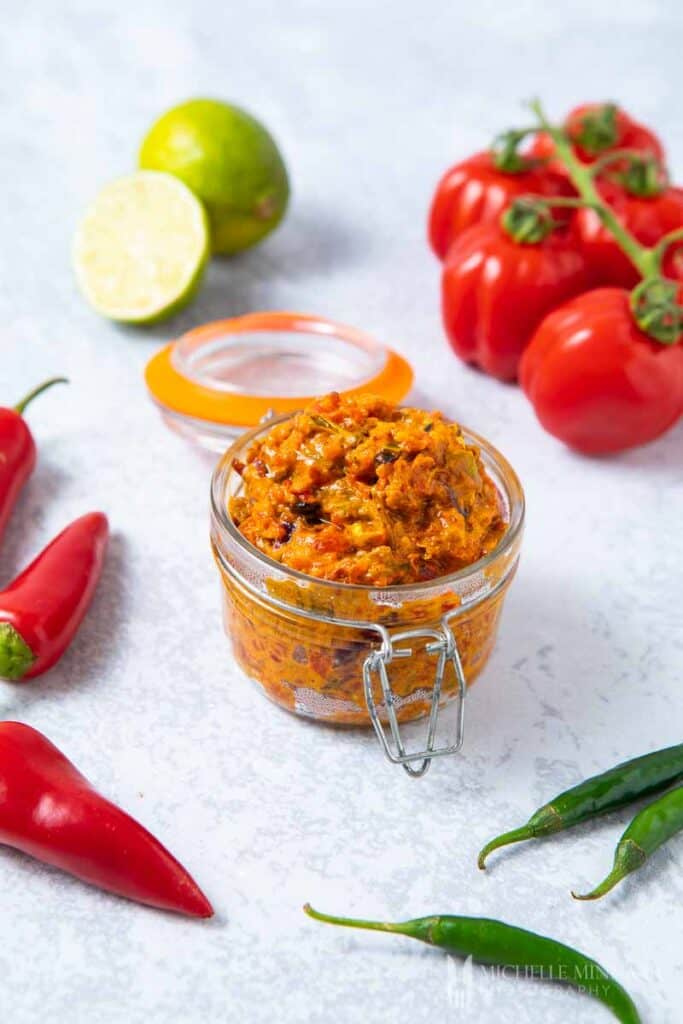 Lastly, if you love making your own pastes, you should also try to make my fresh korma curry paste. It's to die for!
Print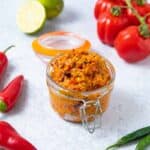 Sambal Oelek
---
Author:

Michelle Minnaar

Prep Time:

15 minutes

Cook Time:

15 minutes

Total Time:

30 minutes

Yield:

1 cup

1

x
Description
Sambal oelek is a spicy chutney or paste used in Malaysian as well as Indonesian cuisines. Beware, it involves quite a lot of fresh chilli peppers.
---
Scale
Ingredients
10

green bird's eye chillies, washed and tops removed

10

red chillies, washed and tops removed

1

  red pepper, washed and chopped

1

red onion, peeled and chopped

1

tomato, washed and chopped

1

lemon, juice only

2.5

cm (1in) fresh ginger, peeled and cut into slices

2

garlic cloves, peeled and chopped

45

ml (3 tbsp) vegetable oil

7.5

ml (1 tsp) salt

2.5

ml (½ tsp) black pepper

5

ml (1 tsp) dried red chilli flakes

5

ml (1 tsp) paprika

2.5

ml (½ tsp) dried turmeric
---
Instructions
Place all the ingredients in a large frying pan and fry for 10 minutes or until everything is cooked.
Transfer the contents to a food processor and blend until smooth, or desired consistency.
Store in the fridge and use as needed.
---
Notes
Some versions of Sambal Oelek only consist of chillies and salt. This recipe gives a wider flavour range and remains very spicy!
Category:

Condiment

Method:

Pan Fry

Cuisine:

Indonesian
Keywords: Sambal Oelek recipe, vegan Sambal Oelek, Indonesian cuisine