A super quick satisfying side that's simple and delicious, sauteed peppers and onions is a dish that's guaranteed to please.
It's the perfect easy midweek recipe to serve alongside your favorite main. Here's how to make the best sauteed peppers and onions, as well as a few ideas on what to serve them alongside.
Sauteed Peppers and Onions recipe
This sautéed peppers and onions recipe is a versatile, healthy side that will please the whole family. Great for everyone, from vegetarians and vegans to meat-loving carnivores, it's also keto-friendly for those looking to kick the carbs and it's gluten free too!
It's as simple as quick-frying onion with red, yellow or green bell peppers in a pan, with some garlic and a jalapeno chili dressing to bring a real sizzling kick.
Beautiful colors, beautiful taste and it's healthy too. If heat isn't your thing, this recipe is flexible – you can hold back on the chili. Or, of course, if you like it really hot, you can add more.
The flavor of the sweet bell peppers and the red onion, combined with the earthiness of the fragrant garlic and the bite of the chili, makes this a great recipe.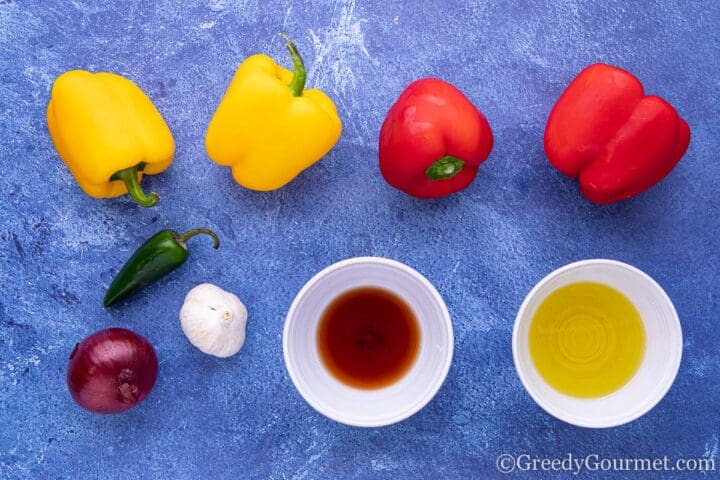 What is sauteing?
When you sauté onions or sauté peppers, you cook them fast on a high heat in a large skillet or pan, with a minimal amount of oil. Cooking them this way brings out their natural sweetness. 
The word "sauté" comes from the French verb "sateur" meaning to jump. Just watch as your sautéed bell peppers and onions jump around in the pan, as they react to the hot oil.
Key sauteing tips
You want to get the perfect sauteing action? Here are a few key points to keep in mind:
Get the pan hot
You need to make sure you bring the pan up to the right heat. Oil should go in when the pan is hot, then the veggies once the oil has heated but before it smokes. If you try sauteing in a pan that's not hot enough, you won't get the right flavor.
Don't crowd the pan
When sauteing, you need to give your vegetables room to breathe. If you crowd the pan, there will be nowhere for the liquid to evaporate. It will get trapped in the pan and you'll end up steaming your veggies, instead of getting that lovely slightly browned color.
Be stirring occasionally, not constantly
Letting the vegetables sit in the pan for a bit produces those wonderful complex flavors. A bit of char goes a long way, so stirring frequently or occasionally is best, not constantly.
Can you saute frozen peppers and onions?
No, your bell peppers and onions are much better when sauteed fresh. If you try to saute them from frozen, there will be far too much water in the pan and you won't get that wonderful slightly caramelized taste and texture.
Do peppers or onions take longer to cook?
Onions take longer to saute than peppers. So, you'll need to add them to the skillet or pan first. Onions normally take around 5–10 minutes to soften and become lovely and golden.
When you add the peppers, you'll need to cook them for about another 10 minutes, until tender and caramelized.
What's the best type of pepper to use?
There are a few different types you could use:
Red bell pepper
Red peppers are sweeter, as they are the most mature form of pepper.
Green bell pepper
The green type of pepper is less mature and, therefore, slightly more bitter.
Yellow bell pepper
Yellow peppers are somewhere in between the two. A nice mellow sweetness, with bitter undertones.
Side note: For a little extra note of heat, add a sprinkling of red pepper flakes.
Are sautéed peppers and onions good for you?
Yes! This recipe is a very healthy side dish option, fit for the whole family.
Bell peppers are packed full of fiber and also contain plenty of vitamin A and C (a medium red pepper provides 169% of your daily vitamin C), as well as folic acid and potassium. Studies suggest peppers could prevent low iron and eye disorders. 
Onions are also high in fiber and are a great source of antioxidants.
For those on a paleo or keto diet, sauteed peppers and onions are a perfect side dish, with one serving producing 5g of net carbs. 
How long do sauteed peppers and onions last?
Leftover cooked vegetables should be stored in an airtight container or zip-closure bag in the refrigerator. Properly stored, they will last up to a week in the fridge.
Can they be frozen?
Yes! Sauteed vegetables freeze really well, so feel free to cook up a big batch. 
How do you freeze sautéed green bell peppers & onions?
If you have leftovers from this recipe, freezing is easy. First, remove the vegetables from the heat and let them cool to room temperature.
Then spread the sauteed bell peppers and onions onto a baking sheet lined with parchment paper. Make sure none of the onions or peppers are touching, or at least as little as possible.
Place in the freezer to flash freeze for an hour or two. Once the veggies are completely frozen, transfer them into an airtight freezer-safe container.
Label the container with the date of freezing and freeze for up to 4 months.
How do you reheat peppers and onions?
You can either thaw them in the refrigerator or reheat them straight from frozen.
The simplest thing to do is to just add them straight into a recipe, like a stew or a casserole, and heat them though.
If you want to reheat them to eat them as a side dish, reheat them in a medium hot pan, stirring regularly. You can also reheat them in the oven, by spreading them on a baking sheet and heating at 425ºF/220ºC for 6–10 minutes.
Can you sauté in butter instead of oil?
You should saute using oil, not butter. When heated to a high temperature, the milk solids in the butter will burn. You'll end up with a very unpleasant taste and aroma.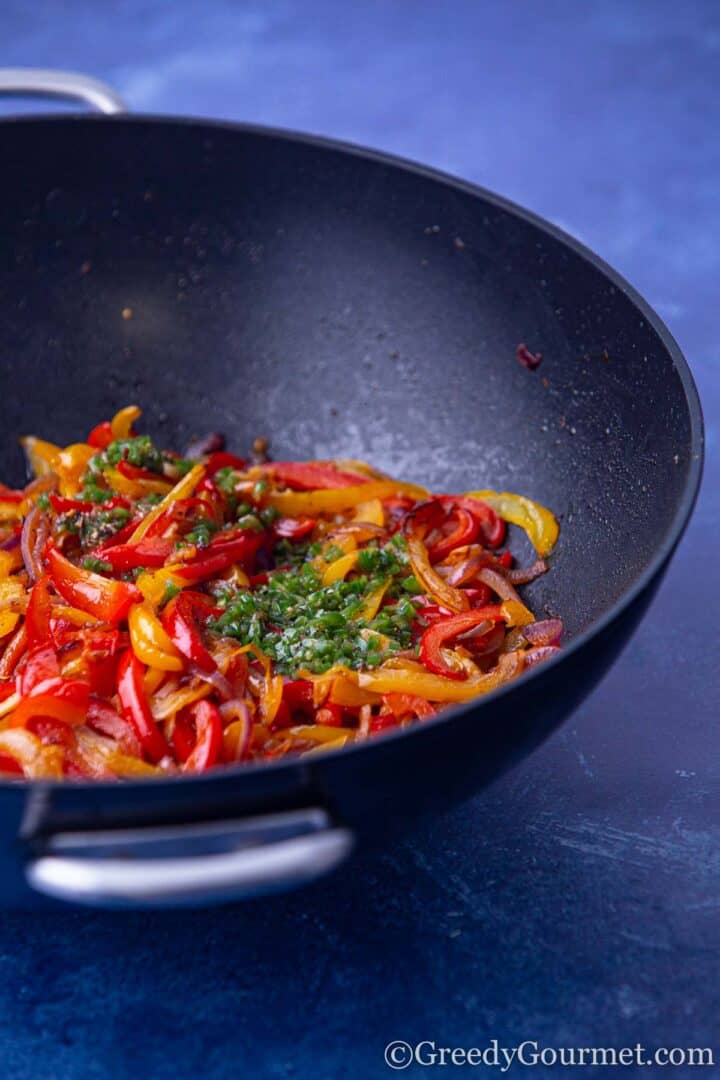 Variations on this recipe
This recipe calls for red wine vinegar to be used in the spicy dressing. If you want a sweet, tart, fruity flavor, go for balsamic vinegar.
For an extra special flavor, go for a top brand like Giuseppe Giusti balsamic vinegar. In place of olive oil, you can use avocado oil or grapeseed oil.
For a fragrant twist, add a handful of chopped fresh basil at the end of the cooking process.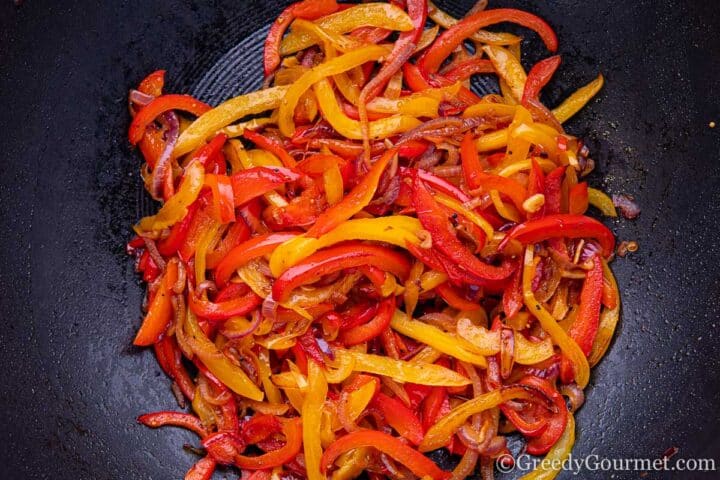 How to serve sauteed peppers and onions
The beauty of this recipe is in its versatility. Whether served hot or cold, on its own as part of a selection of tapas, as a burger topping, in an omelet, a sandwich or a salad, or as a sumptuous side to your favorite roast, sauteed peppers and onions are absolutely delicious.
Here are a few great recipes you could use to get the best out of your sauteed peppers and onions:
More pepper and onion recipes
Here are more great Greedy Gourmet pepper or onion based recipes for you to try your hand at:
Print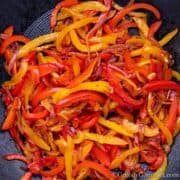 Sautéed Peppers and Onions Recipe
---
Description
Sautéed Peppers and Onions are super quick and easy side dish that everyone can enjoy. Vegan and keto-friendly, you can tweak it too! 
---
Spicy Dressing
45

ml

(3 tbsp) red wine vinegar

80

ml

(1/3 cup) olive oil

1

jalapeno chilli, deseeded and finely chopped
Peppers and Onions
1

red onion, thinly sliced

1

garlic clove, crushed

2

red peppers, deseeded and julienned

2

yellow peppers, deseeded and julienned
salt and pepper, to taste
---
Instructions
For the Spicy Dressing
Place half the olive oil, vinegar and chilli in a small mixing bowl, then whisk. Season to taste and set aside.
For The Peppers
Heat the remaining oil in a large frying pan or wok. 
Add the onion and fry until softened. 
Add the garlic and peppers and sauté for another 10 minutes. 
Once the vegetables are cooked, pour in the dressing, stir and serve immediately. Enjoy!
Notes
This side dish can be served cold as well, e.g. as part of a tapas dinner.
Prep Time:

10 minutes

Cook Time:

20 minutes

Category:

Side Dish

Method:

Sauté

Cuisine:

American
Keywords: peppers and onions, sauteed peppers and onions, how to saute onions and peppers, caramelized onions and peppers, vegan side dish, keto side dish recipe