In the summertime, there is nothing more refreshing than a fruit smoothie, which is why I love this strawberry blackberry banana smoothie. It gives me my daily intake of fruit all in one go and tastes absolutely amazing.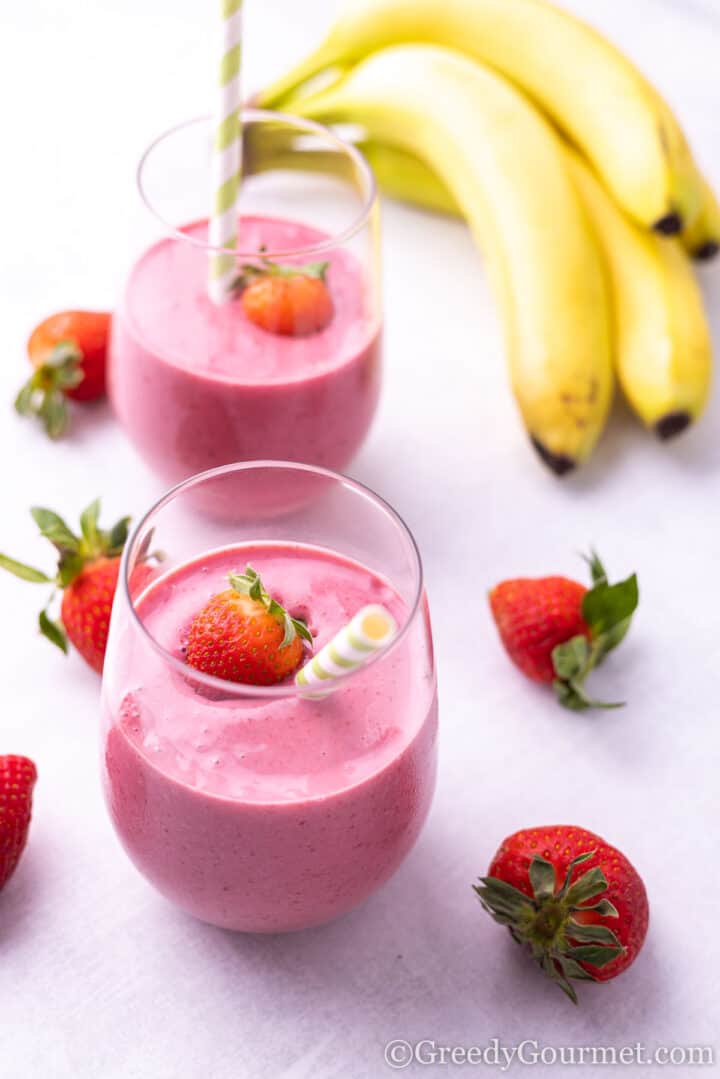 It's fruity and sweet and it's so easy to whip up in a matter of minutes. You'll love the smoothie recipe!
Why You'll Love This Recipe
You'll love this recipe for many reasons, but mostly because it's quick, has a delicious creamy texture, and can be customized to suit your flavor preferences.
Special Equipment Needed To Make This Recipe
You will need some sort of a blender to make this recipe. Whether you use a standard blender or an immersion blender and a small blending cup, you'll need something to mix up the ingredients.
You could even use a food processor if that's all you have.
Special Ingredients You Need For This Recipe
You'll need a couple special ingredients for this recipe:
Dates - Dates are not always the easiest item to find, but if you can find them at a farmers' market or your local grocery store, snag them up.
Dairy-free Yogurt - You can use coconut yogurt, soy yogurt, or any other dairy-free yogurt you like. They can sometimes be hard to find at local supermarkets, but larger chains should have them in stock.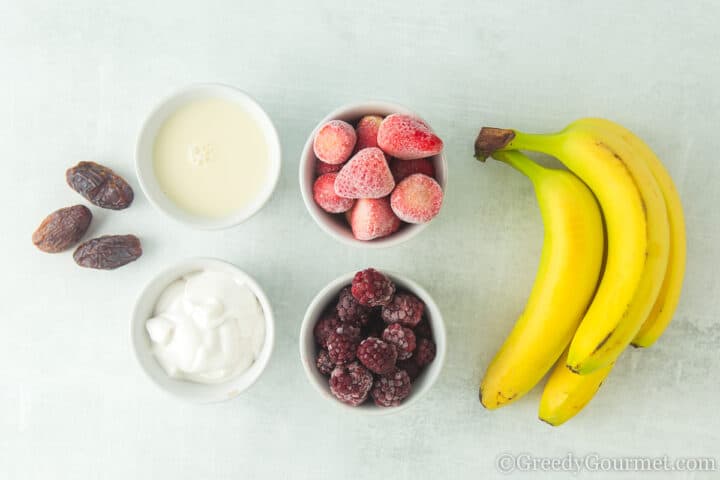 Top Tip
If your blender is a little older, don't use all frozen ingredients. Substitute frozen strawberries and frozen bananas for fresh ones and just use ice cubes, or use frozen fruits and skip the ice cubes. Some blenders cannot handle too many frozen items.
What to Serve with Your Strawberry Blackberry Banana Smoothie
Sides
Gooseberry Jam - To turn your blackberry smoothie into a proper snack, have some toast with gooseberry jam. It's a lovely sweet combination that'll curb your afternoon hunger pains.
Papaya Chutney - If you'd rather a chutney over a jam, try this papaya one. Its tropical flavor is to die for.
Desserts
Chocolate Orange Brownies - I love a fruity twist on a chocolate dessert, especially with this smoothie.
Marrow Cake - If you haven't tried eating cake with a banana smoothie yet, what are you waiting for? It's an unexpected combination, but one you'll love.
Drinks
Cranberry Smoothie - Keep an extra frozen banana on hand for a cranberry smoothie. You can make a delicious smoothie bar with this recipe.
Super Green Smoothie - You won't need a frozen banana for this, but you may want to add some chia seeds for the ultimate healthy smoothie.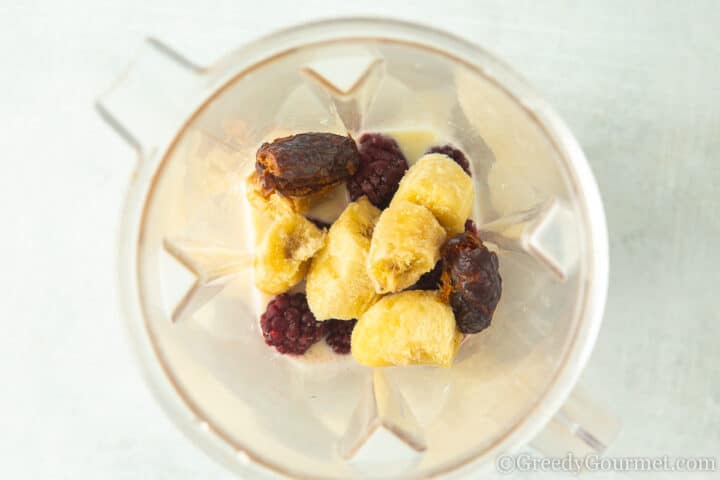 Popular Substitutions For This Recipe
Frozen fruit
If you do not have frozen strawberries, a frozen banana, or frozen blackberries, feel free to use fresh fruit instead. You can also use fresh and frozen fruit if you have a combination.
If you do you use fresh fruit instead, or you're worried that just using fresh and frozen fruit won't give you the consistency you like, you can toss in a couple ice cubes. This will make up for the loss of texture.
Almond milk
You can use any milk you'd like for this recipe. It doesn't have to be plant-based milk or oat milk. You can use cow's milk or soy milk, too.
Yogurt
If you do not like Greek yogurt, feel free to use another type like almond yogurt or vegan yogurt.
You can also forgo the yogurt altogether and add more milk like coconut milk. Or you can use something else to get a creamy texture, such as almond butter.
Dates
The dates in this recipe mostly serve as a sweetener so if you do not like them you can use maple syrup or honey instead. You can also omit them altogether.
Variations To This Recipe
As noted, one of the reasons I love this recipe so much is because you can edit it to fit your flavor profile. If you do not want a strawberry blackberry banana smoothie, you can change up the ingredients a bit to make it more your style:
Different fruit combinations
You can always switch up the fruit that you use. You can use any frozen berries you like and have just a berry smoothie.
You could also make it into just a banana smoothie or a blackberry smoothie. You can use mixed berries, raspberries, or blueberries. You truly can do whatever you want in smoothie recipes.
Vegetables
If you want to get your daily vegetable intake, feel free to add your favorites. Or add what you feel you are lacking but don't eat because you don't like the taste.
The smoothie recipe will still taste great even if you add vegetables because it'll mask the flavor. Leafy greens like spinach are super easy to add in, as are celery sticks and tomatoes.
Other additives
Smoothies are also great ways to get the other vitamins and minerals that you are missing. You can put in anything else that you'd like, such as protein powder, nut butter, collagen peptides, chia seeds, or even granola.
All of these will still give you a great-tasting strawberry blackberry banana smoothie, but you'll get some extra protein and other benefits, as well.
Top Tip
If you don't like the consistency of your smoothie, adjust with the liquid first. Always start with less than it calls for in case you want a thicker smoothie, especially if you are using fresh fruits instead of frozen. You can then adjust accordingly.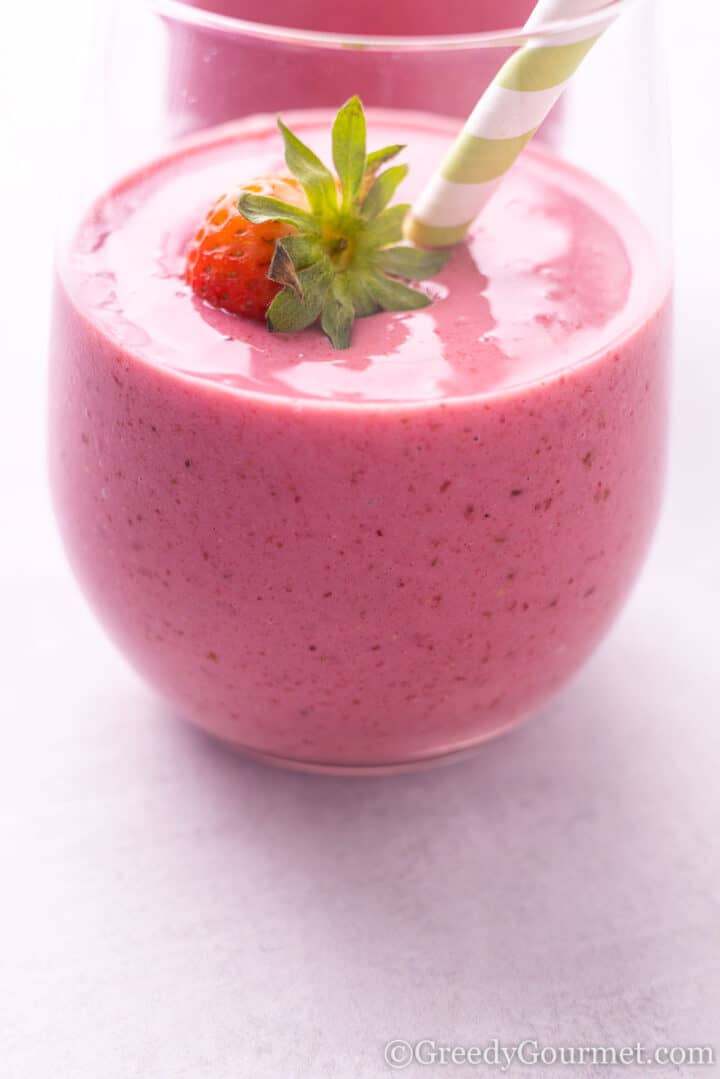 How do I store leftovers?
If you have any leftovers, just pop them in the refrigerator in an airtight container. A mason jar is a wonderful container to use to drink out of and store your smoothie.
How Long Will This Food Last In the Fridge?
The smoothie will last a couple of days in the fridge without going bad. You may notice it start to separate a bit, but that is not a huge deal. Just stir it and it will be fine.
Can I Freeze This Recipe?
Yes, you can definitely freeze your strawberry blackberry banana smoothie. This will keep it for a while longer, but do you know that it may affect the texture a bit if you use certain liquids like milk.
Can this recipe be scaled?
Yes, this recipe can be scaled. If you have a large blender that allows you to make large amounts of smoothie at once, you can double or even triple the recipe to your liking. Alternatively, you can also make this into a smaller serving by cutting back on the amounts of ingredients you put in.
Smoothies are some of the easiest recipes to make because it's all about your taste and consistency preferences, and the same thing goes for scaling the recipe. You can make as much or as little as you like, as long as it suits your palate.
Can This Recipe be made in advance?
Yes, this recipe can be made in advance. You can make it at night and eat it in the morning. Or you can make some for the week and grab them from the fridge when you are hungry.
You can also gather the ingredients and store them in a cup or your blender and wait until you are ready to eat it to mix it up.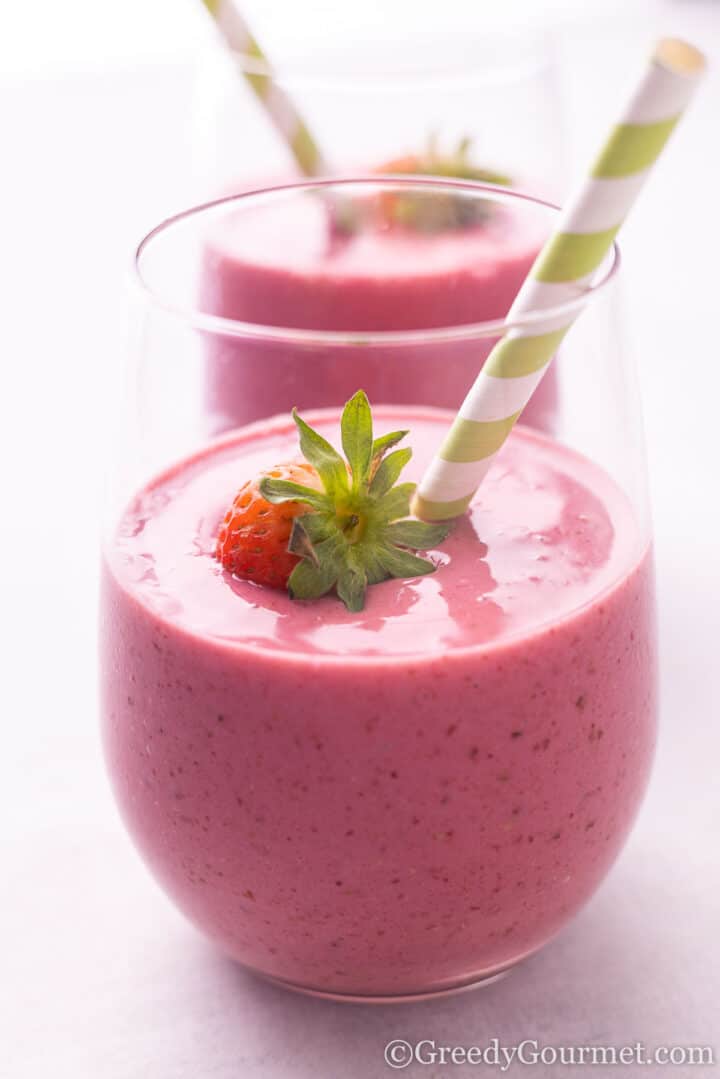 Other Drink Recipes You'll Love
Don't Forget To Come Back And Let Me Know How Your Recipe Turned Out!
If you made any adjustments to this recipe, let me know. I would love to hear all about your strawberry blackberry banana smoothie, or whatever else you made it into!
GIVEAWAY
One winner will receive a Bottle of X MUSE Vodka!
X MUSE (pronounced Tenth Muse) is the first blended vodka to be produced using barley. Not big agri-business barley, but rather two heritage varieties - Plumage Archer and Marris Otter, both of which are grown in the UK and distilled separately.
Our process is unique to us and it is this careful orchestration of barleys, prized for their flavour rather than their yield, that makes our vodka smooth, rich and complex enough for both straight-up sipping and the essential component of cocktails and martinis.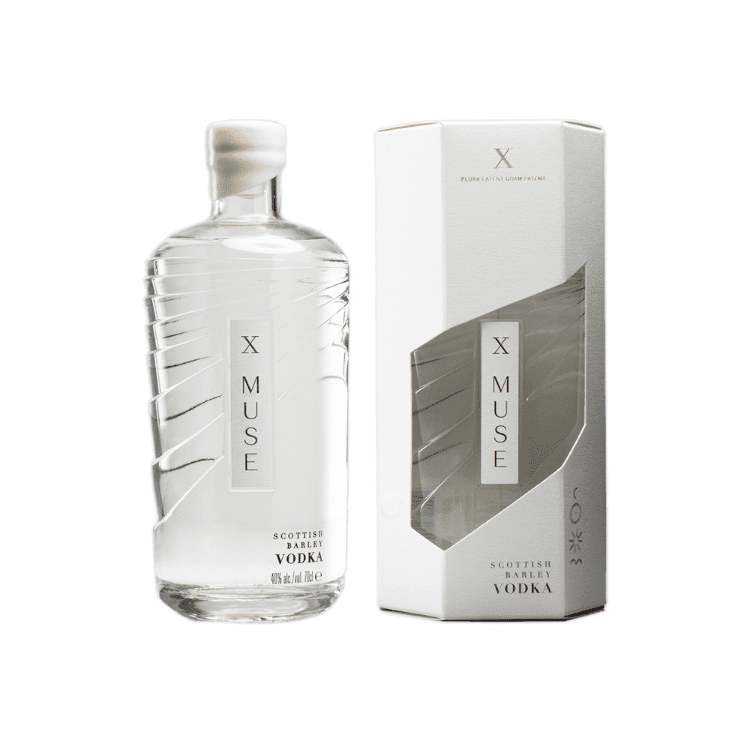 X MUSE is more than just a brand. It's a journey, a winding path to experience connected with mysterious twists and enlightening side-passages. There is so much to discover about the way we craft our vodka, the selection of ingredients we use and the complexities of our vodka distillation and blending process.
But there are other elements of our story to unearth, the integration of 'art thinking', and our more subtle, esoteric influences. The 'Magic' within the Brand. Take this journey with us as you partake in a whirlwind of flavours and notes that will transport you to the unknown.
Entering is easy, just follow the instructions below.
a Rafflecopter giveaway
HELP
Here you can find a tutorial on how to enter with Rafflecopter.
If your form is not showing, try refreshing the page.
Complete the form, otherwise your entries will not count.
Make sure the mandatory entries (e.g. leave a blog comment) are completed first.
Don't forget to come back daily for extra entries via Twitter.
If you're viewing this post by email, please come to the actual webpage to enter.
Competition Question: What is your favourite smoothie?
Print
Strawberry Blackberry Banana Smoothie Recipe
---
Author:

Michelle Minaar

Total Time:

5 minutes

Yield:

2

servings

1

x

Diet:

Vegan
Description
This tasty summer Strawberry Blackberry Banana Smoothie is fruity and sweet and is quick and easy to make.
---
125

g

(1 cup) frozen strawberries

125

g

(1 cup) frozen blackberries

125

g

(1 cup) frozen banana

250

ml

(1 cup) almond milk

250

ml

(1 cup) plain dairy-free yogurt

2

dates, pitted
---
Instructions
Place all the ingredients in the blender.
Blitz until smooth.
Serve immediately. Enjoy!
Notes
The cup measurements for the frozen fruit were guestimated. Your best bet is to place the blender on a scale, reset to 0 and add the fruit. That said, smoothies are very forgiving things to make. The most important thing to remember is to keep the ratios of fruit the same and simply adjust the liquids according to desired consistency.
Not all fruit needs to be in a frozen state in order to be used in this recipe. It will be just fine if you just used one frozen fruit and 2 fresh ones.
As mentioned in Almond Milk Protein Shake (https://www.greedygourmet.com/recipes-for-diets/gluten-free/chocolate-banana-protein-shake/), I have a permanent stash of frozen bananas in the fridge for when a smoothie craving hits. Pro Tip: let the bananas become overripe before peeling and chopping them up. Much sweeter!
If you're not vegan, substitute the almond milk and dairy free yogurt with the cow versions.
Not a fan of yogurt, add more milk instead.
15ml (1 tbsp) of maple syrup can be used instead of dates. Add more or omit altogether; do whatever you like!
If you'd like to have a bit of protein in the smoothie, let 15g (1 tbsp) of chia seeds soak in the milk first before proceeding to blend everything together. A scoop of collagen or two will work too!
Prep Time:

5 minutes

Cook Time:

0 minutes

Category:

Breakfast

Method:

Blend

Cuisine:

American
Keywords: Blackberry Strawberry Banana Smoothie, blackberry strawberry smoothie yogurt smoothie, strawberry blackberry smoothie no yogurt, breakfast berry smoothie