Sweet, tangy and spicy, strawberry chutney is a great way to add a little zing to your favourite foods!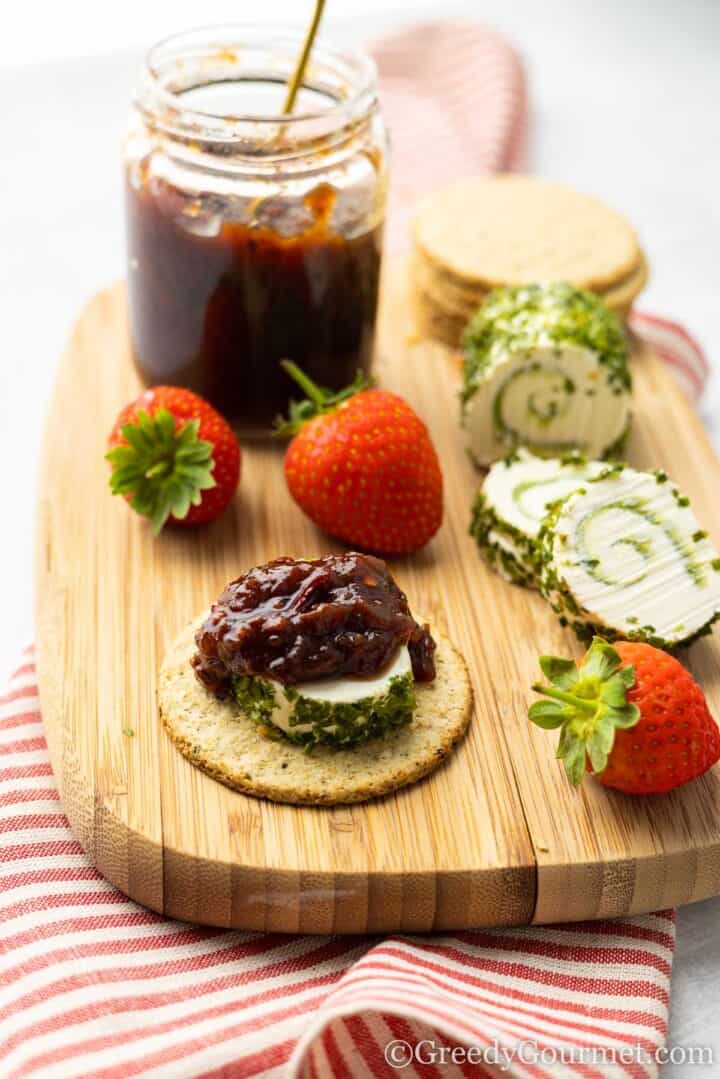 It's a proper homemade chutney recipe that's really simple and makes use of some fantastic flavours. You're going to love it!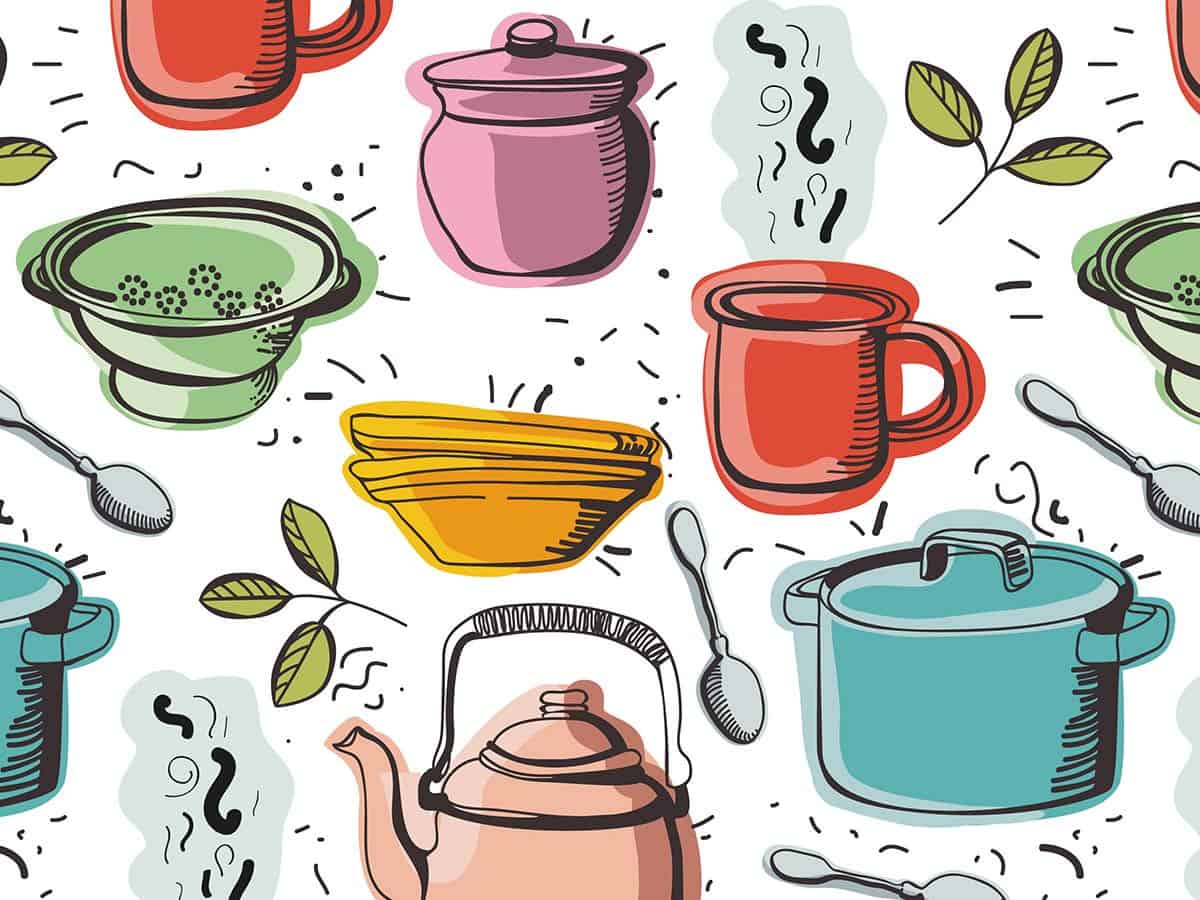 CHUTNEY EQUIPMENT YOU NEED
Check out the ultimate list to chutney making equipment. You actually don't need that much and most of the items are quite affordable!

Making your own preserves is a great and satisfying hobby. Giving the gift the lovely food to your friends and family are especially rewarding!
What is strawberry chutney?
For me, chutneys don't get enough love. They are generally a one pot affair, a heady blend of lots of incredible ingredients with flavours that mingle to create a little bit of magic. 
This strawberry chutney, or strawberry relish if you prefer, is no exception. The fresh strawberries bring a wonderful fruity sweetness, which works perfectly with the spices. 
For this chutney recipe, I've gone for a base of red onions, garlic and ginger, complemented by the earthiness of cumin and coriander, with a little mustard seed for that warmth and lemon juice for that essential citric zing. Not forgetting the chillies… essential for that little tingle on the tongue!
Oh, and some red wine vinegar… a very important part of how to make strawberry chutney.
Why use vinegar in chutney?
Vinegar is the key preservative in chutney. It's what makes it last so long. It also helps to add balance to the taste.
As it's such a central ingredient, it stands to reason that you want to opt for a quality vinegar. The better the vinegar, the better the chutney – it's as simple as that.
For this spicy strawberry chutney recipe, I've gone for red wine vinegar. Other types you can use are apple cider vinegar and balsamic. For me, red wine vinegar sits better with the flavour of the strawberries.
How do you cook chutney?
The beauty of chutney, aside from the flavour, is its simplicity. Strawberry chutney is a one pot recipe. All the ingredients are added to the pot, brought to the boil, then lowered to a gentle simmer.
When cooking chutney, it's important to have a big, sturdy, heavy-bottomed cooking pot. Aside from a standard cooking pot, you can use a pressure cooker – something like an Instant Pot or a Tefal.
When is strawberry season?
Strawberry season is officially May to leave September, although peak season varies from farm to farm. The UK is now completely self-sufficient strawberry-wise during this time. 
So, if you're in the UK and you buy strawberries during this time, they'll be British.
Where can you pick fresh strawberries?
One of the joys of strawberry recipes during strawberry season is the chance to pick your own. Picking your own ingredients fresh for a homemade recipe is what cooking is all about.
It's one thing we don't tend to cherish enough in the UK. In fact, with so many farms that grow strawberries up and down the country, there's plenty of opportunity to pick your own. You just know those strawberries will taste so much better!
You can find a pick-your-own farm near you and support your local farmers, while benefiting from delicious strawberries for your homemade spicy strawberry relish.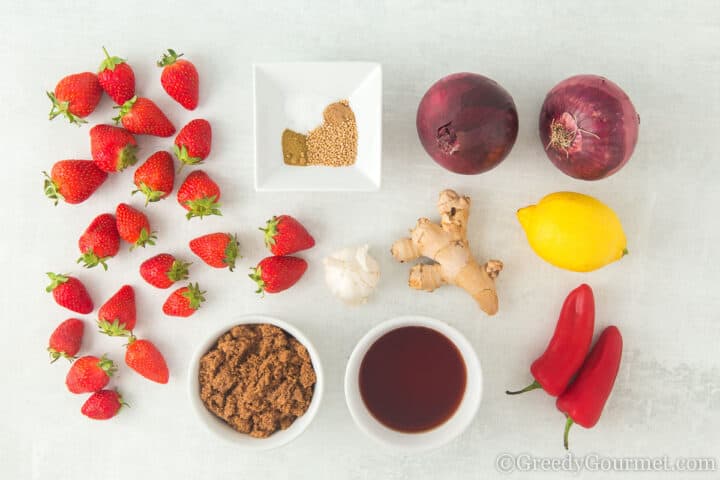 Can you use frozen strawberries to make chutney?
Yes, you can! I don't know about you, but I like to keep frozen fruit in the freezer. Sometimes to add to yoghurt or a smoothie, and sometimes just to snack on. 
It definitely comes in handy when your chosen fruit is out of season. So, frozen strawberries would be great for this recipe, especially if you're planning to make strawberry chutney in the winter months.
Shall I use cumin seeds or cumin powder?
This recipe calls for cumin seeds over cumin powder.
I've now tried both cumin seeds and ground cumin in various chutney recipes and have to say that I prefer ground cumin. It's a bit of a surprise to bite into a whole spice but if that's your thing, you'll be in your element!
If opting for ground cumin, you will need to adjust the amount slightly – swap in ¾ tablespoon of cumin powder for the 1 tablespoon of seeds called for in this recipe.
Can I make this chutney hotter?
So, you want to turn up the heat? No problem.
Simply find a chilli that tickles your pickle and add it to the chutney. Red chillies have a wide range of heat, from relatively mild to blow-you-head-off hot. Find your ideal chilli here.
Of course, you can always pop in an extra chilli. After all, three is the magic number!
Can I make it milder?
Absolutely. Most of the heat comes from the seeds of the chilli. So, simply deseed the chillies before you add them to your chutney. This way, you'll still get the subtle chilli sweetness, without the tongue-tingling heat.
You could also use just the one chilli. If you prefer chilli flakes, you can add them in place of fresh chillies. Or, if you're not a chilli person, leave them out altogether.
What are pink peppercorns? Do I really need them?
Pink peppercorns are actually dried berries. They come from the Peruvian pepper tree and are known as pepper corns because of their size and peppery taste.
They actually have a part peppery part fruity taste, which makes them perfect for fruity chutneys. They are also great in poultry and seafood dishes, as well as in salad dressings.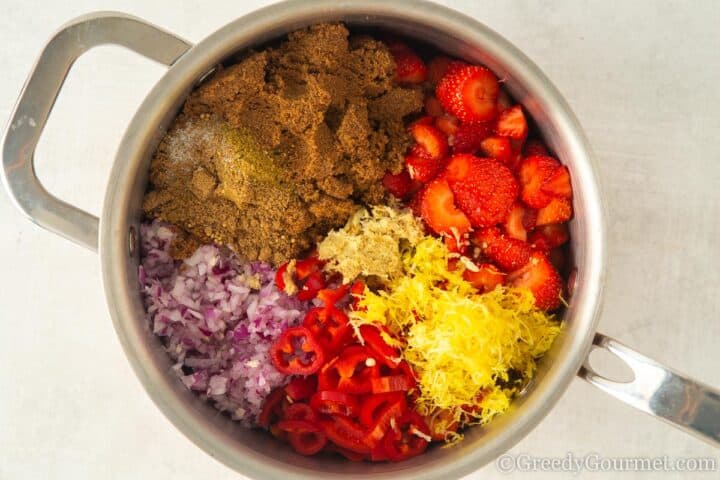 What salt can I use to season this strawberry chutney?
You can use plain old salt, of course. However, if you're feeling adventurous, you can spice things up a little and use a flavoured salt.
A good quality salt really does elevate a dish. Especially a chutney! It just gives it that extra edge of flavour. 
I'm a big fan of Himalayan black salt, such as Kala Namak. Don't be put off by the smell – which, to be completely honest smells like someone farted at the factory and sealed it in the bag.
As George Michael said, you gotta have faith, because the taste is extraordinary. A slight tang mixes with a real power savoury punch that will take your chutney to another level. 
Seriously… pinch your nose when you open the packet, get over the fart smell, and get some serious flavour in your chutney.
What kind of sugar should I use for chutney?
This recipe calls for a ¾ of a cup of brown sugar. It adds that essential sweetness to cut through the vinegar and work in combination with the strawberries and spices.
However, there are plenty of options here. One very interesting ingredient that Indians often use to sweeten their chutneys is jaggery powder.
Jaggery powder is somewhat similar to brown sugar. However, it's an unrefined sugar, which means it keeps its nutritious molasses during the production process.
This has led to it being called a "superfood sweetener."
It's not just healthier than sugar though. It brings an almost buttery caramel flavour to food. That's why it's so prized in Asian cuisine. It really works wonders as a subtle sweetener in savoury dishes. Tailor made for a chutney I'd say!
Aside from jaggery, you could also use something like coconut sugar, which would bring a totally different flavour perspective, but would also work with the flavour of the strawberries.
Of course, you can stick with plain old cane sugar too.
How do you store strawberry chutney?
This strawberry chutney, and indeed any chutney, needs to be stored in a steralised airtight jar. That way you can keep it fresh, unopened, for a very long time.
Store your strawberry relish in a cool, dark place at room temperature, until it's opened.
Once opened, store your strawberry chutney in the fridge. It will keep for up to 3 weeks. 
Can this recipe be divided in half?
If you want to make less strawberry chutney than called for in this recipe, you can divide the recipe in half. This way, you'll be able to store it in smaller jars.
If you do decide to halve the recipe, keep in mind that the duration of the cooking process will remain the same.
Does strawberry chutney need to be left to mature?
Yes. You can eat this chutney soon after it's cooked, but for best results you should leave it to mature for a month.
Any chutney needs plenty of time to allow the flavours to develop. Chutneys with larger amounts of vinegar and less amounts of sugar especially need a longer time to mature – from 2 weeks to 4 weeks. 
So, yes… definitely have patience and give your strawberry chutney at least a month for the flavours to fully develop.
How can I sterilise my jars?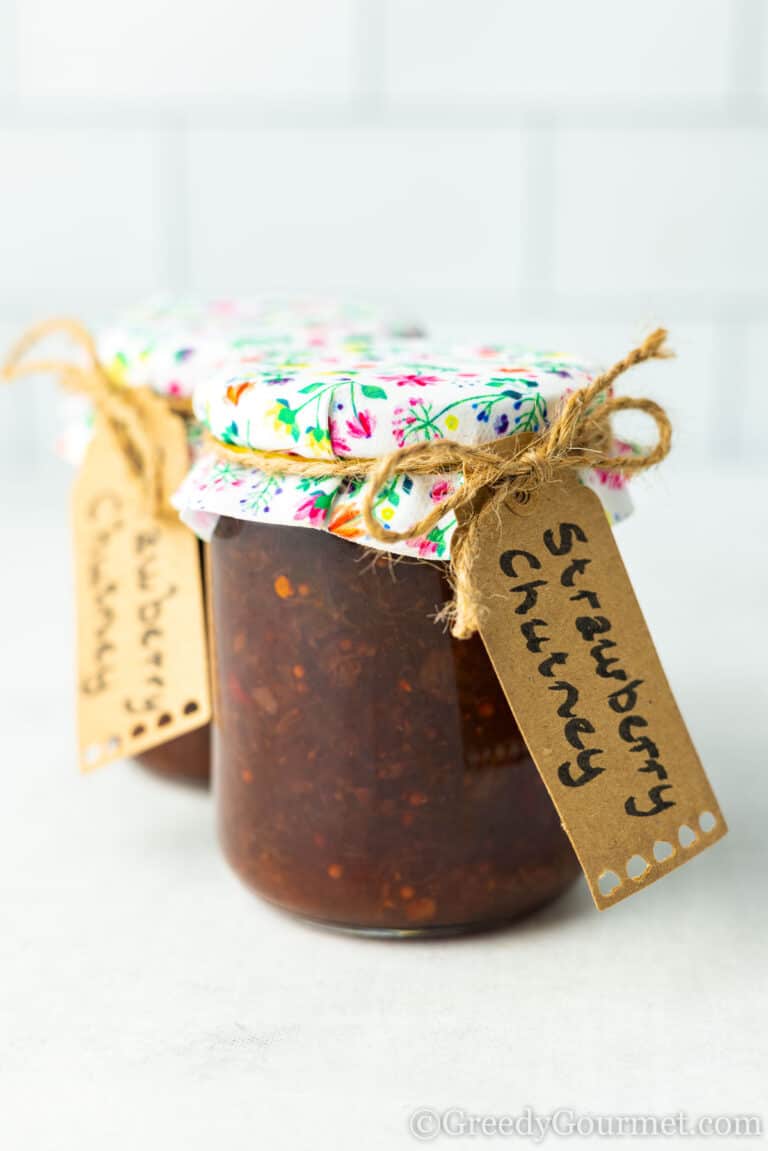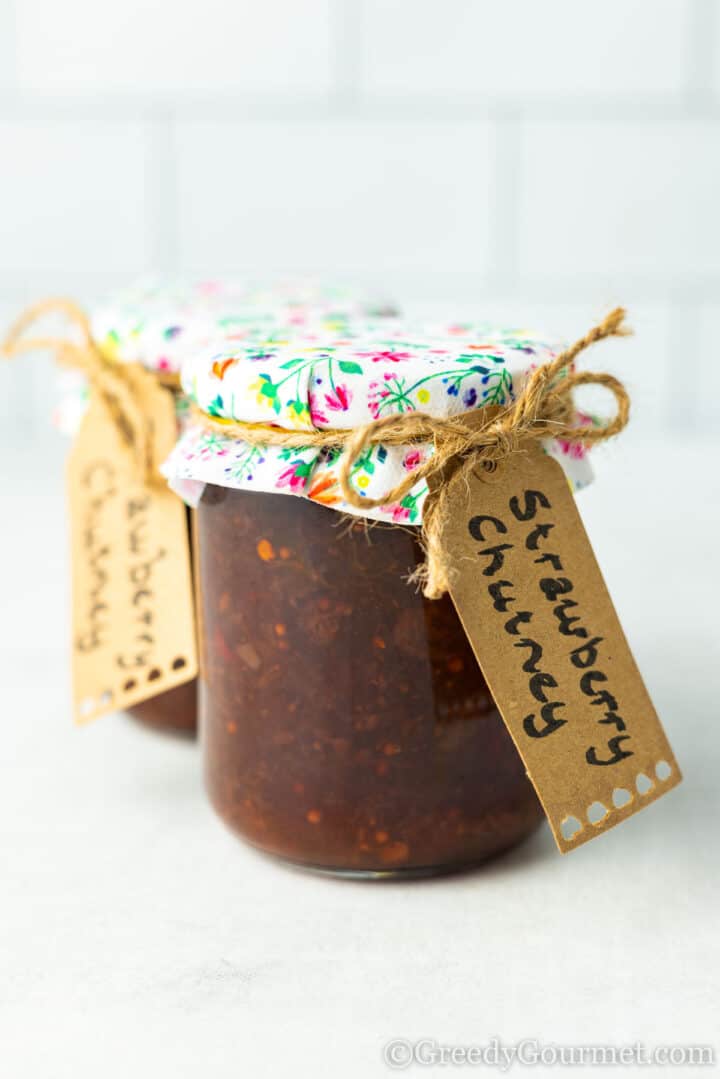 Other fruit you can combine strawberries with
Make up your own divine combinations! Swap 50% of the strawberries in the recipe below with one of the following fruits:
Apricot
Banana
Blackcurrant
Figs
Grapefruit
Guava
Kiwi fruit
Orange
Passion fruit
Peach
Pineapple
Fresh berries like raspberries or blueberries
Rhubarb
Grapes
Tomato
Other flavours you can play with
Add an extra dimension of flavour to your strawberry chutney with any of the following:
1 cinnamon stick
½ tsp ground cinnamon
4g (2 tsp) black peppercorns
1 vanilla pod
1 star anise
4 cardamom pods, crushed
4 whole cloves
12g (½ cup) fresh mint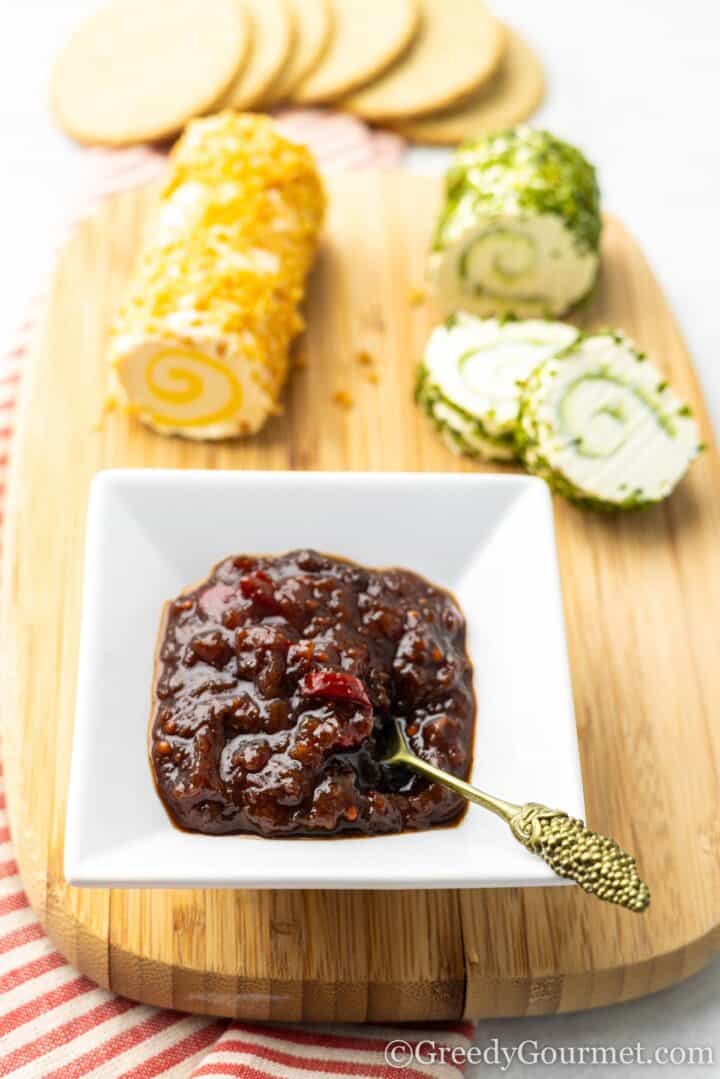 Alcohol that pairs well with strawberries
Probably the simplest and most enjoyable way to enjoy chutney is part of a cheeseboard.
If you pair your strawberry chutney with a cheeseboard, you might want to take a dream double to a triple with a nice little tipple!
While enjoying this strawberry chutney as part of a cheeseboard, you can enjoy the following drinks with it.
Cassis
Champagne
Cognac
Cointreau
Curacao
Grand marnier
Kirsch
Port
Sambuca
Sherry
Red wine, beaujolais or claret
Alternatively, you can actually make your chutney boozy! Simply pour in 125ml (½ cup) of your preferred alcohol at the end of cooking time and bottle up your strawberry chutney as soon as possible.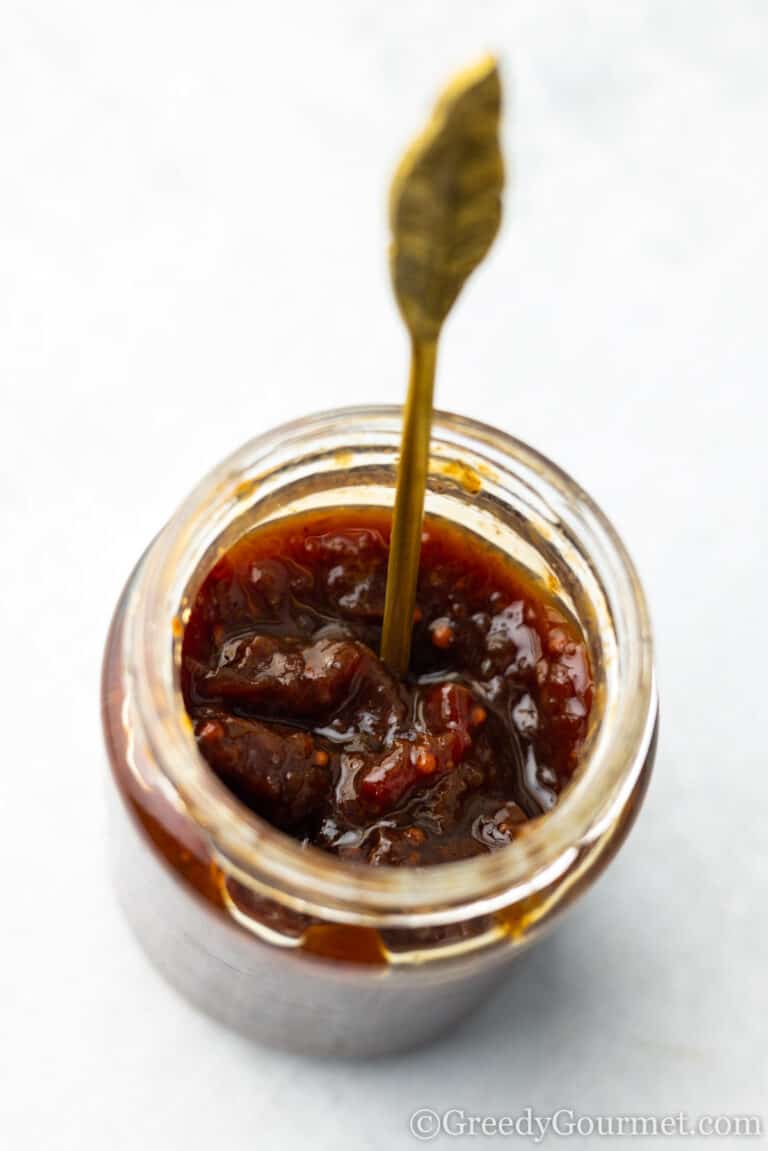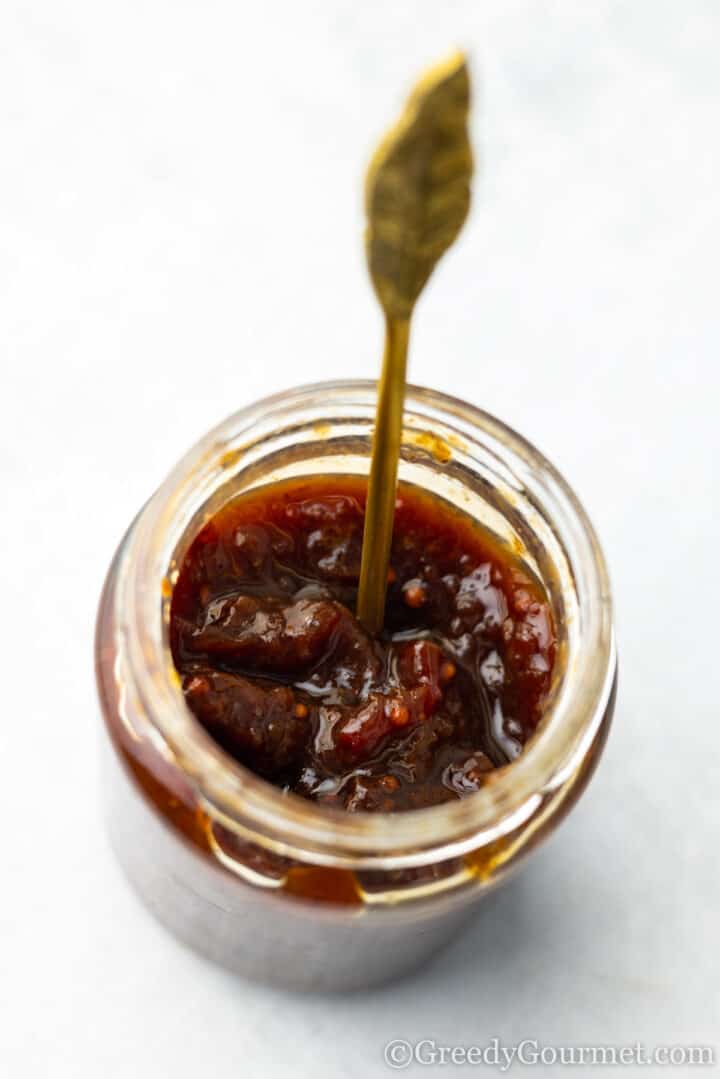 Ideas for how to use this chutney
This delicious spicy chutney can add some extra oomph to such a diverse range of snacks, starters and mains.
From sandwiches and salads to curries and cold cuts, it really does bring a big dose of flavour to your homemade recipes.
You can use it with any type of nuts, nut butters such as almond butter or hazelnut butter, cream cheese, goat cheese or mascarpone (on crackers for example), or with avocado.
You can even use it with chocolate desserts, white or dark especially.
Here are a few specific recipes you can use with this strawberry chutney.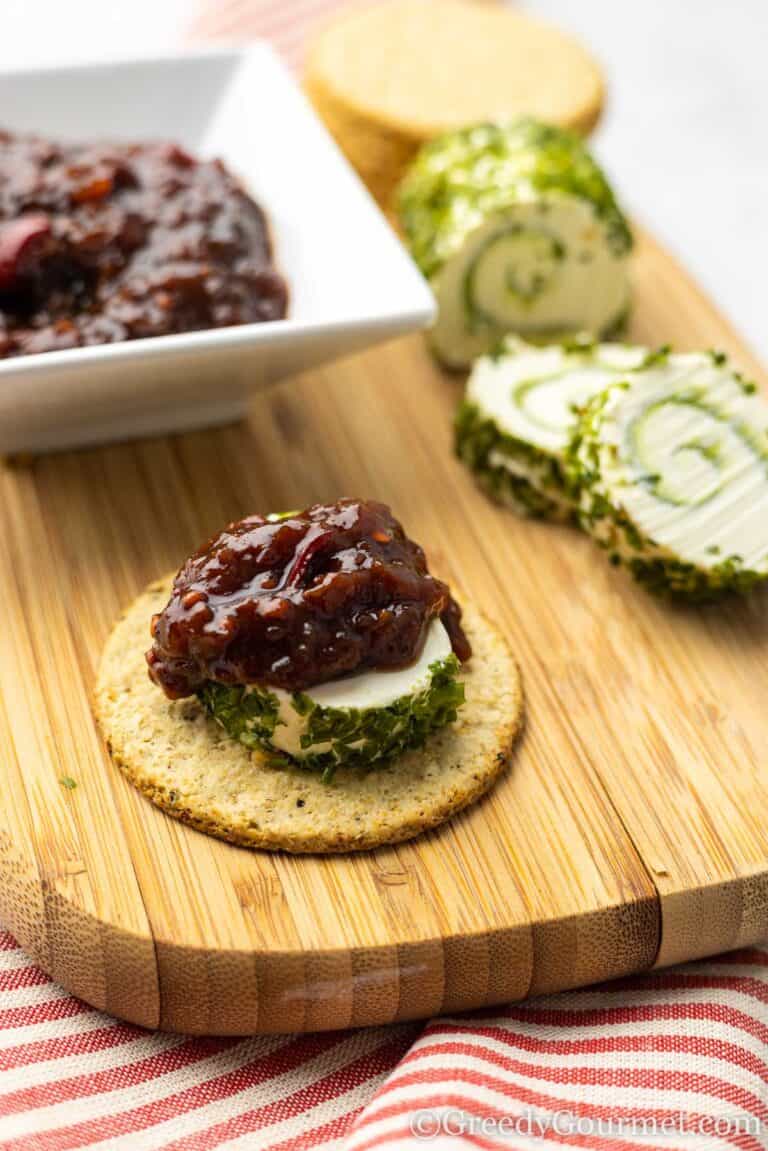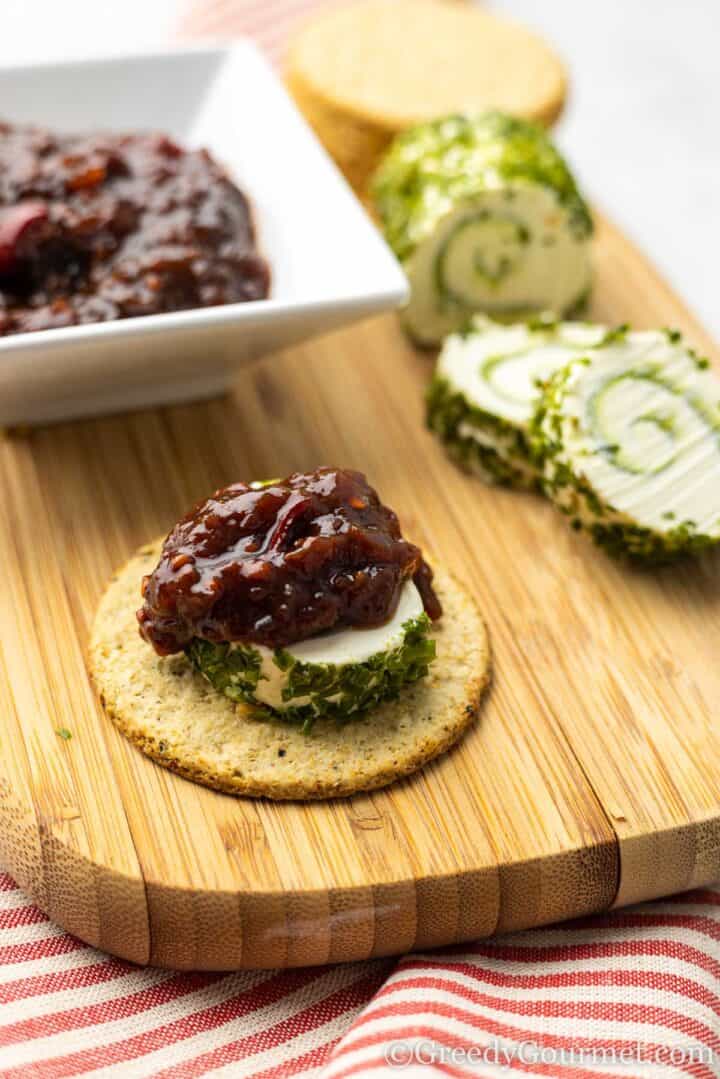 More chutney recipes
Don't stop with strawberries! If you enjoyed making and eating this strawberry chutney, why not try some more?
I've got so many incredible recipes for chutney, all of which are very easy to make and each of which has its own unique charm:
Date chutney
Mango chutney
Raisin chutney
Raspberry chutney
Print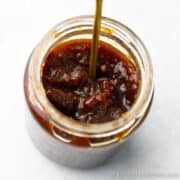 Strawberry Chutney
---
Author:

Michelle Minnaar

Total Time:

1 hour 20 minutes

Yield:

500g

(

1

lb)

1

x

Diet:

Vegan
Description
Have you ever tried strawberry chutney? This unusual chutney recipe is sweet, tangy and spicy and works great with a cheeseboard. 
---
900g

(2lb) fresh strawberries, cleaned, hulled and quartered

2

red onions, chopped

4

garlic cloves, crushed

5

cm (2in) fresh ginger root, peeled and chopped

1

lemon, juice only

300g

(

1½ cups

) brown sugar

125

ml (½ cup) red wine vinegar

2

red chillies, chopped

3g

(

1 tsp

) ground cumin

6g

(

2 tsp

) mustard seed

3g

(

1 tsp

) ground coriander

6g

(

1 tsp

) salt
---
Instructions
Place all the ingredients in a large saucepan. 
Stir over a medium heat until all the sugar has dissolved. 
Turn up the heat until a boiling point is achieved, turn down the heat so that a consistent simmer is reached. 
Cook for 1½ hours or until the mixture has thickened. Don't forget to give it a stir every now and then to make sure stuff doesn't burn at the bottom of the pan. 
Pour the chutney into hot sterilised jars and seal immediately. 
Store in a cool dark place and let it mature for at least a month before opening. 
Serve as part of a cheeseboard. Enjoy!
Notes
You can substitute the fresh chillies with 5g (2 tsp) dried chilli flakes.
If you want the chutney less hot, you can deseed the chillies, use only one, or omit them altogether. Jalapenos can be used too!
Once opened, keep the strawberry chutney in the fridge and consume within 3 weeks.
You can substitute the lemon juice with the juice of 1 lime.
When seasoning the chutney you can use 6g (1 tsp) black Himalayan salt / Kala Namak, instead of plain table salt.
Prep Time:

20 minutes

Cook Time:

1 hour

Category:

Condiment

Method:

Boil

Cuisine:

American
Keywords: savory strawberry recipes, how to make strawberry chutney, strawberry chutney, strawberry chutney recipe, what to serve with strawberry chutney