Indulge yourself in this flavourful and pungent dish of tofu in black bean sauce. This typical Chinese main course takes only 15 minutes to prepare, so it is perfect for a quick yet nutritious meal. Not only is this fakeaway budget-friendly, but it is fresher and healthier too.
The secret to cooking an authentic Chinese stir-fry recipe like this tofu in black bean sauce recipe is to master the sauce. Fortunately, you don't need to prepare it from scratch thanks to a little help from Lee Kum Kee.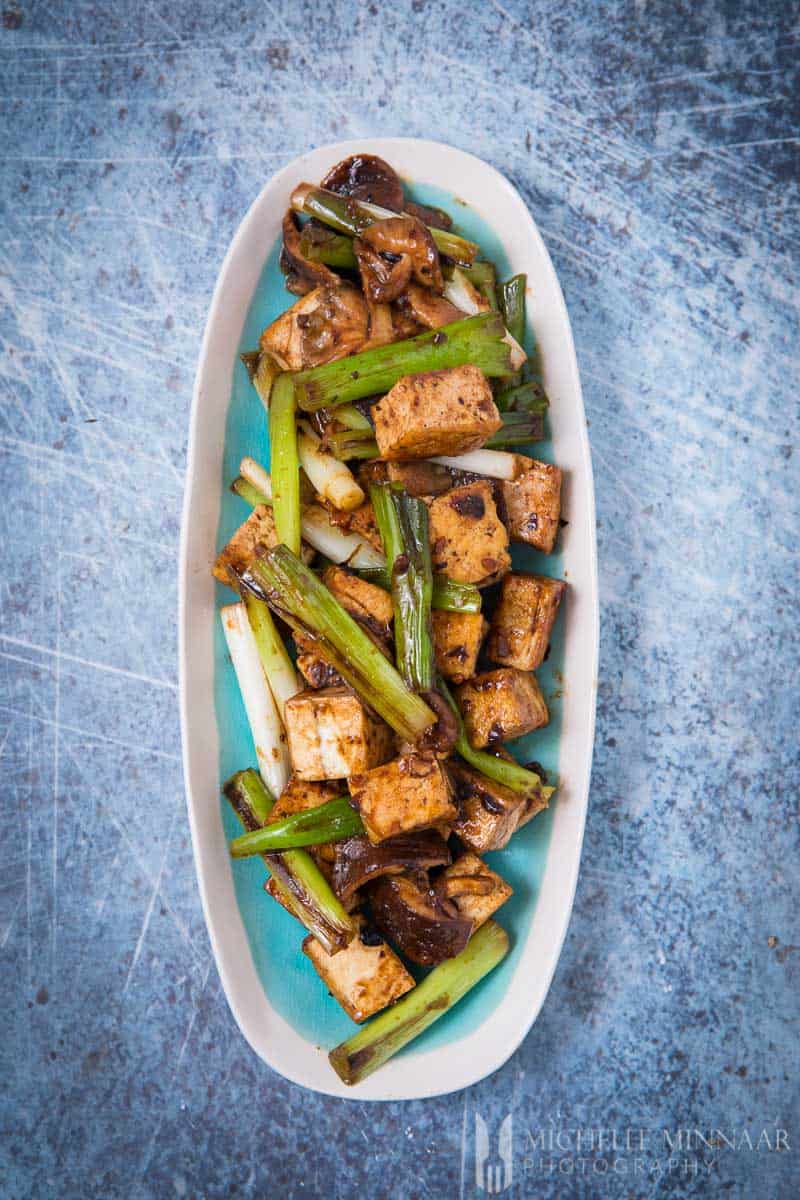 make the best tofu in black bean sauce recipe
Tofu in black bean sauce is an item often found on Chinese takeaway menus. The recipe title might suggest that only tofu features in this dish, but you can actually use as many different kinds of stir-fry vegetables along with the tofu to bulk it out. In this black bean tofu stir-fry I used shiitake mushrooms and spring onions.
However, Lee Kum Kee's Black Bean Garlic Sauce the key ingredient that ties all flavours together into a single bite, giving this dish an authentic Chinese twist. The sauce is a paste of fermented black beans and minced garlic and doesn't contain any flavour enhancers, food colouring, or preservatives. More importantly, it is suitable for vegetarians and vegans. It is an essential component in your kitchen if you love Chinese food. Ultimately, it will enable you to create restaurant quality food in the comfort of your home.
a black bean tofu recipe with lee kum kee
Lee Kum Kee is an undisputed leading Chinese sauce company that sells a range of products in the UK and independent Asian stores worldwide. This company is the inventor of the ever-so-important oyster sauce, which came into existence over 130 years ago! Today, this sauce has transformed western Chinese cuisine as we know it. Having a proud history of creating top quality sauces, today these sauces are widely used in the kitchens of top UK and European chefs. These include Ken Hom and Ching He Huang. Undoubtedly, the sauces are made with the finest and freshest ingredients, giving them a lovely texture and a rich flavour.
For a complete overview of their delicious product range, check out this page. You'll see a selection of oyster sauces, soy sauces, dressings, as well as concentrated ingredient sauces and sachet sauces – all with an Asian twist designed to replicate authentic Chinese recipes and fusion dishes.
Keep in mind, the sauces are healthy and convenient, perfect for sticking to the family weekly budget. In addition, these sauces are the best for younger novice cooks. They'll learn to understand very early on that food is all about delivering quality and flavour, which is the essence of the authentic Lee Kum Kee sauces.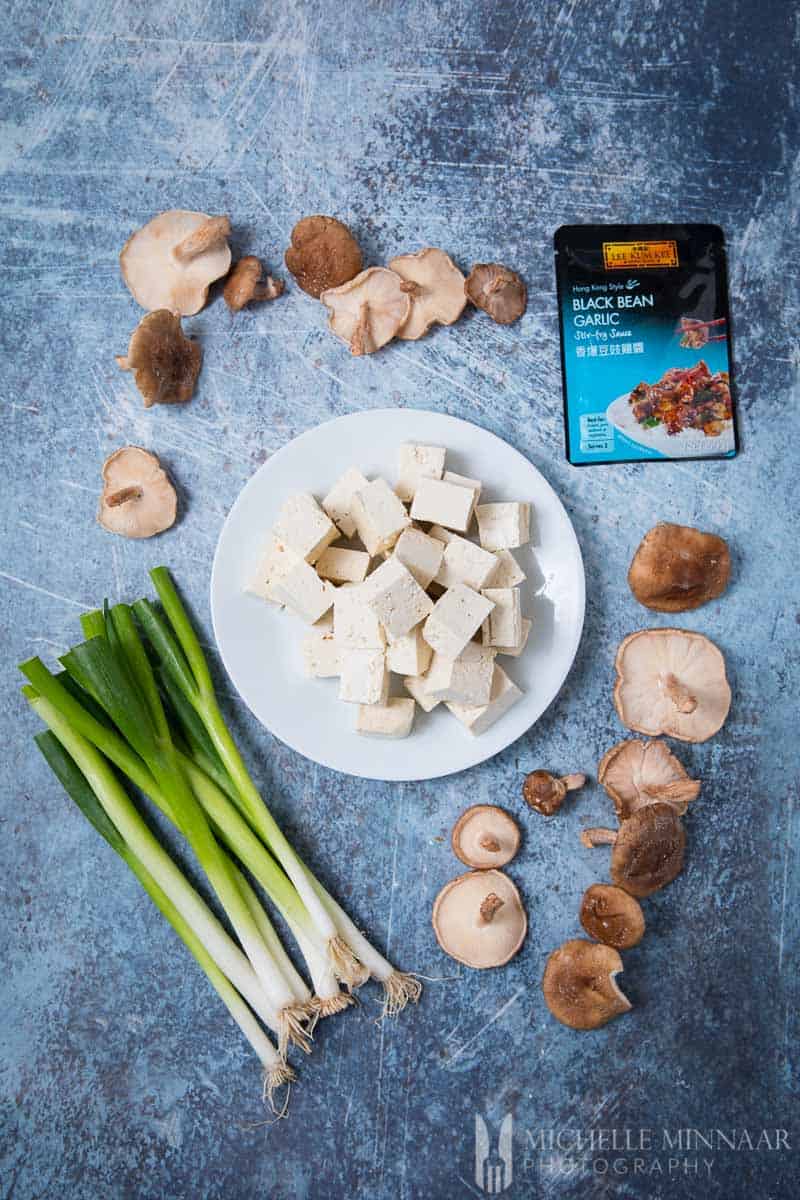 what are shiitake mushrooms?
Shiitake mushrooms are used in many Chinese stir-fry recipes because they bring a certain texture that complements the crunchiness of other vegetables. They work in a chicken, beef, pork stir-fry recipes, respectively, so they also work very well in this tofu stir-fry recipe. Just toss them with the tofu in black bean sauce stir-fry at any stage of the cooking process. Shiitake mushrooms soften up quite easily and I like to toss mine in towards the end of cooking time.
Shiitake mushrooms are commonly used in many Asian cuisines. Funnily enough, shiitake mushrooms grow on the decaying wood of shii trees, which are native to Southern Japan, and are related to beech trees and oak trees. First records of cooking and cultivating shiitake mushrooms date back to the early 13th century during the Southern Song dynasty. However, the first recorded description of these mushroom was only introduced in 1769 by a Japanese horticulturalist.
Shiitake mushrooms are an excellent source of vitamins and a great substitute for meat thanks to its umami flavours. So, if you are trying to become a vegetarian or a vegan, you should cook more recipes with these. That's why this tofu in black bean sauce is a fabulous way to start your new lifestyle! You can cook them dried or in their fresh form.
what are the substitutes for shiitake mushrooms?
Sometimes, shiitake mushrooms are not available because they are out of season or sold out. If you can't get your hands on them, then you can easily substitute them with Portobello mushrooms. These are just as earthy as shiitake mushrooms, however, they are larger and have a firmer texture. They take slightly longer to cook, so add them at an earlier stage during the cooking process.
Oyster mushrooms are also worthy substitute because they too grow on trees. They are often used in stir-fry dishes and I would say they are the main competitor to the shiitake. Lastly, you can also use porcini mushrooms which are very popular in Europe for their nutty flavour.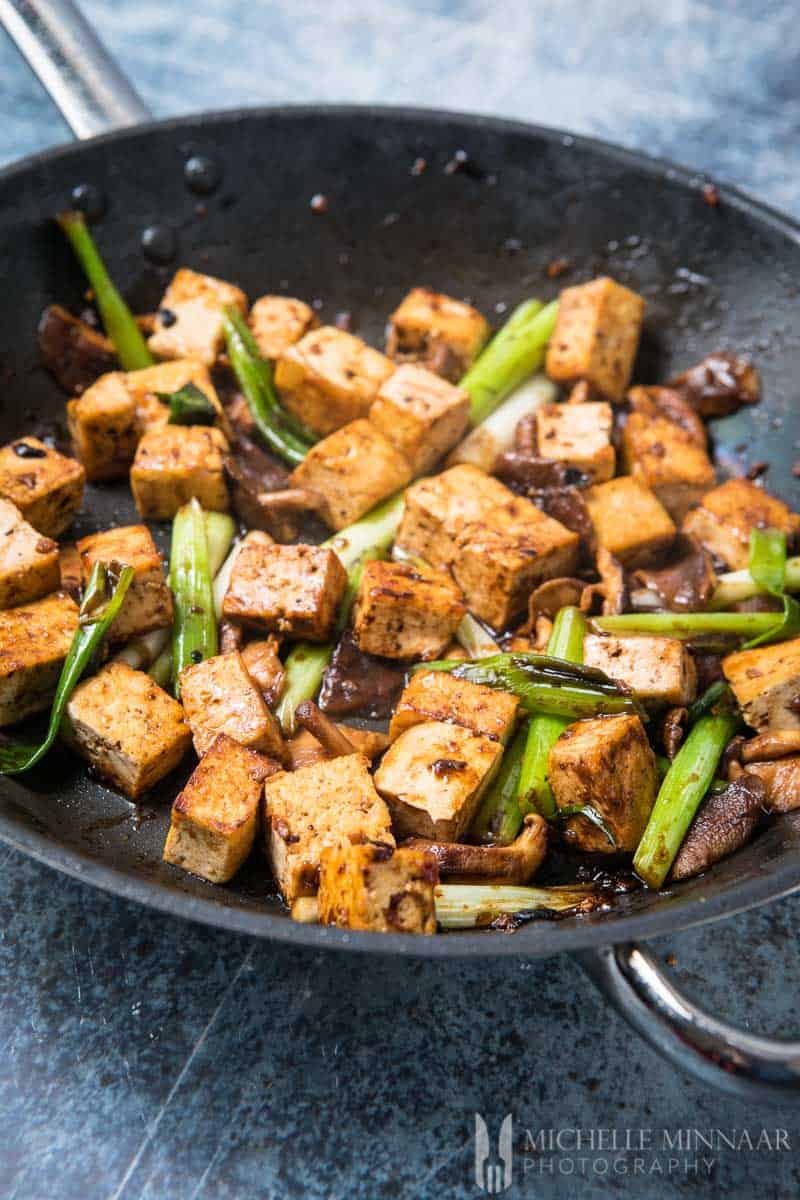 how to serve a black bean sauce dish
Tofu black bean stir fry is most commonly served with steamed white rice. However, as any other person I do enjoy my stir-fries with noodles. If you're on a low-carb diet, you can also opt for making zoodles – a great recipe can be found here. They are great for cutting down on extra calories. Plus, they'll make your tofu in black bean sauce more robust and voluminous.
If you are serving this Chinese and authentic tofu in black bean sauce as a main course, then I highly recommend you consider a starter. Try making this easy Chinese chicken and sweetcorn soup. Don't forget to check out my sweet and sour chicken recipe!
Print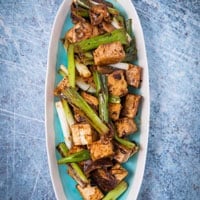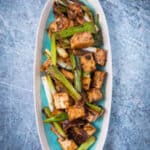 Tofu in Black Bean Sauce
---
Description
Tofu in black bean sauce is one of the most authentic Chinese tofu stir-fry recipes you can get. You'll need fermented black bean paste and shiitake mushrooms. Enjoy!
---
15

ml (1 tbsp) vegetable oil

400g

(1lb) tofu, drained and cut into cubes

125g

(

4oz

) shiitake mushrooms

10

spring onions, trimmed and chopped

1

(70g) sachet Lee Kum Kee Black Bean Garlic Sauce
---
Instructions
Heat the oil in a wok until it starts sizzling.
Fry the tofu cubes until they are browned on all sides and crispy.
Add the mushrooms and spring onions and fry for 3 minutes.
Pour in the sauce and fry for another 2 minutes.
Serve immediately with steamed white rice.
Prep Time:

15 minutes

Cook Time:

15 minutes

Category:

Main Course

Cuisine:

Chinese
Nutrition
Serving Size:

1 serving

Calories:

313

Sugar:

8.8 g

Sodium:

2477 mg

Fat:

17.3 g

Saturated Fat:

3.1 g

Carbohydrates:

24.7 g

Fiber:

6.9 g

Protein:

20.6 g
save the recipe to your pinterest board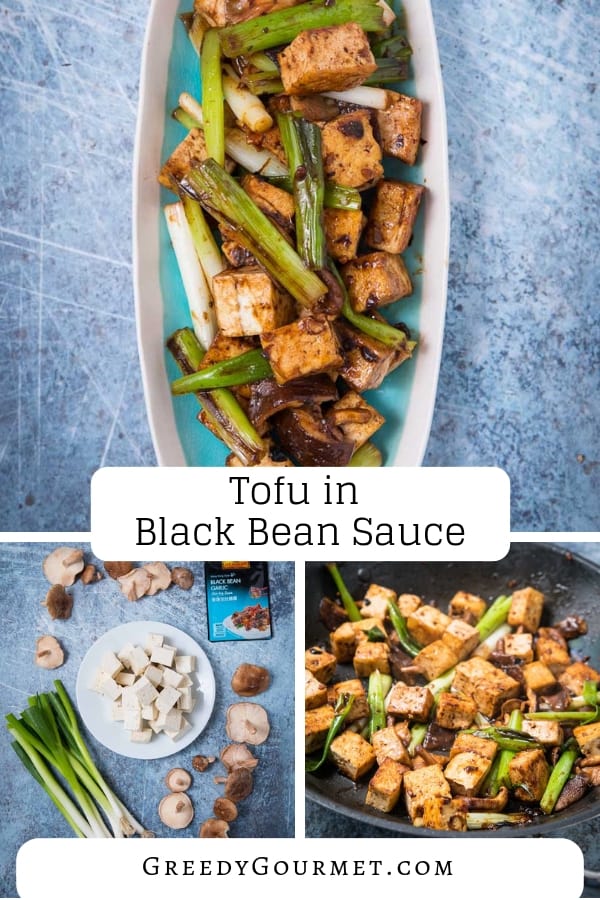 P.S: This is a sponsored post.