Don't these vegan oat cookies look stunning? Believe me when I tell you that not only do they look stunning - they taste the part too. Vegan cookies are the next big thing. If you want to score some "cool mum" points at the school bake sale or at a children's party, this is the recipe all mums have been looking for. These cookies are nutritious, animal-friendly, and above-all, kids go nuts for them.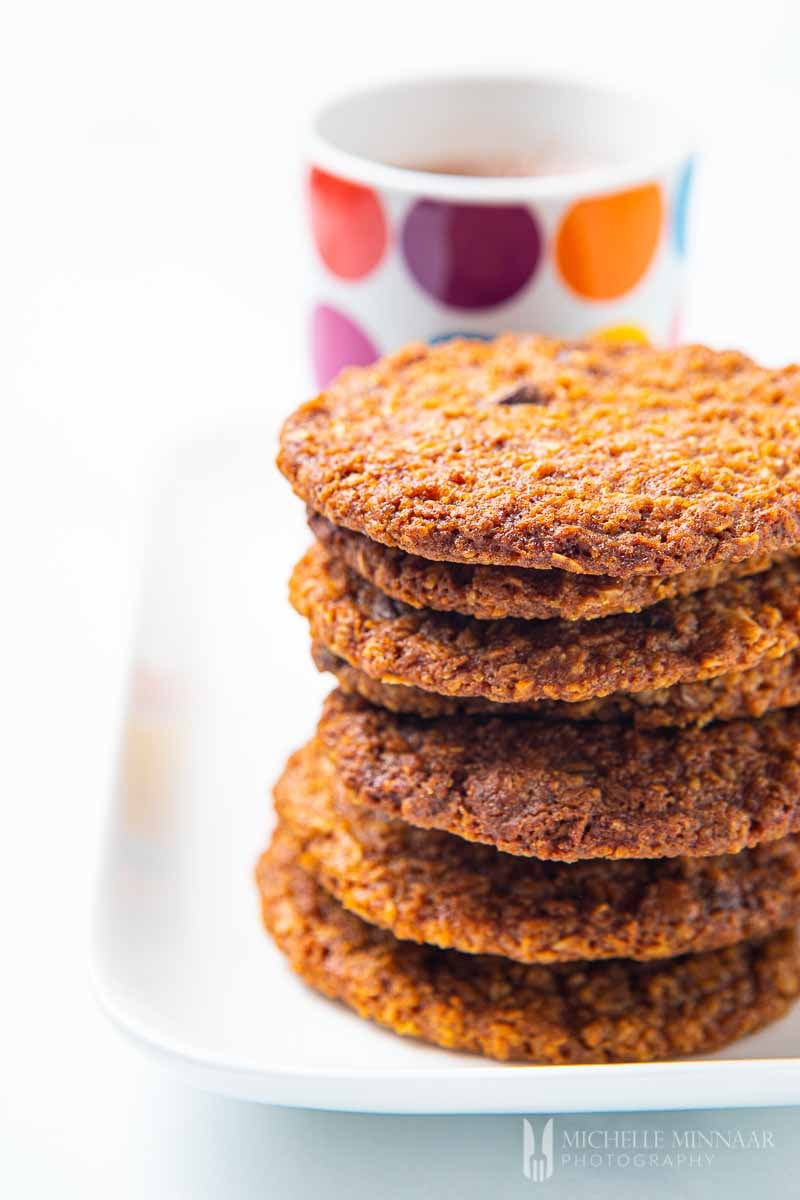 Forget the regular chocolate chip cookies. Today, if they're not vegan, they're not fashionable. Besides, there are so many ways you can tweak this vegan cookie recipe to your own taste. You can add nuts, raisins, coconut, banana, you name it! In the end, you're going to have to make a large batch of these and hide little stashes around the house, because these vegan oat cookies disappear fast.
They are the perfect dessert. However, you can also treat them as a snack in between meals. The key towards making these vegan oat cookies is getting the proper oats. Trust me, it makes all the difference in the world.
vegan oats cookies with White's Jumbo Organic Oats
The oats you should keep an eye out for are White's Jumbo Organic Oats. They are the best I've found so far. I love eating them in the form of porridge for breakfast as well as using them for baked goods, like these vegan oat cookies. They give the cookies an excellent texture that one looks for in every bite.
The oat flakes are hearty and organic. Best of all, once you add the liquid element, they are so creamy. Let me tell you some of the key features of what's inside the 750g pack of White's Jumbo Organic Oats:
first of all they are perfectly suitable for vegetarians and vegans (which makes me really happy because they help me with my transition to becoming 100% vegan)
they are 100% organic
high in fibre
they contain beta glucan which helps lower cholesterol
low in saturated fat
there's no added sugar
they contain only 109 calories per serving (and still they leave you satisfied)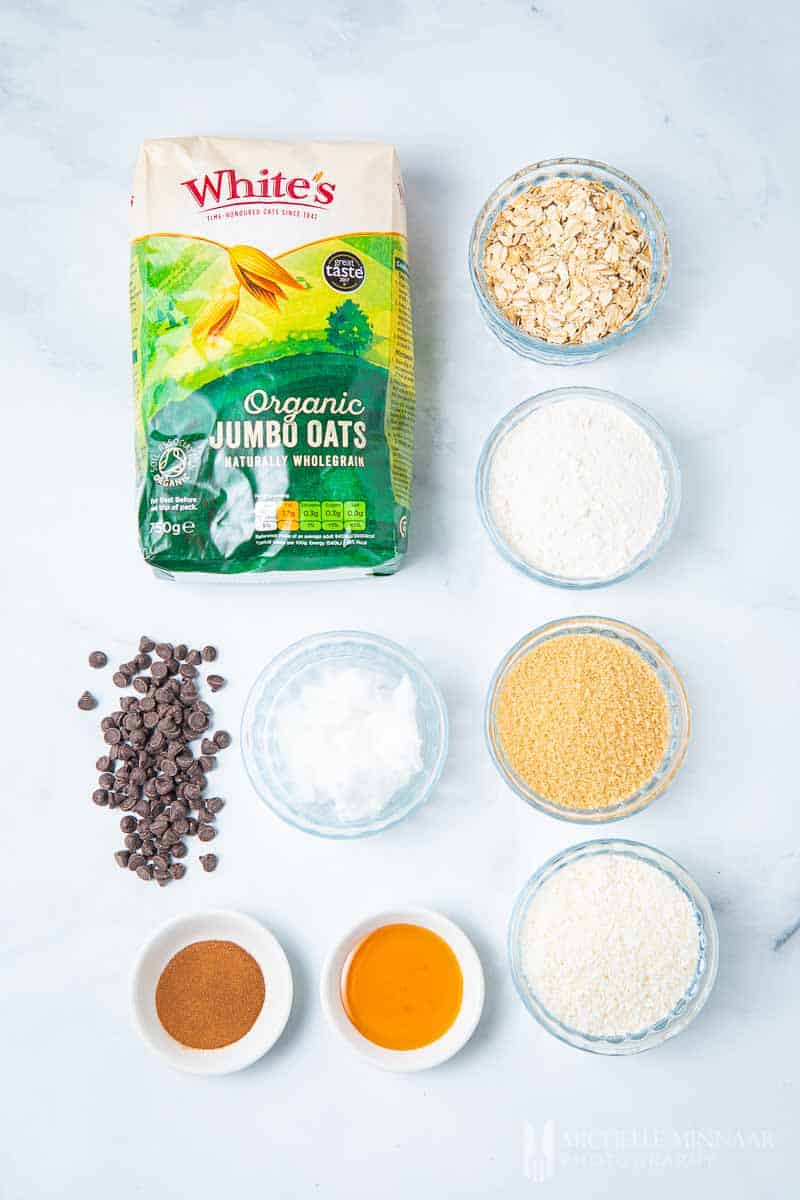 Don't they sound amazing? They are grown by White's trusted 25 British Organic Arable farmers. Today, the White's Jumbo Organic Oats are the winner of 9 consecutive Great Taste Awards. In addition to that, they are certified by the UK Soil Association.
Apart from the vegan oat cookies, you can also use the oats to make these incredible recipes:
about White's
White's story goes all the way back to 1841, when the White's mill was first founded by Thomas Henry White. The mill first began as a corn and flour mill. However, today, it is Ireland's largest oat miller and breakfast cereal producer. Not only that, but it is a multi-award porridge and oat cereal brand.
To learn more about White's oats history, click here. Lastly, at White's there's a product for everyone. Click here to check out their vast selection of products, which ranges from porridge, instant porridge, oat cereals and ready to eat oat cereals.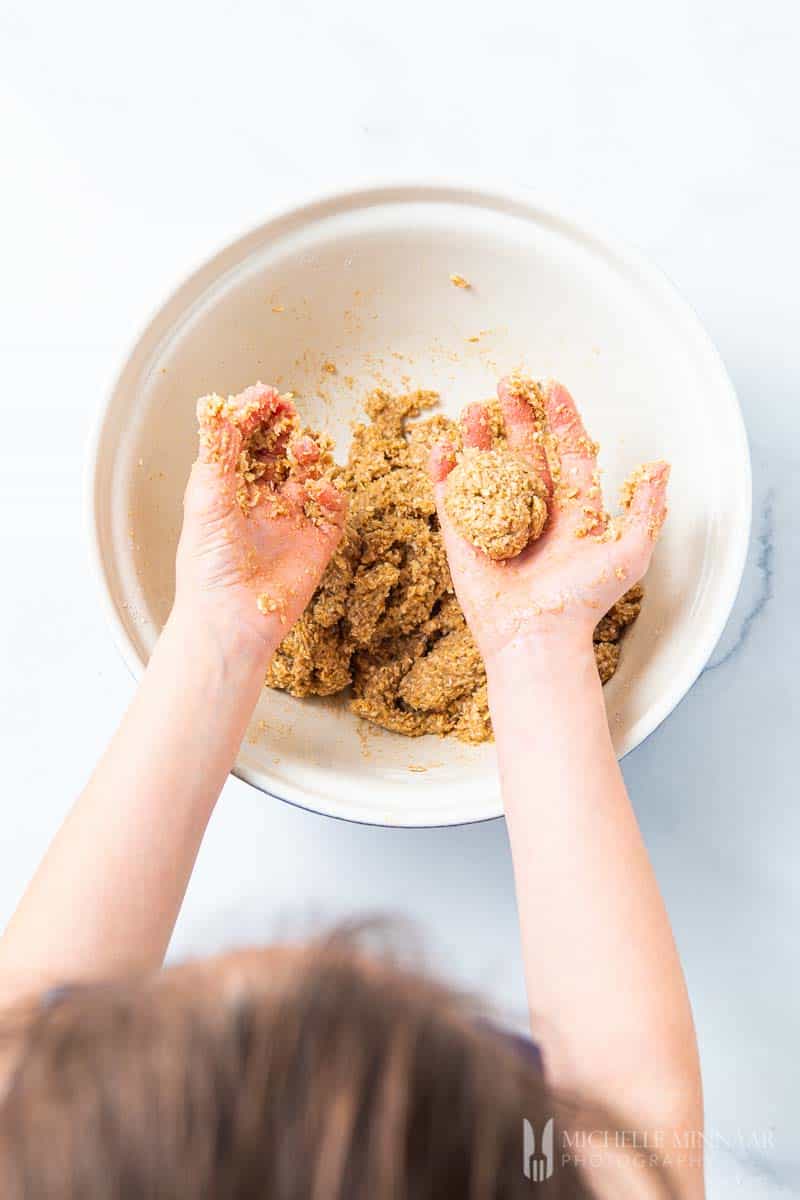 vegan oatmeal cookies using no butter
You can decide to add butter. Besides, butter is one of the few essentials you need when you're making baked goods at home. However, if you add butter, these vegan oat cookies won't be so vegan anymore.
The alternative to butter in this vegan oat cookies recipe is the addition of coconut oil. Coconut oil is one of the best and healthiest substitutes to butter. It is an excellent energy booster, it helps the liver, it has a good effect on the digestive system and above all, it helps manage cholesterol. Coconut oil is always my first choice.
Handy tip: Opt for unscented coconut oil. It won't add any additional aromas to your vegan oat cookies recipe. Plus, you can also use it as a base for savoury recipes too. On the other hand, if you would like to have the flavour of coconut running through the cookies, then feel free to use the scented version.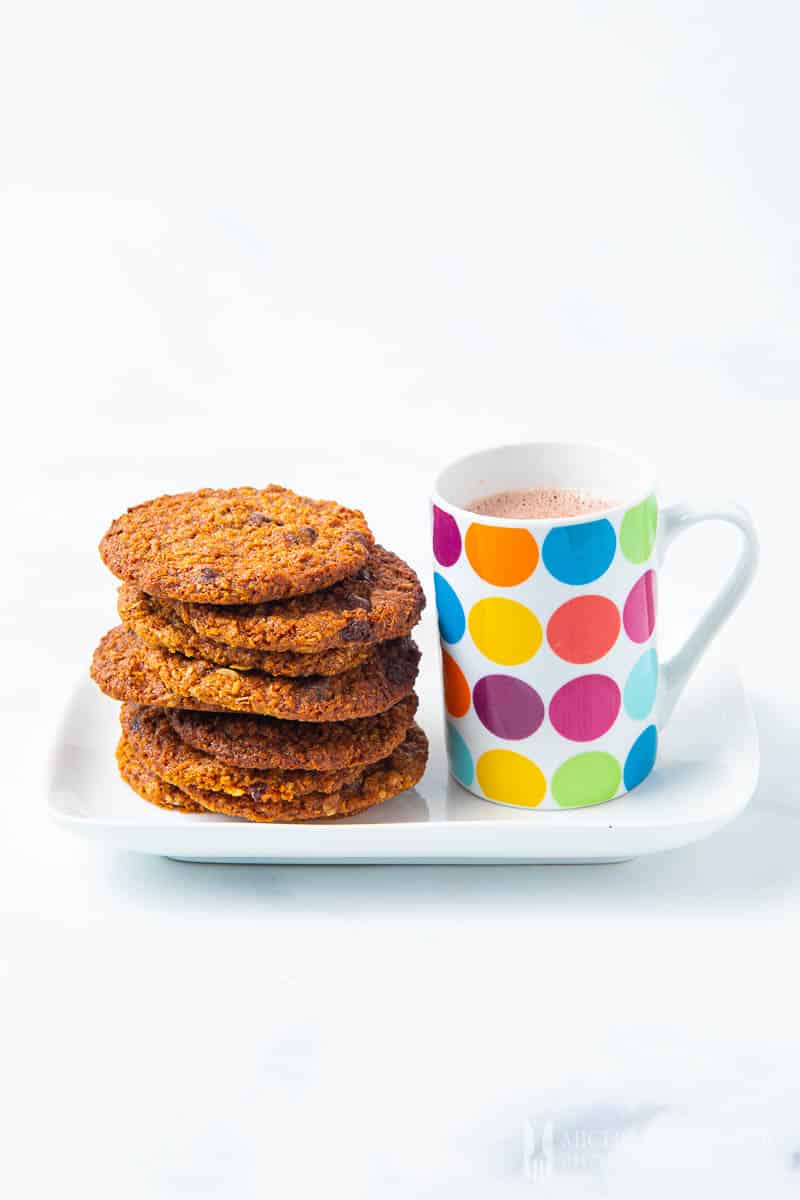 vegan oatmeal cookies with no sugar
Yes, it's possible to make sugar free cookies! Just check out my sugar-free chocolate chip cookies recipe or my sugar free flapjacks. My vegan oat cookies are no exception to this clever twist.
Just add a low-calorie sweetener, granulated or liquid, and you are good to go. You can make other fantastic sugar free recipes. For instance, inspire yourself with:
sugar free apple crisp - the seasonal dessert is the definition of a comforting dessert
sugar free angel food cake - this cake is the perfect recipe if you want to cook to impress. It is a visually beautiful recipe. Don't believe me? Click on it and just see for yourself.
vegan oatmeal cookies chocolate chip
First of all, if you wish to add a chocolate element, make sure it's vegan. Otherwise these vegan oat cookies won't be vegan anymore. However, let me inspire you with other alternatives, which you can be added to this vegan cookie recipe:
nuts: pecans, walnuts, hazelnuts, cashews, almonds, almond flakes, macadamia (<- my absolute favourite)
dried fruit: prunes, raisins, dried bananas, desiccated coconut, dried cherries, dried apricot, raspberries (basically whatever your tastebuds desire)
festive toppings: you can add decorative sprinkles, pearls, and more to make these cookies more festive
Lastly, baking these cookies is a fun family activity. Why not get the kids involved and let them choose how they would like to jazz up these baked goods?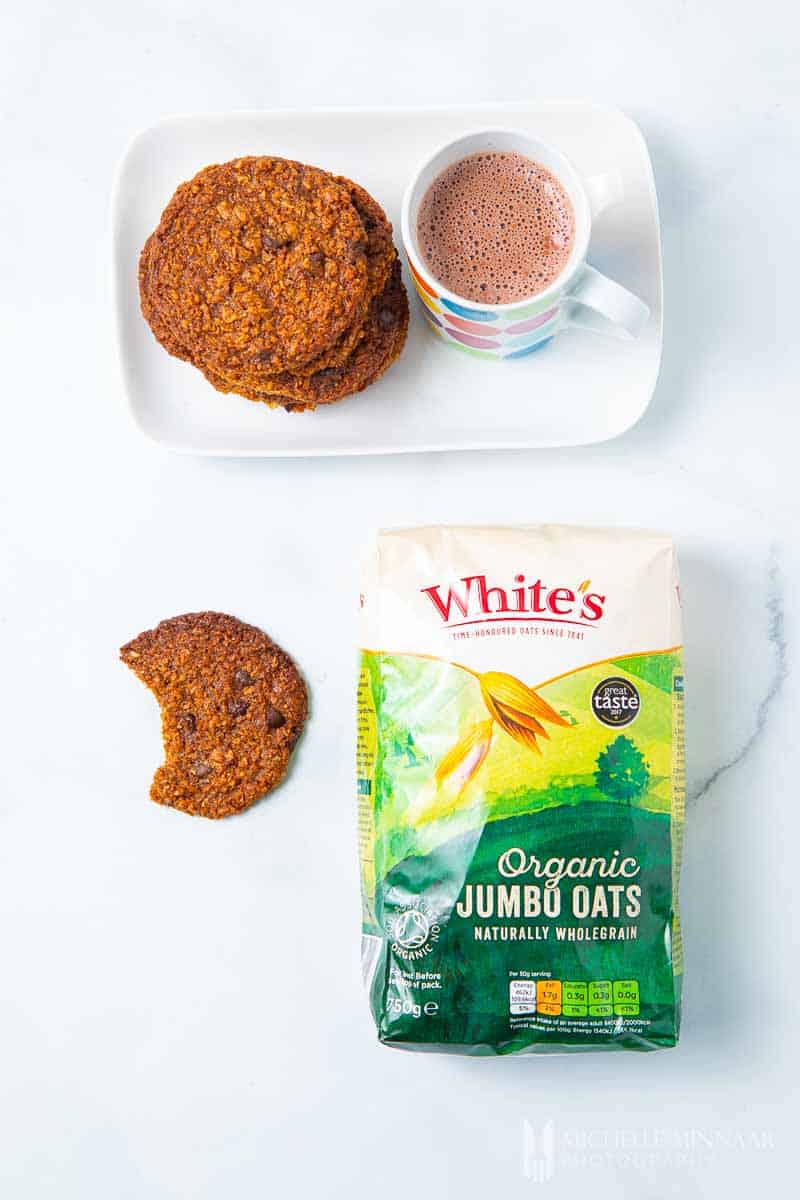 Print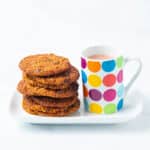 Vegan Oat Cookies
---
Description
Make these vegan oat cookies in a few easy steps! Made with coconut oil and chocolate chips, it love at first bite.
---
---
Instructions
Preheat oven to 180°C / fan 160°C / 350°F / gas 4.
Place the oats, flour, coconut, bicarbonate of soda, salt and cinnamon in a large mixing bowl and stir.
Heat the coconut oil gently until it turns into liquid form.
Stir the sugar into the oil, then add the syrup and vanilla.
Mix the dry ingredients in with the wet ingredients. Use your hands and make sure it reaches a crumbly texture.
Add the almond milk and chocolate chips.
You'll end up with a sticky mixture. Use your hands to form 2.5cm (1in) balls and place them on a lined baking tray. Gently press each ball down to form a flat disc.
Bake for 15 minutes, or until they are golden in colour and the edges firm.
Remove from the oven and wait for 10 minutes for them to cool down.
Transfer them to a cooling rack and wait for them to cool down completely.
Store in an airtight jar. Not that they will last long! Enjoy!
Notes
If the mixture is too crumbly, had a tiny bit more almond milk to make it wetter.
Place the balls far apart because during the baking process they will expand sizeably in all directions!
When you remove the cookies out of the oven, they will be soft. You'll need to wait for them to cool down completely in order to harden up. They are lovely and chewy!
If you can't get hold of coconut oil, check out thesecoconut oil substitutes.
Prep Time:

20 minutes

Cook Time:

15 minutes

Category:

Dessert

Method:

Bake

Cuisine:

American
Keywords: vegan oat cookies, vegan oatmeal chocolate chip cookie recipe, vegan cookies with coconut oil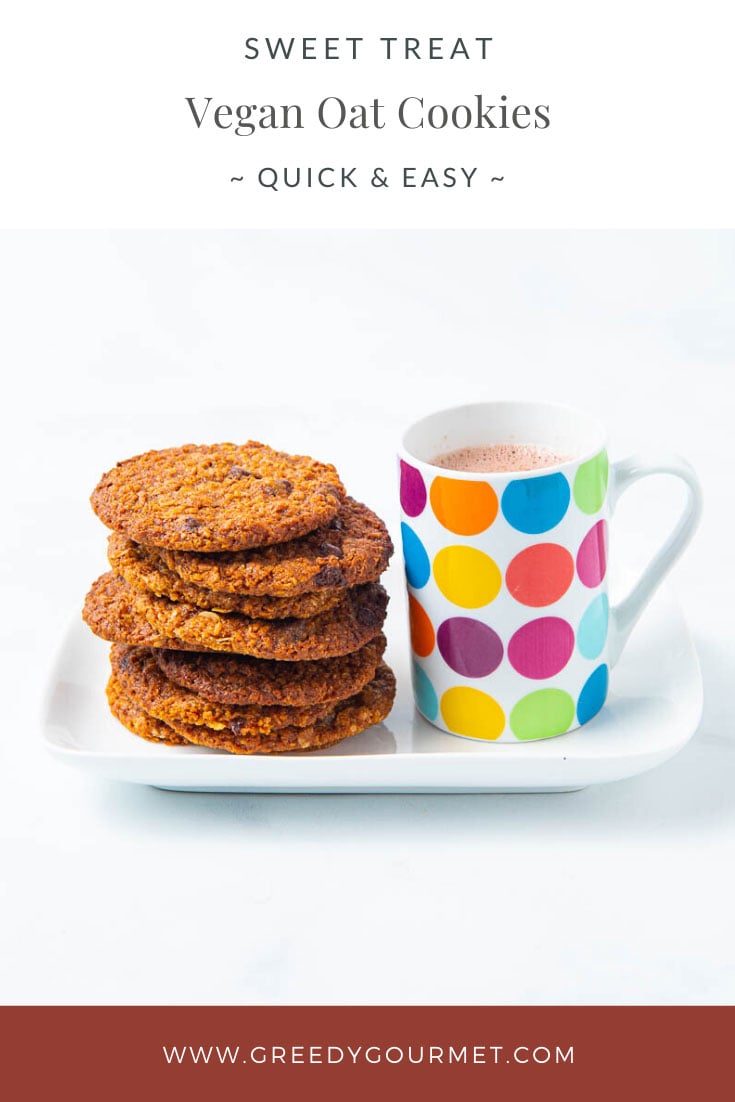 *This is a sponsored post