A healthy and tasty soup like this zucchini and leek soup is not just a winter dish. It can be enjoyed all year round and you can prepare the soup in only half an hour.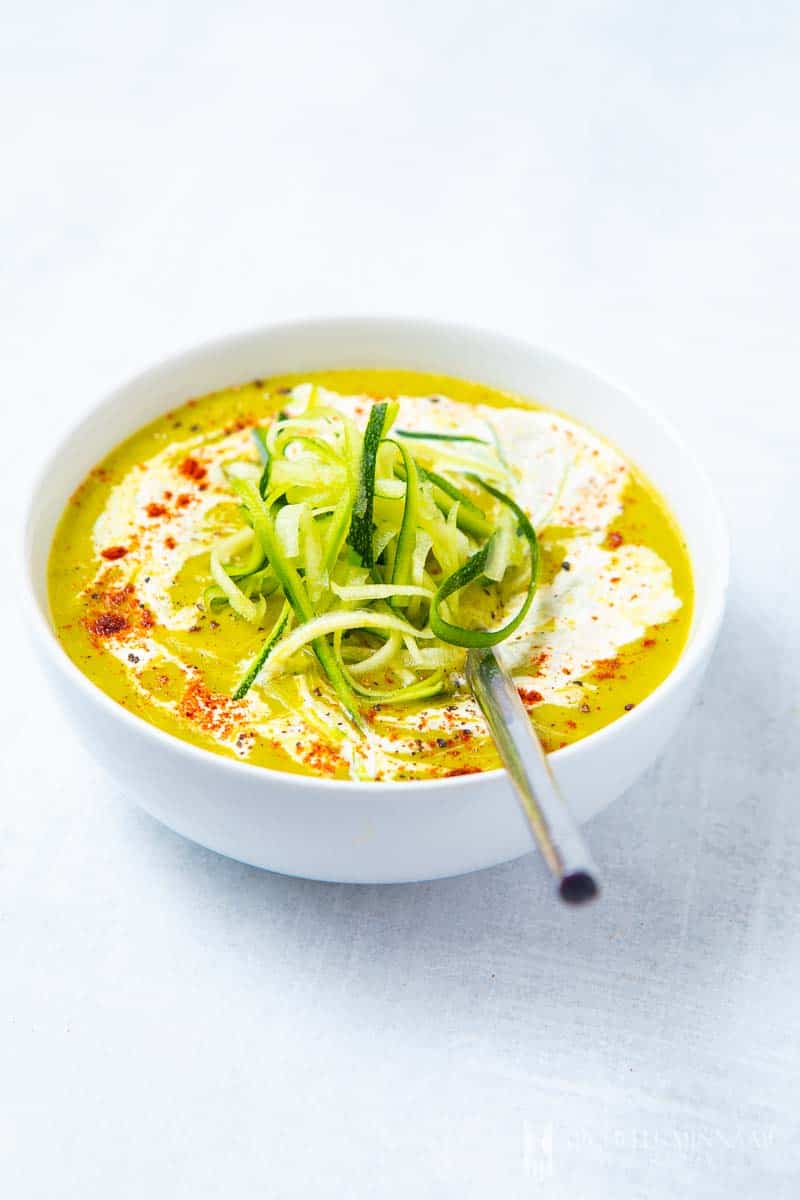 Zucchini soup is the perfect supper, for when you don't really have time to shop or cook. Not only is it tasty, the zucchini and leek soup is also completely vegan – the perfect soup if you are trying to omit meat from your diet.
Not unsimilar to my vegan leek and potato soup, only with a touch of summer green. You can put your own spin on the zucchini and leek soup by adding more vegetables or spices.
Zucchini and leek soup has become one of those easy to make, everlasting classics that I can always resort to. If you give it a try, I am sure it will be one of your new favourite everyday dishes too.
Zucchini, also known as courgette or squash might be a humble vegetable, however it is possible to make some great dishes with it. This zucchini and leek soup is a perfect example of this.
best zucchini and leek soup
Now I will let you decide whether this is the best zucchini and leek soup you have had. Although zucchini in itself is not the most flavourful vegetable in the world, it does lend a beautiful green summer freshness to the soup.
In combination with the subtle onion notes of the leek, you have a delicious flavour combination. In addition, the carrot lends sweetness to the soup, while the celery adds a more aromatic depth to the flavour.
If you don't have celery, check out these celery substitutes.
Make sure to use a high quality vegetable stock when making your soup. If you don't want to make the stock yourself, find a good quality store-bought one.
It pays off to go for quality and maximum flavour here. For a meatier, non-vegan alternative you can try to make it with chicken stock instead.
vegan zucchini and leek soup
A big benefit of this zucchini and leek soup is that it is very easy to keep it vegan without going down on flavour. By adding potato to the soup, you can even get that beautiful velvety texture without the use of any cream or butter.
The natural starch in the potatoes will help to make the soup creamy, all the while remaining vegan. Alternatively, you can use coconut milk to get a creamy texture.
Although if you do, beware that this will change the flavour profile. Even without cream or cream substitutes, you should have no problem getting a creamy soup due to the added potatoes.
When you are blending the soup you can adjust the consistency by adding more or less of the vegetable stock. Stop when you reach the consistency that is right for you.
If you love vegan soups in general, let me tempt you with this vegan split pea soup recipe.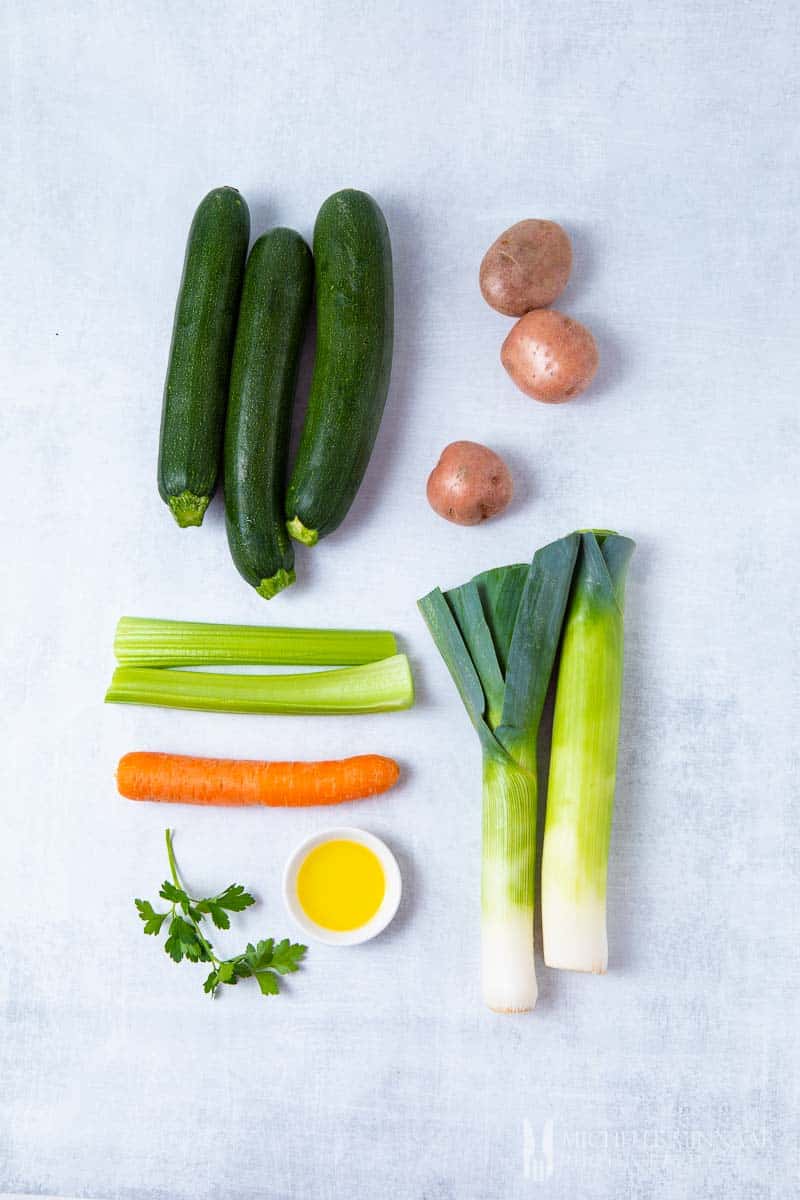 variations on zucchini and leek soup
Since this soup will be blended to a smooth consistency in the end, you can easily add different vegetables without having to worry about even cooking time. I added the carrots for a bit of sweetness in the soup.
If you are trying to eat low carb you can also omit the carrot and the potatoes. In addition, you can also add a bit of parsnip or swede for extra flavour. Don't be afraid to experiment a little bit.
Another thing you can do to pack some flavour into the zucchini and leek soup is to add spices. I have seasoned my version quite lightly, although with addition of cayenne pepper when serving it.
You can also add some chilli to the soup itself while it cooks. Either fresh chilli or chilli powder. Nutmeg is another nice addition to the zucchini and leek soup. Just a pinch of it will bring some extra aroma to the soup.
This is completely optional but I think it works well. Fresh herbs such as chervil or watercress are also nice additions. These will add a slight bitterness along with the herbal aroma.
You might want to consider sprinkling the freshly cut herbs on top, though you can also let them simmer in the soup with the rest of the ingredients.
If you happen to have some marrow lying around in your vegetable patch, it can be used instead of zucchini. Alternatively, you can make roast marrow!
serve with bread
Personally, I find that a good tasty soup deserves a good piece of bread. This soup should be no exception. I like to serve the zucchini and leek soup with a slightly dark malted bread.
You can use whichever type of bread is your favourite. A normal, good quality wheat baguette is just as good. As an alternative to eating the zucchini and leek soup with bread, you can add bread croutons into the soup when serving it. If you want to keep a zucchini theme you can try out this Pineapple Zucchini Bread recipe.
I find this particularly nice if the soup is being served in a small portion as a starter rather than when I have it as a main course.
When you serve the soup, don't forget to add some freshly grated zucchini. The zucchini strips will not only give some freshness but also texture to the soup, making it more pleasant to eat.
I also like to dress the soup with a splash of cream. However you can omit this if you don't like it, or if you prefer to keep the zucchini and leek soup vegan.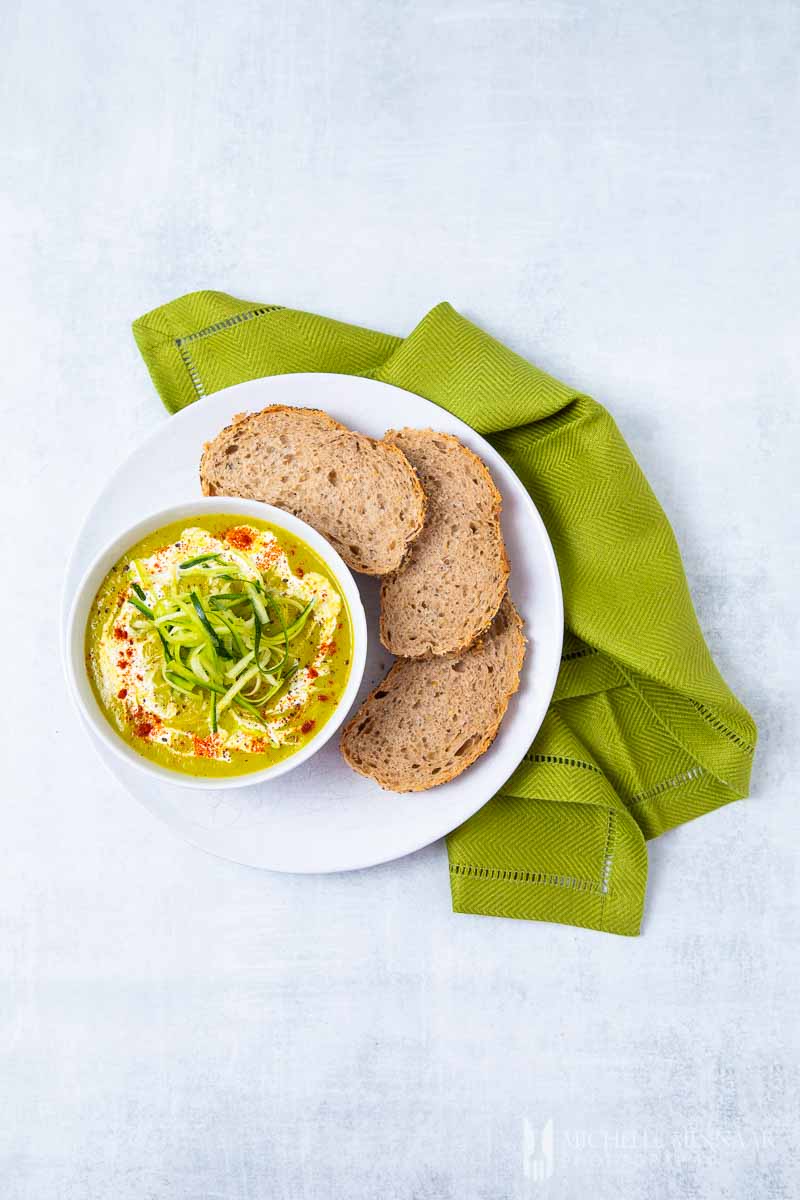 zucchini and leek soup calories
For a healthier version, serve the soup without bread to save on calories. Besides, this soup is extremely healthy and it should make your weekly menu.
other dishes with zucchini
If this delicious zucchini and leek soup has inspired you to try out more zucchini recipes, I have a couple of recommendations. For example, you can try my creamy curried courgette noodles. A great alternative to normal spaghetti.
These are very easy to make if you have a spiraliser and a fun way to use the vegetable.
If you are looking for the perfect summer salad, I am sure you will enjoy my grilled courgette salad with feta and pomegranate.
It has beautiful Mediterranean flavours, and is a perfect lunch or side dish to be enjoyed on a sunny terrace. What is your favourite zucchini recipe?
Other Soup Recipes You'll Love
Print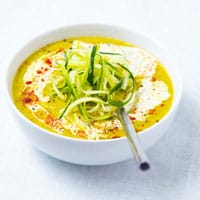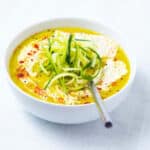 Zucchini and Leek Soup
---
Description
Make this easy zucchini and leek soup in just a few simple steps with these humble ingredients. It's completely vegan, healthy and totally delicious. Enjoy!
---
30

ml

(2 tbsp) olive oil

500

g

(1lb) leeks, washed and sliced

1

carrot, peeled and chopped

200

g

(1/2lb) peeled potatoes, chopped

2

celery ribs, washed and chopped

1

kg

(2lbs) zucchini, washed and chopped

750

ml

(3 cups) vegetable stock
---
Instructions
Heat the oil in a large pot.
Gently fry the leeks in the oil for about 5 minutes or until they have softened.
Add the carrot, potato and celery to the leeks and cook for another 5 minutes.
Add the zucchini and stock to the pot and let the soup reach a simmering point.
Cook for 10 minutes or until all the ingredients are cooked through and tender.
Transfer the contents to a food processor and blend until smooth.
Garnish with cream, freshly ground pepper, cayenne pepper and freshly grated zucchini. Serve with your favourite bread.
Notes
You can process the soup to your desired consistency, i.e. make it at chunky as you like!
If you want a thick soup, use less stock. Like your soup runnier? After blending, systematically add more stock and stir. Repeat until you're happy with it.
If you're on a low-carb diet, you can omit the carrot and potato from the recipe. Even the celery to make this a pure zucchini and leek soup. The carrot is used to lend some sweetness to the recipe and the potato is there to give it its velvety, creamy consistency without the need for butter or cream. The perfect vegan soup!
If you're struggling to get leeks for this recipe, why not try one of these leek substitutes.
Prep Time:

10 minutes

Cook Time:

20 minutes

Category:

Soup

Method:

Boil

Cuisine:

Italian
Keywords: zucchini and leek soup recipe, courgette and leek soup, vegan soup recipes
save the recipe to your pinterest board