Butter bean stew is a healthy yet hearty stew that's perfectly suitable for those on a vegetarian diet. The dish is packed with iron as well as fibre, making this nutritious butterbean recipe an excellent choice for your weekly menu.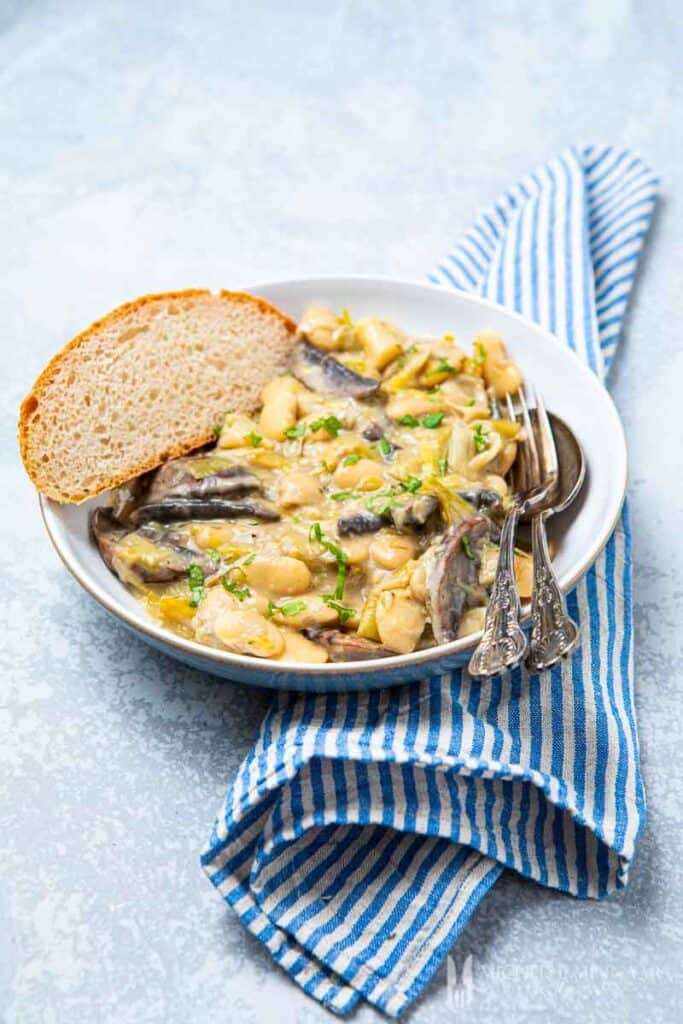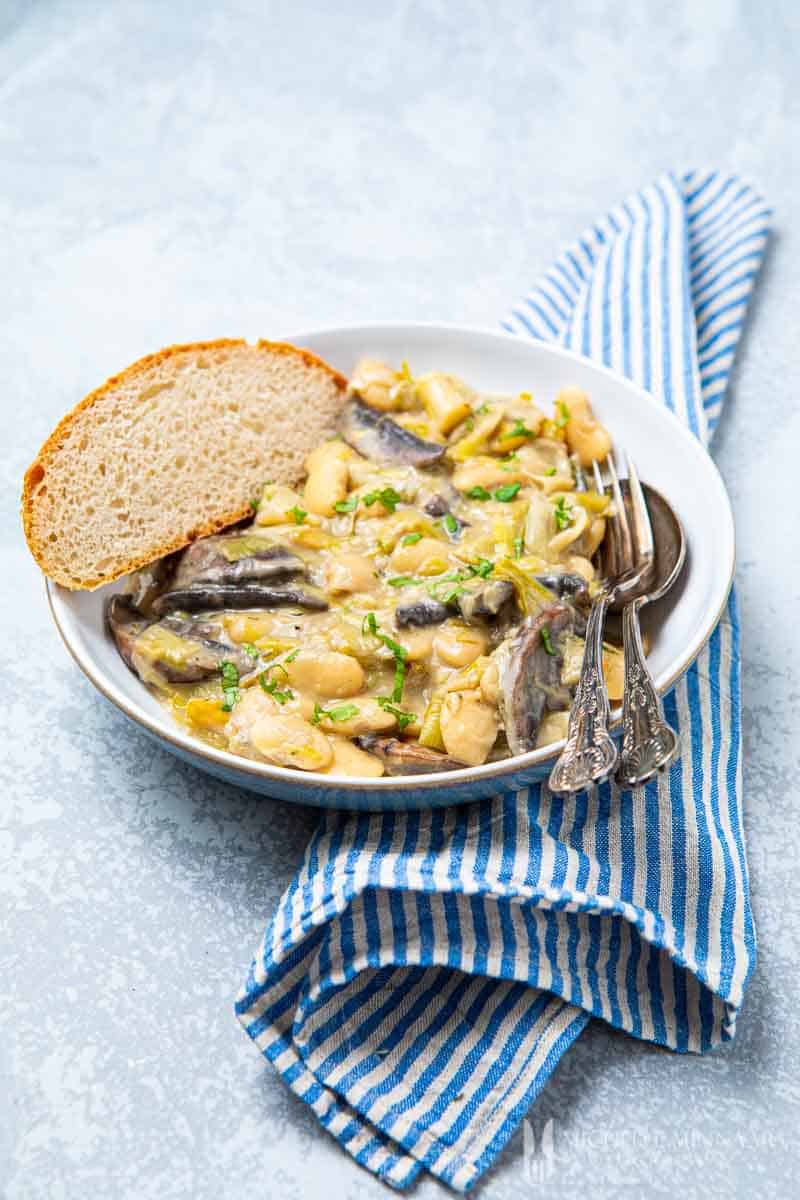 What's more, you can easily spin this recipe in any direction you want. For instance, if you are looking to feed those who prefer meat in their stew, simply add some slices of chorizo.
Similarly, you can easily jazz up this butter bean stew with extra herbs and root vegetables. Just stir them in!
The choice is yours, so enjoy making this healthy stew and let me know how it goes. What's your go-to product when cooking a butter bean recipe like this one?
top products for butter bean stew
Here are the typical products you'll need for making a stew, especially one composed of pulses such as butter beans. Since they're quite large, you might need some of these products to help you prepare them properly.
Take a look at the following products below:
What are butter beans also known as?
There are many names that they're known as. The most common names include lima, double beans, sieva or Madagascar beans. The scientific terms is Phaseolus lunatus.
Visually speaking, they are much larger than ordinary pulses. This is why, sometimes, they take slightly longer to cook. They are quite easy to recognise as they have a white to beige colour.
Not only are they known for their size, above all they're known for their buttery / creamy texture. You can use them in all sorts of recipes. Take a look at these below:
history
These pulses originally came from Latin America. Apparently this ingredient first appeared in the Andes region approximately 4,000 years ago. Hence, approximately around 2,000 BC
As time passed by, many recipes started emerging across the Americas using these pulses. In fact, around the 14th-15th centuries, one could find such recipes all the way up near Mexico, around the Rio Grande region.
To date, pulses are one of the main staples of Latin American cuisines, especially that of Mexican cuisine.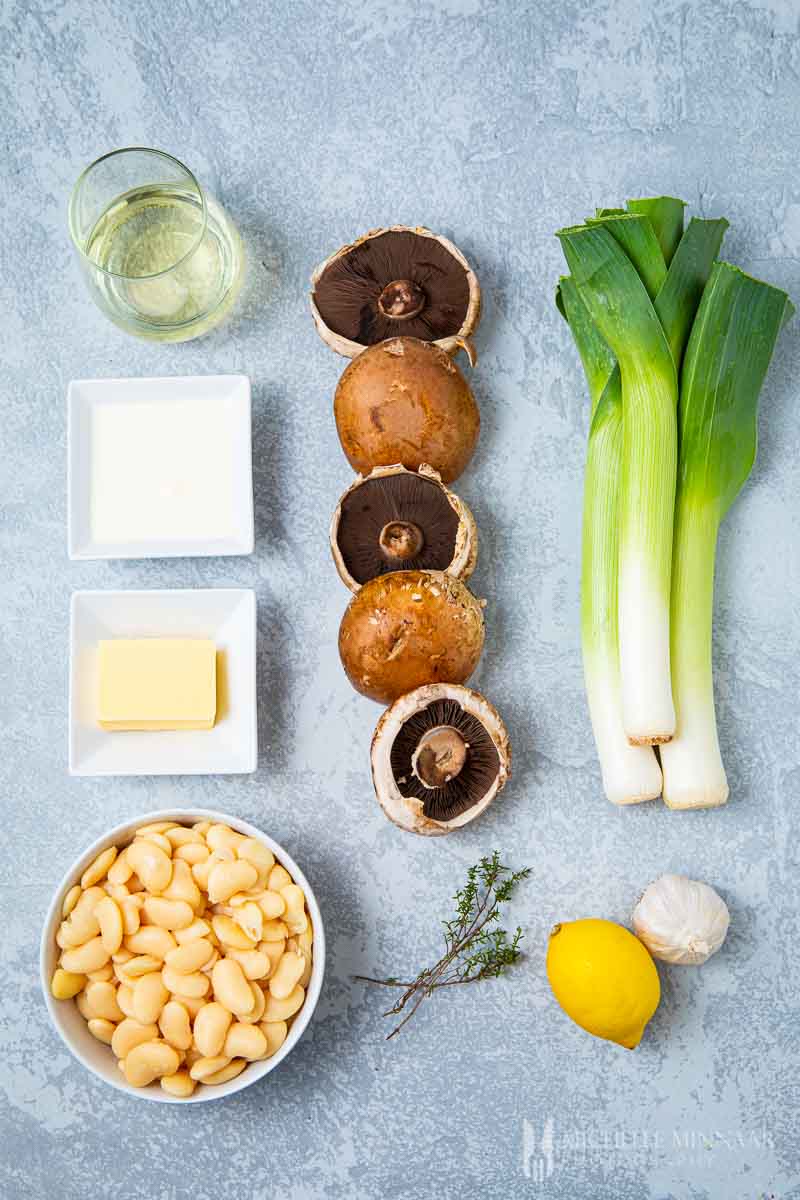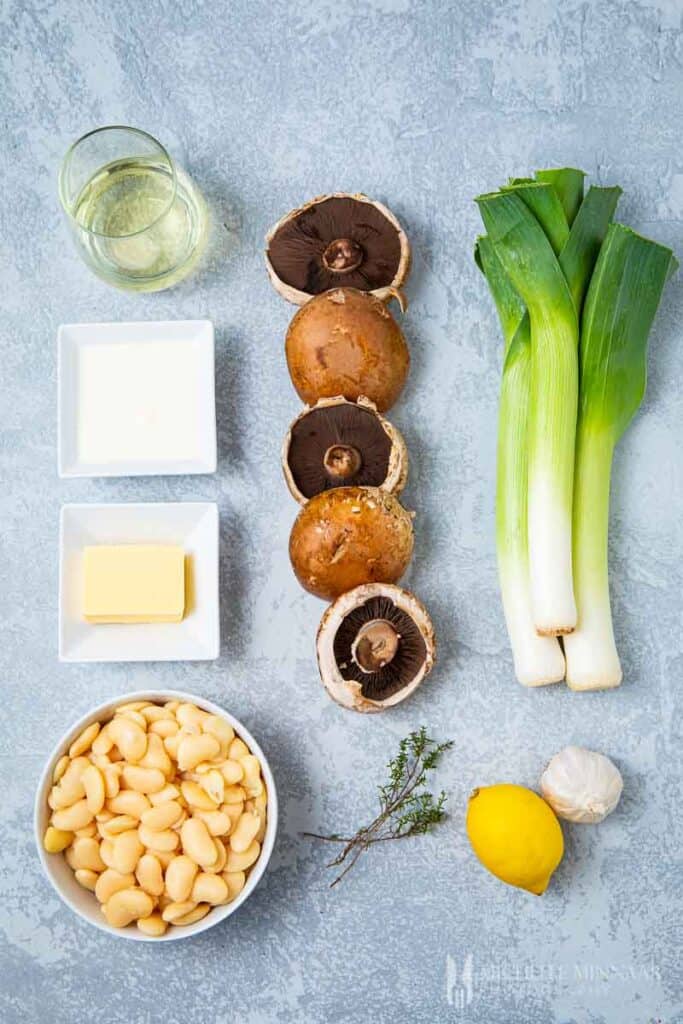 different varieties
There are two types you can use for your butter bean stew or any other butter beans recipe.
Firstly, there are the small ones, which contain relatively small seeds. These are more commonly known as the sieva type, and are found anywhere from Argentina up to Mexico.
In short, these would work very well with this stew too. However, I prefer them in a salad or in a burrito.
However, if it's the size which you are after, then you'll love the second type, which is the lima type.
What are butter beans good for?
They are an excellent source of nutrition. That's why this is the go-to bean for many vegetarians and vegans. Plus, they contain a lot of fibre, protein, iron, and vitamin B.
As such, they're excellent for digestion and help you reduce blood sugar levels, which in turn can help you manage your cholesterol levels.
I still think that pulses are vastly underrated. Did you know that ancient gladiators got their protein intake mostly from pulses?
How do you make butter beans from scratch?
The first step is deciding whether or not you want to purchase them canned or dried. If you purchase them canned, then it's a simple process. Just add them into the stew. Purchasing the canned version would save you a lot of preparation time.
However, it's a different process when you purchase them dried. This is because prior to making your butter bean stew, they should be soaked in water.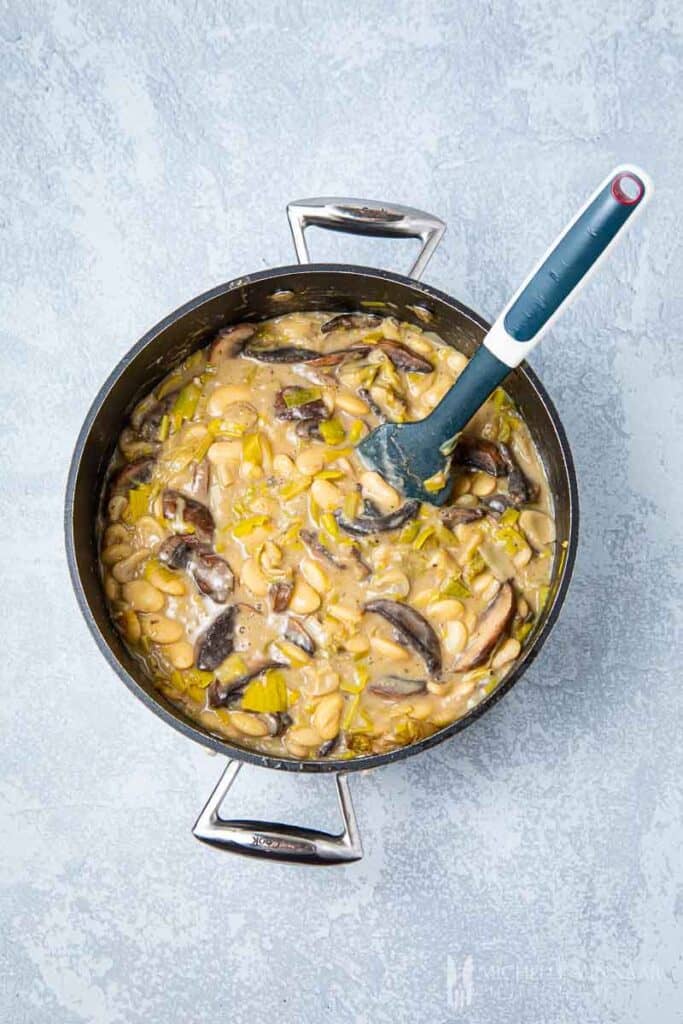 How do I cook dry butter beans?
First of all, find a large pan and place the pulses inside. Next, fill the pan up with cold water. Make sure you add enough water so that the pulses are covered by a good 10–15 cm.
Soak them in the water overnight before you cook them. You can also add some salt into the water. Just remember to stir it in, otherwise only the top layer will be salty.
The soaking process helps prevent a really long and tedious cooking process. That's why you mustn't skip the overnight soak when using dried beans for your butter bean stew.
Otherwise, they'll take hours on end to cook before they reach the texture you want. Once you've left them overnight, gotta get your beans drained.
Then fill the pan up with hot water. This way, the pan will heat up faster. Next, bring the water to a boil and cook until everything is super-tender.
can I use canned pulses?
You can use canned pulses for this butter bean stew. In fact, this option will save you plenty of time as you won't have to soak the pulses. Most canned pulses are already cooked.
top substitutes
Here are the best substitutes for butter beans. Consider these:
chickpea - these have a similar texture. They make an excellent substitute in a salad.
fava - again, one of the closest substitutes due to their subtle nutty taste.
red kidney - these have a really mushy consistency. They make a delicious mash. Plus, they're perfect for salads.
cannellini - these are almost identical when it comes to flavour and taste.
For this stew, I recommend you stick to the fava or cannellini substitutes.
Spanish butter bean stew
There are two ways you can get this butter bean stew recipe to take on a Spanish flavour. Just experiment and add a few ingredients.
First of all, you can add chopped tomatoes and season the whole stew with paprika. You can opt for smoked paprika powder, hot smoked paprika powder, regular paprika powder, even sweet paprika powder.
Don't forget to add 2 tbsp of cayenne pepper or chilli powder. If you haven't got smoked paprika powder in your household, check out these 9 handy substitutes.
Next, you can also consider adding sliced chorizo sausage or andouille sausage (or these andouille sausage substitutes). The sausage will cook in the sauce, giving that intense, hearty flavour one looks for in a rich stew.
Just check out my sausage soup with beans as inspiration for flavouring this stew. In fact, if you've got leftovers, I recommend you make it on the next day!
Mediterranean butter bean stew
The key elements to add a Mediterranean flavour to this recipe are chopped tomatoes, olive oil, fresh basil, dried oregano, lemon juice and lemon zest.
Once you stir these into the stew, you'll be able to spot the Mediterranean flavour immediately.
You can also add crumbled feta cheese as a topping. Otherwise, you can also add unsweetened Greek yoghurt on top.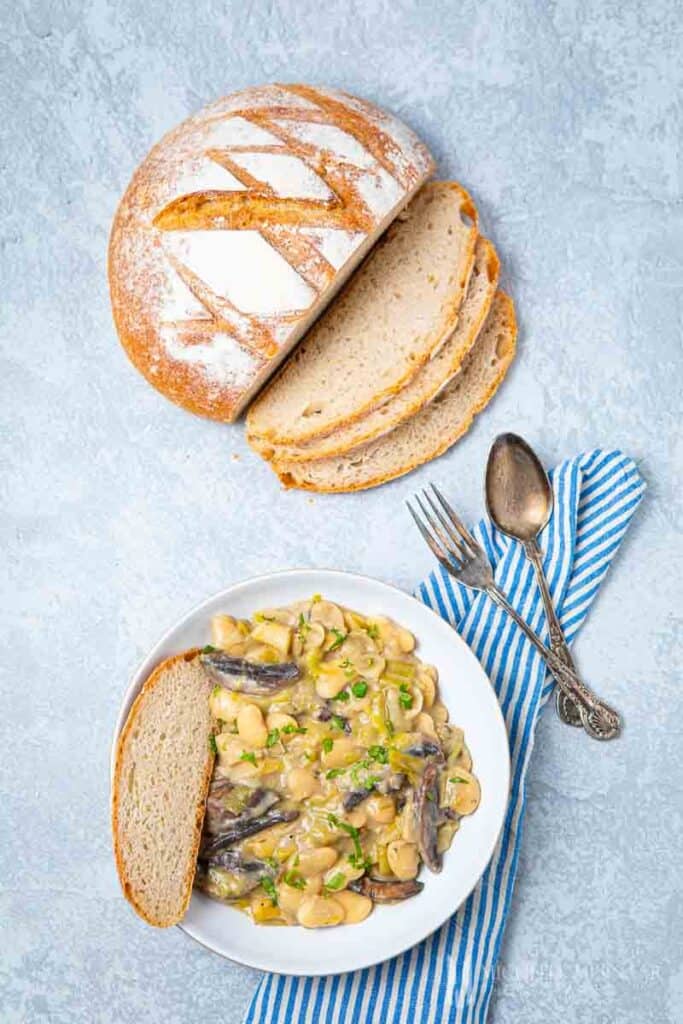 Moroccan butter bean stew
To develop a Moroccan flavour, you'll need to make your own spice mix, which you can add into the stew.
The spice mix consists of ground cumin, harissa paste and a handful of green cardamom pods. Simply stir the spice mix into the stew until the flavour is strong enough for you. I recommend you add one teaspoon of the spice mix at a time.
Stir in the spice mix gently. Remember, if you stir the stew too vigorously, it will immediately thicken up because the pulses will suddenly mush up. Hence, it's very important to stir the stew as gently as possible.
You can also add chopped eggplant / aubergine (if you would still like to keep this stew recipe vegetarian). Otherwise, you can also add cuts of lamb. Don't forget to include a hint of olive oil, which will make the stew taste perfect!
other variations
Here is a list of ingredients that would work exceptionally well in this stew recipe. For instance:
kale
sweet potato
chopped carrots
parsnips
swedes
potatoes
bell peppers
celery
best toppings
Everyone knows, that good presentation is all about the toppings which you add. So, to make the best out of this butter bean stew, try to add one or more of the following toppings:
fresh red chillies (you can also add chilli powder)
coriander leaves
fresh parsley
water cress
spinach
spring onions
chives
cherry tomatoes or chopped tomatoes
Remember to season with salt and pepper.
Love butter beans? Check out this white bean dip!
How will you make your butter bean stew your own? Let me know in the comments section below.
Print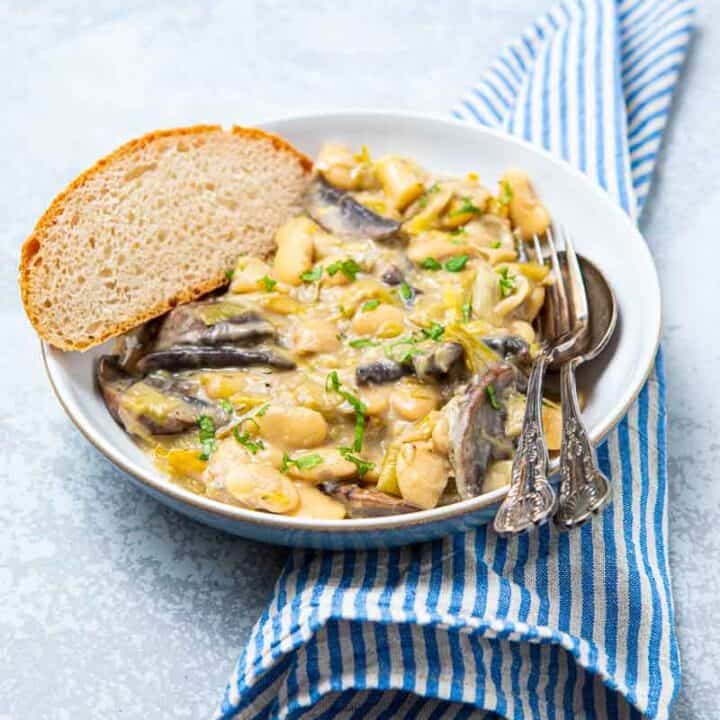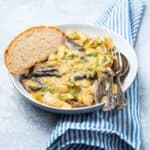 Butter Bean Stew
---
Author:

Michelle Minnaar

Total Time:

35 minutes

Yield:

4

servings

1

x

Diet:

Vegetarian
Description
This Butter Bean Stew makes the perfect vegetarian dinner. It comprises leeks, mushrooms and butter beans in a creamy, white wine sauce.
---
15

ml

(1 tbsp) butter

15

ml

(1 tbsp) oil

2

leeks, cleaned and chopped

2

garlic cloves, peeled and crushed

4

portobello mushrooms, cleaned and sliced

500

g

(2 tins) cooked butter beans

250

ml

(1 cup) white wine

500

ml

(2 cups) vegetable stock

125

ml

(1/2 cup) double cream

1/2

lemon, juiced

5

g

(1/8 cup) flat-leaf parsley, finely chopped
---
Instructions
Heat the butter and oil in a large frying pan.
Gently fry the leeks until softened, which would take about 5 minutes.
Add the garlic and fry for 1 minute.
Add the mushrooms, turn up the heat and fry for 5 minutes, or until browned.
Tip in the beans and give it a stir, ensuring the heat is now set to its highest setting.
Pour in the wine and let it bubble for 2 minutes.
Lower the heat until it reaches a slow simmering point.
Pour in the stock, and let everything in the stew simmer for 5 minutes.
Stir in the cream, simmer for another 1 minute, then remove from heat and sprinkle with lemon juice.
Serve with rice and sprinkle with parsley. Enjoy!
Notes
If you don't like runny sauces, you can use a cornflour slurry to thicken the sauce.
If you aren't able to get hold of any leeks, try one of these leek substitutes.
Prep Time:

15 minutes

Cook Time:

20 minutes

Category:

Dinner

Method:

Pan Fry

Cuisine:

French
Keywords: butter bean stew, butter bean recipe, butter bean casserole, butter beans with mushrooms and leeks, butter beans with white wine sauce