A slice of fruits of the forest cheesecake is something I would definitely order in a coffee shop, but be expected to pay a large sum for it.
Why spend a fortune on eating cheesecake elsewhere, when you can master the recipe yourself? Just follow a few simple steps and make a large batch of this fruits of the forest cheesecake recipe.
What's best, you can tweak it to your taste and add your favorite type of forest fruit. Moreover, you can decorate the cheesecake to your liking and make it completely your own.
In short, this cheesecake recipe only takes 1 hour to make. Moreover, it doesn't require any special chef skills to make it delicious and beautiful. So, give it a try and let me know how it works out for you. Enjoy!
products you need for this recipe
Cheesecake-making is easy and fun. This fruits of the forest cheesecake is no exception.
In essence, making this fruity cheesecake is no different to my other no-bake cheesecake recipes. The only difference is the variation of the fruit and the flavor.
In either case, there are a couple of ingredients which you can purchase in advance to make your cheesecake perfect. Take a look at the following suggested products below: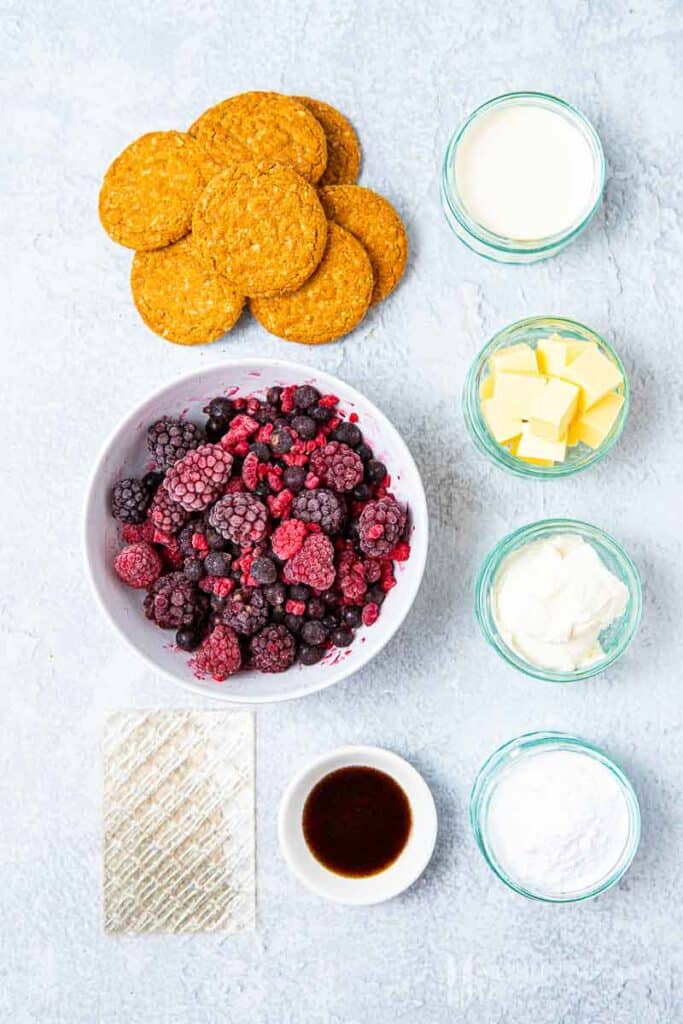 fruity cheesecake recipe, no bake
I love no bake cheesecake recipes like this fruits of the forest cheesecake. It's so simple to make.
The hardest part about making this fruity cheesecake is to wait for it to set. This process could take a while until your cheesecake hardens.
If you literally cannot wait to dig your spoon into the cheesecake, there are two ways you can get it to set faster.
First and foremost, stick it in the freezer for 15 minutes. This will encourage your cheesecake to solidify. Especially, this will also allow your jelly on top to set.
If you place the fruits of the forest cheesecake into the freezer prior to the fridge, it will reduce the setting time by roughly one third.
Otherwise, follow the recipe's instructions and let the cheesecake cool for approximately 3 hours.
Though let me tell you, any no bake cheesecake recipe is worth the wait.
Just take a look at my other stunning cheesecake creations:
If you fancy making another cheesecake as well as the fruits of the forest cheesecake recipe, which one would it be? Let me know!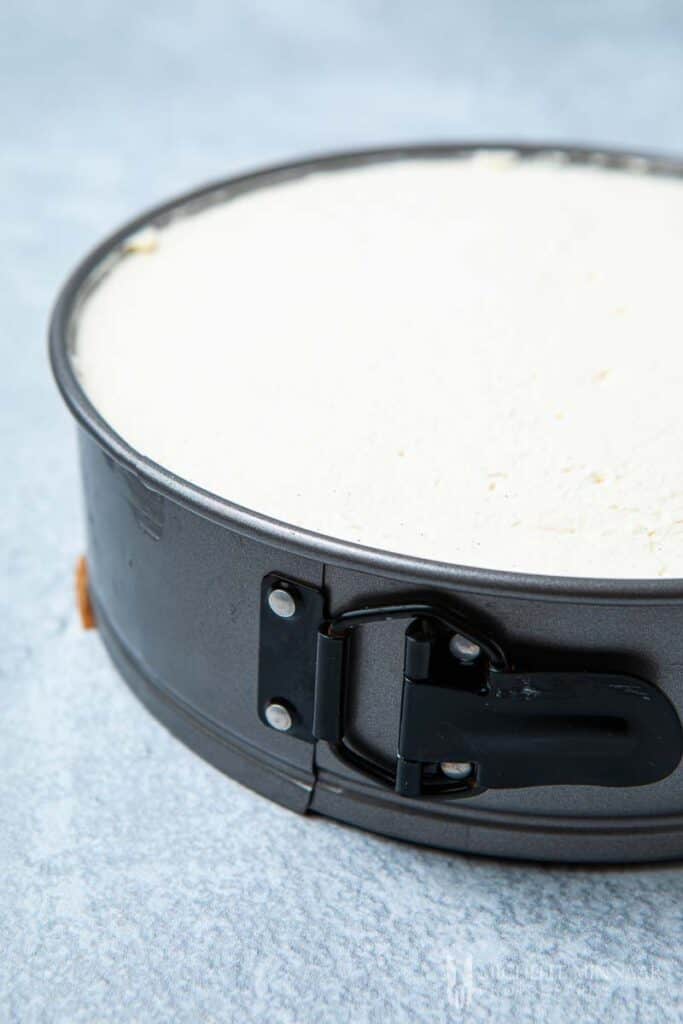 summer fruit cheesecake recipe
There are a couple of ways you can jazz up this recipe. First of all, you can incorporate a bit of lemon or lime zest into the cheese mix.
This will increase the level of acidity and it will in turn make your cheesecake more refreshing. Otherwise, you can use the remaining berries and blend them into a coulis.
Once done, fold the coulis into the cream cheese. Just take care, the color of your cheesecake will change.
If you wish to make your cheesecake a purplish color, then add more blueberries and blackberries. For a lighter / reddish tinted cheesecake, you should add more raspberries, strawberries, or red currants.
At best, you can also throw a couple of berries into the cream cheese mix for more varied textures. The choice is completely yours.
If you wish to maximize the flavor of a specific berry, then feel free to purchase additional berries of your choice and toss them in.
What's your favorite forest fruit? Mine would undoubtedly be raspberries. Just check out my delicious summery raspberry and lime cheesecake recipe. Irresistible!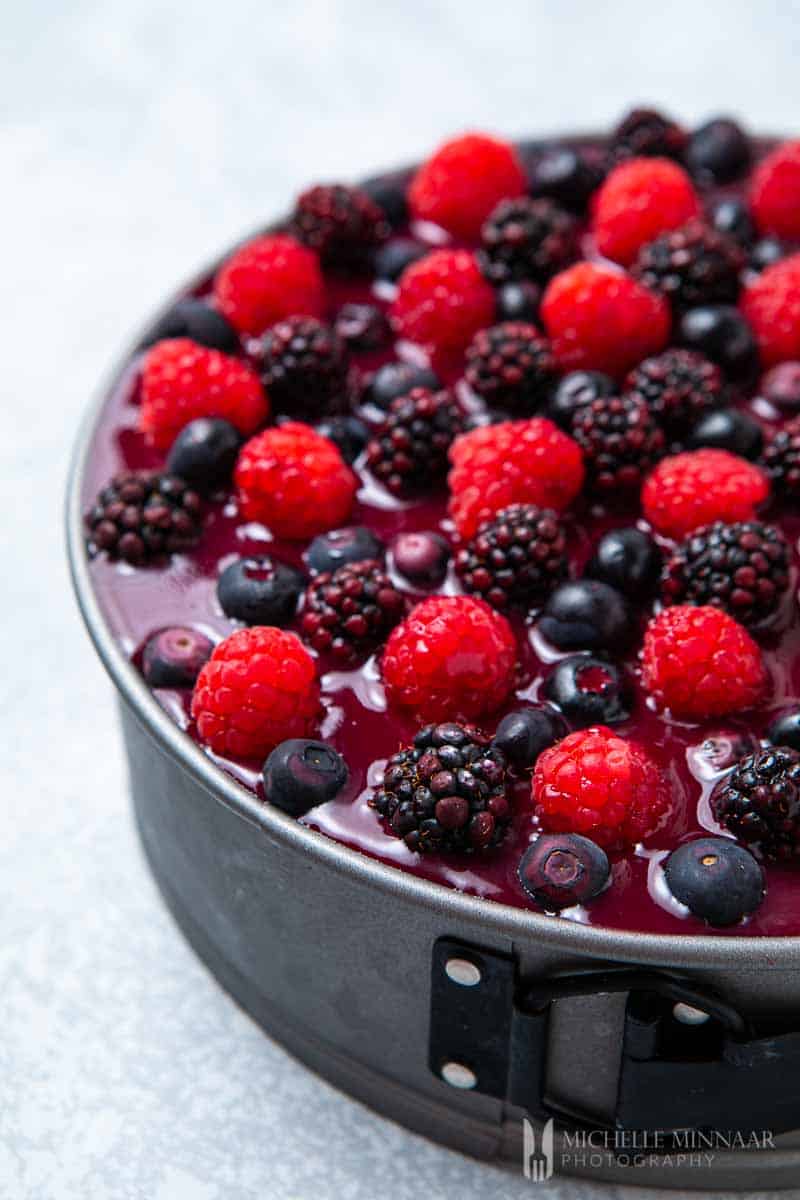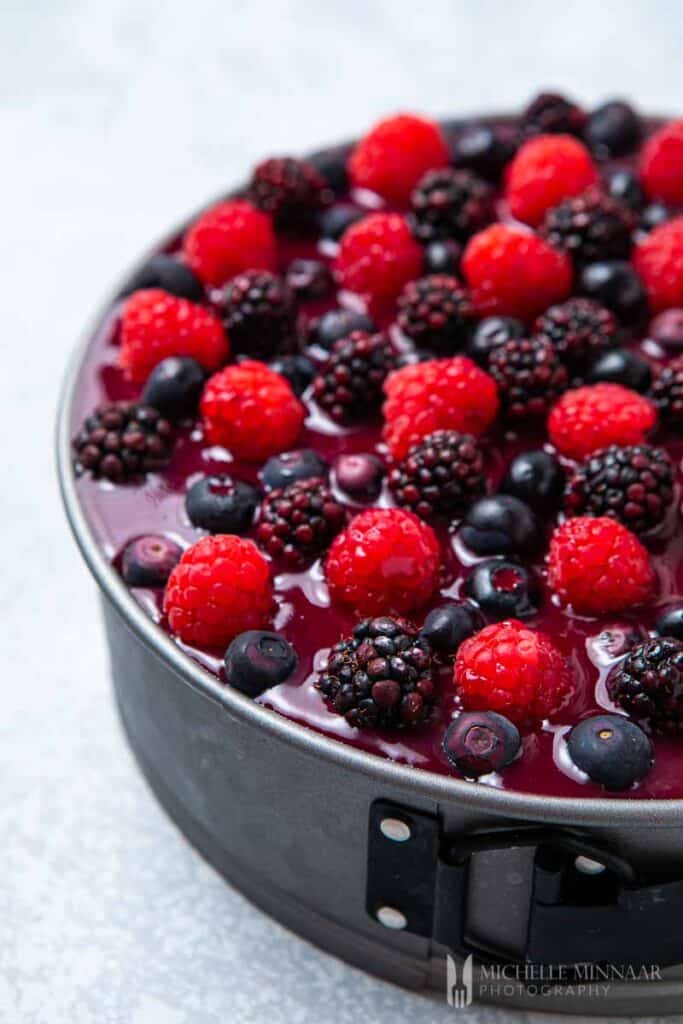 what to do with leftover berries?
Forest fruit is so versatile. There are tons of things you can do with them. Let's start with other baked goods.
Try your hand at this easy strawberry flan recipe. The flan recipe works with other types of berries too.
Otherwise, you can always use the berries to make a delicious fruity curd or a homemade seedless jam. If you have any blackberries leftover, make this blackberry compote and serve it with yogurt for breakfast.
You can also use the berries and make beverages with it like a healthy smoothie like this mixed berry and orange smoothie. Lastly, berries are also fabulous in savory applications.
For instance, you can use the berries and make a steak recipe with a forest fruit sauce. Whatever you go for, I'm sure that you'll make the right choice. You can never go wrong with berries.
best toppings for berry cheesecake
The best topping in any fruity cheesecake recipe such as this fruits of the forest cheesecake is the fruit itself.
What I've done is added a jelly so that the fruit sets beautifully and rests on top of the cheesecake.
Here are some other toppings which pair excellently with this fruits of the forest cheesecake recipe:
chocolate shaving
whipped cream
cream cheese frosting
fresh mint
lime or lemon zest
powdered sugar
If you are looking for more inspiration, check out these desserts: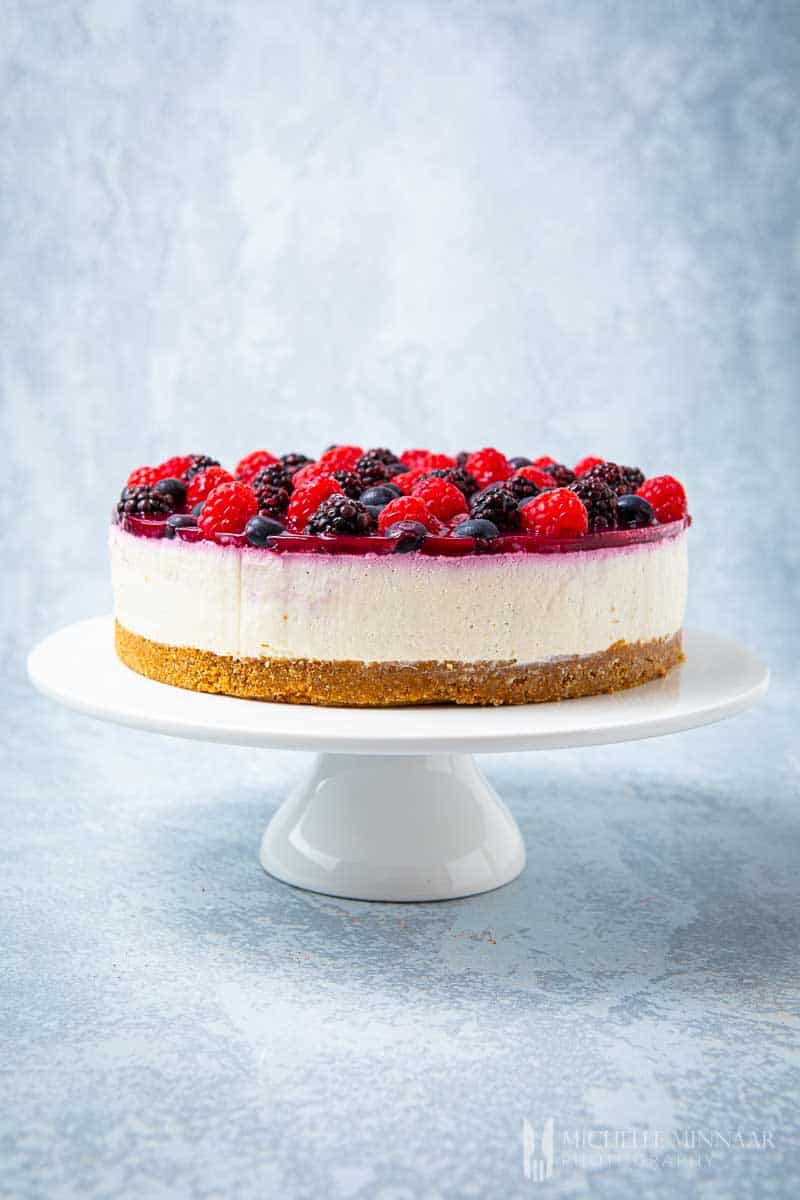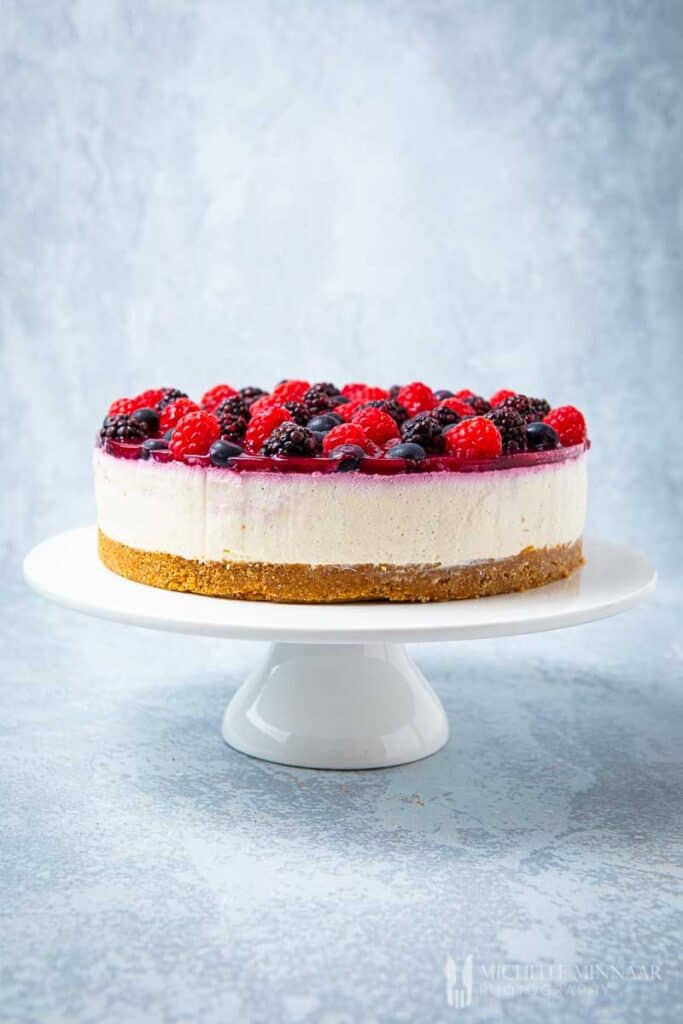 How would you serve your slice of this fruits of the forest cheesecake? Would you incorporate the fruit into the cheese mix? Let me know in the comments section below.
Print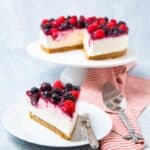 Fruits of the Forest Cheesecake
---
Description
Fruits of the forest cheesecake is a perfect summer dessert. Find out how you can put your own twist on this cheesecake recipe.
---
Biscuit Base
300g

(

3 cups

) digestive biscuits, crushed

150g

(

⅔ cup

) butter, melted
Cheesecake Filling
750g

(

3⅓ cups

) cream cheese 

100g

(

1 cup

) icing sugar 

10

ml (2 tsp) vanilla extract

300

ml (1¼ cup) double cream
Berry Topping
1

x strawberry jelly sachet

500g

(1lb) fresh berries, washed
---
Instructions
For the Biscuit Base: Crush the biscuits in a sealable plastic bag with a rolling pin, until everything turns into crumbs.
Mix the butter with the crumbs.
Spoon the mixture into the base of a 23cm (9in) springform cake tin and level with the back of a spoon.
Place in the fridge to set. An hour will do. 
For the Cheesecake Filling: Using a stand mixer, add cream cheese, icing sugar and vanilla.  
Whisk until the sugar has dissolved into the cream cheese, and the ingredients are evenly distributed. 
In a separate bowl, whisk the cream until stiff peaks form.
Fold the cream into the cheese mixture.
Spoon the cheesecake filling on top of the biscuit base and spread evenly.
Place in the fridge for at least 6 hours, but preferably overnight, to set.
For the Berry Topping: Prepare the jelly according to the packet instructions. Let it cool to room temperature.
Remove the cheesecake from the fridge and slowly pour the jelly on top of the cheesecake until the surface is just covered. 
Decorate the top to your heart's content with fresh berries. 
Place the cheesecake back in the fridge in order for the jelly to set, which would take around 3 hours.
Once set, release the side of the cake tin and place it on a serving plate. 
Consume within 3 days. Enjoy!
Notes
Jelly products come in all shapes and sizes. What you're looking for is sachets containing powder or highly concentrated jelly packets that need dissolving with water. You can use any type of berry jelly. In this case, I used strawberry but you can use raspberry, cherry, etc. You can even make your own from scratch using fresh fruit and gelatine leaves!
For best results, use an assortment of fresh berries. I used raspberries, blueberries and blackberries. If you don't have a stand mixer, you can use a large bowl and accomplish tasks with an electric whisk or by hand.
You can use any leftover jelly for other sweet purposes.
Cream cheese doesn't keep for too long in the fridge, so don't let it go to waste! Check out my guide on freezing cream cheese to ensure it's ready for your next cheesecake!
Looking for more low calorie treats? Try this wheatbix cake!
Prep Time:

45 minutes

Cook Time:

5 minutes

Category:

Dessert

Method:

Chill

Cuisine:

American
Keywords: fruits of the forest cheesecake, mixed berry cheesecake recipe, vanilla cheesecake with berries