I bet you've never heard of a gin and tonic cheesecake before. This cheesecake recipe is quite unique in the sense that it is best enjoyed with a refreshing gin and tonic.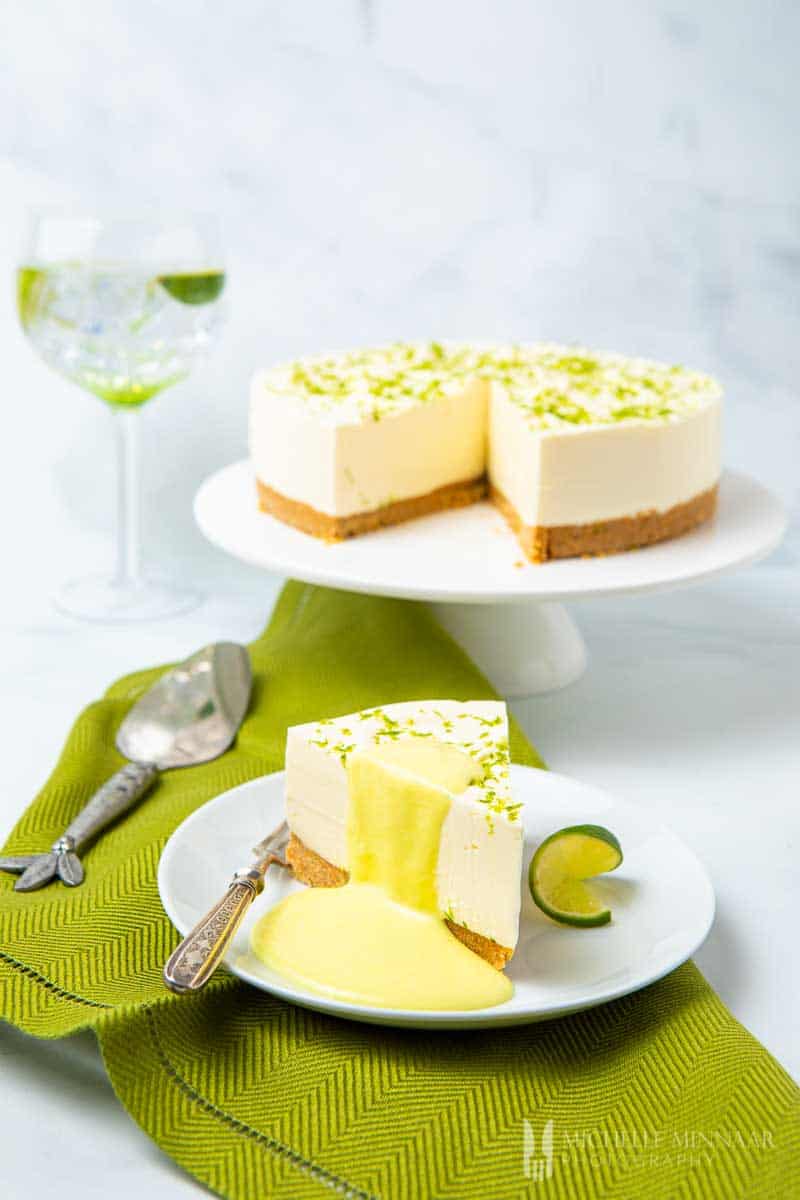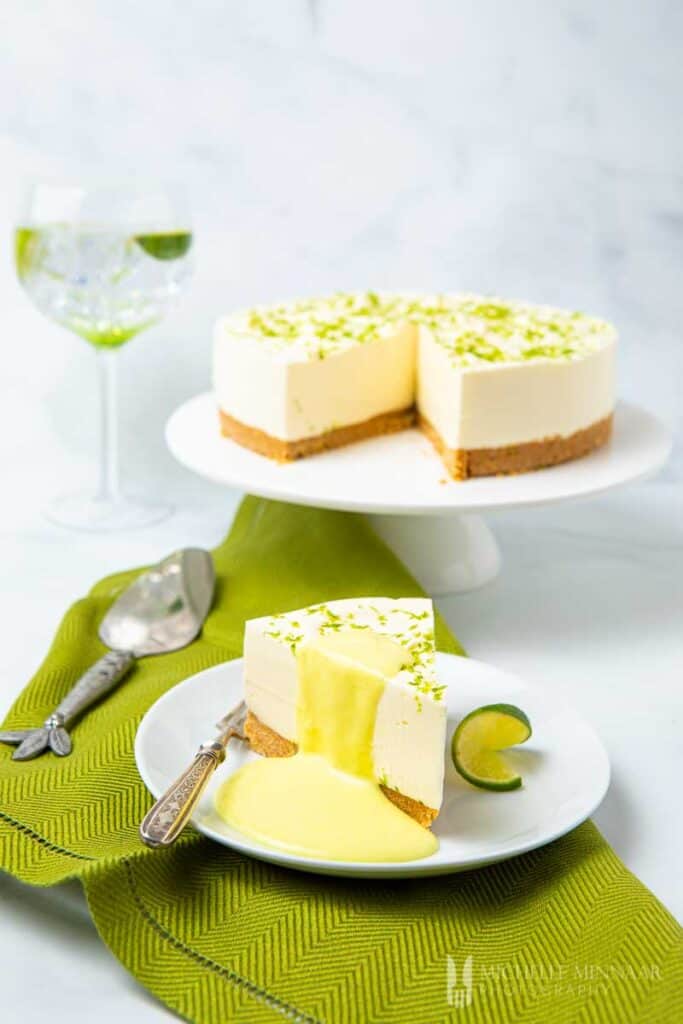 Besides, who doesn't love a zesty and tangy lime cheesecake recipe? Now imagine, if you added a hint of booze to it. A boozy cheesecake is simply divine. Naturally, this gin and tonic cheesecake is for adults only.
Although, you can easily adjust this gin and tonic cheesecake recipe for children and non-alcohol drinkers. In short, omit the addition of the alcohol and you've got yourself a delicious cheesecake.
Plus, doesn't it look completely mouth-watering with all those vibrant colours? Remember to serve the cheesecake with a silky smooth lime curd. Enjoy.
products you need for this recipe
Here is a list of the top products you'll need to replicate this delicious gin and tonic cheesecake recipe. Take a look as some of these items come at a bargain price. Also, some of these things can last you for ages.
delicious gin and tonic cheesecake
This gin and tonic cheesecake has a citrusy and refreshing taste. It's the perfect dessert to serve after a heavy meal. Also, it is an excellent idea in the spring and summer months.
Even better, this recipe is not different to other cheesecake recipes.
If you would like to learn how to make other no bake cheesecake recipes like this beautiful gin and tonic cheesecake, check these out below:
Otherwise, you can also try a baked cheesecake recipe like this sopapilla cheesecake recipe.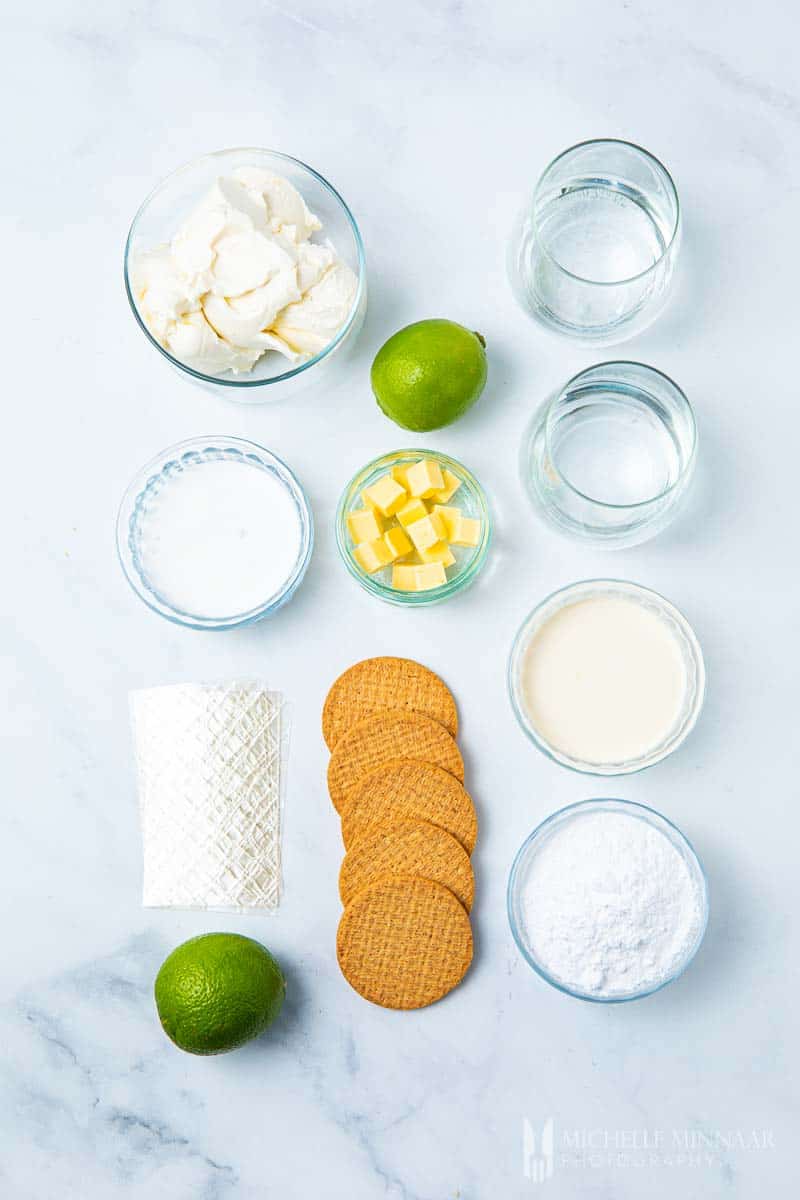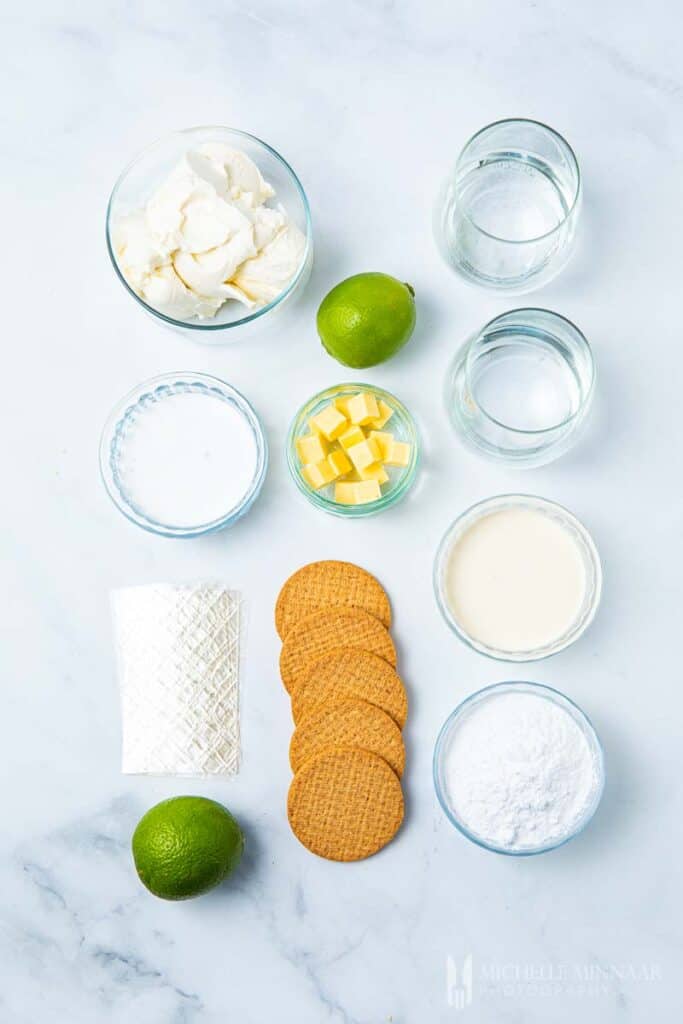 pink gin and tonic cheesecake
Although I think that this gin and tonic cheesecake is stunning as it is, you could make it even more colourful.
For instance, you can make a pink gin and tonic cheesecake, doing so in one of two tried and tested ways.
First, you can add a pink colourant and mix it into the cream cheese. Although, this is not the option I would go for, as I don't like to add anything into my food that's not natural.
Second, you can make the cheesecake pink by adding pink gin and some strawberries. Therefore, when you select your gin option, go for the pink coloured gin. For best results, you can top the pink gin and tonic cheesecake with strawberry curd. It's divine!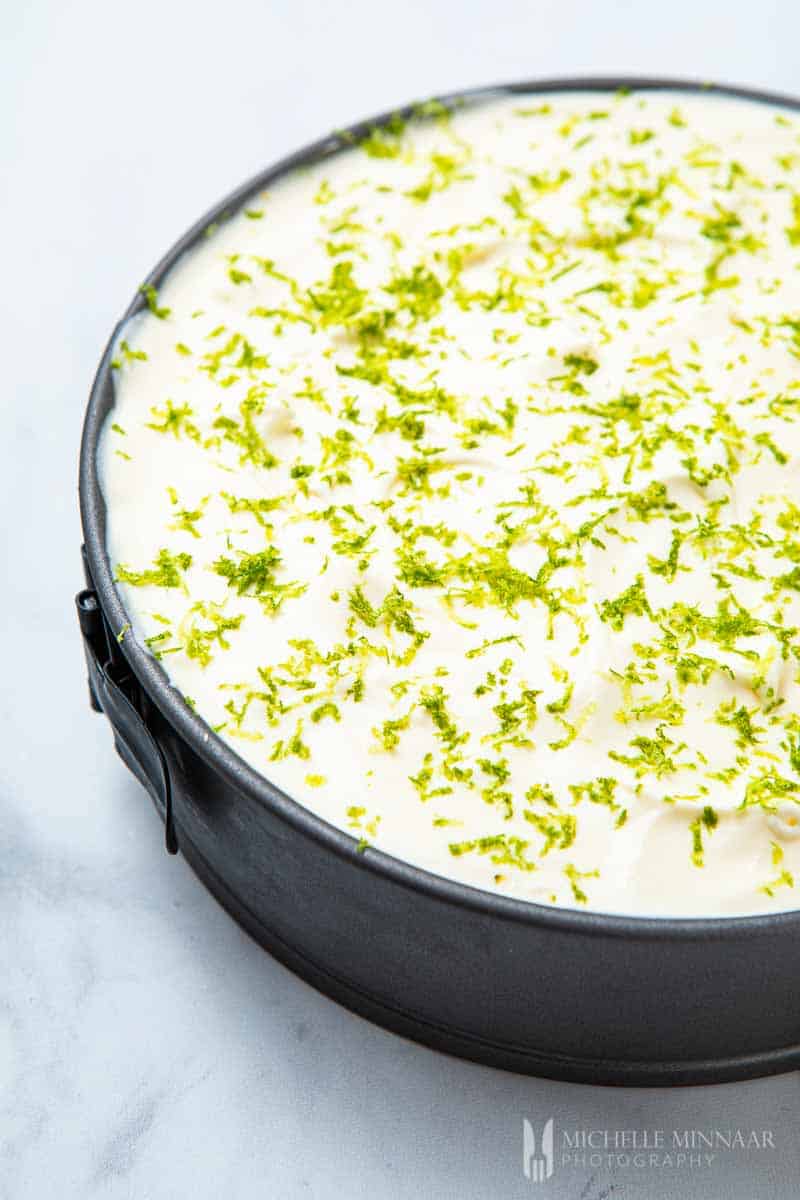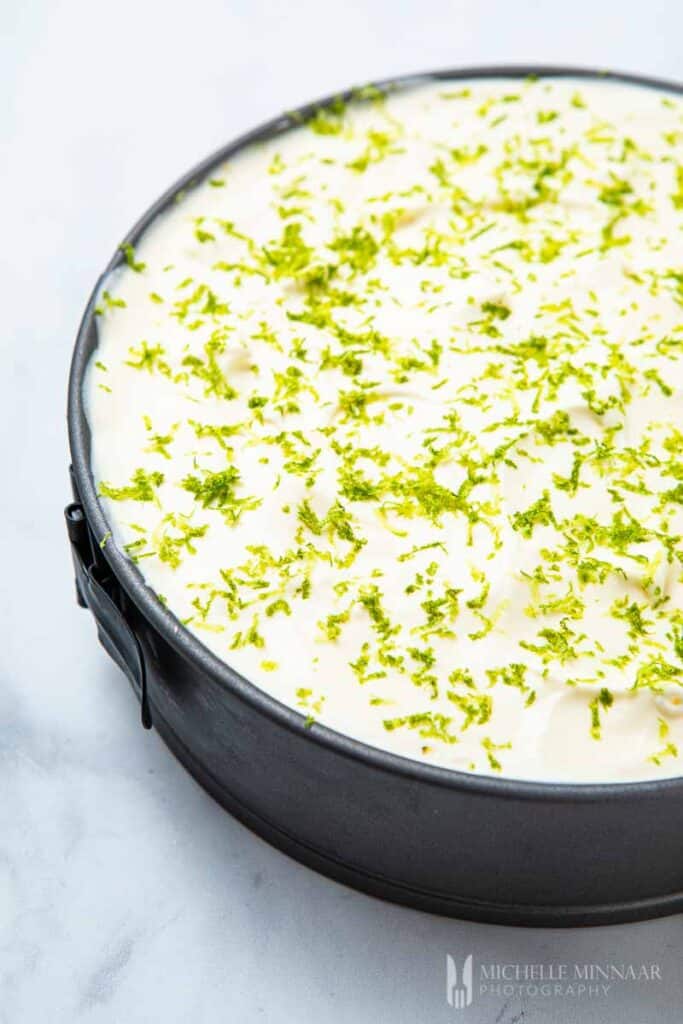 gin and tonic desserts
Sometimes, I really feel that a cocktail can be considered as a dessert. Also, if you're on track to lose a couple of inches from your waistline, a good cocktail can be as good as a dessert.
I've discovered some excellent gin cocktail recipes. Here are a few you should try out:
Christmas gin cocktail – excellent for any occasion (not only for festive occasions)
Ginger beer and gin cocktail – another delicious fizzy cocktail recipe that's very simple to make (you don't need extraordinary bartender skills to make this cocktail)
If you would like to make other fantastic boozy drinks, check out these homemade alcoholic beverage recipes:
Do you know any other desserts with gin? Or do you have a favourite cocktail recipe that you adore? Please let me know, I'd love to find out.
gin cheesecake with lemon curd
I paired this gin and tonic cheesecake with a super-smooth lime curd. It is a perfect pairing.
If you've got leftovers, you can also use the curd as a spread with bread or a piece of baguette. Or just add a little bit into your porridge, or a splash of it into your yoghurt. Otherwise, you can also have a spoonful of it as it is. Besides, who doesn't love curd?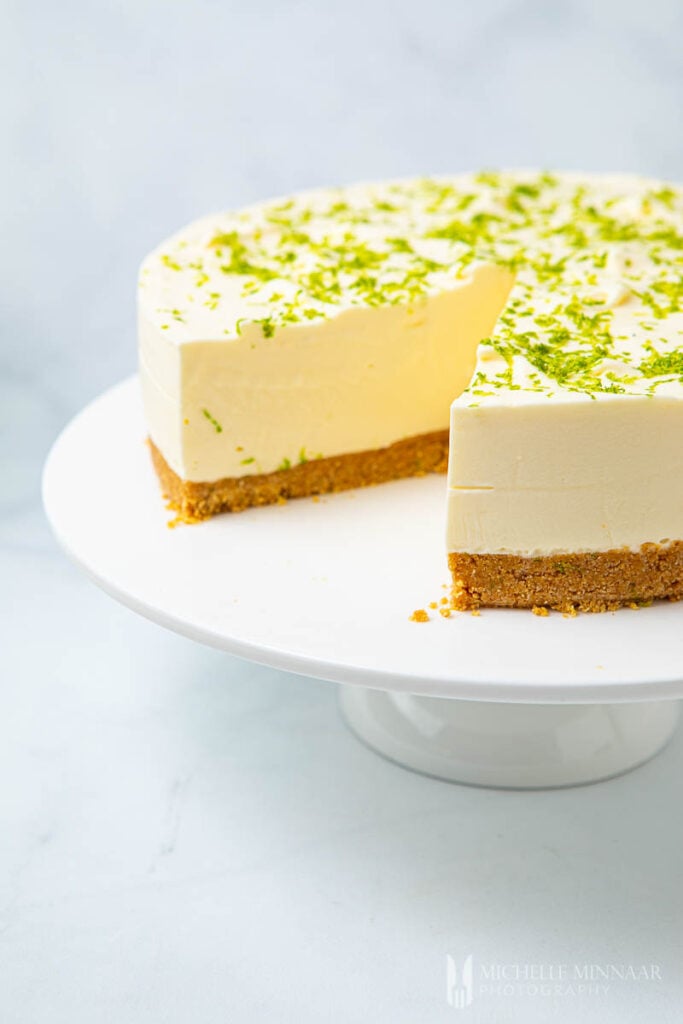 best cheesecake toppings
In my opinion, what makes a cheesecake stand out is how you decorate it. It's all about the toppings you use.
For this gin and tonic cheesecake, I recommend you use the following topics:
Lime or lemon zest
Candied or preserved lime or lemon
Fresh kiwis would also pair nicely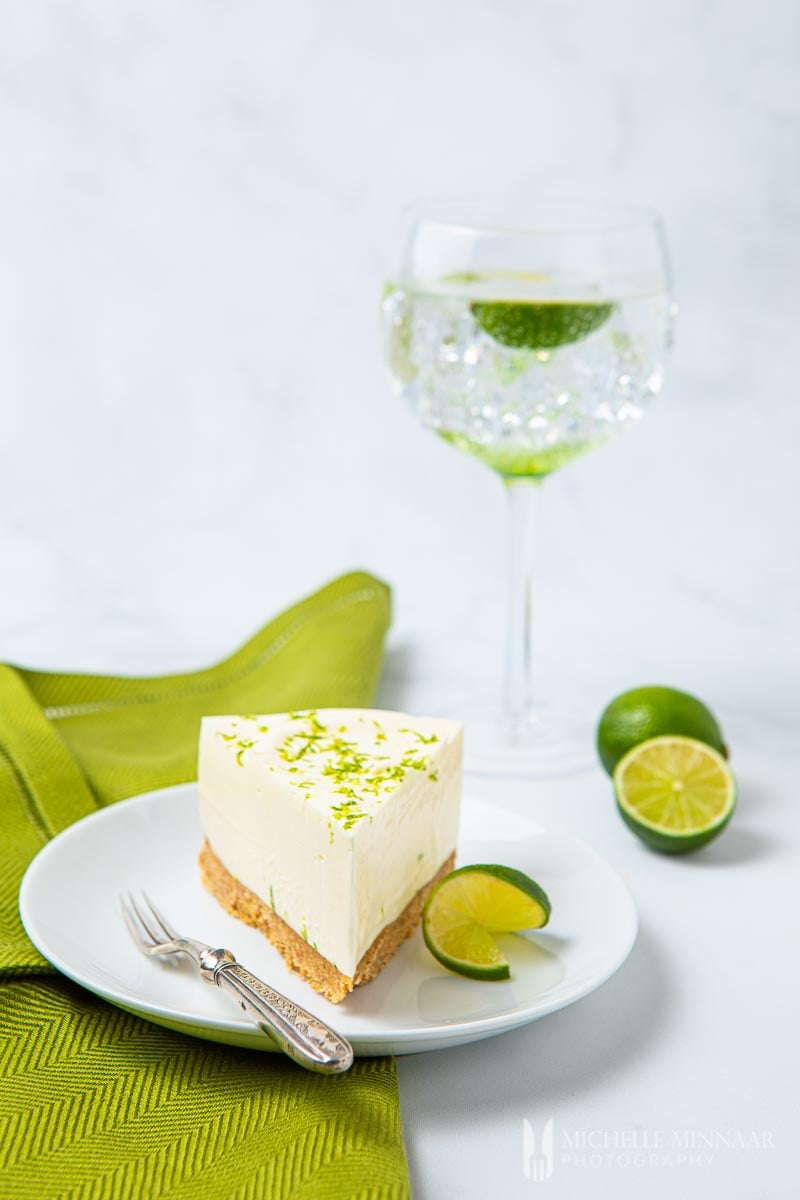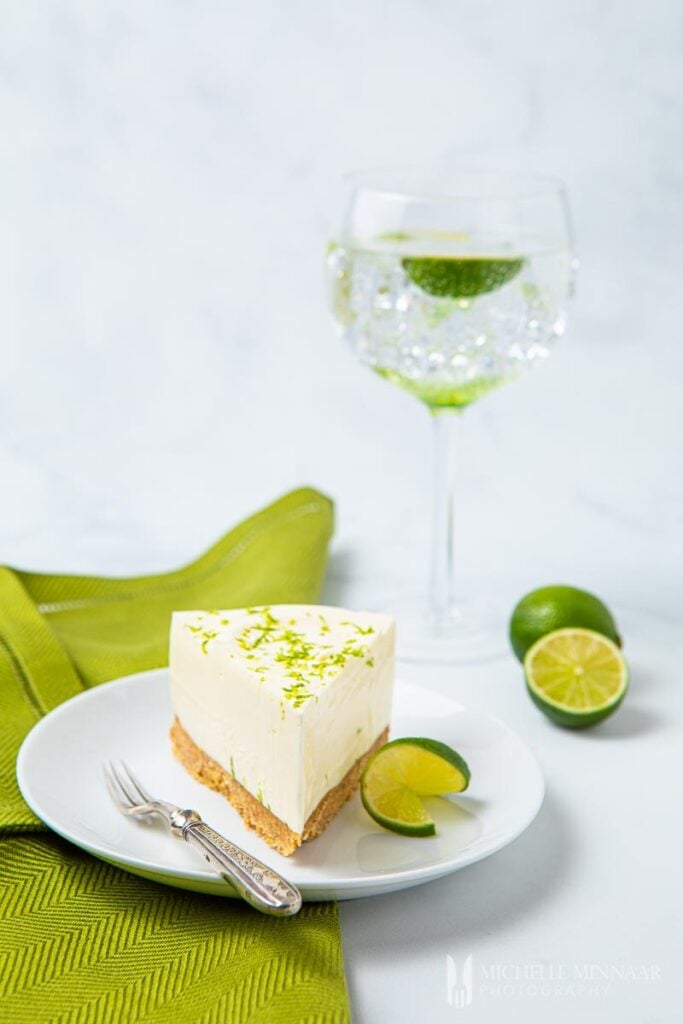 Other suitable toppings:
Fresh berries: blueberries, blackberries, strawberries, raspberries
Nuts: almond flakes, macadamia nuts, walnuts
Chocolate flakes – best to use white chocolate as it is sweeter, and it will complement the acidic flavours of your gin and tonic cheesecake
Flavoured gelatine
Cream cheese frosting
Otherwise, you can always opt for no toppings and the cheesecake would still taste excellent. Sometimes simplicity is key.
GIVEAWAY
This week one lucky winner will receive 6 months supply of Divine Chocolate.
Divine Chocolate is giving you the chance of winning a 6 month's supply of chocolate
"When you choose Divine chocolate, you aren't just choosing mouth-wateringly good chocolate, you are also choosing to make a difference around the world.
With almost half its profits going to the farmers who own the company, and 2% of its turnover being invested in farmer projects that empower women, improve farming techniques, and help protect the rainforest – Divine delivers so much more." 
Entering is easy, just follow the instructions below.
a Rafflecopter giveaway
HELP
Here you can find a tutorial on how to enter with Rafflecopter.
If your form is not showing, try refreshing the page.
Complete the form, otherwise your entries will not count.
Make sure the mandatory entries (e.g. leave a blog comment) are completed first.
Don't forget to come back daily for extra entries via Twitter.
If you're viewing this post by email, please come to the actual webpage to enter.
Competition Question: What is your favourite cheesecake?
Print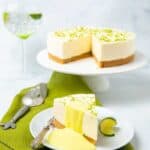 Gin and Tonic Cheesecake
---
Author:

Michelle Minnaar

Prep Time:

30 minutes

Cook Time:

20 minutes

Total Time:

50 minutes

Yield:

16

servings

1

x
Description
Learn how to make this great boozy gin and tonic cheesecake recipe. You can use any type of gin you prefer and ultimately change the flavours.
---
---
Instructions
Place the biscuits in a food processor and blitz until they turn into fine crumbs. 
Zest the limes and add zest to the biscuit crumbs.
Pour the butter into the biscuit mixture and stir.
Tip the biscuit mixture into a 20cm (8in) springform tin, then flatten, pressing hard to make the base compact.
Place the gelatine leaves in cold water for 3 minutes or until softened.
Meanwhile, pour the gin, tonic water and caster sugar in a saucepan. Heat the contents slowly and stir until all the sugar is dissolved. 
Gently squeeze the excess moisture out of the now softened gelatine leaves and add them to the gin solution. Stir until the gelatine has fully dissolved. Set aside to cool. 
Whisk the cream until soft peaks form. Set aside. 
Remember the two limes you zested? Juice one of them.
Using a stand mixer, whisk the cream cheese, sugar and lime juice until the sugar has completely dissolved. 
While whisking, slowly pour the gin solution to the cream cheese mixture until everything is well incorporated.
Gently fold in the double cream. 
Spoon the cheesecake filling onto the biscuit base inside the springform tin. Smoothen the top and give the tin a few bangs on the countertop in order to let air bubbles escape. 
Place in the fridge for at least 6 hours, but preferably overnight. 
In this case, I topped the cheesecake with lime zest for a simple, yet elegant finish. 
Top with lime curd and gin and ginger beer cocktail. Enjoy!
---
Category:

Dessert

Method:

Chill

Cuisine:

British
Keywords: gin and tonic cheesecake, gin and tonic dessert recipe, no bake cheesecake recipe, chilled dessert recipe