This stunning Louise Cake will soon become your firm favourite once you taste it. In essence, it is a layered cake which consists of three main elements. The first is a cookie crumble base. The second layer comprises a fruity jam; in the case of this Louise Cake slice recipe it's raspberry jam. Lastly, it is topped with a creamy meringue layer and desiccated coconut.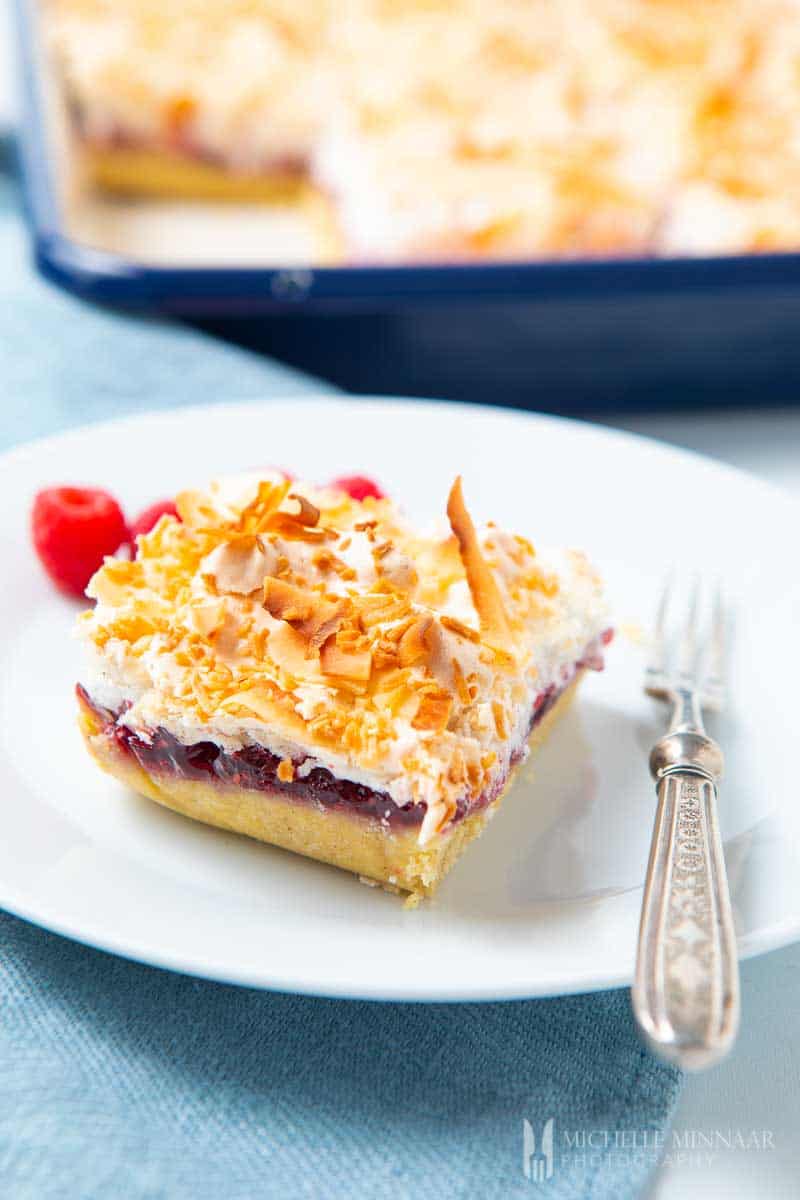 louise cake recipe
Just like Hokey Pokey is a famous type of ice cream in New Zealand, Louise Cake is a popular in the country as well. It's the type of cake you'd find in every grandmother's kitchen. Of course, each version varies ever so slightly from region to region, and household to household. You might also know Louise Cake as Louise Cake slice. However, the origin of the name comes from Princess Louise of England, the daughter of Queen Victoria.
Overall, you're in for a treat with this Louise Cake. It not only looks fancy, but tastes fantastic. In addition, this cake recipe can be easily mastered. Cut it up into rectangular slices and serve it either warm or cold – both ways work! In order to make the best version of this cake, you'll need the right tools in your kitchen. This is where Tala's Kitchenware comes in!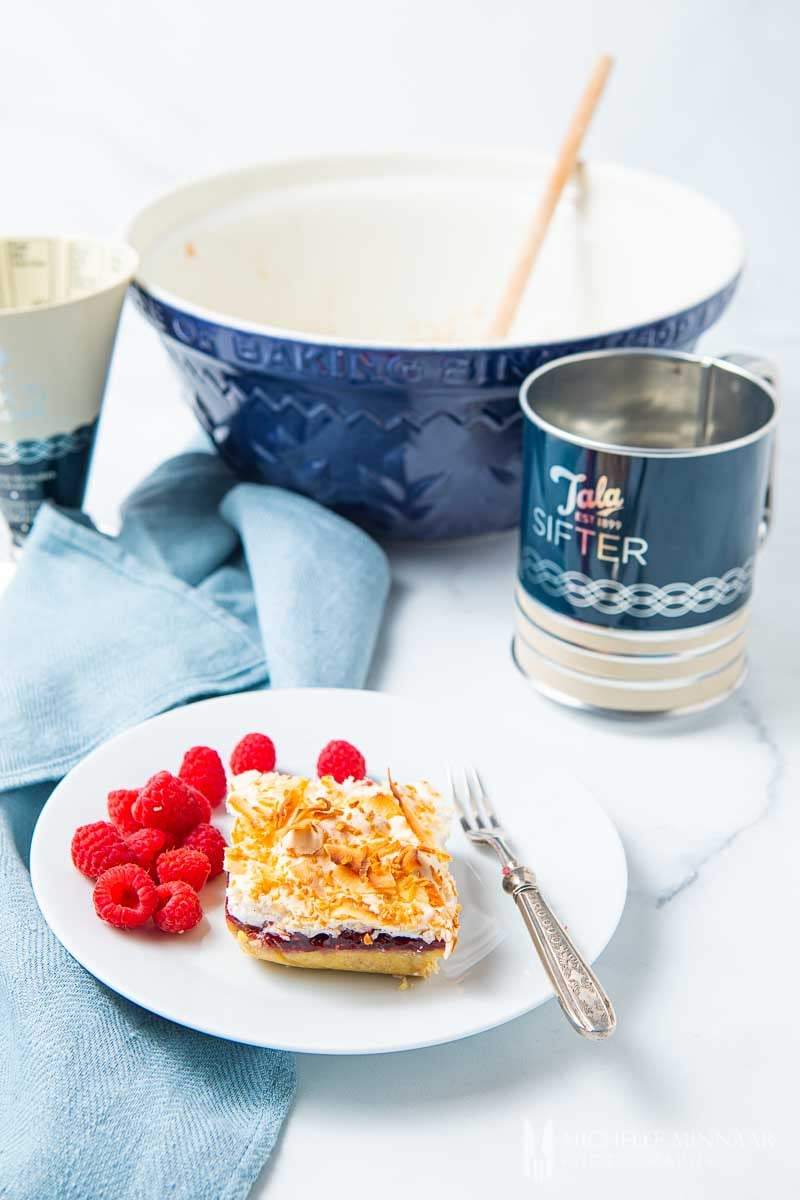 louise cake with Tala
Tala dates their history back to 1899, where the company was established under the name of Taylor Law & Co Ltd. The founders Frederick Taylor and Thomas Law had spotted a growing market for the kitchen and hardware in Victorian Britain. The Tala brand developed especially during the 1920's and 1930's, where it became a household not only in Britain but also in major parts of the Commonwealth. Tala's heydays were during the 1950s and 1960s, when it exported its goods to over a whopping 70 countries.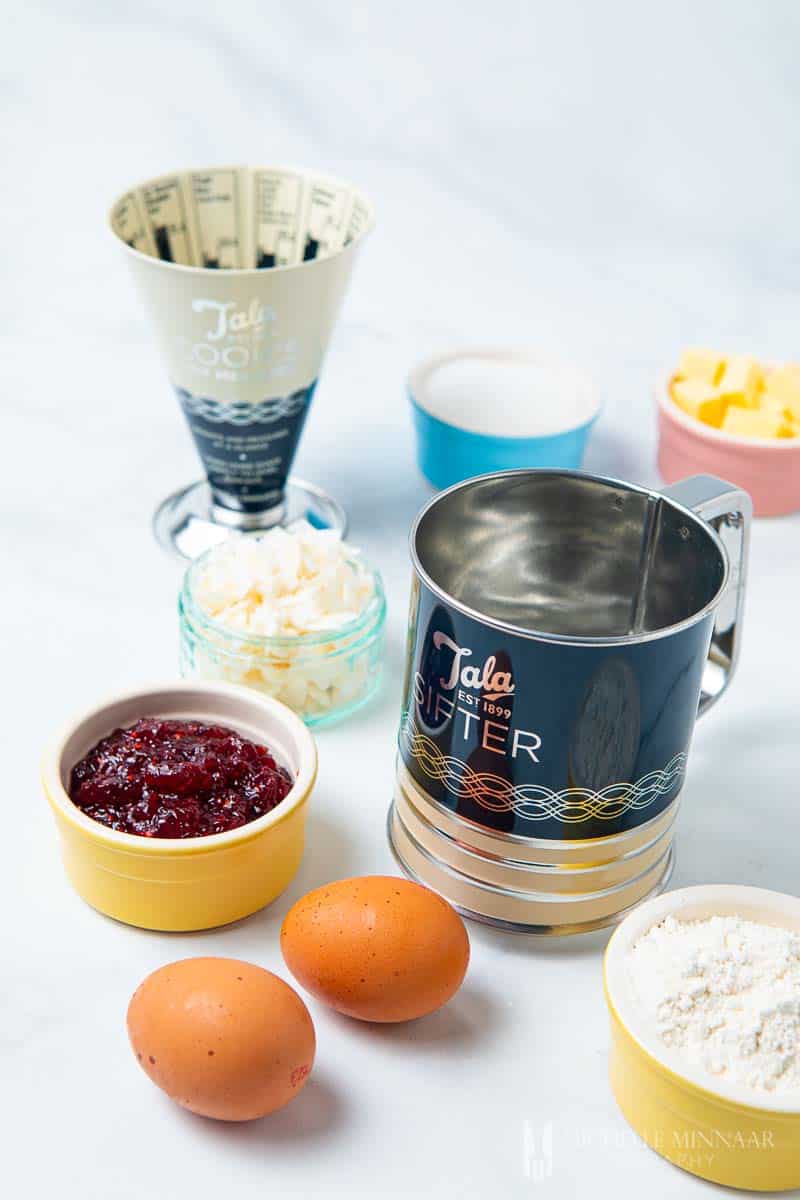 Recently, Tala brought out a new Indigo and Ivory range, which is a tribute to the great legacy of Tala cooking. Not only are the Indigo and Ivory products a pleasure to work with, they also give you a certain sense of continuity in the kitchen.
Using a utensil like the Indigo and Ivory flour sifter for example, makes me believe I can bring back the flavours of my grandmother's baking, when I made my own Louise Cake. The Indigo and Ivory range provides a number of useful products that are indispensable in your daily cooking, even today. You might think of a steel roasting tray with indifference, however, it makes a difference to have the right kind of equipment if you want to produce stellar food.
Personally, I find myself quite dependent on the enamelled steel roaster, using it on a regular basis for all kinds of applications. Unlike silicone bakeware, the roaster's steel component ensures that heat is evenly distributed. Thus, the desired temperature reaches the ingredients and browns and crisps as needed. Not only is the roaster lightweight, but it's easy to clean. Don't use metallic utensils with it though because it would be a shame to scratch the smooth surface!
What I particularly love about this range of products from Tala Kitchenware is that the products look stylish. So stylish in fact, that you can just as well put them on the table and treat them as serveware.
The mixing bowl, for example, is an excellent tool in the kitchen when preparing a cake such as this Louise Cake, yet it can also be used as tableware for serving salad or roast potatoes. In the Indigo and Ivory range, you will not only find durable kitchenware but also storage boxes, sugar shakers and even a timer, all in the brilliant classic Tala cooking design.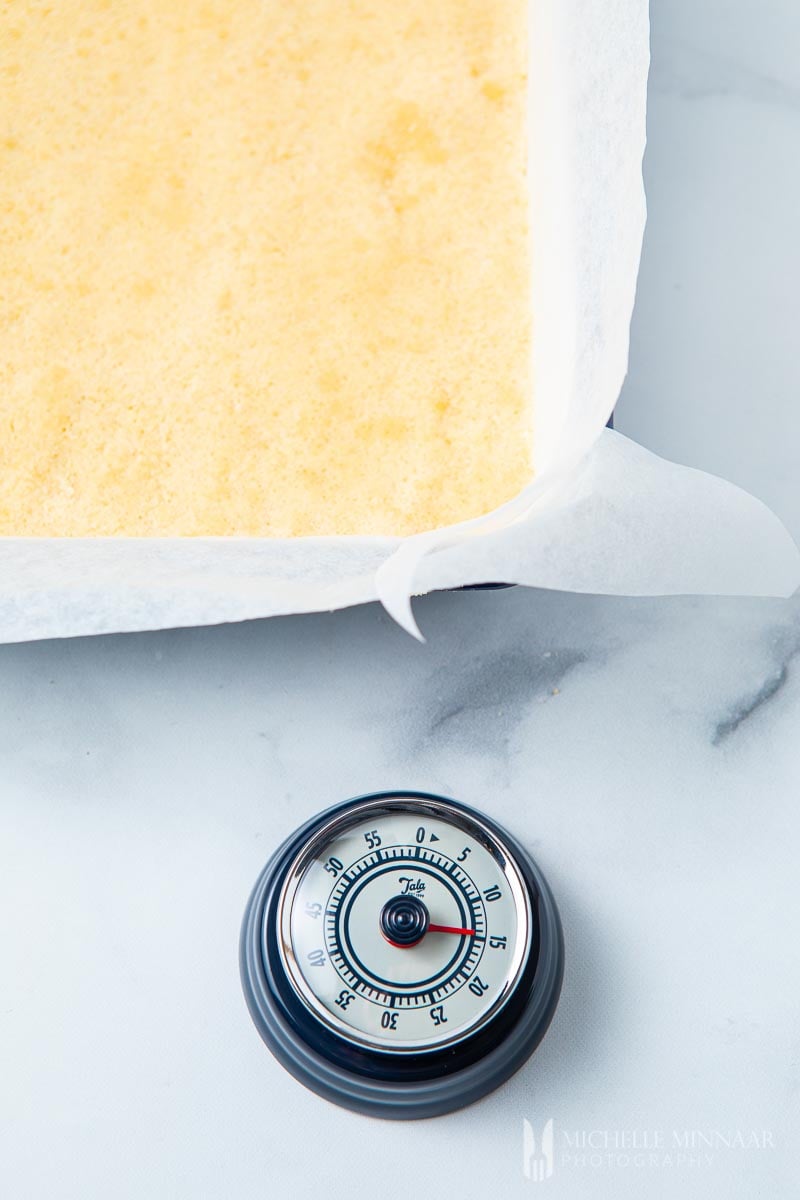 top products you need for this recipe
In sum, here's a list of the top products you'll need, to prepare and serve this Louise Cake recipe in the best way. Besides, this cake is too delicious and stunning to be served in a sub-par manner, don't you agree? Take pride and joy in cooking this wonderful cake and make it with the following equipment:
I trust that these items will help you in the kitchen just like they do me.
louise cake with plum and coconut
I've used raspberry jam for this Louise Cake recipe, however, you can substitute it with any type of fruity jam. For instance, you can also include this seedless blackberry jam. Or, you can opt for a darker and richer fruit, such as plum jam.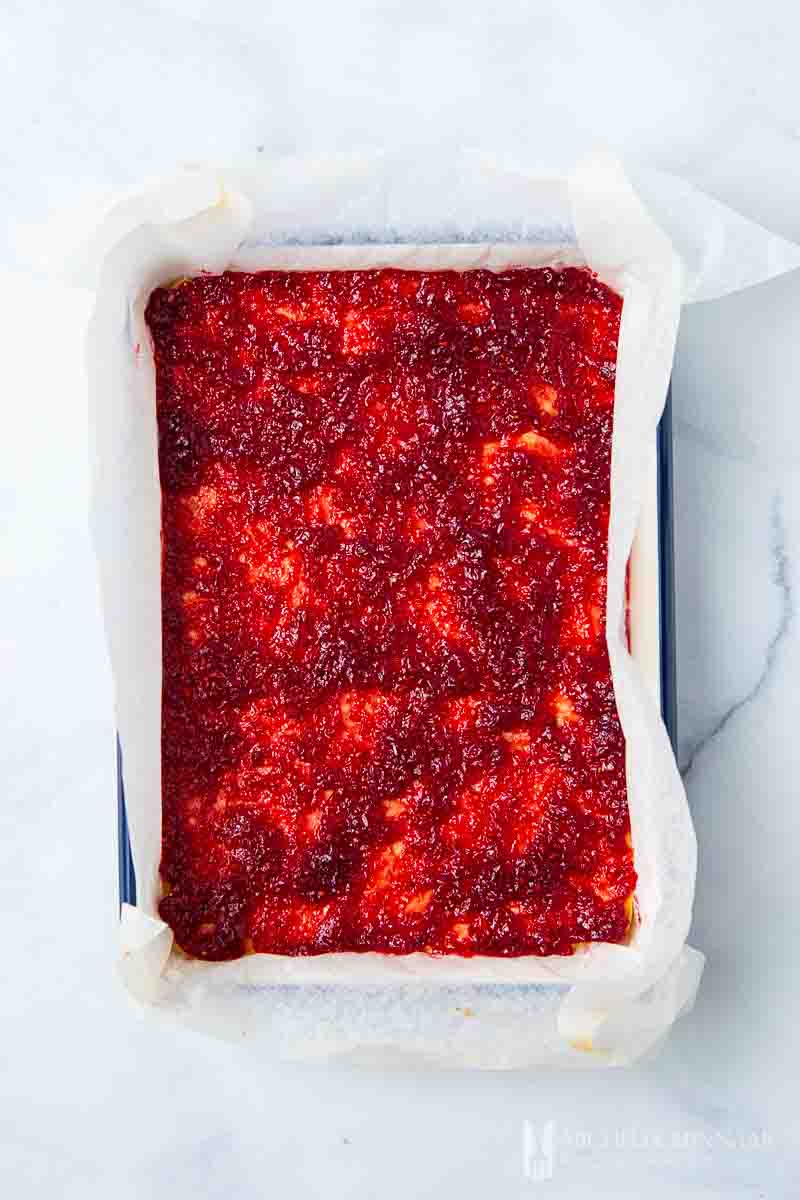 gluten free Louise cake
This is where this Louise Cake recipe gets versatile. You can make it gluten free in just a matter of seconds. All you need to do is to substitute the flours with gluten-free products: gluten free self-raising flour and gluten free flour. Life is so much easier these days with so many alternative options available!
If you suffer from a gluten intolerance, you might want to check out these additional gluten free recipes: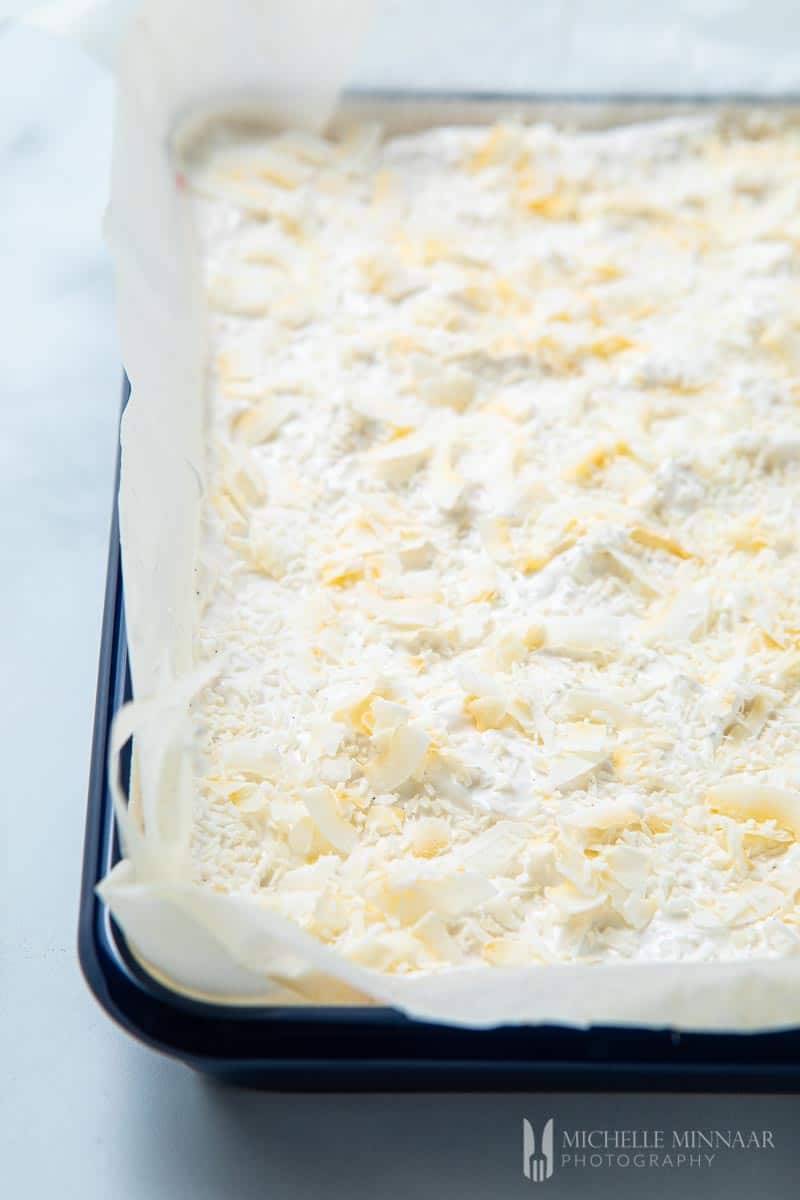 caramel lousie slice
Instead of using raspberry jam as a filling for the Louise Cake, you can substitute it with caramel. If you have any caramel leftovers, you can make this delicious no bake biscuit cake or these luscious salted caramel cupcakes.
If you are looking for more delicious dessert recipes, you should also try these: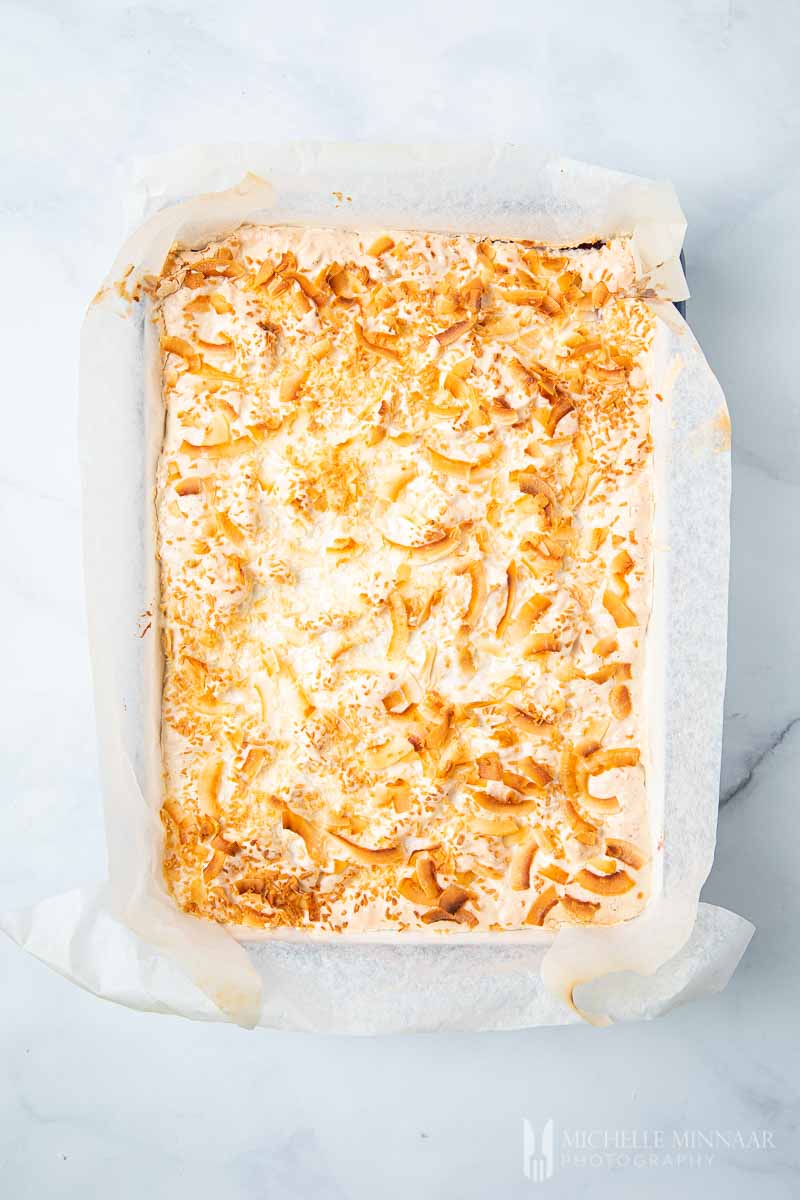 can louise cake can be frozen?
Indeed, you can freeze Louise Cake. The cookie layer and the raspberry layer don't pose a problem. However, the meringue layer complicates things.
In essence, you can freeze the Louise Cake with the meringue layer, however, when you defrost the slice of cake, the meringue won't absorb any moisture. That being said, the meringue will soften up and can lose its texture.
The recommendation is to store the slices of Louise Cake in air-tight containers. In general, you can freeze up to one month due to the presence of the egg whites in the meringue.
That said, this dessert will fly out of the tin so quickly that you won't have to worry about storing it!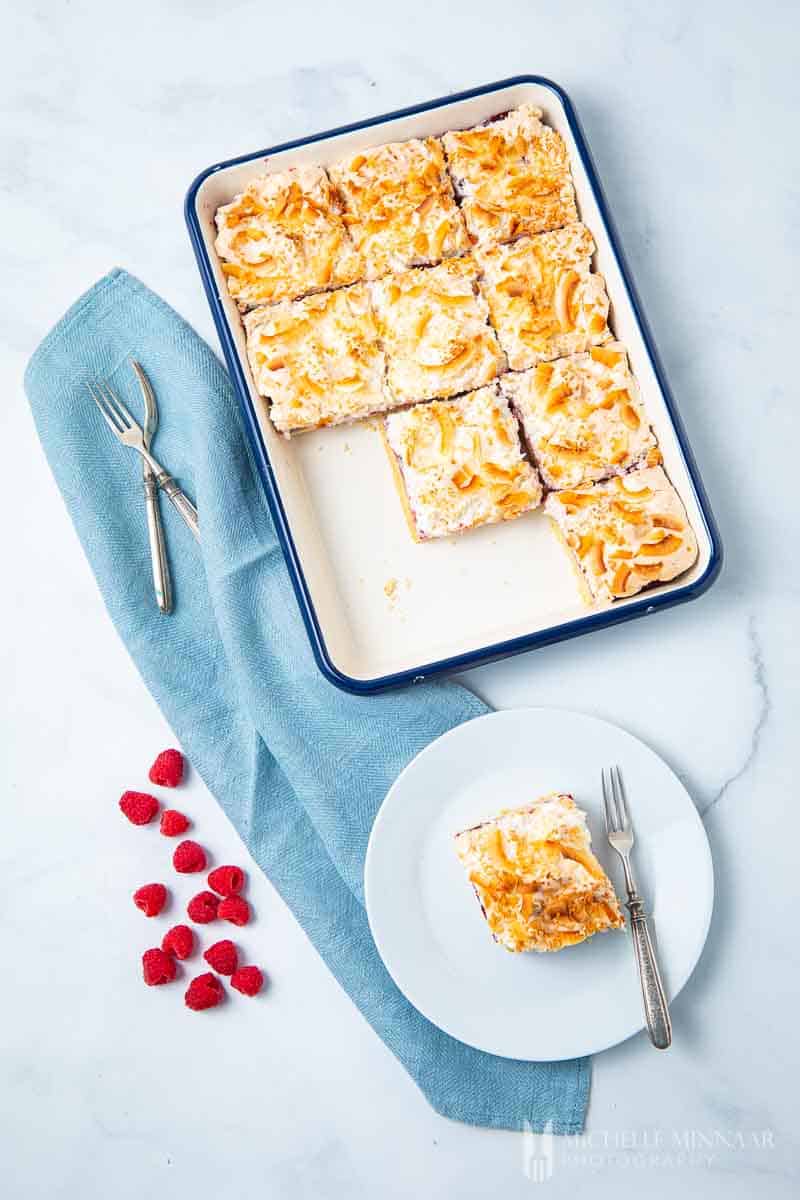 Print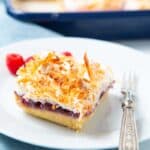 Louise Cake
---
Description
Louise Cake comprises a biscuit base, a jam layer and a coconut meringue topping. Fall in love at first bite.
---
150g

(

⅔ cup

) butter

180

(1½ cup) caster sugar

3

large egg yolks

15

ml (1 tbsp) vanilla essence

180g

(

1½ cup

) self-raising flour

180g

(

1½ cup

) all-purpose flour

245g

(

¾ cup

) raspberry jam

3

large egg whites

100g

(1 cup) desiccated coconut
---
Instructions
Preheat oven to 160°C / fan 140°C / 320°F / gas 4.
Line the bottom and sides of a 33x 24 x 5.5cm Tala enamelled steel roaster with baking parchment.
For the base: Place the butter, half of the sugar, egg yolks and half of the vanilla essence into a bowl and mix until light and fluffy.
Add the two flours and mix until crumbs form.
Place the crumb mixture in the Tala tin and press down, ensuring that it's evenly spread.
Bake for 20 minutes.
Remove the tin from the oven and let it cool for 10 minutes.
For the topping: Beat the egg whites, the remaining sugar and vanilla together in a large bowl until foamy.
Slowly and systematically, add the sugar while beating the egg mixture until soft peaks form. Fold half of the coconut into the meringue.
Spread the jam onto the cake base.
Drop dollops of meringue on top of the jam layer and carefully spread it evenly.
Sprinkle with the remaining coconut.
Bake for 15 minutes or until the meringue is slightly hardened on the outside and the coconut toasted and golden in colour.
Leave to cool completely before serving. Enjoy!
Notes
Although you can do this recipe by hand, using a food mixer will speed up the preparation process.
You will know the crumb mixture is ready when the crumbs are evenly sized and when you squeeze it together the dough will stick together.
Desiccated coconut is suitable for the meringue filling but if you want to get fancy, you can use coconut shavings for the topping. These are readily available in health shops.
Looking for more sweet treats to add to your low calorie diet? Try this wheatabix cake!
Prep Time:

30 minutes

Cook Time:

40 minutes

Category:

Dessert

Method:

Bake

Cuisine:

New Zealand
Keywords: Louise cake, Louise cake slice recipe, New Zealand dessert, New Zealand baking recipe
P.S. This is a sponsored post.