Try out this elegant South African peppermint crisp tart. It's one of the jewels of South African cuisine, exuding vast amounts of flavours from various cultures. You can expect a punch of flavour in every spoonful. As you know, having a South African heritage myself, a peppermint crisp tart was one of my favourite desserts when I was growing up. This dessert is way more than a tart. Actually, it is more like a trifle. Just take a look at my mini chocolate trifles for a comparison. Whip this dessert up in no time and enjoy it on a sunny day! It's the perfect way to cool down while enjoying something sweet.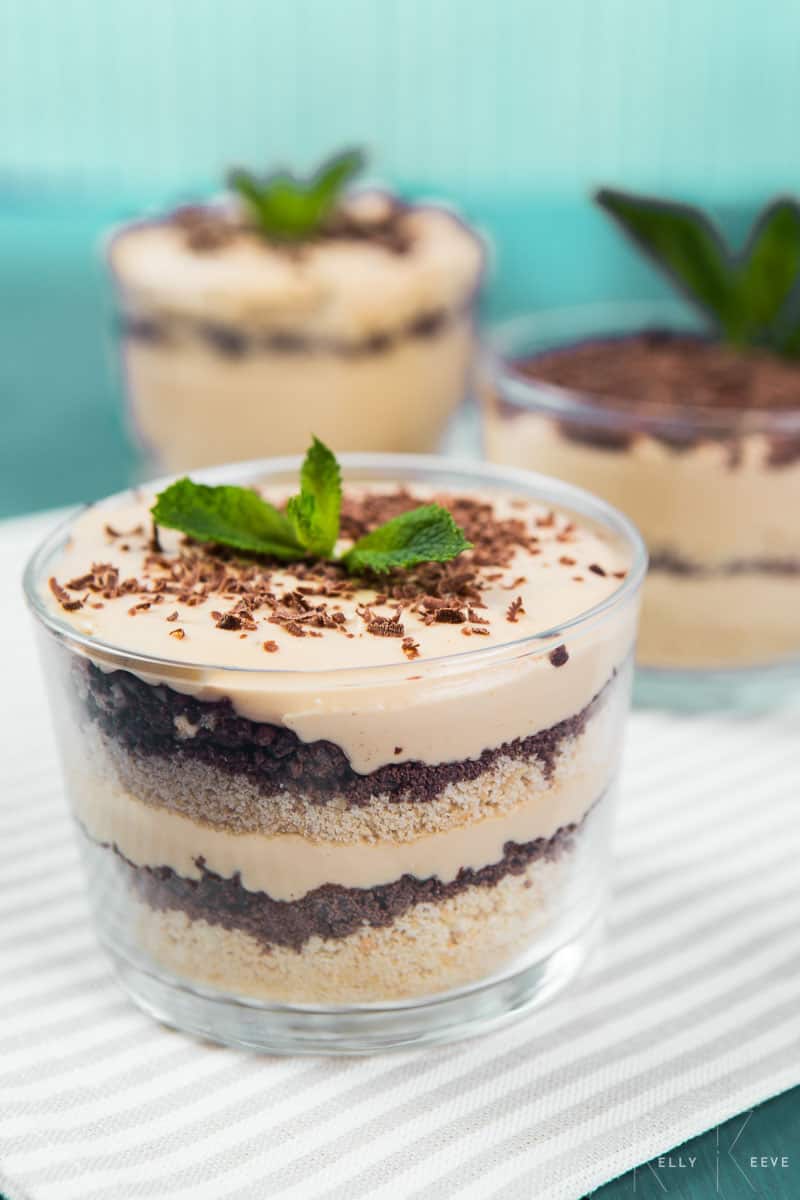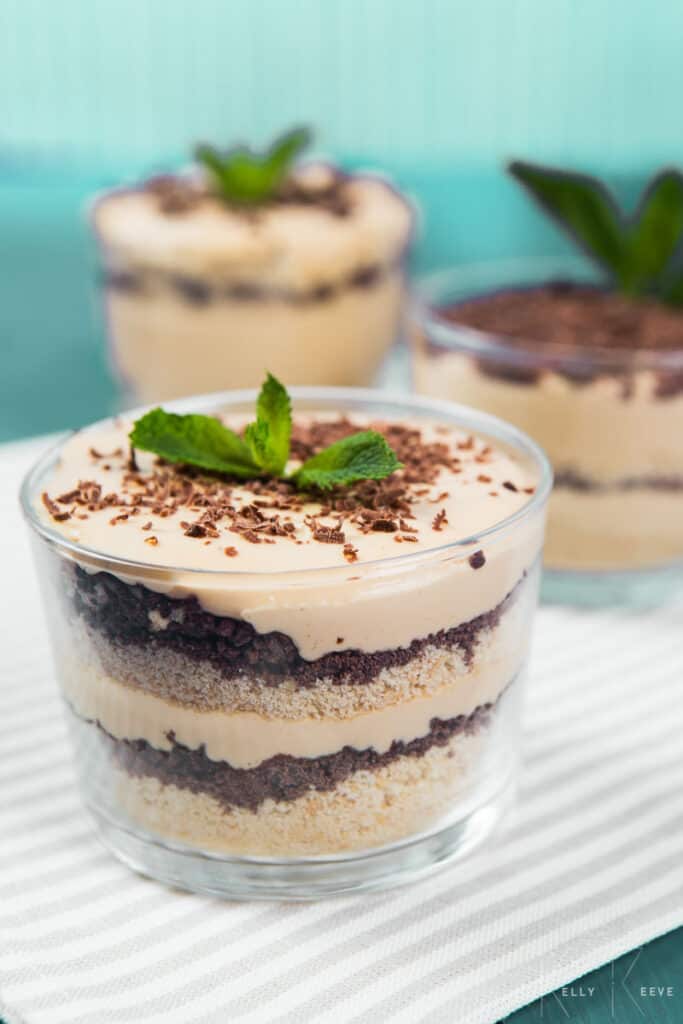 best South African peppermint crisp tart
A peppermint crisp tart is just what you need on a warm day to cool off. It contains layers of caramel, biscuit, peppermint crisp (mint chocolate), double cream and peppermint essence. Assemble these in layers and you are left with one elegant and easy dessert. Also, don't let the double cream put you off from trying this South African dessert. The peppermint adds a certain refreshing surprise that you won't find elsewhere. For a sweet alternative, you can serve it along this traditional British eton mess.
reality check
Believe it or not, but when I walked into my local South African shop the other day, half of the stock was missing! First, I thought it was a coincidence or that some customer had a very long shopping list. However, this wasn't the case. For those of you who import stuff from South Africa to the UK, listen up! There is a new EU regulation that prohibits all South African products containing dairy from entering the UK. What does this mean? No more biscuits, chocolates, etc. I couldn't get the ingredients that I needed. Wait, it doesn't end there. Think about the large-scale impact of this new EU law. The EU regulation only allows milk from a specific list of countries. You can read more about it on the European Commission's main website. What a nightmare!
Suddenly I had no peppermint crisp to use for the recipe and I had to get very creative as to how to recreate this traditional favourite using British ingredients. While no chocolate even closely resembles peppermint crisp, there are dark mint chocolate and coconut biscuits available. With a little help from some peppermint essence, I think I pulled it off. The upside to this exercise was that I've now proven that this recipe can be recreated without needing to source the specific South African ingredients!
In addition, you can also opt for using Mint Aero chocolate – you know – the one with the air bubbles inside it. It's also a pretty good alternative, but the chocolate is not so dark.
peppermint crisp tart recipe is easy
What makes this peppermint crisp tart recipe really easy to make is the fact that you can alternate between the ingredients. For example, in the traditional South African version, Tennis biscuits are used. However, you can opt for using other types of biscuits. You can even opt for using Oreo cookies if you love them so much.
The main point, though, is that you shouldn't crush the biscuits up too much. Otherwise, you'll end up with a very sandy texture and you'll take away the crunchy bite. Make sure you don't lose that.
peppermint crisp tart with a twist
Oh, get ready for this! To give your peppermint crisp tart the ultimate twist, instead of the double cream, you can make it even more refreshing and opt for peppermint ice cream. I've got an excellent Italian gelateria in mind, where I have access to excellent artisan peppermint ice cream. I believe the ice cream man uses chunks of After Eights, which makes the ice cream so smooth and cooling. In my opinion, this peppermint ice cream will give your peppermint crisp tart the perfect twist.
Otherwise, you can opt for a fruitier or a more chocolatey alternative. Nevertheless, the ice cream will still make your peppermint tart refreshing. Try it!
vegan peppermint crisp tart
First, to make this a vegan peppermint crisp tart, use a vegan cream alternative. There are varieties which you can purchase in stores or on Amazon. Just check out these excellent alternatives:
I recommend the coconut variety.
Also, don't forget to ditch the caramel or find a vegan caramel as well as vegan biscuits.
how to make vegan whipped cream
Otherwise, you can opt for making your own vegan whipped cream. How, might you ask? Well, all you need is a can of coconut cream. Coconut cream is the perfect alternative; far better than coconut milk or water. Coconut milk has a high water content and it won't yield the same results. So opt for coconut cream and just follow these simple steps:
put the coconut can into the fridge for 24 hours at least
carefully remove the can from the fridge once cooled (avoid any sudden movements or shaking)
open the can and see for yourself that the cream should have risen to the top
grab a spoon and scoop out the cream and place it into a bowl while storing the coconut water in the can
mix the coconut cream with an electric mixer on low speed (increase speed slowly until you have reached your desired consistency)
If the consistency is too thick, then add a bit of the coconut water from the can.
Careful not to overwhip, some brands can separate. If this happens, you'll most likely need to start over again. Trust me, this coconut whipped cream works wonders with this peppermint crisp tart. Vegan or not, you'll love this version too!
I am telling you, any dessert can be made into a vegan or non-dairy version. Just check out my dairy free waffles or vegan sweet potato pancakes.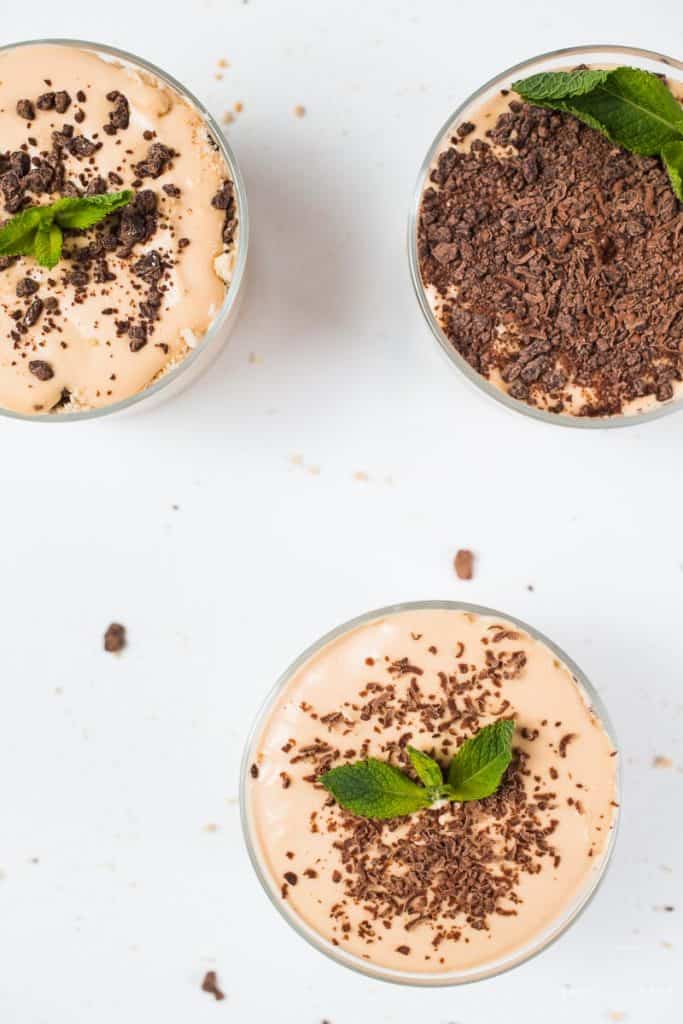 best toppings for peppermint crisp tarts
Obviously, you can use these two most popular toppings:
However, I do enjoy other toppings from time to time. These include:
fresh peppermint
peppermint syrup
peppermint Oreo cookies – the ultimate topping
dark chocolate flakes
After Eights chunks
You name it! This is why I love making a peppermint crisp tart. In essence, you can jazz it up in your own way and put your personal touch on it. Otherwise, I recommend to keep it as it is. Sometimes, simplicity is best.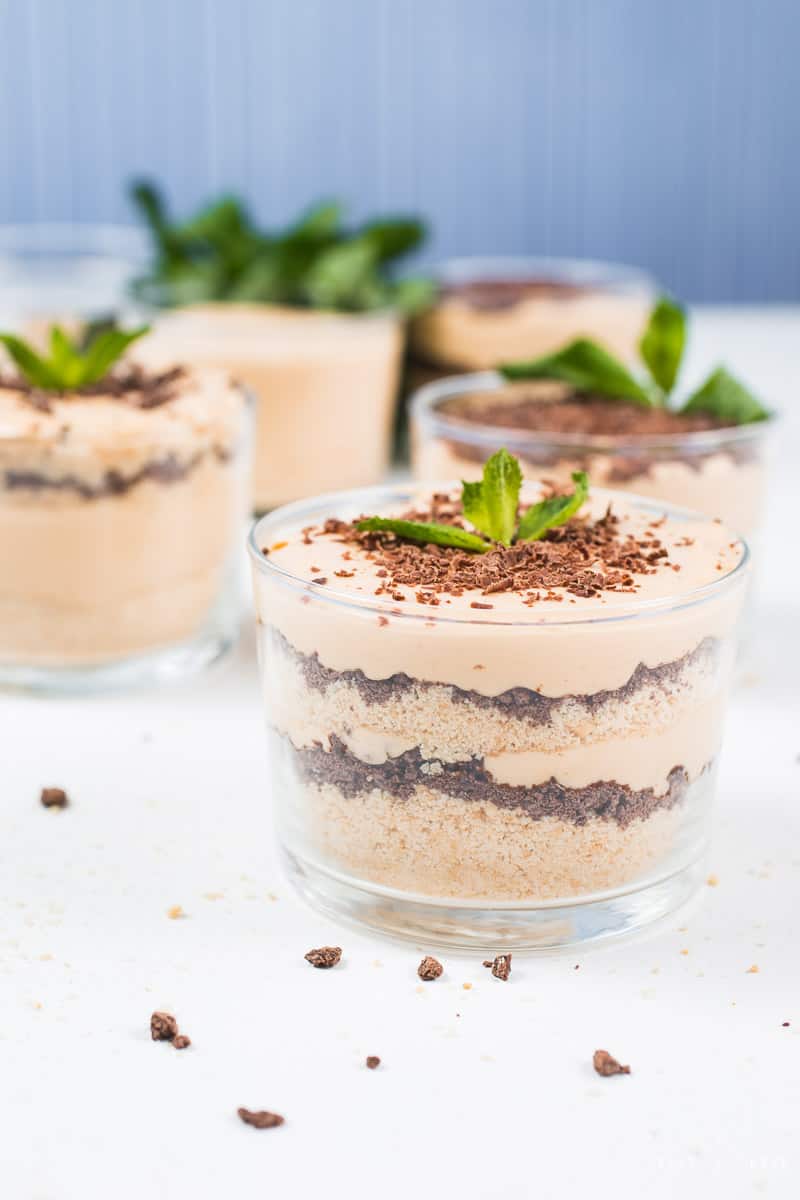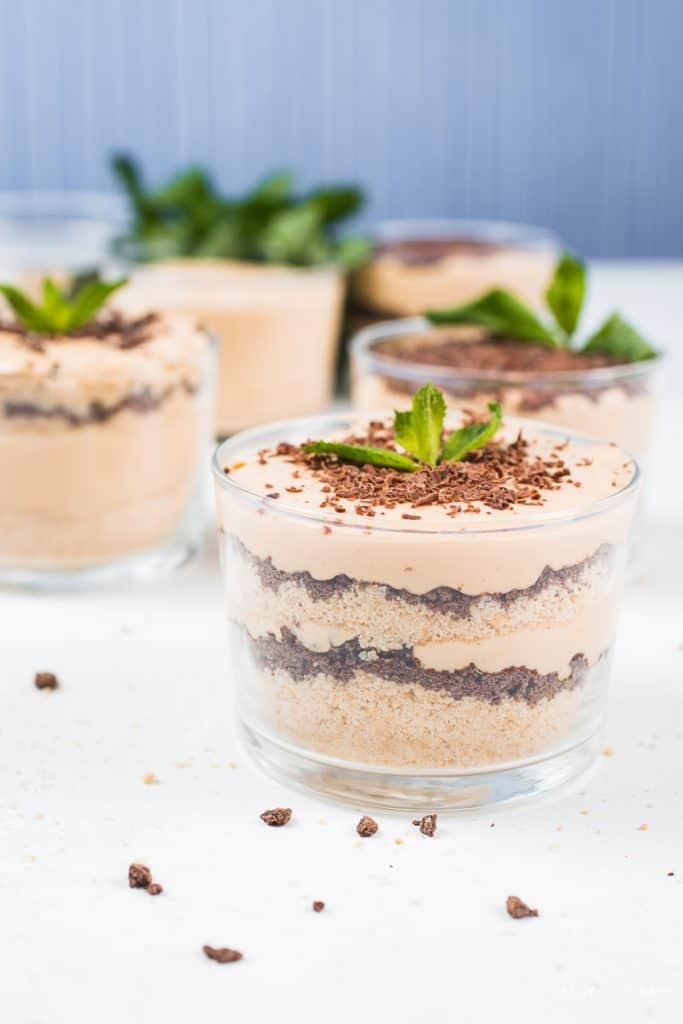 peppermint crisp tart in a glass
In my opinion, this is the best way to serve a peppermint crisp tart. What better way than to enjoy this summery and refreshing dessert. A see-through glass or jar make the perfect serving and it's perfectly sustainable. Besides, this is the perfect excuse to reuse some of those clear jam jars. Never throw them out – recycle or reuse!
Print
Peppermint Crisp Tart
---
600

ml (1pt) double cream

375g

(

1

tin) caramel

2.5

ml (½ tsp) peppermint essence

200g

(

7oz

) Tennis/Nice biscuits, crumbled

120g

(

4oz

) Peppermint Crisp or mint chocolate, grated or processed
---
Instructions
Whip the cream until soft peaks form.
Gently stir in the caramel and peppermint essence.
You can either use a large container or small, single serving ramekins.
The first layer should be the biscuits, then the caramel cream and lastly the chocolate.
Repeat the layers as many times as you like as long as you end with the chocolate layer on top.
Chill in the fridge for 2 hours before serving.
Prep Time:

30 minutes

Category:

Dessert

Cuisine:

South African
Nutrition
Serving Size:

1 serving

Calories:

578

Sugar:

47 g

Sodium:

191 mg

Fat:

38.4 g

Saturated Fat:

21.4 g

Carbohydrates:

55.9 g

Protein:

6.5 g

Cholesterol:

115 mg
save the recipe to your pinterest board
A special thanks to Kelly Reeve for assisting with the recipe shoot.