Peppermint ice cream is one of the most refreshing ice cream flavours you can find. I always order it at my local ice cream shop whenever I get an opportunity. However, since I've learned how to make ice cream at home, I have come up with this fabulous homemade peppermint ice cream recipe.
So, make sure you have a go at it and enjoy a bowl of this peppermint ice cream. It's silky smooth, cooling, and above all delicious. Whenever I make a batch of this ice cream, I get creative and make my own variations. For instance, you can toss in some dark chocolate, peppermint patties and peppermint candy canes for a more significant peppermint flavour. Otherwise, you can also add your favourite topping and make this ice cream your own.

peppermint ice cream recipe
This peppermint ice cream recipe is easy to prepare but does call for an ice cream churner or an ice cream making machine. So, make sure you've got one at home before you get started. This gadget will do all the hard work for you. Other than that, it's a waiting game and all you need are only a few ingredients.
Naturally, you can jazz this peppermint ice cream recipe up with additional ingredients as mentioned above.
ice cream essentials
Here are some of the basic needs for making and serving an ice cream recipe.
how to make peppermint ice cream from vanilla ice cream
It's very simple process actually. Generally speaking, vanilla is the base for many ice cream flavours. Just make a large batch of vanilla ice cream and add the peppermint extract.
If you've got leftover vanilla ice cream, you can also inspire yourself with these ice cream recipes. Simply toss in the main ingredients of each and make the ice cream have another flavour.
peppermint candy cane ice cream
There are many ways how you can change the texture of this peppermint ice cream, while enhancing the peppermint flavour. Therefore, get some candy canes, crush them up and toss them into the ice cream. You can add them directly into the ice cream maker. Consequently, the colour of the peppermint ice cream will change and turn bit pinkish.
Just make sure you crush up the candy canes finely. If the candy cane chunks are too large, your teeth might suffer. So, be nice to your teeth and take the extra time to crush up the candy canes. because no one fancies a visit to the dentist.
If you haven't got candy canes, you can also use other types of hard peppermint candy.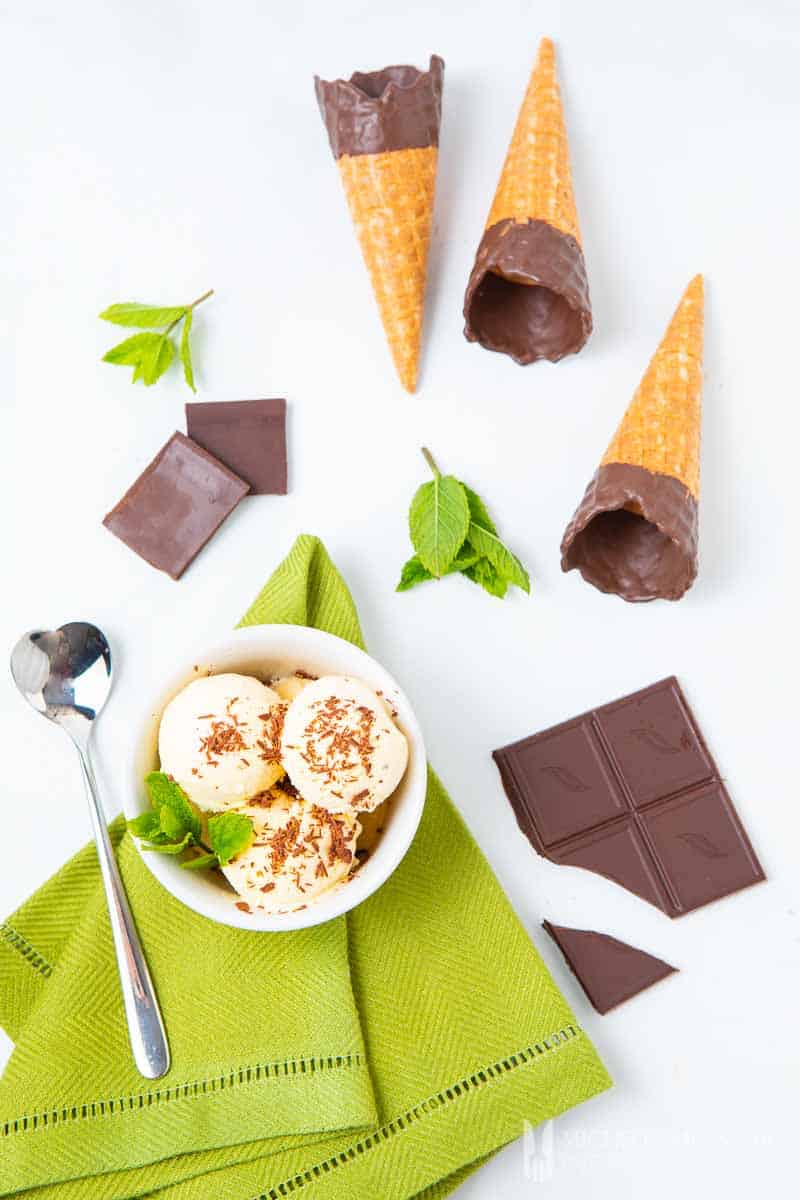 In either case, this type of peppermint ice cream recipe is also delicious. Not to mention, it's popular during the holidays; especially around Christmas time.
If you would like to make other Christmas-inspired recipes, you can also consider these:
Tempted for these additional desserts? Don't be afraid to serve them alongside the peppermint ice cream.
peppermint crunch ice cream
There is one thing I love even more than a silky smooth ice cream. A crunchy element! For instance, like mentioned above, you can include crushed up hard peppermint candy.
Besides that, you can also add cookies or brownies at the last stage, just before the ice cream machine has finished churning. This way, the cookies will still retain their crunch. You can use any type of cookies you find desirable, whether it be digestives, Oreo cookies and many more.
Lastly, you can also consider adding bars of hard dark chocolate. Dark chocolate and peppermint ice cream is a match made in heaven.
toppings
If you really want to max out on the peppermint flavours I highly suggest you add an after eight's chocolate bar. It's a type of peppermint chocolate. In my opinion, this is one of the best pairings for this ice cream recipe.
You can also top the peppermint ice cream with the following toppings:
Do you have a favourite topping in mind for your peppermint ice cream recipe?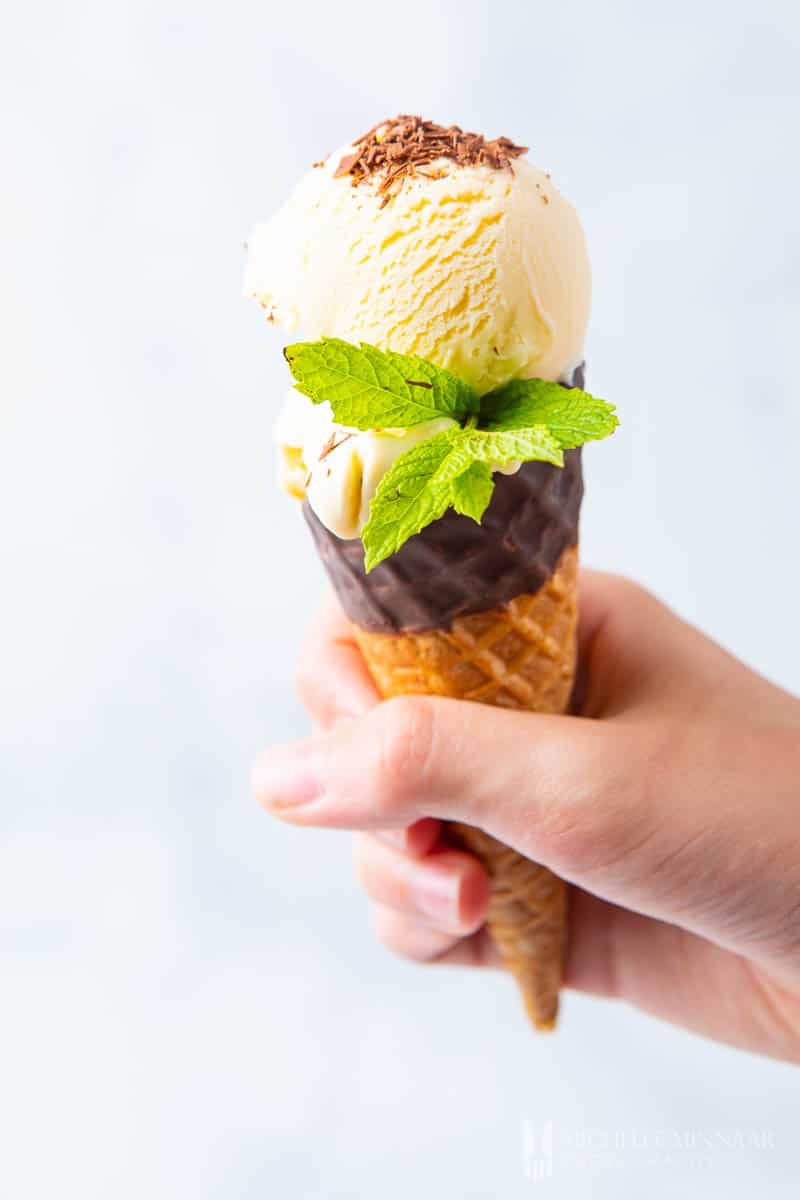 serving
First of all, you can serve this ice cream the traditional way or even in a waffle cone. This is the most traditional way to enjoy a scoop of ice cream. Nothing beats that crunch when you finish the ice cream. When I was little, I never understood why someone would opt to have the ice cream out of a paper cup.
Of course, today with so many people having gluten allergies, I understand. On the whole, you don't have to serve the peppermint ice cream in a cone. You can also serve a scoop of this ice cream as a topping with other desserts. For instance, you can consider serving a scoop with these:
Ice cream is quite versatile. Hence, you can practically pair it up with any dessert.
How would you serve it? Let me know in the comments section below.
Print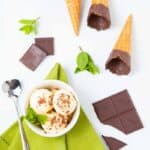 Peppermint Ice Cream
---
Description
This homemade peppermint ice cream recipe is easy to prepare. Jazz it up with cookies, dark chocolate or candy canes. Click here for the recipe!
---
500

ml (2 cups) double cream

250

ml (1 cup) whole milk

125

ml (1/2 cup) + 15ml (

1 tbsp

) granulated sugar

4

large egg yolks

7.5

ml (1/2 tbsp) vanilla paste

5

ml (1 tsp) peppermint extract
---
Instructions
Combine the cream, vanilla, milk and 15ml (1 tbsp) sugar in a saucepan. Bring to the boil then remove from the heat.
In a large bowl, whisk together the 125ml (1/2 cup) sugar and egg yolks, until the mixture has gone pale in colour and doubled in size.
Temper hot milk into the sugar yolk mixture, by slowly adding hot milk about 60ml (1/4 cup) at a time, whisking to distribute heat. Once all the milk has been added, transfer mixture back into the saucepan.
Place the saucepan over medium-low heat. Stir until mixture reaches nappé consistency, or 80°C (180°F) on a kitchen thermometer. Let mixture sit at this temperature for 5 minutes to pasteurise the eggs.
Remove from heat and pour the custard into a large mixing bowl. Place the bowl into icy water and stir until the custard has cooled.
Pour the custard, along with the peppermint extract, into an ice cream maker and churn according to your unit's instructions.
Transfer the ice cream to a sealable container and freeze for at least 3 hours or overnight.
Notes
Ice cream makers vary in timings. The one I use will finish churning in 50 minutes. If your machine's process takes longer, adjust the timings accordingly.
Tweak the peppermint ice extract to taste but don't use more than 10ml (2 tsp) in this recipe with the current ratios. Before the ice cream is frozen, the flavour might come across as mild but during the freezing process the mint flavour strengthens for some reason. Use too much and the ice cream might end up tasting like toothpaste!
Prep Time:

10 minutes

Cook Time:

1 hour 30 minutes

Category:

Ice Cream

Method:

Freeze

Cuisine:

American
Keywords: peppermint ice cream, homemade mint ice cream recipe, ice cream maker recipe, peppermint extract recipe