One of the all-time great naan recipes, Peshwari naan is perfect for lovers of Indian cuisine.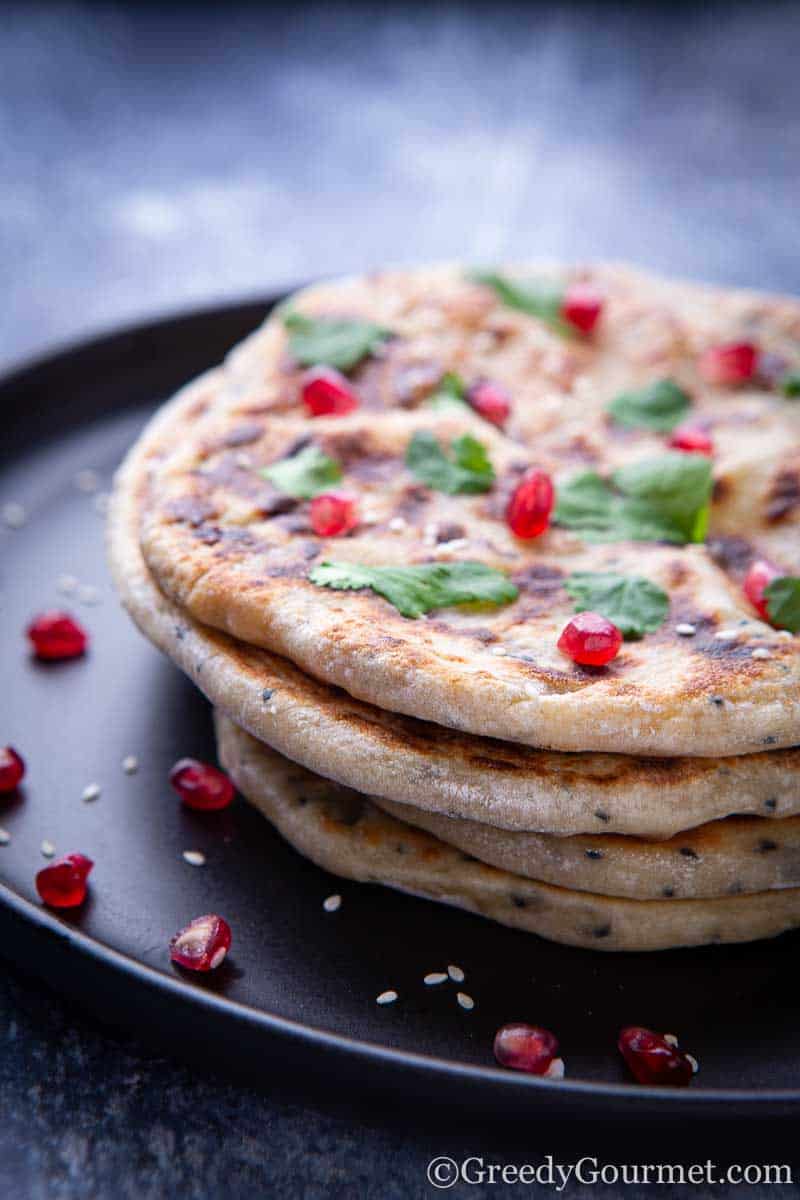 Made with a delicious combination of flavours, this Peshwari naan recipe is so much fun to make! It's short on prep time and big on taste. So, whether you're a master baker or a keen novice, this one's for you.
Peshwari Naan Recipe
A good Peshwari naan should be light and fluffy in texture and full of a beautiful subtly sweet, nutty taste.
If you love to bake and you've never tried to make naan breads, you're in for a treat. For naan newbies, a Peshwari naan recipe is definitely a great place to start – it's such a versatile dish and works great in both a sweet and savory way.
The sweet Peshwari filling in this naan is a mixture of sultanas, pistachios, desiccated coconut, sesame seeds, mango pulp and melted butter, with a little dash of cream.
This makes these Peshwari naans perfect as a subtly sweet snack, with their nutty and fruity undertones.
Think about it though. Each of those ingredients also go well with savoury flavours. That's what makes Peshwari naans absolute dynamite on the side of a spicy curry.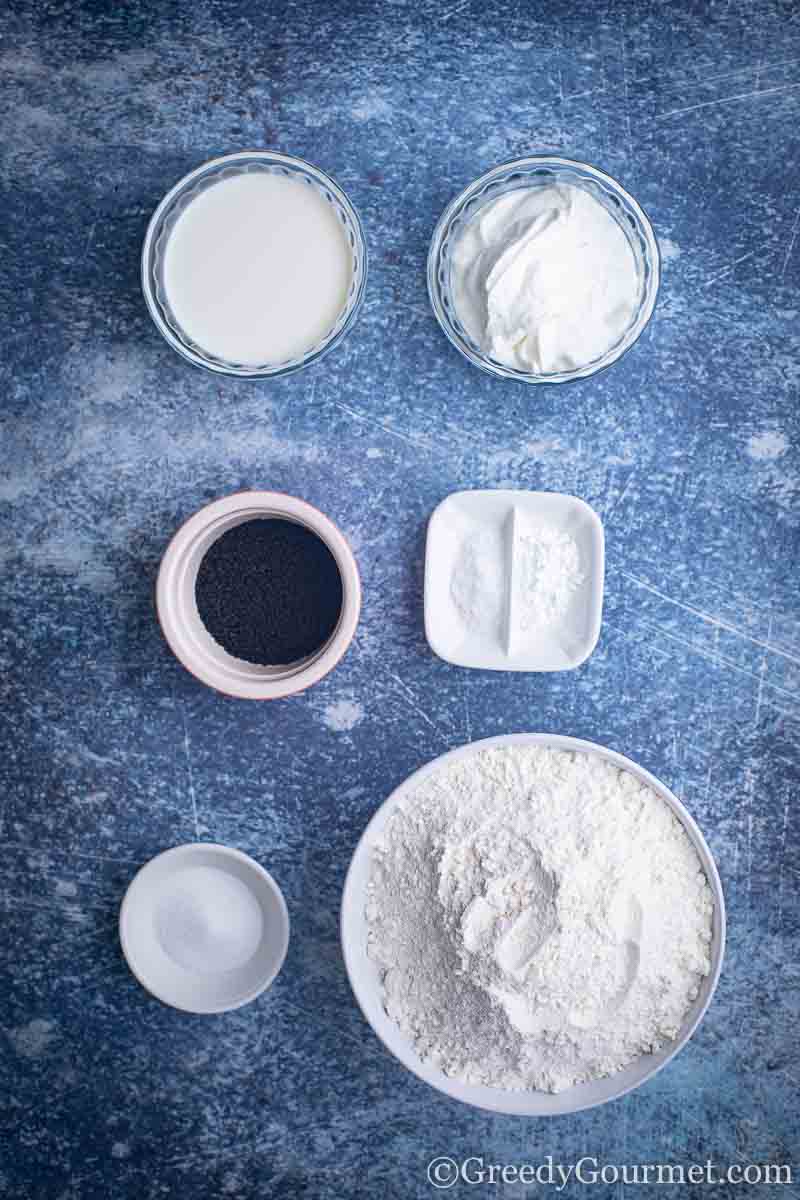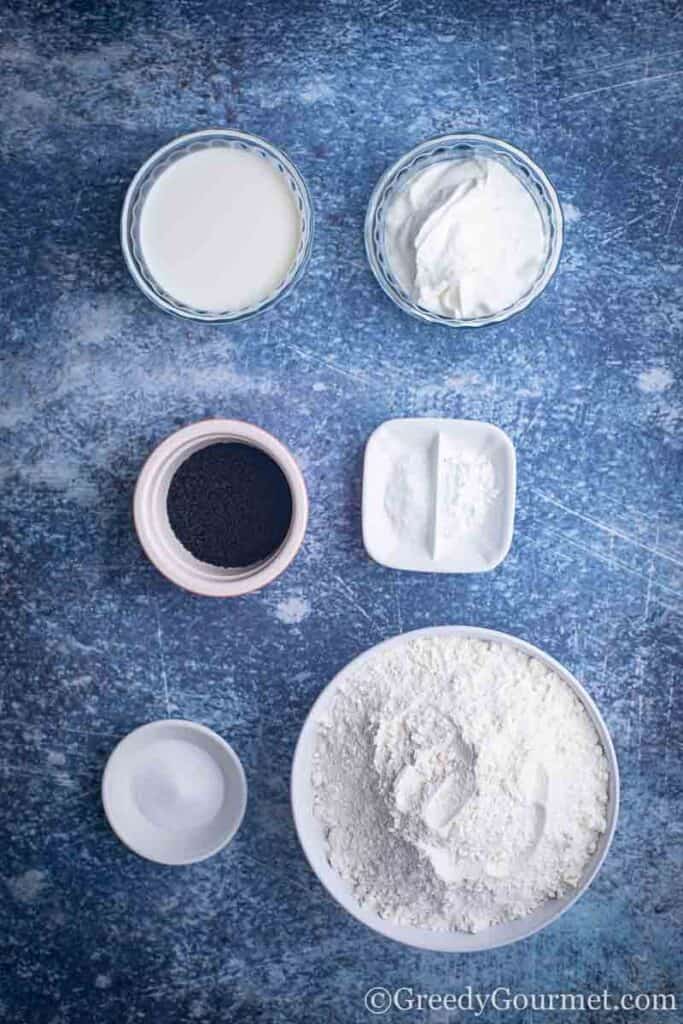 K-Mojo DigiMaster
If you're after a compact yet powerful food processor, you can't get better than the K-Mojo DigiMaster.
This thing combines style and substance – it's got a nice elegant design, meaning it'll slot into any modern kitchen. It's also so quick and easy to use – you'll wonder how you coped without it!
It's extremely versatile, with an attachment for just about everything you could possibly wish to whizz, chop, slice, cream or knead in the kitchen.
For this Peshwari recipe, I used the knead attachment. Normally, I find kneading the dough quite a chore. It can be such hard work on the hands. This little gizmo takes on all the work and makes it look easy.
So much power and so much control, giving me super smooth dough in a mere few minutes. It's nice to be confident that the dough is properly kneaded. This is absolutely crucial if you want to end up with soft, fluffy and light naans.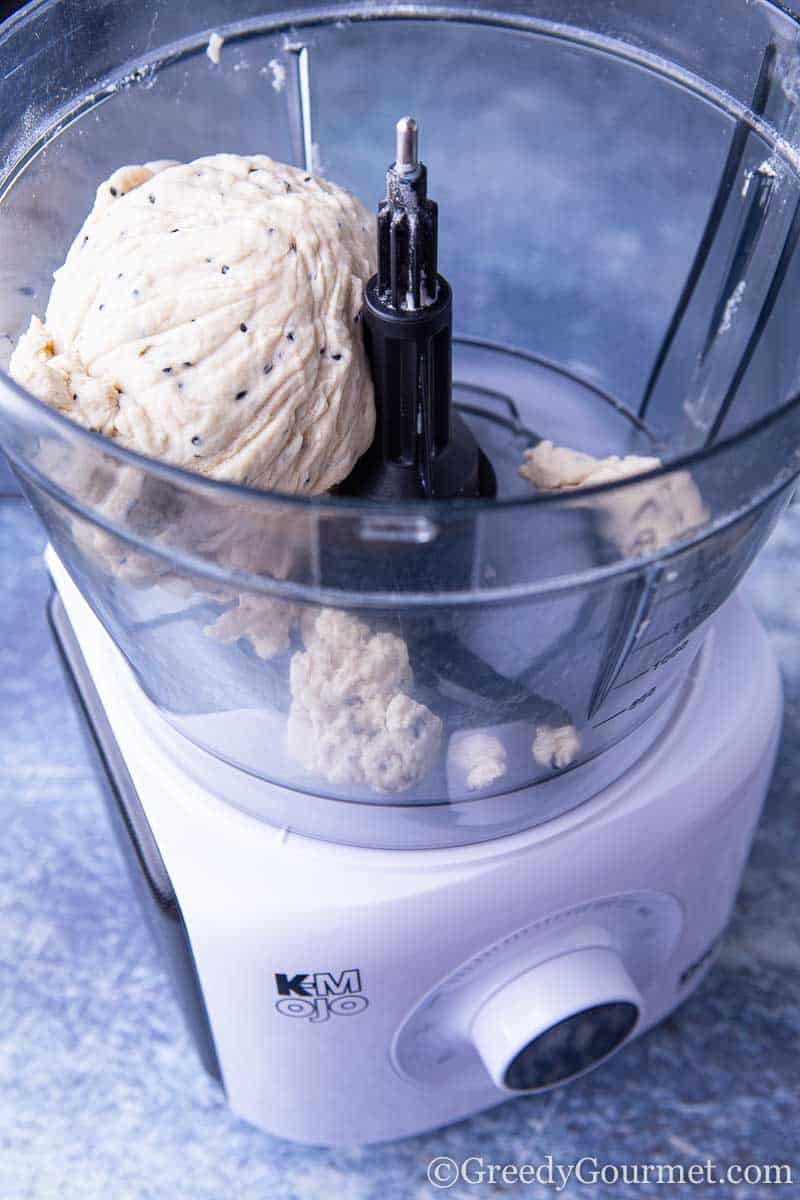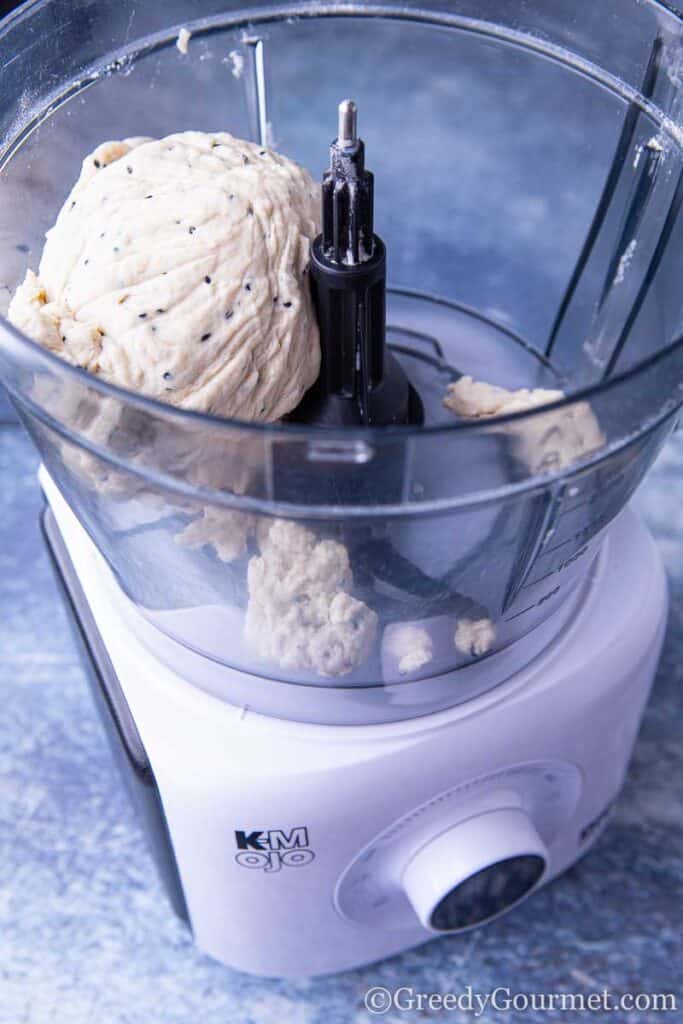 How to Make Peshwari Naan
There are a few steps involved when making this recipe. It's not too complicated though – try it once and you'll be well on the way to mastering this Peshwari naan recipe.
First, you make the dough. The dough is a mixture of flour, milk, Greek yoghurt, sugar, salt, a beaten egg, baking powder and some Nigella seeds.
This is whizzed up in your K-Mojo Digimaster for about 5 minutes to form your naan dough. There's no need to knead manually with this bad boy!
Take your smooth kneaded dough and form it into a ball shape. Then place the dough in a mixing bowl and cover with cling film or a damp tea towel. This is the part where your smooth kneaded dough takes a well-earned rest. About 1 hour in a nice warm place should do it.
Next, the Peshwari filling is made by mixing together the sesame seeds, almond flour, pistachios, sultanas, coconut powder, desiccated coconut, caster sugar, single cream and mango pulp.
Once your dough has had enough time to rest, you're ready for the fun part. After you divide the dough and roll into 8 little naans, you'll spoon the filling in the middle of each. Then you'll fold, seal and roll the dough.
Now you're ready to fry these bad boys on a high heat. Cook for 1 minutes on each side, so the total cooking time is around 2 minutes.
Check below for the full recipe and instructions.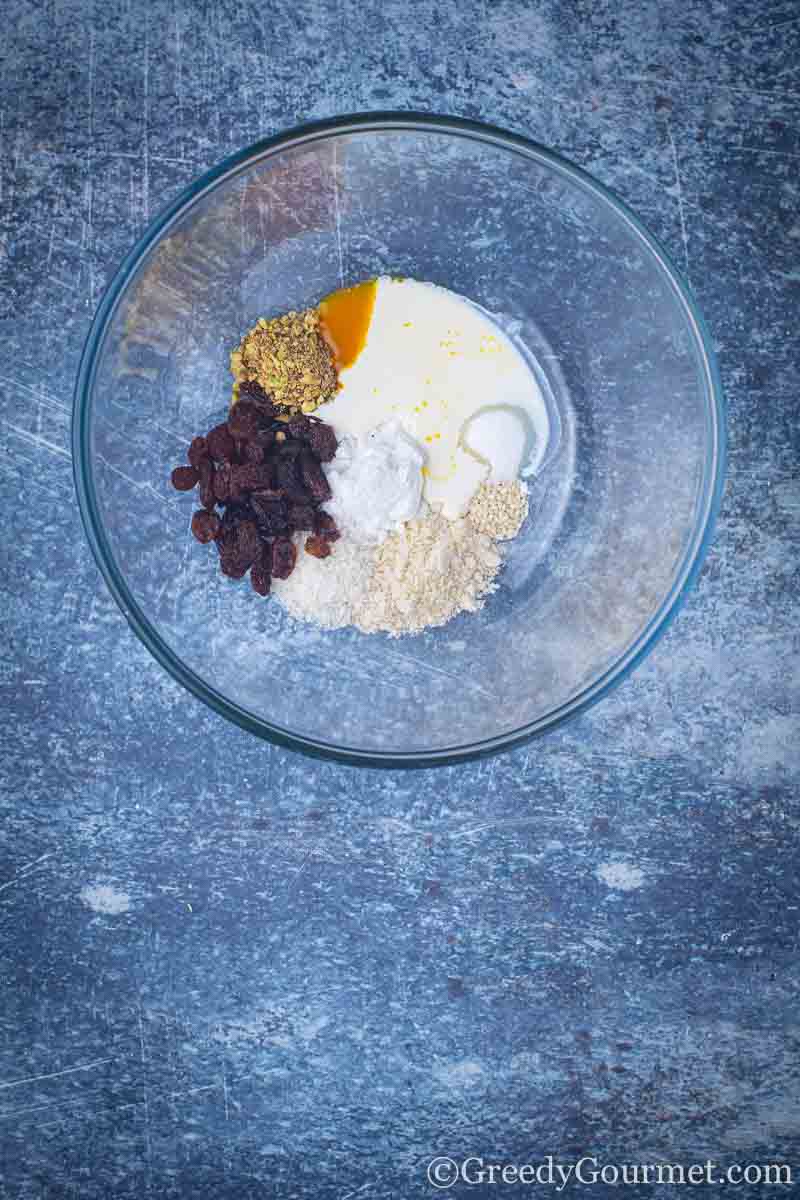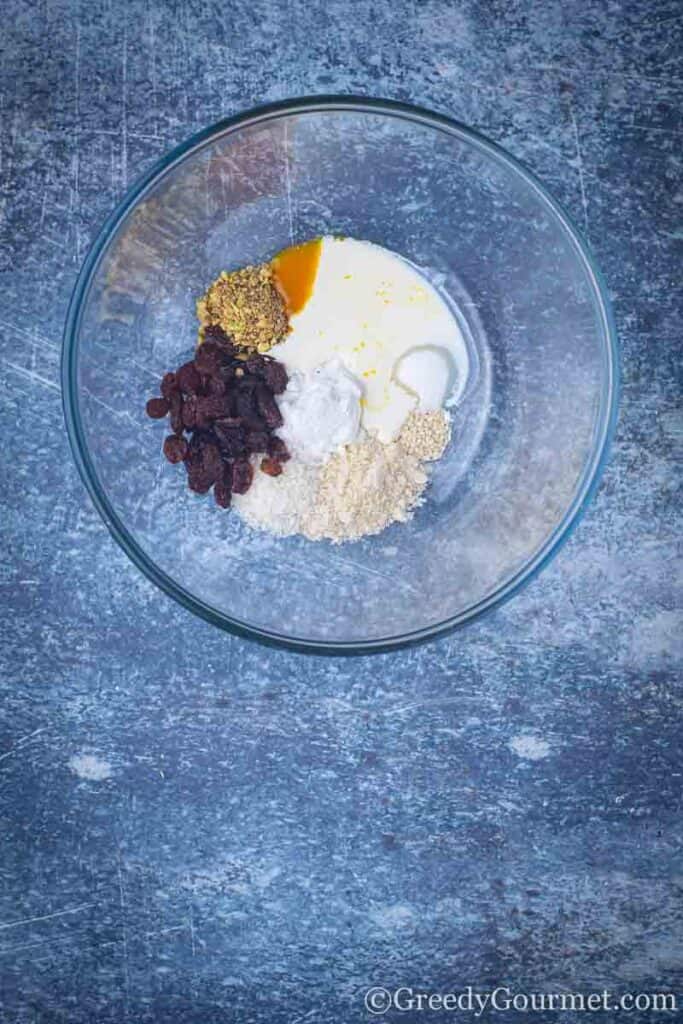 A Sultana Twist
If you're a bit of a sultana fiend like me, hold back a third of them (so, around 25g[1oz]) when you're adding everything to the K-Mojo Digimaster.
Then, simply mix together with the blended filling. You'll have delicious juicy whole sultanas in the filling mix, for little sweet explosions of flavour with every mouthful.
Origins of Naan Bread
The origins of naan bread stretch back as far as 2,500 years ago. Like all good dishes, it started with an experiment, after yeast was brought to India from Egypt.
The recorded use of naan can be found in the writings of Indo-Persian poet Amir Kushrau. Later on, during the Mughal era in India, it became known as 'naan.'.
Due to its specific kneading technique and the use of yeast, naan was reserved for the upper crusts of Indian society - mostly the royals.
In fact, naan served with meat was the breakfast of choice for royals in India during the 1500s and 1600s.
Vegan Peshwari Naan
If you want to put a vegan spin on this recipe, all you need to do is swap a few items.
Instead of using Greek yoghurt in the dough, use full fat coconut yoghurt. You should be able to get some at most good supermarkets, vegan specialist stores or online.
Replace the milk called for in this recipe with almond, rice, soy or coconut milk. Instead of using a beaten egg, replace normal flour with bread flour and add a teaspoon of yeast.
You can leave the single cream out of the filling mixture. It'll still taste absolutely divine!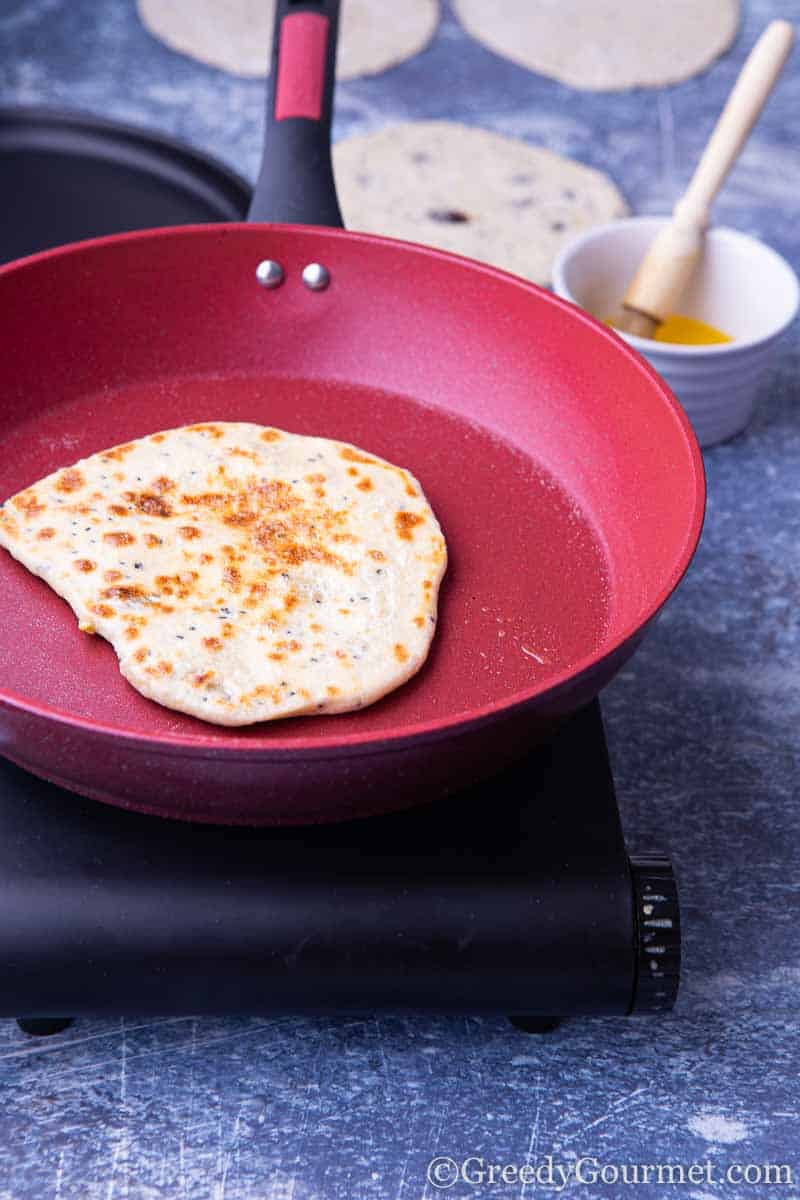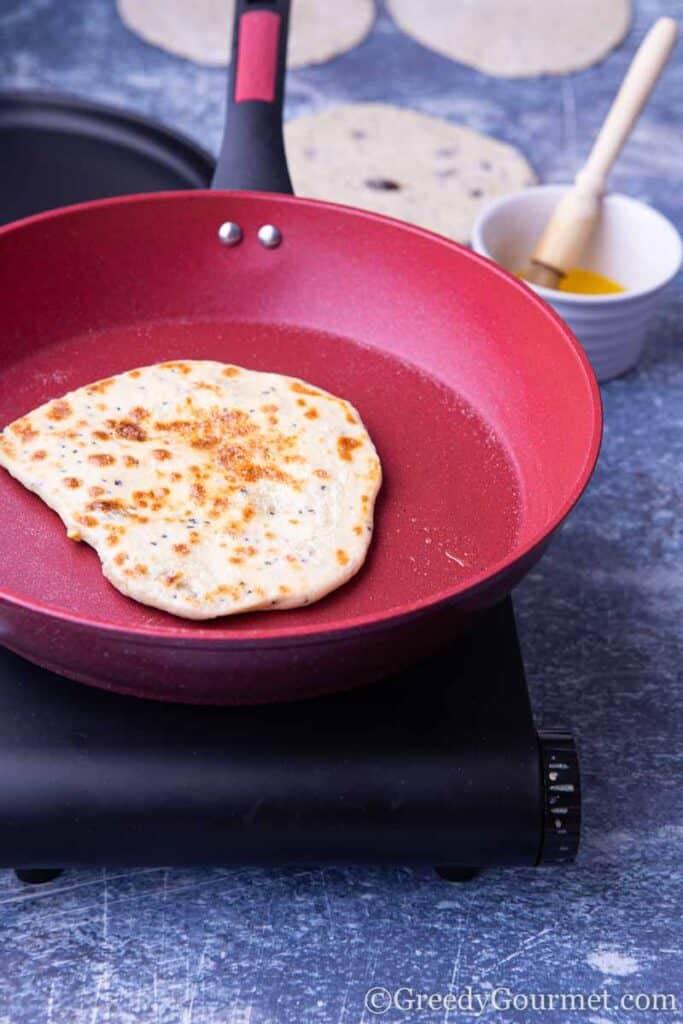 What is Peshwari Naan?
As naan is so popular in India, you'd think the word would have originated there. In fact, the word 'naan' comes from nān, a Persian word that means 'bread.' The word Peshwari comes from the Pakistani city Peshawar.
Naan was traditionally baked in a tandoor oven, a clay oven from which tandoori cuisine takes its name. Baking the naans in a tandoor oven gives them a beautiful, unique taste.
Don't worry though, you don't need your own tandoor oven! For my Peshwari naan recipe, you'll cook the naans in a cast iron frying pan or nonstick frying pan. You'll end up with naans that taste divine!
What is Coconut Naan?
The term 'coconut naan' normally refers to a Peshwari. There are some people who make a simpler recipe, with just a few elements.
The proper traditional Peshwari recipe definitely requires a lot more thought and a lot more thrown into the mix. The results are most definitely worth the effort.
What is Keema Naan Made of?
As with most naans, with keema it's the filling that counts. The word 'keema' means minced meat in Urdu.
That explains why these soft, fluffy naans are filled with beautifully curried meat – a traditional recipe calls for lamb or goat – as well as potatoes, peas, ginger, chilli, onions, garlic and and garam masala spices.
How Do You Make Naan Bread Extra Tasty?
The secret to extra tasty naan bread is simple. Before you cook them, you need to brush each naan with ghee. They'll end up a beautiful golden brown colour.
Ghee is a big part of any Indian recipe. It's basically melted butter that's had the milk solids removed. Then, you're left with liquid fats.
As ghee is melted butter that's had the milk solids removed, it means it contains less lactose than normal butter. It also means it has a much higher melting point than butter and typical cooking oils. This makes it perfect for Indian cooking, much of which is done on a very high heat.
Ghee has a wonderfully rich, nutty flavour. That's why it's often at the top of the ingredients list of authentic Indian curry recipes. It's also why, when you brush it on naan breads, they end up so ridiculously tasty!
What are the Different Types of Naan?
Naan breads come in lots of different shapes and sizes, with many different fillings too. Here are just a few:
Kashmiri Naan – One of the most loved recipes in Kashmiri cuisine, Kashmiri naan is quite different to most other naans. In fact, it's usually served at breakfast or, sometimes, with afternoon tea, as it has a sweet, nutty taste.
Laccha – technically speaking, this one is not actually a naan. Still, laccha is very naan-like. It is normally made with whole wheat and doesn't use the typical raising agents. This makes it quite thin and multi-layered when cooked.
Keema Naan – these soft and fluffy naans that are stuffed with keema once cooked. They're absolutely delicious! Taste them for yourself – have a go at creating your own and use my recipe for keema matar for the stuffing.
Kulcha – made with maida or refined white flour, instead of plain flour, kulcha is a mixture of dough with mashed potato, making it a unique flatbread.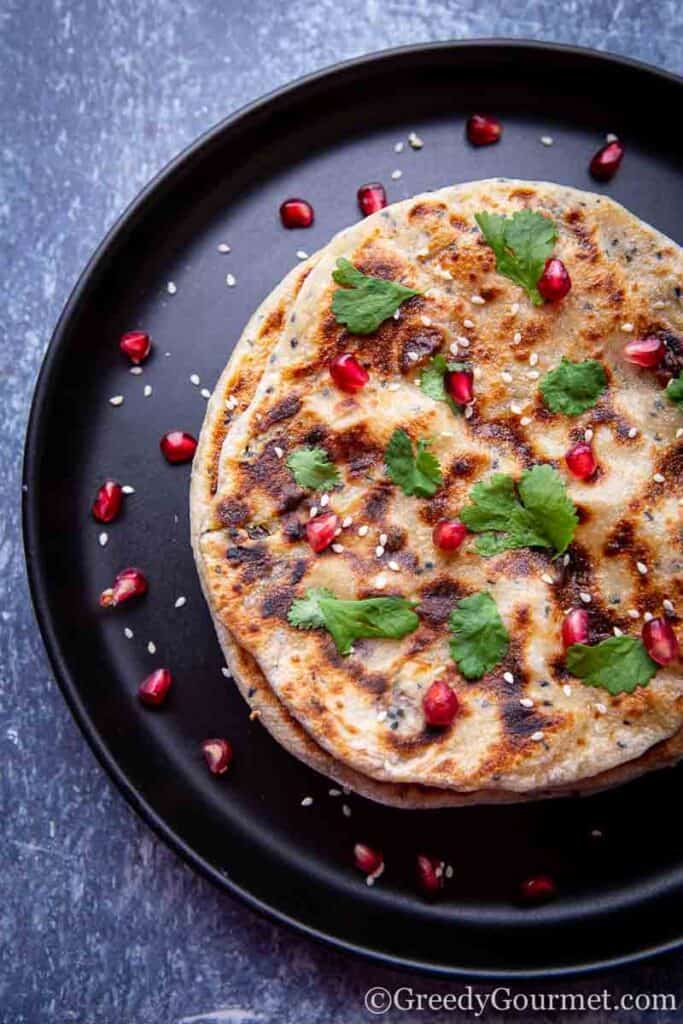 What Goes with Peshwari Naan?
With its sweet, spicy, nutty and fruity taste, Peshwari naan is wonderfully versatile. Eat it with a cup of chai and you'll be in heaven. Still, serve it on the side of a curry recipe and your tastebuds will hit overdrive.
Here are a few sumptuous recipe suggestions:
Competition Question: What bread will you make with the K-Mojo Digimaster?
Print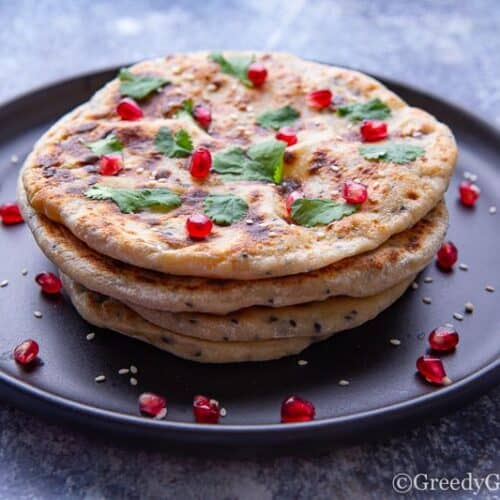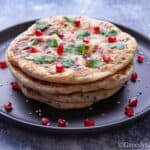 Peshwari Naan
---
Author:

Michelle Minnaar

Total Time:

1 hour 30 minutes

Yield:

8

servings

1

x

Diet:

Vegetarian
Description
What makes Peshwari Naan special is the bread's fruity coconut filling. Instead of using a tandoor oven you can make it at home in a frying pan.
---
Naan Bread
450

g

(3 5/8 cups) plain flour

150

ml

(2/3 cup) milk, warm

150

ml

(2/3 cup) full fat Greek yogurt

8.5

g

(2 tsp) sugar

6

g

(1 tsp) salt

1

egg, beaten

4

g

(1 tsp) baking powder

10

g

(1 tbsp) nigella seeds
Peshwari Filling
4.5

g

(1 1/2 tsp) sesame seeds

18

g

(3 tbsp) almond flour

30

pistachio nuts, peeled and finely chopped

75

g

(3oz) sultanas

21

g

(3 tbsp) coconut powder

11

g

(2 tbsp) desiccated coconut

25

g

(2 tbsp) caster sugar

60

ml

(4 tbsp) single cream

15

ml

(1 tbsp) mango pulp
---
Instructions
For the Naan Bread: Put all the naan ingredients into the K-Mojo Digimaster, using the kneader attachment, and blitz at minimum speed for 5 minutes, or until a dough ball is formed.
Dust a clean work surface with flour.
Take dough out of the machine and put it on the floured surface.
Sprinkle a bit of flour on the top of the dough.
Form into a ball and put into a large mixing bowl.
Cover with a damp tea towel and set aside in a warm area in the kitchen, such as the back of a cooker.
Leave to proof for 1-3 hours.
For the Peshwari Filling: Meanwhile, put all the ingredients for the filling in a mixing bowl and stir until well incorporated.
Dust a clean work surface with flour again.
Take the dough out and put it on the surface. Segment into 8 equal pieces.
Roll each piece into a ball and flatten with the palm of your hand. Place an ⅛th of the filling in the center of the dough and bring all edges to the top and seal, containing the filling.
Place the naan sealed side down onto the floured surface. Flour your rolling pin and roll until flattened. Don't worry if small tears emerge. Repeat until all 8 naans are filled.
Heat a large cast iron or nonstick frying pan over a medium heat.
Cook one naan in the frying pan roughly 1 minute on each side. Check every now and then, because golden bubbles should form on both surfaces. Remove from heat and keep warm in a heated oven while you cook the rest.
Serve immediately with your favourite curry!
Notes
For a slight tweak on the filling recipe, you can place all the ingredients, except a third of the sultanas in a food processor and blitz until a paste forms. Stir in the remaining sultanas and proceed with the recipe.
Prep Time:

1 hour 15 minutes

Cook Time:

15 minutes

Category:

Bread

Method:

Pan Fry

Cuisine:

Indian
Keywords: peshwari naan, indian bread, peshwari recipe, indian side dish, indian vegetarian recipe, peshwari nan recipe, naan recipe
P.S. This is a sponsored post.