This sopapilla cheesecake is a creamy and delicious! If you are a fan of sopapilla pastry, you are going to love this cheesecake recipe. It consists of different layers, which ultimately gives the cheesecake a different flavour in every bite. The top layer is a crunchy cinnamon layer which complements the cheese filling and the sopapilla base perfectly. You can even opt to omit the cinnamon layer, if you wish, and add a fruity layer instead. I understand that not everyone is a massive fan of cinnamon, but don't despair. Otherwise, you can decorate the sopapilla cake with fresh fruits, as I did in my stunning sugar free angel food cake recipe.
Keep reading to find out more about sopapilla cheesecake. You'll also learn tips and tricks for making the best and smoothest cheesecake fillings. Lastly, I will detail what sopapilla pastry is and provide a list of suitable alternatives.
a drop-dead-delicious sopapilla cheesecake pie recipe
Looking at this recipe, you can easily mistake it for a pie recipe. Ordinarily, a cheesecake is circular and is enjoyed in delicate slices. Well, this sopapilla cheesecake recipe resembles a pie in two ways.
It is baked in a rectangular form, just like this apple and rhubarb crumble pie
It has a 'golden brown' cinnamon layer on top which resembles a pie crust
Do you agree?
what is sopapilla
In short, sopapilla is a type of fried pastry, generally served in South America, with its strong Spanish heritage and cultural influence.
You might also know sopapilla by these names:
sopaipilla
sopaipa
cachanga
The term "sopapilla" is derived from the Mozarabic term "Xopaipa", which translates to bread which is soaked in oil.
Generally speaking, it's made out of leavened wheat dough. This means that the dough is actually a mix of traditional wheat flour as well as masa harina and some butter. To learn more about masa harina and the best masa harina substitutes, click here.
Once the dough mixture rises, the dough is rolled out in a sheet from which you can cut out circular, triangular or square forms.
Next, those shapes are deep-fried in oil, which allows the sopapilla to puff up. You'll know you have the perfect sopapilla, when your centre has a hollow pocket. Of course, you don't have to make them from scratch to complete this sopapilla cheesecake recipe. You can buy them.
where to buy sopapilla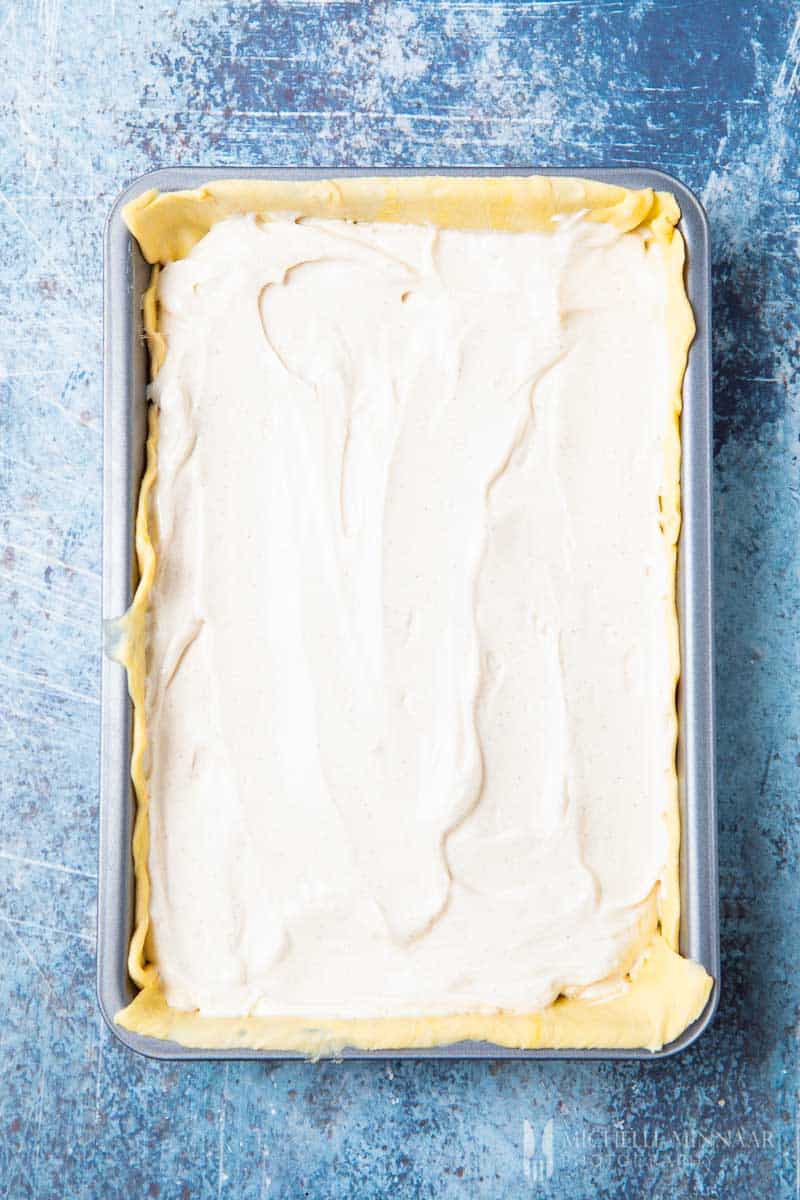 variations of sopapilla
Below you'll find the different types of sopapilla in different countries:
Uruguay
In Uruguay, they call it torta frita. Ordinarily, they are quite salty because there is a lot of salt in the mix. Hence, when they are ready, so they are sprinkled with sugar.
USA
Typically, sopapillas in the US are served as snacks along with dips, salsas or sauces. Plus, they are very small, almost pillow-shaped.
Argentina
Here, you can find sopapillas under these names: sopaipa, torta fina, chipa cuerito, kreppel, sopaipilla or supaipa. Generally, they are very flat and thin.
Peru
If you visit Peru, you might know it as cachanga. They are served for breakfast - either sour or sweet. If you are interested in Peruvian cuisine, you should also try my lomo saltado or my ceviche with tiger's milk.
Chile
There is a long history of eating sopapillas in Chille. Apparently, traditional Chilean sopapilla recipes call for ground pumpkin inside the dough mix. If you fancy a savoury version, you serve them with a chilli pepper dip and cilantro. The sweet version is served with syrup, orange peel as well as cinnamon. This can be an excellent source of inspiration for this sopapilla cheesecake recipe. Therefore, consider adding orange zest and serving them with syrup or honey.
sopapilla substitutes
In general, a close substitute for sopapilla would be a Madeleine cookie for France. However, as with any cheesecake recipe, any type of cookie substitute works.
For instance, you can consider:
vanilla based cookies
plain digestives
chocolate digestives for a chocolatey base
biscoff cookies like I did with my delicious biscoff cheesecake
The choice is entirely yours!
tips & tricks
There some clever tricks you can try when making your sopapilla cheesecake successful. For example:
Mix in the cheese element at room temperature. It will bind better.
Add a hint of flour or cornstarch to thicken up your filling, which was done in this recipe.
Fold your batter. Don't over mix it.
Let your cheesecake chill completely before you serve it so that it can solidifies properly.
lemon sopapilla cheesecake
Now comes the interesting part where you can let your creativity shine. First, to make this sopapilla cheesecake recipe your own, add some citrus zest. This will lighten up the cheesecake. Plus, it will add a wonderful contrast to the creamy sweetness of the cheese.
Here, you can either use lemon, orange or other citrus. Let me remind you, orange zest and cinnamon go hand in hand. It's the perfect recipe for the upcoming autumn holidays. Consider it a comfort dessert!
If you've got leftover cream cheese, feel free to inspire yourself with these recipes:
chocolate sopapilla cheesecake recipe
Next, if you love chocolatey cheesecakes, you can add cocoa powder into the mix. For instance, add a tablespoon of cocoa powder and watch the cheesecake change colour. The more you add, the more intense the flavour. In short, don't add too much, otherwise your cheesecake will lose its creaminess. Additionally, it can become a little bitter. Of course, this depends on the type of chocolate you use.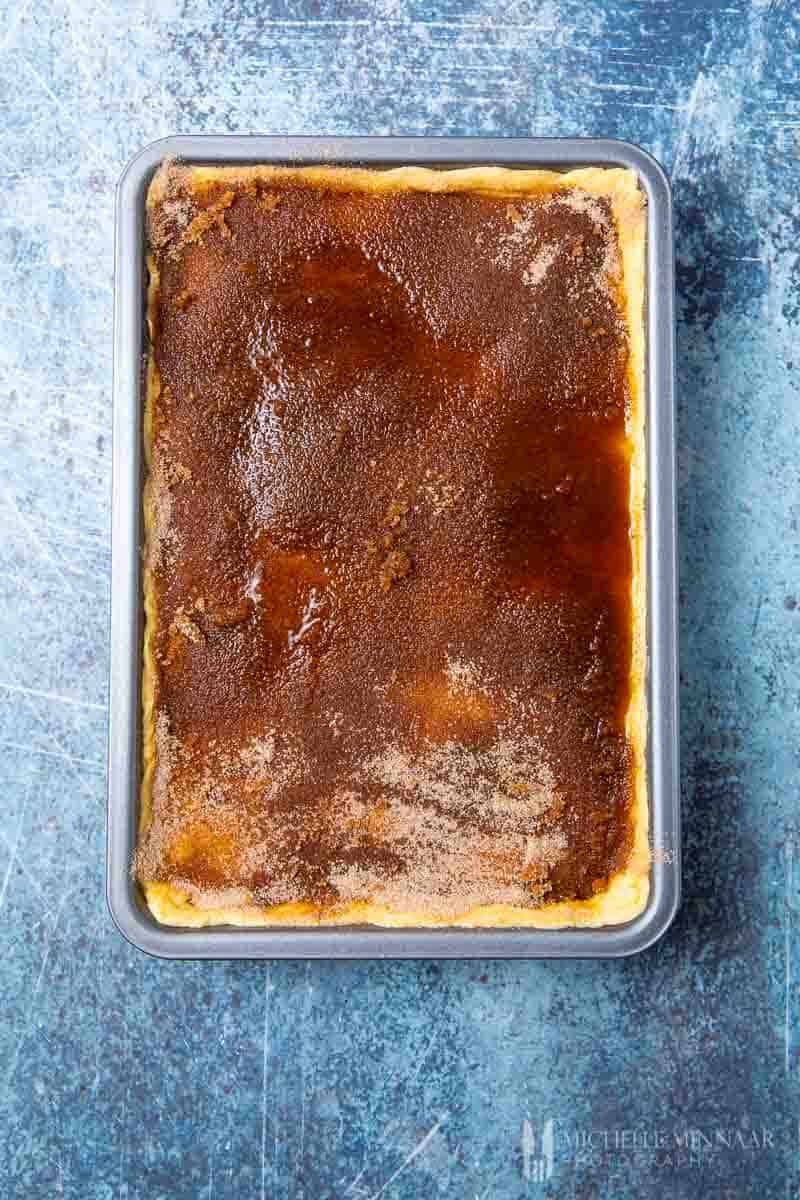 sopapilla cheesecake bars recipe
In fact, the way I've cut the cheesecake resembles my mars bars cakes recipe or sugar free flapjacks. In my opinion, you should cut them up into little squares too. This way, they are more manageable and can even be eaten by hand - in my house anyway!
In summary, you can also consider the following toppings:
fresh fruit
chocolate or chocolate shavings
biscuits
icing
How would you serve this cheesecake?
Print
Sopapilla Cheesecake
---
Description
You simply must try this delicious sopapilla cheesecake recipe! Learn more about this dessert and its Spanish heritage. Make it today!
---
Crust
500

g

(16oz) croissant pastry
Filling
250

g

(8oz) cream cheese

200

g

(1 cup) granulated sugar

1

egg

5

ml

(1 tsp) vanilla extract

5

ml

(1 tsp) ground cinnamon

32

g

(1/4 cup) flour, sifted
Cinnamon Topping
200

g

(1 cup) brown sugar

15

ml

(1 tbsp) ground cinnamon

115

g

(1/2 cup) unsalted butter, melted
---
Instructions
Preheat the oven to 180°C / 350°F / gas mark 4.
Grease a 9 x 13 inch (23cm x 33cm) pan with butter. Alternatively, use nonstick cooking spray.
Unroll half the croissant pastry and line the bottom of the pan. You'll need to press the seams together or use a rolling pin to shape it into the rectangular pan.
For the Filling, beat the cream cheese and sugar until the mixture is light and creamy.
Add the cinnamon, vanilla and egg and stir until everything is well incorporated.
Slowly add the flour until the mixture thickens.
Spread the filling evenly on top of the croissant pastry.
Layer the remaining half of the croissant pastry on top of the filling. Yet again you'll need to press the seams together or use a rolling pin to shape it into the rectangular pan. Close all the seams together so that you essentially created a type of closed pie.
Before drizzling the cheesecake with the cinnamon topping, ensure the the cheesecake's surface is totally flat. I.e. you don't want a large, buttery puddle to form in the center of the cheesecake while cooking. In fact, you would like to the butter to roll down the sides to crisp up the pastry at the bottom to make this offbeat cheesecake to die for!
For the Cinnamon Topping, give the sugar, cinnamon and butter a quick stir in a bowl, ensuring the sugar doesn't dissolve because you want it to form a crunchy layer at the top.
Proceed to drizzle the butter mixture evenly over the cheesecake.
Bake for 30-40 minutes, or until the pastry has puffed up and turned golden brown. The bottom layer should be light golden in colour.
Remove from the oven and let it cool completely before removing it from the pan.
Place in the fridge to chill for at least 3 hours and preferably overnight.
Cut into squares and enjoy.
Notes
Croissant pastry is known as crescent rolls in the USA. The product tends to be sold in 250g (8oz) cans, so in this recipe you need 2 cans.
For a thinner cheesecake, halve the Filling ingredients.
The use of flour is optional but it helps to make the cheesecake denser.
Prep Time:

10 minutes

Cook Time:

40 minutes

Category:

Cheesecake

Method:

Bake

Cuisine:

Mexican
Keywords: sopapilla cheesecake recipe, sopapilla cheesecake bars, Mexican dessert recipe