Few things say Merry Christmas quite like a white chocolate yule log! For me, it's one of the most festive culinary sights. Not only that, it tastes incredible!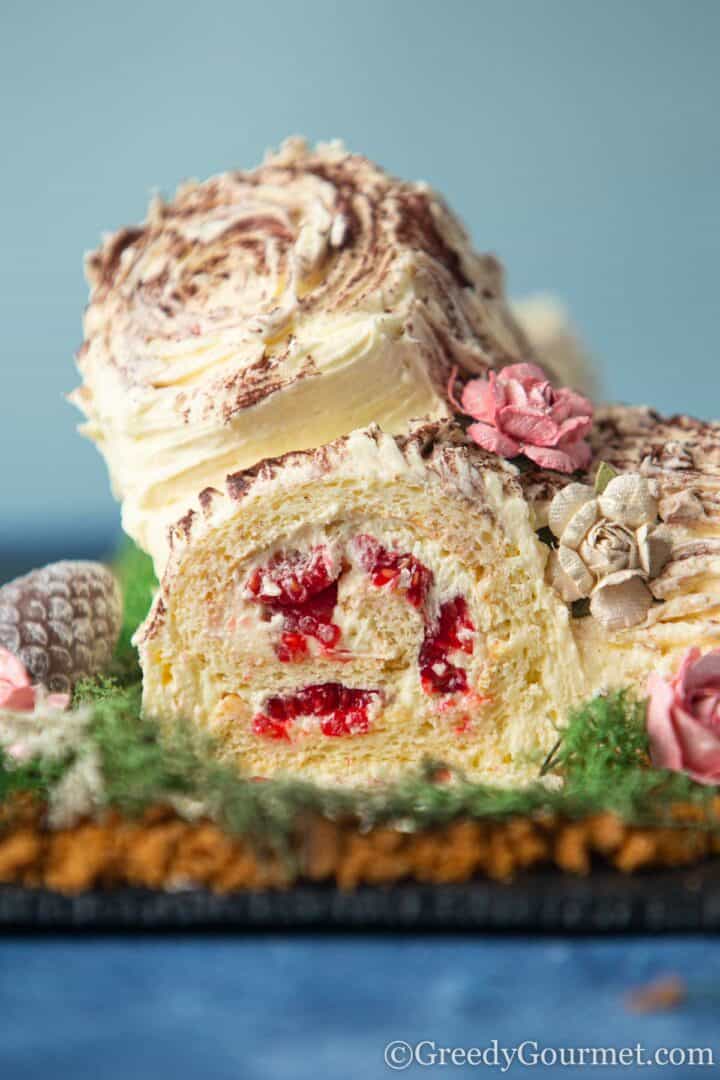 So, don the apron and get ready to create some Christmas cheer with this delightful, delicious white chocolate yule log recipe.
Products you need for this recipe
There are a few key items you'll need to get hold of before starting this white chocolate yule log recipe: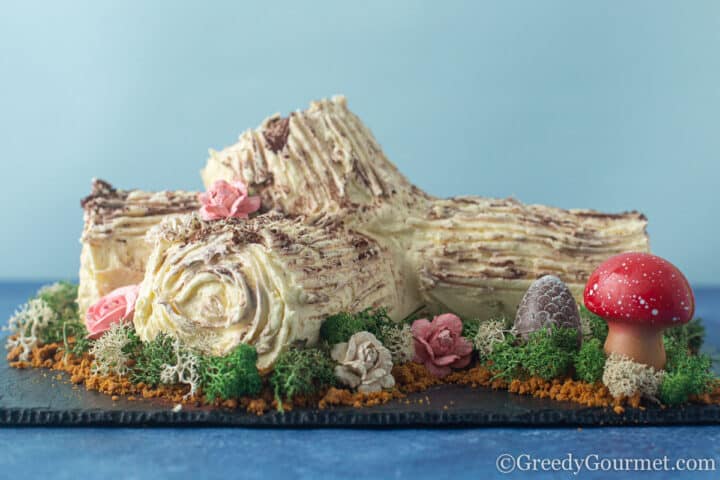 White Chocolate Yule Log Recipe
Ho, ho, holy moly, this thing tastes good! If you're looking to pull out the stops this Christmas, you can't go far wrong with this recipe. It takes some patience, but the end results are truly magical!
Expect gasps when eyes are laid on this special Christmas treat and sounds of pure satisfaction after the first tasting.
Desserts really don't get more joyous than this one!
Nielsen-Massey Gourmet Vanilla Extract
Ah, the secret ingredient to my Christmas white chocolate yule log! When it comes to adding that wonderful deep rich sweetness, this particular kind of vanilla extract is something very special indeed.
Nielsen-Massey Gourmet Vanilla Extract is a premium quality ingredient that adds a touch of class, as well as an incredible depth of flavour to this white chocolate yule log.
A family-owned and operated producer of premier vanillas and flavour extracts, Nielsen-Massey has been producing incredible flavours for more than a century, using sustainably-sourced ingredients.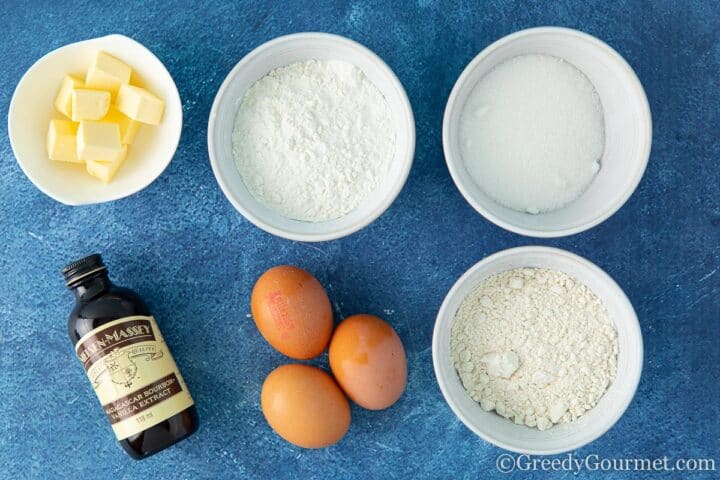 The fact that they're all about sustainability is a big plus point for me – Christmas is definitely a time for indulging, but not at the expense of doing the right thing and using quality, sustainable ingredients. So, it's nice to know that a lot of care has gone into the production of this gourmet vanilla extract.
You can definitely tell from the taste – sweet and creamy, with velvety after-tones. Honestly, it's heavenly. It's really amazing how just a touch of one ingredient can have such an impact on a dish!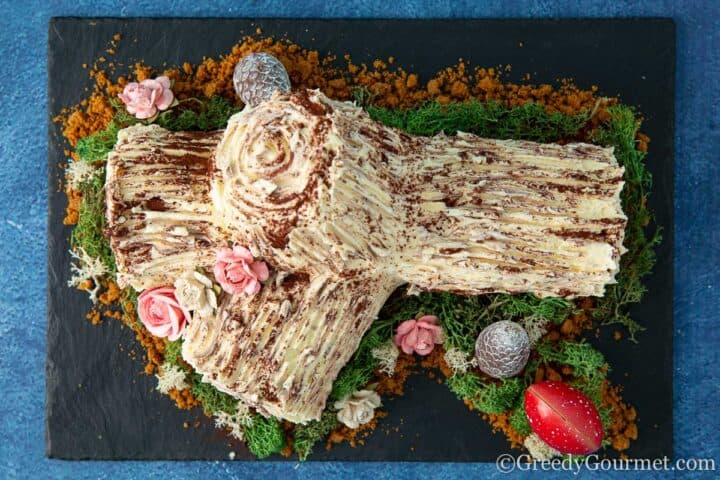 What is a yule log?
Unless you've been spending your Christmases under a yule log, you'll know that they tend to make an appearance during the most wonderful time of the year.
Yes, that's right, a Christmas tradition in many households up and down the land, yule logs take inspiration from actual logs that were traditionally burnt in the fireplace in Christmas Eve.
What is chocolate yule log made of?
The cake itself is traditionally made from a chocolate sponge with a thin layer of cream or buttercream. Sometimes fresh fruit is added. The sponge is then rolled up to form a log shape.
Who invented the yule log?
The original idea of burning yule logs was a traditional throughout northern Europe, particularly the UK, France and Germany, where different parts of the log would be burnt until the 12th night (6th January).
The original idea of a chocolate yule log that resembles an actual log came about in the 19th century. As with most delicious sweet inventions, it most likely originated in France, where culinary geniuses were busy creating classics left, right and centre.
What's the difference between a chocolate yule log and a Swiss roll?
Although they're very similar, chocolate yule logs are made to resemble a Christmas yule log, whereas a Swiss roll is just a standard rolled sponge cake. There's a lot more that goes into making a Chocolate yule log, from the ingredients to the artful decorations.
Swiss rolls are often plain sponge, with jam added to the inside, whereas yule logs are chocolate – normally milk or dark, but in this case white.
How do you store white chocolate yule log?
Loosely cover your white chocolate yule log with cling film and keep it in the fridge for up to three days.
More amazing Christmas desserts
Tis the season to make some mouth watering desserts! Here's some more festive inspiration to satisfy that sweet tooth!
Print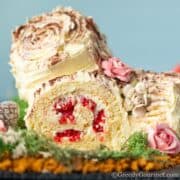 White Chocolate Yule Log
---
Author:

Michelle Minnaar

Total Time:

55 minutes

Yield:

12

servings

1

x

Diet:

Vegetarian
Description
Why don't you create some Christmas cheer and learn how to make this White Chocolate Yule Log? Let your creativity run wild when decorating this Christmas dessert!
---
Vanilla Sponge
4

large egg, whites

60

g

(1/4 cup) caster sugar

4

large egg, yolks

5

g

(1 tsp) Nielsen-Massey vanilla extract

35

g

(4 tbsp) sponge flour

15

g

(1 3/4 tbsp) plain flour

2

g

(1/2 tsp) cream of tartar

30

g

(2 tbsp) unsalted butter, melted
White Chocolate Buttercream
200

g

(1 1/4 cups) white chocolate, roughly chopped

250

g

(1 cup+2 tbsp) unsalted butter, room temperature

400

g

(2 3/4 cups) icing sugar

5

g

(1 tsp) Nielsen-Massey vanilla extract

1

g

(1/4 tsp) sea salt

80

ml

(1/3 cup) double cream
Assembling
150

g

(1 1/4 cup) raspberries

7

g

(1 tbsp) cocoa powder
---
Instructions
For the Vanilla Sponge: Preheat the oven to 180°C /160°C fan / 355°F / gas mark 4.
Whisk the egg whites, (I used a KitchenAid) on full speed until you achieve soft peaks.
While still on full speed slowly add the caster sugar until everything is incorporated. The egg whites should have a glossy look to them.
Lower the speed to medium and add one egg yolk at a time until each one is fully mixed through. 
Add Nielsen-Massey's vanilla extract. Once this is done turn off the machine.
Sieve the sponge flour into the bowl and fold this through. 
Sieve the plain flour and cream of tartar onto the mix and fold through.
Add the melted butter and fold through until fully incorporated.
Prepare your 15x10x1in (38 x  26 x 3 cm) baking tray by putting a little bit of the batter into each corner. Cover with parchment paper making diagonal incisions in each corner and then press the paper into each corner.
Pour the mixture into the lined pan and spread evenly with a palette knife. Transfer to the over and bake for 10 minutes. 
Once cooked, turn the sponge out onto a wire rack and then set aside to cool.
For the Buttercream: Place the white chocolate into a microwave proof bowl and heat in the microwave on 30 second blasts, stirring in between each blast, until all is melted and then set aside.
Whisk the butter, on a medium speed in your KitchenAid, until light and fluffy.
Add the icing sugar to the machine a little at a time until all of it has been mixed through. Now add the vanilla extract and the salt.
Turn the machine off and pour in all of the melted white chocolate and then whisk on full speed until light and fluffy. Pour in the double cream and whisk until fully incorporated.
Assembling the Yule Log: Place the sponge on a clean tea towel on a flat surface. Place a third of the buttercream onto the sponge and spread evenly with an icing spatula, leaving around an inch on both sides for rolling.
[Optional] At this point there is the option for you to add raspberries to the filling. Not only will the fruit give some colour to the cake but taste-wise cut through the luscious richness of the cake. Strawberries will also work but feel free to experiment!
To roll, use the tea towel, fold over the edge and then slowly and systematically roll up the sponge. 
To create the branch stubs, cut a diagonal line portion and then a straight line portion from the end.
Spatula a layer of the buttercream onto your serving plate, the same length and width of the large (base) part of the roll, and place the large part of the roll on top of the buttercream. 
Cover the roll with a layer of buttercream. You can use a spatula or a piping bag, whichever you find easiest. Place your branch stubs wherever you see fit and cover them in buttercream as well.
Sieve over a little cocoa powder. Using a fork, score the yule log all over in straight lines. The trunks should be scored in a circular motion.
Decorate to your heart's content with whatever you see fit, whether it's moss, chocolate mushrooms, meringues, etc. Have fun and enjoy! 
Notes
If you can't find sponge flour then you can exchange it for plain flour.
Milk chocolate will work for this as well so you can substitute the white chocolate for milk chocolate in equal quantities. Dark chocolate is a different story as it has a completely different fat content, so steer clear.
If you can't find cream of tartar then you can just leave it out, as it will still work without.
Prep Time:

45 minutes

Cook Time:

10 minutes

Category:

Dessert

Method:

Bake

Cuisine:

Norwegian
Keywords: White Chocolate Yule Log, Yule Log recipe, White Chocolate Buche De Noel, Buche De Noel recipe, Christmas Dessert, Christmas Recipe
P.S. This is a sponsored post.