Rich, creamy and deliciously comforting, this easy vegan eggnog will knock your Christmas socks off! All the ingredients are simple and readily available, it takes no time at all to whip up and it tastes like a dream. Perfect for the holidays. Plus, even non-vegans will love it!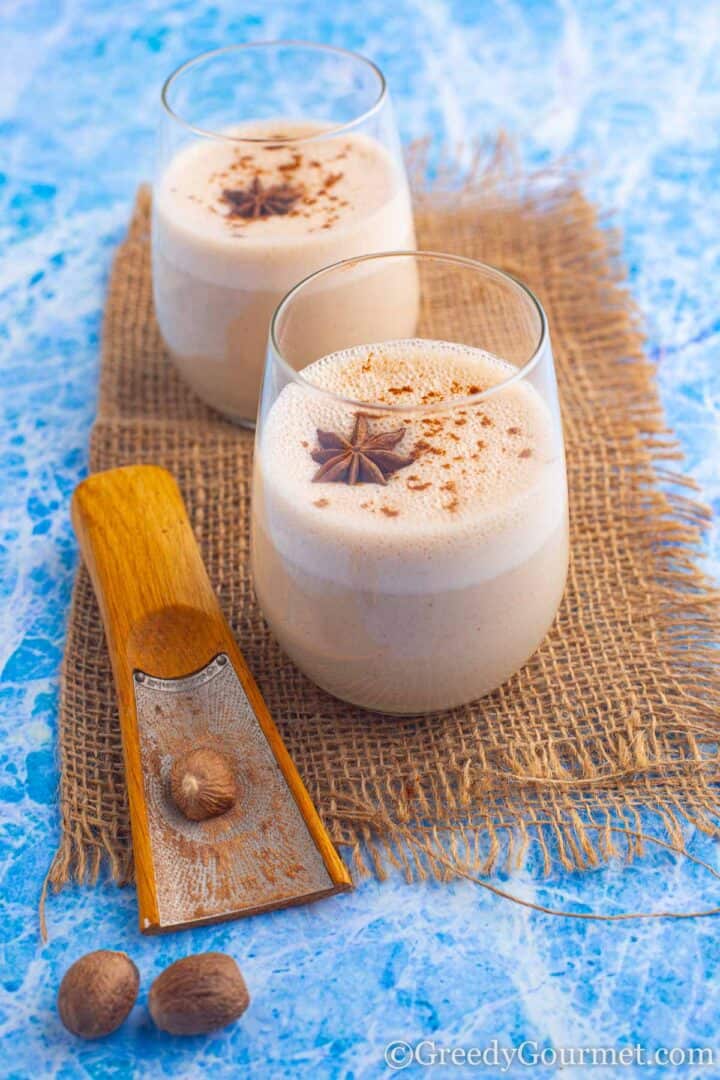 So, are you ready to make your new favorite Christmas recipe? Let's get started…
Why You'll Love This Recipe
It's velvety and creamy
It's rich and delicious
The ingredients are natural (no additives!), plant based and easily available
It's one of those excellent Christmas vegan recipes that everyone can enjoy
You can make this recipe for a holiday party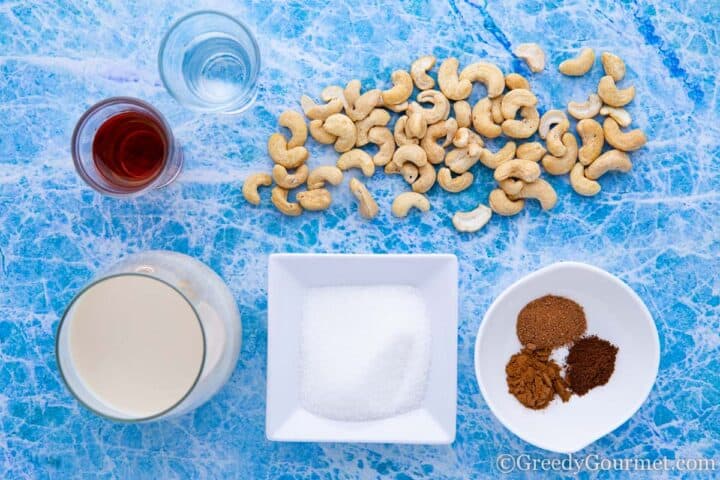 Equipment Needed To Make Vegan Eggnog
There are a few key items you'll need for this vegan eggnog:
High speed blender – any chef will tell you, a high speed blender is your best friend! For this recipe, it'll help you get the perfect texture to your holiday drink.
Serving glasses – a glass of vegan eggnog should be served in the right way.
How To Make Vegan Eggnog
Here's a step by step guide on how to make this recipe: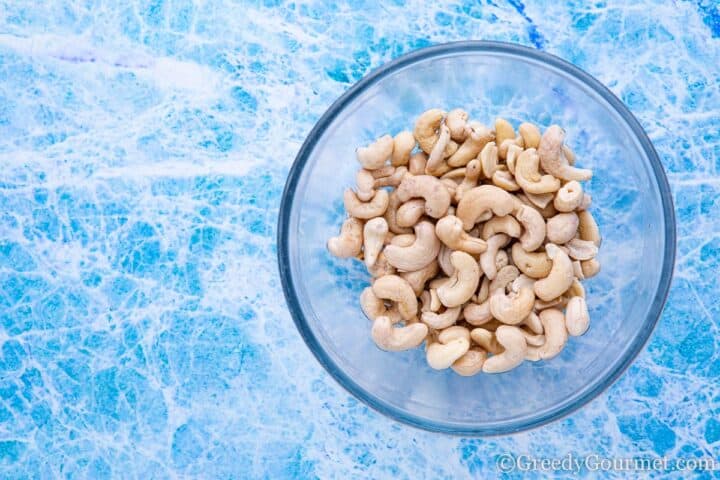 Soak the cashews in freshly boiled water for 10 minutes. Drain.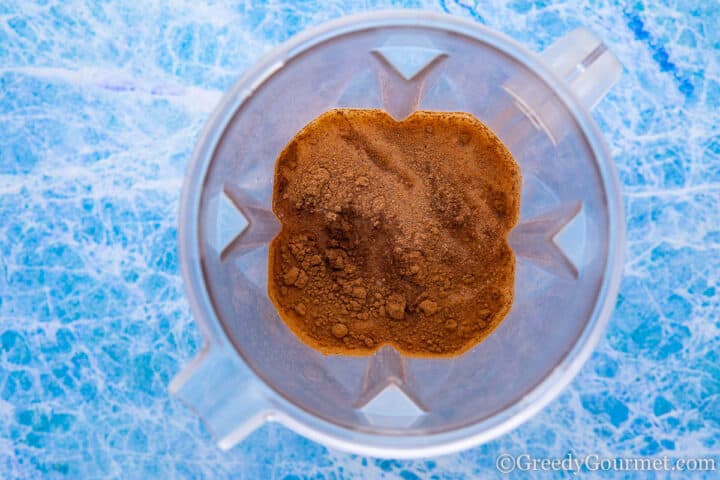 Add the cashews and remaining ingredients in a blender.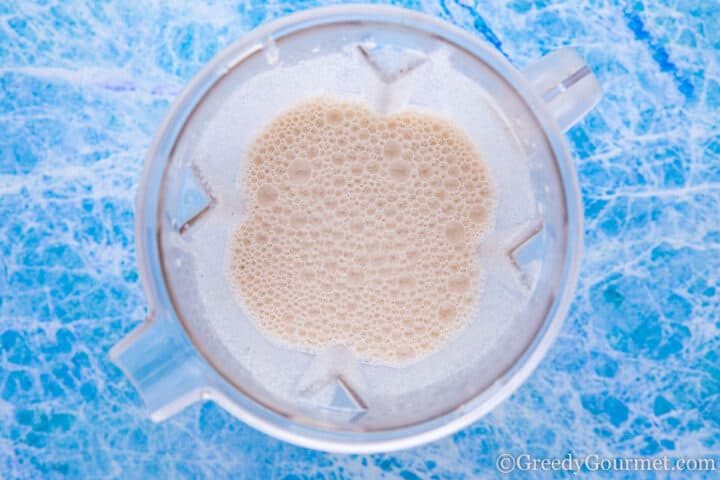 Process until silky smooth and serve immediately. Enjoy!
Top Tip
Don't over blend the eggnog, as the dairy free milk might end up with a curdled texture.
What to Serve with Vegan Eggnog
Accompaniments
A glass of vegan eggnog goes wonderfully well with warm pastries or cookies. Try vegan versions of any of the following:
Recipe Variations
Non alcoholic vegan eggnog
Want to keep this recipe alcohol free? Don't worry, it can be easily adapted. Simply add an almond syrup or a similar kind of flavorful syrup in place of the rum and bourbon.
Vegan eggnog without cashews
Are you not a cashew nut? No worries, you can use any variety of nut for this vegan eggnog recipe. Almonds would be an ideal alternative. 
Different spices
Eggnog is typically flavored with three key spices: ground cinnamon, nutmeg and cloves. Feel free to spice things up by adding a bit of allspice, pumpkin pie spice or apple pie spice. 
Serve warm
For me, eggnog is best served chilled. However, there's definitely a case to be made for warm eggnog. It's a wonderful winter warmer, especially in the evening when you need that extra little shot of comfort to get you all warm and cozy.
So, if you prefer your eggnog warm, you can simply heat it up in the microwave or on the hob.
Extra decadent
Fancy really getting into the Christmas spirit with a super indulgent holiday drink? Take things to another level with a helping of coconut cream or coconut whipped cream on top of your vegan eggnog. You could also sweeten the deal with a drizzle of maple syrup. 
Popular substitutions
If you're missing certain ingredients or prefer a different ingredient over one in this vegan eggnog, you can use a substitution. Here are a few ideas:
Cashew milk
If you're not a fan of almond milk or don't have any to hand, you can use soy milk, coconut milk, oat milk or cashew milk. Even better, make your own cashew milk!
Alternative alcohol
You don't have to use bourbon and rum as the alcohol element in this vegan eggnog recipe. Whisky and/or brandy are good alternatives, as are vodka, coffee liqueur, or dairy-free Kahlúa.
Vanilla extract
Don't have any vanilla paste? Substitute in an equal amount of vanilla extract.
Alternative sweetener
I've gone for caster sugar in this recipe, but feel free to swap it for equal amounts of brown sugar, vanilla sugar, coconut sugar or a suitable sweetener. You could also use maple syrup.
For a healthier sweetener, try adding a handful of prunes to the mix before blending.
Top Tip
You can serve eggnog warm or cold, although for me it's a lot better when chilled in the fridge for a couple of hours.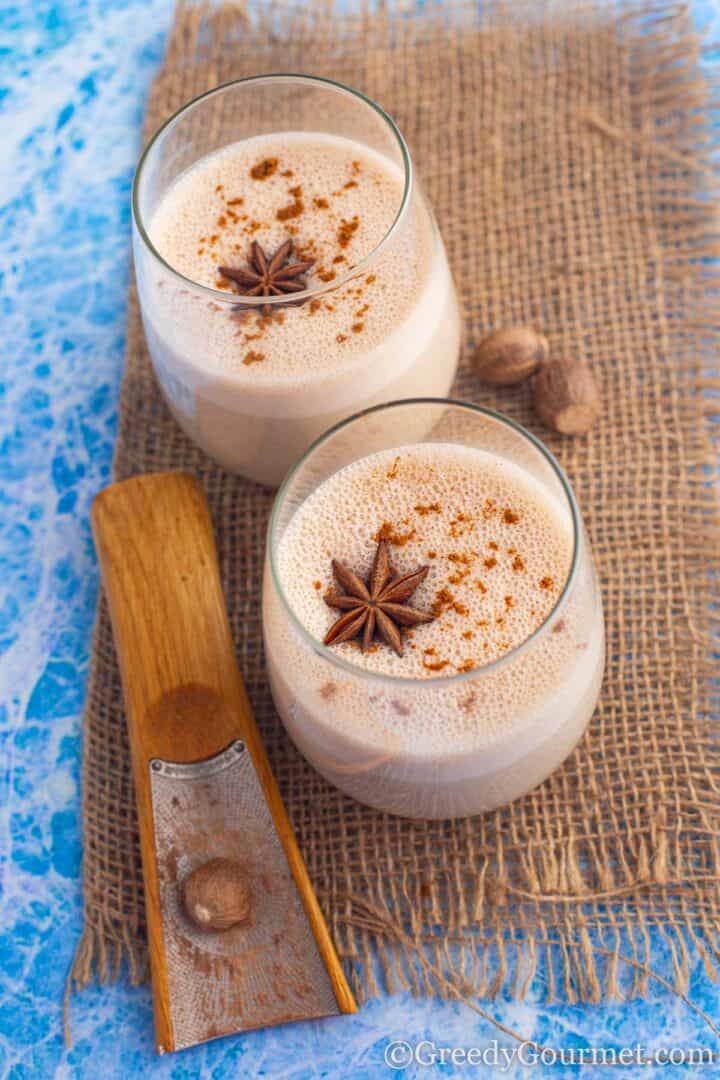 How do I store vegan eggnog?
Vegan eggnog should be stored in an airtight container and kept in the fridge. Don't forget to let your eggnog cool before storing it.
How long does vegan eggnog last?
When stored in the fridge, you can keep vegan eggnog for up to five days. Give it a shake or a stir before serving, as there'll be some natural separation.
Can you freeze this recipe?
Yes! You can store the whole thing in an airtight freezable container, or you can freeze it in individual ice cubes. Simply pour your vegan eggnog into ice tray compartments and put the ice tray in the freezer. It will keep for up to a month.
How do you reheat vegan eggnog?
Either in the microwave, with 30 second blasts until warm; or in a saucepan on the hob, on a low to medium heat while stirring constantly.
Can this holiday drink recipe be scaled?
Absolutely! If you're having a big festive party and want extra eggnog servings, double the ingredients and make a big batch!
Do I need to soak the cashews?
Yes! Soaking cashews before blending them is an important step to this eggnog recipe, so don't skip it. It helps to get that delicious creamy texture, crucial for a dairy free recipe, and also helps the nutrients of the cashews to be absorbed.
Is this recipe gluten free?
Yes, vegan eggnog is completely gluten free!
Can this vegan eggnog recipe be prepped ahead of time?
Absolutely. In fact, eggnog tastes even better when you let it sit for 24 hours. This is because the flavors have a chance to intwine and mingle, giving you an even more delicious Christmas tipple!
What kind of bourbon and rum should I use?
Any kind, although I would steer clear of cheap bourbon and rum.
I'd recommend bourbons like Wild Turkey, Bulleit, Knob Creek or Maker's Mark, all of which are completely affordable. 
When it comes to good rum, first of all make sure you use a dark rum for this recipe. You can't go wrong with Appleton, Havana Club or Kraken.
What is eggnog?
Traditional eggnog is a rich, creamy, alcoholic drink served during the Holiday season. It's usually made with eggs, milk, rum, brandy, sugar and spices, then blended up until smooth and velvety. 
Vegan eggnog, however, omits milk and eggs, using nuts to get the thick texture.
What does eggnog taste like?
Delicious! It's like a rich, subtly spiced melted ice cream with a sweet kick of booze to make you feel all Christmassy inside.
Eggnog gets a bit of a bad rap, probably as it contains raw egg. Lots of people are put off the idea of it… until they try it!
In fact, as this vegan eggnog contains no eggs whatsoever, there's nothing to be put off about!
What is vegan eggnog made of?
The ingredients for vegan eggnog are a little different to traditional eggnog. For one thing, there are no eggs. Also, in the vegan version, a plant-based milk is used in place of dairy milk.
Vegan eggnog is made from raw nuts blended with a non-dairy milk, with a little sugar and flavorings such as vanilla, nutmeg, cinnamon and cloves. Then it's topped off with a splash of bourbon, rum or other kind of sweet smoky spirit.
In fact, as this vegan eggnog doesn't contain eggs, it's actually more similar to the traditional Puerto Rican Christmas recipe 'coquito,' which is typically made from condensed milk and rum and served during the holidays.
Who invented eggnog?
No one really knows the exact origins of this famous Christmas drink. It's thought to have been created in Medieval Britain, when the upper classes would blend milk, eggs and sherry. 
Soon spices were added, and over the years, it became one of the classic Christmas recipes.
What can you do with leftover eggnog?
Why not turn it into ice cubes! It's a quick and easy way to store your leftover vegan eggnog.
Other Vegan Recipes You'll Love
Once you've made this easy vegan eggnog, keep the Christmas crackers coming and try out some of these recipes:
Eggnog recipes you'll love
For non-vegans, these eggnog recipes are simply sensational:
Print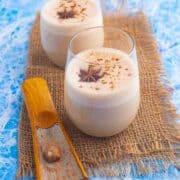 Vegan Eggnog
---
Author:

Michelle Minnaar

Total Time:

15 minutes

Yield:

6

servings

1

x

Diet:

Vegan
Description
A twist on a traditional drink to make a rich and creamy Vegan Eggnog which is made with cashews and almond milk.
---
140

g

(1 cup) raw cashews

750

ml

(3 cups) water

750

ml

(3 cups) almond milk

70

g

(1/3 cup) caster sugar

5

ml

(1 tsp) vanilla paste

1

g

(1/2 tsp) cinnamon

1

g

(1/2 tsp) nutmeg

0.5

g

(1/4 tsp) ground cloves

30

ml

(2 tbsp) bourbon

15

ml

(1 tbsp) rum
---
Instructions
Pour freshly boiled water over the raw cashews in a bowl.
Allow them to soak for roughly 5-10 minutes and then drain.
Pour them to your blender and add the almond milk, sugar, vanilla, cinnamon, nutmeg and ground cloves.
Blend until silky smooth then transfer to your refrigerator for a couple of hours.
Remove from the fridge and add the bourbon and the rum. 
Serve in the glass of your choice and sprinkle a little cinnamon or nutmeg over the top for decoration. Enjoy!
Notes
You can substitute the cashews for other nuts, such as almonds. 
Feel free to experiment with alternative nut milks if you can't find almond milk. 
You can serve this eggnog without alcohol or substitute it for alcohol of your choice.
If you have a nut allergy, then try silken tofu or coconut milk.
Prep Time:

10 minutes

Cook Time:

5 minutes

Category:

Drinks

Method:

Boil

Cuisine:

American
Keywords: Vegan eggnog, Eggnog recipe, Christmas ideas for Vegans, plant based eggnog, egg free eggnog, dairy free eggnog, non dairy eggnog, cashew milk eggnog, almond milk eggnog