Siam Park, one of the world's best water parks, is ideal for workaholics. Let me tell you why.
You finally tore yourself away from the computer. Electronics and water don't quite gel, so you have no choice but to leave your phone and watch behind as well. For once you get to live in the moment and leave all your worries of past and present behind. Where do you start at a water park? From the left? At the back? Do you take the map and treat it as one big to-do list to be ticked off one by one? If you're like me and not an adrenalin junkie, you'll find the shrieks you hear left, right and center a bit intimidating. You spot the Mai Thai River, which looks peaceful and inviting. Grab a float, get on and relax…
At times it's so peaceful that you almost fall asleep. It's great just slowly drifting round and round on the river, which is such a pointless exercise and slowly your nerves calm down and quite frankly you simply don't give a toss about anything anymore. Tenerife's glorious sun bakes you from the top while the cold water acts as a coolant keeping your bum cold, leaving your body in balance. Sort of. People attempt to hurry past you, splashing with their arms, pushing with their feet. When will they realise there's no hurry? Sooner or later you will float forward, it's only a matter of time. So why rush? Sometimes the river bubbles. Sometimes it flows quickly. Sometimes the waterfall soaks you from the top. Sometimes it gets so busy that your float get stuck along with others and before you know it yours capsizes and you're head under water waking up from what feels like a delightful dream.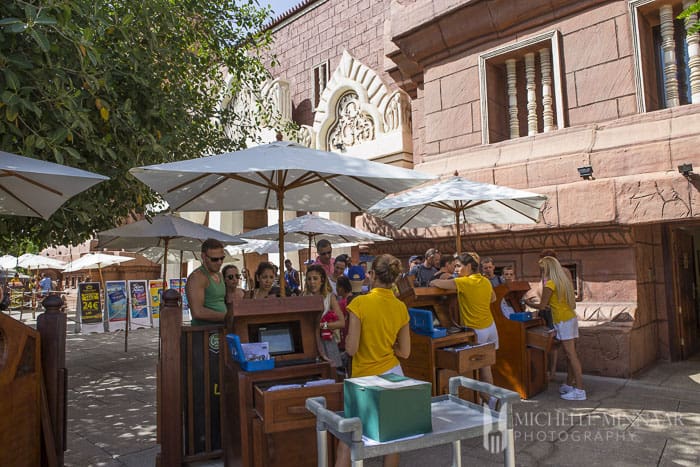 Welcome to Siam Park where there are loads of visitors and the queues are as long as hell! If you can, try to avoid peak season such as summer holidays in July and August. If you can't, take a tip from the Germans and try to get there early before opening time to avoid waiting a terribly long time at the entrance.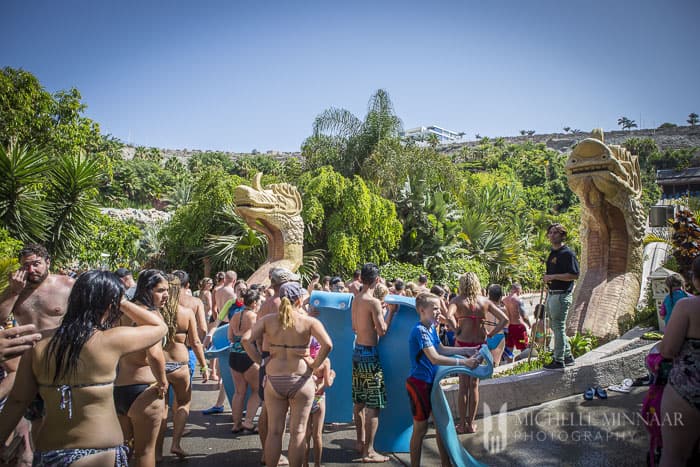 It's easy to understand why this water park has been rated best in the world. The place is spotless and you'll frequently come across staff cleaning the pathways. The designer's eye for details was superb. Unlike a lot of water parks this place has less of a cookie-cutter feel to it and is made to feel like a tropical jungle. You can't event see what the actual rides are like because they're all hidden in flora. Can you spot the dragon?
Siam Park and Loro Parque are part of the same company and animals have been incorporated at the water park. After buying a ticket the first sight you'll come across is Sea Lion Island where the animals are swimming lazily in pristine water. Further up, there are Koi ponds at the Floating Market. Somewhere along the squiggly maze of paths there are also vicious toothed sharks that shouldn't be messed with. Wet shoes are available to those who are afraid of getting their feet hurt and some of the proceeds of the souvenir shops go to the Loro Parque Foundation.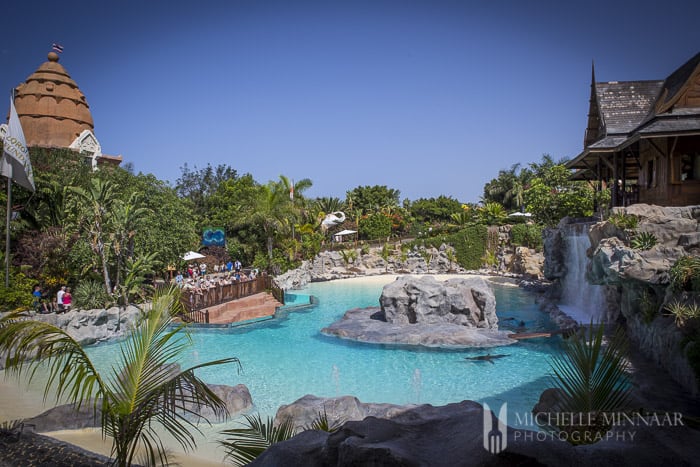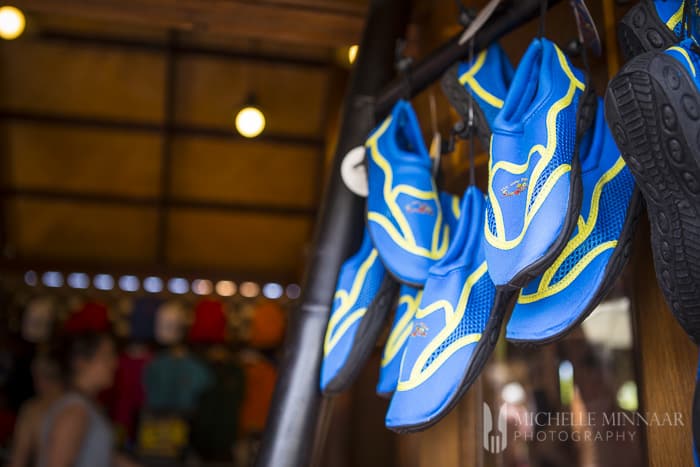 Lockers are for rent, as well as private cabins (!) for the day. Showers and changing rooms are available on site.
Thrill seekers will be chuffed with some scary rides while other simply watch in awe. So you fancy dropping 78m at 80km per hour down a chute? Check out the Tower of Power. Also pictured is the Naga Racer, which appeals to more people – a ride where you lie head first on your front.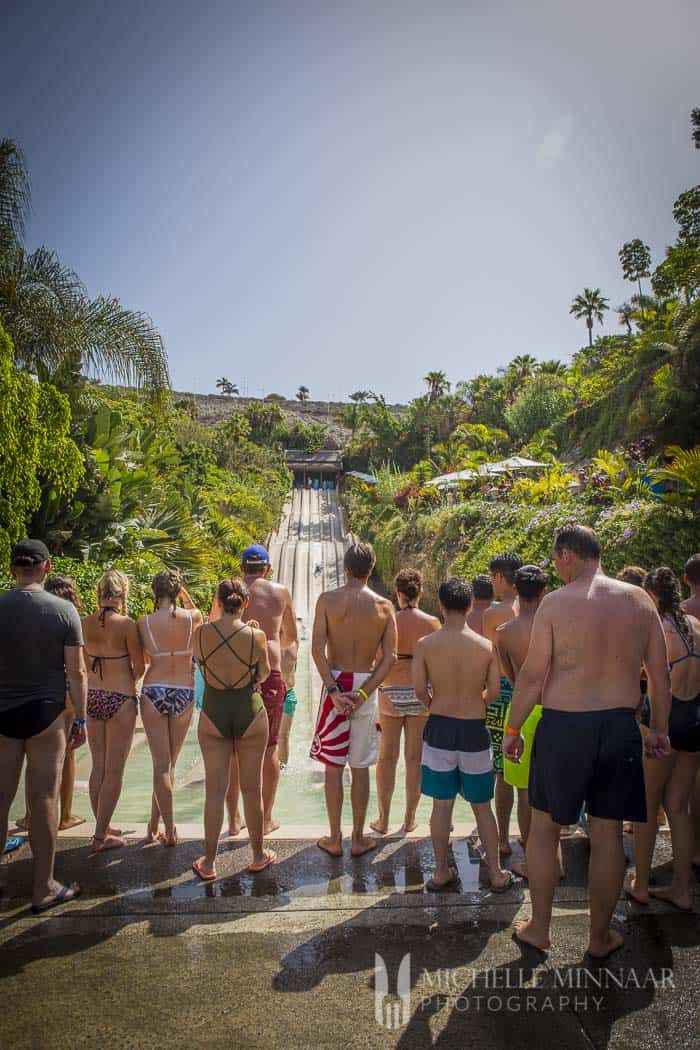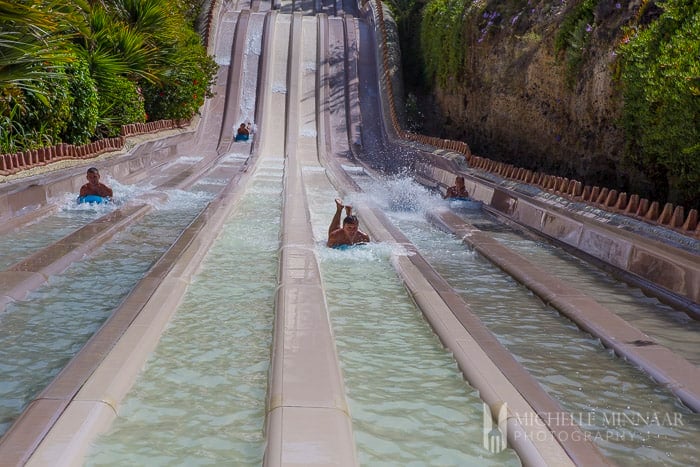 For little adrenalin-junkies in the making, there's a Lost City that will keep them amused for hours.
In the early 90's Sun City, in South Africa, opened its water park and for an 11-year old the concept of there being a "sea with waves" in the middle of the country was simply mind blowing. With ease, Siam Beach blows the former out of the water, all puns intended. The brilliantly blue water, with fine sand imported from Portugal together with waves minus the sharks makes this the perfect beach experience.
All across Siam Park you'll come find life guards which sends the reassuring message that everyone's safety is at the forefront of the resort's mind.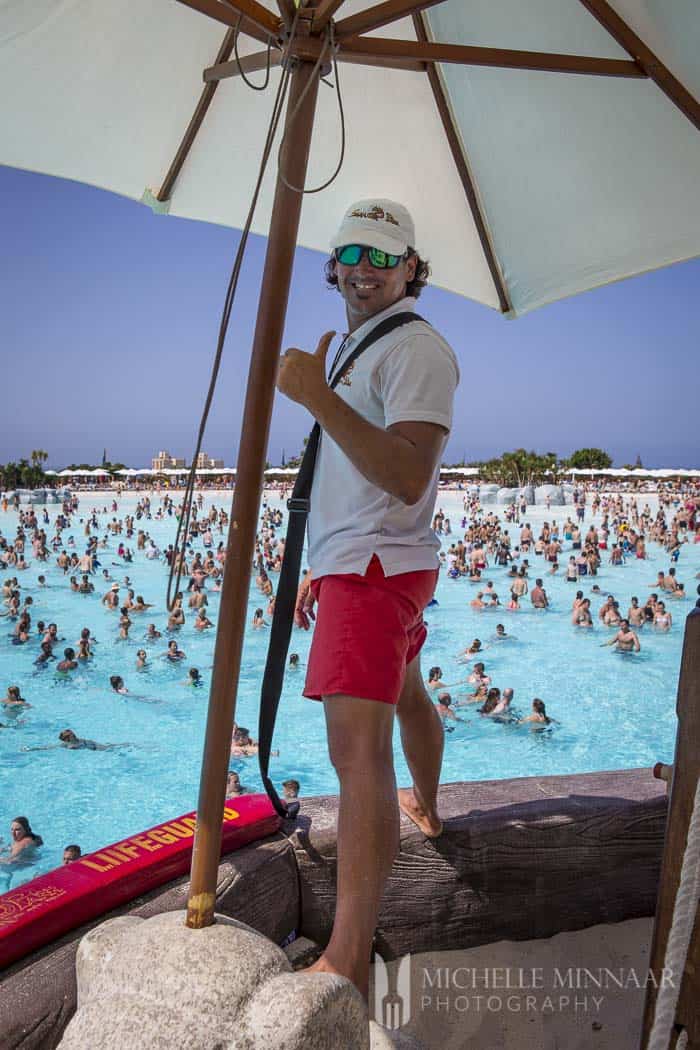 Everyone will find something to eat here. There are three snack-bars and two restaurants on site. For those who are terrified of the new, safe international choices are available at The Beach Club such as ribs, roast chicken, pasta and even fresh fruit and vegetables.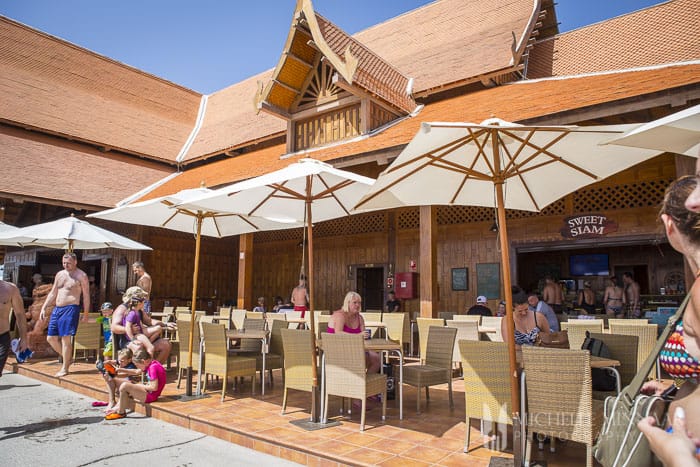 Since everyone is prancing around in beach wear, The Thai House isn't a fine dining establishment and you won't be greeted by bowing Thai staff at the door and struck by wafts of insence.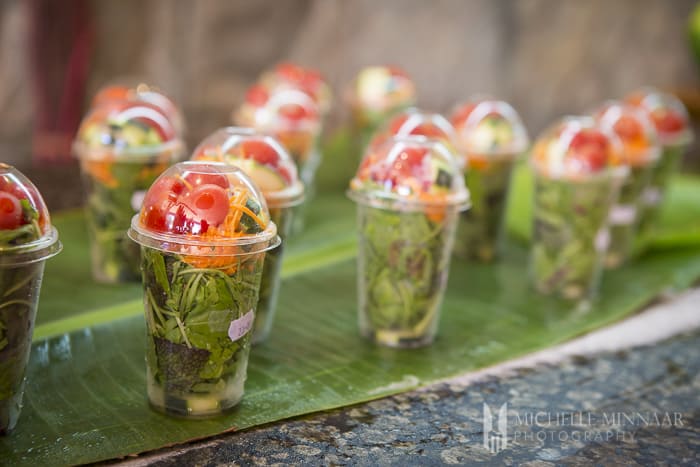 Instead The Thai House follows the same format as its western counterpart and offer a buffer-style spread. Prices are very affordable but don't let the ecologically-friendly packaging put you off, after all, over a thousand people get served here daily so efficiency is a must. Surprisingly, all food is produced fresh on site every day. Everything – from the chicken wings to the fruit salad. This is no small feat. Ingredients are sourced locally and even something as mundane as the green salad contains top quality ingredients provided by the same seller that caters to other high-end restaurants on the island.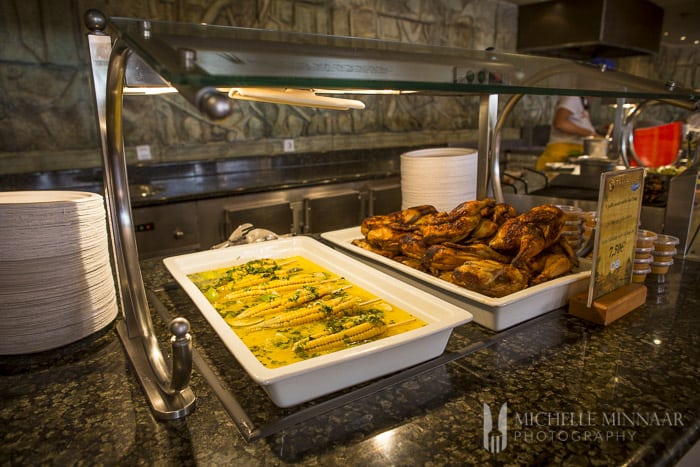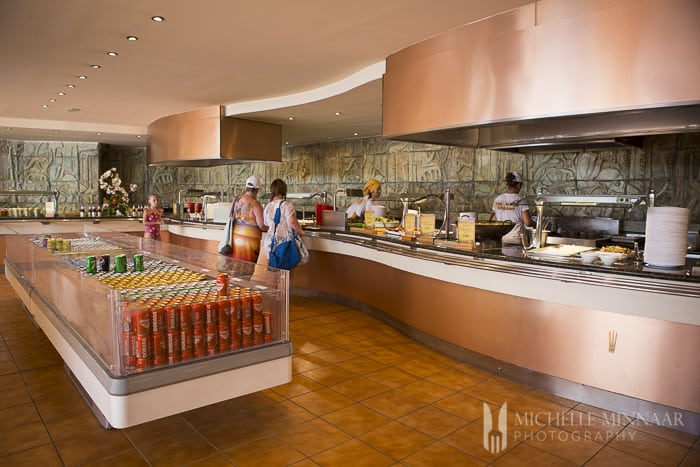 Great care has been taken to ensure the authenticity of classic Thai dishes such as Chicken Satay and Pad Thai. Personally, I'm not a fan of mass produced food but admittedly the Yellow Chicken Curry tasted just as good as what I've had in posh restaurants in London. Tenerife boasts a wide variety of fruit grown year round and finishing the big meal with a perfectly ripe Tropical Fruit Salad was a treat.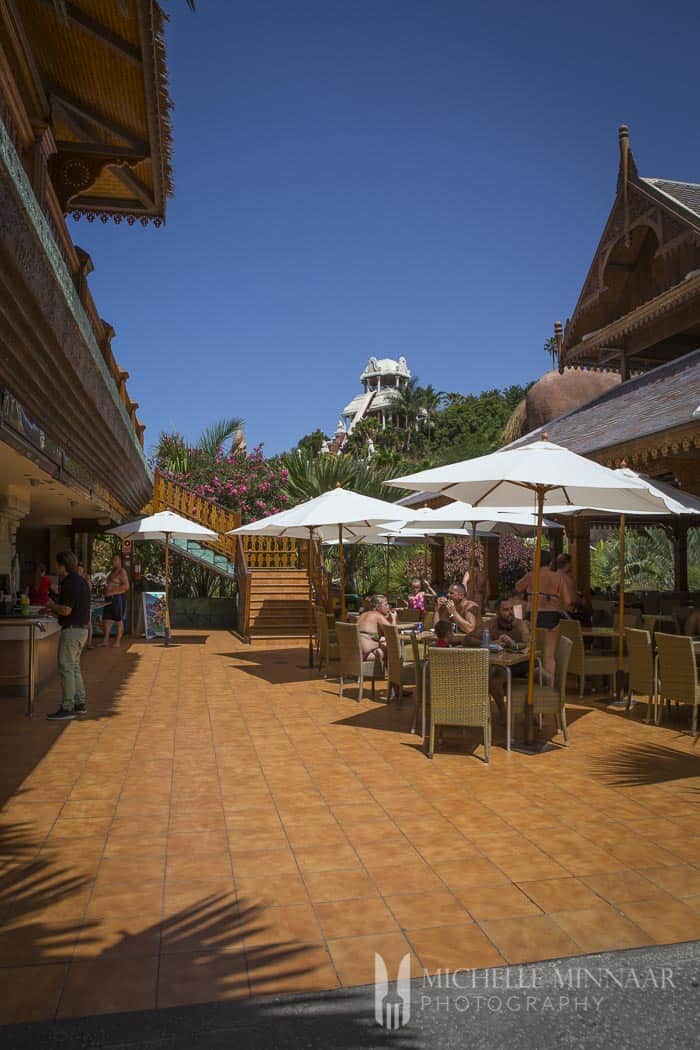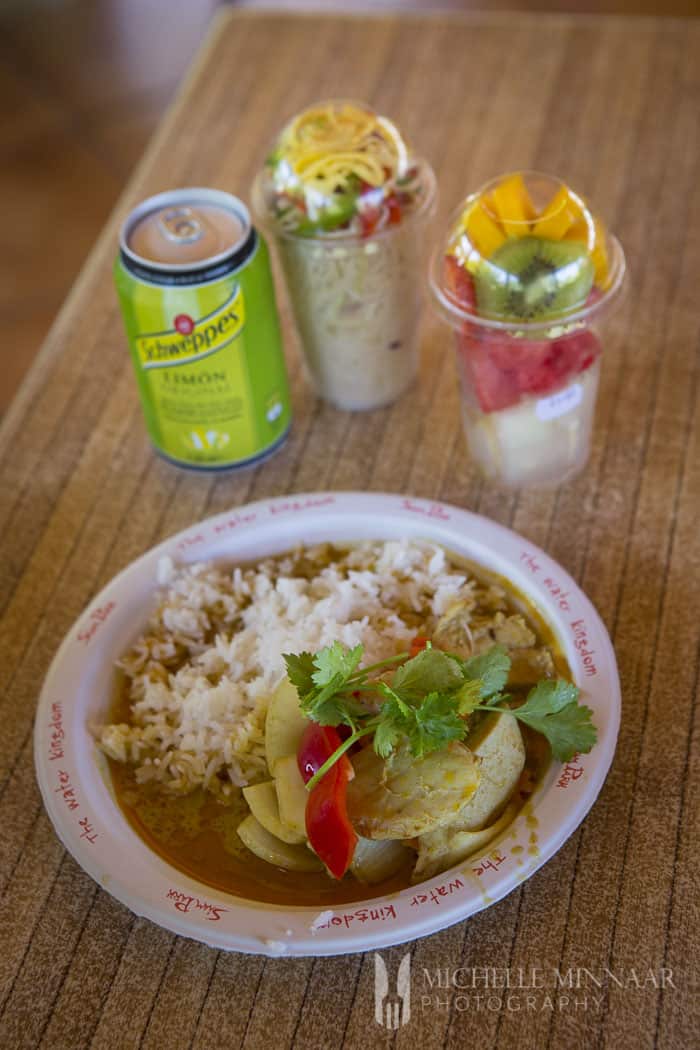 With the consistently glorious weather, the thrill of the rides, its cleanliness and great care put into the food, it's no wonder why Siam park is regarded highly by TripAdvisor reviewers. One thing is certain, it's the perfect family day out for making happy memories.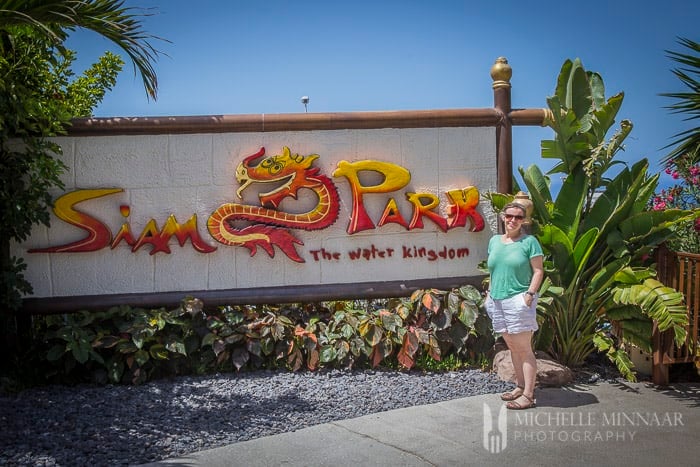 Siam Park
Av. Siam, s/n,
38660
Costa Adeje
Santa Cruz de Tenerife
Spain
Website
P.S. I was a guest of Siam Park.