Sweet, savory, and a little spicy, the unique flavor of this nectarine chutney is a perfect pairing with meats, cheeses, sandwiches, and even fried foods. You will absolutely love this delicious topping to preserve this tasty summertime stone fruit so you can enjoy it year-round.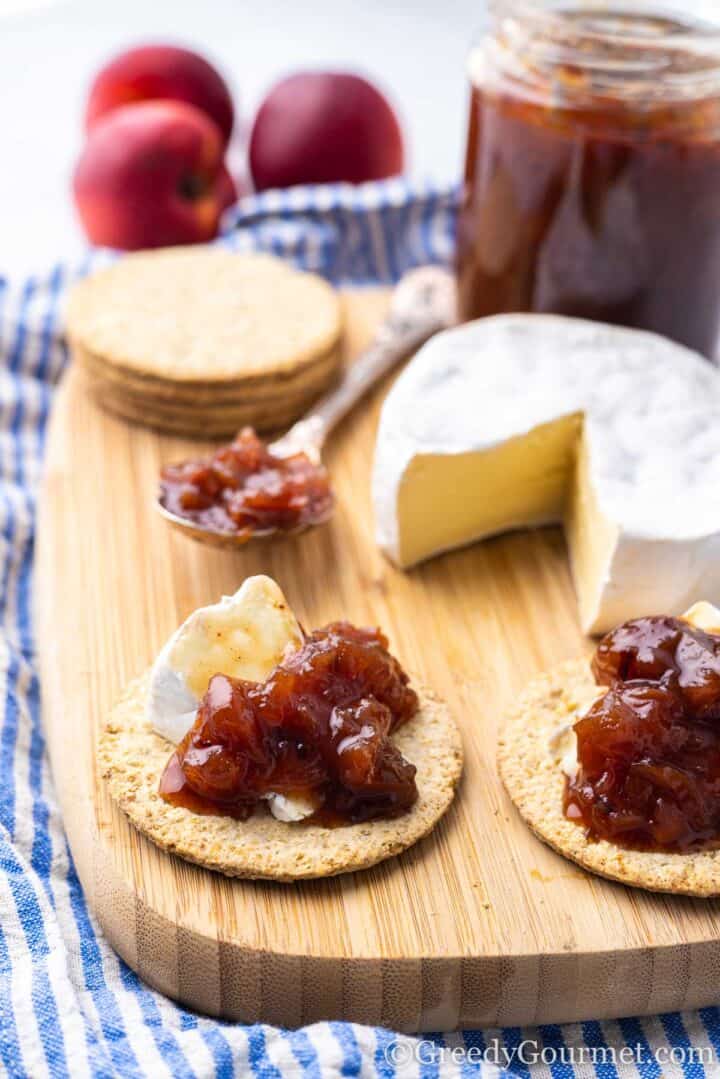 This nectarine chutney recipe is inspired by my kumquat chutney, another delicious example of a sweet and savory spread for your curries and naans. This recipe would go great with my mixed vegetable curry for adding spices and even more flavor.
Why You'll Love This Recipe
It's easy to make
You can modify and personalize it to your liking
It gives your food lots of flavor and contrast
Special Equipment Needed to Make This Recipe
Canning jars - for this recipe, you will need to have at least four prepared pint jars to store your nectarine chutney. To prepare them, you must sterilize them in a boiling water bath in a deep pot to create a safe canning situation.
Deep pot- give yourself plenty of space to simmer the ingredients together in a pot that is deep and easy to combine all the ingredients together while they cook.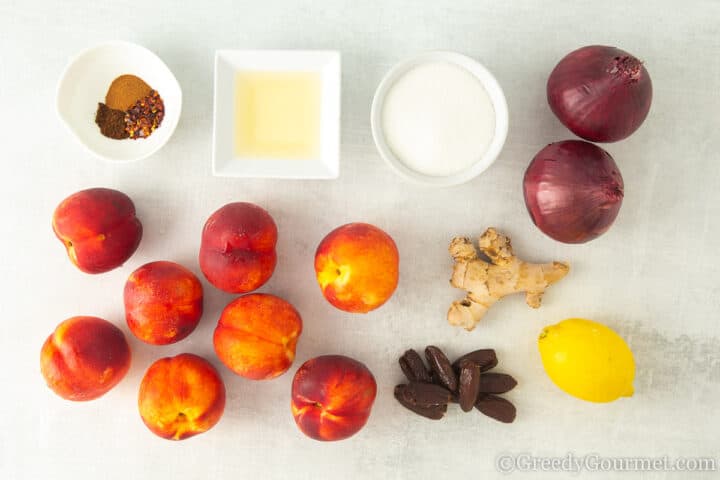 Special Ingredients You Need for This Recipe
Nectarines - nectarines are summertime fruit that is often available in your grocery store or farmers market between April and August. Similar to the peach in flavor, the nectarine doesn't have the same fuzzy skin as the peach.
Ginger Root - fresh ginger root gives this recipe some spiciness and flavor. You can also use frozen pre-grated ginger root to save time, but try to avoid ground ginger as it won't have the same texture that is important in a chutney.
Cloves - use whole cloves in this recipe for added spice and warmth. Whole cloves will add to the texture and soften as they cook so you can eat them. If you choose to use ground cloves instead, use about half the amount, or 1/8 of a tsp, for the recipe.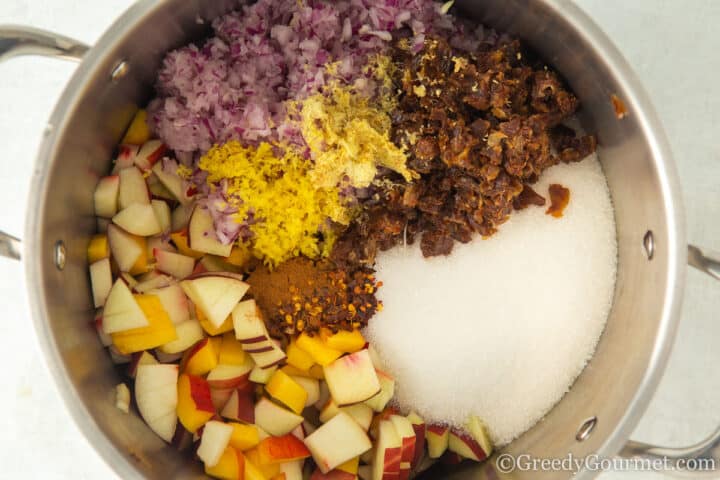 Top Tip
Allowing the chutney to sit for about a month in a sealed container ensures the flavor development of all the spices and fruit. Overtime, the flavors will meld together to make a beautiful chutney that you will surely enjoy!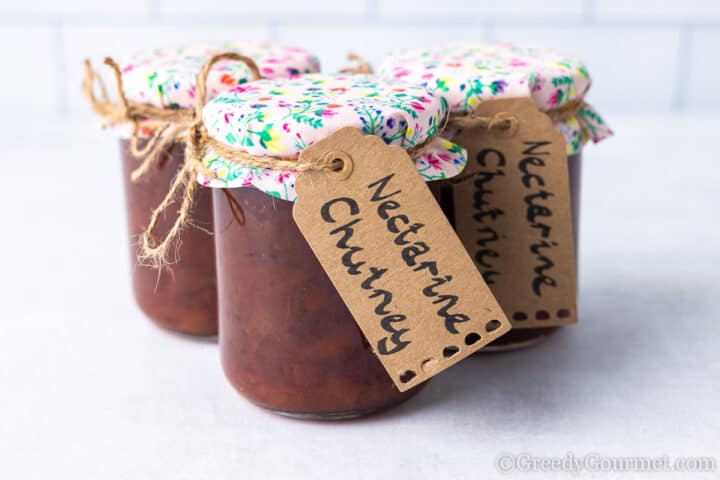 What to Serve With Nectarine chutney
Nectarine chutney is made with a combination of sweet and slightly spicy flavors that make it a great pairing with curries, naan, and even desserts!
Mains
Easy chicken curry - this easy yet complex flavored chicken curry is a great weeknight dish to accompany this nectarine chutney recipe. The Indian flavors complement one another for a flavorful meal.
Marrow curry - for a vegetarian option, my marrow curry recipe is healthy and a little spicy, calling for a chutney like this to give it even more flavor.
Vegetable cornish pasties - vegetarian crispy pasties take a spin on the classic version with meat and potatoes. Topped with a small dollop of nectarine chutney for the perfect condiment.
Sides
Pilau rice - pilau rice is a delicious and simple Indian side dish that goes great with curries. You can also enjoy pilau rice with a dab of chutney for even more flavor.
Kashmiri naan - this naan has a sweet filling of cashews, cherries, almonds, and honey.
Peshwari naan - another sweet filled naan with nuts and coconut that is a great vehicle for this spicy and sweet topping.
Dessert
Vanilla ice cream - a scoop of vanilla ice cream is a great vehicle for any topping, and this chutney is no exception. The flavors of the nectarine and ginger are balanced perfectly with the subtle sweetness of the vanilla ice cream.
Peanut butter and jelly ice cream - this interesting combo is creamy and rich, with some spiciness and added character from the nectarine chutney. I recommend trying this if you love peanut butter, jelly, and fruit.
Pineapple ice cream - this fruity ice cream is exotic and unique, perfect for nectarine chutney as a topping.
Popular Substitutions for This Recipe
Granulated sugar - for added flavor and character, use brown sugar. Brown sugar contains molasses, giving it a richer flavor with about the same sweetness. For a more subtle flavor, go with light brown sugar instead of dark.
Apple cider vinegar - You can use white or champagne vinegar instead of cider vinegar. If you substitute apple cider vinegar, add a little extra lemon juice to replace the fruity tanginess you will be missing with white vinegar.
Nectarines - instead of nectarines, peaches or another stone fruit such as apricots can be used to create a chutney that you are sure to love.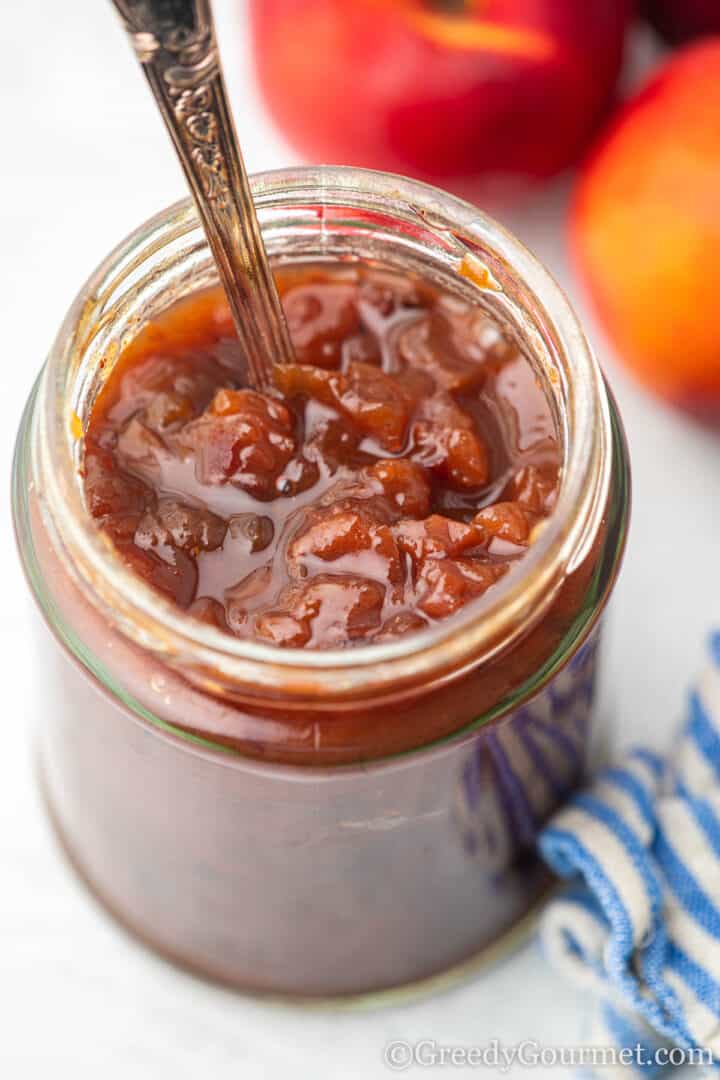 Variations To This Recipe
Make a ground spice mixture of ingredients such as mustard seeds, star anise, and coriander to use in this chutney. These spices are all moderately strong, so I recommend using no more than 1/2 a tsp of the blend.
Adding 1/2 tsp of garam masala will elevate the Indian inspiration in this recipe.
Other fruit you can mix nectarines with
Make up your own divine combinations! Swap 50% of the nectarines in the recipe below with one of the following fruits:
Strawberry
Blackberry
Raspberry
Blueberry
Cherry
Fig
Peach
Plum
Other flavors you can play with
Add an extra dimension of flavor to your nectarine chutney with any of the following:
1 cinnamon stick
½ tsp ground cinnamon
1 vanilla pod
1g (½ tsp) ground black pepper
5cm (2in) fresh ginger root, grated
50g (½ cup) almonds, chopped
50g (½ cup) hazelnuts, chopped
1 fresh chili, finely chopped
2 tsp Darjeeling tea or 4 bags
Alcohol that pairs well with nectarines
Champagne
Moscato
Rose
Beers such as blondes and golden ales
Alternatively, you can actually make your chutney boozy! Simply pour 125ml (½ cup) of your preferred alcohol at the end of cooking time and bottle up your nectarine chutney as soon as possible.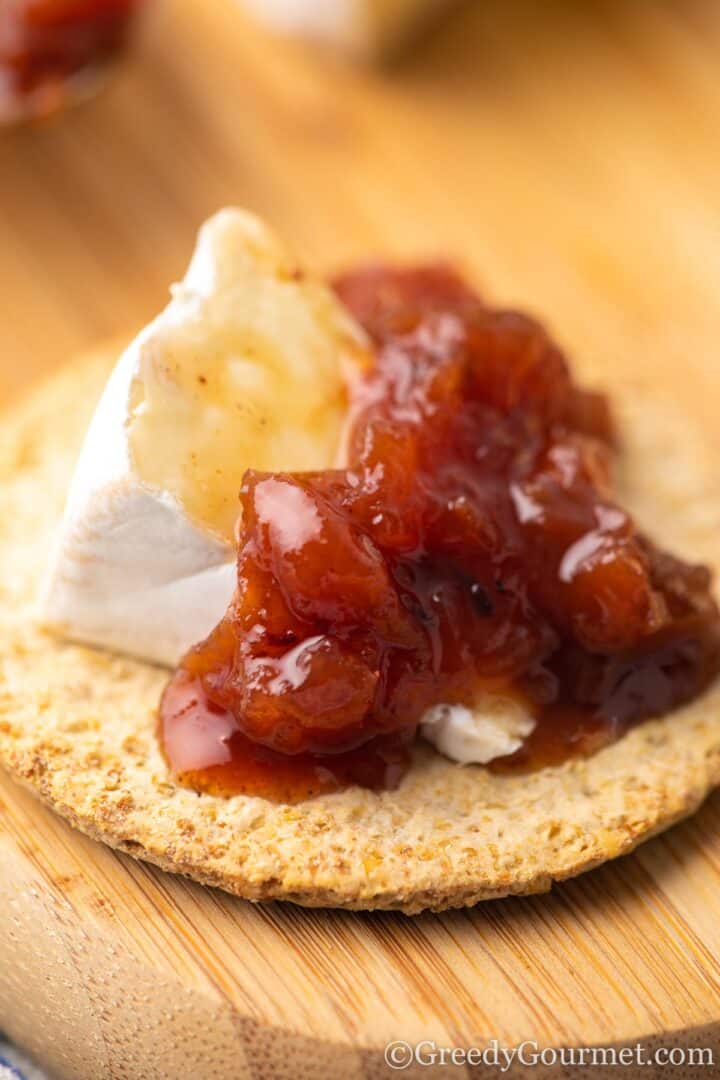 Ideas for how to use this chutney
For something offbeat, serve nectarine chutney with a caramel-based dessert.
How long will this food last in the fridge?
Once opened, nectarine chutney can be stored in the fridge for two months sealed.
Can this recipe be scaled?
Yes, you can make a larger batch of this recipe by multiply the ingredients by two or three. I recommend storing the chutney in no larger than a pint container so that it doesn't go to waste once opened.
Can this recipe be made in advance?
Yes, in fact it is best to allow this chutney to sit in a cool, dark place for about a month before enjoying it.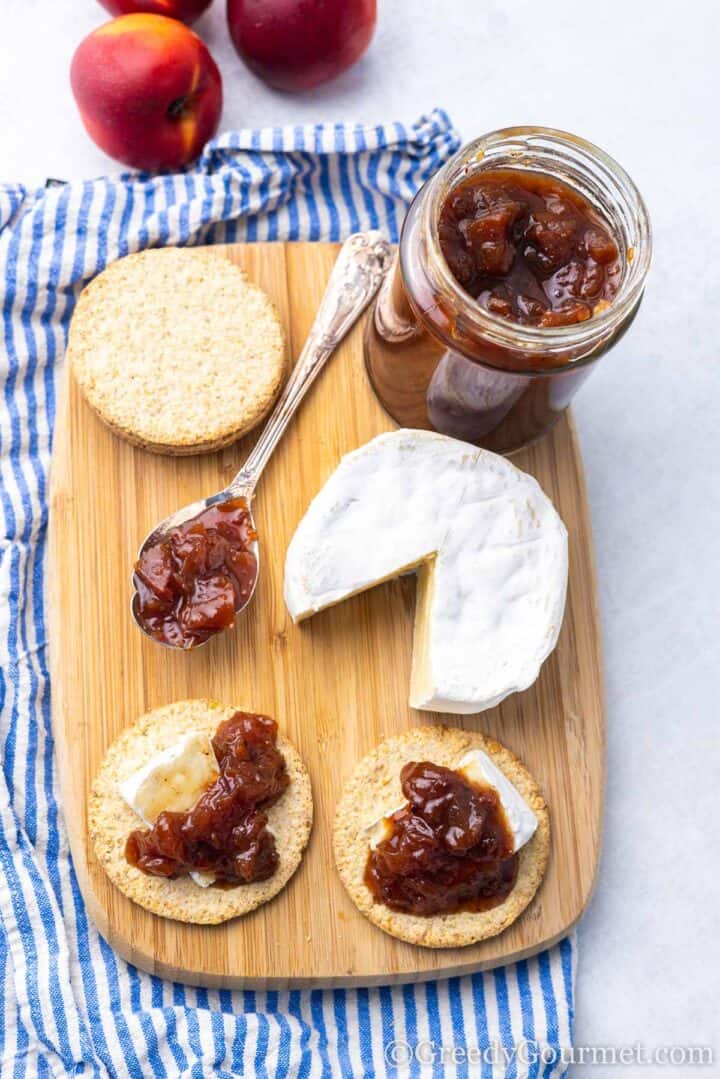 Other Chutney Recipes You'll Love
Print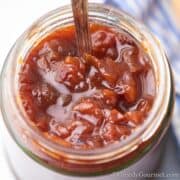 Nectarine Chutney
---
Author:

Michelle Minnaar

Total Time:

2 hour 35 minutes

Yield:

30

ml (2 tbsp) per serving, 66 servings

1

x

Diet:

Vegan
Description
This easy and delicious homemade Nectarine Chutney is best served as part of a cheeseboard or with meat.
---
2

kg

(4 1/2 lbs) nectarines, chopped

675

g

(1 1/2 lb) red onions, finely chopped

1

lemon, juice and rind

675

ml

(2 1/2 cups) apple cider vinegar

1

kg

(4 cups) granulated sugar

150

g

(1 cup) dates, chopped

5

cm (2 in) fresh ginger root, grated

3

g

(1 tsp) ground cinnamon

2

g

(1 tsp) dried chilli flakes

0.5

g

(1/4 tsp) cloves
---
Instructions
Place all the ingredients in a large saucepan. 
Stir over a medium heat until all the sugar has dissolved. 
Turn up the heat until a boiling point is reached, then lower it to reach a steady simmer. Cook for 2 hours or until the mixture is thick. 
Pour the chutney into hot sterilized jars and seal immediately. 
Store in a cool, dark place for a month to let the chutney mature. 
Serve as part of a cheeseboard. Enjoy!
Prep Time:

20 minutes

Cook Time:

2 hours 15 minutes

Category:

Chutney

Method:

Boil

Cuisine:

British
Keywords: nectarine chutney, apple and nectarine chutney, plum and nectarine chutney, nectarine chilli chutney, nectarine chutney slow cooker, nectarine and ginger chutney, peach and nectarine chutney recipe, indian nectarine chutney, nectarine recipe