Have you found yourself in a situation where you've realized that you are in need of cognac, but unfortunately you ran out?
Don't despair, for there is a solution. Check out these fantastic 10 cognac alternatives and find out which is the best cognac substitute for you.
What is cognac?
Cognac is a strong alcoholic beverage (a type of brandy) originating from France. It contains 40% alcohol by volume. In essence, it is a type of brandy which is produced in the regions of Charente and Charente-Maritime.
Most noteworthy, cognac is named after the commune of Cognac, which is located in south-western France. You might also know it as eau de vie, but this term is only used once the cognac is distilled.
The production process includes distilling white wine (not red wine) from designated wine growing regions. These geographic denominations include: Grande Champagne, Petite Champagne, Borderies, Fins Bois, Bons Bois, Bois Ordinaires and Bois a terroirs.
How is cognac made?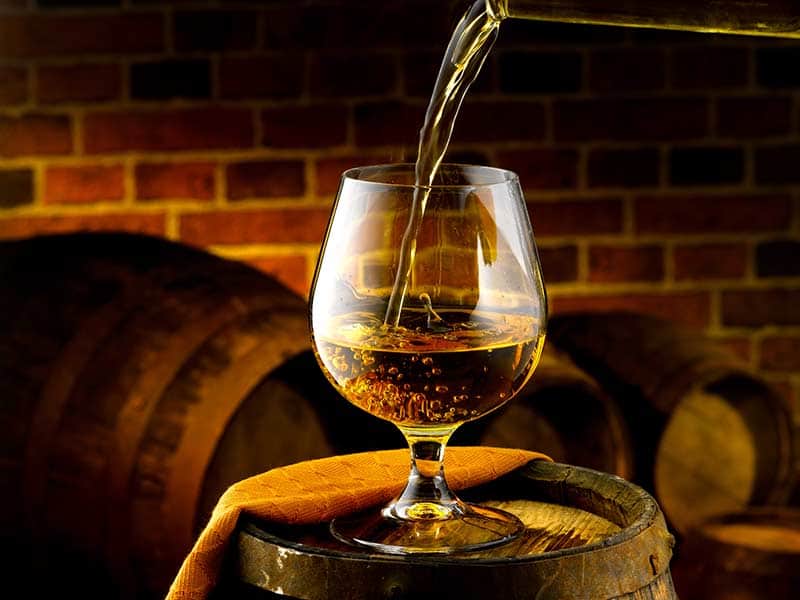 The types of white wines used to make this alcoholic beverage are generally dry, thin and acidic. Ordinarily, the white wines used during the distillation process are known for being rather undrinkable. However, this type of wine is excellent for ageing.
Nevertheless, once the grapes are pressed, they undergo fermentation for approximately 3 weeks. They are distilled twice in Charentais-style copper alembic pot stills. Next, the beverage is aged in Limousin oak casks for a minimum of 2 years.
Generally speaking, the alcohol content is approximately 70% in the first few years. After ten years, the alcohol content is reduced down to 40%. The last step of the ageing process includes transferring the alcohol into large glass bottles called bonbonnes.
What are the different types of cognac?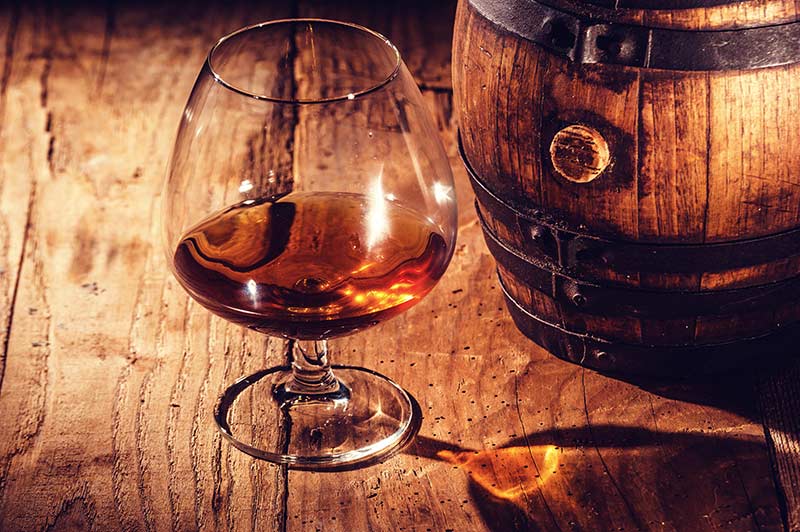 If you are a fan of cognac, you might have come across different varieties of it. In fact, cognac is often categorized according to different quality grades. These include:
V.S. – Very Special: This refers to a blend which contains a brandy which has been aged for a minimum of two years in a cask
V.S.O.P. – Very Superior Old Pale: It is also known as Reserve. It is a blend containing a brandy which has been aged for a minimum of 4 years
Napoleon: A blend in which the youngest brandy has been aged for a minimum of 6 years
XO – Extra Old: A blend containing a brandy aged for a minimum of 10 years
Hors d'age – Beyond Age: This type goes beyond the official age scale.
Since cognac is a type of brandy, it is often considered as a substitute for brandy. In fact, cognac is one of the top substitutes for brandy as they are completely interchangeable.
Use a 1:1 ratio when you are planing to enjoy the alcohol alone in a glass. The same principle applies to using brandy instead for recipes. Use the exact measurements that the recipe calls for. You can use both brandy or any other brandy substitute like cognac to make fantastic recipes such as these brandy snaps or this brandy torte.
Armagnac is another type of French brandy. While cognac calls for the ugni blanc grape, Armagnac uses additional grape varieties, such as folle blanche, colombard and baco blanc. In terms of flavor, Armagnac is more full-bodied.
Use a 1:1 proportion when consuming it as an alcoholic beverage. Both are excellent as a digestif. In cocktails, use 20 ml of Armagnac for 30 ml of cognac.
Although, the alcohol level is the same in both, the flavor of the Armagnac can overpower your cocktail. Similarly, always add a little bit less (10 ml to 15 ml less) of Armagnac also in recipes like this savory peach sauce with mustard.
Calvados is another French brandy, made in the region of Normandy. It is usually made out of apples or pears. In terms of flavor, it is well-balanced and carries good notes of apples or pears.
1:1 proportion to cognac when consuming it as an alcoholic beverage. 20 ml of calvados for 30 ml of cognac for cocktails due to its distinct flavor of apples. 1:1 proportion for cooking recipes.
Excellent when flambéed and served with pancakes. Works well in a savory dish with beef or chicken, in which case the calvados complements the umami notes.
Rum is equally strong, however it varies in its flavors. It carries notes of vanilla and is generally more sweet. Hence, in a cocktail, add 15 ml of fruit juice (apple) or white grape juice.
Use it in desserts with the identical amount as required for cognac. In terms of flavor, you can add 20 ml of apple juice or water to bring down the oaky notes of the rum. Try it in this dessert.
Sherry is a fortified wine, originating from Spain – near the city of Jerez. Compared to cognac, sherry has less strength – approximately 20%, as compared to 40%.
Hence for cocktails, use a 2:1 proportion. Add twice as much sherry into the cocktail to obtain the same strength level. For this I recommend Manzanilla, which is a dry and light version of Fino sherry.
For cooking, use a 1:1 proportion, especially when it comes to sauces. If you like richer sauces, try to get a more aged bottle of sherry for your recipe.
However, if I sourced a bottle like that, I would only sacrifice a little bit of it to a recipe. Drink it instead!
Whiskey carries a completely different taste, which is rich and smoky. Use it only as a beverage or a digestif. Add 1 cube of ice. Do not add it in cocktails, otherwise they will get a very smoky, overwhelming taste. Besides, not all people get the rich taste of whiskey.
Do not use bourbon for cognac in cocktails. However, you can use 1:1 proportion of bourbon in creating savory sauces. Add 10 ml of fruit juice for a hint of freshness.
non alcoholic alternatives
1:1 proportions for cocktails and for recipes (especially for sauces).
Can you substitute bourbon for cognac?
Yes. You can use a 1:1 ratio as replacement.
Can I substitute whiskey for cognac?
It depends on how you want to use it. In drinks, whiskey carries a too smoky flavour, which might muddle the drink.
In other applications, use a 1:1 ration and add an ice cube to water it down ever so slightly.
Can I substitute sherry for cognac?
Yes. Use a 2:1 ratio when substituting sherry for cognac. I.e. use double as much.
What can be used instead of cognac in a recipe?
Brandy, armagnac, calvados, rum, sherry, whiskey and bourbon. Non-alcoholic options are white grape juice and apple juice. Check out the list above for more details for ratios and different applications.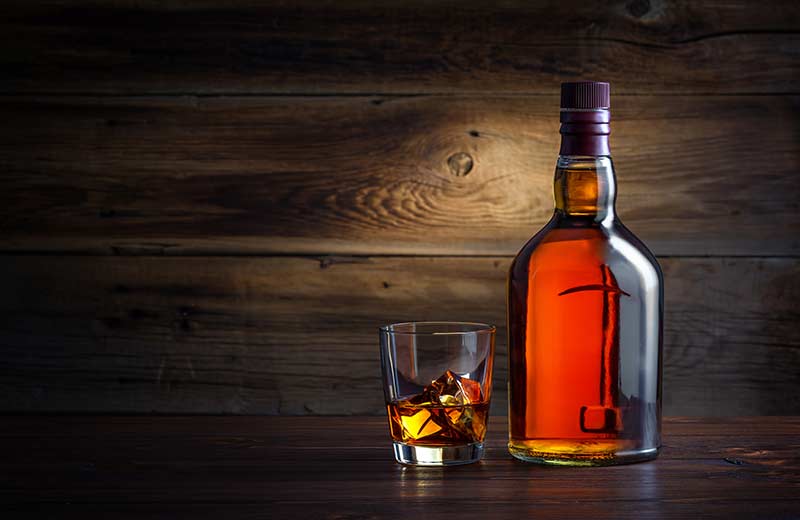 If you don't want to fiddle around with the proportions, you should stick to brandy, Armagnac, or calvados. Use fruit juice as a non-alcoholic alternative.