I don't know about you but as soon as the leaves start to drop, I feel like cooking something comforting. This lovely dish is just about as comforting as it gets.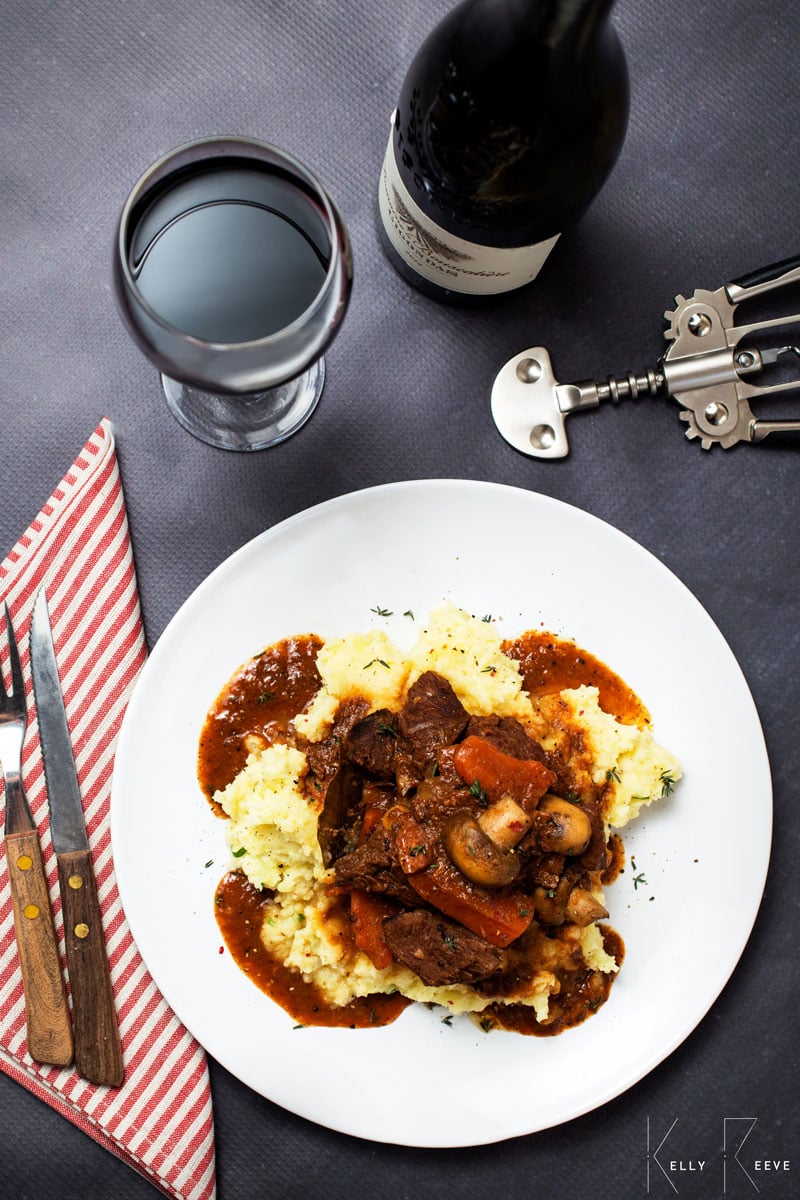 A perfect way to counter the cold all throughout the winter. Don't let the preparation time keep you from doing this. It might take some time, but it's actually fairly simple to tackle.
The brilliant thing about this type of dish is that it can almost take care of itself. Simply leave it to simmer while you have your hands free to do other things.
Don't be afraid to leave it 10 minutes longer than then recipe says. It will only get tastier. The flavours developed from the combination of the smoked bacon, earthy mushrooms, beef and red wine are sensational.
They will make you feel like you're at a country pub on a stormy night. So even though the winter is not quite upon us yet, why don't you cook this delicious beef stew?
The red wine
Now the topic of what kind of red wine to use in cooking is always a controversial one. Is it worth using a decent one or is it waste?
Some argue that the flavour just boils away along with the alcohol. In my opinion, the truth lies somewhere in the middle. Using a very poor-quality wine will in the best case contribute nothing to the dish.
In the worst case, it will leave it with an undesirable bitter flavour. However, this doesn't mean you should pick the most expensive one, as some of the aromas do evaporate during the cooking process.
I recommend that you use a decent quality wine, that you would also enjoy drinking with the dish. After all, this recipe only calls for one third of a bottle, so there is still something left to enjoy with dinner.
As for a specific type, it should be a somewhat heavy wine with some body. It could be a nice sun filled Australian or South African wine.
Or, perhaps a French red wine from the Rhone valley or the south of France. In any case, go with something that you like.
Heritage
As you may have guessed, this beef stew is lightly inspired by the classic French dish Boeuf Bourguignon. A typical beef stew containing bacon and mushrooms.
If you want to turn this stew a little more to the French side, you can add small onions braised.
Another little handy tip to get extra flavour in there is to roast the mushrooms in a little butter on a pan, before adding them to the beef stew. This gives the mushrooms a bit more edge.
The French use quite large chunks of beef for their beef stew, but you can use smaller cubes of beef if you prefer this. It is possible to replace the meat with pork or veal.
If you do that, it should be with more coarse cuts of meat that have lots of flavour. For example, you can ask your local butcher for pork cheeks.
This relatively unknown and inexpensive cut packs enough flavour to compete with beef.
Lastly, if you want to move away from the French flavours, why not try the beef orange stew? Tangy and packed with punch.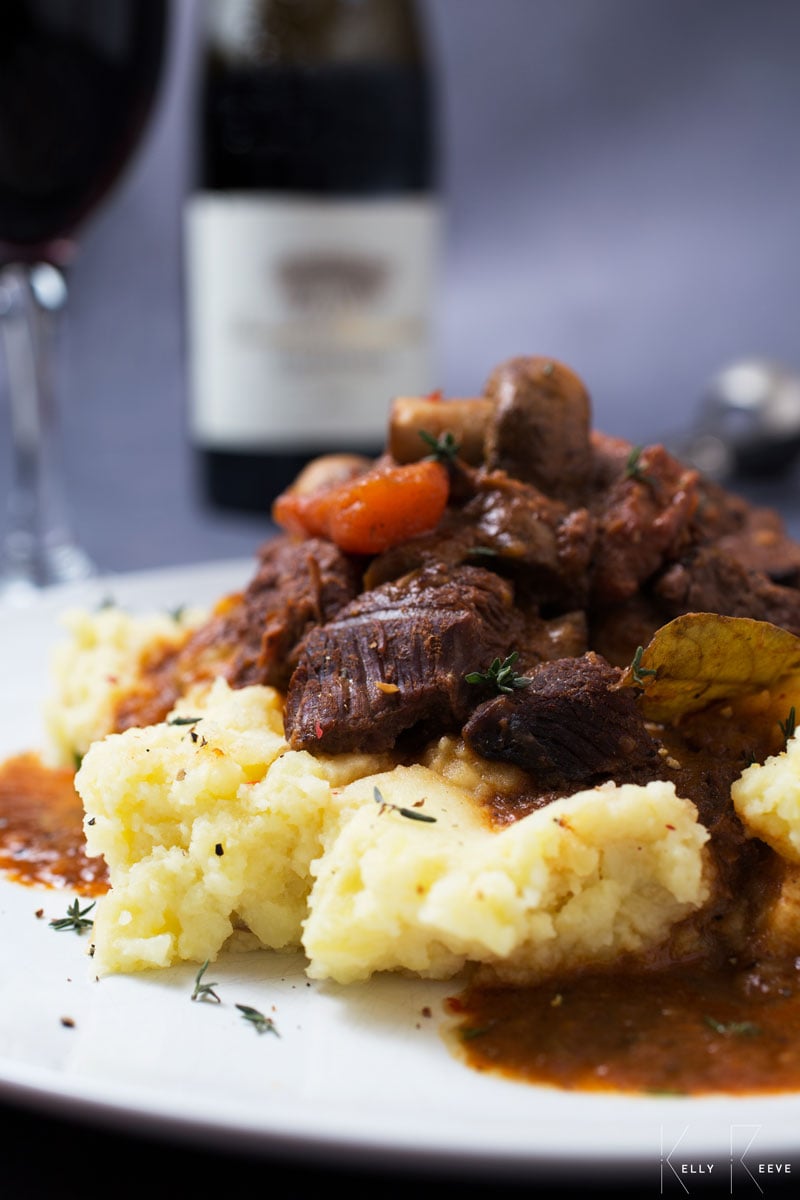 The mash
I have chosen to serve the beef stew with a classic potato mash and some greens. Now the mash is an entire chapter of its own.
Even though it's simple, a good mash can simply be a heavenly side dish. Especially, for the so-called simmer foods such as this beef stew.
The secret to making a great mash, although not the lightest one, is to add butter and cream to it. If you want to make variations to the classic potato mash, you can add celery, parsnip or even a few carrots to it.
Whether you like your mash completely smooth or a bit chunky is also a matter of taste. To go with the rustic beef stew, I actually find it nice with a mash that still has some texture in it.
You should also make sure to taste your mash with a generous amount of salt. A little tip here is to only add the salt when mashing the potatoes, and not add any in the water before boiling them.
If you leave out the salt in the water, the potatoes will be easier to mash.
Serving
I like to serve the beef stew on top of the mash, in a big rustic plate, topped off with a generous handful of freshly chopped parsley.
If you want to go French, you can serve it with boiled potatoes instead as the Boeuf Bourguignon is traditionally served this way.
Some greens on the side will do. It could be blanched green beans or brussels sprouts, but this is completely optional.
Alternatively, you can serve the beef stew with rice or pasta. If you want to take in a healthier direction, I recommend kale.
Simply make a little salad of fresh kale, cubes of red apple and walnuts, and you have a lovely green side dish for the stew and mash. In any case, enjoy with a nice glass of the red wine you have left over from cooking the beef stew.
Storage tips
The beef stew will easily keep in the fridge for 2-3 days. In fact you might find it even tastier on the second day! You can also freeze the stew and have a ready meal at a later time.
The good thing about making a stew is that you can scale up the recipe and make an extra-large batch of it, either to serve for a big family feast or to freeze for later use.
As it is a time consuming dish to prepare, you will probably not have the time to cook it on just any given weeknight. Coming home from work late, having to pick up the kids from sport, and no time for going to the shops.
By having some of it frozen, you can enjoy an unbelievably tasty meal ready in no time at all. I hope you'll enjoy the beef stew, and make it part of your fall and winter repertoire.
More stew recipes
Print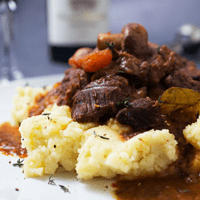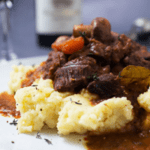 Beef Stew with Mushrooms and Red Wine
---
450

g

(1lb) bacon lardons

30

g

(1oz) butter

15

ml

(1 tbsp) oil

450

g

(1lb) onions, peeled and sliced

2

cloves garlic, peeled and crushed

900

g

(2lbs) braising steak, cubed

30

ml

(2 tbsp) plain flour

250

ml

(1 cup) red wine

500

ml

(2 cups) beef stock

30

ml

(2 tbsp) tomato puree

2

bay leaves

5

thyme sprigs

600

g

(1 1/2 lbs) mushrooms, cleaned and chopped

600

g

(1 1/2 lbs) carrots, peeled and chopped
Salt and pepper, to taste
---
Instructions
Preheat the oven to 170°C/fan 150°C/340°F/gas mark 3.
Fry the bacon with the butter and oil in a large ovenproof casserole dish until browned.
Add the onions and garlic and fry until translucent.
Add the beef and fry until browned.
Stir in the flour then pour in the wine, stock and tomato puree.
Add the bay and thyme, then the mushrooms and carrots.
Stir everything then bring the contents to a slow bubble.
Place the casserole in the oven and cook for 1 hour. Lower the heat to 140°C/fan 120°C/280°F/gas mark 1 and cook for another 2 hours, or until tender.
Serve with mash and greens.
Notes
This stew freezes well.
The bay leaf works very well with the red wine in this dish, however if you can't get hold of any, feel free to use any of these bay leaf substitutes.
If you're looking for an alternative beef recipe, why not try these braised short ribs?
Prep Time:

30 minutes

Cook Time:

120 minutes
Nutrition
Serving Size:

1 serving

Calories:

518

Sugar:

7.9 g

Sodium:

866 mg

Fat:

24 g

Saturated Fat:

9 g

Carbohydrates:

18.7 g

Fiber:

4.3 g

Protein:

51.2 g

Cholesterol:

104 mg
save the recipe to your pinterest board

A special thanks to Kelly Reeve for assisting with the recipe shoot.